Wizard class hackers earn as "bug hunters" while keeping preventing the leakage of personal information of Google and Facebook?

ByJeremy Zawodny

Some IT companies have programs to pay rewards to those who reported vulnerabilities of their services. What is engaged in this program is "White Hat / Hacker" that finds bugs and reports them to the operator without misuse, and there are a lot of people who live in India as bug hunters.

Meet the bughunters: the hackers in India protecting your data | World news | The Guardian
http://www.theguardian.com/world/2016/apr/02/meet-the-bughunters-the-hackers-in-india-protecting-your-facebook-profile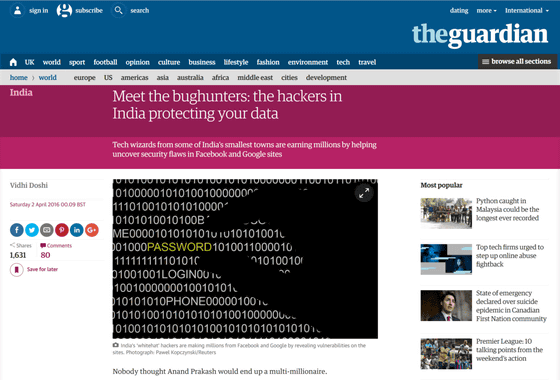 Anand Prakash, who lives in Budra, Western India, is also one of the bug hunters. When he was a child he seems to have been a child who was playing games at a net cafe rather than playing with a cricket with a friend, reading a blog, watching YouTube and mastering hacking skills by himself. While studying at the university, I learned that Facebook is doing "bug reporting program" and became a bug hunter.

Prakash, now also referred to as the "Tech Wizard", discovered for the first time a vulnerability in which even though Facebook Messenger is turned off, it is vulnerable to knowing the online status, and this bug report shows that Rs. 33,000 4000 yen) was obtained. As a big thing, we have found a vulnerability that Facebook can access personal information, messages, photos, card information of 1.6 billion users, and we have a million rupees (about 1.63 million yen). In addition to Facebook, I have reported more than 90 cases to Twitter · Google · Dropbox · Adobe · eBay · Paypal etc, and earn over 10 million rupees (about 16.27 million yen) as a bug hunter.

However, "I am not doing for money," Prakash said. As I am an online user, I'm interested in how users' privacy is being protected, how to keep it safe, and Google and Facebook are particularly interested in Internet It is said that he is particularly interested in what he deals with above.

In developing countries like India, these "bughunters" are one of the growing occupations that Facebook is receiving from 13213 bugs from developing countries in 2015, the number of bug hunters is 5543 did. Especially, it is India, Egypt, Trinidad and Tobago that the number of reports is large.

Rahul Tyagi who lives in Guldsspur in northern India is also one of the bug hunters, and many of my friends earn a living as a bug hunter in the same way. According to Tyagi, he said he earns from 10,000 rupees (about 16,000 yen) to 15,000 rupees (about 24,000 yen) a month without leaving the bedroom.

Tyagi was the first computer in his town in his childhood. At that time OS 98 Windows 98, at the time of adolescence knowledge accumulated and called local "engineers", Tyagi was called to install Windows XP somewhere in the house. At that time, Mr. Tyagi received rice and fruits as compensation. Even so, I heard that Tyagi is not doing a bug hunter for money as well as Prakash mentioned above.

By the way, the computer literacy of India as a whole is less than 7% and the infrastructure of telecommunications has been very vulnerable until recently. Some of these bughunters can come out from scholars who view that the nonintervention of government is leading to success with regard to the field of IT. However, Prakash argues that the government does not understand the possibility of hacking and that it is possible to extend talent by becoming more active in assistance. Even on a global scale, it is said that Indians are competent hackers and they need to develop their talents.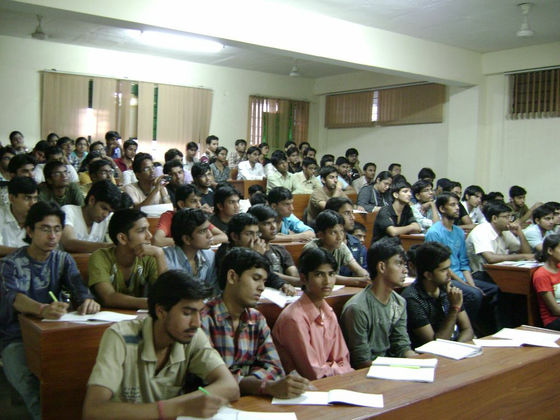 ByJai Pandya