People in Google are committed to improving performance and stability of Nexus 5X on sale at official website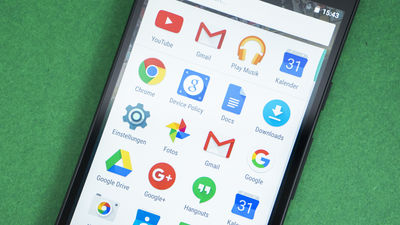 ByTechStage

The smartphone "Nexus 5X" with Google's Android 6.0 Marshmallow is a device developed by Google and LG, and it is one selling that the latest version of Android can be used as fast as other Nexus series. People in Google have revealed that Nexus 5X will improve performance and stability with the March update.

OTA update for Nexus 5X: nexus 5x
https://www.reddit.com/r/nexus5x/comments/49jwbs/ota_update_for_nexus_5x/

Dashboards | Android Developers
http://developer.android.com/about/dashboards/index.html

Six months in, Google's apps still do not fully support iOS 9 | Ars Technica
http://arstechnica.com/apple/2016/03/six-months-in-googles-apps-still-dont-fully-support-ios-9/

Nexus 5X - Fingerprint Scanner - LG - Nexus - Android Smartphone - Google Store
https://store.google.com/product/nexus_5x

The factory image download link of the latest update of Nexus 5X is linked to Google's developer site "Google Developers"Published on March 8, 2016, the Google Community Manager came down to Reddit's Nexus 5X specialized thread and revealed the update content.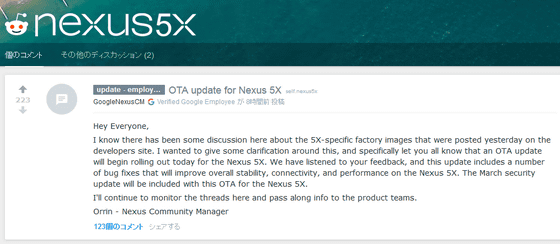 Distribution of this update started on March 9, 2016, and the community manager declared "Update fixes several bugs, improves stability, connectivity and performance". According to what the community manager revealed, in the comment section, "I want the performance of the camera to take longer to start up and freeze," I want the camera to improve, "the camera is unstable", the voice to urge the camera improvement Many have been posted.

As people inside Google promised "stability, connectivity, performance improvement" themselves, the March update seems to be different from mere security updates.

Android 6.0 Marshmallow which is the latest OS installed in Nexus 5X, but it is forced to face a considerable struggle by the usage rate. About 5 months after the release in October 2015 the usage rate as of March 2016 is 2.3%, which is the third from the bottom among all versions. The most used one is 34.3% in Android 4.4 KitKat. Nonetheless, the usage rate of Android 6.0 Marshmallow is lower than that of Gingerbread of version 2.3.3 - 2.3.7,At 3 months after release, there was only 0.7%So there is no doubt that it is on an increasing trend.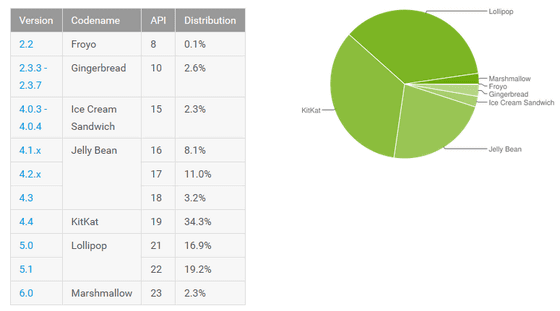 In addition, it is said that requests from iOS users are requested by Google software related. Google has released a lot of applications for iOS contesting the share of mobile OS and can use the same application on Android and iOS, but from iOS usersGoogle's app is slow to respond to the latest features of iOS 9The voice is raised. MacStories of Apple-related media, such as Google's software does not support the multitasking function of the iPad, although it was resolved by the March 8 update, but it did not support iPad Pro resolution for a long time, It shows that the correspondence of the company is going behind.

Although Android 6.0 Marshmallow has a feeling that transition to the latest version is not progressing smoothly, I expect that Nexus 5X will be improved in functionality in March update. In addition, Nexus 5X sale is done on Google Play, and it is possible to purchase it with tax of 46,250 yen (16 GB), 50 thousand yen (32 GB) including 6050 yen off from the normal price.