New animation list starting in the spring of 2016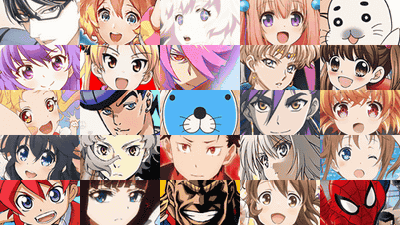 Spring program reorganization period has arrived. Work starting in April 2016 is over 50, even though short animation is included, it is still hard to follow all the works. We created a work list that covers almost all of the works that will be broadcast this time to make it easier to select which works to watch and record according to taste.

This term "Macross" series latest work "Macross ⊿"In addition to the original work, Director Tsutomu Mizushima of" Girls & Panzer "organized with Yuri Okada of" That flower "Hibernate - Mayoiga -"Directed by Tetsuro Araki's director of" Advance Giant "Kabaneri of Iron Castle"TRIGGER who produced" Kirakiru "formed with Yuri Okada"Scratchy", P.A. WORKS 15th anniversary commemorative robot animation"Chrome", Entering the second half of the game"Concrete · Revolutio ~ Superman illusion ~ THE LAST SONG"there is ........., ........., etc.

In the original work of Ali, if it is a cartoon original, "JoJo's Bizarre Adventure Diamonds Can not Break"My Hero Accademia"Big Order"12 years old. ~ Minchiku Mune's Tokimeki ~"Bungo Stray DogsIn the game original is "Ace Attorney"Fight warrior of the Holy War Kerberos Ryute"Shaman's Bahamut Manalia FriendsIn the original novel of the novel, "Joker · Game"Hundred"And so on will start.

Also, as a series of series "Ushio and Tora (3rd cool)","Academy War City Asterisk 2nd SEASON"TeraFormers Revenge"Boundary RINNE 2nd seriesIt is also scheduled.

Below, the order of broadcasting is arranged in order.


---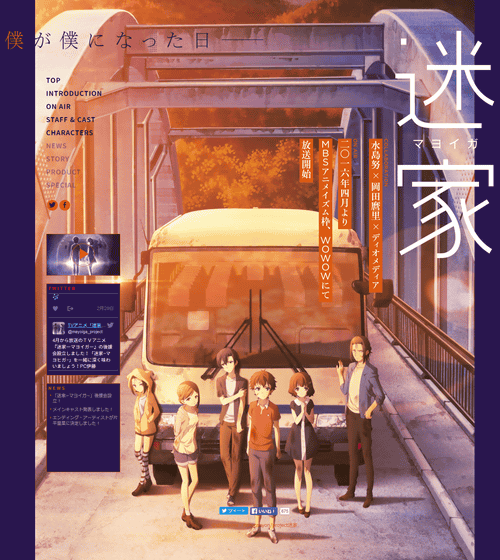 TV anime "Wandering House - Mayoiga -" Book - YouTube


· Broadcast information
WOWOW: 4/1 (Friday) 22: 30 ~
TBS: 4/8 (Friday) 25: 55 ~
MBS: 4/8 (Friday) 26: 10 ~
CBC: 4/8 (Friday) 26: 54 ~
BS-TBS: 4/9 (Sat) 24: 00 ~

·Overview
"The day when I became myself -"
30 men and women participated in a bus tour to Narayura (Nanakimura) whispered that "you can live like a utopia that is not bound by sharpness in this world." Boarding each speculation and heart bruise, the bus goes to the mountains. It was an uninhabited village where the smell of life remained although it decayed.

Director Tsutomu Mizushima is said to be the "busiest director in the industry" and the original animated cartoonist Takagi Okada Yuri, a screenwriter. Speaking of Mr. Mizushima in the immediate vicinity, it has created a bright and enjoyable hit work such as "SHIROBAKO", "Girls & Panzer", but at the same time, like "BLOOD-C" "Another", I made a work that is not amusing even when the characters died How is this work rolling?

To Makuake of the Cloud Funding platformAssociation for supporting worksHave been made and it is possible to support the work directly. The course is "Narayoshi Village Bronze Village Course (3000 yen)" "Narayonamura Silver Village Course (8000 yen)" "Narayura Gold Village Course (40,000 yen · 200 persons only)" "Narayura Platinum Village Course (Limited to 80,000 yen and 150 people) "and" Narusuno Selected 30 Parliamentary Council Course (400,000 yen · 30 people only) ", in the case of the village assembly legs," Participating in day trip Narayura bus tour Right "is obtained.

·staff
Original: diomedea · Ponycanyon
Director: Tsutomu Mizushima
Series composition: Yuri Okada
Character design: Naomi Ide
Acoustic director: Mizushima Tsutomu
Music: Katsu Yokoyama
Animation Production: Diomedia

Twitter:@mayoiga_project
Hashtag: # mayoiga

ED: Rina Katahira "Condensation"

·cast
Kōshū: Sakai Hirosodori
Masaki: Yoshi Aisaka
Didan: Taku Yatsushiro
Koharu: Sakura Kaoru
Vulcana: Tatsuo Suzuki
Rion: Hiromi Igarashi


---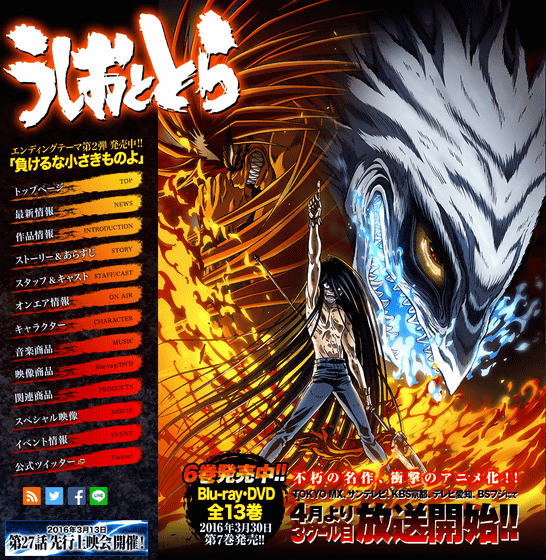 TV anime "Ushio to Tora" 1st and 2nd Cool Digest video - YouTube


· Broadcast information
TOKYO MX: 4/1 (Friday) 22: 30 ~
Sun TV: 4/4 (Monday) 23: 30 ~
KBS Kyoto: 4/4 (Monday) 25: 30 ~
TV Aichi: 4/4 (Monday) 26: 35 ~
BS Fuji: 4/5 (Tue) 24: 30 ~

·Overview
The boy who became a trader of the legendary "Beast Spear" · The Southern Tide challenges the fight with the person of the white face with the Yokai · Tiger which the spear sealed, the incarnation of the world destroying the world.

Popular manga by Kazuyoshi Fujita is the original. The first two courses are broadcast from July 2015 to December 2015, this time it is the last one cool.

·staff
Original: Kazuro Fujita
Director: Satoshi Nishimura
Series composition: Toshiki Inoue, Kazuro Fujita
Character design: Mori Tomoko
Music: Hidehisa Segawa
Animation Production: MAPPA & VOLN
Production: Ushio and Tora Production Committee

Twitter:@Ushitora_TV
Hashtag: # Uchio to andi

·cast
Sogetsu Tide: Yu Hatanaka
Tiger: Koyama Oyama
Nakamura Asako: Komatsu Umiko
Inoue Mayuko: Yasuno Anno
Seki Daya: Mizuki Nana
Akihabara stream: Yoshimasa Hosoya
Duso Satoru: Ryota Osaka
Jun Jun Takakigi Ayano
Kei Narrow: Megumi Ban

OP: Muscle girl band "Myth of a weekly miracle"
ED: LUNKHEAD "Battle before Battle"


---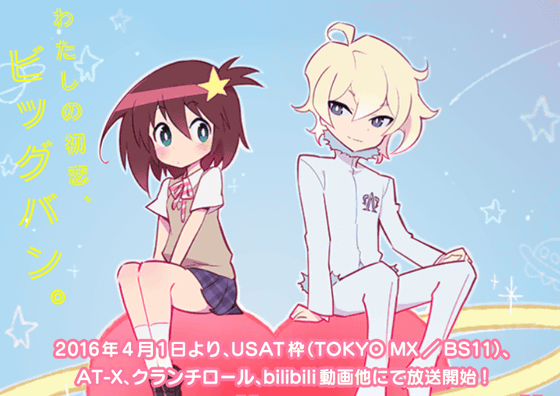 "Space Patrol Lulu child" PV - YouTube


· Broadcast information
AT-X: 4/1 (Friday) 22: 30 ~ other
TOKYO MX: 4/1 (Friday) 23: 00 ~
Nico Nico Douga: 4/1 (Fri) 23: 30 ~
BS 11: 4/3 (Sunday) 25: 00 ~
"ULTRA SUPER ANIME TIME" first frame

·Overview
An ordinary "super-ordinary" girls junior high school student, Ruruko who lives together with his father at OGIKUBO (Ogikubo) where the aliens and the earthlings live together Galactic designated space migrant special zone. Before that, a mysterious transfer student AΩ · Nova appears. The encounter between the two creates a turbulence in Lulu's fate.

"ULTRA SUPER ANIME TIME" fourth season · It is broadcast as the first one. "Kira Rakiru" is now the director of Yoshiyuki Ishiyuki & Tetsu Amemiya's original animation by tag, "Inter Gyarachic First Love Story". In addition to Nico Nico Douga, distribution is also done with crunch roll and bilibili video for overseas.

·staff
Original: TRIGGER · Yoshiyuki Ishi now
Director: Hayashi Ishi now
2nd Director: Satoshi Amemiya
Creative Director: Hiroaki Wakabayashi
Series composition: now Yoshiyuki Ishiyuki
Character design: Mago, Yusuke Yoshigaki
Justice Design: Coya Sieghet
Effect Artist: Sachi Yoshinari
Design Works: Ai Noonaka
Overall director: Yusuke Yagaki, Shuhei Honda
Acoustic Director: Hiroki Uraku
Animation Production: TRIGGER
Production: Space Patrol Lulu child production committee ☆ 彡

Twitter:@s_p_luluco
Hashtag: # Lulu child

OP: Fujiro Hisa (temporary)

·cast
Lulu child: M · A · O
ΑΩ · Nova: Toshiyuki Enoki
Midori: Shinya Mayumi
Over Justice Headquarters: Toru Inada
Keiji: Ikuta Koha


---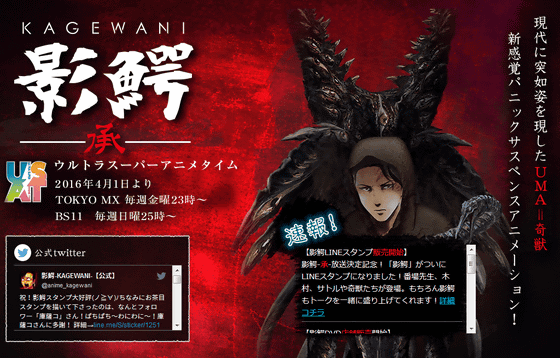 · Broadcast information
TOKYO MX: 4/1 (Friday) 23: 00 ~
BS 11: 4/3 (Sunday) 25: 00 ~
"ULTRA SUPER ANIME TIME" third frame

·Overview
A mysterious "quirk" appears in various places and attacks people. Sobuzuke, a biologist's field, investigates those incidents, and sometimes even closes the truth while being attacked by the odd beasts themselves. There was a past which was saved by the wild animals / shadow cotton when it was young in the market place.

"ULTRA SUPER ANIME TIME" A sequel to "Shadow Cotton - KAGEWANI -" broadcast in the second season. It is unclear whether it is planned to make four copies, although it is "accepted" of "entrance and transference".

·staff
Original · Directed: Takaya Takashima

Twitter:@ Anime_kagewani
Hash tag: # KAGEWANI # shadow crown

Theme Song: M.S.S Project "Egoist Unfair"
Insertion song: 96 cat

·cast
Sobusa Sosuke: Tomokazu Sugita
Masaki Kimura: Ryutaro Okiayu


---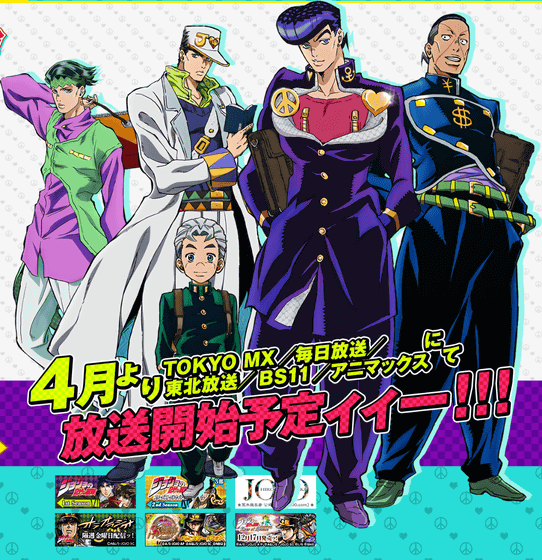 TV anime "JoJo's Bizarre Adventure Diamonds Can not Break" PV 2nd bullet (仗 助 ver.) - YouTube


· Broadcast information
TOKYO MX: 4/1 (Friday) 24: 30 ~
MBS: 4/2 (Sat) 25: 58 ~ (regular broadcasting is from 27: 28 ~)
Tohoku Broadcasting: 4/2 (Sat) 26: 33 ~ (regular broadcasting is from 26: 18 ~)
BS 11: 4/3 (Sunday) 24: 00 ~
Animax: 4/8 (Friday) 22: 00 ~ other

·Overview
In 1999, Kotaro Kujo visited S Prefecture Muno Town in M ​​Prefecture to meet Mr. Toshiaki Tohasu, the secret child of grandfather Joseph Joe star. Shosuke has the same stand capability as Juntaro, and new stand-on use starts to move as if Jitaro's visit triggered.

In the animation of "JoJo's Bizarre Adventure" Part 4, the main staff from Part 1 is in charge of production.

·staff
Original: Hirohiko Araki
Director: Naoto Tsuda
Series Director: Toshiyuki Kato
Series composition: Yasuko Kobayashi
Character design: Nishi Osami
Stand design · action drawing director: Kenta Mimuro
Sub Character Design: Shoichi Ishimoto
Acoustic director: Miwa Iwami
Music: Yugo Kanno
Animation Production: david production

Twitter:@ Anime_jojo
Hashtag: #jojo_anime

·cast
Yoshimi Touhou: Yuki Ono
Koichi Hirose: Hiroki Kaji
Yuri Takahiro: Takagi Wataru
Shiranabe Ryoko: Takahiro Sakurai
Kotaro Kujyo: Daisuke Ono


---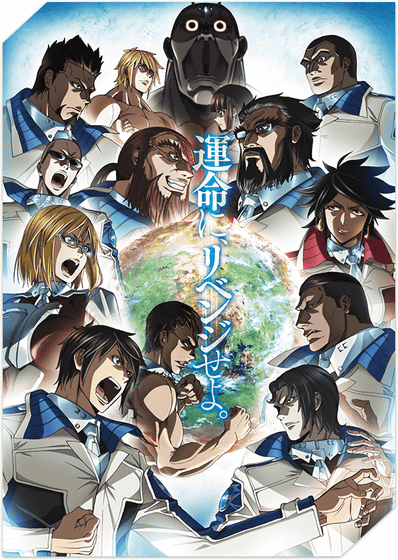 "TeraFormas Revenge" PV 2nd bullet - YouTube


· Broadcast information
TOKYO MX: 4/1 (Friday) 25: 05 ~
TV Aichi: 4/2 (Sat) 25: 50 ~
ABC: 4/6 (Wednesday) 26: 44 ~
BS 11: 4/7 (Thursday) 25: 00 ~
Tele Drama Channel 1: 4/13 (Wednesday) 24: 30 ~

·Overview
In order to make a vaccine against a 100% mortality alien engine virus, human beings sent a knee circular lamp to secure a sample of the human terror cockroach · "terafolmer" evolved abnormally on Mars. Despite being tormented by TeraFormer 's fierce battle, the lanterns who survived somehow managed to fight against each other, behind the mission.

A sequel to "Tera Pharmers" broadcasted from October to December 2014. In addition, on April 29, 2016 based on the original "Bugs No.2" editionLive action movie versionIs made public. Director Takashi Miike, the script is Kazuki Nakajima, and all appearing characters are set as Japanese

·staff
Original: Yu Kiya, Kenichi Tachibana (Shueisha "Weekly Young Jump" series)
Director: Michio Fukuda
Series composition: Toshihisa Arakawa
Character design: Atsushi Ikutani, Kazuki Aizawa
Action drawing director: Utsunomiya, Akira Sekisaki
Mechanic design: Burnstorm design laboratory
3D Director: Shinaku Nakura
Acoustic director: Takayuki Yamaguchi
Music: Tadaoka Wada
Animation production: Leiden film × TYO animation

Twitter:@ _ Terraformars
Hashtag: # _ terraformars

OP: Saint Seiya II "The Wilder New World"
ED: Seikima II "PLANET / THE HELL"

·cast
Knee round lamp: Yoshimasa Hosoya
Komachi Koshichi: Kiuchi Hidenobu
Michelle K. Daves: Shizuka Ito
Marcos · Erin Grad · Garcia: Ishikawa Kokitan
Alex · Kandry · Stewart: KENN
Keiji Onizuka: Daisuke Ono
Kanako Sanjo: Takahashi Tomoaki
Yanase 川 川 恵 子: Ayumi Toyosaki
Sylvester Asimov: Yu Ishizuka
Ivan Peleperkina: Kenji Akabane
Alexandre: Toru Nara
Liu 翊 武: Tetsuo Komura
Rei Saishi: Sayaka Ohara
Explosion storm: Yuki Ono
Jet: Hidenori Takahashi
Borzegin · Dorzi Birki: Takahiro Fujiwara
Red: Nozomi Sasaki
Joseph: Akira Ishida
Ichiro Hikuma: Tomokazu Sugita


---


Anime "Ubu no Oto" PV - YouTube


· Broadcast information
Fuji Television: 4/2 (Sat) 4: 52 ~
Tokai TV: 4/9 (Sat) 4: 51 ~

·Overview
Reanimation will be done in the year of 30th anniversary from the beginning of the series "Ubuso." By the way, the previous animation was the full CG movie of 2002, the role of Mr. Uemura is the role of Mr. Uemura, the role of Chimarisu is Konami Yoshida, the function of Raccoon is Kamiyama Yamaguchi, the role of Mr. Morimoto Snadrineko role. When it comes to TV animation, in 1995, role of Mr. Watanabe is Kumiko Watanabe, role of Chipmunkus is Kunami Yoshida, role of Raccoon is Keiji Fujiwara, role of Mr. Sunadoraneko is Juro Kosugi. The pachinko developed in 2011 "CRA Premium Ocean Story - Mr. Ubonbo came to play!", The voice of the 1995 animated version cast is used.

·staff
Original: Mikio Izusha
Director: Hidenori Yamaguchi
Series composition: Mitsuhiro Hirota
Character design: Yuka Sekiguchi
Drawing director: Mariko Negishi, Yuuka Sekiguchi
Acoustic director: Yokota Chikako
Music: Wakabayashi Takatsugu
Drawing cooperation: TYO animation
Animation Production: Aiken

Twitter:@ BONOBONO_phx

Theme Song: Monoblite "Bonobono"

·cast
Ubu's: Snow Fukayama Fukuko
Chipmunk: Aya Oga
Raccoon: Shinpei Takano
Snidelina: Kurodo Kurodo


---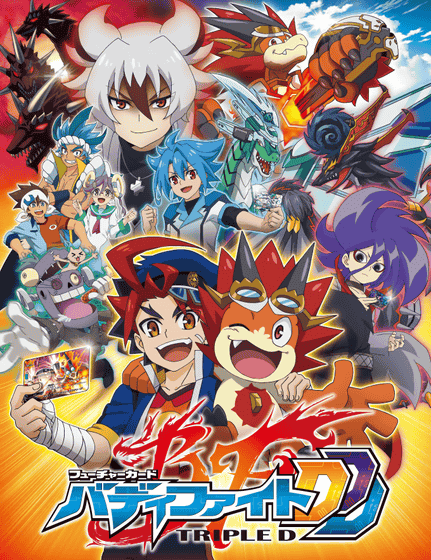 · Broadcast information
TV Tokyo series: 4/2 (Saturday) 8: 00 ~

·Overview
The third piece of cartoon series featuring card game "Future Card Buddy Fight", the title "Triple Dee" represents "Dragon World" "Darkness Dragon World" "Star Dragon World". The main character, the undead monster king, the rival's rival · Ryukyusa Temple will continue to appear.

·staff
Total Production: Takaaki Kidani
Plan / Draft: Bushiroad, Shogakkan
Original: Bushiroad, Mitsuhisa Tamura / Shogakkan
Character original plan: Quily
Main monster original plan: Nakazaki winter, Muranako
Original setting: Kaneko Ryoma
Card fight composition: Shojo spring
Series composition: Masaaki Akaki
Character design: Kumiko Ozawa
Art director: Yusuke Takaki
CGI Director: Seto Ota
Director of Photography: Hideo Arimura
Acoustic Director: Ebi Nerinagari
Music: Kazushi Miura, Shigeru Yamamoto
Animation production: OLM · XEBEC
Director: Shigetaka Ikeda
Production: TV Aichi, Dentsu, OLM

Twitter:@ Buddyfight
Hashtag: # Buddy Fight

OP: Takaaki Natsuyo "Chronograph"
ED: Nana vegetable parco (CV: Tokui Aozora) "Wakudoki SHOOTER"

·cast
Unknown King: Mari Mizuno
Bar: Murakichi Muranaka
Ryukokuji Temple: Makoto Saito
Jack Knife / Dragon: Hiroaki Yasumoto
Black vortex guide: Shota Aoi
Aviguel: Takaya Kuroda
Warrior Kyowa: Satoshi Hino
Asi · Dahacha: Arimoto Kinorita
The Great Armor: Hideo Morishima
Uki KUGURU: Future Sasaki
Ozone B: Shintaro Ohata
Nana cucumber parco: Tokui blue sky
Ungillity: Haruhito Shozo
Takashi Momomura: Yoshihisa Kawahara
Mugen Miko: Mikami Suzuko


---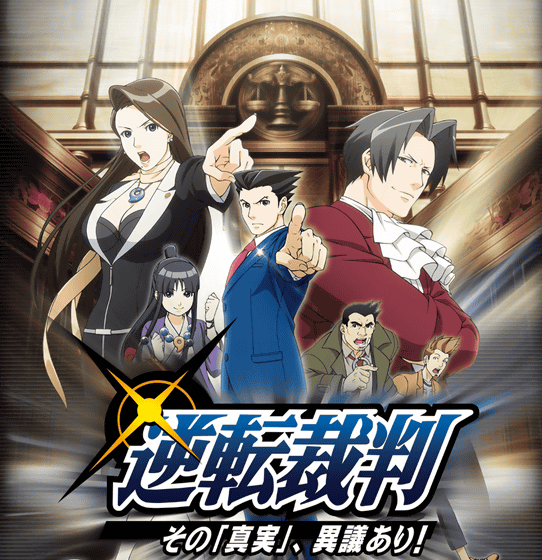 · Broadcast information
Nippon TV / Yomiuri TV system: 4/2 (Sat) 17: 30 ~

·Overview
"That" the truth ", there is objection!"
Ryuichi Noda, who just became a lawyer, is training a court technique under a lawyer who is a female practitioner who is at first glance in the legal circle, Chihiro Rayi. Under those circumstances, the client who caught up in a strange incident came up. For the first time in charge I am charged with a murder incident on a close friend, Masashi Arigato since elementary school. The situation was disadvantageous to Yatari, but Gaeseong, believing in the innocence of Zhang, pierces the contradiction between the testimony and the evidence and starts a counterattack.

Since it was released for Game Boy Advance in 2001, animation of works that have become popular series. In the game versions 1 to 4 and "Reviving Revolution", Director Kiree is in charge of the game version 5, Takayuki Kondo is in charge of the voice, but in the animated version Kaji Hiroki of the role of Ellen Yeager, "Advance Giant" Handle.

·staff
Original · supervised: Capcom
Director: Watanabe Ayumi
Series composition: Atsuhiro Tomioka
Character design: Keiko Ota
Music: Kaoru Wada
Animation Production: A-1 Pictures

Twitter:@ Anime_gyakuten
Hash tag: # Inversion trial

OP: Johnny's WEST "Reverse Winner"

·cast
Ryuichi Narita: Hiroki Kaji
Ryori Manton: Yuki Aki
Maiden of the Maiden: Tamaki Masashi
Chihiro Ryiri: Chie Kobayashi
Keisuke Isozaki: Conquest of Iwasaki
Masashi Aratari: Toru Nara


---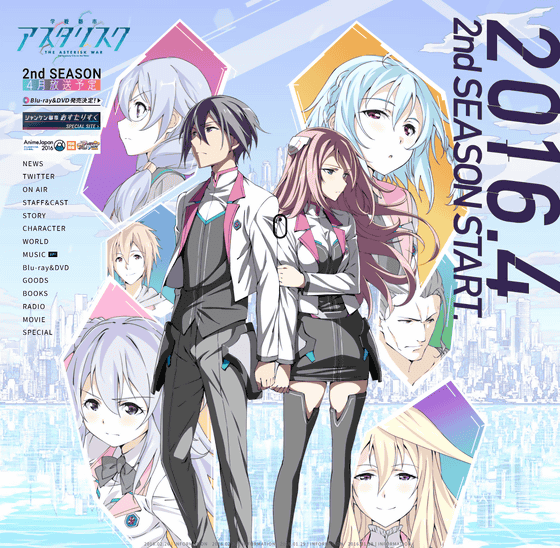 Anime "School War City Asterisk" 2nd SEASON PV | 2016.04 ON AIR - YouTube


Animation "Study War City Asterisk" 2nd SEASON Blu-ray & DVD release announcement CM - YouTube


· Broadcast information
Animax: 4/2 (Sat) 22: 30 ~
TOKYO MX: 4/2 (Sat) 24: 30 ~
Tochigi Television: 4/24 (Sat) 24: 30 ~
Gunma TV: 4/24 (Sat) 24: 30 ~
BS 11: 4/24 (Sat) 24: 30 ~
ABC: 4/6 (Wednesday) 26: 14 ~
CBC: 4/6 (Wednesday) 26: 45 ~
All 12 episodes

·Overview
Ayumi Neumu chased the footsteps of her older sister who disappeared 5 years ago and transferred to the high school of the star guard school. Battle entertainment tournament "Star Moto Festival" was held at the Seogwan Academy Gakuen, Rokka with star guard school, and the winner was told that every hope will come true. Ayato who met Princess Riesel Tania, who aims to win the Star Mutsu Festival, will find out what she should do, due to her influence.

It is the second half of the division two courses of "scholarly battle city asterisk" broadcasted from October to December 2015.

·staff
Original: Sayaki Miya
Original illustration: okiura
General Director: Ono Manabu
Director: Seto Kenji
Character design · total drawing director: Tetsuya Kawakami
Set design: Kenichi Morioka
Art director: Yukihiro Watanabe
Acoustic director: Satoshi Motoyama
Music: Rasmus Faber
Animation Production: A-1 Pictures

Twitter:@ Masterisk_war
Hashtag: #asteriskwar

OP: Sayo Nishizawa "The Asterisk War"

·cast
Ayuto Mimi: Atsushi Tamaru
Yuris-Alexia von Leesfeld: Kao Makuma
Claudia Enfield: Nao Higashiyama
Shaomi Saya: Izawa poem
Ken Tsuto: Ozawa Abe
Shibuya at night: Yusuda Uchida
Leicester McPheil: Takahisa Hoshino
Ernesta Kuune: Akasaki Chinatsu
Camilla · Pareto: Tamura Mutsumi
Irene Ulsaide: Yumi Uchiyama
Priscilla Urcais: Join long-abroad
Dirk Eberwein: Tomokazu Sugita
Heaven Harbor: Mai Nakahara
Sylvia Luneheim: Chika Chisugu
Yoshinobu Saka: Nobuo Tobita
Foshan Rusu: Minami Uomi
Ernesto Fairkuff: Takahiro Sakurai
Cyrus Norman: Yuichi Iguchi
Randy Hook: Fist Fubukiyuki
Yazuki Yasuko: Yuko Kaida
Ichiro Nikko: Ishizuka Unsho
Violet Wineberg: Yukari Tamura
Aldi (Autonomous Pseudomorphic Prototype AR-D): Wataru Hatano
Rimsy (autonomous pseudomorphic prototype RM - C): Haruka Kamimura
Kashimaru Korona: Moe Toyoda
Moritz · Nessler: Masayuki Kato
Gerd Schiele: Kenichiro Matsuda
Madius Mesa: Midorikawa Mika
Yanase Miko: Yuki Azuma
Fam Ti Cham: Ayana Taketa
Kuji Tsuka and No: Yasunori Tanabe
Mihigahara Yoshi: M · A · O
Nana Andersen: Yuko Goto
Yuuki Sakae Chitose: Yuki Matsuoka
Letizia · Blancheir: Saori Ohnishi


---


Anime "Ninja Slayer From Animation" New PV - YouTube


· Broadcast information
TOKYO MX: 4/2 (Sat) 25: 00 ~
Tvk: 4/3 (Sunday) 25: 30 ~
Sun TV: 4/6 (Wednesday) 24: 00 ~
BS 11: 4/8 (Friday) 23: 00 ~

·Overview
Salariman, Fujikido Kenji, who was killed by his wife and child in the Ninja conflict, got the power of a mysterious Ninja soul and became "Ninja Slayer", and he will cast on the battle of revenge.

A special edition of "Ninja Slayer From Animation" delivered from April to September 2015 appeared on TV.

·staff
Series Director · Series composition: Satoshi Amemiya
Screenplay: Yutaka Sato
Character design: now Yoshiyuki Ishiyoshi, Yusuke Yoshigaki, saitom, brought in, believe
Music: Shinichi Osawa, Kenji Fujisawa (Team-MAX)
Acoustic director: Hiroki Togo
Animation Production: TRIGGER
Production: Ninja Committee

·cast
Ninja Slayer: Tomoyuki Morikawa
Dark Ninja: Hayami Akira
Nancy Lee: Chiwa Saito
Yamoto · Koki: Amamiya Tian
Yukano: Risa Taneda
Laomoto · Kang: Tsugayama Odori
Clone Yakuza: Teruaki Genda
Narration: Goblin


---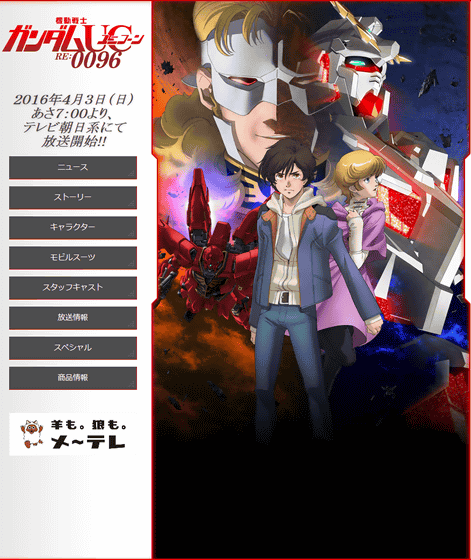 · Broadcast information
TV Asahi: 4/3 (Sunday) 7: 00 ~

·Overview
The boy living in Space Colony Industrial 7 meets a mysterious girl named Audrey Barn one day. It was a banagh that I decided to help Audrey, who is trying to stop trading the "Laplace's box" with the remnants of the Bist Foundation and Neo Zeon "with sleeves", but the colony is a battlefield between the Federal Army and the sleeve To make it. Among them, Airdrie strayed banaghi and encounters fate with Unicorn Gundam.

We will re-edit OVA "Mobile Suit Gundam UC (Unicorn)" which was made in total from seven in March 2010 to June 2014 to the TV series and broadcast it.

·staff
Original: Hajime Yaechi, Yoshiyuki Tomino
Director: Kazuhiro Furukawa
Screenplay: Yutaka Yuuki
Original character design: Yoshihiko Yoshihiko
Animation character design: Kumiko Takahashi
Mobile Suit Suit: Kunio Okawara
Mechanical design: Kataki Hajime, Yoshinori Sayama, Junya Ishigaki, Nobuhiko Genema
Mechanical design cooperation: Mika Akira
Total drawing director: Kumiko Takahashi, Nobuhiko Genema, Shinjiro Motegi
Effect drawing director: SNIPES, Takashi Hashimoto
Cockpit drawing director: Tanzawa studies
Story: Harukoshi Fukui
Music: Hiroyuki Sawano
Acoustic director: Eriko Kimura
Art Director: Shigemi Ikeda
CG Director: Tomohiro Fuji
CG animation director: Takeshi Okawa
Executive Producer: Yoshio Miyakawa
Producer: Sasaki Shin
Producer: Naohiro Ogata, Yuko Kuwakone
Planning and production: Sunrise

OP: Sawano Hiroyuki [nZk]: Tielle "Into the Sky"
ED1: Sawano Hiroyuki [nZk]: naNami "Next 2 U - eUC -"
ED2: Sawano Hiroyuki [nZk]: Aimer "bL∞dy f8 - eUC -"

·cast
Bannage · Links: Uchiyama Takashi
Audrey Burn: Ayumu Fujimura
Lady Mersenas: Daisuke Namikawa
Marida Cruz: Yuko Kaida
Suberoa · Jinnemann: Hironobu Tezuka
Otto · Mitas: Naoya Uchida
Bright Noah: Narita sword
Full · Frontal: Shuichi Ikeda
Angelo Sauper: Takuya Kakihara
CARDIAS BIST: SUGUSO Takayuki
Siam Bist: Ichiro Nagai


---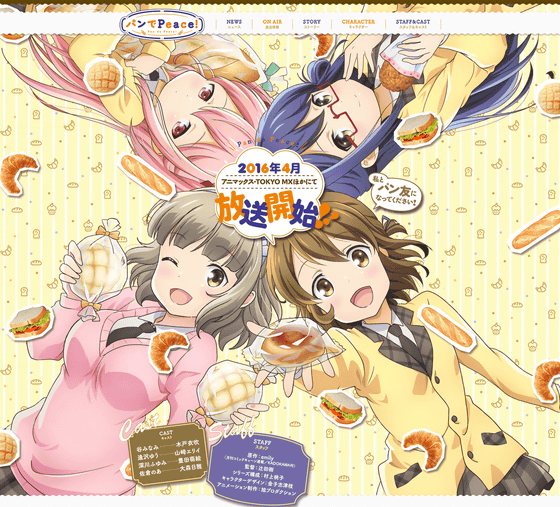 Peace with Peace! PV - YouTube


· Broadcast information
Animax: 4/3 (Sunday) 20: 55 ~
TOKYO MX: 4/4 (Monday) 25: 00 ~

·Overview
Minami is a high school student from today. Through bread straps that have become a classmate, Yu has been wearing it, the circle of "bread friends" is made through bread.

·staff
Original: emily
Director: Hatsuki Tsji
Series composition: Momoko Murakami
Character design: Shimizu branch Kaneko
Animation Production: Asahi Productions

·cast
Minami Valley: Kido Kobuki
Ayazawa Yu: Yamazaki Erii
Fukumi Fukagawa: Moe Toyoda
Saekura: Omori Nisayama


---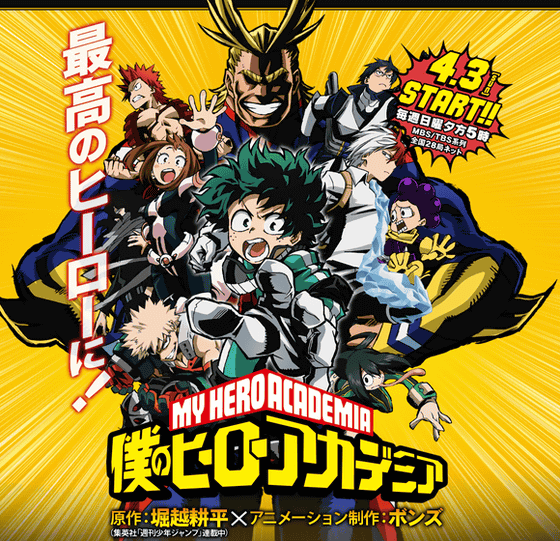 Animation "My Hero Accademia" 5th PV - YouTube


· Broadcast information
MBS · TBS series: 4/3 (Sunday) 17: 00 ~

·Overview
"No individuality" but dreaming of becoming a hero but dreaming of becoming a hero has been bullied by being called "deck" from the victory of the bomb victory who has a strong individuality of blowing up and demands strength. However, one day the encounter of the top star alto of the hero world also called "the symbol of peace" triggered the fate of Dek.

Game software for Nintendo 3DS "My Hero Accademia Battle for All" will be released on Thursday 19th (Thursday).

·staff
Original: Kohei Horikoshi (Shueisha "Weekly Shonen Jump" series)
Director: Kenji Nagasaki
Series composition · Screenplay: Yuusuke Kuroda
Character design · Total drawing director: Yoshihiko Magoshi
Acoustic director: Masumi Mima
Music: Yuki Hayashi
Animation Production: Bonds
Production: My Hero Accademia Production Committee

Twitter:@heroaca_anime
Hashtag: #heroaca_a

OP: Porno Graffitti
ED: Brian the Sun

·cast
Teruya Muroya (Deku): Daiki Yamashita
Katsumi Bakuro: Okamoto Nobuhiko
Oshika Rei: Ayane Sakura
Tianya Iida: Ishikawa Toshinin
Rewroading: Yuuki Kaji
Frog Blow Me Rain: Yuki Aki
Mine Minoru: Hirohashi Ryo
Kirishima Kirishima: Toshiki Masuda
8 million hundreds: Mary Inoue
Shogun Shogun: Yoshimasa Hosorya
Kamiki Electric: Yu Hatanaka
Aoyama Elegant: Kousuke Kuwano
Hideo Hirono: Kei Shingo
Mina Ashido: Eri Kitamura
Shogo Shoji: Nishida Masakazu
Almight: Kenta Miyake


---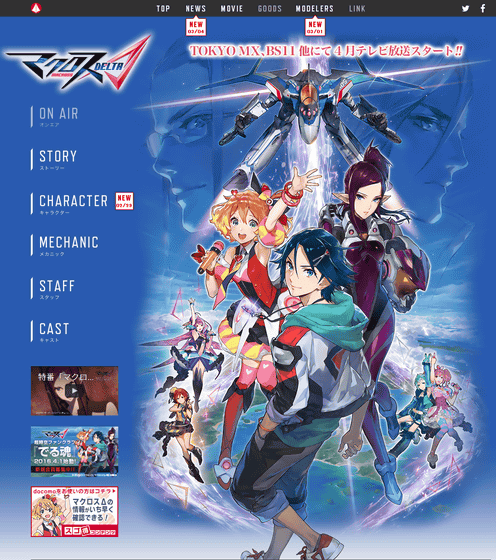 Macross Delta) Number Propelled CM 15 "Before broadcast - YouTube


· Broadcast information
TOKYO MX: 4/3 (Sunday) 22: 30 ~
TVQ: 4/4 (Monday) 26: 30 ~
MBS: 4/5 (Tue) 27: 00 ~
TV Aichi: 4/6 (Wednesday) 26: 25 ~ (From the second episode onwards, 26: 05 ~)
TV Hokkaido: 4/6 (Wednesday) 26: 25 ~ (26: 05 ~ after the 2nd talk)
BS 11: 4/5 (Tue) 24: 00 ~
D Anime store: 4/6 (Wednesday) 12: 00 ~

·Overview
In 2067 AD, more than half a century since immigration to the universe began, human beings built up interstellar civilization. In the remote site of the galaxy, the strange disease "Var Syndrome", a human being losing myself and becoming ferocious, wildly rages, the tactical music unit "Valkyrie" has developed live activities around the stars in order to quell the disease with a song. Meanwhile, Valkyrie unit of "Wind kingdom" called "Knights of the Air" also starts to move.

It is the latest work of the series, eight years after "Macross F" set in 2059. In producingDiva auditionWas carried out, and Minori Suzuki said that he was watching Macross F around the time of elementary school was chosen as a role of Frey.

·staff
Original: Masaharu Kawamori, Studio Nue
Overall Director: Shoji Kawamori
Director: Kenji Yasuda
Series composition: Norimoto Kozo
Character draft: Chisato Sanada (CAPCOM)
Character design: Makiro, Shindo Yui
Main animator: Nakayama Ryu
World view design: Roman Toma
Valkyrie Design: Masaharu Kawamori
Mechanic design: Brunee Stanislas
Macross Visual Artist: Tenjin Hideki
Acoustic director: Masumi Mima
Animation Production: Satellite

Twitter:@ MacrossD
Hashtag: #macross

·cast
Hayate · Inmelman: Yusuda Uchida
Freia · Vion: Minori Suzuki
Mirage · Farina Ginas: Seto Masami
Mikumo · Ginnailer: Ami Koshimizu
Kaname · Buccania: Yasuno Yasuno
Reina · Prowler: Higashiyama Nao
Makina · Nakajima: Nobuo Nishida
Arad · Meredders: Tomoyuki Morikawa
Messer Elefeld: Takashi Uchiyama
Chuck Mustang: Shinji Kawada
Ernesto Johnson: Yu Ishizuka
Lloyd · Breme: Ishikawa Kokitan
Keith · Aero · Windermere: Ryohei Kimura
Borg · Confault: KENN
Hermann Cross: Daisuke Endo
Kashim Eberhardt
Teo · Yushra: Minegishi Yoshi
Zao Yushira: Yoshi Minegishi
Grammare VI: Terasama Masaki
Heinz II: Terasaki Yuka


---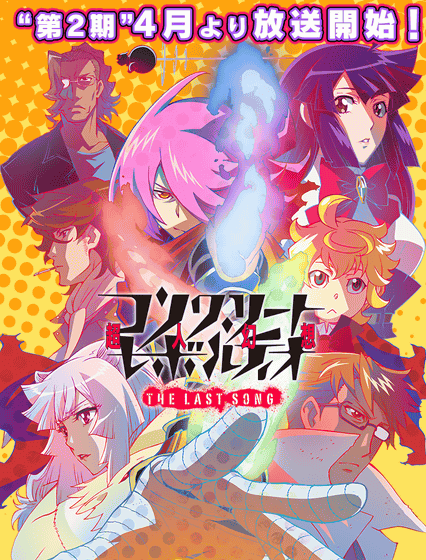 "Concrete · Revolutio ~ Super fighter illusion ~ THE LAST SONG" PV01 - YouTube


· Broadcast information
TOKYO MX: 4/3 (Sun) 23: 00 ~
KBS Kyoto: April 3 (Sun) 23: 00 ~
Sun TV: 4/3 (Sunday) 25: 00 ~
BS 11: 4/5 (Tuesday) 24: 30 ~
※ The first week broadcast special program "Uesaka Sumire & Nakamura Ruriko 's Conrebo · Chronicle to be Understood in 25 Minutes!"

·Overview
"There will be no supernatural when the world becomes adults"
As a result of the superman scholar caused Shinjuku disturbance, Hitoyoshiro drove through a superhuman department to a solitary journey. The superhuman was out of control of the state and used as an outlaw that uses special abilities as a bad thing, or was assigned to a state institution and suppressed outlaw. Such an Android fighter · Wake naught star who names the messenger from the peace coalition made by the intellectual life body of the universe flew to UFO to the largely transfigured Earth.

The second stage of original animation based on the idea that script writer · Noboru Akikawa warmed for a long time. Sapporo is responsible for most of the script, but in the second stage, Kyaba Gen, Tsuji Masaki, and Nakajima Kazuki participate. You can set up and settle for the first phase with 'Uesaka Sumire's Conrebo Super Commentary' by Uesaka Sumire of the role Teruko Hoshino.

Uesaka Sumire's Conrebo Super Commentary - YouTube


·staff
Original: BONES / Noboru Shinkawa
Director: Shizuji Mizushima
Screenplay: Noboru Shinkawa, others
Character design: Yoshiyuki ITO
Total drawing director: Yoshiyuki Ito
Character draft / conceptual design: Cowboys, Hikawa Hikiru, Hirao Ryo
SF Design Works: Ebi Ogawa Kaneda, Yanase Noriyuki, Yuhara Toshiaki, Matsumoto Hideyuki
Official supervisor of mechanics drawing: Otsuka Takeshi
Acoustic director: Masumi Mima
Animation Production: Bonds

Twitter:@conrevoinfo
Hashtag: # Convo

OP: ZAQ "Split Learning"
ED: Yosuke Yamamoto feat. Nami Tamaki "ALL-WAYS"

·cast
Hitoyoshiro: Ishikawa Toshinin
Teruko Hoshino: Sumire Uesaka
Kino Smile: Aki Toyosaki
Kaze Taito: Nakamura Riko
Yoshimura Teruma: Kawashima Maruko love
Takeshi Akita: Tetsuo Kanedo
Shiba Kenichi Suzumura
Ururu: Okawa Toru
Hitoyoshi Hamutake: Miki Shinichiro


---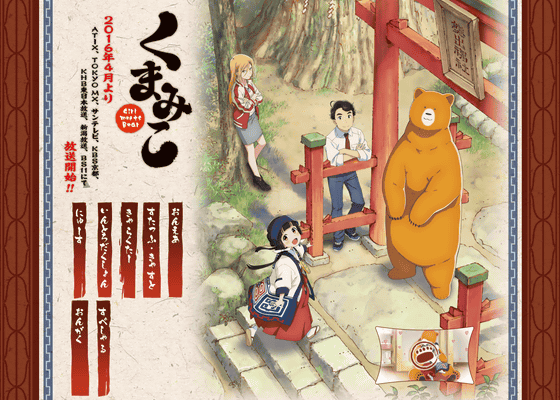 【PV】 TV animation "Kumamiko" PV 2nd bullet - YouTube


· Broadcast information
AT-X: 4/3 (Sunday) 23: 30 ~ other
TOKYO MX: 4/3 (Sunday) 24: 30 ~
Niigata Broadcasting: 4/3 (sun) late night ~
BS 11: 4/4 (Monday) 27: 00 ~
KBS Kyoto: 4/5 (Tue) 24: 30 ~
East Japan Broadcasting System: 4/5 (Tuesday) 27: 26 ~ (From the second episode onwards Monday 26: 56 ~)

·Overview
The town that served as a shrine maiden to the shrine serving the bear says "I want to go to the city's school." A bear who knows the town from a young age, opposed to this, imposes various trials for going to the city.

·staff
Original: Yoshimoto Mume
Director: Kiyoshi Matsuda
Screenplay: Pierre Sugiura, Masao Iketani
Character design · total drawing director: Hiroyuki Shida
Sound Director: Tanaka Kazuya
Music: Tateyama Shinkansen
Animation Production: Kinema Citrus, EMT Squared
Production: "Kumamiko" Production Committee

Twitter:@ Kmmk_anime
Hashtag: # kumamiko

OP: Maki Hanatani (Fullfull ☆ Pocket) "Because, please do it."
ED: Utsukushimachi Machi (Natsuki Nika & & Ami; Kumai Natsu (Yasuaki Yasumoto) feat. Everyone in Kuraseide Village "KUMAMIKO DANCING"

·cast
Rainy way town: Natsuki Hioka
Kumaii Natsu: Hiroaki Yasumoto
Yuzu Amezaki: Kazuyuki Okitsu
Hikaru Sakata: Eri Kitamura


---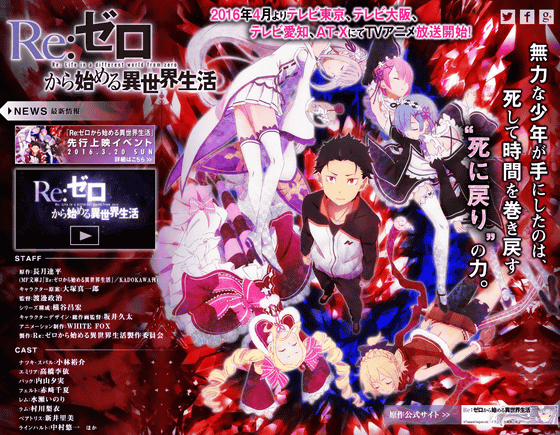 Anime "Re: Zero world life starting from zero" 2nd PV - YouTube


· Broadcast information
TV Tokyo: 4/3 (Sunday) 25: 35 ~ (25: 05 ~ after the 2nd talk)
TV Osaka: 4/5 (Tue) 25: 35 ~
TV Aichi: 4/7 (Thu) 26: 05 ~
AT-X: 4/8 (Friday) 21: 30 ~ (22: 00 ~ after the 2nd talk) and others
※ First episode 1 hour special special

·Overview
Upon suddenly returning to a convenience store, Nabuki Subaru (Subaru) summoned to a different world is saved by a girl / Emilia where the dangerous place is attacked by being picked up. It was a subaru who helped Emilia searching for things, but finally when I thought that clues could be grasped, someone was attacked and I lost my life with Emilia. When I noticed, Subaru was in the place that was first summoned. In this way, Subaru who got the power of "returning to death" to unwind time to death can save Emilia and himself / herself.

The original novel is 7 volumes already published from MF Bunko J, the latest 8 volumes are released on March 25. websiteSerializing with "Become a Novelist"It is also continuing, neither deletion nor update suspension has been done.

·staff
Original: Tsuyoshi Koshiki (MF Bunko J "Re: Another World Life Starting from Zero" / published by KADOKAWA)
Character draft: Shinichiro Otsuka
Director: Masaharu Watanabe
Series composition: Masahiro Yokoya
Character design · total drawing director: Hisa Sakai
Animation Production: WHITE FOX
Production: Re: Starting from scratch, Different World Life Production Committee

Twitter:@ Rezero_official
Hash tags: # rezero, # rezero

OP: Konomi Suzuki "Redo"
ED: MYTH & ROID "STYX HELIX"

·cast
Natsuki · Subaru: Yusuke Kobayashi
Emilia: Takahashi Yi
Pack: Yumi Uchiyama
Felt: Akasaki Chinatsu
REM: Minoru Inase
Lamb: Ruri Murakawa
Beatrice: Satomi Arai
Reinhardt: Yuichi Nakamura


---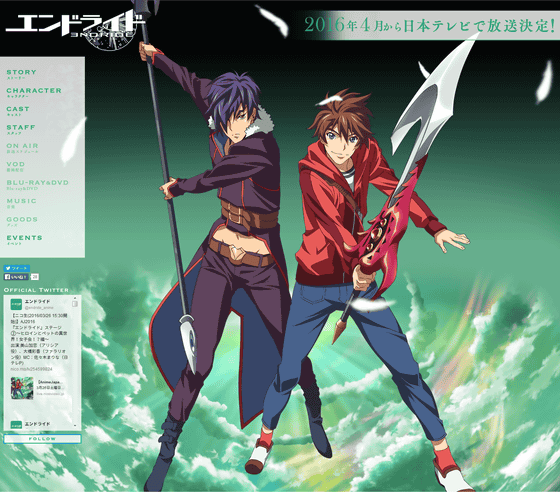 Anime "End ride" PV - YouTube


· Broadcast information
Nippon TV: 4/3 (Sunday) 26: 30 ~ (From the second episode onwards 25: 55 ~)
Chukyo Television: 4/10 (Sunday) 25: 25 ~
Miyagitete: 4/22 (Fri) 26: 30 ~
Nitteleplus: 5/6 (Friday) 25: 30 ~
All 24 episodes

·Overview
One day, a junior high school student 's shallow eternity is sucked into the world endora behind the earth by touching a mysterious crystal. Even so, at Endra, Prince Emilio who hated the current king had a birthday of 16 years and tried to fulfill revenge, but he failed and was imprisoned. The moment appeared, it was in prison that Emirio was indeed. What is the fate that the encounter between the two people brings to Endorah ... ....

Kazuhiro Wagetsu of "Kazuhiro Hagiwara" and "Rurouni Kenshin - Meiji Kenkaku Romantan -" of "BASTARD !! - Dark Destruction God -" is in charge of character design, "End ride project"In the original animation, the moon is designing the moon, the Emilio by the Hagiwara, respectively. The game "Endrides - X fragments -A project called "Asha at Asha" as an illustrator is also being promoted, and Takumi Yajima of Tales of the Abyss participates in the composition of the scenario, and preregistration starts from April 2016.

·staff
Project draft: Ryo Aoki
Character original plan: Ichinori Hagihara, Nobuhiro Wagetsu
Director: Keiji Goto
Series composition: Wada Todoko
Total drawing director: Junko Watanabe
Art Director: Sei Ito
Acoustic director: Toru Nakana
Music: Kohei Tanaka & IMAGINE PROJECT
Animation Production: Brains Base

Theme Song: LUNA SEA "Limit"

·cast
Yoshinaga Asano: Kenji Ono
Emilio: Toshiki Masuda
Alicia: Koi Miyama
Farrarion: Ayaka Ohashi
Demetrio: Hiroki Takahashi
El Geia: Kosuke Toriumi
Louise: Shizuka Ito
Felix: Yusuda Uchida


---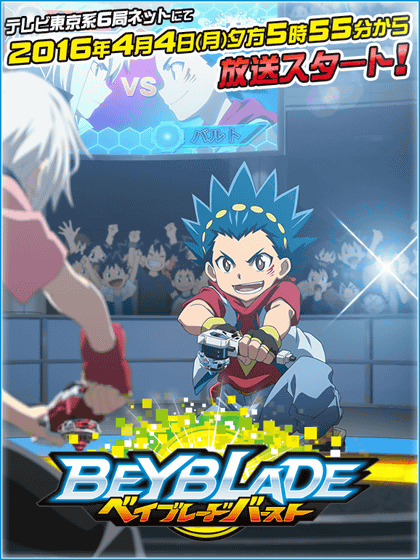 · Broadcast information
TV Tokyo series: 4/4 (Monday) 17: 55 ~

·Overview
An animation series with a motif of the 3rd generation beyblade, which was developed from July 2015. As Beyblade's animation, the eighth work of the series counted from "explosion shoot Beyblade" which began broadcasting in the first generation. Since "Metal Fight Beyblade ZEROG" broadcasted from April to December 2012, it has been the first time in three years.

·staff
Original: Mori Tomo Hiro (Shogakkan 'Monthly Colored Coro Comic' Series)
Director: Katsuhito Akiyama
Series composition: Hideki Sonoda
Character design: Toshiaki Ohashi
Acoustic director: Yuki Matsuoka
Music: Yusaku Tsuchiya
Animation Production: Oh Lem
Production: TV TOKYO / Dee Lights

·cast


---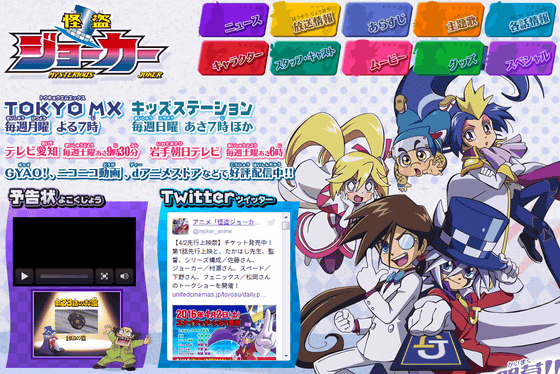 · Broadcast information
TOKYO MX: 4/4 (Monday) 19: 00 ~
BS 11: 4/9 (Sat) 19: 00 ~
Kids Station: 4/17 (Sunday) 7: 00 ~

·Overview
"Miracle Maker" aiming at treasure of the world "President D who leads the mysterious organization · Devil's fang (Devil · Fang) appears in addition to the rival Kaito · Phoenix before the Kaito Joker.

The original is a 2013 Shogakkan cartoon prize winning work. It is said that the stance called "Basic is Showa Showa in Analogue" which is passed through from season 1 will not change this time as well.

·staff
Original: Takahashi Hideyasu
Director: Sachiyo Teramoto
Series composition: Sato University
Main Character Design: Miho Sagamura
Animation production: Shinyi video

Twitter:@ Mjoker_anime
Hashtag: # Kaito Joker

OP: Alcala "Kaito Miracle Boys Boy 2"
ED: Fuki Commune "Welcome to the Shining Night!"

·cast
Joker: Ayumi Murase
Hachi: Yumiko Kobayashi
Spades: Hiroshi Shimono
Phoenix: Matsuoka Sadyojo
Hossy: Atsumi Tanezaki
President D: Kishio Daisuke


---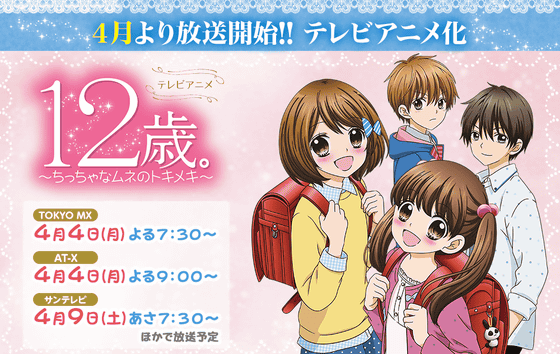 【Chao】 TV animation "12 years old." First released on PV! - YouTube


· Broadcast information
TOKYO MX: 4/4 (Monday) 19: 30 ~
AT-X: 4/4 (Monday) 21: 00 ~
TV Aichi: 4/5 (Tue) 17: 25 ~
TVQ: 4/6 (Wednesday) 17: 25 ~
Sun TV: 4/9 (Sat) 7: 30 ~
TV Hokkaido: April 11 (Monday) 17: 25 ~

·Overview
I draw a 12 year old pure trouble and first love, centering on a school life of elementary school sixth grade who is neither an adult nor a kodomo. The original is serialized in "Chao", the cumulative total exceeding 2.5 million copies "popular JS manga".

·staff
Original: Namo Maiko
Director: Great Earth September
Series composition: Tsubota sentence
Music: Motoyoshi Iwasaki
Animation Production: Oh Lem

OP: Riho Murakawa "Sweet Sensation"
ED: A response P

·cast
Ayase Hana Sun: Kao Yui
Koyo Takao: Makoto Saito
Yui Aoi: Pearl Kimura
Hinoyama Kazue: Horie Shun
Morimori Kokura: Makiyuki Makiguchi
Hamana heart love: Yuri Hara
Tsuboi: Teruya Kakihara
Eiko: Takumi Watanabe
Tomoya: Teru Murata
Mikami Inaba: Tachibana Shinnosuke


---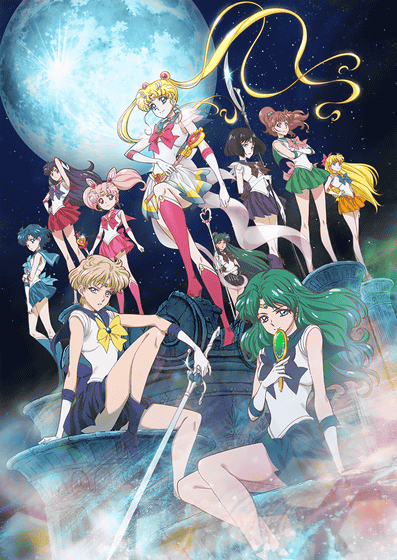 TV anime "Pretty Soldier Sailor Moon Crystal" Third Phase PRETTY GUARDIANS SAILORMONON CRYSTAL SEASON 3 - YouTube


· Broadcast information
TOKYO MX: 4/4 (Monday) 23: 00 ~
Sun TV: 4/5 (Tue) 24: 00 ~
TVQ Kyushu Broadcasting: 4/8 (Friday) 25: 58 ~
TV Hokkaido: 4/10 (Sunday) 25: 05 ~
TV Aichi: 4/10 (Sunday) 25: 35 ~
BS 11: 4/12 (Tuesday) 23: 30 ~

·Overview
Rabbits became a junior high school third grader, regaining peaceful days. However, a case arises that students are attacked one after another by private monsters at infinity school. Rabbits heading for reconnaissance are confused and encounter with two strange Sailor fighters. Meanwhile, Chibiusa acquainted with a girl named Fudara Fuda and became acquainted.

Original animated Comics Complete version of Volume 5 and Volume 6, a mysterious organization Anatomized the battle with Death Busters. External solar system fighters such as Sailor Uranus, Sailor Neptune, Sailor Saturn and others appear, and 10 sailor fighters gather together.

·staff
Original: Naoko Takeuchi
Director: Now Chiaki
Screenplay / Series composition: Yuji Kobayashi
Character design: Akira Takahashi
Music: Koji Takanashi
Animation Production: Toei Animation

OP: Yukushimaru Etsuko "In Love With New Moon"
ED: Sailor Uranus (CV: Junko Minagawa) × Sailor Neptune (CV: Sayaka Ohara) "eternal eternity"

·cast
Tsukino Usagi / Sailor Moon: Kotono Mitsuishi
Mizuno Ami / Sailor Mercury: Kimoto Hoshiko
Rei Rei / Sailor Mars: Rina Sato
Makoto Kino / Sailor Jupiter: Ami Koshimizu
Minako Aino / Sailor Venus: Shizuka Ito
Chibi Susa / Sailor Chibi Moon: Misato Fukuen
Mei Shitasen / Sailor Pluto: Maeda Ai
Haruka Tenno / Sailor Uranus: Junko Minagawa
Sailor Neptune: Sayaka Ohara
Hotaru Doi / Sailor Saturn: Yuki Fujii
Tuxedo mask / local: Kenji Nojima
Luna: Ryo Hirohashi
Artemis: Yohei Obayashi
Diana: Shoko Nakagawa
Kaolin Knight: Yokohama
Professor Tsuchiaki: Takuya Kirimoto
Pharaoh 90: Takaya Taba
Mimet: Yuki Nagaku
Usuaru: Takahashi Tomoaki
Viryui: Rina Motoni
Tellurium: Naomi Ozori
Shiplin: Shoji Ubuka


---


April 2016 New program animation "Bakuon !!" PV 2nd bullet / "Bakuon !!" Official Trailer Part 2 - YouTube


· Broadcast information
TOKYO MX: 4/4 (Monday) 24: 00 ~
Sun TV: 4/4 (Monday) 24: 00 ~
BS 11: 4/4 (Monday) 24: 00 ~
Animax: 4/13 (Wednesday) 22: 00 ~

·Overview
School girl high school student Sakura Yui who is interested in bike by being caught in a slope on the way to school, enters the motorcycle part with a classmate who already rides a motorcycle, Amena, and acquires a motorcycle license, starts a bike life of a desire.

It is a work that draws the youth club activity scene of girls high school students belonging to the motorcycle part with realistic motorcycle depiction, comics released on 18th March Volume 7 also has special version with OVA. Also,Avoid obstacles to advance gameAre also prepared.

·staff
Original: Tomomi Touma (Akita Shoten "Young Champion Intensely" series)
Director: Junji Nishimura
Series composition: Sumire Sunayama
Character design: Isao Sugimoto
Sub Character Design: Inui Inamori
Acoustic Director: Takeshi Takashi Takeshi
Music: Ryosuke Nakanishi
Animation Production: Toms Entertainment

Twitter:@ Bakuon_anime
Hashtag: # Bakugan

OP: Saki Saki "FEEL × ALIVE"
ED: Sakura Namida (Uena Rena), Suzuko Kiyoshi (Higashiyama Nao), Amano Ena sa (Uchiyama Yumami), Minowa Ai (Tachiko Yamaguchi) "Funo!

·cast
Sakura Namida: Ren Ueda
Teru Suzino: Nao Higashiyama
Amano Ena: Umiyama Yumi
Miwa Sanno: Tachiko Yamaguchi
Hayakawa: Yu Ishizuka
Tsukuko: Hikasa Yoko
The father of:: Shinichiro Miki
Father of Blessing: Mitsuo Iwata
Professor Saruyama: Wataru Araki
Sakura Yuki: Tadashi Azusa


---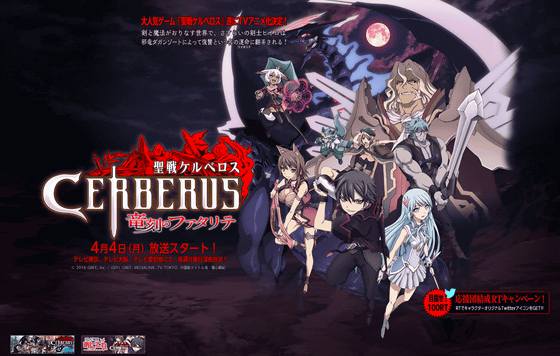 Holy War Kerberos Ritual Fatalei - YouTube


· Broadcast information
TV Tokyo: 4/4 (Monday) 25: 35 ~
TV Osaka: 4/4 (Monday) 25: 35 ~
TV Aichi: 4/4 (Monday) 27: 05 ~
AT-X: 4/5 (Tue) 24: 30 ~ other

·Overview
On the continent where the sword and magic dominates, the Kuanan continent has existed a ruin and Daganzotto who went out of place and wanted destruction. Ten years ago, magicians performed a magic ceremony to seal Daganzoort, but failed by someone's distraction, hero loses parents. 10 years after that, the hero who used to practice the sword goes on a journey of extermination. In the journey, can the hiro who met a person of various races and increased his companion can punish Daganzot?

Social game reached 5th anniversary by GREE is the original. Before broadcasting on TV TOKYO, it will be delivered in iQIYI, the largest video distribution site in China from March. In addition, the game itself is also developed in China, service is supposed to start from April.

·staff
Original: GREE "Holy War Cerberus"
Director: Nobuhiro Kondo
Assistant Director: Mamio Uchiyama
Series composition: Hiroshi Ohnogi
Character design · Prop design: Takeshi Takeshi
Total drawing director: Isamu Fukushima, Yoshinori Ueno
Creature · Action Drawing Director: Kenichi Takase
Acoustic director: Noboru Akaguchi
Music: Hidenaki Kimura, Nobuaki Shinzawa
Animation Production: Bridge
Produce: Children's Playground Entertainment / Jenko
Production: Holy War Kerberos Production Committee

Twitter:@cerberus_anime
Hashtag: # Holy War Kerberos

OP: Masato Uchida "Resonant Heart"
ED: Suzuko Mimori "Xenotopia"

·cast
Hiro: Matsuoka Sadyojo
Sarato: M · A · O
Erin: Wadare Uchida
Guilloo: Daisuke Kusuna
Tomitte: Ariyasu Ogasawara
Palpa: Shoji Ueda
Nambuco: Shunsuke Sakino
Sharallicar: Mariya Ise
Mumu: Ami Amumura
Bachelopa: Masayuki Komuro


---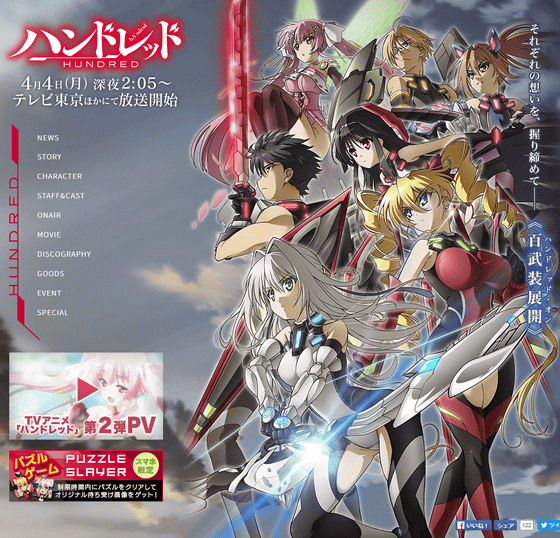 TV animation "Hand Red" 2nd PV - YouTube


· Broadcast information
TV Tokyo: 4/4 (Monday) 26: 05 ~
AT-X: 4/5 (Tue) 23: 30 ~ other
BS Japan: 4/9 (Sat) 24: 00 ~

·Overview
"Grasp each feeling, -" Hundred armed expansion (hand red on) "
The only weapon that can compete against the mysterious living body · Savage hitting the earth "Hand Red". Kisaragi Hayato aims to be a martial artist fighting with hand red and enters the Maritime Science City Ship "Little Garden". The roommate Emile Crossford we met there was strangely familiar with Hayato and was to be swayed. Furthermore, it is applied to a duel from Clair Harvey, the strongest martial arts school girl "Queen".

Puzzle game on official website "Hand Red Puzzle Musculine (Slayer)You can play.

·staff
Original: Min Nosaki (GA Bunko / SB Creative)
Character draft: Okuma Kosuke (nitroplus)
Director: Tomoki Kobayashi
Series composition: Hideki Shirane
Character design: Nori Tanaka
Music: Naruse Shuhei
Animation Production: Production I'ms

Twitter:@ Hundred_PR
Hashtag: # Hand Red

OP: D-selections (Ryuyuki Kobayashi, Azumaki Shibuya, Yuki Wakai, Yoshiaki Aoyama, Masashi Yoshioka) "BLOODRED"

·cast
Kisaragi Hayato: Yoshiaki Hasegawa
Emile Crossford: Rumi Okubo
Kirishima Sakura: Yoshioka Shiu
Kisaragi Karen: Kaya Okuno
Claire Harvey: M · A · O
Fritz Grants: Wataru Hatano
Latea Saint Emilion: Yuka Ootsubo
Ridi Steinberg: Rika Kinukawa
Erika Candle: Yui Makino
Charlotte Dimandius: Yui Horie
Souffle · Clear Rail: Rina Sato
Maymei: Imamura Ayaka


---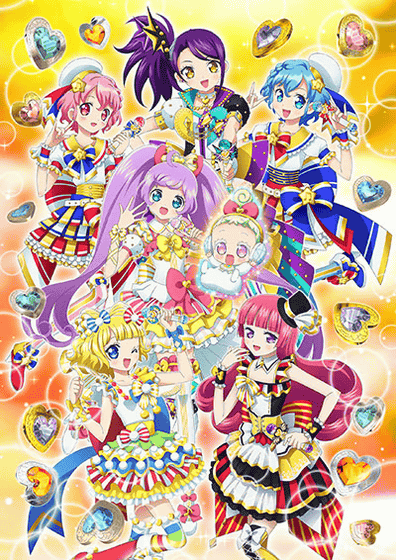 Notice of moving time from Prepala April! - YouTube


·Airtime
TV Tokyo series: 4/5 (Tue) 17: 55 ~
Nara TV: 4/6 (Wednesday) 7: 30 ~
Television Wakayama: 4/8 (Fri) 7: 30 ~
Sendai Broadcasting: 4/8 (Friday) 15: 50 ~
BS Japan: 4/12 (Tue) 17: 29 ~
Gifu Broadcasting: 4/12 (Tue) 17: 30 ~
Niigata TV 21: 4/24 (Sunday) 6: 30 ~

·Overview
Suddenly a baby appeared in the preparer of a para inn. Lara who is the partner that the baby first met, in order to take care of it from the process ... ....

"Kirakira story" depicting the activity of primary school idol broadcasted from July 2014 plunges into the third season "God idol edition".

·staff
Original: Tomy Arts / Sin Sophia
Director: Moriyuki Makoto
Series composition: Ryou Tsuchiya
Character design: Harashima
Music: Tsuneo Saito, Rei Ishizuka
Animation Production: Tatsunoko Pro / DONGWOO A & amp; E

Twitter:@pripara_PR
Hashtag: #pripara

·cast
Middleware: Akaneya Sun Ocean
Minami Mirei: Serizawa Yu
Hōjo Sofui: Kubo Taito
Todo Shion: Saki Yamakita
Dorothy West: Aki Shibuya
Leona West: Yuki Wakai
Kurosu Nama: Yui Makino
Shiratama mandarin: Yui Watanabe
Green wind Fuwari: Azusa Sato
Hikibiki: Shika Mitsuki
Farru: Akasaki Chinatsu
Hojo Cosmo: Yamamoto hope
Azumi Hidaki: Ren Ueda
Bear: Chihiro Suzuki
Rabbit: Takashi Terashima
Cat: Hiromi Imano
Toriko: Hanako Aikawa
Jururu: Uenada Rena


---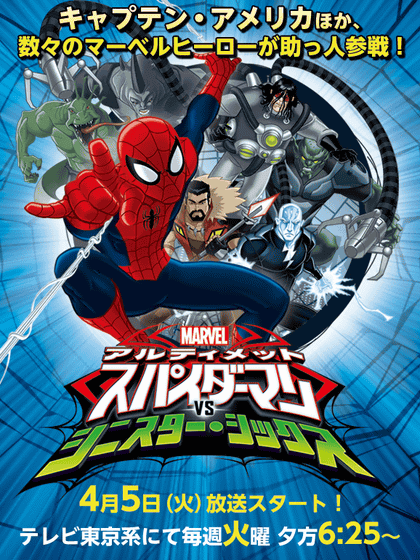 · Broadcast information
TV Tokyo series: 4/5 (Tue) 18: 25 ~

·Overview
Spiderman who learned "What is the ultimate hero" formed the strongest spider corps with Agent · Venom, Iron · Spider, Scarlet · Spider. It confronts the most vicious Villan union "Sinister Six" led by nemesist Dr. Octopus. Captain America, Antoman and others, Marvell Heroes also participate as assistants.

·staff
·Japanese version
Translation: Yuko Ishiyama, Tomoko Seo
Directing: Kagejya Takago
Production: Walt Disney · Japan

·cast
Spiderman: Shinji Kawada
Agent · Venom: Goshi Goto
Iron · Spider-Man: Iwabiti Takuya
Scarlett Spider: Kozo Ogata
Miles · Morales: Takumi Asahina
Dr. Octopus: Kanpei Yamamoto
Narration: Ochiai Hayabusa


---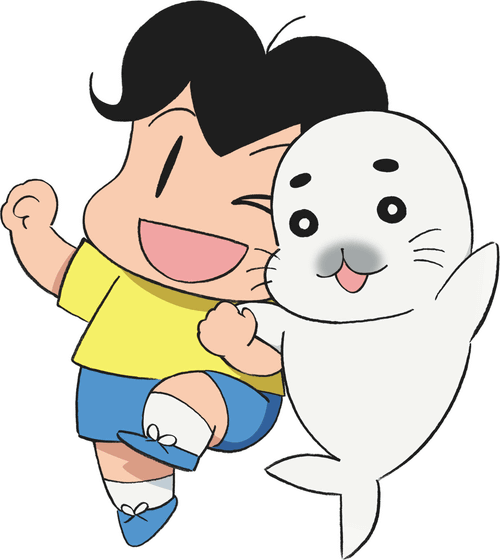 · Broadcast information
NHK E Tel: 4/5 (Tue) 18: 45 ~

·Overview
"Let's Genius Tribe Kun" Short anime broadcast on Tuesday frame.

The original is Yumi Morishita's manga serialized in the weekly Young Jump from 1988 to 1994. Since it was made into a TV animation as "Boys Ashibe" from April to December 1991, as "Boy Ashibe 2" from October 1992 to March 1993, it will be an animation for the first time in 23 years.

·staff
Original: Hiromi Morishita
Director: Nobuhiro Kondo
Series composition: Toshimitsu Takeuchi
Character design: Kurosaki Hironori
Acoustic director: Nagasaki Jun Man
Animation Production: Bridge, Fushio Studio
Production: Team Goma

OP: Ran "Hello Tomorrow"
ED: Charisma.com and RYO-Z Older brother (RIP SLYME) "Gomamu"

·cast
Ashibe: Rika Kawamura
Goma-chan: Higashiyama Nao


---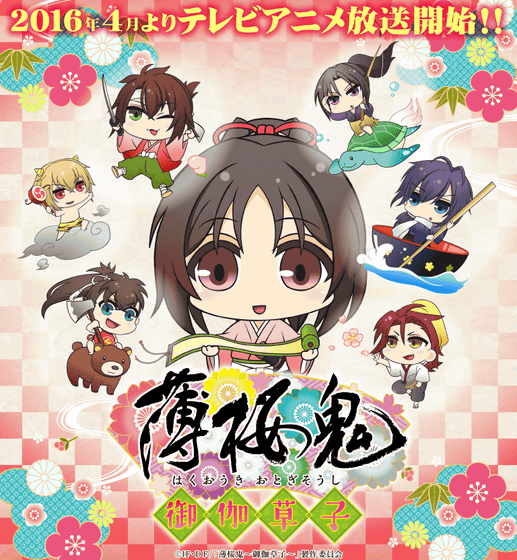 Broadcast on April 5! "Hakuoki ~ Otogisuko ~" PV - YouTube


· Broadcast information
TOKYO MX: 4/5 (Tue) 21: 55 ~
Mie television: 4/5 (Tuesday) 23: 10 ~
Sun TV: 4/5 (Tuesday) 26: 30 ~
Togi TV: 4/9 (Sat) 23: 20 ~

·Overview
The original is a popular girl game "Hakuoki." Characters are tiny and send "Everyday things may have happened".

·staff
Director: Shinohara ぱ ら こ
Animation production: DLE

Twitter:@ Hakuoki_otogi
Hashtags: # Hakuoki Otogi Grass, # hakuoki

Theme song: Lian flower "Do not Cry"

·cast
Yukimura Chizuru: Noriko Kuwashima
Hijikata Kozo: Shinichiro Miki
Okita Shoji: Morikubo Shotaro
Saito Kazuhisa Toriumi Kosuke
Tosuke Todo: Hiroyuki Yoshino
Harada leftnosuke: Yuza Koji
Kazama Chikage: Kenjiro Tsuda
Isamu Kondo: Teru Okawa
Keihin Yamanami: Mr. Tobita
Nagaokura Shinpachi: Tomohiro Tsuboi
Inoue Genzaburo: Kobuo Kobayashi
Yamazaki Takayuki Suzuki
Shimada Sakigi: Samurai Ohashi
Ito Koshitaro: Chiyoshi Watarai
Tengune Kyoshu: Yamaguchi Ryu
Shiranaki Tadashi: Yoshida Hiroaki
Kaoru Nankumu: Ito Itsumi
Senhime: Ayano Ishikawa
Kimi chrysanthemum: Akiko Katsuta


---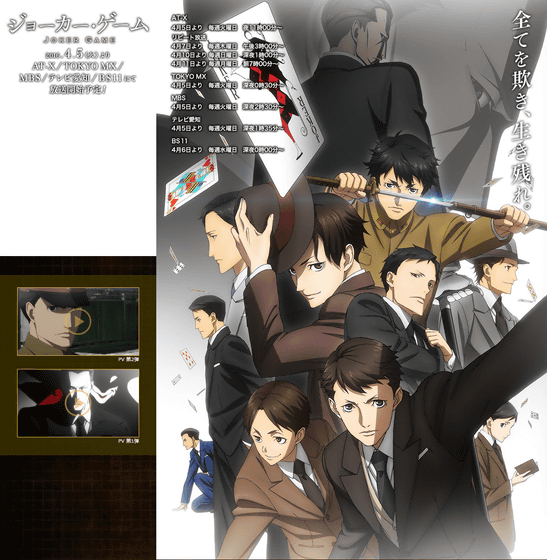 TV anime "Joker · Game" PV 3rd - YouTube


· Broadcast information
AT-X: 4/5 (Tue) 23: 00 ~ other
TOKYO MX: 4/5 (Tue) 24: 30 ~
TV Aichi: 4/5 (Tue) 25: 35 ~
MBS: 4/5 (Tuesday) 26: 30 ~
BS 11: 4/6 (Wednesday) 24: 00 ~

·Overview
"Deceive everything and survive."
In the fall of 1964, Colonel Yuki of the Imperial Army established a spy training section / D institution in a secret backdrop. Young people gathered under Colonel have acquired all kinds of skills necessary for spying activities, plunder the enemies under the teachings of "Do not die, Do not kill", deceive the enemies, deceive the ally, leap on the world .

The original novel is 4 volumes already published, and it is made into a live-action film in 2015. Director Yusuke Iriya of "SR Saitamano Rapper" "Daily Lock", Screenplay "Yakuza no Giant" (co-script with Tomohiro Machiyama), "Gatchaman" "GANTZ" "Dragon Ball Z God and God" Yusuke Watanabe. Cast is Youth of D institution · Jiro Kamui is Kazuya Kamenashi, Ryo Yuki is Yuzuke Iseya.

·staff
Original: Yuji Kanagi (KADOKAWA "Joker · Game" series)
Director: Kazuya Nomura
Series composition · Screenplay: Takashi Kishimoto
Character draft: Shiro Miwa
Character design · total drawing director: Toshiyuki Yagi
Chief Researcher: Haruichi Shiraishi
Music: Kenji Kawai
Acoustic director: Miwa Iwami
Animation Production: Production I. G

Twitter:@ Jokergame_anime

OP: QUADRANGLE "REASON TRIANGLE"
ED: MAGIC OF LiFE "DOUBLE"

·cast
Yuuki Lieutenant: Kenio Horiuchi
Miyoshi: Shimono Hiro
Kaminaga: Ryohei Kimura
Odagiri: Yoshimasa Hosorya
Amari: Tomoyuki Morikawa
Hatano: Hiroki Kaji
Actual: Jun Fukuyama
Fukumoto: Nakai Kazuya
Tazaki: Takahiro Sakurai
Gamo Jiro: Tsuda Kenjiro
Lieutenant Sakuma: Seki Tomokazu


---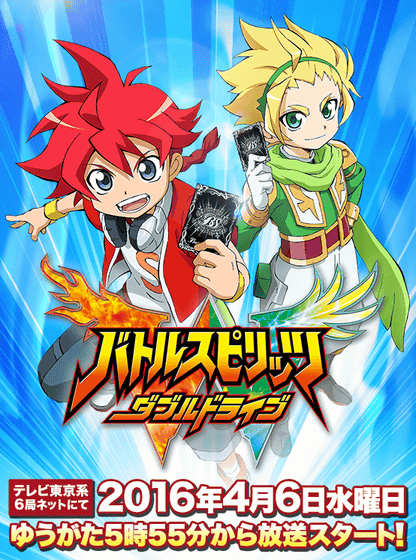 · Broadcast information
TV Tokyo series: 4/6 (Wednesday) 17: 55 ~
BS Japan: 4/13 (Wed) 17: 29 ~

·Overview
One day a boy who loves battle spirits · Shigeta Megami is guided by a card and summoned to a different world "spirits world". According to Eto of a shrine maiden who summoned Shuta, the evil Empress who once fell into the crisis of collapse and was sealed by a brave person resurrected, and now spirits world is in danger of extinction again. In order to gather the power of the twelve Shinto emperor who the brave people used for the evil spirit seal, Suta was led by Eto and traveled with Yoku Albatrossa, a boy summoned from another world, . Can they rescue the world?

It is the eighth animation series whose motif is Bandai's trading card game "Battle Spirits". Although there is no direct connection with "Battle Spirits Burning Souls " broadcasted from April 2015 to March 2016, Mr. Tamura Tamura serving as a role of Yoku Albatrossa is an enemy's subordinate · purple goddess in the previous work He plays Ranmaru. Moreover, it is also the role of the hero / bashin of the first series of the series "Battle Spirits Shonen Toppa Bashin".

·staff
Director: Kunihisa Sugishima
Series composition: Katsumi Hasegawa
Character design draft: Naoki Iwamoto
Animation character design: Yumoto Yumoto
Animation Production: BN Pictures

·cast
Shigeta Motegami: Mikoto Ogi
Yoku Albatrossa: Tamura Mutsumi
Eto · Ethynomoly VIII: Sawako Hata
Tatsumi: Jun Fukuyama
May / Mary Hadda: Koiwai Kotori
Sand rat: Junichi Suwabe
Kenji Migami: Misaki Wada
Toshikazu Sugita: Toshikazu Sugita


---


TV anime "Shingo no Shinji" PV - YouTube


· Broadcast information
TV Tokyo series: 4/6 (Wednesday) 18: 25 ~

·Overview
"To salute, everything."
From the time he was young, he had a talent for him and was aiming for Yin Yang, he was refusing to become a Yin Yang master after the incident "Temple of the Month", which occurred at Tatsuki Dormitory, where he was enrolled. However, the master who gained the title of the "Yin Yang teacher of the twin stars" given to the couple by the oracle is to fight again as a Yin Yang mentor by being stimulated by Shinano Kozo who both became "Yin Yang teacher of the twin stars" To make a decision.

The original is in series with jump SQ., The latest 8 volumes will be published on April 4.

·staff
Original: Yoshiaki Sueno (Shueisha "Jump SQ." Series)
Director: Taguchi Taguchi
Deputy Director: Tatsuya Igarashi
Series composition: Toshihisa Arakawa
Character design: Sakata Kikuko
Sub Character Design: Takeda Iko
Cursed / injured design: Hidenji Ito
Music: Mikio Endo
Acoustic director: Kazuaki Taka
Animation Production: studio Pierrot

Twitter:@sousei_PR
Hashtag: # two-star

OP: Japanese musical instrument band "Valkyrie - Battle Maiden -"
ED: Hitomi Kaji "Eyes"

·cast
Kaikado Rokuro: Nagi Hanoe
Keno Yuino: Megumi Ban
Yuuto stone sculpture: Ayumi Murase
Nobuko Kokai: Serizawa Yu
Amenaki Seihi: Junichi Suwabe
Kinoko: Jun Fukuyama
Ryozo Tsujiji: Maeno Tomoaki
Daimei Arima: Namikawa Daisuke
Ikkiri Da Gate: Ishikawa Toshinin


---


· Broadcast information
NHK E Tel: 4/6 (Wed) 18: 45 ~

·Overview
"Let's Genius Tribe Kun" Short anime broadcast on Wednesday frame.

Animation The four-frame cartoon that Japanese history can learn loosely by animated characters that are pseudo "cats" have become animated.

·staff
Original: Seki Genji
Director: Yohiro Kawamura
Series composition: Ryo Takada
Screenplay: Ryo Takada, Tadashi Shimizu
Cooperation of coverage: Masashi Sakao
Acoustic director: Kosuke Koizumi
Music: KOSEN
Animation Production: Joker Films
Production: The cathedral Japanese history production committee

Theme Song: Team Shachihoko "Chérie!"

·cast
Narration: Koichi Yamadera
The leading role: Yu Kobayashi


---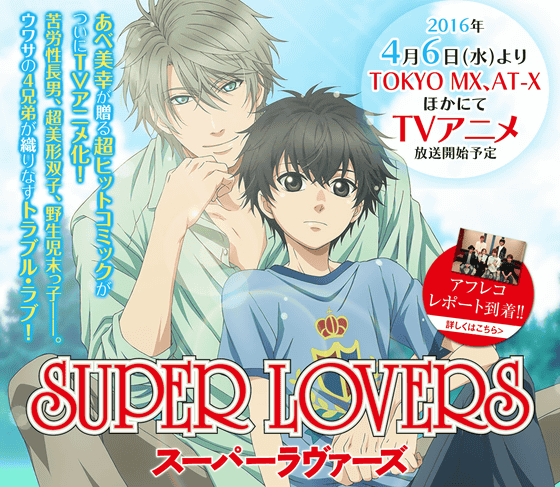 TV anime "SUPER LOVERS" PV - YouTube


TV anime "SUPER LOVERS" Dear CM - YouTube


· Broadcast information
AT-X: 4/6 (Wednesday) 23: 30 ~ other
TOKYO MX: 4/6 (Wednesday) 25: 35 ~
Sun TV: 4/6 (Wednesday) 26: 00 ~
BS 11: 4/8 (Friday) 4/8 (Friday) 27: 00 ~
Terebellum: 4/10 (Sunday) 24: 30 ~
Cibatelle: 4/10 (Sunday) 24: 30 ~
Tvk: 4/10 (Sunday) 24: 30 ~
Gifu Broadcasting: 4/11 (Monday) 25: 00 ~
Mie television: 4/12 (Tuesday) 26: 20 ~
TVQ: 4/12 (Tuesday) 27: 05 ~

·Overview
"Do you want to become a family with me? - So, why do not you want to be more excitable?"
Haita Haya who came to Canada after being cheated by the news of "Mother's Critical" introduces a boy who is a new brother from mother · zero (Ren). It was fine to take care of a wild child, Zero who desperately listens to what he says, but when he finally begun to watch it tragedy comes down.

8 volumes published in the original work by Miyuki Abe, "Hakkenten - Toho Yaku Danbun -", in a form that matches this animationLarge volume lithography was decidedAnd that.

·staff
Original: Miyuki Abe (KADOKAWA "Emerald" series)
Director: Shinji Ishiraira
Series composition: Nakamura Yoshiko
Character design: Miki Takihara
Assistant Director: Takahiro Watanabe
Acoustic director: Hashi daichi
Music: Koji Takanashi & Shuzo Katayama & Kenji Kato (Team-MAX)
Animation Production: Studio Dean
Production: "SUPER LOVERS" Production Committee

Twitter:@ SUPERLOVERSinfo
Hashtag: # Sparava

OP: Yuu Yada "Welcome back."
ED: Four Haitang Brothers "Happiness YOU & ME"

·cast
Haitangu Zero: Junko Minagawa
Haita Hari: Maeno Tomoaki
Hai Hao Aki: Matsuoka Shozo
Haitari Sapua: Terashima Terashima
Ikuhisa Sasaki: Ayumi Murase
Kurosaki Suzuto: Jun Fukushima
Haruko · D · Dickman: Tanaka Atsuko
Mikiko Kashiwagi: Yoko Sawakai
Nori Kondo: Ryoko Shiraishi
Tsinghua: Mitsuki Saiga


---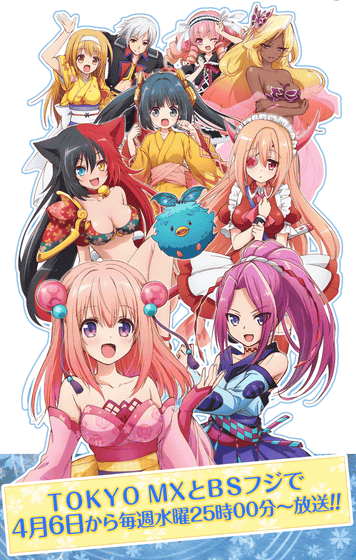 TV anime "Devil's" Demon CM - YouTube


· Broadcast information
TOKYO MX: 4/6 (Wednesday) 25: 00 ~
BS Fuji: 4/6 (Wednesday) 25: 00 ~

·Overview
PC · PS 4 · Action for Xbox One MMORPGAnimation. Coming soon, iOS · Android game application "Demon Zakatabi also goesWill also be released. The genre of the game application is "RPG traveling in Japan".

·staff
Director: Takeshi Yamamoto
Series structure: Takamitsu Kono
Screenplay: Takamitsu Kono, Takashi Aoshima, Atsushi Oka
Character design · total drawing director: Ibe Yukiko
Acoustic director: Honda Yasunori
Animation Production: Piero Plus

Twitter:@ Anigiri_anime
Hashtag: # Kiseki animation

OP: STARMARIE "Princess Turbulence ☆ One Line"

·cast
Statement before: Suzuki Aina
Yoshitsune: Eriko Matsui
Ibaraki Daido: Mikori Mimori
Kaguya: Izumi Katorita
Amateur: Hara Natsuko
Veronika: Yuki Nakajima
Sparrow: Nakane ya nya (STARMARIE)
Sakura: Mikori Mimori
Kizimuna: Nozomu Kinoshita (STARMARIE)
Narration: Katsuyuki Konishi


---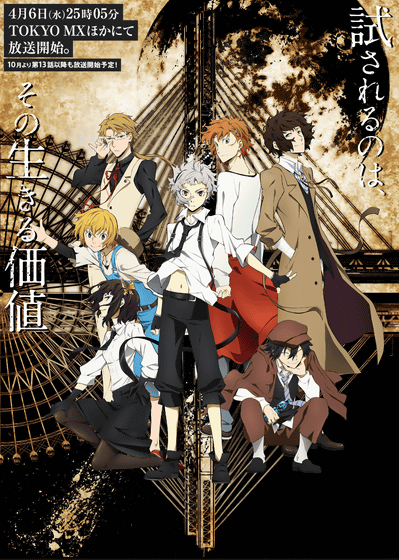 TV animation "Bunbu Stray Dogs" 2nd PV - YouTube


· Broadcast information
TOKYO MX: 4/6 (Wed) 25: 05 ~
Sun TV: 4/6 (Wednesday) 25: 30 ~
TVQ: 4/6 (Wednesday) 26: 35 ~
Cibatelle: 4/7 (Thursday) 25: 00 ~
Tvk: 4/7 (Thursday) 25: 00 ~
Terebellum: 4/7 (Thursday) 25: 05 ~
Gifu Broadcasting: 4/7 (Thursday) 25: 45 ~
Mie television: 4/7 (Thurs) 26: 20 ~
BS 11: 4/8 (Friday) 23: 30 ~

·Overview
"To be tested, the value of living"
A young man wandering around Yokohama - Atsushi Nakajima encounters Dazai Osamu who was trying to commit suicide by drinking lazy days. Dazai was one of the reasons for the armed detective company, an odyssey group whose living business was to solve the troubles that the military and police could not step into, along with the man of glasses - Tomodachi Kunikida. Atsushi is asked to accompany himself to get rid of the "human eating tiger" which makes noise in the street ... ....

It is an interactive action battle work whose famous writers are active and the original is "Young Ace" series. Anime is handled by "Takuya Igarashi & Yoko Enokido" of "Captain Earth", "STAR DRIVER Shining Tact" "Ouran High School Host Club". It is scheduled to be broadcasted after October 2016, after the 13th episode, with 2 cool parts divided by 1 cool + 1 cool.

·staff
Original: Morning Mist Kafka ("Young Ace" series)
Manga: Haru 35
Director: Takuya Igarashi
Series composition · Screenplay: Yoji Enokido
Character design: Nobuhiro Arai
Overall director: Nobuhiro Arai, Hideo Kanno
Firearm Design: Fumi Katakai
Prop Design · Sub Character Design: Hirata Toshi
Music: Taku Iwasaki
Sound Director: Kazuhiro Wakabayashi
Animation Production: Bonds
Production: Bungo Stray Dogs Production Committee

Twitter:@ Bungosd_anime
Hashtag: # bungosd

OP: GRANRODEO
ED: Rack Life

·cast
Atsushi Nakajima: Yu Shimamura
Osamu Dazai: Mamoru Miyano
Kunikida Tomoho: Hosoya Yoshimasa
Edogawa Ranpo: Hiroshi Kamiya
Tanizaki Junichiro: Toshiyuki Toyonaga
Kenji Miyazawa: Takayuki Hanakura
Yosano Akiko: Shimamura Yu
Tanizaki Naomi: Komi Rika Chiaki
Fukuzawa Yukichi: Koyama Koyama
Ryunosuke Akutagawa: Kenji Ono
Nakahara Nakaya: Kisho Taniyama
Shojiro Kajii: Wataru Hatano
Higuchi Ichiba: Seto Masami
Izumi Kyoka: Venus violet


---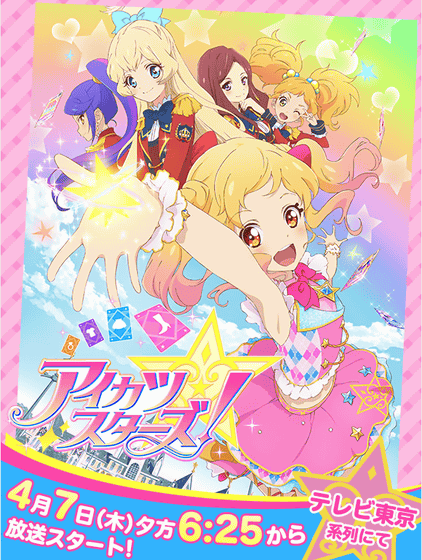 · Broadcast information
TV Tokyo series: 4/7 (Thurs) 18: 25 ~
BS Japan: 4/11 (Monday) 17: 00 ~

·Overview
"Towards the idol's first star, the start to a dream!"
Looking at the figure that the top star "S4" of the 4-star star of the idol school is active in the Aikatsu world, the freshmen will encourage themselves to idle as much as possible like S4.

A new series of TV animation based on Bandai trading card arcade game "Akatsu!". "Aikatsu!" Broadcasted from October, 2012 to March 2016 also changed generations on the way while the main character changed, but this time the stage changed from Starlight school to four star alumni and setting was changed to one New, title was also changed.

In addition to the performance of the original protagonist, Hoshiya Ichigo Star Vision Sumire appears as Kisaragi Tsubasa role, Azusa Kisuya Azusa Tadashi Azusa serves as Yuzu Nikaido, Ayaka Ohashi as a role of purple blowjob appear as Kaoshi Yokoharu role respectively .

·staff
Planning · Original: BN Pictures
Draft: Bandai
Director: Teruo Sato
Series composition: Yuko Kakihara
Character design: Yukiko Aichi
Supervisor: Ryuichi Kimura
Acoustic director: Hiroyuki Kikuta
Music: onetrap
Animation Production: BN Pictures

·cast
Yume Ninomi: Mimi Tomida
Sakuraba Laura: Aya Asai
Nanharu Nanakura: Ai Yamaguchi
Saotome Ako: Natsu Murakami
Shiratori Hime: Tsuda Miwa
Tsubasa Kisaragi: Venus violet
Nikaido Yuzu: Tadashi Azusa
Kasei Yokosuka: Ayaka Ohashi


---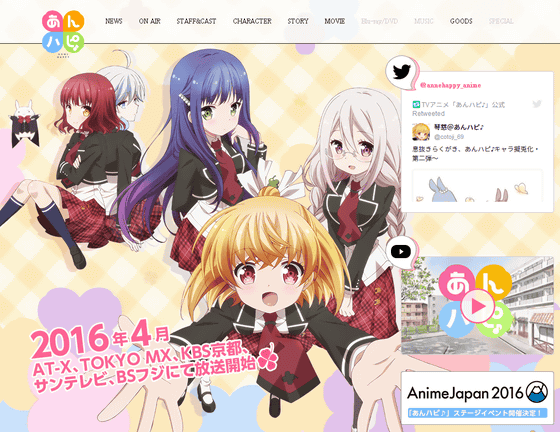 【PV】 TV anime "Anhapi ♪" Happy first PV part 1 (OP version) - YouTube


【PV】 TV Anime "Anhapi ♪" Shiawase Part 2 (ED Version) - YouTube


· Broadcast information
AT-X: 4/7 (Thursday) 21: 30 ~ other
TOKYO MX: 4/7 (Thursday) 22: 30 ~
KBS Kyoto: 4/7 (Thursday) 25: 30 ~
Sun TV: 4/7 (Thursday) 25: 30 ~
BS Fuji: 4/10 (Sunday) 25: 00 ~

·Overview
In the 7th year of Tenouyuku Gakuen, a very unfortunate flower Koizumi Anne, Kurojukuro Ruri performing unrequited tragic love, Unusually poor unhealthy girl · Kume River peony, Extreme sense of direction tone · Hagiyuki Hibiki, awesome Elegant Lotus who was a girlfriend, students who carried "negative work" anyway were gathered. After receiving proposals from their homeroom teacher, they will live a high school life to become 'happy'.

·staff
Original: Kotoshi (Yoshifusasha "Manga Time Kirara Forward")
Director: Onuma Mind
Series composition: Hitoshi Tanaka
Character design: Miwa Oshima
Animation production: SILVER LINK.

Twitter:@ Annehappy_anime
Hashtag: # Anhapi

·cast
Flower Koizumi: Yumihiro Hanamori
Haruka Hikawa: Haruka Shiraishi
Kume River Peony: Yasunokuno
Hagishi Hikaru: Yamamura Hibiki
Ekoda Ren: Mr. Yoshioka
Dr. Kodaira: Yumi Hara
Timothy: Morinaga Chiso


---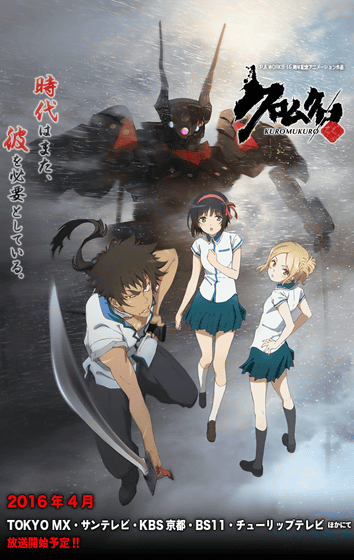 TV animation "Chrome macro" Character PV (PV 2nd bullet) - YouTube


· Broadcast information
TOKYO MX: 4/7 (Thursday) 22: 00 ~
BS 11: 4/7 (Thursday) 24: 00 ~
Sun TV: 4/7 (Thurs) 24: 30 ~
KBS Kyoto: 4/7 (Thursday) 25: 00 ~
Tulip TV: 4/7 (Thursday) 25: 30 ~ (※ From the 2 nd talk on Saturdays 25: 53 ~)

·Overview
The United Nations Kurobe Research Institute was established to conduct research on the mysterious artifact "artifact" discovered by chance at the construction of the dam. At the laboratory brains from all over the world gathered, and at the Tateyama International High School where his son is traveling, there was also the daughter Yurina Shirahi, the director of the Tateyama International High School. In the summer of 2016, one samurai wakes up again.

It is P.A. WORKS 15th anniversary animation work, original school Okawa mecha action by director Okamura Tensai of "DARKER THAN BLACK-black contractor". P.A. WORKS producer Kenji Horikawa commented that he wanted to do robot animation someday from the time of its establishment.

·staff
Original: Snow Grouse
Director: Okamura Shinsa
Series composition: Ryo Hinakaki
Character design: Yuriko Ishii
Total drawing director: Ayumi Nishihata
Visual Concept · Mechanical Design: Yoshiaki Okada
3D Director: Kusuyu Haruta
Sound Director: Kazuhiro Wakabayashi
Music: Hiroaki Tsutomu
Produce: Infinite
Animation Production: P.A. WORKS

Twitter:@ KUROMUKURO_UNKL
Hashtag: # Chrome

OP: GLAY "Destopia"
ED: MICHI "Realistic Stick"

·cast
Aomaden Kenosuke Nozomi: Yohei Azerou
Yukina Shirahi: M · A · O
Sophie Noel: Uena Rena
Misaki Oginfe: Masami Seto
Akagi Ryoujo: Ishikawa Kokitan
Kiyohara Chihara: Yusuke Kobayashi
Jose · Carlos · Takasuka: Shusuke Takeuchi
Umen Mariana: Manami Sugishihira
Shiraizu: Asakura Momo
Shihane Yohai: Tojo Kanako
Tom Bowden: Ryohei Kimura
Liu · Shen Mi: Hikaru Ueda
Sebastian: Kusunoki Daisuke


---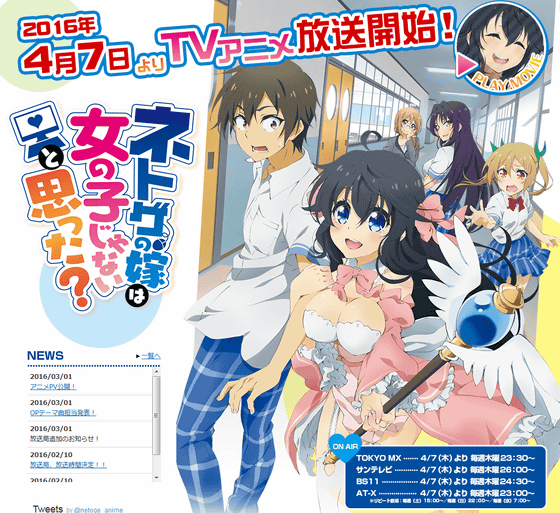 TV anime "You thought that the wife of Netoge is not a girl?" PV - YouTube


· Broadcast information
AT-X: 4/7 (Thursday) 23: 00 ~ other
TOKYO MX: 4/7 (Thurs) 23: 30 ~
BS 11: 4/7 (Thursday) 24: 30 ~
Sun TV: 4/7 (Thurs) 26: 00 ~

·Overview
After conspiring to a female character in Netoge once a boy nodoge lover and English horse had a past, it distinguished that real and game are different things since it was a past. However, in the affiliated guild "Array Cats", it is confessed from fellow Ako, to marry in the game. There, the apricot of the guild master comes to the off-party. When I looked face to face, Ako was a beautiful girl of real monsters, and real and netoge were not distinguished from each other. British crown struggles with the guild members Apul and Akane in order to change the present condition of Ako.

·staff
Original: Acoustic play
Original illustration: Hisasi
Director: Yanagi Yanagi
Series composition: Ryuya Takahashi
Character design: Akane Yano
Animation production: project No. 9

Twitter:@ Netoge_anime
Hashtag: #netoge

OP: Luce Twinkle Wink ☆ "1st Love Story"

·cast
Nishimura Hideki / Lucian: Toshiyuki Toyonaga
Ako Tamaki / Ako: Rina Hidaka
Akane Segawa / Schwein: Minoru Inase
Apology Ap apartment / apricot: M · A · O
Akiyama Nanako: Hitomi Owada
Saito Yui: Minami Aino


---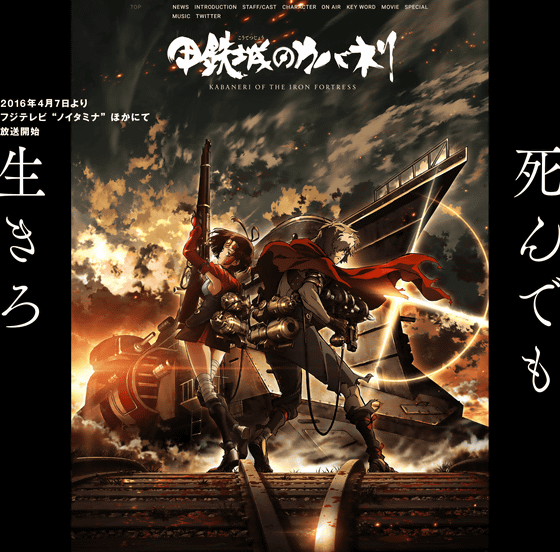 "Kabaneri of Iron Castle" PV 3rd round _2016.03.17 Lifting ban - YouTube


· Broadcast information
Fuji TV: 4/7 (Thurs) 24: 25 ~ (only for the first time, usually 24: 55 ~)
NST: 4/7 (Thursday) 25: 45 ~
Kansai TV: 4/7 (Thu) 25: 55 ~
TV West Japan: 4/7 (Thu) 25: 55 ~
TV New Hiroshima: 4/7 (Thu) 26: 00 ~
Tokai TV: 4/7 (Thurs) 26: 20 ~
Hokkaido Bunka Broadcasting System: 4/10 (Sunday) 25: 15 ~
Other, "Noitamina" broadcast on the frame

·Overview
"Live even if you die"
In the era when modern times are coming, an immortal monster "Kabane" has emerged that can not be defeated unless it punches out the heart covered with steel film. As the chewed person also revives as a kabane after the death, it attacks the person, the kabane increases explosively. In order to counter the threat of the Kabane, people of the island country · Hinomoto built a fort called "station" in various places, and they came and came in Shiro Castle (Hajimero) which covered the stations with thick armor, and exchange the products It survived. Steam smith juvenile living in Ikkane Station (Ikkane Emi) · Ikoma encounters a girl who caught himself in the castle · Unknown, has a weapon built by himself · Tunny tube, casts himself into a fight against Kabane .

A work whose title was announced at "Noitamina Project Presentation Meeting 2015" held on November 27, 2014, as an original animation by Tetsuro Araki known for "Advance Giant", "Guilty Crown" and "DEATH NOTE". The series composition is WIT STUDIO of "Code Geass: Lelouch of the Rebellion" "OVERMAN King Gainer" Okochi Ichiro, animation production is "Advance giant" "Kido no Kodera".

From 2016/3/18 (Friday), a special precedent version "Kabaneri's introduction of Kabaneri" will be roadshowed for one week only.

·staff
Director: Tetsuro Araki
Series composition: Okochi Ichiro
Screenplay: Ichikawa Okochi, Koji Seko
Character draft: Miki Homoto
Animation character design · total drawing director: Yasuyuki Ehara
Music: Hiroyuki Sawano
Assistant Director: Hiroyuki Tanaka
Setting general manager: Kohei Kasaoka
Virtual world adjustment: Miwa Qing Bong
Concept art & design: Hiroshi Moriyama
Design Works: Ippei Shape
Total drawing director: Hiroki Maruyo, Kyoji Asano
Action drawing director: Tatsuro Kawano, Yuko Seiga
Main animator: Ezeki Tezuka
Visual effect animator: Sachiko Matsumoto
CG Director: Shuhei Yabuta
Acoustic director: Masumi Mima
Animation Production: WIT STUDIO

Theme Song: EGOIST "KABANERI OF THE IRON FORTRESS"

Twitter:@ Anime_kabaneri

·cast
Ikoma (Yokohama): Yu Hatanaka
Unknown (Mumui): Saiki Senbonki
Iris (Ayame): Wadare Uchida
Kurusu (Kuruzu): Toshiki Masuda
Takeshi (Takumi): Hiroki Kaji
鰍 (Kajika): Oki Kanae
Yukina: Mariya Ise
Nesting (Sukari): Ryota Osaka
Kibi earth (Kibito): Kensuke Sato
Miba (Miboru): Mamoru Miyano


---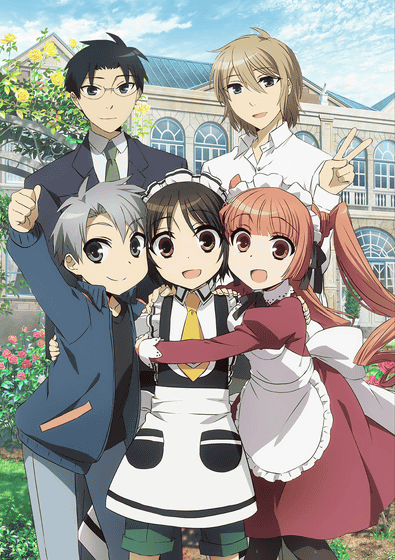 April 2016 New program "Shonen Maid" 1st PV 【TBS】 - YouTube


· Broadcast information
TBS: 4/7 (Thursday) 25: 58 ~
CBC: 4/7 (Thursday) 27: 00 ~
Sun TV: 4/8 (Fri) 23: 30 ~
BS-TBS: 4/9 (Sat) 25: 00 ~

·Overview
Chihiro Komiya, a solid elementary student, is to be taken over by her uncle and Takatori yen home because he lost his mother. Keisuichiro Shinozaki is a secretary in the yen, but Keiichiro is poorly domesticated, and the house is garbage house. Chihiro who received maid outfit from the yen will take over the housework in general as a maid.

·staff
Original: Yutaka Otari
Director: Yusuke Yamamoto
Series composition: Nakamura Yoshiko
Character design: Kana Ishida
Music: Tomohiro Yamada
Animation production: Eight bit

Twitter:@ ShonenMaid
Hashtag: # Shonen Maid

OP: TRUSTRICK

·cast
Chihiro Komiya: Natsumi Fujiwara
Takatori yen: Nobunaga Shimazaki
Shinozaki Keiichiro: Maeno Tomoaki
Yui Makino Yui Makino
Yuji Hino: Mitsuki Saiga
Hayato: Taku Yatsushiro
Ibuki: Kazuomi Yamamoto
Ryuji: Nagi Hanoe
Komiya Chiyo: Yukari Tamura
Takatori Ichigo: Ryoko Sakakibara


---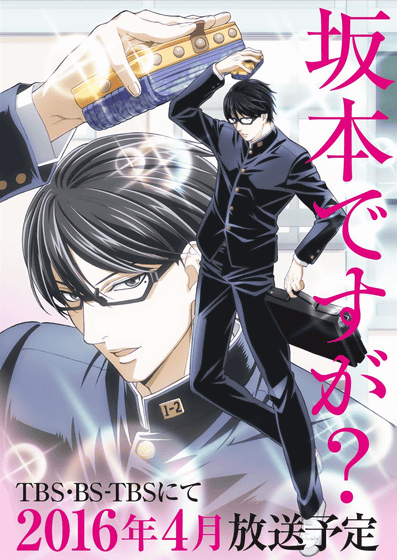 TV anime "Sakamoto is it?" PV - YouTube


· Broadcast information
TBS: 4/7 (Thu) 26: 28 ~
CBC: 4/7 (Thursday) 27: 30 ~
MBS: 4/8 (Friday) 27: 10 ~
BS-TBS: 4/9 (Sat) 25: 30 ~

·Overview
Far from cool, high school student "Coolest" Sakamoto will turn anything cool. Even Pasiri will also change to "hospitality" Follow Sakamoto's coolest stroke of each stroke.

The original work was serialized from 2011 to 2015 in the bimonthural magazine "Fellows!" (After changing the name of "Halta"), all four volumes. Directed by Shinji Takamatsu of "Gintama" "Men's high school student's daily life" "Ixion Saaga DT" "Miyoshi High School Earth Defense Department LOVE!", Along with the original Nori, it seems to be a school gag animation that has passed through considerably. Both men and women in the cast members line a number of veteran names that can not be seen in recent animation.

·staff
Original: Nanami Sano (posted by KADOKAWA "Halta")
Director: Shinji Takamatsu
Character design: Atsuko Nakajima
Art director: Masatoshi Mutoh
Music: Yukihiko Fukuda
Animation Production: Studio Dean

Twitter:@ Suakamoto_anime
Hashtag: # Are you Sakamoto? (It is recognized that "# Sakamoto is there")

·cast
SAKAMOTO: Midorikawa Mikawa
Yoshinobu Kubota: Akira Ishida
A-chan: Tomokazu Sugita
Kenken: Nobuyuki Hiyama
Mario: Takeshi Takeuchi
A Kana Kurogana: Yui Horie
Yuya Shera: Shotaro Morikubo
Kana - chan: Yukari Tamura
Megumi Fujita: Mai Nakahara
Mr. Yagi: Hitomi Nabatame
Mee-chan: Uenida Kana
Erika: Mikako Takahashi
Mr. Tanaka: Saki Fujita
Yasuda: Tatsuo Suzuki
Morita: Maeno Tomoaki
Professor Tsunoda: Joji Nakada
Shigeru Kobayashi: Masashi Yabe
Maruyama-senpai: Toru Inada
Kubota Shigeromi: Kujira
Mr. Fukase: Mitsuo Iwata
8823 Senior: Yuza Koji


---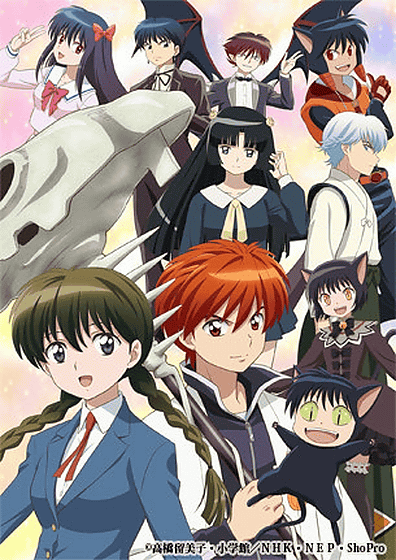 · Broadcast information
NHK E Tel: 4/9 (Sat) 17: 30 ~
All 25 events scheduled

·Overview
Rikuzen Rinpa of the Shinigami juvenile and Mamiya Sakura who can see the spirit sent everyday to solve the problem of the spirit sent at school. In the vicinity there are exorcist shops, cross-shaped wings that look at the ring rivalry, shinigami · otori who is rivaling cherry blossom unilaterally around Rin, dead god · signature to seize Rinen's lifetime, strange people There are lots of. Furthermore, new contract black cats, beautiful girls deceased God, people with Rinen and Wake-up appear, and the fantastic days continue.

·staff
Original: Rumiko Takahashi
Director: Shigetaka Sugawara
Series composition: Michiko Yokote
Animation Production: Brains Base

·cast
Rikuzen Rin: Ishikawa Toshinin
Mamiya Sakura: Mary Inoue
Six sentences: Hitomi Nabatame
Cross wing: Ryohei Kimura
Magokoro: Teruya Kakihara
Feng: Ruri Murakawa
Seal: Morimoto Saito
Miho: Tokui blue sky
Rika: Aya Suzaki
Suzuki sensei: Tsuboi Tsuboi
Soko: Yukino Satsuki
Rokkaido Mackerel: Kampei Yamaguchi
Hazy: Matsuoka Sadyojo
Suzuki: Mikami Suzuko
Xiangmen: Yumiko Sanba
Kuroshi: Akira Ishida
Narration: Teruaki Genda


---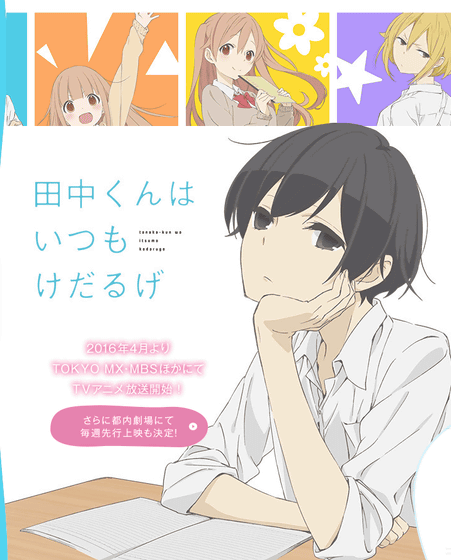 TV anime "Tanaka-kun is always useless" PV - YouTube


TV anime "Tanaka-kun is always useless" Dengei CM (30 seconds) - YouTube


· Broadcast information
TOKYO MX: 4/9 (Sat) 22: 00 ~
MBS: 4/9 (Sat) 25: 58 ~
Hiroshima TV: 4/10 (Sunday) 26: 20 ~
TV Aichi: 4/10 (Sunday) 26: 35 ~
BS 11: 4/10 (Sunday) 27: 30 ~

·Overview
In the classroom, I am asleep, I do not move the time of physical education, and I do not want to walk as far back and forth as possible as much as possible. In the surroundings of Tanaka, a male high school student, Tanaka, a cowardly Otani who can be attentive but attentive always, a bright cheerful hard worker Miyano, regardless of gender, it is a popular high-class talented but chairman of secret possession · Shiraishi, Yankee Respect · Escherichan Echizen style like .... There are many distinctive companions.

In addition to the preliminary screening of the first episode and the second episode, it is decided to perform the preliminary screening every week at the Cine · rivre Ikebukuro.

·staff
Original: Udanosomi (posted on Square Enix 'Gangan ONLINE')
Director: Shinya Kawabata
Series composition: Akemi Shimbun
Character design: Haruko Iizuka
Music: Mizutani Hiromi (Team - MAX)
Acoustic director: Toshiki Kameyama
Animation Production: Silverlink
Production: Production Committee is always wonderful

Twitter:@ Tanaka_anime
Hashtag: # You gotta get it

OP: Unlimited tone "Umatane Sunshine"
ED: CooRie "BON-BON"

·cast
Tanaka: Kenji Ono
Ota: Yoshimasa Hosoya
Miyano: Natsumi Takamori
Shiraishi: Koiwai Kotori
Echizen: Aki Suwa
Rino: Yuki Ao
Early evening: Higashiyama Nao
Shimura: Kazuyuki Okitsu
Kato: Yuichi Iguchi


---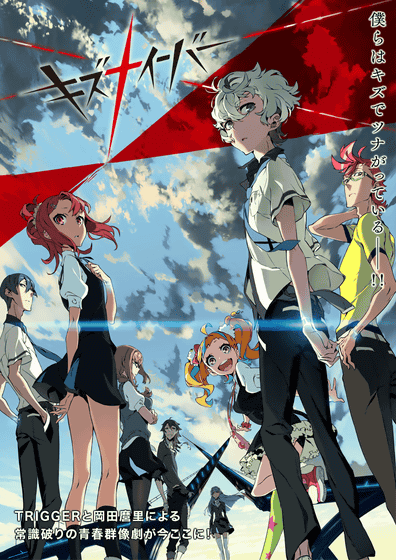 TV animation "Kizunaiba" PV | Start broadcasting on Saturday, April 9, 2016 - YouTube


· Broadcast information
TOKYO MX: 4/9 (Sat) 23: 30 ~
BS 11: 4/9 (Sat) 23: 30 ~
Gunma TV: April 9 (Sat) 23: 30 ~
Tochigi Television: 4/9 (Sat) 23: 30 ~
ABC: 4/9 (Sat) 26: 15 ~
Nico Nico Live Broadcasting: 4/10 (Sunday) 22: 00 ~
TV Aichi: 4/12 (Tue) 26: 05 ~

·Overview
"The story of Kizuna connected by scratches"
Kappei Arup of the constitution which does not feel pain is chosen as a friend "Kizunaiba" who shares pain by Noriko Sonzaki, a mysterious girl. Kizunaiba had classmates belonging to different groups that originally did not intersect. What is it that will wait for them to carry each other's wounds?

TRIGGER who produced "Kirakirakiru" is an original work with a writer / Okada Yuri, a scriptwriter of "I do not know the name of the flower I saw that day." "My heart wants to cry." The original draft character is known as "Dog - DOGS -", "DOGS / BULLETS & amp; CARNAGE", and Mr. Miwa Miwa, a manga artist who works as a draft character in the April broadcast program "Joker · Game".

·staff
Original: TRIGGER · Okada Yuri
Director: Hiroshi Kobayashi
Series composition · Screenplay: Yuri Okada
Character draft: Shiro Miwa
Character design: Mai Yoneyama
Music: Yuki Hayashi
Acoustic director: Toshiki Kameyama
Animation production: TRIGGER

Twitter:@ Kiznaiver
Hashtag: # kizna

·cast
Ao Kappei: Hiroki Kaji
Takashiro Chidori: Terasaki Yuka
Yuji Hito: Nobunaga Shimaki
Hiroko Shinyama: Misaki Kuno
Sonjin Noriko: Yamamura Hibiki
Tianhei 1: Maeno Tomoaki
Makihonoga: Rina Sato
Yoshiharu Nisimura: Kotaro Nishiyama


---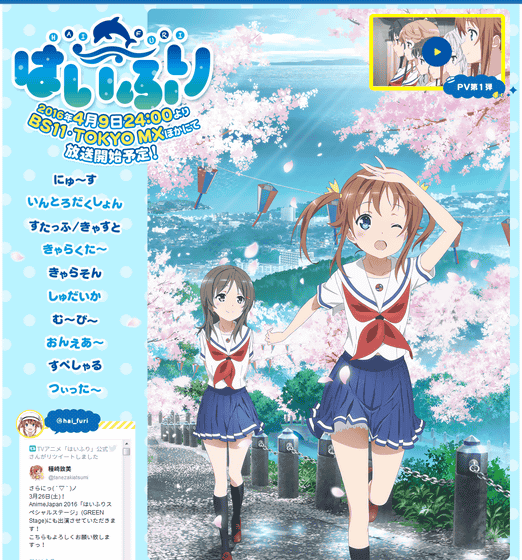 April 2016 New program animation "Yehifuri" PV 1st piece - YouTube


Spring 2016 Spring Animation "Yesterday" No. 2 CM - YouTube


· Broadcast information
BS 11: 4/9 (Sat) 24: 00 ~
TOKYO MX: 4/9 (Sat) 24: 00 ~
Tochigi Television: 4/9 (Sat) 24: 00 ~
Gunma TV: 4/9 (Sat) 24: 00 ~
TV Aichi: April 11 (Mon) 25: 35 ~
KBS Kyoto: 4/12 (Tue) 24: 00 ~
Sun TV: 4/12 (Tue) 24: 30 ~
TV Hokkaido: 4/12 (Tuesday) 26: 05 ~
TVQ: 4/12 (Tuesday) 26: 05 ~

·Overview
About 100 years ago, the majority of the land was submerged in Japan due to plate slippage. Many maritime cities were built for national land conservation, and personnel to protect the safety of the sea became necessary along with the increase in navigation route, and the woman "Blue Mermaid" to protect the ocean became a yearning job. My girlfriend 's Cape Akeno and Momoko Eka enter the ocean school of Yokosuka with friends with the same goal as Blue Mermaid.

·staff
Original plan: Takaaki Suzuki
Series composition · Screenplay: Reiko Yoshida
Character original bill: あ と と
Director: Shinada Yu
Character design · total drawing director: Naoto Nakamura
CG Graphic production / shooting / editing: Graphica
Animation Production: Production I'ms

Twitter:@ Hai _ fr
Hashtag: # pretend

OP: TrySail "High Free Spirit"
ED: Harunaru "Ripple Effect"

·cast
Miseno Nomikawa
Mamoru Souya: Lynn
Momoyagi: Amamiya Tian
Tateishi Shima: Nozomi Koki
Nishizaki Shigei: Atsumi Tenzaki
Ogasawara Hikari: Masaharu Sawada


---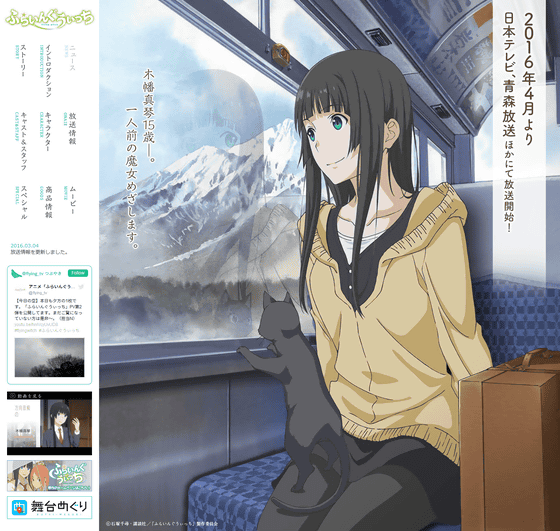 Animation "Furano no Uichichi" PV 2nd bullet - YouTube


· Broadcast information
Nippon TV: April 9 (Sat) 26: 25 ~
Sun TV: 4/13 (Wednesday) 24: 30 ~
Aomori Broadcasting: 4/15 (Friday) 25: 27 ~ other
BS Niterele: 4/19 (Tuesday) 26: 30 ~

·Overview
"Mikoto Kibata 15 years old - aiming for a witch of one serving."
For witches who prefer nature-rich and resource-rich places say there is a tradition of "going alone when leaving 15 and leaving home." Mikoto Kibata, who became 15 years old, entered high school, moved to Aomori 's relative' s house with a black cat, Chito, and aim for a witch of a servant. In addition to meeting cousin Kiyoshi Kuramoto, Kuramoto Chinatsu, Makoto begins to send his living in a lifestyle with witch training as well.

The stage of the work is Hirosaki City, Aomori Prefecture. In Hirosaki cityPublish a performance tour mapdoing.

On the YouTube 's VAP Official Channel, "Friendship Letch Petit" is distributed.

"Fururinugi ichichi Petit" # 1 - YouTube


·staff
Original: Chihiro Ishizuka (Kodansha "Separate Boy Magazine" series)
Director: Sakura Shigeru
Series composition: Akaneko Ko
Character design: Masato Yano
Acoustic director: Miwa Iwami
Music: Yoshiaki Awaya
Animation production: J.C.STAFF

Twitter:@ Floating_tv
Hashtags: # Flywriting Uietch, # flyingwitch

ED: Mikoto Kibata (Minami Shinoda) & Chikada Kuramoto (Eri Suzuki) "Everyday Magic"

·cast
Mikoto Kibata: Minami Shinoda
Kuramoto Chikatsu: Suzuki Eriki
Kuramoto Kei: Sugawara Shinsuke
Akane Kibata: Aoi song greeting
Ishiwatari: Mikami branch fabric
Inukai: Hino Mari
Shiina Kyoko: Iguchi Yuka
Tito: Ai Kinano
Kenny: Ayane Sakura
Al: Ozawa Aki


---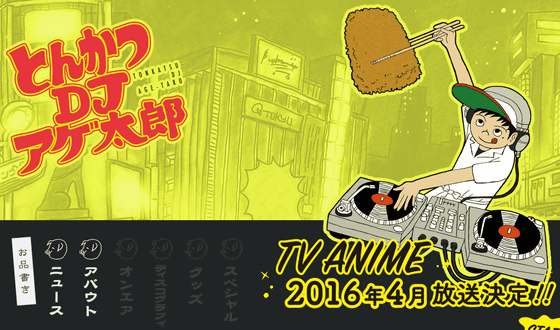 TV anime "Tonkatsu DJ Age Taro" PV 2 - YouTube


· Broadcast information
TOKYO MX: 4/10 (Sunday) 22: 15 ~
Yomiuri Television: April 11 (Mon) 25: 59 ~
BS 11: 4/12 (Tue) 27: 15 ~
Chukyo Television: 4/12 (Tue) 27: 27 ~ (regular broadcasting is from 26: 57 ~)

·Overview
Tonkatsu in Shibuya "Shibu" The 3rd generation Yotaro encounters the club one day after being asked for delivery. And in the play of the legendary DJ · Big Master Fly, we found out something in common between DJ and Tonkatsu ... ....

The original is "Weekly Shonen Jump +" serializing.

·staff
Original: Epiao, Yuji Oyama
Director: Shintaro Ohara
Music: Daisuke Fujiwara (MU-STARS)
Animation Production: Studio Dean

Twitter:@ Tonkatsu_DJ
Hashtag: #agetaro

·cast
Yutaro Katsumata: Daisuke Yamashita
Katsumata Lifting Cake: Koji Ishii
DJ Oily: Keiji Fujiwara
Shogo Ninoli: Kenjiro Tsuda
Goro Mikuro: Takashi Matsuyama
Yuko Hattori: M · A · O
DJ Big Master Fly: Brown Wind Forest


---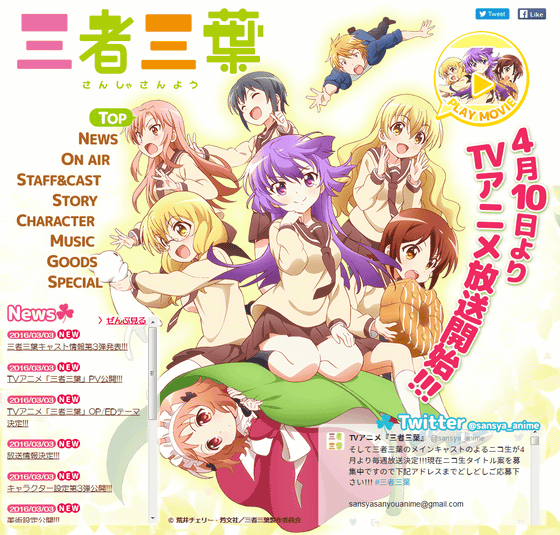 TV anime "Tri-Three Leaves" 1st PV - YouTube


TV anime "Triple three leaves" number SPOT - YouTube


· Broadcast information
TOKYO MX: 4/10 (Sun) 24: 00 ~
AT-X: 4/10 (Sunday) 24: 00 ~ other
BS 11: 4/10 (Sunday) 24: 30 ~
Sun TV: 4/11 (Monday) 25: 00 ~
KBS Kyoto: April 11 (Mon) 25: 00 ~

·Overview
The big eater girl Odagiri Futaba of the energetic explosion who has transferred to the central girls' school is blond hair, braids, spectacles, like appearance of an angel on the inner side but there is also a devilish place on the inner side Hayami Teru, a super lady school Since my father's company went bankrupt, I met poor Nishikawa Yoko now.

A girls high school student's 4-comic manga, based on a three-person girl whose name is "leaf" and a dark character full of its surroundings, is the original. 12 volumes already published. Author's Arai Cherry is serializing 'Strawberry Incorporated Soda Water' with 'Manga Time Kirara MAX' in 'Manga 4 Frames KINGS Petto' in parallel with this work.

Nico students by main cast will be broadcast every week from April.

·staff
Original: Arai Cherry (published by Yoshifusa "Manga Time Kirara")
Director: Yasunori Kimura
Series composition: Koazu Hideaki
Character design: Jun Yamazaki
Overall director: Atsushi Yamazaki, Motohiro Taniguchi
Acoustic Director: Masayuki Tsuchiya
Music: Shuhei Mutsuki
Animation Production: Movie Studio
Copyright light notation: © Arai Cherry · Yoshifusasha / Triple three leaf production committee

Twitter:@sansya_anime
Hash tag: # Three three leaves

OP: Terpuru ♣ Fiery Ring (Nishikawa Yoko (Wakui Yuu), Odakyu Futaba (Masaki Kanazawa), Hayama Teru (Imamura Ayaka)) "Clover ♣ Kamu-machi"
ED: Toripuru ♣ Fieryrin (Nishikawa Yoko (Wakui Yu), Odakyu Futaba (Masaki Kanazawa), Hayama Teru (Imamura Ayaka) "Gou-chi parade"

·cast
Nishikawa Yoko: Wakui Yu
Odagiri Futaba: Mai Kanazawa
Teru Hayami: Imamura Ayaka
Nishiyama Serina: Machico
Aizako Kondo: Azana Suzuki
Sonobu Shino: Rika Momokawa
Mitsuji Yamaji: Kenji Akabane
Hayama Hikaru: Nishi Asuka
Takeka Yu: Watanabe Haruka
Usuda Sakura: Nana Nana
Tsuji Tsuyuki: Kotone Kuwayama
Tsuji Kobu: Chiemi Tanaka


---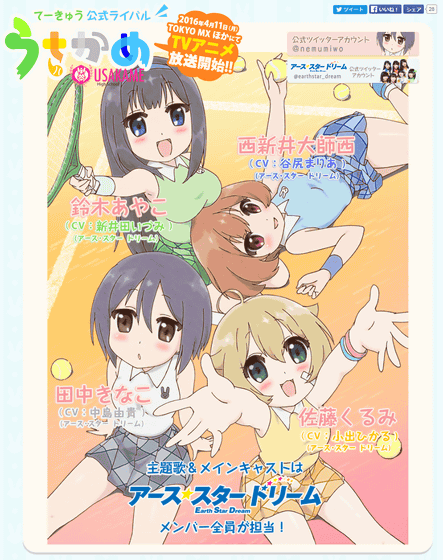 · Broadcast information
TOKYO MX: 4/11 (Monday) 25: 05 ~
Sun TV: 4/11 (Monday) 25: 30 ~

·Overview
Four girls belonging to the tennis club of Lucky T high school at the official rival of "Toru-kyu," a youth group image that the pursuit of their dreams and admiration is like a comedy like Tanaka Kanako, Suzuki Ayako, Sato Kurumi, Nishiarai Daishi West. The original is in digital version Comic Earth · Star series.

"Toru - kyu" has been broadcast continuously without opening the seventh period after the fourth period started in April 2015, will be broadcast in a form to take over.

·staff
Original: Roots
Manga: Tsuyoshi Kirisawa
Director: Shi Itagaki
Animation Production: Milpansee

Twitter:@ Nemumiwo
Hashtags: # Usagama

OP: Tawn Kamen High School Tennis Club (Nakajima Yuki, Koide Hikaru, Araida Izumi, Tanijiri Maria) "Run! Uzzakame High School Tennis Club !!"
ED: Earth · Star Dream "Promise you"

·cast
Tanaka Kinoko: Yuki Nakajima (Earth · Star Dream)
Kurumi Sato: Hikaru Koide (Earth · Star Dream)
Ayako Suzuki: Iidomi Arai (Earth · Star Dream)
Nishiarai Daisyin West: Mariya Tanijiri (Earth · Star Dream)
Turf grass universe: TBD
Kubiri Tasuke: Takao sound (Earth · Star Dream)
Miyabi Baba: Eriki Sogabe (Earth · Star Dream)
Koho Hito: Ari Aihara (Earth · Star Dream)


---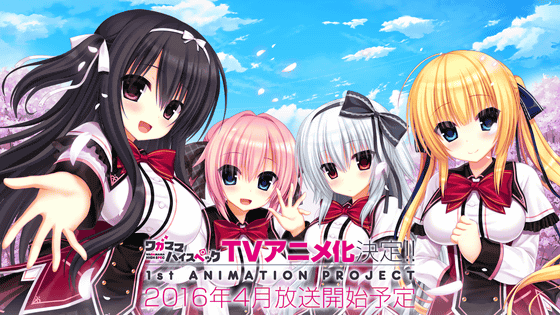 · Broadcast information
TOKYO MX: 4/11 (Mon) 25: 10 ~
Sun TV: 4/11 (Monday) 25: 35 ~

·Overview
While being a student, Narumi Koki was responsible for the original manga serialized in the weekly magazine. At one time, it was discovered that the creative person in charge of the work is student council president Kaenji temple Kaoruko. I was asked by the president who was just looking for a male executive, and he becomes an officer on condition that he keeps secretly about manga. However, Vice President Asha, who does not know such circumstances, strongly opposed entering the official. Furthermore, there are requests and troubles from students there.

The original is an adult game scheduled to be released on Monday, April 28, as is the title, heroines who are selfish but talent appear. Animation is a short animation of 5 minutes, focus on the school life of the student council girls who can not be told in the game main volume.

·staff
Director: Satoshi Shimizu
Series composition: Kojiro Nakamura
Animation Production: AXsiZ

Twitter:@ Wagamamahs
Hashtag: # Wakahay

·cast
Kaoru Temple Kaoruko: Makiko Honda
Sakuragi · R · Asher: Megu Sakuragawa
Narumi Hakao: Mai Goto
Miyazu Miki: Chiyo Sakurazaki


---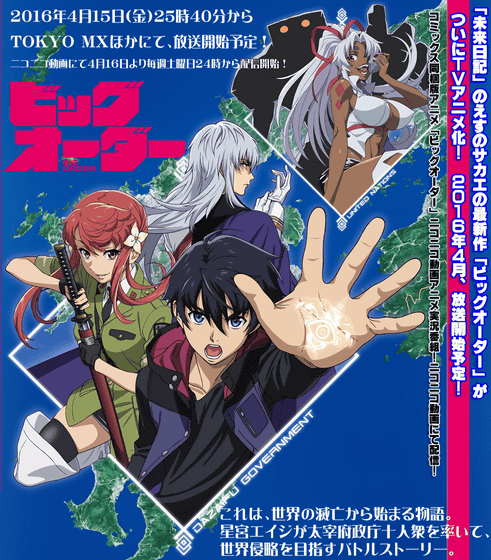 · Broadcast information
TOKYO MX: 4/15 (Friday) 25: 40 ~
KBS Kyoto: 4/15 (Friday) 25: 40 ~
Nico Nico Douga: 4/16 (Sat) 24: 00 ~
BS 11: 4/16 (Sat) 27: 00 ~
Chiba Television: 4/17 (Sunday) 24: 00 ~
Tvk: 4/17 (Sunday) 24: 00 ~
Terebellum: 4/17 (Sunday) 24: 00 ~
Sun TV: 4/17 (Sunday) 24: 30 ~
RKK Kumamoto Broadcasting: 4/17 (Sunday) 26: 15 ~ (25: 50 ~ after the second episode)
TVQ: 4/17 (Sunday) 26: 35 ~
Gifu Broadcasting: 4/19 (Tue) 24: 00 ~
Mie television: 4/20 (Wednesday) 25: 20 ~

·Overview
Hoshiomiya Age holding a ridiculous secret makes love at first sight to a beautiful appearance transfer student · red bell, but at the time of school that day, a bell appears behind the age. Age who suddenly took an important sister · a beef as a hostage suddenly caught up in a ridiculous battle to decide the destiny of the whole world from now on, and according to reason why it is not understood to a certain extent "to the ten people of the Dazaifu" To threaten and dominate the world once destroyed, we will aim at "real world invasion" in the real sense.

An original by manga by Sakae of Esu of "Future Diary" that depicts the battle of those with different ability "order" based on wishes. Animation production · By AsimidWork introduction pageAlso information is posted.

·staff
Original: Esuna Sakae
Director: Kaihyo Seiyang
Series composition · Screenplay: Katsuhiko Takayama
Character design · total drawing director: Tomo Kojima
Sub Character Design: Watanabe Kanako
Art Director: Naoyuki Aoyama (Production · Eye)
Acoustic Director: Yota Tsuruoka (Musical Tone House)
Music: Evan Call (Elements Garden)
Animation Production: Athlead
Production: Big Order Production Committee

OP: Fairy Empire "DISORDER"
ED: Aki Hata Kimi Kurei Kai Finale

·cast
Hoshiya Age: Seiichi Morita
Red Bell: Mikami branch fabric
Hoshiya Sena: Misaki Kuno
Ichiru: Tadashi Azusa
Hoshiya Genizai: Satoshi Tsuruoka
DAISY: Mari Misaki
Hiroyasuke: Tachibana Shinnosuke
Narukami Benkei: Fumihiko Tachiki
Shredding Murder: Ray Yugi
Hironomi Harada
Abrahan · Louis · Franc: Aragaki Taruke
Kumo Mari: Hayami Saori
Rolyn Wright: Makoto Ishii
Plant Country Land: Norio Wakamoto


---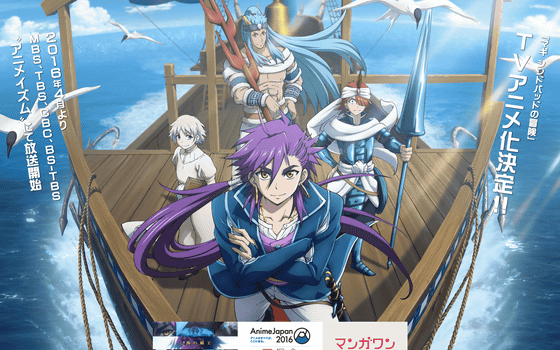 Adventure of Sindbad / PV - YouTube


· Broadcast information
TBS: 4/15 (Friday) 26: 40 ~ (regular broadcasting is from 26: 25 ~)
MBS: 4/15 (Friday) 26: 55 ~ (regular broadcasting is 26: 40 ~)
CBC: 4/15 (Friday) 27: 24 ~ (regular broadcasting is 27: 19 ~)
BS-TBS: 4/16 (Sat) 24: 30 ~
"Animismism" frame

·Overview
Thirty years ago of "Magi" main part. The boy, Sindbad, later called "The Sea of ​​the Northern Sea" grows in various encounters and partings, and eventually pushes the way to the king.

·staff
Original: Shinobu Otaka, Yoshihisa Otera
Director: Yoshikazu Miyao (BARNSTORM DESIGN LABO)
Series composition · Screenplay: Takashi Kishimoto
Character design · total drawing director: Soichiro Sako
Concept design: BARNSTORM DESIGN LABO, Toshinari Tanaka, St. Edamadatsu, Hiroyuki Oyama
Jin · creature design: Tomioka Takashi
Acoustic Director: Furuki Iida
Music: Tomohiro Okubo
Animation Production: Lay-duce

Twitter:@project_magi
Hashtag: # magi

OP: PENGUIN RESEARCH "Spotlight"
ED: Fuji Fabric 'Polaris'

·cast
Sindbad: Daisuke Ono
Dracone: Tomokazu Sugita
Jarfar: Takahiro Sakurai
Takahiro Fujiwara: Keiji Fujiwara
Yoonan: Akira Ishida
Budle: Katsuyuki Konishi
Esra: Yoko Higaka
Serendine: Ai Kinano
Barbarossa: Takeshi Koyasu
Baal: Hiroki Higashi


---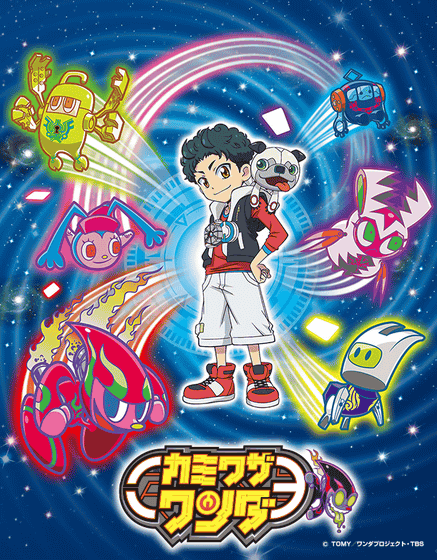 [New program] This spring, Kamiwaza whirlpool blows off! 4/16 (Saturday) start "Kamiwaza · Wanda" 【TBS】 - YouTube


· Broadcast information
TBS system: 4/16 (Sat) 7: 00 ~

·Overview
A world where all events of the world were programmed. Space dog wander and boy Yut is a mysterious monster Promin that uses various abilities called "Kamiwaza" to fight Bagmin, which brings bugs to the world.

In the media mix plan of Takara Tomi original, serialization starts in February such as "Korokoro comic", "Korokoro Ichiban!", "Separate volume Korokoro comic Special", "Terrible kun", "Kindergarten" and so on. On Saturday morning of the TBS series, there were animation such as "True · Megamitensei Devitil" and "Star Kirby", live-action versions of "Little Soldier Sailor Moon" and "Ultraman Nexus" that Mika Sawai and Kitagawa Keiko were appearing It has been broadcasted.

·staff
Director: Mitsuo Hashimoto
Series composition: Katsumi Hasegawa
Character design: Mayumi Watanabe
Promine Design: Miko Okawa
Music: Hideyuki Fukasawa, Wakabayashi Takatsugu
Acoustic director: Yuki Matsuoka
Animation Production: Toms Entertainment

·cast
Wanda: Yamaguchi Kappei
Yut: Kokutai
Yui: Misaki Kuno
Mirai: Suzuko Mimori
Shu: Kei Shingo
SOMA: Shuhei Iwase
Nicole: Jun Mirno
Terara: Ei Mi Kato
Megaga: Shinya Hamesei
GIGAGA


---


· Broadcast information
TV Tokyo series: 4/17 (Sunday) 10: 00 ~
AT-X: 4/25 (Monday) 22: 00 ~ other

·Overview
It is the seventh work of the cartoon series titled "Card Fight !! Vanguard", the third work since becoming the "Vanguard G" series.

·staff
Original: Bushiroad, Akira Ito

OP: Mamoru Miyano "SHOUT!"
ED: Yui Ogura "High touch ☆ Memory"

·cast
Leading Aichi: Ishii Mark


---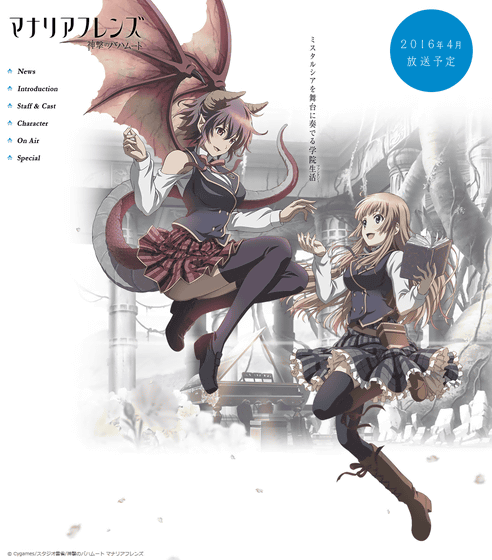 "Bahamut of Manare Friends Shinto" Animation Decision Tiza Movie - YouTube


· Broadcast information
※ Initially it was scheduled to broadcast below, but on March 8Postponement of broadcasting due to various circumstancesWas announced.
TOKYO MX: 4/1 (Friday) 23: 00 ~
Nico Nico Channel: 4/1 (Fri) 23: 00 ~
AT-X: 4/1 (Friday) 24: 30 ~ other
BS 11: 4/3 (Sunday) 25: 00 ~
"ULTRA SUPER ANIME TIME" second frame

·Overview
The mysterious world Mystarsia where people, gods, demons, and all kinds of races intersect. At Manalia Magic Gakuin, the cheerful Princess Anne of the kingdom and the shy dragon princess · glare meet and we will spin friendship beyond the tribe.

It is an animation of the event "Manalia Magic Gakuin" in the game, based on the social game "Bahamut of Shinku" as an original. It is broadcasted as the second season of "ULTRA SUPER ANIME TIME" · 2nd.Voice acting audition that can appear in the 11th episode of this volumeWill be held from 3/7 (Monday) to 4/3 (Sunday) with DAM ★.

In addition, based on the original game, from October to December 2014 "Shaman's Bahamut GENESIS」Was produced and broadcasted, production of the second period has also been announced, there is a story that the original characters will unfold, the staff is also unrelated to this work.

Yoshimitsu Uchida, a role of William, Chiharu Sawashiro, the younger brother of Masato Uchida, known as Kaori Kanzaki of "Idol Master Cinderella Girls" and others, "Lupine The Third" Miyuko Mine or "Durarara !!" Miyuki Sawashiro's brother known for Celty.

·staff
Original: Cygames
Director · Series composition: Takakazu Tokura
Character design · Total drawing director: Megumi Ishihara
Music: Takashi Watanabe
Animation Production: Studio Hibari

Twitter:@ Bahamut_manaria
Hashtag: # Manalia

·cast
Ann: Yoko Higaka
Glare: Ayaka Fukuhara
Hanna: Mizuki Nana
Owen: Wataru Hatano
Ru: Kimi Kimiko
Miranda: Kikuko Inoue
William: Yusuda Uchida
Hainline: Chiharu Sawashiro