New animation list starting in fall 2015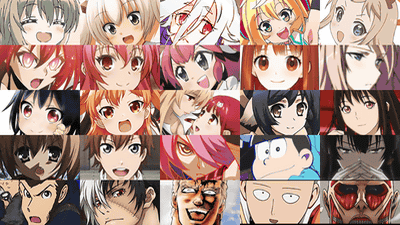 The program reorganization period is approaching once every three months. It is a preliminary trend that there are many works that start in spring and autumn of the four seasons, but this time it is about 50 works and it is quite a lot of starting matches. Including the case that the second half of the work that was decided as split 2 cool from the beginning is broadcasted as scheduled, but this fall including the sequel of popular series and works based on manga / novel etc, complete original works Also, various works will appear and will entertain us.

Below, the order of broadcasting is arranged in order.


---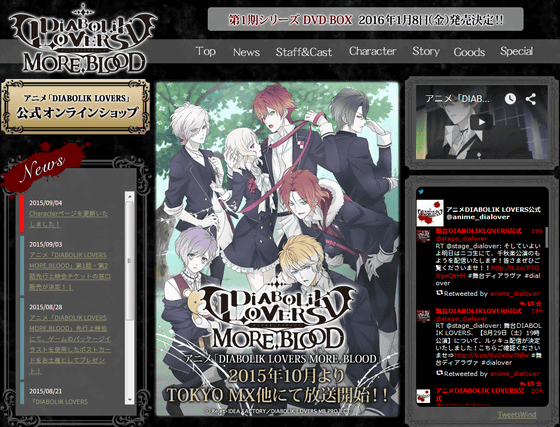 · Broadcast information
AT - X: 9/23 (Wed) 24: 30 ~
TOKYO MX: 10/4 (Sunday) 22: 00 ~
Nico Nico Douga: 10/4 (Sunday) 22: 00 ~
D Anime store: 10/11 (Sunday) 12: 00 ~

·Overview
A new Vampire / Godless 4 brothers will appear in front of Komori Yui who will be living in the vampire's underworld six brothers who will be deprived of blood. They call Yu about Eve, but what is its purpose ...?

The second period of TV animation of "DIABOLIK LOVERS" broadcasted in the fall of 2013. The original is an original CD series that Rejet has been deploying since December 2011, besides drama CD character song CDs and games are also on sale. The game for PS Vita released in February 2015 "DIABOLIK LOVERS DARK FATE" comes with OVA as an animation-only bonus, and the four-broken four brothers have appeared there.

Director was assistant director in Phase 1 and supervisor in OVA, Yoshida Risako, series composition was "in my brain's choice hurting school love comedy with full power" In addition, in the first phase I was in charge of the script Hiroko Kanasugi.

Anime "DIABOLIK LOVERS MORE, BLOOD" PV 2nd bullet - YouTube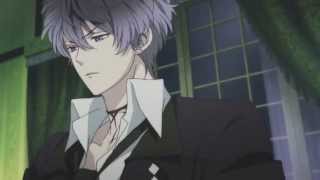 ·staff
Original: Otomate (Idea Factory, Rejet)
Character draft: SATOITO
Director: Risako Yoshida
Series composition: Hiroko Kanasugi
Character design: Yuko Yahagi
Music: Yuki Hayashi, Saki
Animation Production: XXS
Production: DIABOLIK LOVERS MB PROJECT
Copyright light notation: © Rejet · IDEA FACTORY / DIABOLIK LOVERS MB PROJECT

Twitter:@ Anime_dialover
Hashtag: #animedialover

OP: Shin Kō (CV: Ryohei Kimura) & Akasa Akusa (CV: Daizu Kishio) "Forbidden 666"

·cast
Komori Yui: Susumu Sue
Reverse Volume Ayato: Midorikawa Mikawa
Reverse Kanato: Hiroki Kaji
Reverse turn light: Daisuke Hirakawa
Counteracting Shu: Kosuke Toriumi
Counterrad Rage: Konoyuki Konishi
Reverse Subaru: Takashi Kondo
Akuma Ruki: Takahiro Sakurai
Shin Ko: Ryohei Kimura
Shinigami Yuma: Tatsuo Suzuki
Awesomeness Assa: Kishio Daisuke
Tsukiyuki Morikawa: Tsukiyuki Morikawa
Moonlin Shin: Shotaro Morikubo


---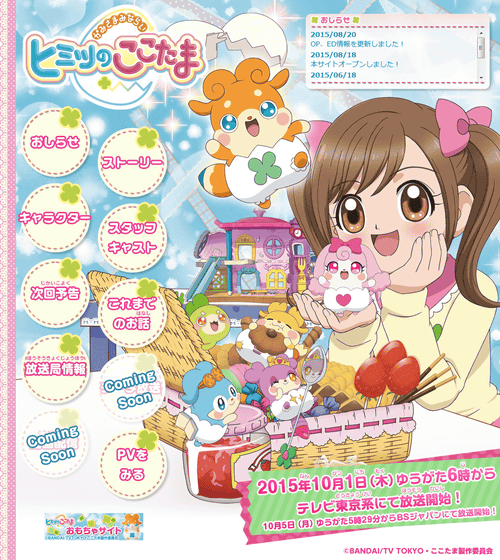 · Broadcast information
TV Tokyo series: 10/1 (Thurs) 18: 00 ~

·Overview
A "Kata" that was born with a feeling as a soul to a human thing is a small god that helps a person to be happy secretly so that people can not find it. One day, the former "Raki Tama" born from a colored pencil that cherished the hero's 4th leave heart (elementary school fifth grade) cherished was seen in the heart! Two things that have been found in the mind triggered to "join the secret of secret" ...

Starting as a joint project of Bandai, TV TOKYO, OHAEL, and Lantis, the original animation begins as a collaborative project, and since the beginning of animation, serialization at "Friend" and "Fun kindergarten" has started from July. Also, on September 19 (Sat) according to the animation broadcasting house doll toy "Kata Tama House series" will be released.

Directed by Norita Norio Mr. Nitta, who was responsible for drawing contests and directors in the "Cardboard Warfare" series, and the composition of the series is "Prepala" "Kirarin ☆ Revolution" "Reward ☆ Fairy Milmo at Pong!

·staff
Original bill: BANDAI
Director: Norita Nitta
Series composition: Ryou Tsuchiya
Character design: Shinkobu Okawa
Acoustic director: Akihiko Nakajima
Music: Ryosuke Nakanishi
Music production: Lantis
Animation production: OLM
Production: TV TOKYO, Kodama Production Committee
Copyright notation: © BANDAI / TV TOKYO · Kota Production Committee

OP: ERIKA "Around here!"
ED: Melly and Famous Five (Raki Tama, Melly (Aki Toyosaki), Shaki (Kazu Yakumi), Geracho (Hanako Aikawa), Chirarius (Yuki Suzuka), Mogtan (Murase) Pipe-style is here! "

·cast
Shiroki Kokoro: Honma Kaede
Raki Tama: Megumi Ban
Melly: Aki Toyosaki
Oshaki: Kazari Yumi
Geracho: Hanako Aikawa
Chirarius: Suka Yuki
Mogutan: Murase Murase


---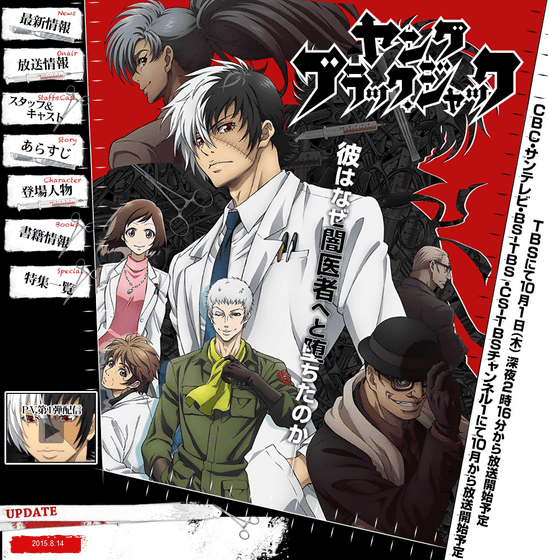 · Broadcast information
TBS: 10/1 (Thursday) 25: 16 ~
CBC: 10/1 (Thursday) 27: 30 ~
Sun TV: 10/2 (Fri) 23: 30 ~
BS - TBS: 10/3 (Sat) 25: 30 ~
CS - TBS Channel 1: October -

·Overview
A medical student / Kuro Kuro man who continues to refine his aim to become a doctor in order to approach a surgeon / Honma who saved my life as a child. Work that painted on the stage in the 1960s, why he became a dark doctor "Black Jack" requiring an unlicensed and exorbitant amount of money.

Using Tezuka Osamu's "Black Jack" as the original, animated cartoons depicting Black Jack's young days. The script of the original was serialized in the Weekly Shonen Champion "Akumetsu" "Wolfgai"Tabata YukiIs in charge, drawing isYuuko Okuma.

Directed by Ms. Mitsuko Kase of "Mobile Suit Gundam 0083 STARDUST MEMORY (up to seventh episode)" "Mobile Suit Gundam No. 08 MS Platoon Millers Report" "Last Weaponry She" "Ristorante Paradiso" series composition · Supervisor "Armored Cavalry Rosuke Takahashi, known for such as "Bottoms", "Blue Meteor SPT Raisizer" and "Gasaraki" participates. Also, in cast, I played a role of Black Jack in past animation seriesAtsuo OtsukaHe is in charge of narration.

Topical work "Young Black Jack" turns into TV animation !! 10/1 (Thurs) Start 【TBS】 - YouTube




·staff
Original: Tezuka Osamu
Screenplay: Yaba Tabata
Manga: Okuma Yuugo (Akita Shoten Young Champion Series)
Medical supervision: Nobutoshi Goto
Director: Yoko Kase
Series composition · Supervisor: Ryosuke Takahashi
Character design · total drawing director: Miyuki Katayama, Nana Miura
Art director Minoru Nishida, Masato Shibata
Color design: Megumi Arai
Director of Photography: Kazumasa Someya
Edit: Utami Watabe
Acoustic director: Toshiki Kameyama
Acoustic Production: Groove
Music: Daisuke Ikeda
Music Production: Being
Animation Production: Tezuka Productions
Copyright Light Notation: © Young Black Jack Production Committee

Twitter:@ Anime_ybj
Hashtag: #anime_ybj

OP: UMI ★ KUUN "I am Just Feeling Alive"

·cast
Kuroku Man: Yuichiro Umehara
Yabu: Yuza Koji
Maiko Okamoto: Shizuka Ito
Narration: Akio Otsuka


---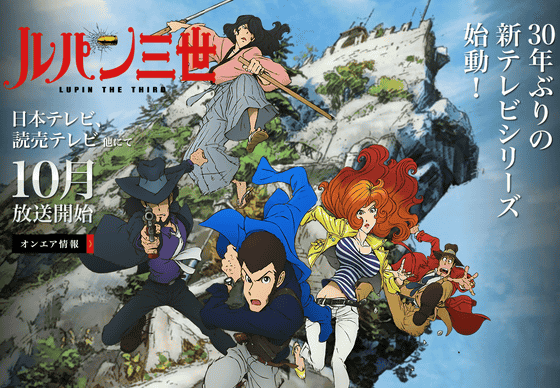 · Broadcast information
Nippon TV: 10/1 (Thu) 25: 29 ~
Fukuoka Broadcasting: 10/1 (Thurs) 26: 40 ~ (26: 15 ~ after the second episode)
Miyagitetebi: 10/2 (Fri) 26: 40 ~ (26: 00 ~ after the 2nd talk)
Chukyo Television: 10/3 (Sat) 25: 25 ~
Sapporo TV: 10/3 (Sat) 25: 55 ~
TV Oita: 10/4 (Sunday) 25: 25 ~
Ytv: 10/5 (Monday) 26: 42 ~ (from the second episode onwards 26: 37 ~)
Northern Japan Broadcasting System: 10/7 (Wednesday) 25: 59 ~
Shizuoka Daiichi Television: 10/7 (Wednesday) 26: 04 ~
Yamanashi Broadcasting: 10/20 (Tue) 25: 25 ~
TV Shinshu: 10/29 (Thurs) 26: 14 ~
Hiroshima TV: 11/11 (Wednesday) 26: 59 ~
Nagasaki International TV: 11/28 (Sat) 25: 35 ~

·Overview
Lupine the Thunder of the heaven robbed of whatever target it surely aims, this time it aims at numerous targets with Italy and San Marino set as the stage. In the first episode, the wedding ceremony of Rebecca and Lupine, the young chairman of Sanmarin's representative chaebol, is held in front of familiar faces such as "Lupine the 3rd wedding ceremony", dimension, Goemon, Fujiko.

The original is a cartoon of Monkey · Punch, it was made into a television series over three times from 1971 to 1972, 1977 to 1980, 1984 to 1985, it was once a series of NTV series from 1989 to once a year TV specials have been broadcast at the pace. Although it is a spin-off in 2012, there is a new series after a long time "LUPIN the Third - a woman named Midomi Fujiko" has been broadcasted, this work will be the first series in 30 years as the leading role of Lupine .

In Italy which is the stage of the work, broadcasting has started from the end of August preceding Japan. Yoshihide Tomonaga, who has been involved as an animator in the previous series, served as coach, and the director was Yuichiro Yano of "Unmanned Planetary Survive", "Moyashimon", "Theatrical Edition Aikatsu!", The series composition is "LUPIN THE Ⅲ RD Dimension Daisuke's Grave mark "and" Laugh at cloudy weather "Takahashi Yuya.

"Lupine The Third" New TV Series PV 【NEW】 - YouTube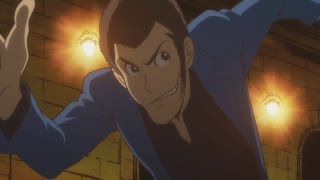 ·staff
Original: Monkey · Punch
Overall director: Kazuhide Tomonaga
Director: Yuichiro Yano
Series composition: Yuya Takahashi
Character design: Hisao Yokohori
Total drawing director: Hisao Yokohori, Sadako Takiguchi, Koichi Suenaga
Music: Yuji Ono
Art Director: Yasuhiro Yamako
Color design: Tomoko Yamamoto
Director of Photography: Jiro Tazawa (T2 Studio)
CG Director: Kazuhiro Tamura (Dandelion)
Edit: Yoshihiro Kasahara
Acoustic director: Hiroshi Shimizu (Tohokushinsha)
Sound effect: Shigeo Kurahashi (sound box)
Main title design: Kiyota Takahashi (sterotype)
Sub Character Design: Inaba Haruka, Asagi Taguchi
Producer: Yuzuen Yu
Animation Production: Telecom · Animation Film
Production · Copyright: Toms Entertainment

Twitter:@ Lupin III _ 4 th
Hashtag: # lupinIII_4th

ED: Sayuri Ishikawa "If I do not tell it properly I do not love"

·cast
Lupine The Third: Koichi Kurita
Daisuke Kimitachi
Ishikawa Goemon: Daisuke Namikawa
Mine Fujiko: Miyuki Sawashiro
Monbukago: Koichi Yamadera
Rebecca Rossellini: Yuki Fujii


---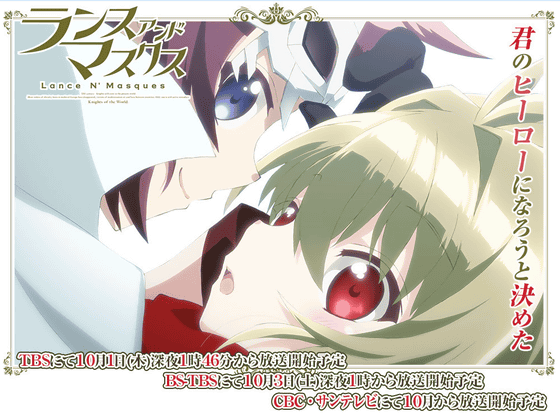 · Broadcast information
TBS: 10/1 (Thu) 25: 46 ~
CBC: 10/1 (Thu) 26: 47 ~
BS-TBS: 10/3 (Sat) 25: 00 ~
Sun TV: 10/4 (Sunday) 25: 00 ~
TBS channel 1: 10/11 (Sunday) 25: 00 ~

·Overview
I decided to be your hero.
Hideo Kohtaro, who has been receiving "special training" as a knight from a young age, jumps out to the city as longing for ordinary life. So, I encountered a girl named Dokedo shrine who lives alone in a vast mansion, decided to watch her lonely with her side.

The original is a novel by Koan Hideaki, 4 volumes published. The latest volume of 5 volumes will be released on October 3. Also, Sangara is responsible for drawing cartoon version "Lance N 'Masques - Inside Plus -"It is serialized in Maga at Po, Volume 1 is released on October 3.

The director says "April is your lie"Ishiguro Kyouhei. Series composition · Screenplay is original authors'Koyasu HideakiHe is in charge.

·staff
Original · Series composition · Screenplay: Koami Hideaki
Original illustration: Ibarino
Director: Ishiguro Kyouhei
Character design · total drawing director: Kenji Ota
Art director: Ito Hiromichi
Art setting: Kazuo Kanpei
Color design: Utagawa Ritsuko
Director of Photography: Nozomi Sekiya
Edit: Kishi Mishima
Acoustic director: Satoshi Motoyama
Acoustic production: Dachs Productions
Music: Hiroaki Tsutsumi, Hidenaki Kimura
Music Production: Pony Canyon
Animation Production: Five sets of Studio
Copyright notation: © Hideaki Koyasu / Pony Canyon · ProjectLNM

Twitter:@ Anime_lance
Hashtag: #lanmas

OP: Suzuko Mimori "Light for Knight"
ED: Akina Takeuchi "Little * Lion * Heart"

·cast
Hanafuta: Taichi Yamashita
Madokoin Shin: Ozawa Abe
Yuko Saito: Ami Amumura
Alice Cleveland: Mikori Mimori
White princess: Aki Suwa
Ryu · Yuifa: M · A · O
Igarashi Susumu: Yumi Hanamori
Tafai: Mami Oyama
Hanabusa forest: Akira Ishida


---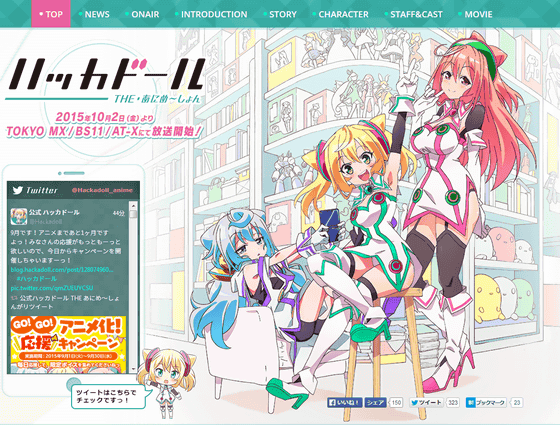 · Broadcast information
TOKYO MX: 10/2 (Fri) 23: 00 ~
BS 11: 10/4 (Sunday) 25: 00 ~
AT-X: 10/4 (Sunday) 23: 15 ~

·Overview
TOKYO MX and others are being broadcast "Ultra Super Animation TimeNew program within the frame. In the catch phrase of "Synchronizing news application to you", I animated the smartphone news application which delivers news such as animation, manga, game, voice actor, special effects, etc. after learning the preferences of each user.

The director also served as a director for "PV of Hacka Doll"Okay..

"Hacka Doll THE あ め め ~ し ょ ん" PV: YouTube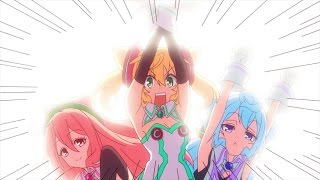 ·staff
Original: Hacka Doll Team (DeNA)
Director · Character design: Shishojo
Series composition: Makotozawa Kana
Screenplay: Yutaka Sato (TRIGGER)
Music production: DIVE Ⅱ entertainment
Production Studio: Creators in Pack
Production cooperation: TRIGGER
Copyright notation: © DeNA / Hacka Doll THE ANNEY - Shon Production Committee

Theme Song: Hacka Doll (Miyu Takagi, Kaya Okuno, Nanami Yamashita) "Touch Tap Baby"

Twitter:@ Hackadoll_anime
Hashtag: # Mackerel Anime # Hacka Doll

·cast
Hacka Doll No. 1: Miyu Takagi
Hacka Doll No. 2: Kaya Okuno
Hacka Doll No. 3: Nanami Yamashita


---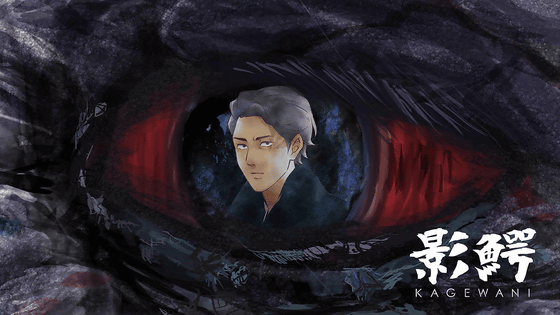 · Broadcast information
TOKYO MX: 10/2 (Fri) 23: 00 ~
BS 11: 10/4 (Sunday) 25: 00 ~
"Ultra Super Anime Time" frame

·Overview
UMA suddenly revealed to the present age, the mysterious UMAs (strange beasts) attacking. People who are just marginalized in extreme conditions. Why do birds emerge and attack people? Scientist · Sobusa tracks the truth with the keyword "shadow crow" as a clue.

The director is "the dark play" broadcasted in the TV Tokyo series in 2013Tomoya Takashima, The screenplay also "Dark Stage" and "Sengokunabe TV"Hiroyuki Kumamoto.

·staff
Director · Original: Takaya Takashima
Screenplay: Hiroyuki Kumamoto
Illustration: Hori Seita, Ami Fujikawa
Monster design: Toshifumi Koda
Cooperation: Ultra Super Pictures
Animation Production: Tomovies
Production: DIRECTIONS

Twitter:@ Anime_kagewani

Theme song: M.S.S Project "Arrival of Fear"

·cast
Sobusa Sosuke: Tomokazu Sugita
Masaki Kimura: Ryutaro Okiayu
Mai Aizawa, Yukinori Okuba, Hirofumi Honda, Fumiya Kosugi, Yukiko Morishita, etc.


---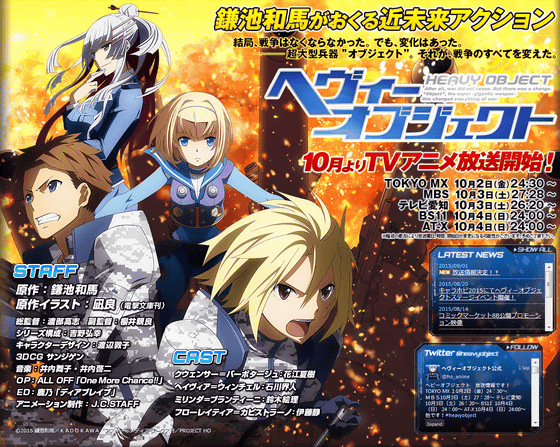 · Broadcast information
TOKYO MX: 10/2 (Friday) 24: 30 ~
MBS: 10/3 (Sat) 27: 28 ~
TV Aichi: 10/3 (Sat) 26: 20 ~
AT-X: 10/4 (Sunday) 24: 00 ~ other
BS 11: 10/4 (Sunday) 24: 00 ~

·Overview
On the battlefield where super-large weapons "objects" do not take ordinary weapons, the fighting battle soldier Quenser barbage and object pilot Mirinda Brantini fighting fight are drawn.

Animation was announced as the tenth bullet of the 10th anniversary of Kamike Kazuma 's 10th anniversary of Kamoike Kazuma famous for "There is" series. The novel is 9 volumes already published, the latest 10 volumes will be released on October 10. In addition, Comikalize was made by Dogue Shinsuke in all 1 volume (original volume 1 volume 1st chapter), followed by "Heavy Object S" by Saigyo - Rongi was published in all three volumes. In making animation, the series "Heavy Object A" by Sayi - Sakae is done in Dengeki Maoh.

Overall director Sakurai Parent of the "Slayers" series, "Shakugan no Shana" series, "Aria the Scarlet Ammo", Takashi Watanabe, Deputy Director of "Little Busters!" (Assistant Director) Good. The series composition is "World Trigger" "Magi" Hiroyuki Yoshino of "The Movie - A Certain Magical Index - The Miracle of Enduomion -".

·staff
Original: Kamike Kazuma (Dengeki Bunko)
Original illustration: Kuniaru
Overall director: Takashi Watanabe
Deputy Director: Sakurai Goodman
Series composition: Hiroyuki Yoshino
Character design: Atsuko Watanabe
3DCG: Sangjigen
Music: Maiko Inouuchi, Keiji Inoue
Acoustic director: Kawahito Meida
Sound Production: Magic Capsule
Animation production: J.C.STAFF
Copyright notation: © 2015 Kamike Kazuma / KADOKAWA ASCII · Media Works / PROJECT HO

Twitter:@ Ho_anime
Hashtag: # heavyobject

OP: ALL OFF "One More Chance !!"
ED: Kano "Dearbrave"

·cast
Quenser = Barbotage: Nagi Hanoe
Havia-Winchell: Ishikawa Kokitan
Linda Brantini: Eri Suzuki
Flow Lettia = Capistrano: Shizuka Ito


---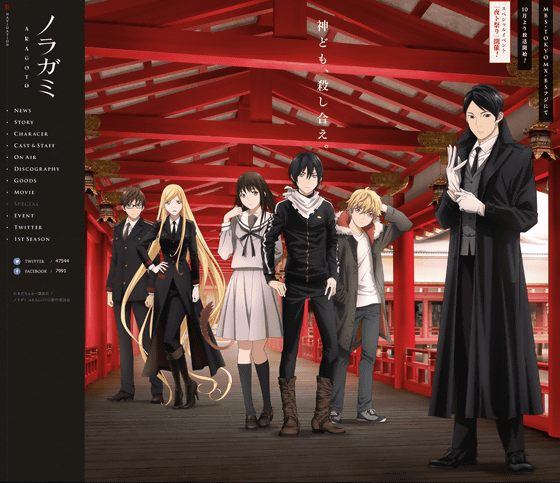 · Broadcast information
TOKYO MX: 10/2 (Friday) 25: 05 ~
MBS: 10/2 (Friday) 27: 10 ~
BS Fuji: 10/4 (Sunday) 25: 00 ~
AT-X: 10/9 (Fri) 23: 30 ~

·Overview
Gods, kill each other.
"Debbie God" Yaito is fighting with "yo" that harms humans, along with a young lady of Iki Hiyori, a sacred boy / snow sound, a constitution of which soul is easy to escape. Meanwhile, the evening was relentlessly targeted at life from the Bishamon of the Seven Lucky Gods. The past secretly secreted between them, and the way of the causality ... ....

The second term of "Noragami" broadcasted in the winter of 2014. The original is a manga by Adachi and is serializing to the monthly boys magazine. With the previous volume of 13 volumes, the latest 14 volumes are released on September 17. Also, 15 volumes and 16 volumes accompanying DVDs containing original animation are supposed to be released on 17th November 2015 and March 17th, 2016, respectively.

The staff and the cast are basically the same as the first phase, and the director is the deputy director of 'Okakami children's rain and snow'Tamura Kotaro, The series composition is "Snow White of Red Hair" "Arakawa Under the Bridge" Akao.

TV anime "Noragami ARAGOTO" 2nd PV - YouTube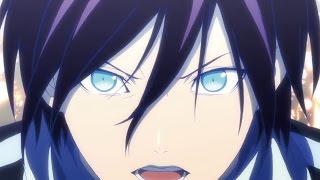 ·staff
Original: Adachi and others (Kodansha monthly boy's magazine serial)
Director: Tamura Kotaro
Series composition: Akaneko Ko
Character design: Toshihiro Kawamoto
A magical instrument design: Masahiro Sato
Animation Production: Bonds
Production: "Noragami ARAGOTO" Production Committee

OP: THE ORAL CIGARETTES "Frenzy Hey Kids !!"
ED: Tia

·cast
Night T: Kamiya Hiroshi
Hiyori Ichi: Masato Uchida
Yuki: Hiroki Kaji
Bishamon: Miyuki Sawashiro
Signs: Jun Fukuyama
囷 巴 (kura): Kazuhiko Inoue
Rikuo (く が は): Takanori Hoshino
Indigo (Aja): Nishijo Nishisako
Ebisu: Ryutaro Okiayu
Kobu: Toyosaki Aki
Daikoku: Ono Daisuke
Tenjin: Okawa Toru
Metaphor: Asami Imai
Nara: Rie Kugimiya


---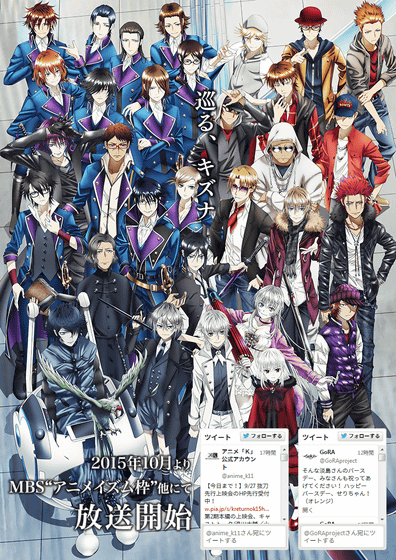 · Broadcast information
TBS: 10/2 (Friday) 25: 55 ~
MBS: 10/2 (Friday) 26: 10 ~
CBC: 10/2 (Friday) 26: 43 ~
BS-TBS: 10/3 (Sat) 24: 00 ~
AT-X: 10/3 (Sat) 24: 00 ~ other
"Animismism" frame

·Overview
Anna of a red clan · 舞 舞 羅 's comb awakens as a king of red after the incident of the pillar tower attack. Meanwhile, the life and death of Isa Naka (Shiro) was not clearly understood, cats and Tengu kept searching for Shiloh. Green green king · led by green cranes · jungle who caused the pillar tower raid incident also showed movement.

The second phase of the original animation "K" whose original works by GoRA composed of seven novelists. The first period will be televised from October to December 2012, and the continuation was released as the movie version "K MISSING KING" in July 2014. The content of this work is based on the flow of this theater version. There is no major change in staff or cast.

"K RETURN OF KINGS" Homepage Notification Video 4th: YouTube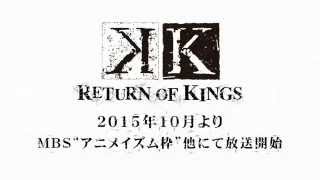 ·staff
Original: GoRA × GoHands
Director · Character design · Storyboard: Shingo Suzuki
Series composition: Ryuji Miyazawa
Series Director: Kanazawa Hideo
Overall director: Makoto Furuta
Prop designer: Takahiro Kishida
Mechanical designer: Hiroshi Okubo
Main animator: Takayuki Uchida, Naoki Okada, Hiroshi Okubo
Art director: Ken Naito
Color design: Tomoko Saito
CGI Director: Takahisa Kikuchi
Director of Photography: Yuichiro Tosawa
Edit: Tanako
Acoustic director: Yokota Chikako
Sound Production: Glow Vision
Music: Mikio Endo
Music Production: Star Child Records
Animation Production: GoHands
Production: K-Project, MBS

OP: Yui Horie "Asymmetry"
ED: Customize Z "Solution"

·cast
Ita Naga: Namikawa Daisuke
Yu Tenshin Tensuro: Ono Daisuke
Cat: Komatsu Umiko
Comb name Anna: Yui Horie
Muneaki Satoshi: Tomokazu Sugita
Specific water current: Kazuyuki Okitsu
Kusanagi Izumo: Takahiro Sakurai
Misaki Hatta: Jun Fukuyama
Kamoto Hideo: Yuichi Nakamura
Miyuki SAWAJI
Fushimi Monkeyaki: Mamoru Miyano
Shao Shi Shi: Morita Seiichi
Hirasakaichi Anti: Kaori Natsuka
Kotosaka: Hiroshi Shimono
Kangjiro Tsuda: Kenjiro Tsuda
Ten bundles Tamaki: Kaji Yuki
Country Road Ahn Age: Shizo Iizuka
Snow Denshiko: Satomi Sato


---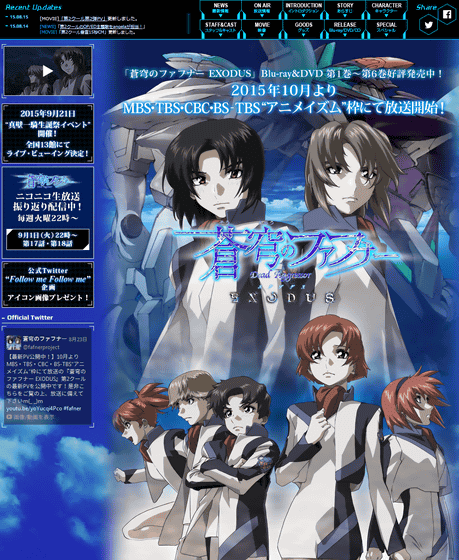 · Broadcast information
MBS: 10/2 (Friday) 26: 40 ~
TBS: 10/2 (Friday) 26: 25 ~
CBC: 10/2 (Friday) 27: 13 ~
BS-TBS: 10/3 (Sat) 24: 30 ~
AT-X: 10/21 (Wednesday) 21: 30 ~ other

·Overview
Are you there?
Several "Esperanto" who were able to talk with Mir who is the center of Festum in AD 2151 were born, but the battle between human beings and the silicon type life festum continued. Meanwhile, it turned out that a big change will occur in the battlefield when Mir Altair, which is approaching the Earth from the outer space, comes in. Communication with Altair was hindered by the Azazel - type festus with hostility towards human beings, but succeeded in contact with Sri Nagar 's Mir and Miu that grew from fragments of Arctic meal. However, the next day after the contact Sri Nagar was attacked, and the meal was destroyed into azazel shape. A death Exodus is done to relocate the remaining core to a safe place, to re-interact with Altair, and to evacuate the survivors left by Area Shree Nagar.

The 2nd cool eyes of "Fafner of the Azure: EXODUS" broadcasted in the spring of 2015. Since the series themselves are identical, there is no change in staff or cast.

TV Animation "Fafner of the Azure Final EXODUS" 2nd Cool 2nd PV! : YouTube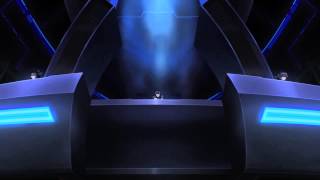 ·staff
Original: XEBEC
Overall director: Takashi Nodo
Director: Nobuyuki Habara
Series composition: Okata
Character design: Hisashi Kuji
Mechanic design: Naohiro Washio
CGI Director: Eiji Ino
Art director: Toshihiro Kobama
Art Design: Kaoru Aoki
Color design: Misuko Sekimoto
Director of Photography: Takashi Aoki
Edit: Junichi Ito
Music: Hosoei Saito, Warsaw Philharmonic Orchestra
Acoustic director: Masumi Mima
Executive Producer: Akira Nakanishi, Hiroo Maruyama
Producer: Kutaro Sudo, Ryu Hashimoto
Animation Producer: Kusakabe Takumi
Line Producer: Yuko Akira
Animation Production: XEBECzwei
Production: FAFNER EXODUS PROJECT, MBS
Copyright light notation: © XEBEC · FAFNER EXODUS PROJECT

Twitter:@fafnerproject
Hashtag: #fafner

OP: "DEAD OR ALIVE"
ED: "Horizon"

·cast
Shinshiro Minagi: Kohei Kohei
Makane Kazuma: Makoto Ishii
Maki Tomimi: Mariko Matsumoto
Douma Hiroshi: Nozomu Sasaki
Ritsuji: Misato Fukuneni
Norihiro Arai: Satomi Arai
Kenji Kondo: Minoru Shiraishi
Rina Nishio: Ryoko Shiraishi
Takashi Nishio: Hiroki Kaji
Mikono Nobunaga: Nobunaga Shimaki
Kouki comment: Kenji Ono
Mizuka Mizuki: Yui Ishikawa
Fumihiko Makabe: Masahiko Tanaka
Kensuke Mizoguchi: Takaya Tsuchiya
Chizuru Tomi: Emi Shinohara
Yuko Hanezama: Katsuragi Rikuro
Hanasaka Kanon: Sanae Kobayashi
Kanumi Miyoshi
Kei Kei: Takase Right light
Hino Arako: Yukana
Mika Hino: Venus violet
Ian · Kamp: Terasama Masaki
Jeremy Lee Mercy: Aya Endo
Chen Jingki: Michiko Komatsu
Nishio Noriko: Naoko Kyoda
Narain · Weisman · Bose: Ryuzaburo Otomo
Walter · Bar Guest: Ryutaro Okiayu
Dustin Morgan: Yuichi Nakamura
Jonathan Mitsuhiro Bertrand: Nobuhiko Okamoto
Billy Morgan: Seiichi Morita
Aishwalia · Fein: Megumi Ban
Keith · Water: Ueno Aki
Emery Almond: Rio Sasaki
Tsuneki Jinnai: Tatsuo Suzuki
Shogo Saki: Asukura Anni
Mai Douma: Saori Saito


---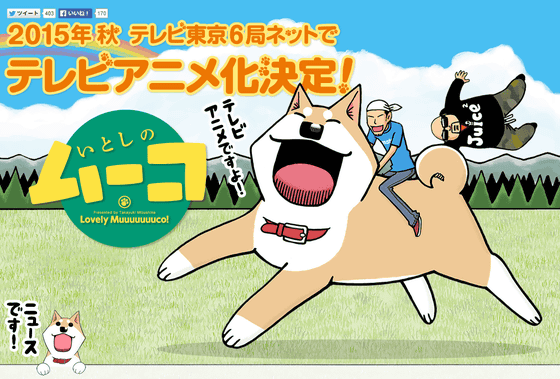 · Broadcast information
TV TOKYO: 10/3 (Sat) 9: 14 ~
TV Aichi: 10/3 (Sat) 9: 14 ~
TV Osaka: 10/3 (Sat) 9: 14 ~
TVQ: 10/10 (Sat) 6: 44 ~
TV Hokkaido: 10/10 (Sat) 7: 14 ~
TV Setouchi: 10/10 (Sat) 7: 14 ~

·Overview
Muko loves Komatsu-san! Otome Muko's dream is "someday Komatsu goes to a dog and walks around together, finds a tail and finds a circle." I will spend lavish days with Komatsu today, shining brilliant glittery Ohana.

Original manga is an evening series, 7 volumes already published. "Lovely Movie Oki no Muko"It has been animated twice and this time it is the third animation of the whole time. Cast is Muco role Yoshida Hitomi is continuing, but Komatsu - san and Mr. Ushiko are playing as Fuji Television announcer was playing it has been changed. The model isGlass studio in Akita Vetro sign board.

·staff
Original: Masushi Nakayuki
Director: Roma Fu Higa
Animation production: DLE
Copyright notation: © Mr. Mizusina Takayuki / Kodansha

·cast
Muko: Hitomi Yoshida
Komatsu: Hino Satoshi
Ushiko: Junji Majima
Mr. Roda: Keiji Fujiwara
Reina: Sumire Uesaka
Shinohara-san: Kaori Natsuka
Mutsu teacher: Hiroki Takahashi
Ring-kun: Yu Kobayashi


---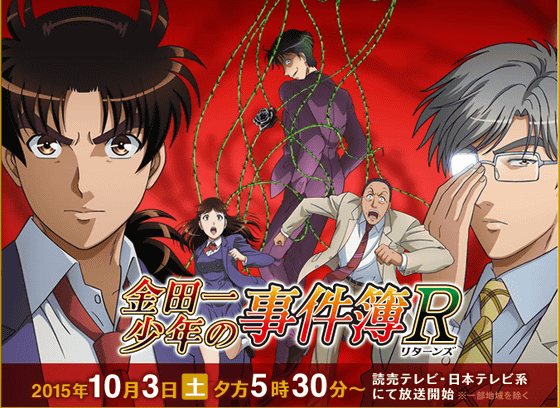 · Broadcast information
Ytv · Japanese TV system: 10/3 (Sat) 17: 30 ~
2 cool

·Overview
Kanedaichi Ichi (Kindaichi) grandchildren of that name detective will challenge difficulties with her childhood Miyuzu Nanase, a good swordsman police officer and rival Akechi police. The shadow of the incident is "puppet master of hell" Takato Yuichi ... ....?

"Kindaichi juvenile case book R" broadcasted from April 20 to September 2014 revived for the first time in a year. The original is a Weekly Shonen Magazine since 1992, a series that is serialized while holding a break. The cumulative total of 62 published books, "Kintaichi Juvenile Case Book R" 6 volumes.

The series director is Yoko Ikeda of "Movie Suite Pretty Cure ♪ Take Back! Mind Trouble Melody ♪ ♪".

·staff
Original: Tianki Meikumaru
Manga: Sato Fumiya (Kodansha Weekly Shonen Magazine Series)
Chief Producer: Michihiko Suwa, Shinji Shimizu
Producer: Koji Nagai, Hiroshi Ishikawa, Risa Nikaido
Series Director: Yoko Ikeda
Screenplay: Mitsuru Shimada, Yukinori Fukushima, Atsuhiro Tomioka, Miyuki Kishimoto, Makoto Takuya
Character design: Akihiro Asanuma
Art setting: Li Yunzhi
Art director · art: Ichioka Miyuki → Kiriki Yumiko
Color design: Shinichi Toyonaga
Director of Photography: Tomomi Ishizuka
Edit: Kenta Katase
Music: Kaoru Wada
Production: Yomiuri Television, Toei Animation
Copyright light notation: © Tenniki Seikaru Sato Fumiya Kodansha / Yomiuri Television Toei Animation

Twitter:@ AnimekindaichiR
Hashtag: #kindaichi

·cast
Kaneda Iichi: Matsuno Taki
Miyuki Nanase: Akiko Nakagawa
Kenko Isamu: Yoshuro Kosugi
Kengo Akechi: Tomoyuki Morikawa
Ryuta Saki: Keiichi Namba
Takato Yutaka: Kenichi Ono


---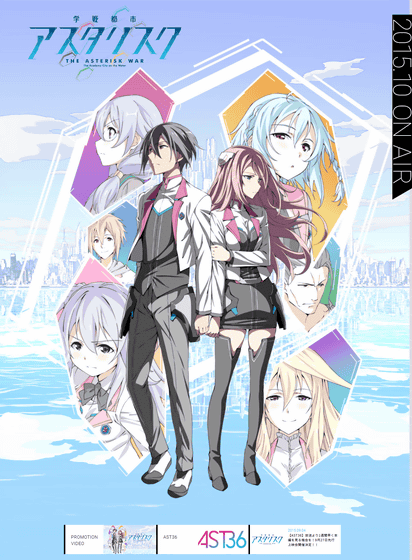 · Broadcast information
Animax: 10/3 (Sat) 20: 30 ~
TOKYO MX: 10/3 (Sat) 23: 30 ~
Gumma TV: 10/3 (Sat) 23: 30 ~
Tochigi Television: 10/3 (Sat) 23: 30 ~
BS 11: 10/3 (Sat) 23: 30 ~
ABC: 10/7 (Wednesday) 26: 14 ~
CBC: 10/7 (Wednesday) 26: 45 ~

·Overview
At the end of the 20 th century the unprecedented catastrophic · meteor rain (Imper tire) attacked the Earth, many cities were destroyed. However, the unknown element "Mana" found from this meteorite has made great progress in science and technology, and has created a new human being with a unique power called the astral generation (Genestella). A special student who has transferred to the Higashi Department of the Star Lingen Gakuen High School, Mr. Tegumi Ayoho is a science school city called "Rokka" called asterisk, which is the stage of the world's largest total battle entertainment "Festival Festival" I swear to fight to make my wish come true.

Original is a light novel published in MF Bunko J, 9 volumes already published. The main volume Comic Carize series (Manga: Genshin) which is serialized by the monthly comic alive is published in 2 volumes, a separate volume of juvenile magazine serialized by "Sengoku City Asterisk Gaiden Quin Vale's Wing" (Manga: Akane Rust)

The director is "Horizon on the Borderline" "Saki - Saki-"Ono Manabu, The director is "Saki - Saki -" assistant director, Setoseki. Broadcasts are all 24 episodes, first of all 1st Season 12 episodes are broadcast.

Anime "Scholastic War City Asterisk" 4th PV - YouTube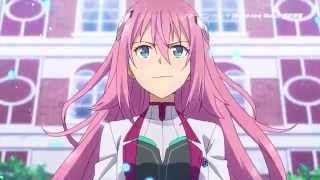 ·staff
Original: Miya Sakuyu (KADOKAWA Media Factory MF Bunko J)
Original illustration: okiura
General Director: Ono Manabu
Director: Seto Kenji
Character design · total drawing director: Tetsuya Kawakami
Set design: Kenichi Morioka
Color design: Aiko Matsuyama
Art director: Yukihiro Watanabe
Director of Photography: Kousuke Nakanishi, Daiki Sugiyama
CG Director: Norio Kudo
Edit: Masahiro Goto
Acoustic director: Satoshi Motoyama
Music: Rasmus Faber
Music production: FlyingDog
Animation Production: A-1 Pictures
Copyright notation: © 2015 Saki Miya · KADOKAWA Corporation / Asterisk Production Committee

Twitter:@ Masterisk_war
Hashtag: #asteriskwar

OP: Sayo Nishizawa "Brand-new World"
ED: Maaya Sakamoto "Waiting for the rain"

·cast
Ayuto Mimi: Atsushi Tamaru
Yuris-Alexia von Leesfeld: Kao Makuma
Claudia Enfield: Nao Higashiyama
Shaomi Saya: Izawa poem
Ken Tsuto: Ozawa Abe
Shibuya at night: Yusuda Uchida
Leicester McPheil: Takahisa Hoshino
Ernesta Kuune: Akasaki Chinatsu
Camilla · Pareto: Tamura Mutsumi
Irene Ulsaide: Yumi Uchiyama
Priscilla Urcais: Join long-abroad
Dirk Eberwein: Tomokazu Sugita


---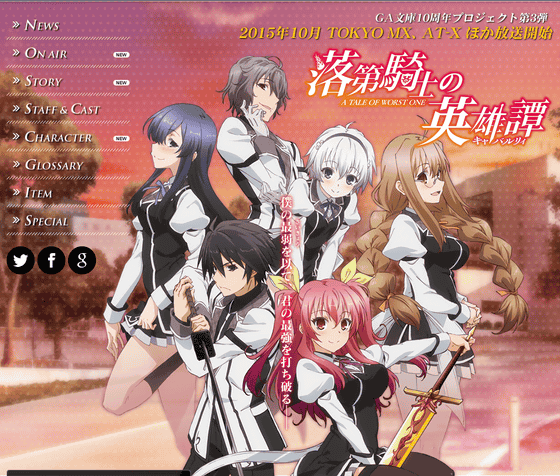 · Broadcast information
AT-X: 10/3 (Sat) 23: 00 ~ other
TOKYO MX: 10/4 (Sunday) 24: 30 ~
TV Aichi: 10/4 (Sunday) 25: 05 ~
Sun TV: 10/5 (Monday) 23: 30 ~
BS 11: 10/9 (Fri) 23: 30 ~

·Overview
With my weakest point, I will break your strength -
Fist Knight (Worst One), whose ability as a magic knight is too low to retire, · Kazuaki Kurottori will be challenged for a duel from Stella Vermilion, a Class A knight (number one), which is said to be one genius in 10 years. Ikki wins against the surrounding expectations. To tell the truth, he was a heresy heretical to sword skill instead of magic. Kazuki, who is running up from the bottom to the top, eventually gained attention as an uncrowned sword king (another one), and Stella is gradually attracted to such a form.

The third bulletin of GA Bunko 10th anniversary project. The original novel is 7 volumes already published and 1 short edition. In Gangan ONLINE, a series of manga versions by Megumi Airai was performed, and this is the third volume already published.

Director · Onuma Mind, Series Director ·Hitoshi Tamamura, Series composition ·Yaskawa ShoppingI mean"The invader between the six mats!"The same combination.

TV anime "Heroic Knight's Heroic Tan (Cavalry)" 2nd PV - YouTube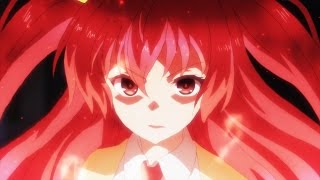 ·staff
Original: Riku Haiku (GA Bunko / SB Creative)
Character original bill: Ichigo
Director: Onuma Mind
Series Director: Hitoshi Tamura
Series composition: Yaskawa Shopping
Character design: Komatsubara sacred
Color design: Manami Yamaguchi
Art Director: Toru Koga (Studio Uni)
3D Director: Toshiro Hamura (Studio Shamrock)
Director of Photography: Hirooka Take (Nexus)
Edit: Kentaro Tsubone (REAL-T)
Acoustic Director: Kawahito Meida (Magic Capsule)
Music: Kotaro Nakagawa
Music Production: Flying Dog
Animation production: SILVER LINK. / NEXUS
Production: "Heroic Tale of Falcon Knight" Production Committee
Copyright notation: © Hikaru Riku / SB Creative / Heroic Knight's Founder Production Committee

Anime official Twitter:@ittoshura
Hashtag: # cav_anime

OP: Mikio Sakai
ED: ALI PROJECT

·cast
Kazuaki Kuroita: Ryota Aisaka
Stella Vermilion: Shizuka Ishigami
Black Rails Pill: Higashiyama Nao
Nagi Osuinin: Shintaro Asanuma
Ayatsuji Yase: Yu Kobayashi
Todo Ken Hana: Konumoto Hoshiko
Shingu Temple KuroNO: Mariko Higashiuchi
Kusakabe Kimiya: Yoshi Aisaka
Nishikige Saigo: Iguchi Yuka
Ori Oriki: Izumi Tachida
Rabbit Maru Koi each: M · A · O
Mikuzu Foam: Megumi Ban
Kiyohara Shizuya: Matsuoka Sadyojo
Kurashiki Kurano: Yoshimasa Hosoya
Kuro Iron Ryuma: Arimoto Keinori


---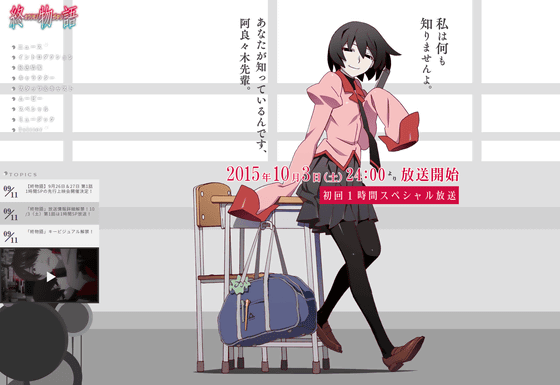 · Broadcast information
TOKYO MX: 10/3 (Sat) 24: 00 ~
Tochigi Television: 10/3 (Sat) 24: 00 ~
Gunma TV: 10/3 (Sat) 24: 00 ~
Cibatelle: 10/6 (Tue) 25: 00 ~
Tvk: 10/6 (Tue) 25: 30 ~
Terebellum: 10/6 (Tue) 26: 05 ~
TV Aichi: 10/6 (Tue) 26: 05 ~
TV Hokkaido: 10/6 (Tue) 26: 05 ~
TVQ: 10/6 (Tue) 26: 05 ~
MBS: 10/6 (Tue) 26: 30 ~
Niconico: 10/7 (Wednesday) 23: 00 ~
BS 11: 10/10 (Saturday) 24: 00 ~
AT-X: 10/10 (Saturday) 25: 00 ~
※ 1st episode 1 hour Special

·Overview
I do not know anything. You know, Araragi senpai.
In October of the third year of high school, Araragi Kiyomi is introduced from Suruga Kamihara, 1st year student Oshino fan. The story begins to move as soon as the fan who made the drawing of Naoetsu High School has consulted with the calendar that he found a strange thing.

Animation of the third work of Novel "Narrative> Series Final Season" by Nishio Ishin. In the Nishio Ishinomi Anime Project, animation of all works has been advanced, and from this series series final season "virginal language" has been animated at the end of 2014. In addition, although the theatrical release is decided for "the wounded story" of the second work of the first season, the opening time is undecided.

The final story / 1st PV - YouTube




·staff
Original: Nishio Ishin
Character draft: VOFAN
Overall Director: Akiyuki Shinbuchi
Director: Tomoyuki Itakura
Series composition: Toyako Toyomi, Akiyuki Shinbun
Character design: Akio Watanabe
Overall director: Watanabe Akio, Iwasaki Asuka, Nishizawa Shinya
Art director: Ken Naito
Color design: Hitoshi Hibino, Yasuko Watanabe
Director of Photography: Rei Egami
Edit: Rie Matsubara
Acoustic director: Yota Tsuruoka
Music: Yoshi Haneoka
Animation Production: Shaft
Copyright notation: © Nishio Ishin / Kodansha · Aniplex · Shaft

Twitter:@ Nisioisin_anime

ED: Arisa Takigawa "Sayonara's Fun"

·cast
Araragi Kimi: Kamiya Hiroshi
Oshino Fan: Kaori Mizuhashi
Old Kurakaki: Mari Inoue
Hitagi Senjogahara: Chiwa Saito
Hanekawa Tsubasa: Yui Horie
Suruga Kambara: Miyuki Sawashiro
Hachiko Hanazawa Nagisa
Shinobu Oshino: Maaya Sakamoto
Aoki Nogi Coterminy: Saori Hayami
Suzumi Izu Lake: Yukino Satsuki


---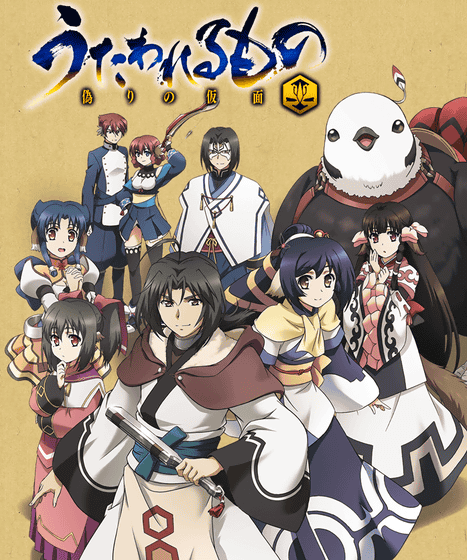 · Broadcast information
TOKYO MX: 10/3 (Sat) 25: 00 ~
TV Aichi: 10/5 (Monday) 26: 05 ~
MBS: 10/6 (Tue) 27: 00 ~
AT-X: 10/8 (Thursday) 23: 00 ~ others
BS 11: 10/9 (Fri) 23: 00 ~
2 cool

·Overview
The story The girl Kuon who was traveling on Yuyama helps the young man who was attacked by a bamboo monstrously as naked. Because the young man lost almost his memory, Kuon named him "Haku."

In 2002 Aqua Plus launched, and the sequel of "Utawarerumono" animated in 2006 will be simultaneously deployed in the game and animation. By the way, "Utawarerubuto" has a trilogy concept, the first part corresponds to the first part, and the work corresponds to the second part. Therefore, although the stage of this work is "Yamato", the appearance of characters such as the country "Tusukuru" that appeared in the previous work and Arluu · Camu · Benawi · Crow · Carla · Touca was also revealed (whether it also appears in animation It is unknown at the present time).

The director is Keitaro Motonaga of "Ginga Machine Squadron Majestic Prince", "Dating A Live", "Jolmundangand" "Sword", series composition is "Absolute Duo" "Minami Shinkai" "Seminar" There is noTakamitsu Kono. The main staff is almost exchanged from the previous work, but as for the character design, the atmosphere is taken over since Masahiko Nakada is in charge of the previous work as well. Also, animation production will be done by WHITE FOX independently established in 2007 by Iwasa Make Producer of OLM TEAM IWASA who produced the previous work.

TV animation "Utawarerumono fake mask" 2nd bulletin video footage: YouTube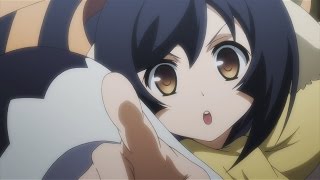 ·staff
Original: AQUAPLUS
Director: Keimitaro Motonaga
Supervision of scenario: Mr. Sugo Kan
Series structure: Takamitsu Kono
Character original plan: Hakusa Tree, Misato Misato
Character design · General drawing director: Masahiko Nakada
Prop Design: Noritaka Suzuki, Kenichi Iwata
Art setting: Li Wei, Nomura Nomura
Art director: Yoshito Takamine
Color design: Miyuki Sato
Director of Photography: Toshiya Kimura
Edit: Shokiaki Kimura
Acoustic Director: Ebi Nerinagari
Music: Naoya Shimokawa / Aqua Plus
Animation Production: WHITE FOX
Production: Utawarerumono fake Mask Production Committee
Copyright notation: © Utawarerumono fake Mask Production Committee

Twitter:@UtawareOfficial
Hash tag: # Utazare

OP: Suara "Unstable God"
ED: Suara "Yumeka Tutsuka"

·cast
Haku: Fujiwara Keiji
Kuon: Risa Taneda
Turmeric: Kentaro Tone
Nekoney: Mizuno Inose
Rurutier: Kao Yumi
Atui: Yumemi Hara
Nobori: Yamamoto hope
Ogi: Takahiro Sakurai
Urur: Ayane Sakura
Saranah: Ayane Sakura


---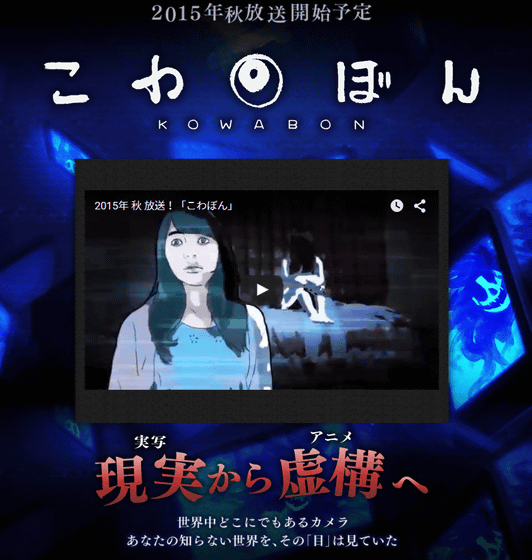 · Broadcast information
KBC: 10/3 (Sat) 25: 42 ~

·Overview
Camera anywhere in the world Camera that you do not know That 'eyes' was watching

KBC (Kyushu Asahi Broadcasting) outgoing animation that follows "Dark Santa". It is made using "Rotoscope" which makes animation based on live-action video.

Fall in the fall of 2015! "Kokonben" - YouTube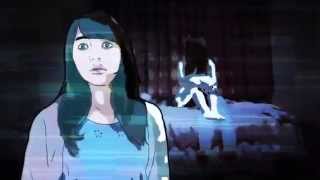 ·staff
Director: Kazumasa Takeya (ILCA)
Screenplay: Hiroyuki Kumamoto

ED: LinQ "Eye, Screamin."

·cast
Major performers
Takaki Yuui (LinQ), Amano Natsu (LinQ), Shimo Fuuko (LinQ), Naoko Hara (LinQ), Ichinose Miku (LinQ), Sakura Ami (LinQ), Yamaki Ayano (LinQ), Sugimoto Yusu (LinQ ), Others


---


· Broadcast information
MBS: 10/3 (Sat) 25: 58 ~
TOKYO MX: 10/4 (Sunday) 23: 30 ~
RKK: 10/4 (Sunday) 25: 50 ~
BS 11: 10/5 (Monday) 25: 00 ~

·Overview
"Ellen who came in the morning of entrance ceremony with enthusiasm," I will drive out the giants in school, no, around the world! " However, the Advance Middle School was a school of huge community where people and giants pass along. Could it be, Ellen can drive out the giant?

Animation of the official spin-off comedy comedy of "Advance Giant". The original is 8 volumes already published.

Director Yoshihide Ibuchi of "Kirakiru" (episode 10) director, series composition "Ru = Garu" (joint script) "I am ready, Azazel san" Screenplay Goto Green.

attack! Giant Junior High School PV: YouTube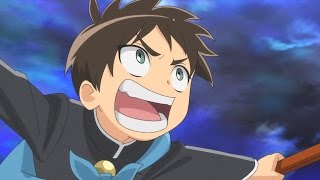 attack! Giant Junior High School PV 2nd bullet - YouTube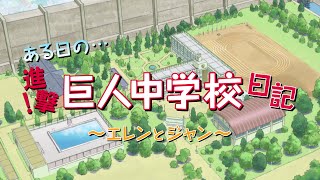 ·staff
Original: Isayama Creation
Manga: Saki Nakagawa (Kodansha separate volume juvenile magazine serial)
Director: Yoshihide Ibuchi
Series composition: Goto Midori
Character design: Yuko Yahagi
Art setting: Kenichi Morioka
Art director: Kazuhiro Arai (studio honor)
Color design: Makiko Suzuki
Director of Photography: Tetsuya Takahashi
Edit: Hama Utsu Taeko
Music: Asami Tachibana
Acoustic director: Masumi Mima
Animation Production: Production I. G
Copyright notation: © Saki Nakagawa, Sosaku Isayama, Kodansha / "Advance! Giant Junior High School" Production Committee

Twitter:@ Anime_ kyojinchu
Hashtag: # kyojinchu

OP: Linked Horizon "Youth is like fireworks"

·cast
Ellen Jaeger: Hiroki Kaji
Mikasa Ackerman: Yoshi Ishikawa
Armin Arelert: Mary Inoue
Jean · Kirstein: Kisho Taniyama
Ani · Leonheart: Shimamura Yu
Sasha Blouse: Yu Kobayashi
Crista · lens: Mikami branch weave
Connie Springer: Hiroshi Shimono
Marco Bot: Ryota Aisaka
Liner Brown: Yoshimasa Hosoya
Bertolt Huber: Tomohisa Hashizume
Yumir: Saki Fujita
Rivai: Hiroshi Kamiya
Elvin Smith: Daisuke Ono
Hanji Zoe: Park Yumi
Eld Jin: Progress in Chiba
Oro · Bozad: Shinji Kawada
Gunta Schulz: Kozo Mito
Petra Lal: Aikawa Aoni
Rico Brezenska: Michiko Enokii
Miket · Zakarias: Kenta Miyake


---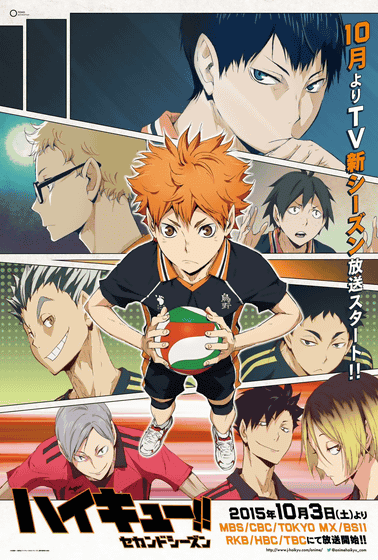 · Broadcast information
MBS: 10/3 (Sat) 26: 58 ~
CBC: 10/3 (Sat) 27: 23 ~
TOKYO MX: 10/4 (Sunday) 24: 00 ~
BS 11: 10/4 (Sunday) 24: 30 ~ other
RKB: 10/4 (Sunday) 26: 30 ~
HBC: 10/5 (Monday) 26: 10 ~
TBC: 10/6 (Tue) 25: 48 ~

·Overview
Himuro Shoyo, who admired Konno High School volleyball club as longing for the "small giant" I saw on television, was an overwhelming body skill that covers the low height, and the "King on Court" Kageyama, a genius setter Together with Akira, he will devise an attack called "Transfiguration Haste" and aim for the whole country with his team mates. Uraino who was defeated in front of Aoba Castle West in Interhai Miyagi Prefecture qualifying will do Tokyo expedition in order to participate in a joint training camp organized by Yuya Gakuen Group.

In the second phase of the "High Queue !!" broadcast in the spring of 2014, the first full compilation theatrical version of the first part summarizing the contents of the first period is released on July 3, the second part is released on September 18. The original is being serialized for Weekly Shonen Jump, published in 17 volumes. staff·castThere is no major change from the first term either.

·staff
Original: Haruichi Furutate (Shueisha Weekly Shonen Jump Series)
Director: Good encouragement
Series composition: Takashi Kishimoto
Character design: Takahiro Kishida
Total drawing director: Teruhiro Chiba, Yuko Yahagi
Action drawing director: Yasuyuki Kai, Hideki Takahashi
Artistic director / art setting: Ichiro Tachida
Prop Design: Yu Kobayashi
Color design: Mayumi Sato
Director of Photography: Yumiko Nakada
3DCGI: Dandelion
Edit: Junichi Uematsu
Acoustic director: Hiroyuki Kikuta
Music: Yuki Hayashi, Asami Tachibana
Animation Production: Production I. G
Copyright light notation: © Haruichi Furutate / Shueisha · "High queue !!" Production committee · MBS

Twitter:@ Animehaikyu_com
Hash tag: # hq _ anime

OP: SPYAIR "I'm A Believer"

·cast
HYUKU Yoshiyuki: MURATA Ayumu
Kayama Nobuo: Ishikawa Kokitan
SAWAMURA Dai: Hino Satoshi
Sugawara Takahisa: Freedom Irino
Tanaka Ryunosuke: Ryuga Yu
Midori Asahi: Yoshimasa Hosoya
Nishitaniya: Nobuhiko Okamoto
Tsukishima Firefly
Yamaguchi Tadashi: Makoto Saito
Marginal power: Toshiki Masuda
Kiyoshi Shimizu: Kaori Natsuka
Yanaka Taniji: Venus violet
Kazutetsu Takeda: Hiroshi Kamiya
Kozo Tsunaga: Kazunari Tanaka
Kuroto Tetsuro: Nakamura Yuichi
Alien polishing: Kaji Yuki
Night Hisuzu: Tachibana Shinnosuke
Ashi Reef: Ishii Mark
Kiba Kotaro: Ryohei Kimura
Akagi Kyōji: Ryota Aisaka
Toru Oikawa: Daisuke Namikawa
Iwaizumi: Hiroyuki Yoshino
Yutaka Ushijima: Ryota Takeuchi


---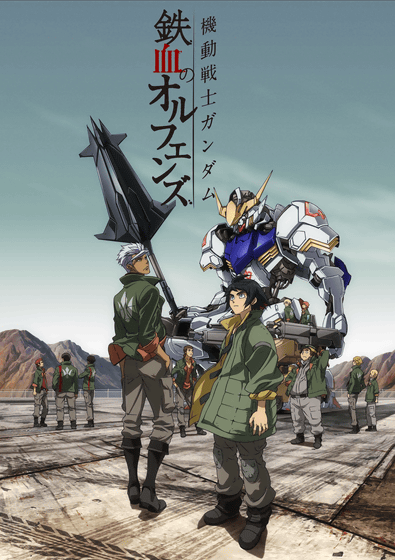 · Broadcast information
MBS · TBS series: 10/4 (Sunday) 17: 00 ~

·Overview
There used to be a big war called "fighting fight". It is about 300 years since the war ended. The Earth's Sphere lost its former governance mechanism, and a new world was built with a new dominance system by four powers. While peace of the cliff visited, in the Martian region far from the Earth, a new battle of battle was being born. The protagonist's boy crescent moon · The private security company Clysse Guard Security (CGS) to which Orgus belongs is an escort mission of a girl who is trying to make Kurase the Mars city under the influence of the earth mutually independent, · ANANA · Bernstein Respectively. However, the CGS, which was attacked by the armed organization Gallhornan trying to pick up the bud of the rebellion, begins withdrawing children from crescents as a decoy. Boys leader Olga Ittsuka decided to coup against the adults who oppressed themselves with this opportunity. The crescent moon entrusted to Olga to repel Gallarhorn challenges the battle with the Mobile Suit "Gundam Barbatos", a fighting fighting era that was used as a power reactor for CGS.

New recital meeting held on July 15, 2015The latest work of the Mobile Suit Gundam series revealed in. There is almost no connection with other series at this time.

Director · Nagai Ryukei × Series composition · Yuri Okada is a combination of "Tora Dora!" "We do not know the name of the flower I saw that day."

"Mobile Suit Gundam Iron Blood Orphans" PV01 - YouTube




·staff
Planning: Sunrise
Original: Hajime Yaechi, Yoshiyuki Tomino
Director: Ryu Nagai
Series composition: Yuri Okada
Character design draft: Yu Ito
Character design: Mori Chiba
Mechanical design: Washio Naohiro, Ebi Okawa Kan, Form Ippei, Teraoka Kenji, Shinohara Kenji
Art: Kusanagi
Music: Katsu Yokoyama
Production Cooperation: Sobu, ADK
Production: Sunrise, MBS
Copyright notation: © Suzuto, Sunrise, MBS

OP: MAN WITH A MISSION
ED: MISIA

·cast
Crescent Moon · August: Ken Saito
Olga Ittsuka: Yoshimasa Hosorya
Biscuit · Griffon: Nagi Hanoe
Eugene · Seven Stark: Yuichiro Umehara
Akihiro - Altland: Yoshiaki Takumi
Norva Sino: Tadashi Murata
Takaki · Uno: Ryohei Tenazaki
Ride · Mass: Tamura Mutsumi
Yamagi · Gilmaton: Mary Saito
Kuderia · Aino · Bernstein: Terasaki Yuka
Atla Mixtera: Konumoto Hoshiko
McGillis Farido: Takahiro Sakurai
Gaelio Boardwin: Masanari Matsukaze


---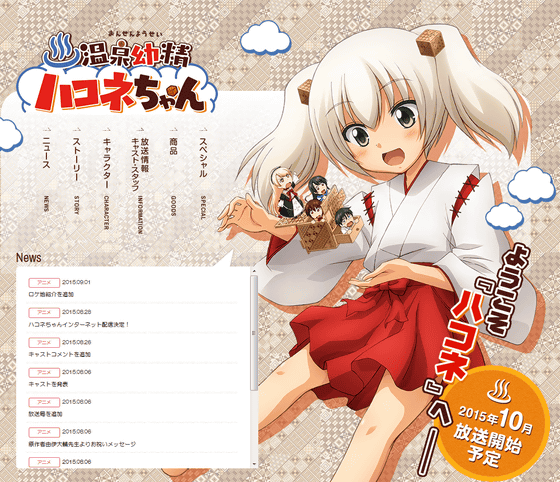 · Broadcast information
Animax: 10/4 (Sunday) 20: 55 ~
Terebellum: 10/4 (Sunday) 25: 00 ~
Tvk: 10/5 (Monday) 26: 00 ~
KBS Kyoto: 10/8 (Thu) 25: 35 ~
Sun TV: 10/8 (Thurs) 26: 30 ~
All 13 episodes

·Overview
A spirit of a hot spring, Hakone, who has descended into a spa town. However, she had been asleep for a long time, her appearance became a young girl! High school student, Fuya who happens to be present, will cooperate to regain her original power ... ....

The original was published in the COMIC Meteoro from December 2012 to April 2014, all in two volumes. Along with an animation decisionReprint has been done.

The director · series composition is "Hime Goto"Yuyuki Yanase.

·staff
Director · Character design · Series composition: Yuyose Yuyuki
Screenplay: Collie Tomonaga, Momoko Murakami
Total drawing director: Yuze Yuyuki, Sakurai Masaaki
Character design: Yuji Yanase
Animation Production: Asahi Productions, Production Lead

Twitter:@onsenyosei
Hashtag: # Hakonechan

OP: petit milady "Hakone hakoirimusume"

·cast
Hakone-chan: Ono Hayamao
Fuya: Taiji Murata
Miya: Kuwabara Yuki
Haruna: M · A · O
Aki: Asai Akai
Gowra: Yuki Ao
Asinoko: Ayana Taketachi


---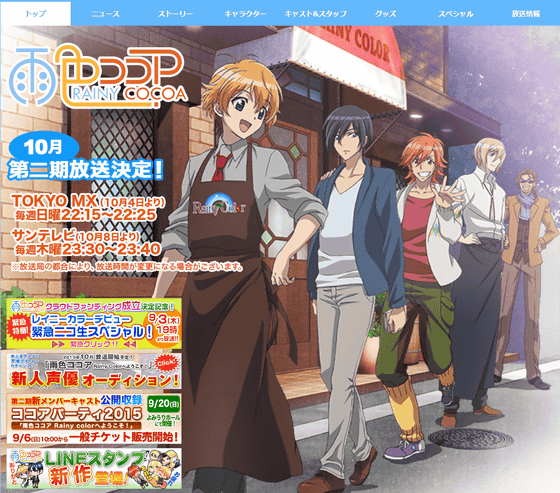 · Broadcast information
TOKYO MX: 10/4 (Sunday) 22: 15 ~
Sun TV: 10/8 (Thurs) 23: 30 ~
1 story 10 minutes

·Overview
The first year student of the university · Aiki Mikuraku is going to work part-time at a coffee shop "Rainy color" for a while. Coolest handsome keiki Iwase Keiichi. Senior Fellow Sakuragi Ryota. Kon Gion Sion, a gentle madam killer 'Rainy Color' master. Koji Tenami, owner of too liberty. Heartful comedy that is unfolded in "Rainy color"!

The second term of "Rainy-colored cocoa" broadcasted in the spring of 2015.

·staff
Original: IAM Electronic Publishing

·cast
Akira Miura: Hiroshi Shimono
Iwase Keiichi: Midorikawa Mikawa
Koga Shion: Daisuke Hirakawa
Sakuragi Ryota: Mamoru Miyano
Koga Noel: Kazuomi Yamamoto
Koga Nicolas: Yoshiya Yoshio
Arisawa Arisawa: Takuma Yamamoto
Torika Torigoe: Toshiya Maruji
Nozomu Tsukura: Yuugi Sato
Rain: Yuko Okui
Madams: Nakano Yuki, Yamazaki Akiko, Kuwayama Kotone
Kohji Tenami: Ryo Horikawa


---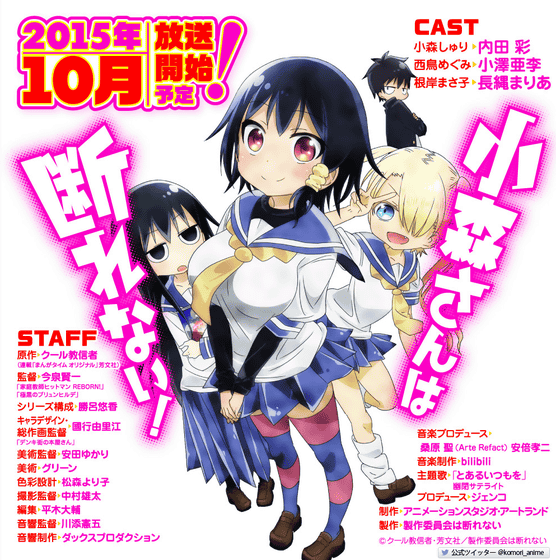 · Broadcast information
TOKYO MX: 10/4 (Sunday) 22: 27 ~
Sun TV: 10/4 (Sunday) 22: 27 ~

·Overview
A girls' junior high school student, Komori Shuri who is too kind and can not say NO. While acquiring the request, I got a great ability !?

Original manga is manga time original series, 4 volumes already published. Cool artists of the original author are well known also in former web comic "an incident not expressing husband way" which was also animated.

Director Kenichi Imaizumi of "Brunon Hilde of the Dark Black".

·staff
Original: Cool Church
Director: Kenichi Imaizumi
Series composition: Yukuro Katsuki
Character design · total drawing director: Yukie Kunie
Art director: Yukari Yasuda
Art: Green
Color setting: Yoshiko Matsumori
Director of Photography: Yuta Nakamura
Edit: Daisuke Hiraki
Acoustic director: Kawamoe Kenji
Acoustic production: Dachs Productions
Music Production: Sei Kuwabara (Arte Refact), Takani Abe
Music production: bilibili
Produce: Jenko
Production: animation studio · art land
Production: Production Committee can not be rejected
Copyright notation: © Cool propagator / Yoshifusa / Production Committee can not be refused

Twitter:@ Komori_anime
Hashtag: #komori_anime

Theme Song: Psychic Satellite "A Certain Its Always"

·cast
Komori Shuri: Aya Uchida
Megumi Nishizaki: Ozawa Aki
Masako Negishi: Maria Naganawa


---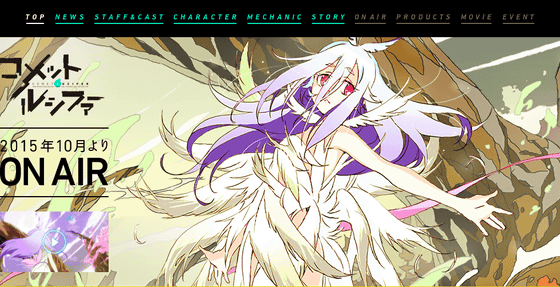 · Broadcast information
TOKYO MX: 10/4 (Sunday) 22: 30 ~
KBS Kyoto: 10/4 (Sunday) 23: 00 ~
Sun TV: 10/6 (Tue) 24: 00 ~
BS 11: 10/6 (Tue) 24: 00 ~

·Overview
Blue shining ore Gifts Living in the town that flourishes the jeum and indigo living in Indigo Hobby of Amagi is to collect rare ores. One day, Saigo gets caught up in the riot caused by classmates and gets stuck in the underground lake deep in the mine trace. I met there, a strange girl with blue hair and red eyes. Whatever she is, what does this encounter bring to Sogo ... ....

An animation production company that has produced "IS ", "Fruit of Grisaia", "Absolute Duo"Eight bitOriginal animation by. Director Yasuhito Kikuchi of "IS " "Armor Shinki", series composition is "World Trigger" "Aikatsu!" "Scenic Zamd" Screenplay Yuichi Nomura.

TV animation "Comet Lucifer" Music Video "Story of Lucifer" / TRUE - YouTube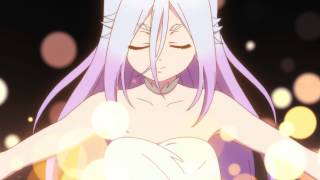 TV animation "Comet Lucifer" Music Video "Like Cosmos" / fhána - YouTube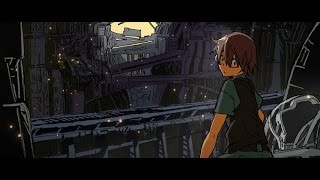 ·staff
Original: Project Felia
Director: Yasuhito Kikuchi
Draft / Series composition / Screenplay: Yuichi Nomura
Series Director: Atsushi Nakayama
Character design · total drawing director: Yuichi Takahashi
Mechanic design: Noriyuki Yanase
Music: Tatsuya Kato
Animation production: Eight bit
Copyright light notation: © Project Felia / "Comet Lucifer" Production Committee

Twitter:@cometlucifer
Hashtag: #cometlucifer

OP: fhána
ED: Ayaka Ohashi

·cast
Seigo · Amagi: Yusuke Kobayashi
Feria: Ayaka Ohashi
Kaon · Ranchester: Takahashi Yi
Roman Varov: Takashi Terashima
Otto Motto: Ayuka Suwa
Mo · Ritika · Tetses · Ura: Mizuno Inose


---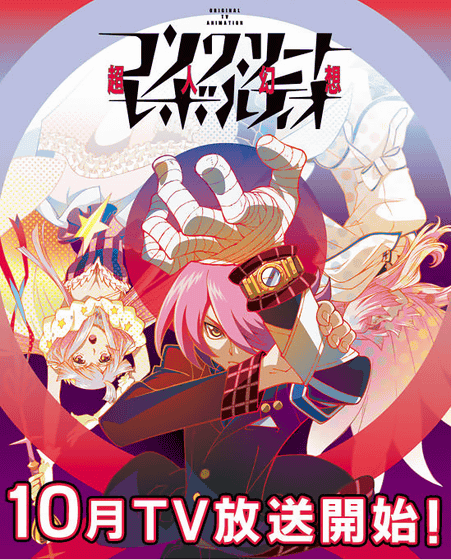 · Broadcast information
TOKYO MX: 10/4 (Sunday) 23: 00 ~
KBS Kyoto: 10/4 (Sunday) 23: 30 ~
Sun TV: 10/4 (Sunday) 24: 30 ~
BS 11: 10/6 (Tue) 24: 30 ~

A superman who came from space, a living body of a fantasy world, existence that has been regarded as a youkai from ancient times, a cyborg remodeled as a scientist, a heritage of a gigantic civilization that decimated to ancient times ... ... partly publicly active There is a superman who secretly fights secretly the feature while gathering. In addition, the enemy forces against the superhuman, organizations also continued their leap. For over 20 years after the war, in Japan developing with high growth, the government established the "Overpopulation Examination Research Institute", aka · superjuman division as an external organization of the Ministry of Health and Welfare for securing order. Their task was to discover, secure, protect and safely manage "superhumans".

In charge of original workNoboru ShinkawaIs an original work in the form of an illusion that "I have rolled by myself alone for over ten years", a related novel "Shinjūsu 36 years of Duma" by hand of Shinkawa was published in the July issue of Mystery magazine . This novel will be published in late September as "Superman Fantasy 36 years." The director is "Mobile Suit Gundam 00" "Paradise Expulsion"Shimji Mizushima, And it is organized with "Shinkawa" with "FULLMETAL ALCHEMIST", "Oedo rocket" and "UN-GO".

【October New Program】 TV anime "Concrete · Revolutio" PV 2 - YouTube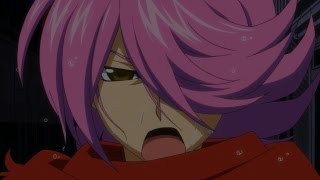 ·staff
Original: BONES, Noboru Shinkawa
Director: Shizuji Mizushima
Screenplay: Noboru Shinkawa, others
Character design · total drawing director: Yoshiyuki ITO
Character draft / conceptual design: Cowboys, Hikawa Hikiru, Hirao Ryo
SF Design Works: Ebi Ogawa Kaneda, Yanase Noriyuki, Yuhara Toshiaki, Matsumoto Hideyuki
Official supervisor of mechanics drawing: Otsuka Takeshi
Art supervision: Hiroaki Matsumoto
Acoustic director: Masumi Mima
Animation Production: Bonds
Copyright light notation: © BONES · Noboru Akikawa / Concrete Revoltio Production Committee

Twitter:@conrevoinfo
Hashtag: # Convo

OP: ZAQ "Catarrays Tomo"
ED: Yosuke Yamamoto

Hitoyoshiro: Ishikawa Toshinin
Teruko Hoshino: Sumire Uesaka
Kino Smile: Aki Toyosaki
Kaze Taito: Nakamura Riko
Yoshimura Teruma: Kawashima Maruko love
Takeshi Akita: Tetsuo Kanedo
Shiba Kenichi Suzumura
Ururu: Okawa Toru
Hitoyoshi Hamutake: Miki Shinichiro


---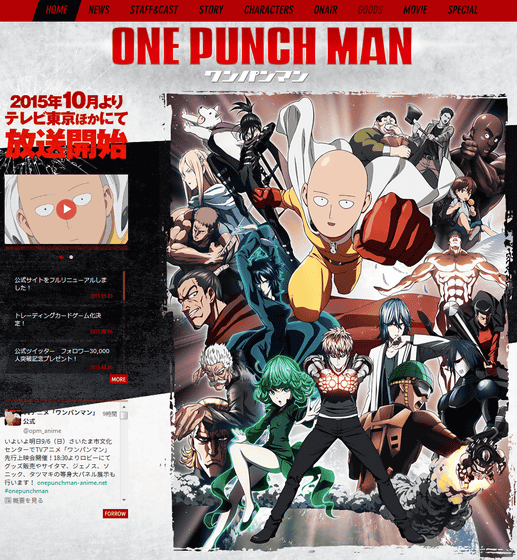 · Broadcast information
TV Tokyo: 10/4 (Sunday) 25: 05 -
AT-X: 10/4 (Sunday) 25: 05 ~ others
TV Osaka: 10/5 (Monday) 25: 05 ~
TVQ: 10/5 (Monday) 26: 00 ~
KBS Kyoto: 10/6 (Tue) 24: 00 ~
BS Japan: 10/6 (Tue) 24: 58 ~

·Overview
A man who started a hero as a hobby · Saitama got unbeatable power with a 3-year special training. However, because it became too strong, any opponent got settled with a bang. Can the new enemies that appear today also seriously bring Saitama to say "overwhelming force is boring?"

The original is the same name web comicYusuke MurataIt is a remake made by painting, and it is serialized by a neighboring Young Jump. Previously published volume 9. In addition, authorship by ONEThe original version is also being updated.

The director is "Space ☆ Dandy"Narimi Shingo Natsume, The series composition is Tomoaki Suzuki of the script "Saint Seiya LEGEND of SANCTUARY" screenplay.

TV animation "Wanpanman" 2nd PV - YouTube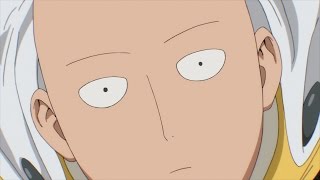 ·staff
Original: Yusuke Murata, ONE
Director: Shingo Natsume
Series composition: Tomoaki Suzuki
Character design: Kubota oath
Animation Production: Mad House

Twitter:@opm_anime
Hashtag: # onepunchman

OP: JAM Project
ED: Hiroko Moriguchi

·cast
Saitama: Shin Furukawa
Genos: Ishikawa Kokitan
Sonic of Sonic Speed: Hiroki Kaji
Shivering Tatemaki: Yuki Aki
Silver Fang: Kazuhiro Yamaji
King: Hiroyasu Yasumoto
Zombie man: Takahiro Sakurai
Tank top master: Katsuyuki Konishi
No-exemption rider: Yuichi Nakamura
Ikemen Kamen Amai Mask: Mamoru Miyano
Fukubi of hell: Saori Hayami


---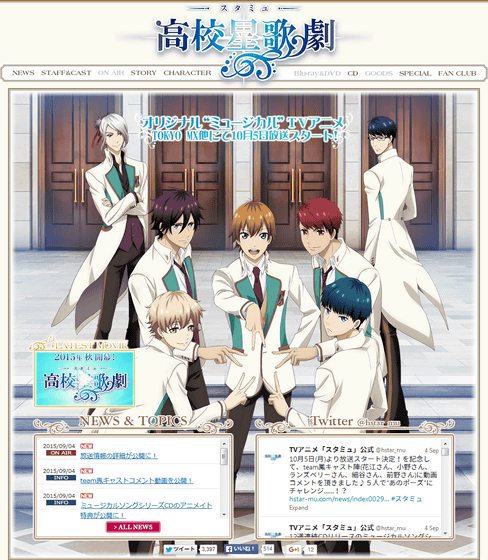 · Broadcast information
TOKYO MX: 10/5 (Monday) 24: 00 ~
BS 11: 10/5 (Monday) 24: 30 ~
AT-X: 10/12 (Mon) 23: 30 ~ other

·Overview
Yuuta Hoshiya who entered a prestigious school · Ayanagi Gakuen in the field of music entertainment pursuing a high school student of admiration. In order to enter the musical department which is the goal of all freshman students, it is short-circuited to enter the "star frame" which is seen as a member of the "Hanakura Kai" composed of the 3rd grade of the top grades and can be started directly. Hoshiya, as amateur as eleven people, together with the four people, Nasuki, Tsukiji, Tenkaji and Sora, who have been compromised even by being left in the musical department candidate due to various circumstances, is a weirdo of the Hanakurakai and is seen as a genius, Otori ...... .

Complete original musical TV animation. Originally in the fall of 2014 only the title was released as "High School Star Musical", and in March 2015 staff and cast information was lifted.

The director is Shunsuke Shunsuke of "Kuroko no Basuke", "The Prince of Tennis" edition Shunsuke Tada, series composition is "Library War", Screenplay Harada Sayaka "Betrayal is Writing My Name."

Stumi 120 seconds PV 【A】 - YouTube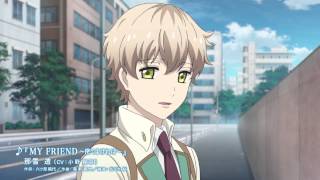 ·staff
Plan / Draft: Hinata Rin
Director: Shunsuke Tada
Series composition: Harada Sayaka
Character design: Ayano Watanabe
Music: Ken Arai
Animation Production: C-Station
Copyright notation: © Rin Hinata / Stamu Production Committee

Twitter:@ Hstar_mu
Hashtag: # stami

OP: Gero "DREAMER"
ED: team Feng (Yuuta Hoshiya (CV: Natsuki Hanue), Noriyuki Nasu (CV: Kenji Ono, Kaoru Ono (CV: Lansbury Arthur), Sho Tengaji Sho (CV: Yoshimasa Hosoya) (CV: Tomoaki Maeno) "Star Moment COUNTDOWN"

·cast
Yuta Hoshitani: Nagi Hanoe
Nasuzu Toru: Onno Kenji
Tsukishi Kaito: Landsbury Arthur
Tenkaji Sho: Hosoya Yoshimasa
Sky Quiet: Maeno Tomoaki
Tatsumi Ryūyu: Okamoto Nobuhiko
Yuugo Shingo: Yusuda Uchida
Seiji Munehiro: Kazuyuki Okitsu
Tigerishi Izumi: KENN
Akikawa Akira: Matsuoka Sadyojo
Kōki: Junichi Suwabe
Hiiragi: Hirakawa Daisuke
Akashira Tsukasa: Shotaro Morikubo
楪 = Christian = Rion: Kosuke Toriumi
Ren Shuya: Wataru Hatano
Tsukishima Daito: Takeshito Koyasu


---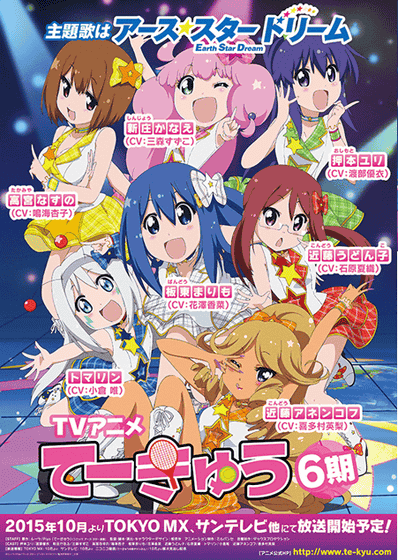 · Broadcast information
TOKYO MX: 10/5 (Monday) 25: 05 ~
Sun TV: Monday, October 5 25: 30 ~

·Overview
Kameido High School belongs to the tennis club It is the sixth period of ultra high-speed gag animation series depicting the daily routine of four girls who are not ordinary. By the way, the fifth period was broadcasted in the summer, and the fourth period was broadcasted in the spring, so it will be broadcast on 3 consecutive cool streaks from April onwards.

The 6th term big decision! - YouTube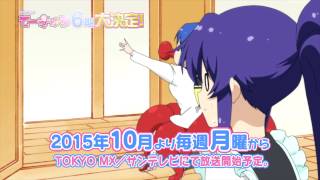 ·staff
Original: Roots, Piyo (Comic Earth Star Series)
Director: Shi Itagaki

Twitter:@te_kyu

Theme Song: Earth Star Dream

·cast
Yuri Oshimoto: Yui Watanabe
Kaname Shinjo: Suzuko Mimori
Makoto Bando: Hanazawa Kana
Naruto Naruto: Narumi Kyoko
Tomarin: Yui Ogura
Kondo Annkov: Eri Kitamura
Kondo Udon child: Norihiro Ishihara


---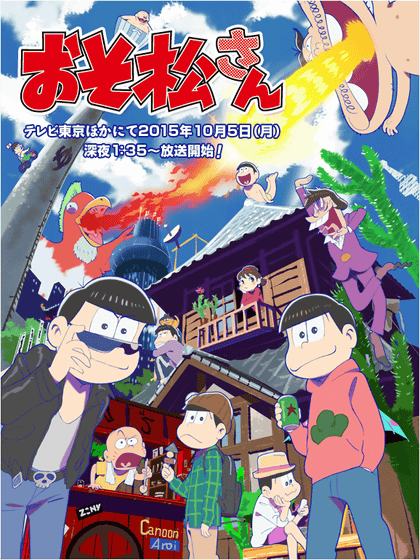 · Broadcast information
TV TOKYO: 10/5 (Monday) 25: 35 ~
TV Osaka: 10/5 (Monday) 25: 35 ~
TV Aichi: 10/5 (Monday) 27: 05 ~
AT-X: 10/6 (Tue) 24: 30 ~ other
BS Japan: 10/10 (Saturday) 24: 00 ~

·Overview
Osomatsu who live in the same house as those days and live in their own pace even when they grow up. As a work commemorating the 80th anniversary of Fujio Akatsuka's birth, the appearance of the current "Osomatsu-kun" is drawn.

The director is "Gintama" "Poverty God!"Yoichi Fujita.

·staff
Original: Fujio Akatsuka
Director: Yoichi Fujita
Character design: Naoyuki Asano
Series composition: Hidemi Matsubara
Art Director: Shoji Tamura
Color design: Yukiko Kaneda
Director of Photography: Fukushima
Edit: Kumiko Sakamoto
Music: Yukari Hashimoto
Music Production: Avex Pictures
Acoustic director: Hiroyuki Kikuta
Acoustic production: Musical sounds
Animation Production: studio Pierrot
Copyright notation: © Fujio Akatsuka / Mr. Osomatsu Production Committee

@ Osomatsu_ PR
Hashtag: # Osomatsu

·cast
Osomatsu: Takahiro Sakurai
Karamatsu: Yuichi Nakamura
Choro Matsu: Hiroshi Kamiya
Ichimatsu: Jun Fukuyama
Fourteenth pines: Daisuke Ono
Todomatsu: Irish Irino
Totoko: Aya Endo
Iyami: Kenichi Suzumura
Chibi Tei: Kokutai
Decapant: Ujita Bunji
DAYNON: Nobuo Tobita
Hatobo: Momoko Saito


---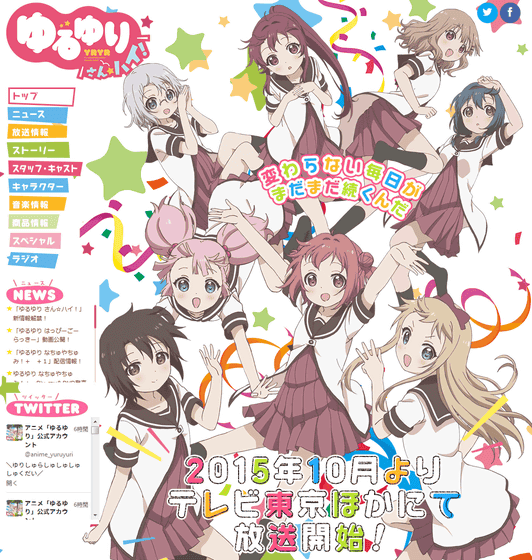 · Broadcast information
TV TOKYO: 10/5 (Monday) 26: 05 ~
TVQ: 10/5 (Monday) 27: 00 ~
TV Hokkaido: 10/6 (Tuesday) 26: 35 ~
TV Aichi: 10/7 (Wed) 26: 35 ~
TV Osaka: 10/7 (Wednesday) 27: 05 ~
TV Setouchi: 10/8 (Thurs) 26: 15 ~
AT-X: 10/9 (Fri) 23: 00 ~ others

·Overview
"YuruYuri" TV series third period. In the 1st and 2nd period, the director Masahiko Ota, the composition of the series was AOsashima Takashi, animation production was a combination of animation workshops, but since the movie "YuriYuri Nachiya Chumi!" The director "recently sister Although it is somewhat funny as it is, "To Hiroyuki Hata, animation production has been replaced by TYO animation of" Tamayura "" Wolf girl and black prince ".

·staff
Original: Nori I (Comics Yuri Hime Comics One)
Director: Hiroyuki Hata
Series composition: Hiroyuki Hata, Makoto Fukami
Character design · total drawing director: Motohiro Taniguchi
Animation Production: TYO Animation
Production: Nanamori Nakamura Division
Copyright light notation: © 2015 Nori I / Ikusan · Nanamori Nakamura Division

Twitter:@ Anime_yuruyuri
Hashtag: #yuruyuri

OP: Nanamori Naka ☆ Part 2 "Choshocho! Yuru Yuri ☆ Puriticho !!!"
ED: Nanamori Naka ☆ Part 2 "Achuyama Seishun!"

·cast
Akari Red Seat: Mikami branch weave
Yoshiko Otori: Yuka Otsubo
Yui Funami: Miho Tsuda
Yoshikawa Chumatsu: Rumi Okubo
Ayano Sugiura: Saki Fujita
Ikeda Chitose: Aki Toyosaki
Sakurako Omuro: Ei Mi Kato
Furuya sunflower: Suzuko Mimori


---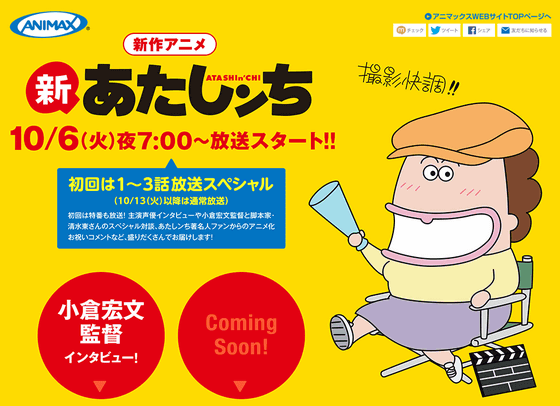 · Broadcast information
Animax: 10/6 (Tue) 19: 00 ~
First episode 3 episode special

·Overview
"Authentic" new series in which the original author · Kaya Eiko wrote the original script. Since the previous series was broadcast from April 2002 to September 2009 (330 times in total), it means that it is the first series in 6 years, and in this animation, the episode and animation original posted after the end of the previous series Episodes are drawn. The original is a series of Yomiuri Shimbun Sunday series serialization, serialization has ended on March 11, 2012 after the animation ends, 21 volumes released on October 2, 2015For the time being.

Director Hirofumi Ogura of "Kuroshitsuji" "Knight of the Area".

·staff
Director: Hirofumi Ogura
Copyright notation: © Mamalade / KADOKAWA · Shin Ae · ADK

·cast
Mother: Kumiko Watanabe
Mika Tachibana: Fumiko Orikasa
Tachibana Yuzuhiko: Daisuke Sakaguchi
Father: Kenichi Ogata
Shimi-chan: Tomoko Iida
Yoshioka: Yusuke Numata
Iwaki: Midorikawa Mikawa
Mizushima: Hanako Aikawa
Toyama: Samiko Tamagawa
Fujino: Yamaguchi Kappei
Kawashima: Paddy field wasabi


---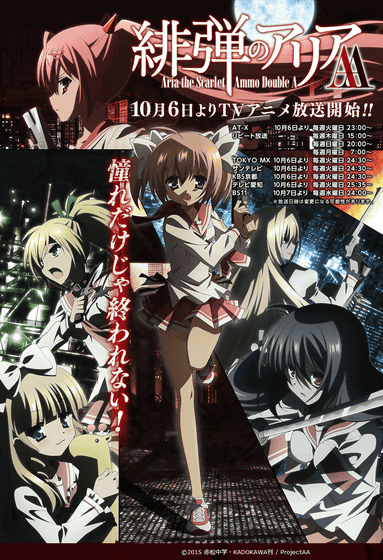 · Broadcast information
AT-X: 10/6 (Tue) 23: 00 ~ other
Sun TV: 10/6 (Tue) 24: 30 ~
KBS Kyoto: 10/6 (Tue) 24: 30 ~
TOKYO MX: 10/6 (Tue) 24: 30 ~
TV Aichi: 10/6 (Tue) 25: 35 ~
BS 11: 10/7 (Wednesday) 24: 00 ~

·Overview
There is a system called "war sisters (Amika)" where seniors and juniors perform long-term training with seniors and juniors on a one-to-one basis at Tokyo Takeshi High School, which trains a detective "military" to exercise force. E-ranked military military Akari Mamiya had a longing that he wanted to sign a sister contract with the S-ranked strongest martial artillery Ginzaki · H · Aria.

"Aria the Scarlet Amnesty AA" in which the original author Akamatsu Junior High School wrote a story with Aria's junior Akari Akari as the hero with a spinoff of Light Novel "Aria the Scarlet Ammo" animated in April to June 2011 (Manga: Tachibana Seiki) is animated.

Kawabata Takashi, who was in charge of the storyboard in the opening animation of "The Movie Magic Girl Madoka ☆ Magica [New Story] Magicala" and "Nisekoi" "Lucky Graffiti", is in charge of the director. Series composition is Fumihiko Shimo of "Chelsea Brilliant Park", "Unverified and progressive type" "CLANNAD".

TV anime "Aria the Scarlet Ammo AA" PV 1st: YouTube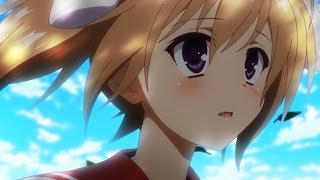 ·staff
Original work · Series composition cooperation: Akamatsu Junior High School (MF Bunko J)
Director: Takashi Kawabata
Series composition: Shimo Fumihiko
Screenplay: Fumihiko Shimo, Seiji Hoshikawa
Character original plan: Kobuchi, Tachibana Seiko
Character design: Miwa Oshima
Overall director: Mariko Kubo, Chisato Kikunaga
Sound Director: Takahiro Ehomon
Music: Takuro Iga
Music production: flyingDOG
Animation Production: Movie Studio
Production: ProjectAA
Copyright light notation: © 2015 Akamatsu Junior High School · KADOKAWA publication / ProjectAA

Twitter:@ AriaAA_anime
Hashtag: #ariaaa

OP: Nano "Bull's Eye"
ED: TeamAA (Akari Mamiya (CV: Ayane Sakura), Kanzaki H. Aria (CV: Rie Kugimiya) "Pulse"

·cast
Mamiya Akari: Sakura Ayane
Kanzaki · H · Aria: Rie Kugimiya
Shinano Sasaki: Ai Kinano
Magna Leica: M · A · O
Island Kirin: Yuki Aki
Takachiho Rei: Bridcut Sarah Emi
Toyama Kinki: Junji Majima
Hoshi Satoru: Mikako Takahashi
Mineko: Mariya Ise
Reiki: Norihiro Ishihara


---


· Broadcast information
TOKYO MX: 10/6 (Tue) 25: 05 ~

·Overview
Out of the project "Anisan" that animated 7 of the weekly Shonen Sunday serial series work done since May 2014 and attach it to the comics limited version DVD, "Alice of the present country" "Sister log" " Nozo × Kimi "and" Fantasista Stella "on television.

[Current Alice in the Country] 12 Volume Limited Edition with OVA - YouTube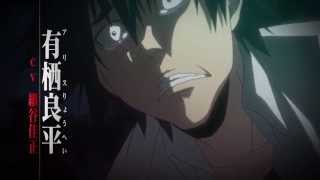 [Sister log] 6 volumes with OVA Limited edition - YouTube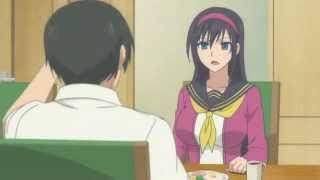 "Nozo × Kimi" Special Edition with OVA - YouTube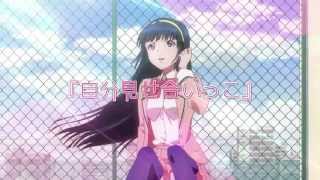 "Fantasista Stella" Special edition accompaniment with OVA - YouTube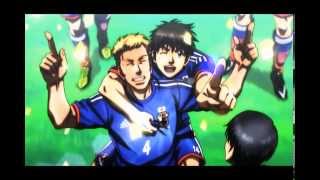 ·staff
(Now Alice 's country)
Original: Aso Furo
Director: Hideo Tachibana
Assistant Director: Matsuto Masato
Series composition: Ryosuke Nakamura
Character design: Tomoko Sudo
Animation Production: SILVER LINK./CONNECT
Copyright notation: © Aso Furo, Shogakkan / Anisan Production Committee

(Older sister log)
Original: Kenji Taguchi
Director: Tetsuo Ichimura
Screenplay / Series composition: Takahashi Natsuko
Character design: Yuko Ito
Animation Production: Brains Base
Copyright notation: © Kenji Taguchi - Shogakkan / Anisan Production Committee

(Nozo × Kimi)
Original: Real name Wako
Director: Masato Jimbo
Series composition: Hideki Shirane
Character design: Hiroki Hagiwara
Animation Production: XXS
Copyright light notation: © real name Wakou · Shogakkan / Anisan Production Committee

(Fantasista Stella)
Original: Mori Kusumi
Animation Production: XEBEC
Copyright notation: © Mori Kusabe · Shogakkan / Anisan Production Committee

·cast
(Now Alice 's country)
Yuzuru Arima: Yoshimasa Hosoya
Kikube Daikichi: Tatsuo Suzuki
Futoshi Fukawa: Tsubasa Kenaga
Purple blowing weave: Maaya Sakamoto
Utsuka Usagi: Misako Sumisu
Megamori Gosei: Norio Wakamoto
Shutaro Nakaya: Takahiro Sakurai
Game voice: Venus violet

(Older sister log)
Konoe Mizuko: Ami Koshimizu
Konoe Minoru: Mizushima Universe
Kurosase Kurosawa: Satomi Akasaka

(Nozo × Kimi)
Kimio Suga: Yusuke Kobayashi
Nozomi Komine: Aki Suwa
Makino Yuki: Shizuka Ishigami
Sonoda Michiru: Uchida Masato
Watanemi Mirei: Serizawa Yu

(Fantasista Stella)
Satoru Sakamoto: Junichi Yanagida
Keisuke Honda: Hideo Ishikawa


---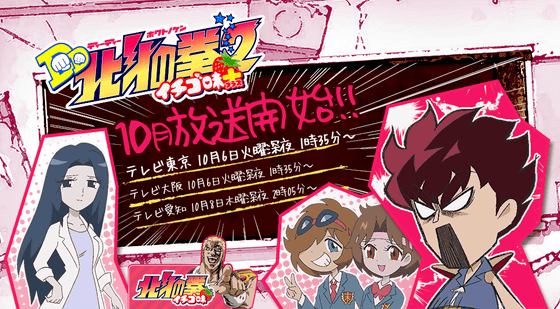 ·Airtime
TV TOKYO: 10/6 (Tue) 25: 35 ~
TV Osaka: 10/6 (Tue) 25: 35 ~
TV Aichi: 10/8 (Thu) 26: 05 ~

·Overview
In 199X, the earth was not enveloped in the flames of the final war, naturally destroying never happened .... And the time is the 21st century. Peaceful Japan. There was no scene to use the ultimate assassination fist "Hokuto Shinko", and it was what "Kenshiro" wandering seeking the end of the century came "at the end of the century!" Is it?

In the second phase of "DD Fist of the North Fist" which was broadcast in the spring of 2013, it is broadcast within the frame of "DD Fist of the North Fist 2 Strawberry Taste". The same staff as Phase 1·castAlthough it is gathering, this work is a taste of school girls' thing unlike the previous work.

·staff
Original: Takeshi Boshi, Tetsuo Hara "Fist of the North Star"
Director · Acoustic director: Hajime Ohda
Character design · total drawing director: Masayuki Sekine
Animation Production: Ajiyukodo
Copyright notation: ❹ Buruma Takuro / Tetsuo Hara / NSP 1983, ĐDD Fist of North Star · Strawberry flavor 2015

Twitter:@ DDhokuto_anime

·cast
Kenshiro: Tachibana Shinnosuke
Toki: Seki Tomokazu
Raoh: Kazuya Ijichi
Jagi: Matsumoto Yoshiro
Bat: Hideo Morishima
Phosphorus: M · A · O
Yuria: Yui Horie
Shin: Ryotaro Okiayu
Lei: Kishio Daisuke
SOUTHER: Daisuke Namikawa
Ryuken: Akira Kamiya


---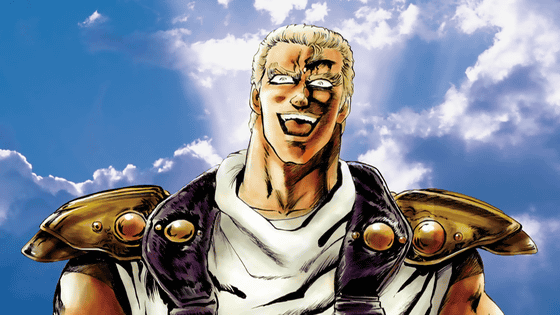 · Broadcast information
TV TOKYO: 10/6 (Tue) 25: 35 ~
TV Osaka: 10/6 (Tue) 25: 35 ~
TV Aichi: 10/8 (Thu) 26: 05 ~

·Overview
Anime animation of parody gag cartoon of official author of original authors who used "character of Hokuto no Ken" character and setting as it is. The original is serialized in the WEB comic series, 4 volumes already published. "DD Fist of the North Star 2 Strawberry Taste +" within the frame, "DD Fist of the North Fist 2" to be broadcast. As well as "Fist of the North Star" animated version, Ginga Romaga is in charge of Saous.

The director says "Whoops" "Cool Kawaii Declaration"Muscle.

Hokuto no Ken strawberry taste bulletin - YouTube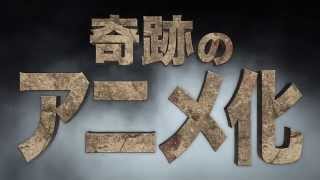 ·staff
Original: Takeshi Takamori (original draft), Tetsuo Hara (original draft), Yusashi Kawada (scenario), father sister (drawing), student (cooperation)
Supervisor: Tetsuo Hara
Director: Makyu
Draft: Yoshiji Kawada
Character design · total drawing director: Konosuke Yoshihara
Art setting · art director: Takashi Nakamura
Color design: Horigaru Haruko
Director of Photography: Koichi Yokohama
Music: Yasuhiro Misawa
Animation Production: Ajiyukodo
Copyright light notation: © Budo Takami / Tetsuo Hara / NSP 1983 © Strawberry flavor 2015

Twitter:【Official】 Empress Military Public Relations Department (@ hokuto _ 15 aji) | Twitter

·cast
SOUTHER: Ginga Range
Shu: Junichi Suwabe
Ray: Kosuke Toriumi
Judah: Kisho Taniyama
Shin: Tomoyuki Morikawa
Fudow: Takashi Matsuyama
Kenshiro: Katsuyuki Konishi
Toki: Junichi Suwabe
Raoh: Takashi Matsuyama
Yulia: Yuko Minaguchi
Bat: Takashi Yamashita
Rin: Aoi Shota


---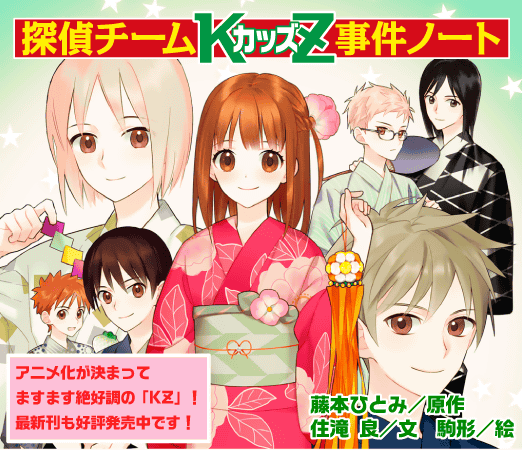 · Broadcast information
E Tele: 10/7 (Wed) 18: 45 ~
"Let's Genius Tribe in Kun"

·Overview
Tachibana Aya, a 6th grade elementary school student, combines four superman / individual men who came in a cram school with "Detective Team KZ". Kazuhito Wakutake, a leader who loves to stand out, Mr. Kuroki Takaaki called "interpersonal experts" at Mysterious, Kazuyoshi Uesugi, intelligent and cool, Kazuhiko Ozuka who is good at society and science with a gentle character. Individually rich "Detective Team KZ" which adds experts and color of the national language to solve the incident by utilizing each special skill / expertise while colliding with time.

Animeized the popular series of blue bird collection. The original is 21 previously published books.

Director Yuka Ichikawa of "Monster Strike" "Wish Upon a Star", series composition Yuka Yamada of "Tideline · Blue" "Sengoku Musou".

·staff
Original: Hitomi Fujimoto, Yoshi Sumidaki
Director: Masaya Ichikawa
Series composition: Yuka Yamada
Screenplay: Yuka Yamada, Kazuyuki Fuutoi
Animation Production: Signal · M.
Production: Detective Team KZ Incident Note Production Committee

Theme Song: Diana Garnet "Escape! Mystery"

·cast
Tachibana Aya: Takumi Yuto
Wakimatsu Kazuya: Makoto Saito
Takaaki Kuroki: Teruaki Terashima
Kazunori Uesugi: Kotaro Nishiyama
Kazuko Kozuka: Mitsuhiro Mitsuki


---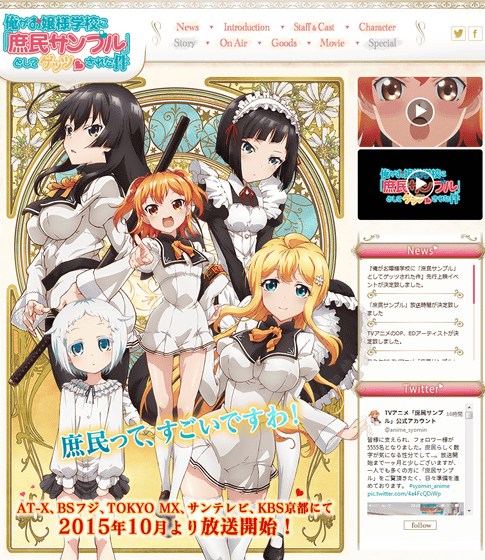 · Broadcast information
AT-X: 10/7 (Wednesday) 23: 30 ~ other
TOKYO MX: 10/8 (Thursday) 22: 30 ~
Sun TV: 10/8 (Thurs) 24: 30 ~
KBS Kyoto: 10/8 (Thursday) 25: 00 ~
BS Fuji: 10/11 (Sunday) 25: 30 ~

·Overview
"The people are amazing!"
A very ordinary high school student · Kagurazaka public person suddenly comes to Tsinghua girls' college. The girls who are nomine 's daughters who never got into the outside world and never saw the generation of the same generation, the public was chosen as the "common people sample". However, for the ladies who do not know animation, manga and games, "commoners" were the admiration of ... ....?

Because the title is long, on the official website the abbreviation "common people sample" is used. The original is published by Shinsha Bunko "The case that I was kidnapped as a" popular sample "to a lady's school, 9 volumes already posted and 1 volleyball story. CD drama is attached to the special version of 5 volumes, but the cast is different.

Directed by Masato Jimbo of "Fate / kaleid liner Prisma ☆ Ilya Zwei!" Series composition is Ken Matsuhiro Shimoyama of "Matching Guided Garden 35 Test Platoon" "Servant × Service".

【PV 2nd bullet】 TV animation "The case that I gotten as a" popular sample "at a lady school: YouTube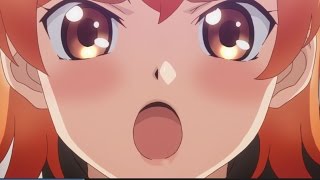 ·staff
Original: Takafumi Nanatsuki (One Shinsha Bunko "The case that I was abducted as a" popular sample "at a lady school)
Character draft: leap month
Director: Masato Jimbo
Series composition: Ken Shimoyama
Character design: Takao Sano
Acoustic Director: Masayuki Tsuchiya
Music: Mizutani Hiromi (Team - MAX)
Animation production: SILVER LINK.
Copyright notation: © Takafumi July · Leap Moon 戈 · I. Shunsha / Tsinghua Sakura

Twitter:@ Anime_syomin
Hashtag: #syomin_anime

OP: Idol College
ED: Yumi Hara

·cast
Kagurazaka public: Atsushi Tamaru
Aki Tenkobashi: Serizawa Yu
Arisugawa Reiko: Rika Tachibana
Shiodome Chalk: Kuwabara Yuki
Kami Kamiyoshi: Morinaga Chiso
Miyuki Kujyo: Saori Ohnishi
Eri Hanae: Yumi Hara


---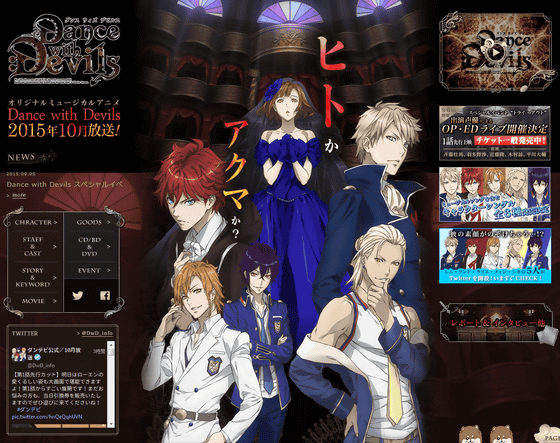 · Broadcast information
TOKYO MX: 10/7 (Wednesday) 23: 30 ~
Sun TV: 25: 30 ~
BS Fuji: 10/11 (Sunday) 24: 30 ~

·Overview
Rikka Tengawa attending Shihuen Gakuen was sending his calm daily life with his mother, looking forward to hearing from Lind, his older brother studying abroad in England. One day, Ritsuka invited to Student Council President Hengchim Rem gave a strange encounter with Akuma, Vampire, and Exorcist at the Third Library.

Original musical animation. The director is Lee Yoshimura, Assistant Director of "Men's High School Student Everyday", and the series composition is "Uta no Prince-sama Maji Love 1000%", "Aoharaido" "Kimi ni Todoke"Tomoko Koharu.

Original musical animation "Dance with Devils" PV - YouTube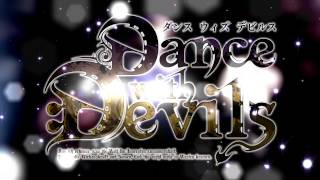 ·staff
Original plan: Daisuke Iwasaki (Rejet)
Original: Grimoir compilation room
Director: Ai Yoshimura
Series composition: Tomoko Kanchun g
Character draft: Hirotaka Maeda (Rejet)
Character design: High quality yuka
Animation Production: Brains Base

Twitter:@ DwD_info
Hash tag: # Dan Devi

OP: Wataru Hatano "Air of Awakening"
ED: PENTACLE ★ (Seito Saito, Wataru Hatano, Takashi Kondo, Subaru Kimura, Daisuke Hirakawa) "Mademo ★ Azer"

·cast
Tachikawa Ritsuka: Akaneya Sun Ocean
Hempei Rem: Mamoru Saito
Tachikawa Lind: Wataru Hatano
Chu God Uriier: Takashi Kondo
Minamijo Megi: Kimura Subaru
Hiroshi Naosaka: Daisuke Hirakawa
Kazuha Azuna: Matsuda Risa
Loen: Kazuomi Yamamoto
Jeki: Suzuki Hiroto
Is it? Is it? Is it? :Suzuki Tatsuhisa


---


· Broadcast information
AT - X: 10/7 (Wednesday) 23: 55 ~
Terebellum: 10/8 (Thursday) 25: 00 ~
Tvk: 10/9 (Friday) 25: 45 ~
Sun TV: 10/12 (Monday) 26: 30 ~

·Overview
Nomoto Somera is the strongest neat with the unbeatable "Nenomoto Magical Fist". Do not skip the inconvenience of my sister's cuckle and friends' falls, twisting my head without losing my immediate desire and cost of living!

It is serialized with comic strip 4 framesChobabora UkonomiThe manga of the original. Director · Character designTodayI am in charge, the same combination as "ambiguous".

·staff
Original: Chobora Ukumonomi (1 Unicorn company manga 4 frames pure series)
Director · Character design: Right now
Acoustic director: Masaru Omuro
Music: Hatori-style painting
Production Production: Dream Creation
Animation Production: Seven
Acoustic production: Dachs Productions
Copyright notation: Twitter: © Chobora Ukuniyomi / One Shinsha · Nonomoto Maho Ken Dojo 2015

Twitter:@ Anime_somera
Hashtag: # Somera

·cast
Noomoto Somera: Aka Nakatani
Nozomi Kukuru: Honma Kaede
Tendo Shizuku: Rika Momokawa
Matsushima Ai: Mari Naganawa


---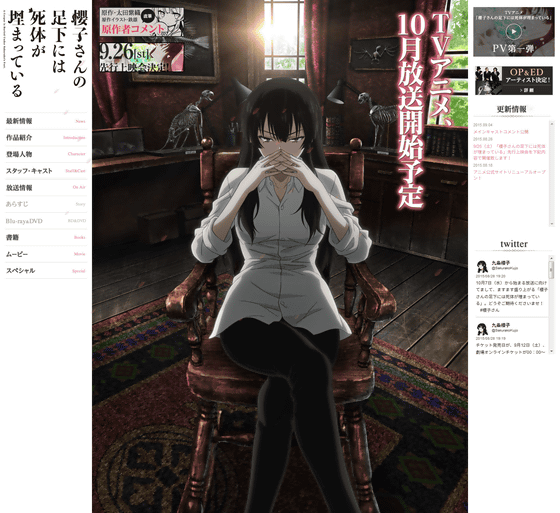 · Broadcast information
TOKYO MX: 10/7 (Wednesday) 24: 30 ~
KBS Kyoto: 10/7 (Wednesday) 25: 00 ~
Sun TV: 10/7 (Wednesday) 25: 30 ~
Hokkaido Broadcasting: 10/10 (Saturday) 26: 28 ~
Terebellum: 10/11 (Sunday) 24: 30 ~
Cibatelle: 10/11 (Sunday) 24: 30 ~
Tvk: 10/11 (Sunday) 24: 30 ~
Gifu Broadcasting: 10/12 (Monday) 25: 00 ~
BS 11: 10/12 (Monday) 27: 00 ~
Mie television: 10/13 (Tuesday) 26: 20 ~
TVQ: 10/13 (Tue) 27: 05 ~

·Overview
Hokkaido · Asahikawa. In this town, "Sakurako-san" lives. Ms. Sakurako is a beautiful woman and a master of a family. Yet "I like bones" than the third meal. When I was with such a girl, it seemed like I could have a relationship with bones for some reason. Sakurako-san is surely your fault though it is a servant who keeps being wielded by Sakurako-san and the affair related to the bone, but I do not dislike it.

Novel posting site · E ★ Original novels posted to Everista. E ★ Eversta E-book Award Grand Prize Mystery Division Excellence Award, Kaito Royale Novel Award Excellence Award, E ★ Eversta × "Quartet" Novel Contest Award. Volume 7 already published.

Director Makoto Kato directed by Aldnoah-Zero, deputy director is Hachihito Saikai of "Shangri-La" director, series composition is "Yuri Kumagi", "Detective opera Milky Holmes TD" screenwriter Takao Inka.

TV animation "Sakurako's feet are filled with dead bodies" PV 1st bullet - YouTube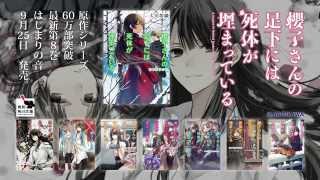 ·staff
Original: Ota Saori (KADOKAWA Kadokawa Bunko E ★ Ebresta posted)
Director: Makoto Kato
Deputy Director: Hitoshi Ishige
Series composition: Takayo Ingami
Character draft: Tetsuo
Character design · Total drawing director: Satomicio
Music: TECHNOBOYS PULCRAFT GREEN-FUND
Animation Production: TROYCA
Production: "Mr. Sakurako" Production Committee

Twitter:@ SakurakoKujo
Hashtag: # Sakurako

OP: TRUE
ED: TECHNOBOYS PULCRAFT GREEN-FUND

·cast
Sakurako Kujyo: Shizuka Ito
Shotaro Tatewaki: Junya Enoki
Yuriko Kojiramo: Ayaka Imamura
Ms. Ayako Isobe
Hiroki Utsumii: Hiroki Takahashi
Isozaki Isaizaki: Akira Ishida
Imaichi Hideo: Teruya Kakihara


---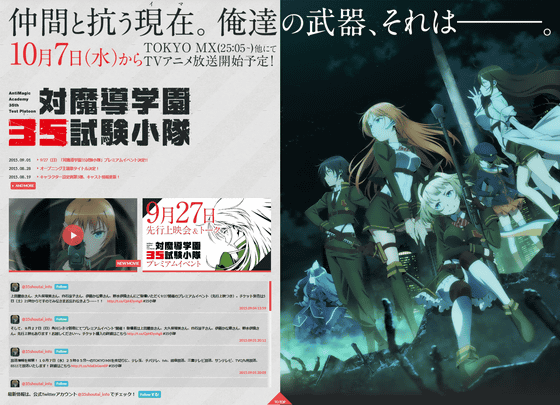 · Broadcast information
TOKYO MX: 10/7 (Wed) 25: 05 ~
Sun TV: 10/7 (Wednesday) 26: 00 ~
TVQ: 10/7 (Wednesday) 26: 35 ~
Cibatelle: 10/8 (Thursday) 25: 00 ~
Tvk: 10/8 (Thursday) 25: 00 ~
Terebellum: 10/8 (Thursday) 25: 05 ~
Gifu Broadcasting: 10/8 (Thursday) 25: 45 ~
Mie television: 10/8 (Thurs) 26: 20 ~
BS 11: 10/9 (Friday) 27: 00 ~

·Overview
Present against the company (Ima). It is our weapon, that is.
150 years since the end of the "witch hunting war", he trained the heretical hearing examiner at the magic guard school to control the threat of the remaining magical guards. Kusanagi Takelu is also one of the students going to the school, and the gun which is the current mainstream although it is not defeated to anyone by the sword, is clear. A former Inquisition officer's girl, Feng cherry blossoms will join the "35 Test Platoon" (commonly known as the Small Scale Platoon), a collection of inferior students who will serve as captain. With the encounter with her holding an unusual hatred against the witch, the fate of the platoon starts to move greatly.

The original novel is 11 volumes already published. A manga version by Taro Hawk's Taro was serialized in the monthly Dragon Age and published up to three volumes, and serial series of comic version by Yohei Yasumura is being performed on monthly comic alive.

Director Tomoyuki Kawamura of "Mischief of Gods", Ken Masato Shimoyama of the series composition "The matter that I was getten as a" popular sample "at a lady's school" "Servant × service".

TV anime "Anti-Magic Gakuen 35 Test Platoon" Tiza PV - YouTube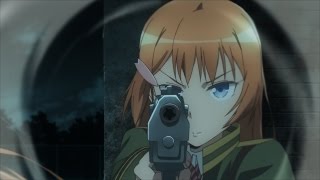 ·staff
Original: Yu Fuyuta
Original illustration: Ticket
Director: Tomoyuki Kawamura
Series composition: Ken Shimoyama
Character design: Ko Yamamura
Music: A-bee
Animation production: SILVER LINK.
Copyright notation: © 2015 Yu Fuyu winter novel · Ticket / KADOKAWA / Magic guidance school 35 production committee

Twitter:@ 35shoutai_info
Hashtag: # 35 platoon

OP: Afilia Saga "Embrace Blade"
ED: Ito Kanako "Calling my Twilight"

·cast
Kusanagi Takeru: Yoshimasa Hosorya
Otori Oka: Uena Rena
Saigoji Usagi: Rumi Okubo
Sugima Ibaraki: Shiraishi Ryoko
Nikaido Mari: Kanae Ito
Lapis: Iori Nogei
Haunted: Koji Yusa
Stream and white flow: Yamana Tamimi
Kusanagi Kiseki: Takesaka Yasushi
Feng Fei Fei: Shinichiro Miki


---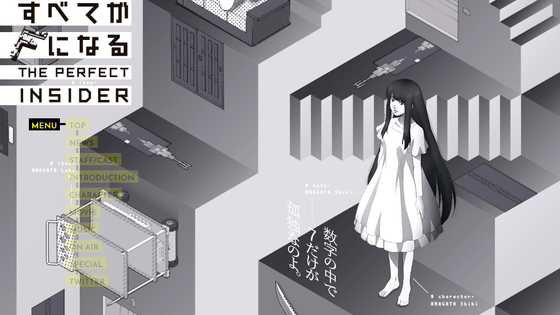 · Broadcast information
Fuji Television: 10/8 (Thurs) 24: 55 ~
"Noitamina" frame

·Overview
A genius programmer living in an island laboratory To meet the Shiki Seki, the creation of a wedding dress from a room where nobody should be able to enter and leave, Noriyuki Saehira of Associate Professor of Nagoya University who visited the island and student Megumi Nishinoyon I encounter an inexplicable compartmental murder that both deceased corpses are found in both hands.

The original is a novelist · Hirosugi Mori debut, also the first Mephisto prize winning work "All become F" and "Four Seasons". "Everything becomes F" is the first work of the "S & M series" in which a beautiful girl named Seishoen Moe painting of the department of architecture invited the incident, and an odd man's associate professor, Shihei Saikawa, In this series and other novels written by Mori Hirotsugu, the novel that made the key character Character Shinka four seasons is "the four seasons".

Before animation, from October 2014 to December 2014TV drama versionWas broadcast on Fuji TV. Cast of the drama version is Saikawa Shinghi role Ayano Tsuyoshi, Nishino - en - Moe picture actor Takei Saki, Shinki Shiki role acts Hayami Akari. In addition, although comicalizing by Torao Asada painting is done in 2002, in the animation of this time, ARIA series "All become F" by Koiro Shimotsuki, ARIA, and "Four Seasons" by the cat eyes Torchka painting The series starts with ITAN, respectively.

The director is Kobe Mamoru of "Cosmic Baton Girl Comet ☆ ☆" "Elfen Lied" "Seo Lao · wo · t" series composition is "Gatchaman Crows" "Tsubo ball" "Suite Pretty Cure ♪" and the drama " "ofToshiya Ohno. Also in the screenplay is known for the movie "Advance Giant", "Joker · Game", "Gatchaman"Yusuke Watanabe, There is a work such as "Let's female girls"Mami AmemiyaIs participating.

"THE PERFECT INSIDER everything turns into F" 2nd PV - YouTube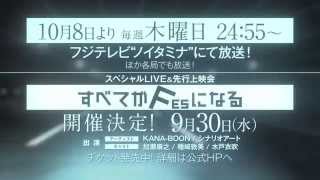 ·staff
Original: Hirotsugu Mori (Kodansha Bunko "Everything Becomes F" "Four Seasons")
Director: Mamoru Kobe
Series composition: Toshiya Ohno
Screenplay: Yuusuke Watanabe, Mami Amemiya
Character draft: Asano Ito
Character design: Okuda Yoshiko
Color design: Hoka Naka Nako
Art director: Masatoshi Kai
3D Director: Yutaka Fukuda
Director of Photography: Takeshi Hagiwara
Music: Kenji Kawai
Acoustic director: Katsunori Shimizu
Prop Design: Mr. Haruoka
Laboratory design: Makoto Nagasawa
Edit: Takeshi Seyama
Animation Production: A-1 Pictures
Copyright notation: © Hirotsugu Mori, Kodansha / "All will be F" Production Committee

Twitter:@ F_noitamina
Hash tag: # everything becomes F

OP: KANA-BOON "talking"
ED: Scenario art "Nana no shee"

·cast
Saikawa Shihei: Kase Yasuyuki
Nishinoyuko Moe picture: Atsumi Tanezaki
Shinki Shinka: Kido Kobuki


---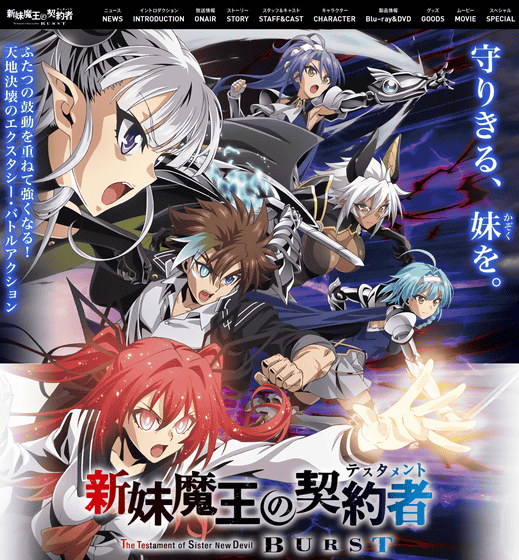 · Broadcast information
TOKYO MX: 10/9 (Fri) 25: 40 ~
AT-X: 10/10 (Saturday) 24: 30 ~
BS 11: 10/10 (Sat) 27: 00 ~
Ciba-TV: 10/11 (Sun) 24: 00 ~
Tvk: 10/11 (Sun) 24: 00 ~
Sun TV: 10/11 (Sunday) 25: 30 ~
Gifu Chan: 10/13 (Tue) 24: 00 ~
Mie TV: 10/14 (Wed) 25: 20 ~
TVQ: 10/14 (Wednesday) 27: 35 ~

·Overview
I can protect you, my sister.
The blades who seemed to have regained the moment of peace. However, while Mio and Yuzu were busy preparing for the athletic festival, people manipulated by magic attacked. And in front of the cutting edge my sister Miki's sister Rukia appears, getting caught up in the fight shaking the Makai world ... ....

The second term of "New Younger Sister King's Contractor" broadcasted from January to March 2015. Director · Character design · Production studio etc. are the same, but the series composition has been replaced by Susumu Ueketake of "Kyoshiro and the eternal sky".

TV animation "New Younger Demon King's Contractor BURST" PV 2nd bullet - YouTube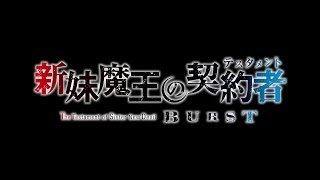 ·staff
Original: Ueusu Satoru (KADOKAWA Kadokawa Shoes Paperback)
Original illustration: Okuma Kosuke (nitroplus)
Director: Hisashi Saito
Series composition: Susumu Uetake
Screenplay supervisor: Taka Yoshioka
Character design: Watanabe Yoshihiro
Total drawing director: Watanabe Yoshihiro, Senhiro (FAI), Imai Masami, Morie Kazuya
Design Works: Miya Okita, Takeshi Ishimoto
Art: Mimpe
Art director: Yoshika Kinoshita (Mine)
Color design: Takao Kanakubo (Triole A)
2D design · special effects: Tomoki Murakami
Director of Photography: Kanako Shiken
3DCG Director: Tetsuya Watanabe
Edit: Shoaki Kimura (IMAGICA)
Acoustic director: Tsuyoshi Takahashi
Music: Koji Takanashi (Team - MAX)
Music Producer: Shinichi Uemura
Music production: Nippon Columbia
Animation Production: Production I'ms

OP: Metamorphose featuring Yoko Ishida "Over The Testament"
ED: Dual Flare "Temperature"

Twitter:@ Shinmaimaou
Hashtag: #shinmaimaou

·cast
Tojo Blade Hen: Yuichi Nakamura
Mio Naruse: Aka Asai
Yuuku Nonaka: Bridcut Sarah Emi
Millena Naruse: Kaori Fukuhara
Nonaka walnut: Iori Nogami
Yagi Takigawa: Tomokazu Sugita
Zest: Seiko Yoshida
Chisato Hasegawa: Yu Asakawa
Mamoru Sakasaki: Kenjiro Tsuda
Toue Toshi: Fujiwara Keiji
Leohardt: Kazuyuki Okitsu
Ramsus: Teruaki Genda
Rukia: Yamamura Hibiki
Reala: Kikuko Inoue


---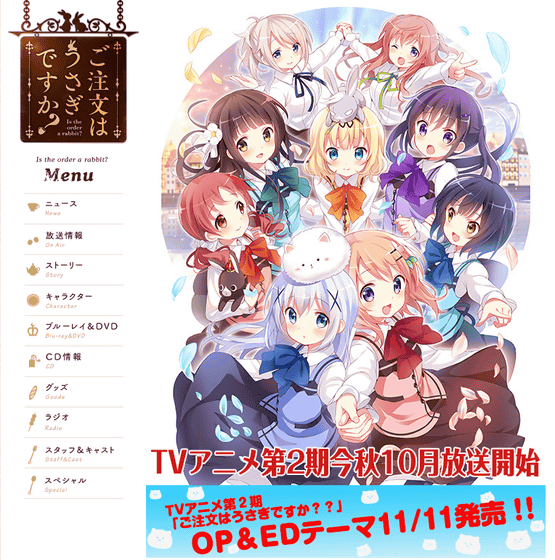 · Broadcast information
AT-X: 10/10 (Sat) 21: 30 ~ other
TOKYO MX: 10/10 (Sat) 22: 30 ~
Sun TV: 10/10 (Sat) 22: 30 ~
KBS Kyoto: 10/10 (Sat) 22: 30 ~
BS 11: 10/13 (Tue) 25: 00 ~

·Overview
Cocoa working in living at a coffee shop rabbit house. In the rabbit house there is cool and tiny chino, there is a lyze of the military personality, furthermore classmates are ostentatious Japanese-style thousands of nights, the eloquent commonality schools, and the cuddle is overflowing from all directions.

In the second phase of "Is your order a rabbit?" Broadcast in the spring of 2014, the original is Comic Time Kirara MAX serial. 4 volumes already published.

Staff and cast basically have not changed since the first term, but animation production has been changed from WHITE FOX to "kinema citrus" of "Yuyuki" "Bakkimon".

·staff
Original: Koi
Director: Hiroyuki Hashimoto
Series composition: Kuyuki Fuwa Yuki
Character design: Yosuke Okuda
Animation Production: KINEMA CITRUS
Production: Is your order a production committee? Is it?
Copyright notation: © Koi · Yoshifusasha / Is your order a production committee?

Twitter:@usagi_anime
Hashtag: # gochiusa

OP: Petit Rabbit's "No Po!
ED: Chimama Corps "Tokimeki Popolon ♪"

·cast
Cocoa: Ayane Sakura
Chino: Minoru Inase
Rizée: Risa Taneda
Sen no Yoru: Satomi Sato
Shiro: Uchida Masato
Maya: Tokui Blue Sky
Meg: Ruri Murakawa
Aoyama Blue Mountain: Saori Hayami
Tippy: Yuikawa Kimikawa
Chino's father: Hayami awarded


---


· Broadcast information
TOKYO MX: 10/10 (Sat) 22: 00 ~
TV Aichi: 10/10 (Sat) 25: 50 ~
MBS: 10/10 (Saturday) 26: 28 ~
AT-X: 10/11 (Sunday) 20: 30 ~ other
BS 11: 10/12 (Monday) 24: 00 ~
Tele Drama Channel 1: 10/19 (Monday) 25: 00 ~
※ Broadcasting "Last Seraph of the 1st cool return retrospective" broadcasting last week

·Overview
One day the world was destroyed by an unknown virus, children who survived slightly were trapped in underground cities by vampires and forced to live as livestock. Yuichiro Hayato wants to escape to the outside world with a close friend Michaela who grew up at the same orphanage. Four years later, Yuichiro joined the vampire annihilation unit "Tsukinonogawa" of the Japanese Empire's army and will seek further power for revenge on the vampires.

The second cool of "The last seraph" broadcasted in the spring of 2015. It was decided that it was a split 2 cool broadcast from the beginning, and it was announced that the continuation will be broadcast from October in the first cool final talk. Therefore, there is no change in staff or cast.

Director is supposedly supervised by "The Legendary Zamdo" · Daisuke Tokumoto directed by "Advance Giant", deputy director Masashi Mizuka of Assistant Director "Advance Giant", series composition is "Giant of Advance", "Terror of Reverberation" "Panty & Stocking with Garter Belt "Screenwriter Koji Seta.

·staff
Original: Kagamineya
Container composition: Daisuke Furuya
Manga: Yamamoto Yamato (Shueisha Jump Square series)
Director: Daisuke Tokumoto
Deputy Director: Masashi Hōzuka
Series composition · Screenplay: Koji Seko
Character design: Satoshi Kadowaki
Image Board: Hiroki Shinagawa
Music Production: Hiroyuki Sawano
Music: Hiroyuki Sawano, Takashi Wada, Asami Tachibana, Megumi Shiraishi
Music production: Yasushi Horiguchi (Legend a)
Acoustic director: Yota Tsuruoka
Acoustic production: Musical sounds
Sub Character Design: Ayumu Yamada, Takuma Hu
Prop Design: Hata Takuma
Total drawing director: Satoshi Kadowaki, Ayumu Yamada
Main animator: Emi Tomita, Miho Kato, Yuka Sugisaki, Takuma Hu
Color design: Fumiko Numagata
Art director: Yoshioka Seiko
Art setting: Kazushi Fujii
Art: Studio Pablo
Director of Photography: Yasuhiro Akamatsu
3D Director: Tsukasa Saito
Photography: Chiptune
2D Works: Hirofumi Araki
Edit: Masamitsu Utsunomiya
Animation Production: WIT STUDIO
Copyright light notation: © Ms. Mikiya Yamamoto, Yamato Yamato, Daisuke Yuya / Shueisha · The last seraf production committee

Twitter:@ Warino_seraph
Hash tag: # The last seraph

·cast
Yuichiro Hayato: Irish Irino
One hundred night Mikaela: Kenji Ono
Ichinose Glen: Yuichi Nakamura
Felid Bartree: Takahiro Sakurai
Hiiragi Shinoa: Saori Hayami
Yoichi Saotome: Nobuhiko Okamoto
Kimi moon style: Ishikawa Toshinin
Mika Sannomiya: Hiroko Iguchi
Kurul Tepesi: Yuki Aki
Hiragi: Tomoaki Maeno
Hiiragi Hiiragi: Tatsuo Suzuki
Crawley Youthford: Kenichi Suzumura
Hiira Maki: Aya Endo
Sayuri Hanayi: Atsumi Tanezaki
Yukimi Rainstorm: Yui Ishikawa
Soshinori: Daisuke Ono
Juzen Juu: Shimamura Yu
Ah Zhu Ren: Yamamura Hibiki
Lacus welt: Takuma Nagatsuka
Rene Shim: Yuichiro Umehara
Chess Bell: Kochi Nozomi
Horn Scrode: Yoko Higakasa


---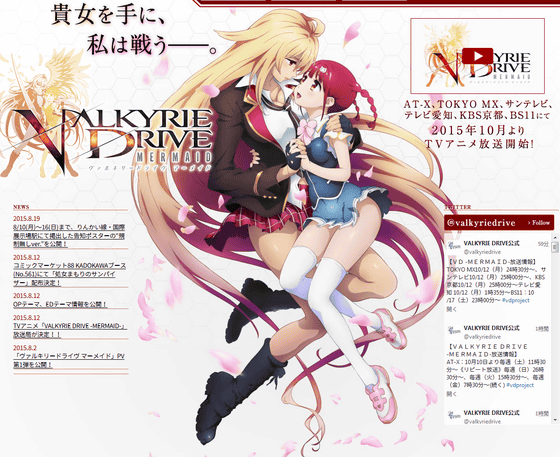 · Broadcast information
AT - X: 10/10 (Saturday) 23: 30 ~
TOKYO MX: 10/12 (Monday) 24: 30 ~
Sun TV: 10/12 (Monday) 25: 00 ~
KBS Kyoto: 10/12 (Monday) 25: 00 ~
TV Aichi: 10/12 (Monday) 25: 35 ~
BS 11: 10/17 (Sat) 23: 00 ~

·Overview
With you, I will fight.
One of five artificial islands, girls and virgins (and for this reason) transferred to Mermaid, get awakened and get someone's assault early. It was the girl who was sending newly - Shikishima Miyuki was saved. It is two people who have fallen into disaster, but the crisis is overtaken by the change of the charm and kissed momentum to a sword.

One of the media mix project "VALKYRIE DRIVE", consumer games · social games · figures will be deployed as well.

Director · Character design is known as "Breast Creator" in charge of "Stigmata Quaker", "The Battlefield Kanji Book", "Maken Princess!Kaneko, Assistant Director Yoshinobu Watanabe who served as Director, "Log Horizon", "Monthly Shojo Nozaki-kun" etc., series composition Yosuke Kuroda known for such as "Mobile Suit Gundam 00" "Gundam Build Fighters" "Gangrave". According to an interviewI am drafting professional drawing directorAnd that.

·staff
Original: VALKYRIE DRIVE PROJECT
Director · Character design: Kaneko
Series composition: Yousuke Kuroda
Assistant Director: Takahiro Watanabe
Total drawing director: Takeshi Yoshioka, Ippei Ichibe
Special milk technique: Nozaki Masaya
Action supervision: Koichi Usami
Arm design: Yoshinori Iwanaga
Prop Design: Akishino Denforword Ichiwa
Art director: Hiroki Matsumoto
Color design: Hideo Kamitani
Director of Photography: Takeo Goto
CG Director: Akimoto Ma
Edit: Takeshi Seyama
Acoustic director: Kawahito Meida
Sound Production: Magic Capsule
Music: Hiroaki Tsutomu
Music production: KADOKAWA
Produce: Jenko
Animation Production: Arms
Production: VALKYRIE DRIVE PARTNERS

Twitter:@ Valkyriedrive
Hashtag: #vdproject

OP: Hitomi Harada "Overdrive"
ED: Shikishima Miyuki (CV: Yuka Iguchi & Virgid Mamori (CV: Mikako Izawa) "Super Ultra Hyper Miracle Romantic"

·cast
Shikishima Miyuki: Iguchi Yuka
Virgid Mamori: Misako Izawa
Sakura Otori: Kure Urika
Hiraki: Yuna Yoshino
Charlotte Charzen: Seto Masami
Shigeru Kazumi: Masazumi Tazawa
Lotus Rain: Saori Ohnishi
Lady J: Umeda Asakura
Sagara Hakuhara: Harada Honda
Kazumi Tenmei: Kikuko Inoue


---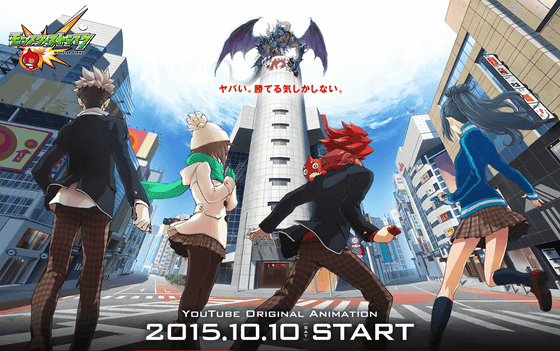 · Broadcast information
YouTube: 10/10 (Sat) ~
1 episode about 7 minutes

·Overview
Dangerous. I do nothing but win.
Despite returning to Kanonohara where he once lived, Flor Len had a feeling of incongruity that there was no memory of that time at all. In the meantime, suddenly "Monster Strike" is installed on Ren's smartphone. In the course of the battle, Len noticed the mysterious memory that sleeps inside of himself, along with Mizusawa Aoi, Kage Tsukiaki, Wakaba Minato, taking the first step to mystery.

I animated social game "Monster Strike". Director is Masaya Ichikawa of "Detective Team KZ incident note" "I wish upon a star", the story · project composition is the game creator'sIshijiro, The series composition is "Aikatsu!" "Yo-kai watch"Yoichi Kato.

[Ver.2] Animation Monster Strike Official Trailer - Monst animation PV - 2015 Fall animation - YouTube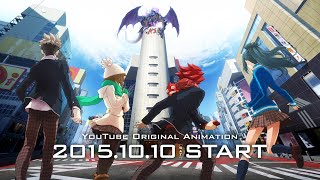 ·staff
Original: Monster Strike
Director: Masaya Ichikawa
Story · Project structure: Ishijiro
Series composition · Screenplay: Yoko Kato
Character design draft: Tatsuro Iwamoto
Monster design draft: Masayuki Kondo
Character design: Kenichi Onuki
Color design: Yumi Nanki
Art Director: Hiroshi Kato, Izumi Kochi
Director of Photography: Yuzo Watanabe
Music: Sakamoto Eiki
Acoustic director: Kawahito Meida
Edit: Masaki Sakamoto
Director general manager: Shinichiro Kimura
Effect supervision: Takashi Hashimoto
Animation Producer: Yuji Miyazaki
Producer: Hirasawa Naoshi
Production: Studio Hibari, Ultra Super Pictures
Copyright notation: © mixi, Inc.

·cast
Flor Len: Yusuke Kobayashi
Mizusawa Aoi: Lynn
Akira Kagei: Kengo Kawanishi
Young leaves Yomihi: Kimura Zaku
Oragon: Jun Fukushima


---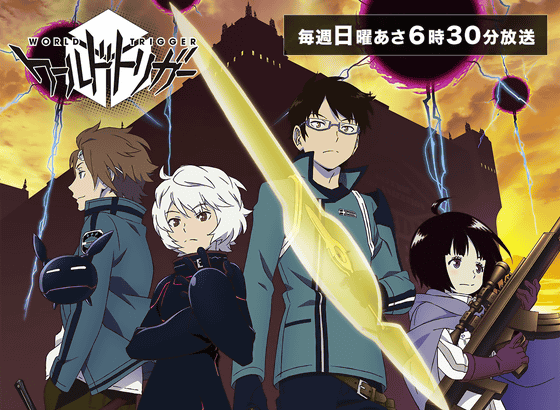 · Broadcast information
TV Asahi: 10/11 (Sunday) 6: 30 ~

·Overview
Based on the original of the Weekly Shonen Jump Series, a new series of animation that has been broadcast since October 2014. Although the development based on the original was carried out for one year from the start of the broadcast, it will enter the original series from October 2015.

·staff
Original: Daisuke Reebara (Shueisha Weekly Shonen Jump Series)
Animation Production: Toei Animation

Twitter:@ Anime_W_Trigger
Hashtag: # Trigger ON # Wattle

·cast
Mikumo: Kaji Yuki
Noriyuki Naka: Muranaka Knowledge
Chika Utamori: Nao Tamura
Associate Arashiyama: Nobuhiko Okamoto
Hidenji Miwa: Seiichi Morita


---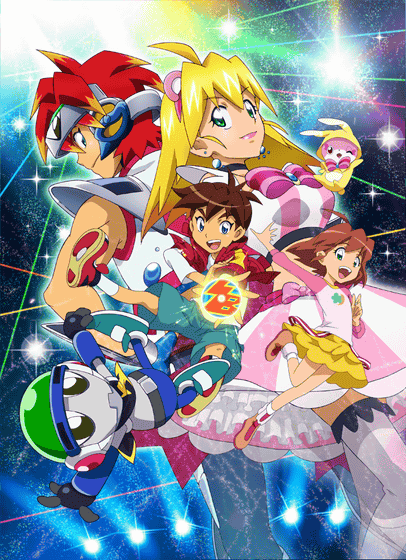 · Broadcast information
TV Asahi: 10/11 (Sunday) 7: 00 ~

·Overview
Eleventh grade elementary school · Windmill Hikaru met a funny robot · Breaking out after school. Breaking was a dancer of a different dimension dance world, failed to challenge the king of dance, was robbed by the human world after being deprived of the dance power stone / dance tone. In order for Brekin to regain power again, we have to gather scattered dance tones, but in the human world there was a case where dance tones were possessed by human beings and runaway cases occurred. To regain the dance tone, Breaking and Hibiki fuse into a dance hero.

Dance animation that "evolution of evolution" is underway after "Tribe Kurukuru" started in September 2014. Directed by Yuta Murano who is in charge of drawing contests such as "Tribe Kurukuru", "Nintama Rantaro", "Doraemon" etc.

·staff
Director: Yuta Murano
Production: Megere
Copyright notation: © BNP / Brave Beats Production Committee, Métitelle

Twitter:@bravebeats_a
Hashtag: #bravebeats # Brave Beats

OP: lol "pop that !!"
ED: Miyawaki Shion "When It Blooms"

·cast
Windmill Symphony: Meguru Takahashi
BREAKIN: SAKURAI TOOL
Kotone Tenshi: Shiho Old castle gate
Adrine: Yuri Yoshida


---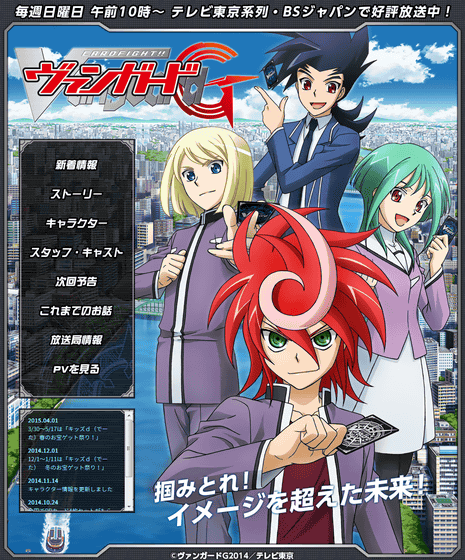 ※ Link destination is "Card Fight !! Vanguard G"

· Work information
TV Tokyo series: Sunday, October 11 (Sunday) 10: 00 ~

·Overview
Continuation of "Card Fight !! Vanguard G" broadcasted from October 2014. Together from "G", it is the sixth work of the series.

·staff
Total Production Production · Original Proposal: Takaaki Kidani
Original: Bushiroad, Akira Ito (Monthly Bushiroad)
Animation Production: Toms Entertainment
Production: TV TOKYO, Sotsu, Dentsu

·cast
New chrono: Ishii mark
Kiyoshi Sion: Takuya Enoki
Anjo Toshoha: Megumi Nitta


---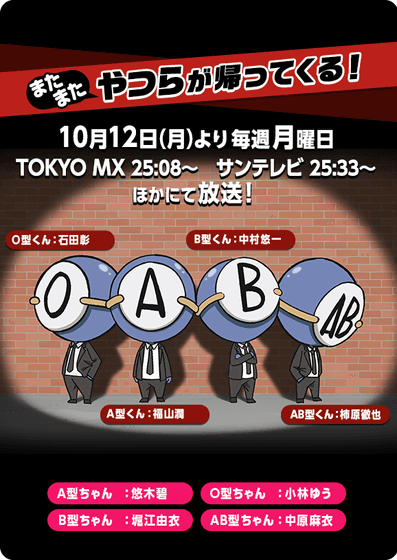 · Broadcast information
TOKYO MX: 10/12 (Monday) 25: 08 ~
Sun TV: 10/12 (Mon) 25: 33 ~

·Overview
The blood type "blood type consideration variety" the third period of animation. Staff · cast is not changed with the previous series. The characteristic of cast is that they each have the same blood type as their own blood type. Narration is the familiar Narumi Kyouko with CM narration of "Takamiya Naosuke!" In the framework of Earth star entertainment production work.

·staff
Original: Real Crazy Man (published by Earth Star Entertainment)
Director: Yoshihisa Oyama
Series composition: Kenichi Yamashita
Character design: Yoshihira Hiramo
Directing: Seiji Nagaya, Masahiro Shinohara
Animation Production: Assez Finaud Fabric./feel.+ ZEXCS
Craft: Earth Star Entertainment
Copyright notation: © LEEONSMART / Earth star entertainment / blood type kun! Production Committee

Twitter:@ Ketsuekigatakun

·cast
Type A kun: Jun Fukuyama
B type Kun: Yuichi Nakamura
O type kun: Akira Ishida
AB type kun: Teruya Kakihara
A type-chan: Yuki Aki
B type: Yui Horie
O type chan: Yu Kobayashi
AB type chan: Mai Nakahara
Narration: Narumi Kyoko