"Brain.fm" that allows you to customize the sound that leads to sleeping, relaxing and relaxing concentration according to the individual's sensitivity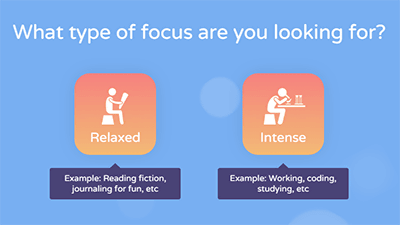 If you want to concentrate on work and study, you may think that some people will flow music and effects BGM, but if the service that could be used for such a person is "Brain.fm"is. Brain.fm, which feeds sound sources based on scientific theory, feeds back the characteristics and impressions of individuals, so when you want to concentrate or want to relax, you can customize the perfect BGM for sleeping and play it It is getting.

Brain.fm
https://www.brain.fm/

When you access Brain.fm, three icons "Focus (Concentration)", "Relax (Relax)" and "Sleep" are displayed on the screen. On this site, a service of streaming sound source corresponding to these three categories is provided.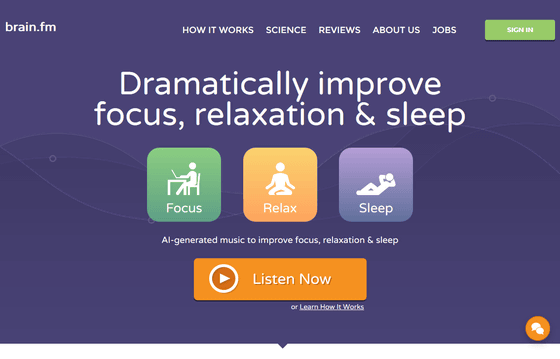 At the bottom of the page is an overview of scientific data showing the effect of Brain.fm. It is said that speed and pattern recognition improves when working while listening to Brain.fm.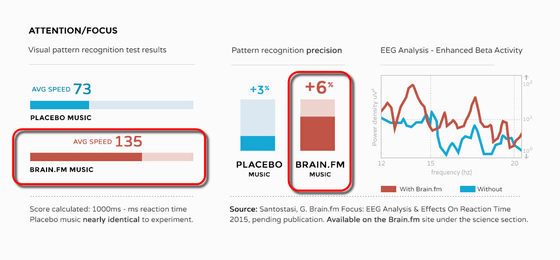 In addition, HRV (heart rate variability) measuring the state of the autonomic nervous system and the stress index "LF / HF ratio" are also improved ... ...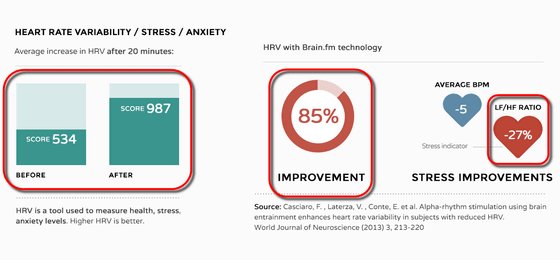 I heard that a good change in brain waves during sleep has been confirmed. Brain.fm seems to be a service based on data of 35,000 in the past 12 years and 120 research results.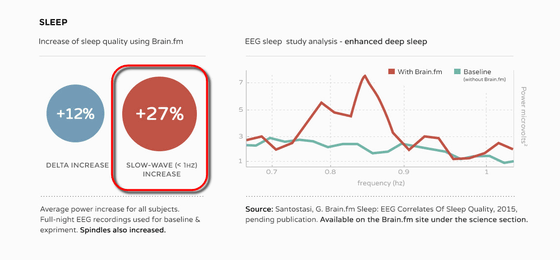 So, by clicking "Listen Now" displayed on the page, I will try listening. While loading, the message "Best with earphones (earphone recommended)" is displayed ......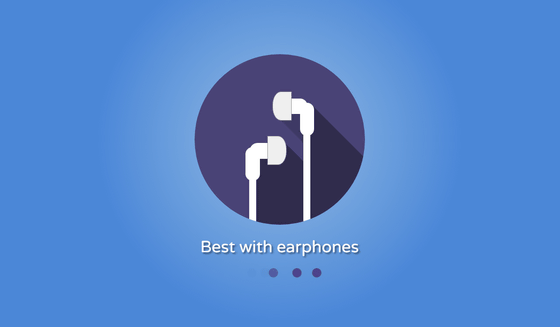 A screen to listen to BGM was displayed. Three categories "Focus", "Relax" and "Sleep" are also displayed here, and it is possible to select BGM according to the situation.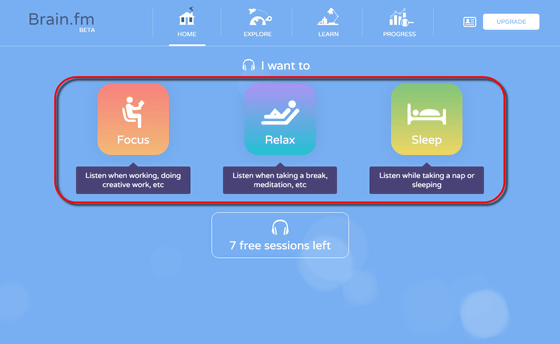 You can listen to Brain.fm, but you can try it for free for up to seven sessions.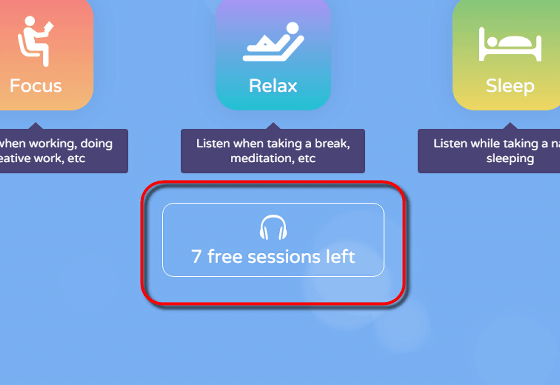 category"Focus", Further subcategories are divided into" Relaxed (relaxed state) "and" Intense (concentrated) ". The former seems to be suitable for cases where you concentrate on reading while relaxing, the latter tackling work and challenges.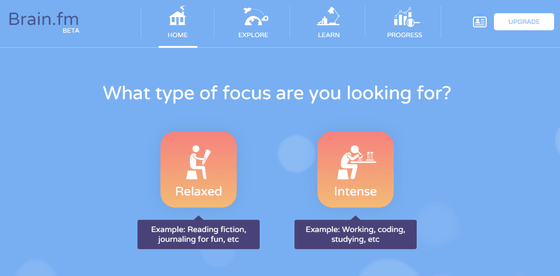 category"Relax"Meditation (meditation)" and "Quick Relax (quick relax)" are prepared in two types.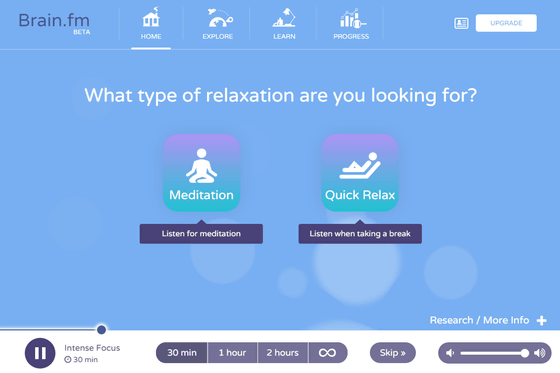 Furthermore, "Meditation" can choose "Unguided" and "Guided", and it is possible to perform a session while listening to a voice guide. Incidentally, narration was only in English.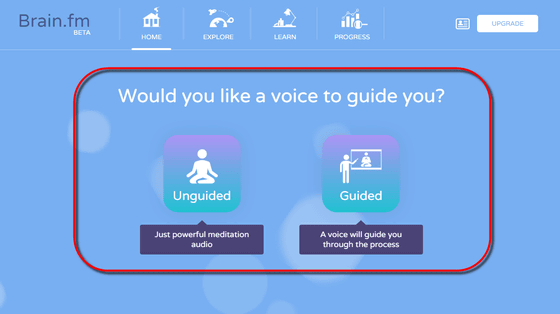 "Quick Relax" allows you to select courses of 15 minutes and 30 minutes. It seems to be good when you concentrate and relax in a short time.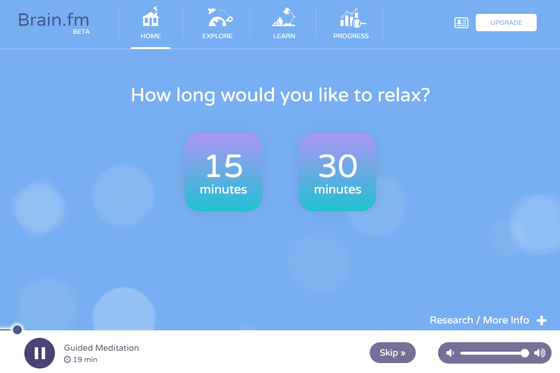 category"Sleep"Nap (nap)" and "Sleep (sleep)" are prepared, and this can also be used appropriately according to the application.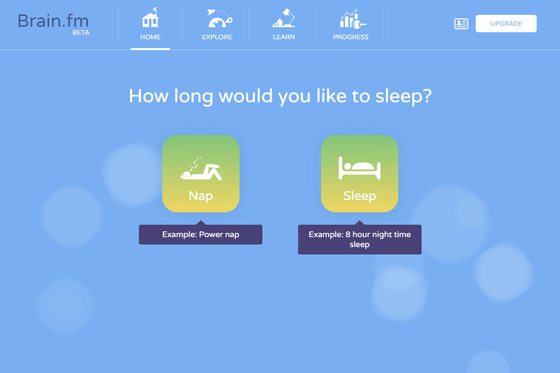 Also, by clicking "Explore" at the top of the page, it is possible to list the types of sound sources that are prepared. From the title you can catch a glimpse of what atmosphere BGM is prepared for. As written at the bottom "More coming soon!", Content will continue to be added in the future.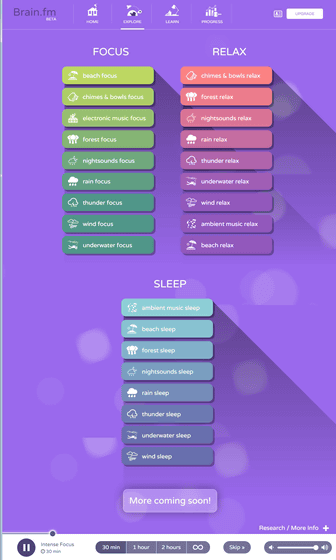 I tried listening to BGM
I tried playing BGM which is actually prepared. I tried playing the genre of "Focus" → "Relaxed". Before the regeneration, it is recommended that people who have symptoms of seizures or epilepsy, those who are pregnant, those who use cardiac pacemakers refrain from using, or doctors' advice Notice such as "to ask for" is displayed, so click "ACCEPT (acknowledgment)" if there is no problem.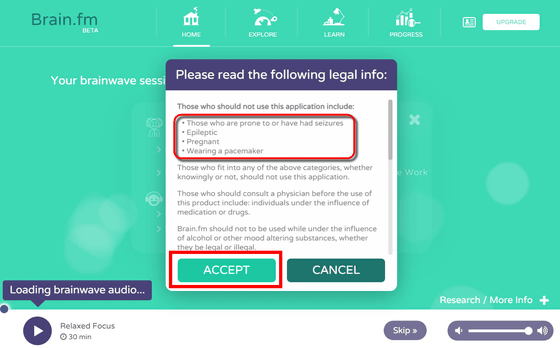 Then the data is read and the playback screen is displayed. On the screen are advised such as "to use earphones and headphones", "to listen to when doing work, reading, creative work", and expectable content "All sessions are designed to be effective soon "" There is a comment that "Effects will last even after listening" was written.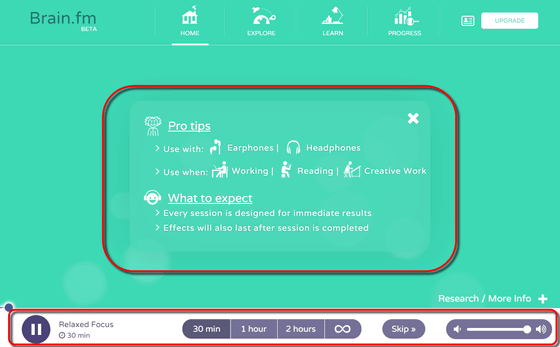 On the screen during playback, the slowly flowing waveform and quotes left by great men are being displayed one after another.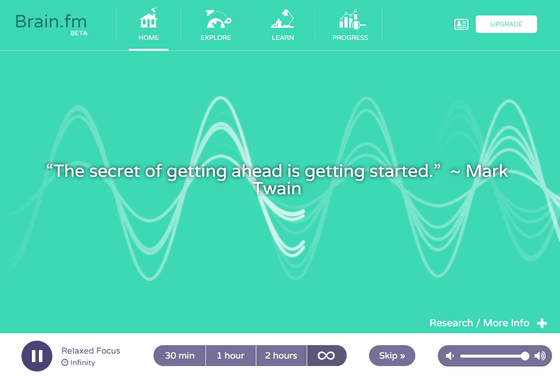 Although the impression of BGM played here is a relaxed relaxed tone, the consciousness is moved by the periodic sound which is heard from time to time, and it seems that it is drawn into the world of sound mysteriously. I was relieved like environmental musicPad soundSometimes a tone like a guitar, a violin, a piano appears, and a sound that feels a certain chord and a chord flows, but chord progression like popular music and a strong rhythm such as a drum are engraved there is no.

Also, when you listen carefully, you can hear sounds that include periodic sounds or pulsed sounds like "pops-up" in the sound, which is accentuated as a feeling of shaking consciousness Sometimes it was. There seems to be some ingenuity in the mix of sounds, the sound spreading in stereo gradually changes to monaural, "Auto Pan" in which the sound reciprocates left and right with a cycle of about 3 seconds is incorporated in the mix Scene as well.

Especially when the sound image gathers between the eyebrows changing from stereo to monaural, consciousness is gathered according to the sound, and the relaxation is felt by spreading the sound image afterwards, a kind of "Massage effect of consciousnessSometimes I had a sense like " If you close your eyes and listen to the sound with earphones or headphones, you may unexpectedly get sucked into the world of consciousness, so that the notice that "get advice of a doctor" at the beginning is not only a form It was contents that made me feel. Although similar sound sources are played in other categories such as "Relax" and "Sleep", I felt that there was a difference in the tone of the tone and the atmosphere of the chord, respectively.

When the session ends, it says "Amazing!" "Worked", "Kind of", "Did not work", "Not sure" We will conduct a 5-point evaluation. This is not mere review evaluation, but to accumulate responses of individuals to provide feedback to the next, so it is better for you to think and answer carefully.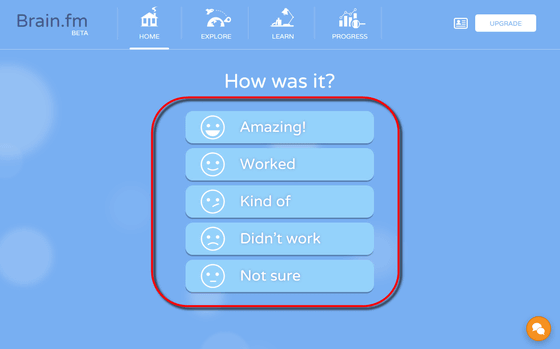 Because personalization is customized, you will be asked to create an account here. Click "Let's do it!" On the screen.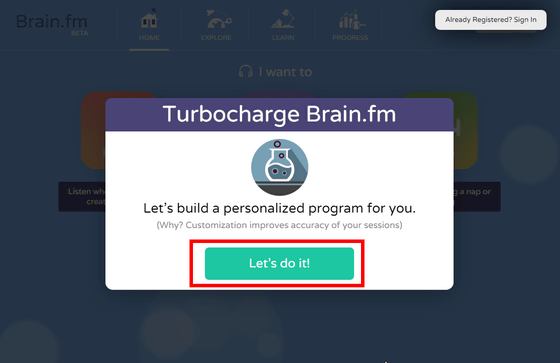 Then you will be asked to answer Yes / No to items like psychological tests. It seems that answering an item of "Focus (concentration)" "Anxiety (anxiety)" "Mood", "Stress (stress / tension)" "Sleep" is a premise of use If you do not want to answer, unfortunately it may be better to avoid using it. The first "Focus"Answer to the item of" weak attention "," get distracted immediately "," not good at order ".



"Anxiety"Answers to the item of" I am irritated immediately "" I am unforgiving "" I feel excessive unease. " Some people will draw a bit on the real content.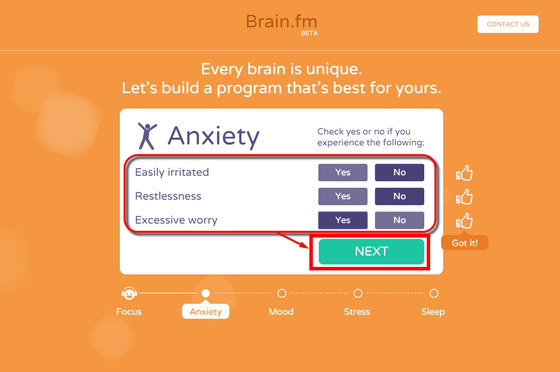 "Mood"Responds to the item of" desperate feelings "" well anger explodes "" well tired ".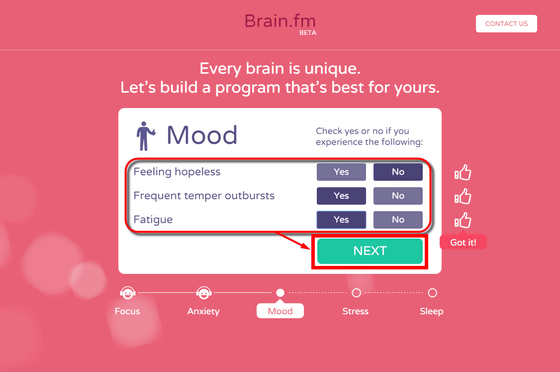 "Stress"Responds to" lose concentration "," frequent negative thoughts "and" may be overwhelming ".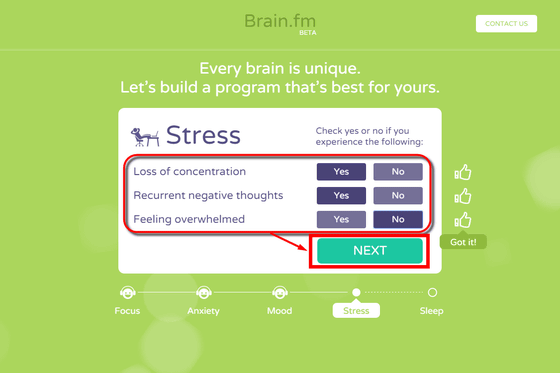 "Sleep"Responds to the item" I can not sleep at once "" I'm tired and tired and energy is low "" I often wake up while sleeping ".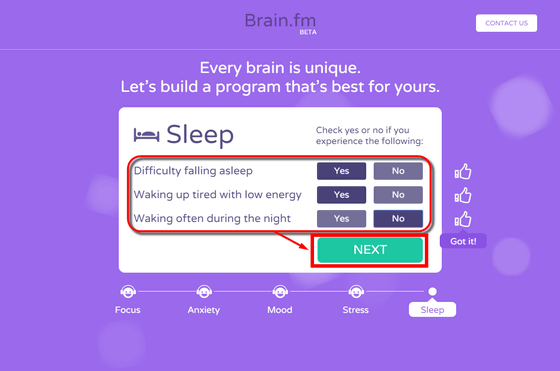 Once you have finished answering quite heavy content, enter your desired ID and e-mail address, password, age, gender and click "Let's go!" Your personal account has been created.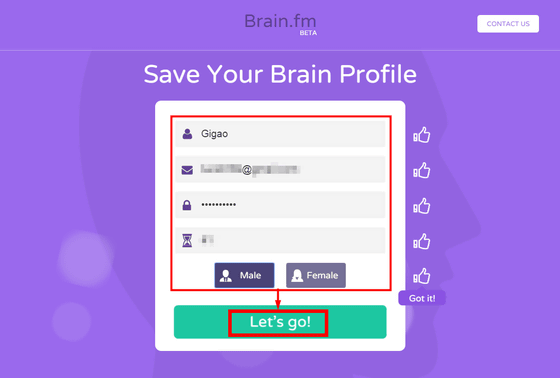 Your account is accumulated for account creation, but as mentioned above, you can try up to 7 sessions for free. As soon as the number of trials runs out, a link to the paid version was displayed along with the indication "Darn!" As shown below.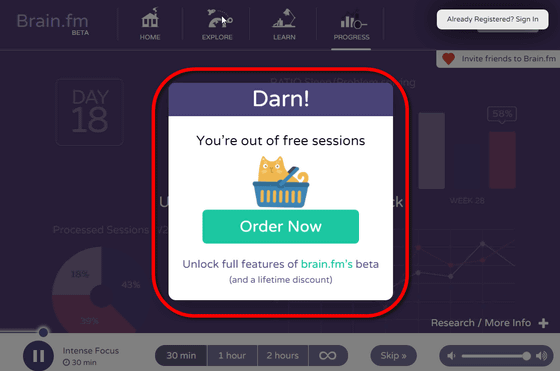 By the way, the paid edition has a "MONTHLY" plan of $ 6.95 per month (about 790 yen), a "YEARLY" plan ($ 47.4 dollar: about 5400 yen) that will be $ 3.99 per month (about 450 yen), and $ 149.99 The "FOREVER" plan was prepared for all-you-can-eat listen forever with 7,000 yen).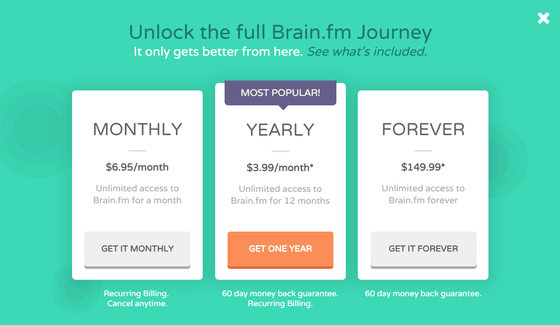 When it becomes a paid version, you can accumulate your own data and check it in detail, so you will be able to play BGM that matched yourself.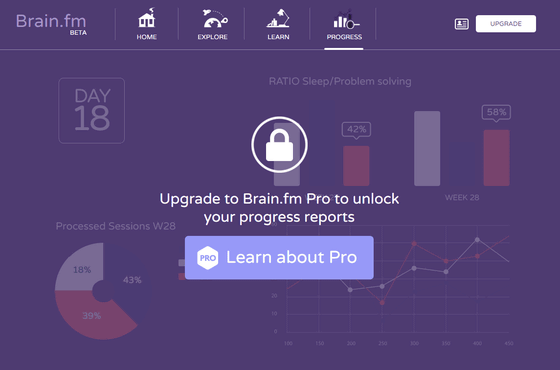 By clicking "Learn" at the top of the screen, you can refer to the research data etc. that is the base of Brain.fm.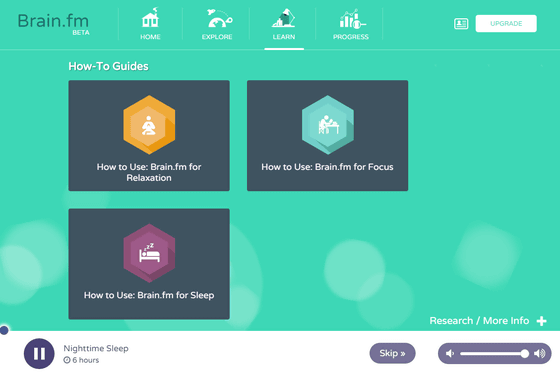 Various data can be viewed in PDF format.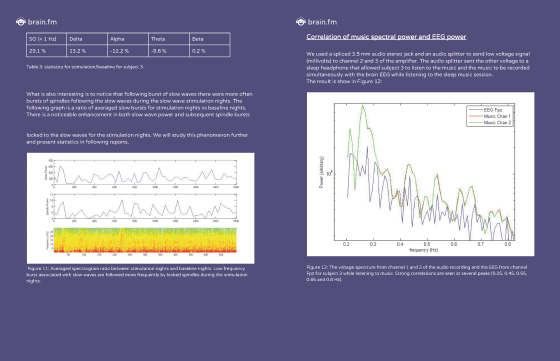 As impressions I listened to for a while, I received impression that it was easier to focus than I am listening to pop music, easy listening, ambient music. However, because there are individual differences, these also do not fit, it seems that people who seemed to be "effective" by using the chance of audition seven times and looking at the paid version are good.