[Dangyo] Legendary rock singer David Bowie died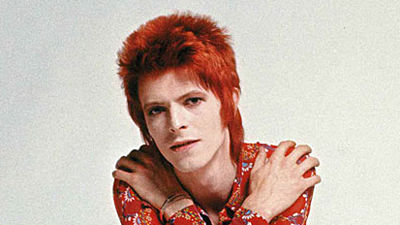 British musician / actor David Bowie died. Mr. Bowie left this world at the age of 69 after a fight against cancer for 18 months. On the 69th birthday, two days before his death, he just released the album "Black Star".

January 10 2016 - David Bowie Latest News
http://www.davidbowie.com/news/january-10-2016-55521

Mr. Bowie's death was announced at Facebook's official account updated at 15:30 on January 11, 2016 in Japan time. There, "David Bowie quietly died while being watched by his family after the war with cancer for 18 months," it is announced that Mr. Bowie died on January 10th. In addition, "I would like many of you to share this death and respect the privacy of the family who spends time of grief", asking for family consideration was stated.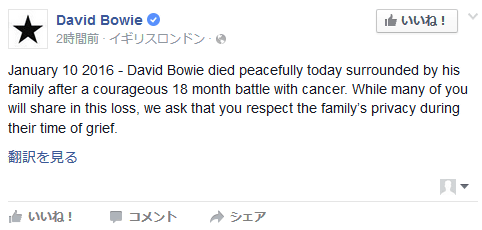 Also on the official website of Mr. Bowie, the same contents were announced.




Also, Bowie's son and film directorDuncan JonesMr. Bowie announced his death on Twitter. Along with Mr. Bowie's shoulder, I am tweeting that "It is really disappointing and hard to tell you that it's true, I will be offline for a while and I love you".

Very sorry and sad to say it's true. I'll be offline for a while. Love to all.Pic.twitter.com/Kh2fq3tf9m

- Duncan Jones (@ ManMadeMoon)2016, January 11
Mr. Bowie was a musician born on January 8, 1947 and was also known for having a career as an actor. In 1967 he released her debut album "David Bowie" and in 1970 he released an album "The man who sold the world"Conception album to be handed down as his masterpiece work in 1972"Ziggy StardustWe announced and established the popularity as a representative of Gram rock.

Many people have ever heard a famous song "Star Man" that was single-cut from the album "Ziggy Stardust".

"Starman" 1972 on Vimeo


After that, Mr. Bowie abandoned the gram rock route that built a fame, left the brilliant career of continuing activities while changing the style with the flow of the times and continuing to succeed. A single that was announced in 1983Let's Dance"Has become its own biggest hit song. In addition, this song was still unknown American blues guitarist,Stevie Ray VaughanIt is also known for being appointed.

"Let's Dance" 1983 on Vimeo


In addition, he is also involved in activities as a film actor, and directed by Oshima Nagisa, published in 1983 "Merry Christmas on the Battlefield"He appeared as the role of Major British Army Major Jack Celiaz.

Mr. Bowie, who has been doing well, has been slowing the pace of activities due to the illness and other reasons since entering the 2000s, but unfortunately it has become a person who will not return.