New work by the street artist Banksy is "refugee camp Steve Jobs"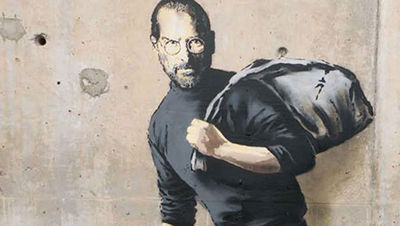 An artist whose mural paintings are awarded for about 100 million yenBanksy(Banksy) ironically disney Disney in August 2015Depressed country "Dizaland"In addition to producing guerrilla-like satirical street art in all over the world. Such Banksy has portrayed Steve Jobs on the wall of refugee camp of French curry as comment that "Jobs was welcomed as an immigrant" as such latest Banksy.

Banksy
http://banksy.co.uk/

The actual mural is like this. Jobs are wearing trademark black turtleneck shirts, jeans, sneakers, holding the old Mac on the right hand and on the left with a blackish bag on the shoulder in a style similar to refugees.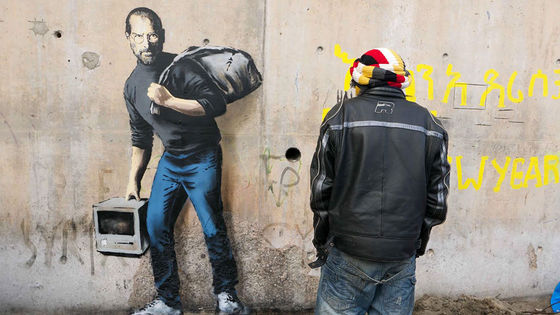 It seems that Jobs suddenly appeared in a refugee camp suddenly with such feeling with a slight pull.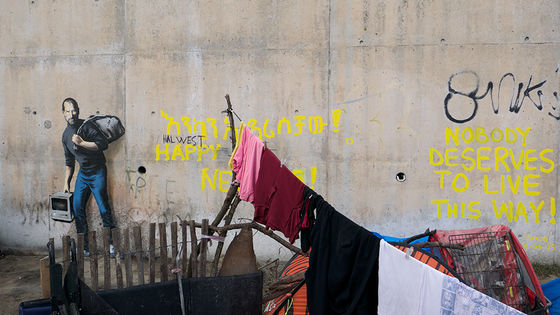 As you go further along the walls where Jobs is drawn, more tents are standing,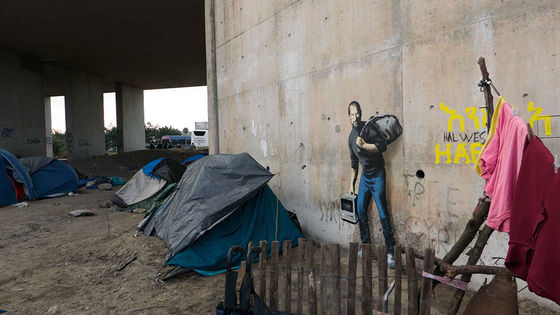 On the up, you can see that it is a stencil-like illustration as shown below. Banksy who painted the mural painting says that this mural has the aim of attracting attention on the benefits of immigration.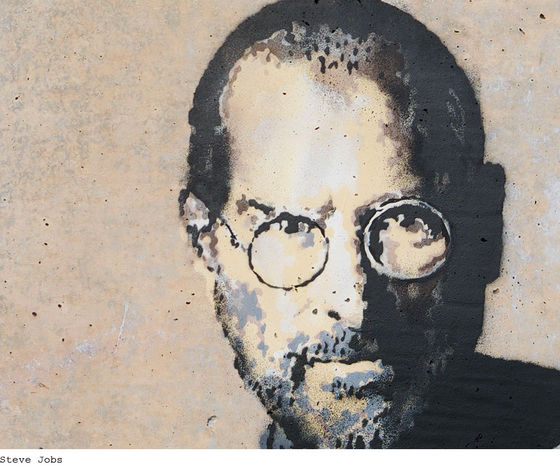 In addition, Steve Jobs' blood connected father was found to be a political refugee in Syria.

Who is Steve Jobs' Syrian immigrant father, Abdul Fattah Jandali? - Features - Macworld UK
http://www.macworld.co.uk/feature/apple/who-is-steve-jobs-syrian-immigrant-father-abdul-fattah-jandali-3624958/

Jobs is raised in California, but it is well known that raising parents were raised as adopted rather than biologically real parents. Jobs' real father is Abdul Fattah Jandali, a city named Homus, who was devastated in the Syrian civil war, and now he is a political immigrant immigrated to Nevada as a result of protests against President Lebanon and demonstrations.

Mr. Jandali emigrated from Syria to New York and met a woman named Joanne Carol Schieble at the University of Wisconsin and got a boy. But Mr. Schieble's father was a strict and conservative Catholic so he was not admitted married and he had to part from Mr. Jandali and Mr. Schieble before Jobs was born. Since then Jobs was adopted, none of Mr. Jandali nor Schieble raised Jobs.

Mr. Jandali on the left, Jobs on the right. The outline of the face and the shape of the eyes are indeed very similar.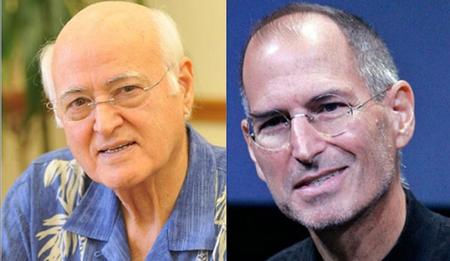 Jandali said, "Steve is my fruit son, but it was not myself that raised him but the adopted father Steve Family, if I call myself" the father of invention ", Steve was born a genius Because it was. "