It turned out that Facebook regulated the URL of a specific SNS from being posted, the reason is "NG judgment that there is a link which is not secure"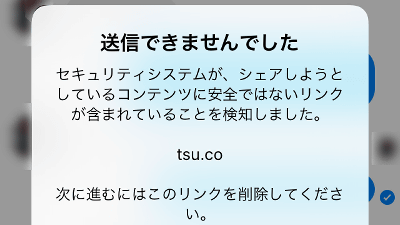 Facebook is in the sentences the user is trying to postURL of a specific site, It turned out that the post itself was made impossible. According to Facebook, this measure seems to regulate posts contrary to Facebook regulations.

Facebook will not let you type type - Nov. 5, 2015
http://money.cnn.com/2015/11/05/technology/facebook-tsu/

According to CNN's report, Facebook posted an SNS site on all platforms owned by the company including Instagram and MessengerTsuIt is blocking the link to (Sue). The URL of the site "Tsu.coAll posts including NG are judged to be NG, and posts themselves can not be done, and Facebook says that they are dealing with deletion of posts that include the same character strings back to past postings.

Tsu is a mechanism that distributes 45% of advertisement revenues to users, and since we can earn income only by contributing everyday, we increase the number of users as "SNS to earn".

Tsu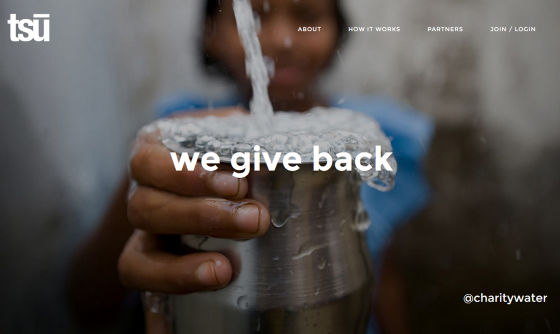 Since tsu was an invitation system like early mixi, many posts urging users to join the service were done on the net. On Facebook, too many fake accounts were created for solicitation to tsu, and many posts are invited to tsu, so Facebook says "many spam reports arrived from users" It is said that on September 25, 2015 it was decided to regulate posts including the string "tsu.co" as a trigger.

About the measures taken by Facebook, Sebastian Sobczak, the founder of tsū, to CNN "tsu seems to be" an unacceptable entity for Facebook "Facebook can write URLs of various SNSs, but we It is the same as not being present, we can not write only URL of. " Sobczak said that he requested Facebook to seek improvement, but it has been dismissed.

Screens that actually opened Facebook on a PC browser and tried to post "tsu.co". A message saying "I can not post because the link is blocked" was displayed so that posting itself can not be done. It seems to be blocked if the sentence "tsu.co" is included in the sentence, so even if the long sentence contains a character string it was judged to be NG.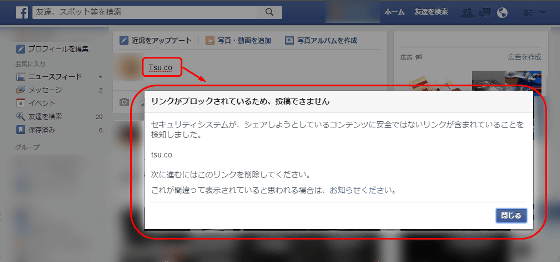 The situation is the same even from the smartphone application, and the message "The message could not be sent" is displayed as below. I understand that you confirm the posted content, but it is a character string of "tsu.co" that is considered to be NG and you can see that the word "tsu" can be sent without problems.



To this measure, Facebook spokesperson said, "We do not allow developers to monetize by sharing content on Facebook platform for the purpose of preventing spam share Comment. Also, for tsu, it seems to notify you that if you deal with banning posting on Facebook it will release the block.

For this case, a critical voice from the user of tsu is said to have been raised. Many of them are professionals such as photographers and models, the system of tsū is more fair than Facebook, and there are many people who feel that this measure of Facebook is "not fair".