Drawing on Twitch A live channel has appeared and "Bob's painting classroom" whole story While holding a marathon, "Is not it easy?"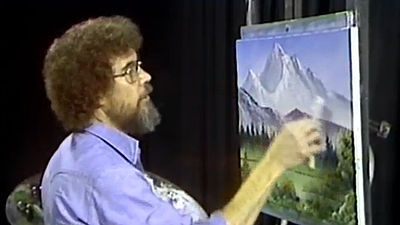 Twitch, a game live broadcasting platform, has created a new category specialized in creative activities "Twitch CreativeWe have opened. As a celebration of opening Twitch Creative, a painting program that has become a hot topic in Japan "Bob's painting classroom"All the episodes are broadcasting and it is possible to see it for free.

The Official Twitch Blog Introducing Twitch Creative - The Official Twitch Blog
http://blog.twitch.tv/2015/10/introducing-twitch-creative/

Twitch
http://www.twitch.tv/directory/game/Creative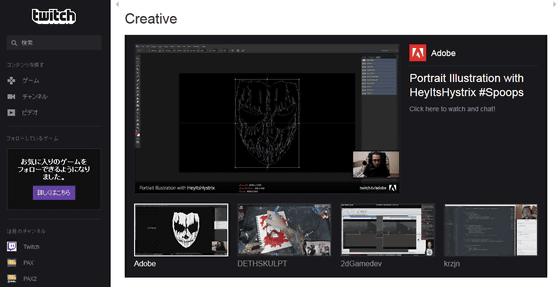 "Bob's painting classroom" All episode marathons can be viewed from the following URL.

BobRoss - Twitch
http://www.twitch.tv/bobross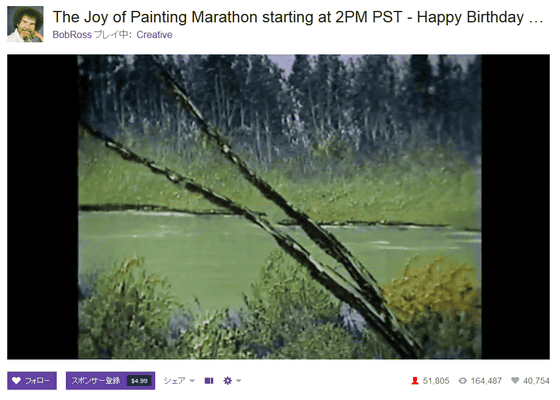 Twitch, a video distribution platform, received Adobe as a launch sponsor, with the increase of self-made distribution, launched a new category Twitch Creative from October 29th. On October 29th it was Bob Ross' s birthday, famous for American TV program "Bob's painting classroom", so we announced the broadcasting channel of the same program in commemoration of its establishment. At the time of article creation, the number of viewers is about 50,000, the number of views has reached over 160,000 times, and show comments such as 'Come on, this sound of this brush!' It is.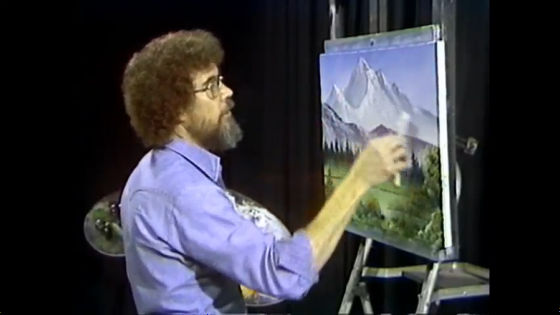 In addition, although it was a dubbed version by Mr. Takao Ishii that was being broadcast on NHK-BS in Japan, the version published by Twitch himself is voiced by Mr. Ross himself. Although it is an image of only English, it is still possible to realize that the painting is completed perfectly.

Mr. Ross enrolled in the US Air Force for 20 years, during that time he engaged in painting activities and established his own "Bob Ross painting method" and appeared in "Bob's painting classroom" in 1983. Mr. Ross's own bold tone and character attracted attention as well as Bob Ross painting method which completes one oil painting within 30 minutes Bob's painting classroom was broadcasted for 11 years until 1994 . But Mr. Ross died in 1995.

In Japan, even after NHK - BS broadcast, it was picked up by "Detective Night Scoop" of Asahi Broadcasting, and movies were posted on Nico Nico Douga, which gathered wide popularity.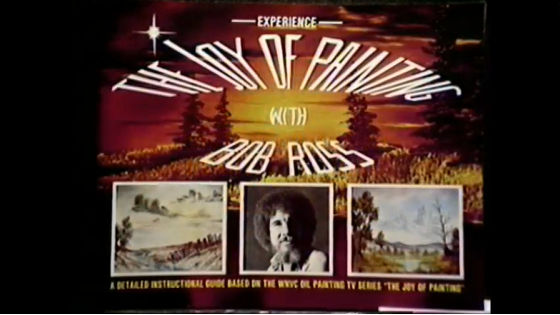 "Bob's painting classroom" is a program that can be enjoyed enough even by people who have never watched it, so it would be nice to see it on occasion. Also, it seems to be a day for fans to be able to keep an eye on Twitch.

In addition, because a blown-out movie that combines "Bob's painting classroom" and "Wii U's" Splatoon "is released on Nico Nico Douga and YouTube, it looks good if you also see it together.



People who can not play Nico Nico Douga can watch on YouTube.

Bob Ross: Splatoon - The Joy of Painting (Japanese dub and CC): I tried Splatoon with live commentary and commentary on a professional artist - YouTube