I had eaten a cold pancake "Chocolate Brulee Pancake" with Kua Aina that had dusky pancakes and creme brulees fused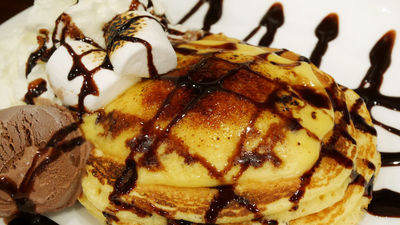 I took a good deal of French toast and pancakeFrench pancakeYaFluffy soft pancakes of surprise even though it is extremely thickIt is a pancake whose texture and appearance changes greatly depending on shops, but this is a pancake brulee by Kua Aina, an irresistible dessert for sweet food that has been blended with creme brulee. Such a popular dessert topped with Belgian-made Couver chocolate and marshmallows was "Chocolate brule pancakeIt was on sale on Tuesday, October 13, 2015 for a limited time so I ate it at once.

»Chocolate Brulee Pancake Appears | Topics | KUA`AINA Kua Aina
http://www.kua-aina.com/topics/1690.html

That's why I came to Kua Aina soon. At a shop front that looks pretty aloha ......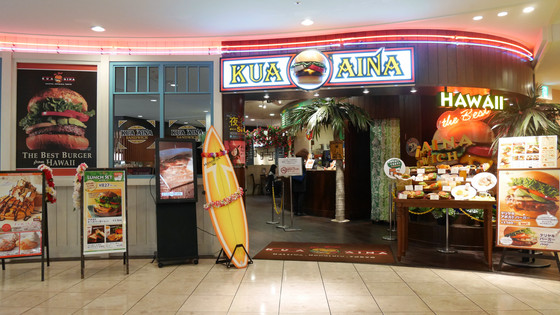 I found a signboard of "Chocolate Brule Pancake" for your purpose.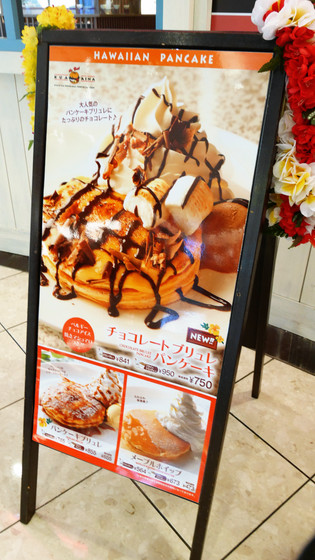 I will immediately place an order and wait for the arrival of goods.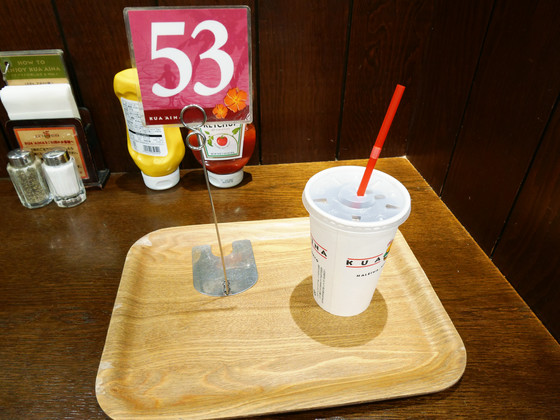 French fries + drink set of "chocolate brule pancake" arrived in about 5 minutes after ordering.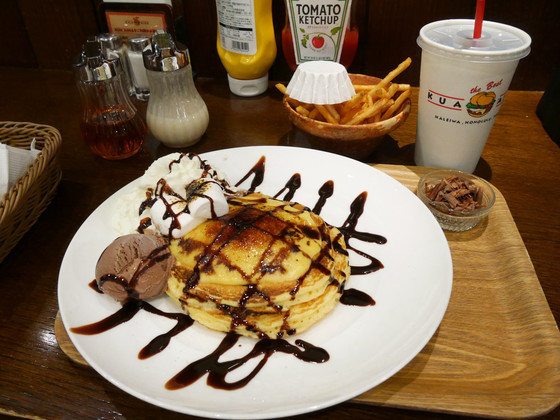 This is the "chocolate brule pancake" you want. As you can see, the chocolate sauce that is plentiful is characterized and filled with the sweet smell of chocolate around the moment when you come to the table.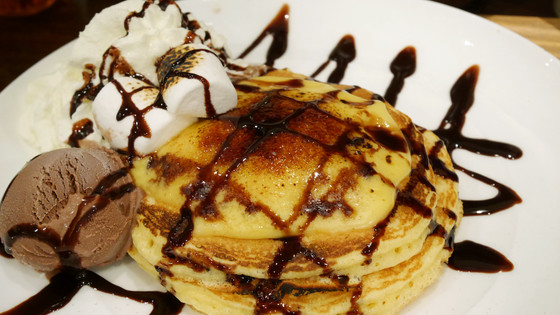 On top of the pancake are custard creams and crispy caramelizes about one size smaller than pancakes.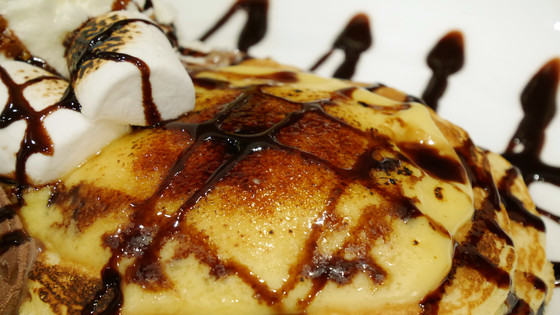 3 pancakes are superimposed, and a custard cream is on top of it.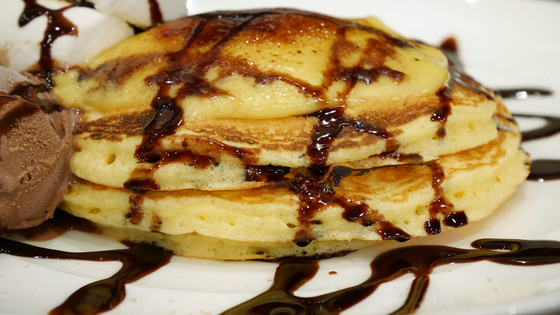 Toppings are light fogged marshmallows and a lot of fresh cream.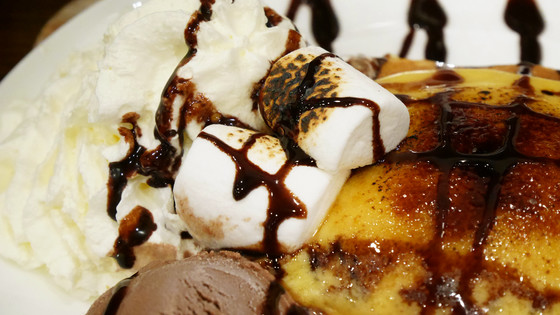 And chocolate ice cream.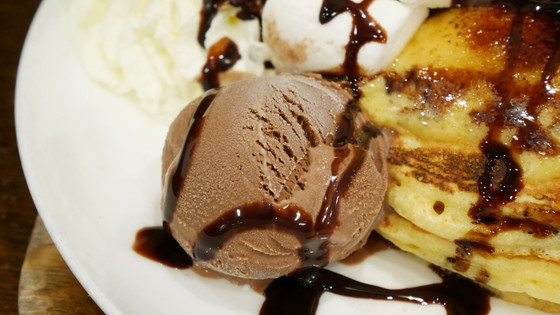 The diameter of pancake is about a little shorter than iPhone 6.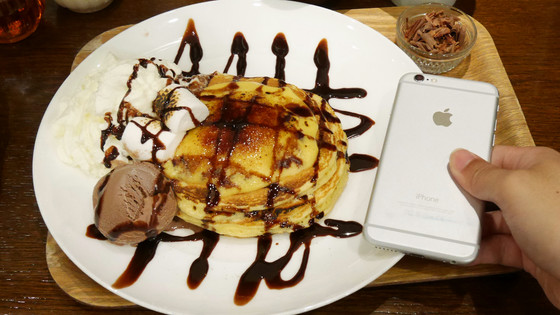 Chocolate will come with a separate dish, so if you tap according to your preference OK.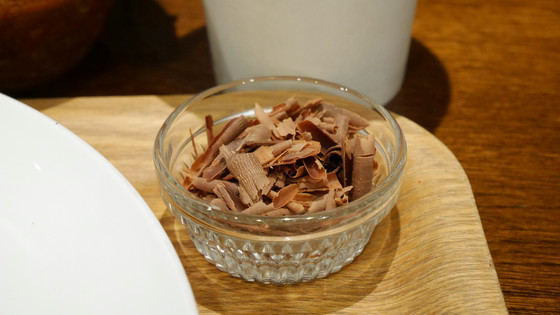 As soon as I tried to crush the top carameliza part, the caramel coating was completed tightly.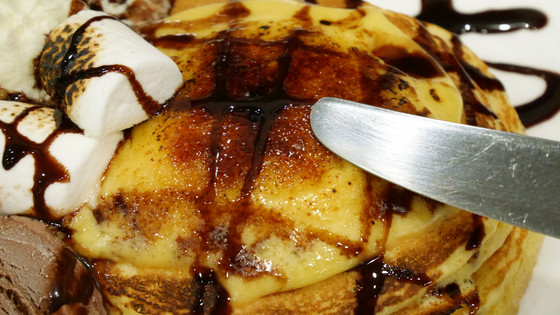 First we pakuri the creme brulee part and pancake. When I try to eat, the sweet smell of chocolate coming up against me, the pancake itself is moderately sweet, the soft texture of soft texture and the gentle aroma of flour are good. When there is a creme brulee part there, the sweetness of custard and the fragrance of caramelize are added plus, the more the feeling of dessert is increased.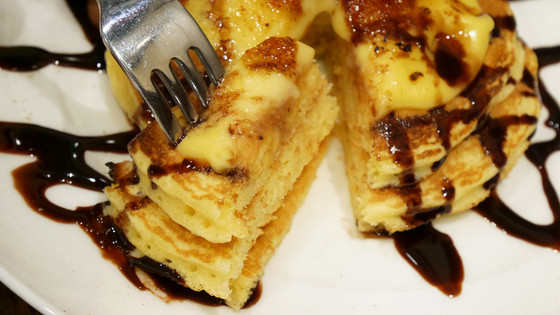 The cut section looks something like this, you can see that the custard cream is on top of the pancake only.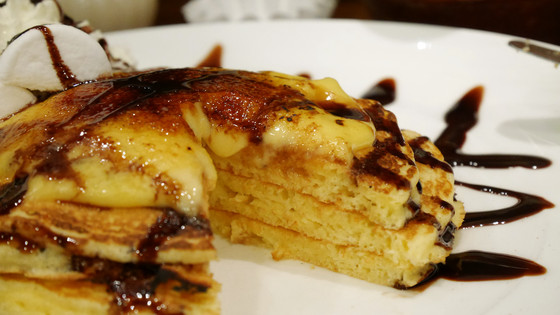 Next I tried plenty of additional chocolate.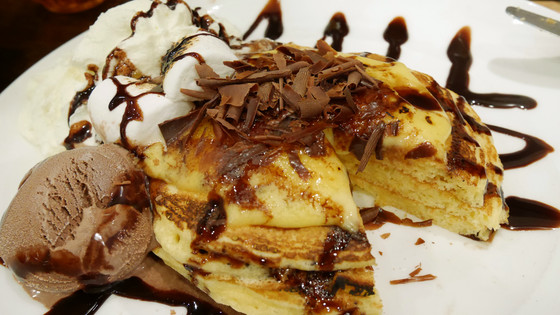 And I will add plenty of fresh cream and try it. Fresh cream is very fluffy, rather than fresh cream, it tastes like meringue. The sweetness is modest and the flavor of milk is felt firmly, so when you eat it with pancake, the flavor generally improves and the texture turns into a soft impression.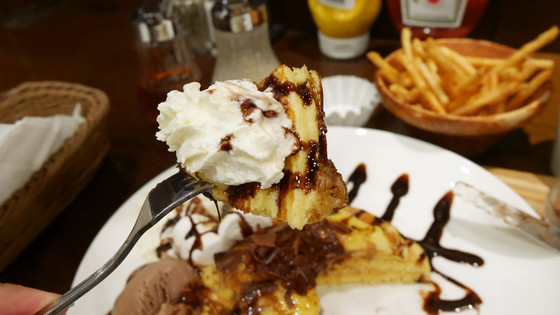 Furthermore, when I tried eating with chocolate ice, pancake gently catches the sweet and strong fragrance of chocolate ice, which is too thick. Chocolate ice is sweet enough to feel bad if it is a single body, but if you eat it with pancake plus you a bit of sweetness than other fresh creams and custard creams, yet you can adjust your ice amount yourself Because it can be eaten with sweetness, it may be an irresistible topping for sweet tooth. Also, as hot soup comes out of pancakes, it is a happy place that you can enjoy cold mysterious combinations if you eat with ice.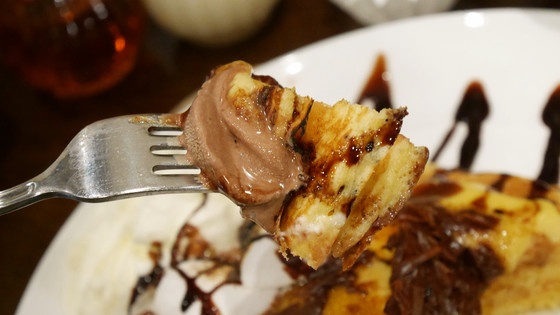 Please be careful as chocolate and ice put on top will melt quickly with pancake heat.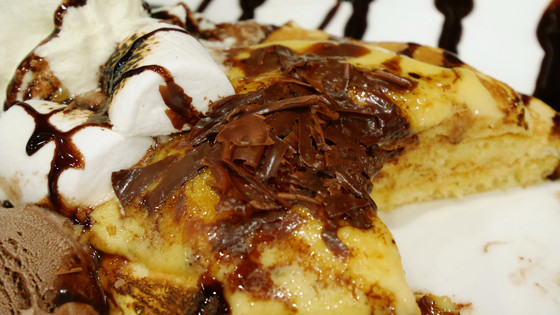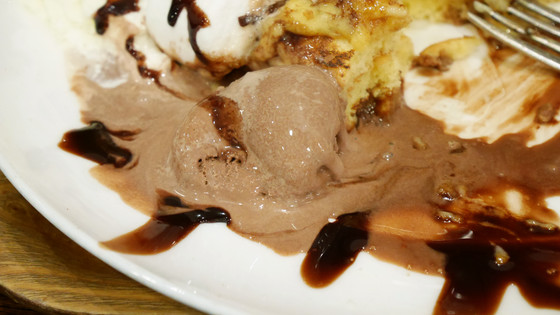 The pancakes themselves are not that sweet, but the chocolate sauce and chocolate ice are pretty rich, so if you go forward, you will want saltiness. In anticipation of it, pancakes are also prepared for French fries, and crispy French fries to eat between sweet pancakes were just a blessing dish.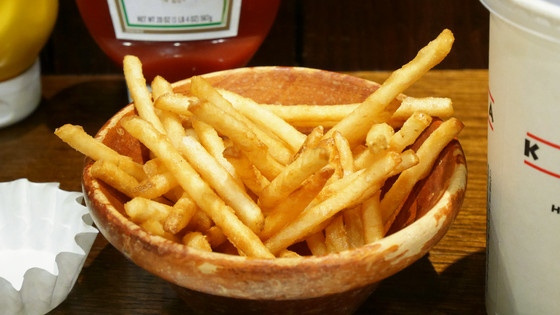 Pancakes are stacked in triplets, the normal pancake is not covered with custard cream except the top one, so you can eat it with maple syrup or coconut sauce. However, as fresh cream and chocolate sauce are plentifully toppled, there is no doubt that pancakes will all disappear if you think about consuming toppings first.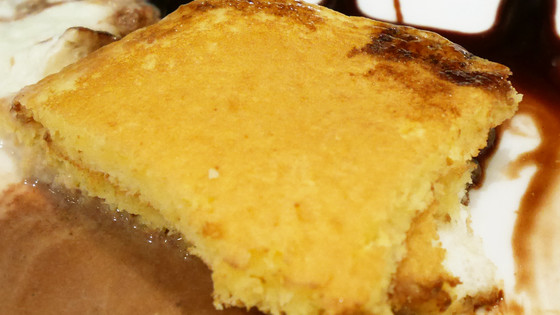 In addition, 'Chocolate Brulee Pancake' is limited for the period from October 13 (Tuesday) 2015, it is 750 yen for tax, 750 yen for tax, 841 yen tax excluding drink set, 950 yen tax excluding French fries + drink set I will. Incidentally,Red brick storeThere seems to be no handling, so be careful.