Microsoft announces Windows 10 Mobile equipped flagship model "Lumia 950/950 XL"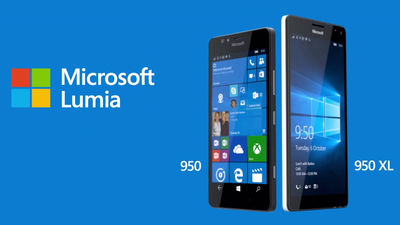 New device on Windows 10 held by Microsoft on Tuesday, October 6, local timeRecital, A new type flagship model equipped with "Windows 10 Mobile" which is a mobile version of Windows 10 "Lumia 950"When"Lumia 950 XLWe announced.

Microsoft Lumia 950 XL with 5.7-inch display and liquid cooling announced for $ 649 | The Verge
http://www.theverge.com/2015/10/6/9459835/microsoft-lumia-xl-announced-size-price-release-date

Flagship Windows Phones at last: The Lumia 950, 950 XL, and 550 | Ars Technica
http://arstechnica.com/gadgets/2015/10/flagship-windows-phones-at-last-the-iris-scanning-lumia-950-950xl/

A movie that understands what kind of terminal the "Lumia 950" and "Lumia 950 XL" are finished is up from the official.

The New Microsoft Lumia 950 and 950 XL - YouTube


The movie starts from the face icon "Hello Miranda Vance" (Hello, Miranda · Vance).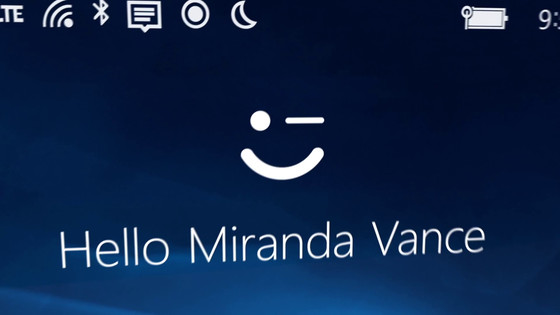 The smaller one on the left is "Lumia 950" and the one on the right is "Lumia 950 XL". "Lumia 950" is 145 mm in length × 73.2 mm in width × 8.2 mm in thickness, the body weight is 150 g, the display size is 5.2 in. "Lumia 950 XL" is 151.9 mm in length × 78.4 mm in width × 8.1 mm in thickness, the weight of the main body is 165 g, the display is 5.7 inches.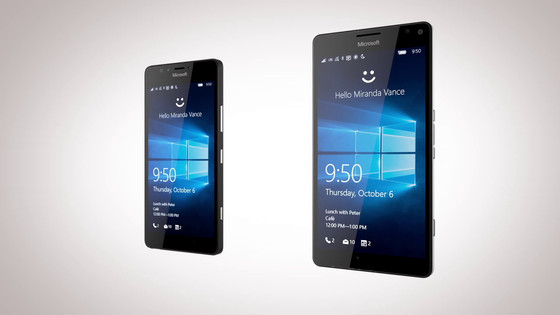 Features of both terminals are iris authentication function using infrared "Windows HelloBeta version. In the upper part of the display is an in-camera and infrared camera, which is Fujitsu's iris-certified smartphoneArrows NX F-02HYou can unlock the screen just by looking at the terminal like.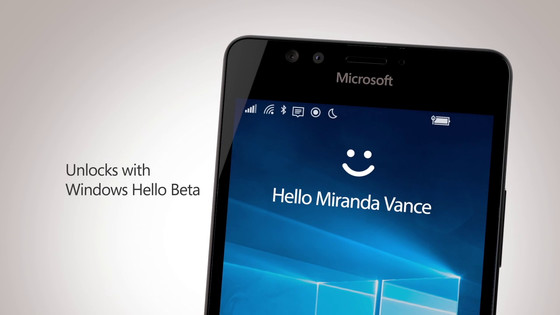 For both terminals, the main camera is 20 mega pixels, and the fifth generation optical image stabilization function is installed. It is also possible to shoot 4K (30 fps) movies.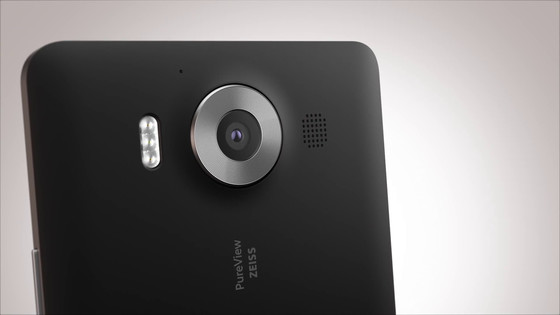 Furthermore, the flash which expresses natural color by adopting "Triple LED RGB Natural Flash" LEDs of different colors at the same time is adopted.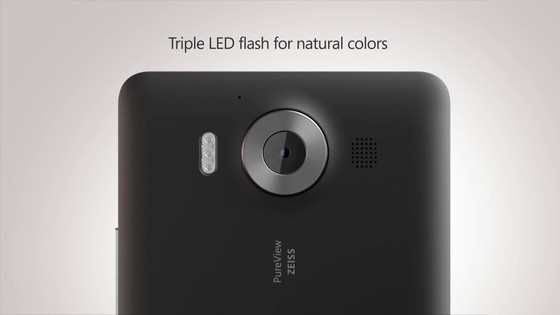 "Lumia 950" has six cores of Snapdragon 808, "Lumia 950 XL" is loaded with eight cores of Snapdragon 810. Other common specifications are RAM 3GB, storage (ROM) 32GB, compatible with USB Type-C and wireless power supply Qi, microSD card slot installed. Note that "Lumia 950/950 XL" adopts a tablet level water cooling system for cooling SoC. The detailed mechanism is unknown at the moment and we will be waiting for further information on what kind of mechanism it is.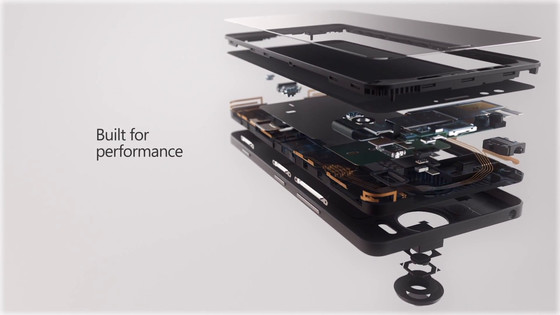 The resolution of the display is WQHD of 2560 × 1440 for both terminals. The pixel density of 5.2 inches "Lumia 950" is 564 ppi, the pixel density of "Lumia 950 XL" is 518 ppi.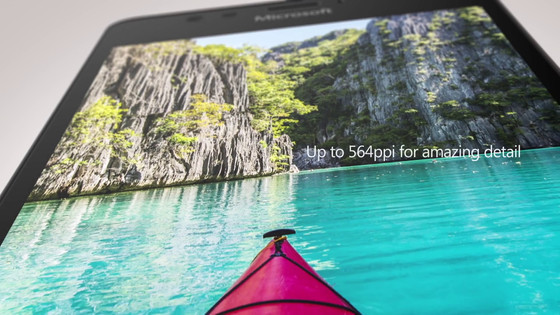 In addition, it adopts Qualcomm's rapid charge and USB Type-C, enabling high-speed charging of terminals. The battery capacity is 3000 mAh for Lumia 950 and 3340 mAh for Lumia 950 XL.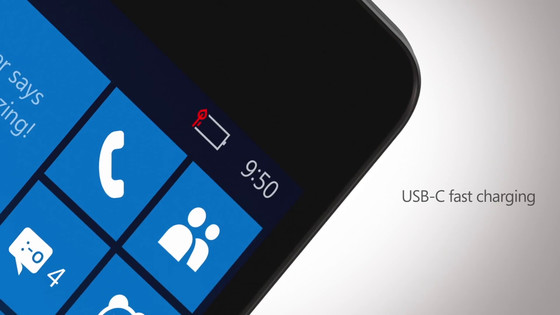 Of course Windows 10 Mobile provides a user experience that is no different from Windows 10.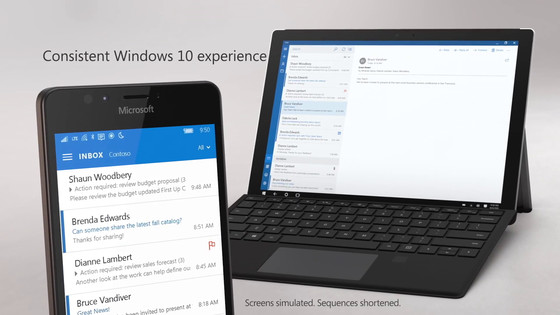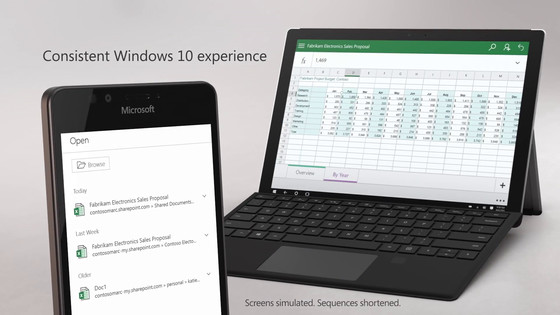 In addition, wired to connect something with "Lumia 950/950 XL".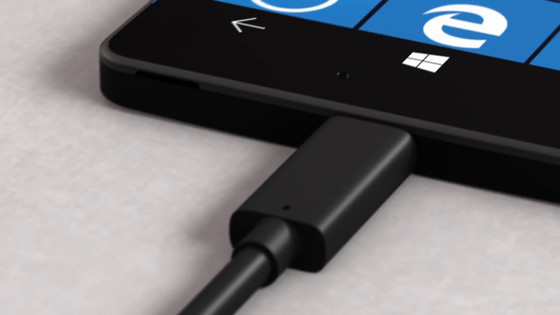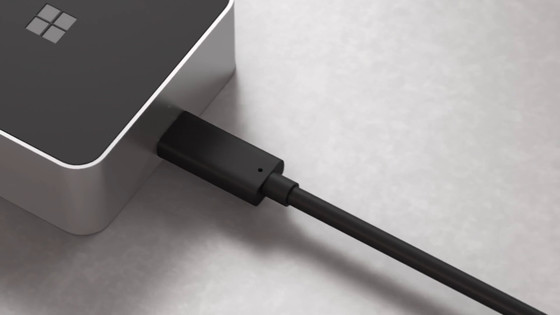 This is a function called "Continuum" that allows you to work with a PC-like interface that is different from the mobile version interface by connecting Windows 10 Mobile to the display. The output to the display is likely to be done via a relay called "Microsoft Display Dock".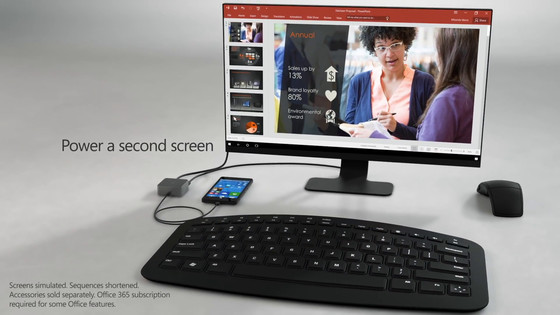 You can see what you can do with "Continuum" by reading the following article.

When you actually use "Continuum" which can operate smartphone like Windows 10 · PC, it looks like this - GIGAZINE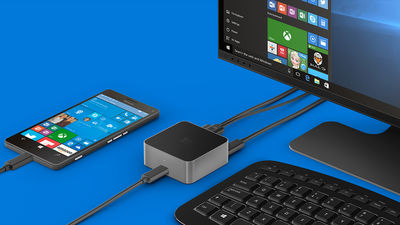 The movie which actually acquired the real machine of such "Lumia 950/950 XL" is up quickly. The back of the terminal has become matte texture, and it seems that you can feel the difference in size beyond imagination if you actually have "Lumia 950" and "Lumia 950 XL" in hand.

Microsoft Lumia 950, 950 XL usher in Windows 10 for phones - YouTube


The following movie contains the appearance of outputting images from a smartphone to an external display using "Lumia 950" Continuum. If connected to an external display, you not only can use the mouse and keyboard, but also you will see that the interface changes like a PC with Windows 10 up to the interface.

Use your Lumia 950 phone as a PC - YouTube


The SIM free version of "Lumia 950" is $ 549 (about 66,000 yen), "Lumia 950 XL" is $ 649 (about 78,000 yen). It is scheduled to be released in the United States in November 2015, but the release in Japan is unknown.

·bonus
"Lumia 550" is quietly released as a low-end terminal of the Lumia series at the recital. This is a smartphone equipped with an AMOLED display with 4.7 inch resolution and 1280 x 720 resolution. In the LTE compatible model, other specifications are 1.2 GHz Snapdragon 210 (4 cores), 1 GB RAM, 8 GB of storage, 5 megapixel main camera, 2 megapixel front camera. The selling price is $ 139 (about 17,000 yen).

It seems that it was actually exhibited in the venue of the presentation.

Microsoft Lumia 550, the first cheap Windows 10 phone - YouTube