Apple Watch's latest OS "watch OS 2" action movie evolved with support for native applications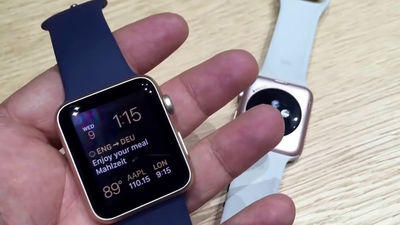 Apple held on 9th September 2015New product launch, Released on September 16 the OS for Apple Watch OS "WatchOS 2". However,"I found a bug while developing watchOS 2 and it took longer than expected to respond"Although the release has been postponed, CNET has released an action movie of watchOS 2-equipped Apple Watch that was exhibited at the presentation, so what kind of OS is it if you see it? I can understand just a little.

Apple Watch now available in new colors, band options (hands-on) - CNET
http://www.cnet.com/news/apple-watch-gets-new-bands-new-colors/

The latest OS of Apple Watch is "watch OS 2". "WatchOS 2" has added a new design to the face, displays beautiful landscapes around the world in time lapse, displays instantaneous shooting taken with "Live Photos", a new feature of iPhone 6s / 6s Plus Or you can change the photos saved in iPhone's album every time you lift your wrist and display it on the dial.

In addition, information (compliance) such as "weather" and "world clock" that can be displayed on the dial is increased, and it is also possible to display data acquired from the application installed from the App Store.

The information in the red frame is the compliance, and in 'watch OS 2' it is also possible to display information acquired from third party applications here.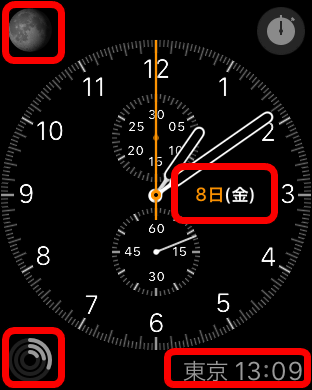 Besides, since it corresponds also to the "time travel" function which makes it possible to schedule the previous and next schedule, the "night stand mode", and also the third party native application, it will be able to operate more quickly. In addition, third-party applications can fully utilize hardware features such as Taptic Engine, Digital Crown, Accelerometer, Heart Rate Sensor, Speaker, Microphone of Apple Watch, so it is expected that more advanced applications will emerge It is being done.

A movie manipulating the new color yellow gold of Apple Watch Sport equipped with such "WatchOS 2" is released.

Apple Watch OS 2 and new gold Sport models hands-on - YouTube


New color yellow gold of Apple Watch Sport which appeared newly at the recital of 9th September. The body part is an aluminum case and has been subjected to oxide film treatment. Only the two colors of yellow gold and rose gold of Apple Watch Sport were added as a new color, and these remain the same price band as the past Apple Watch Sport in both 38 mm size and 42 mm size.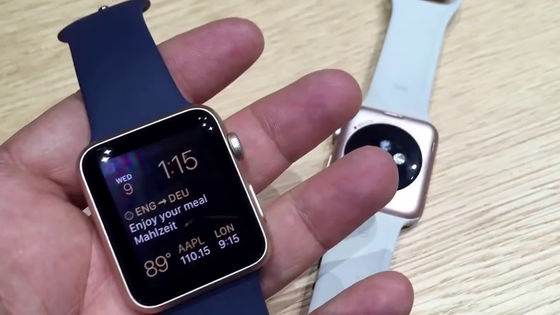 The back side looks like this and there is no change in appearance design. However, the color scheme of digital crown seems to be different from "Apple Watch Edition".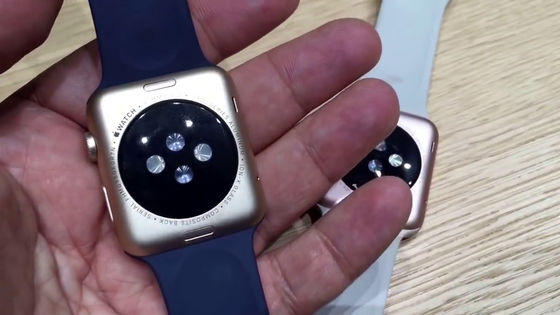 The coloring of the sports band has increased to 16 colors, besides the new color of the classic buckle,New model by collaboration with HermesAlso appeared.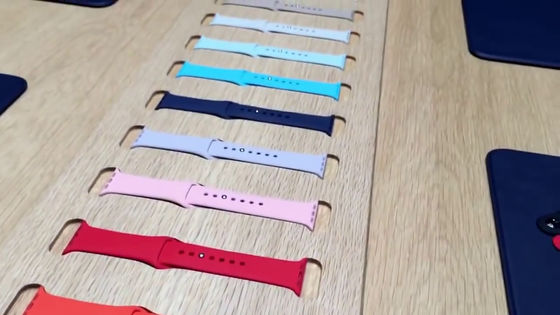 The yellow gold and rose gold of Apple Watch Sport can be purchased in combination with four bands of lavender, antique white stone, midnight blue. In addition, the left is yellow gold and the right is rose gold.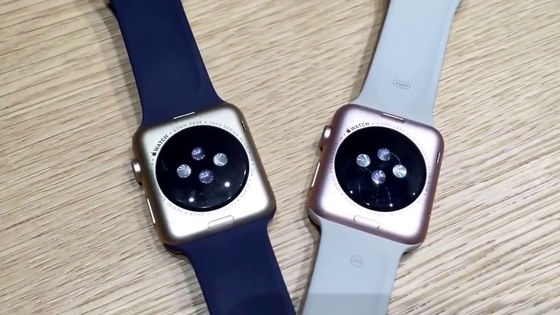 In 'watch OS 2', complications on the dial increased.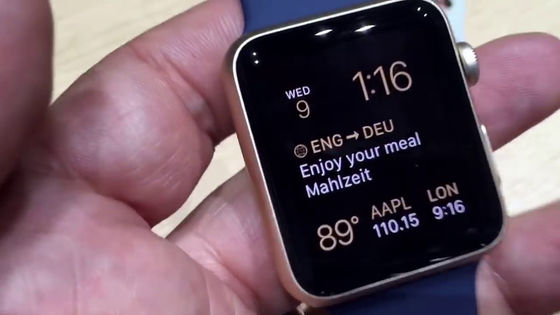 Also, with the new function "time travel" ......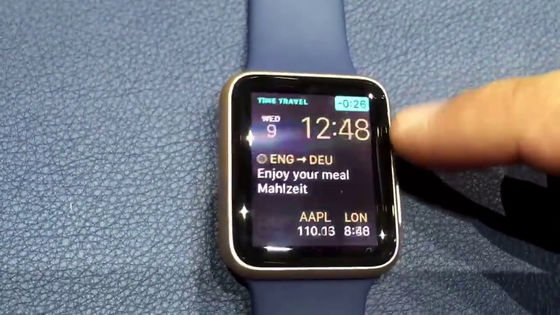 You can check the schedule (yesterday, today, tomorrow) of the time displayed on the dial.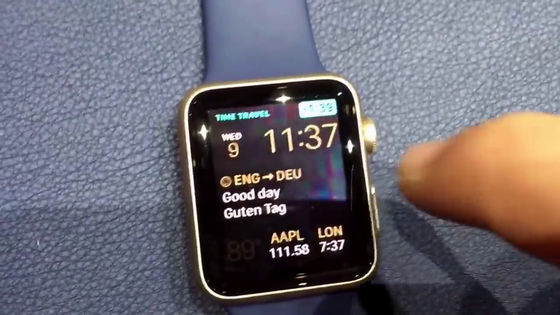 Of course, if you press the dial strongly ......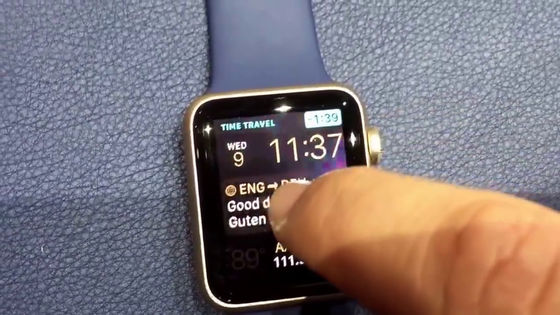 It is also possible to customize dial design and complication freely.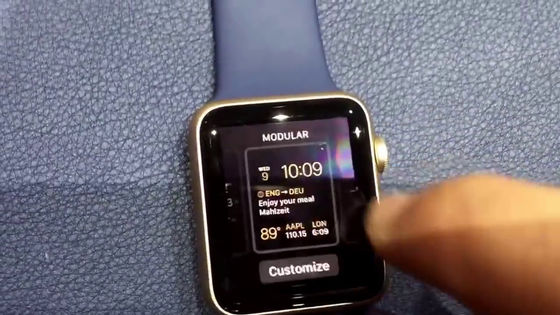 In addition, it also supports native third-party apps, so the behavior of the application will be much faster.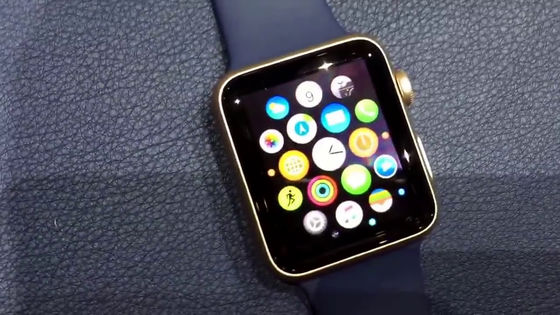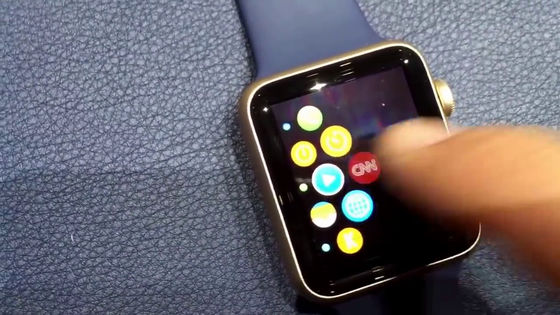 However, in the movie, we could not confirm the operation of third-party applications.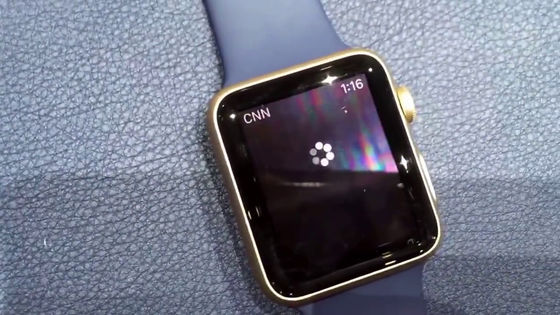 The point that I feel particularly convenient when using Apple Watch is that "I can receive iPhone notifications with my wrist". However, there are still few impressions of convenient applications that can really be used, such as the behavior is unstable other than Apple's native application, or the level of "I made an application for a new terminal for the time being". Still, in "watch OS 2", third party applications can also correspond to native applications and use various hardware elements, so the possibility of upgrading to terminals that are conveniently transcendent at a stretch is sufficiently secret It seems that it is said that it is.