According to the survey, "Apple Music" is expected to be thrown away by about half of users after the free trial ends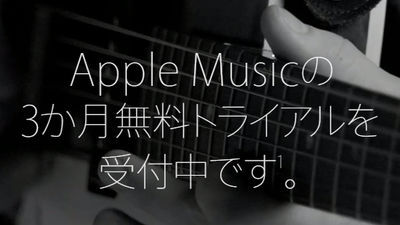 ApplePresented at WWDC 2015I listened to music of millions of songs at 980 yen a month, and the music streaming service which is all you can ask is "Apple Music"is. Although the service started from July 1, 2015 in Japan time, although Apple Music is accepting a trial that can be used for free for three months from registration as of the creation of the article, even when six weeks have elapsed from the start of the service, the iOS user Only about 10% can be included in the service, and it is now clear that the probability of continuing to use is unlikely to be low.

One in Ten iOS Users Listens to Apple Music | MusicWatch Inc.
http://www.musicwatchinc.com/blog/one-in-ten-ios-users-listens-to-apple-music/

Nearly half of listeners who try Apple Music have stopped using | New York Post
http://nypost.com/2015/08/18/nearly-half-of-listeners-who-try-apple-music-have-stopped-using/

The service itself of Apple Music,Apple boughtJimmy Iobain and Dr. Dre who are co-founder of the music industry and are heavyweights of the music industry. As a music streaming service, it comes into later generations, and the number of paid members paying 10 dollars a month (about 1200 yen) exceeds 20 millionSpotifyIt is the current situation that it is taking a long delay. In addition, Spotify has a free service where advertisements are displayed on the application instead of all-you-can-eat music, and there seems to be more than 50 million users.

August 6, 2015, Apple's Eddy Cue Senior Vice PresidentUSA Today interview, "The number of users exceeded 11 million in the first 5 weeks after service start", it appealed that the number of users was steadily growing.

However, 48% of users who participate in the free trial of Apple Music say that they may not feel that they will continue to use the service even after the trial endsMusicWatchAnnounced.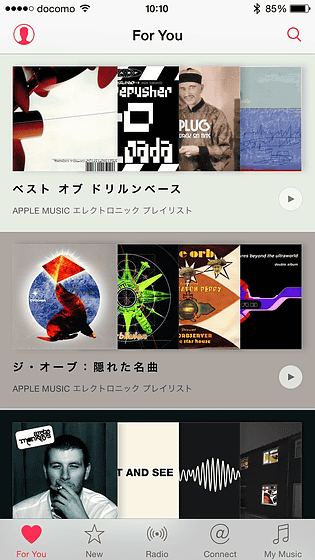 According to a study on the use of music streaming service such as Apple Music which MusicWatch conducted 5000 Americans age 13 and over, 77% of iOS users know Apple's free trial, but actually it is free It is clear that the percentage of users participating in the trial is only 11%. This percentage is far worse than 'Percentage of users who have downloaded paid music on iTunes' or 'Percentage of users who manage music with iTunes'. Also, among the users who used iTunes Radio of streaming service released by Apple before Apple Music started, the percentage of users using Apple Music was only 18%.

In addition, 48% of users who participated in the free trial of Apple Music said that they have not used Apple Music already. In addition, 28% of users who participated in the free trial of Apple Music are paid members of Spotify, 11% are free members of Spotify, 6% are Internet radio servicesPandoraIt was said that it was a free member of.

In addition, 64% of users saying "I am still using Apple Music" said that they continue to use it even after they become charged.