Finally thoroughly investigated the power of the 6th generation Intel Core processor "Skylake" which was released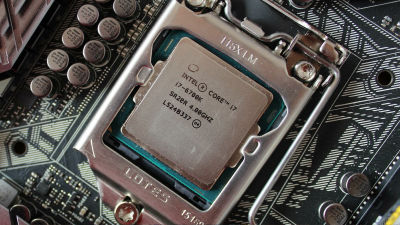 Sixth generation Intel Core processor released on August 5, 2015 "SkylakeSeries desktop CPU "Skylake-SAs early as the results of performance evaluation tests are issued.Ars TechnicaIn the performance check of the top model "Core i7-6700K", the evolution of the Skylake generation is clarified, such as where the performance has improved.

Intel's Skylake Core i7-6700K reviewed: Modest gains from a full Tick-Tock cycle | Ars Technica
http://arstechnica.com/gadgets/2015/08/intel-skylake-core-i7-6700k-reviewed/

◆ Skylake micro architecture
Since 2007, Intel has adopted a "tick-tack" strategy that repeats "tic" which evolved process rules and "tack" which improved functions with new design every year. Desktop version of 14 nm process rule "Broadwell-K"Skylake-S" newly designed at 14 nm is the sixth generation on the Intel Core processor. In addition, Broadwell - K was delayed in release and delayed in June 2015, so a slapstick play has been occurring that the new model Skylake - S will be released in just two months from the previous model.




Skylake-S's platform looks something like this. The biggest change point is the point corresponding to DDR4 memory. In addition, the CPU socket of the motherboard has been changed to LGA 1151 which was increased by 1 pin in the past, and it is no longer compatible with the 5th generation.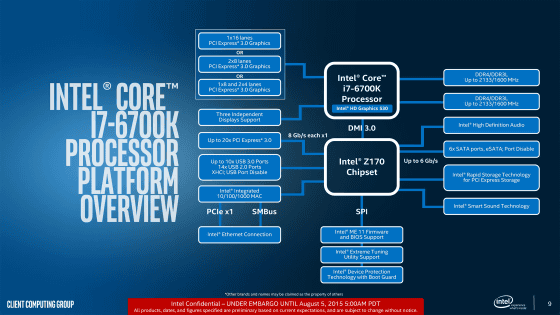 Core i 7 - 6700 K and Core i 5 - 6600 K were released together with the corresponding motherboard (Z 170 chipset) on the date of release on August 5, 2015. The big difference between i7 and i5Hyper ThreadingWith or without correspondence. In addition, as for model "K" attached to model number, it is magnification lock free OC compatible model, Skylake-S can set base clock in MHz unit.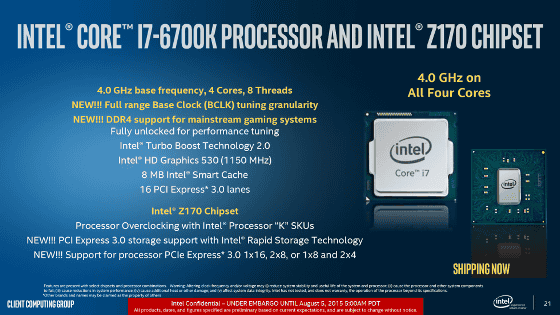 Skylake-S's CPU core is a vertically elongated rectangle as before. Compared to the "Devil's Canyon" series of the 4th generation Intel Core processor,TDPIt is up to 91 W slightly.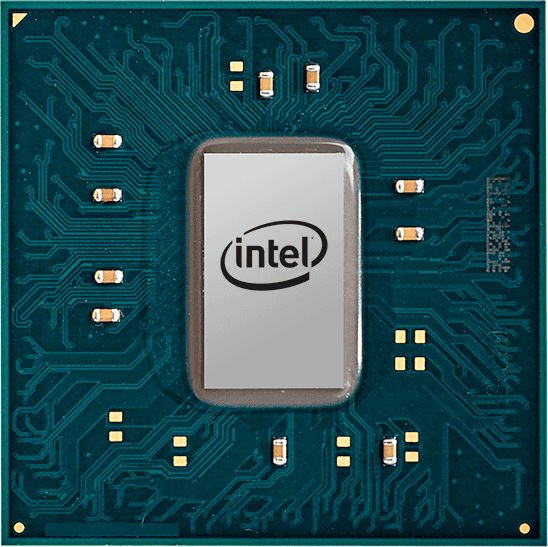 Covered with an aluminum heat spreader is also as usual.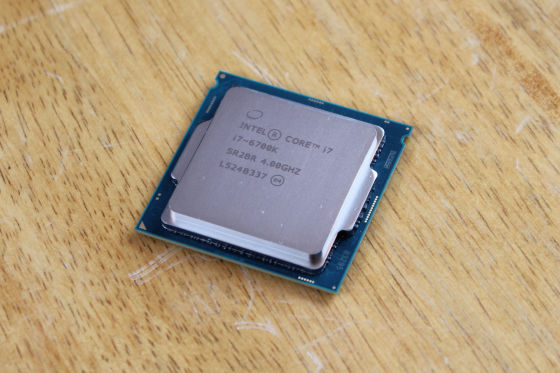 However, the number of contacts is increased by one to 1151.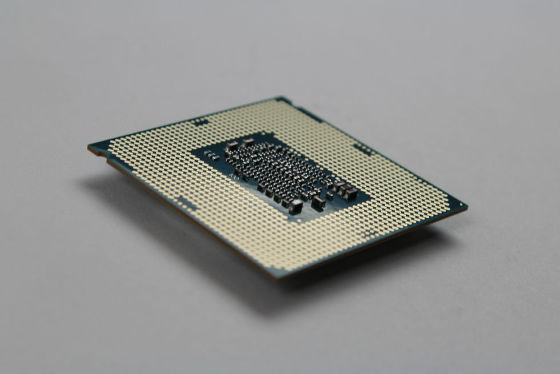 ◆ Verification equipment
Parts used by Ars Technica are Core i 7 - 6700 K CPU, ASUS Z 170 Deluxe motherboard, Corsair Vengeance (2666 MHz) memory, Samsung 850 Pro (256 GB) and SS 951 (512 GB: M. 2) SSD, Corsair RM 750i.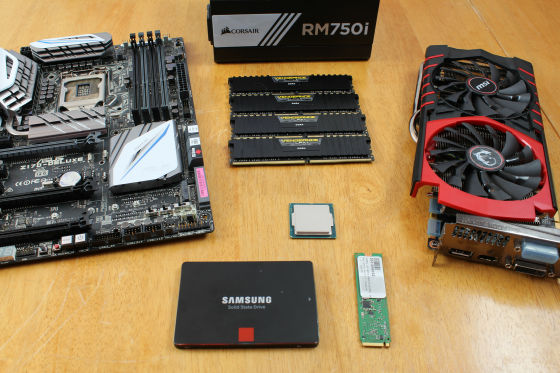 ASUS Z170 Deluxe with pure white and ridiculously gaudy back panel on the right of the photo.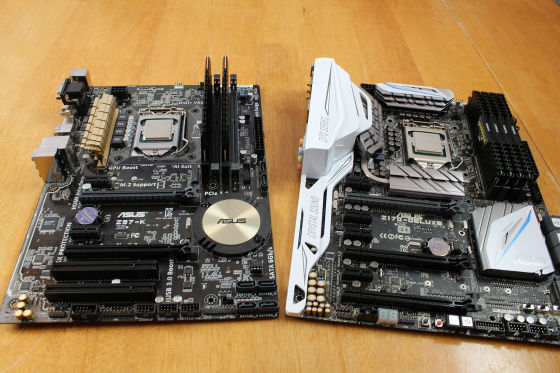 M.2 slot is installed next to the chipset heat sink.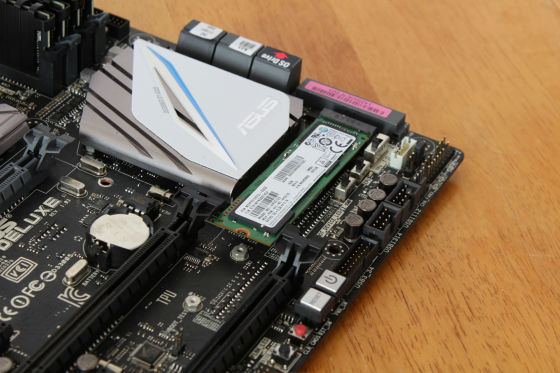 The fixing method of the CPU is also as usual.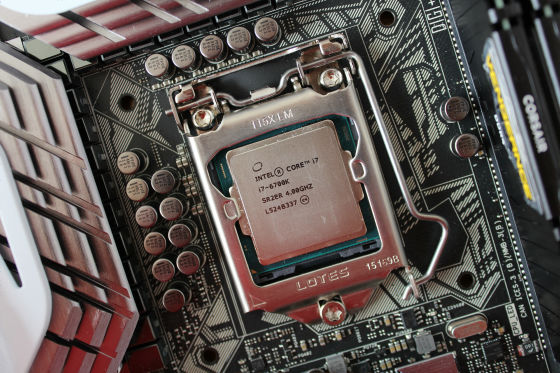 In the benchmark measurement, Core i7-4790K (4th generation Intel Core processor Haswell / Devil's Canyon) with the same rated CPU frequency for comparison is used.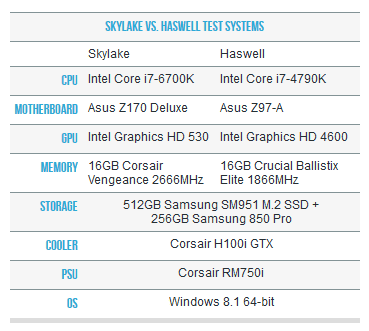 ◆ Various benchmarks
CinebenchPerformance comparison by. It exceeds Core i 7 - 4790 K, but performance improvement is slight.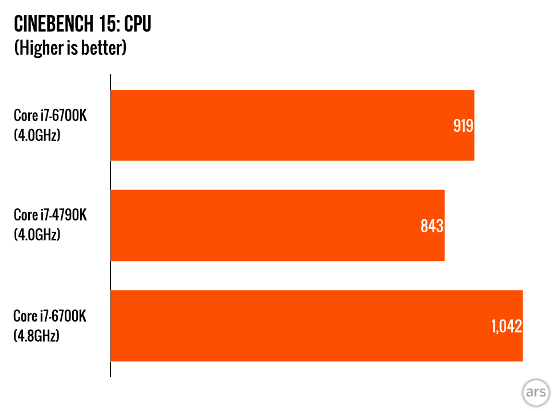 When comparing the performance per multicore per single core, it looks like this.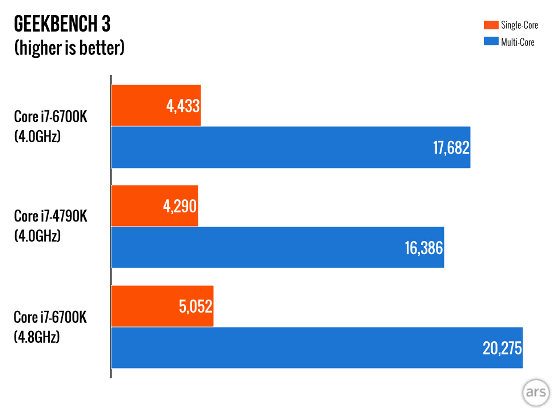 LuxMarkBut almost the same trend.



Movie Encoding SoftwareHandBrakeEncoding time in. The smaller the number in the graph, the higher the performance.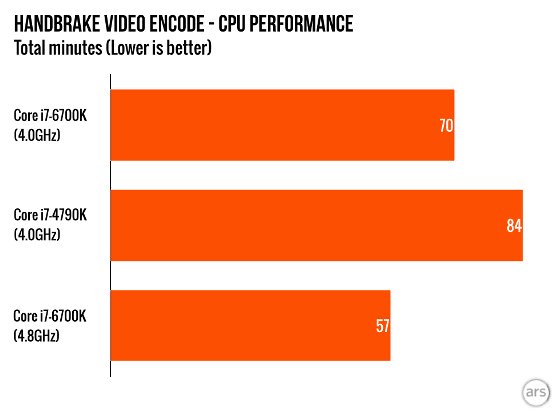 Comparison of the power consumption of the entire system. As can be inferred from the TDP value, it can be seen that Core i 7 - 6700 K consumes more power than Core i 7 - 4790 K at both idle and load.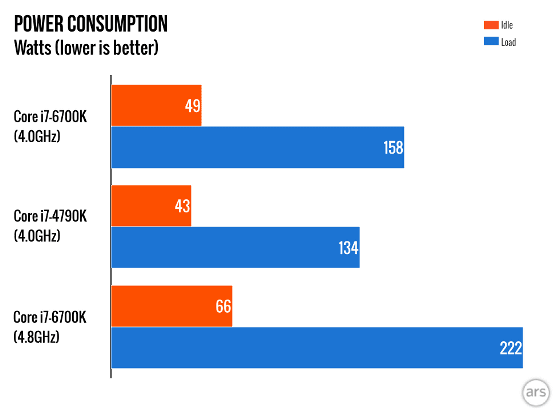 Comparing GPU performance with Cinebench, Core i7-6700K has a 48% increase in frame rate and significant improvement in graphic performance. However, it should be noted that GPU performance will be lower than Core i 7-5775 C of Broadwell-K with Core i7-6700 K with Iris Pro Graphics 6200.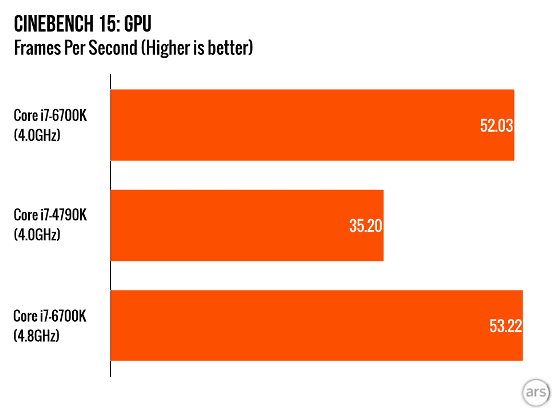 3D MarkThen it is like this.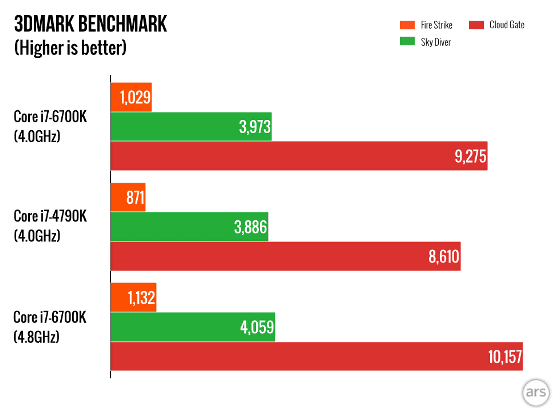 However, in the result of 3DMark's ICE STORM it does not reach Core i7-4790K.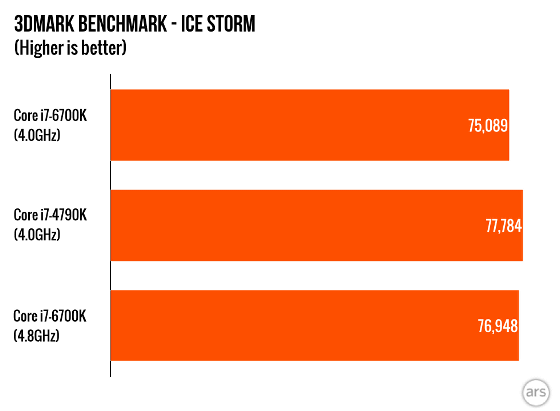 tomb Raiderbenchmark.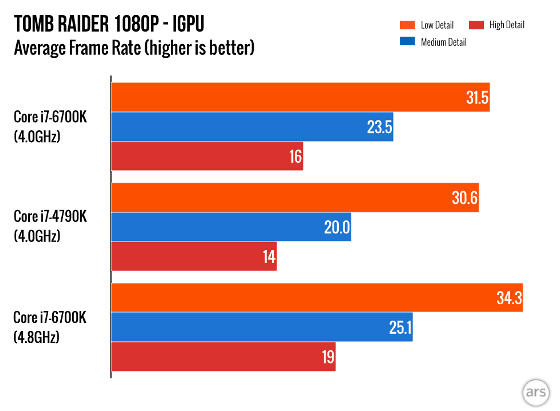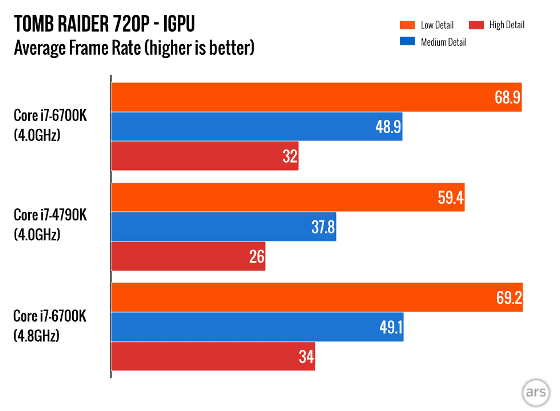 Bioshock infiniteThen, you can check reliable performance improvement.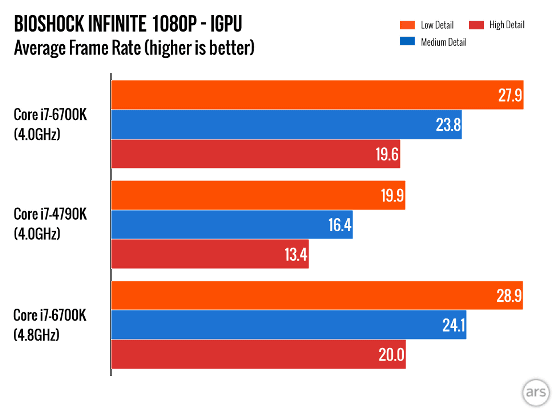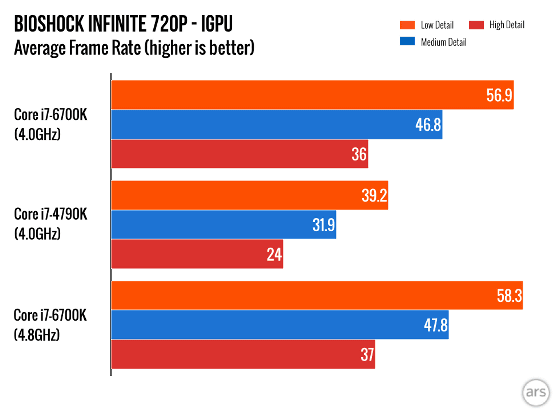 If you use GTX 970 for the graphics board, the CPU bottleneck almost disappears and the performance is side by side.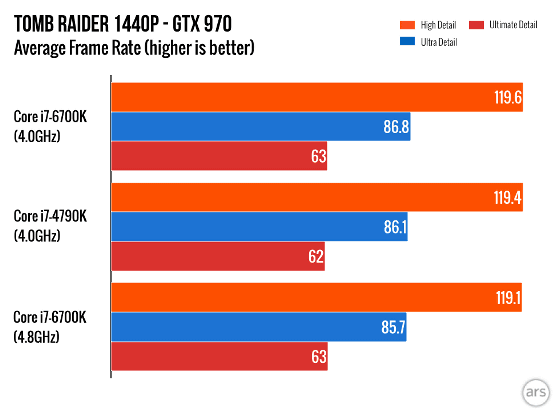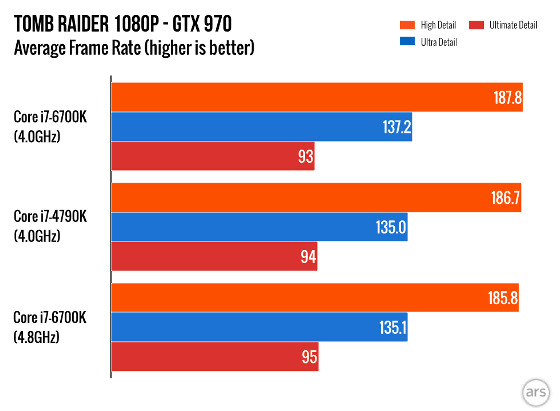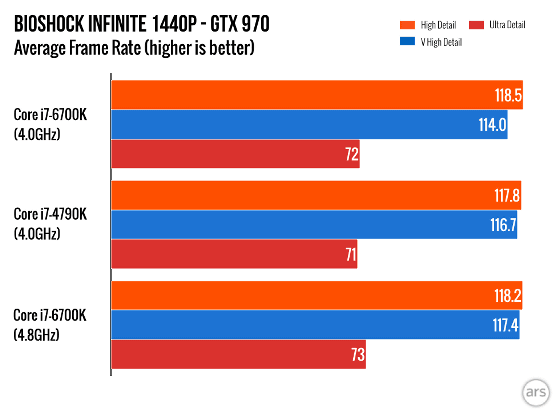 In performance comparison of DDR 4 memory, HandBrake encode time is measured. The reliable encode speed increase associated with memory OC is obvious.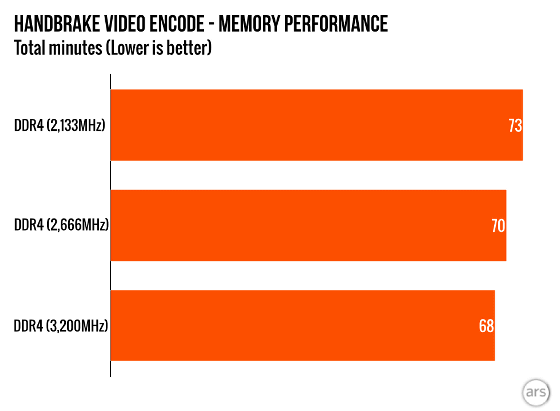 With the M.2 standard SSD speed check, we were able to confirm the dramatic speed improvement of the M.2 slot that can utilize the PCI Express 3.0 lane.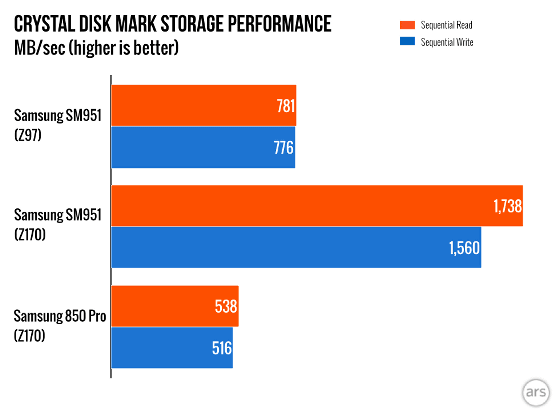 Ars Technica also checked the OC performance of Core i7-6700K and confirmed stable operation at 4.8 GHz (rated ratio of 20%). However, at 5 GHz, although it succeeded in starting Windows 8.1, it freezes during OS operation, and at 4.9 GHzPrime 95It seems that he could not finish the race.

Although the performance improvement of the sixth generation Intel Core processor "Skylake-S" is small, although the performance improvement of the CPU itself is small, the performance such as high-speed DDR 4 memory and compatibility with PCI Express 3.0 is greatly improved, so the overall performance of PC It seems to say that it is surely improving.