It becomes like this when the female character of the game which is far from reality is made realistic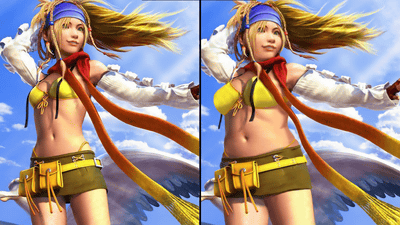 With the improved performance of GPUs for game engines, PCs and game consoles, the graphics of the game have continued to grow as beautiful as they would appear in real life. While some game studios use ultra-realistic lighting technology to describe even the natural movement of the clouds, 'the female character appearing in the game has a different shape from reality,' a variety of games An attempt has been made to seek an accurate digital representation of the female character of in the American women's average measurements and depicted in Photoshop.

Video game characters with realistic body types

http://www.bulimia.com/examine/video-games-realistic-body-types/
◆ Grand Theft Auto V Bikini Girl
A blonde woman in a red bikini making a peace sign with a smartphone in one hand is known as the Grand Theft Auto V trademark. The left side is the figure of the woman used in the game, and the right side is the realistic figure. A sexy bikini girl like 'Bon Cu Bon' has become a whip.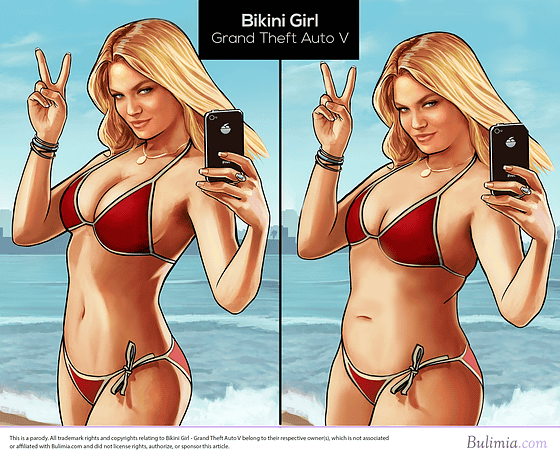 ◆
Christie Monteiro of
Tekken 5
Christi Monteiro, who manipulates the capoeira, has a vague outline of the face when it comes to a general figure, and while it was chubby on the whole, it feels like the chest has become slightly smaller.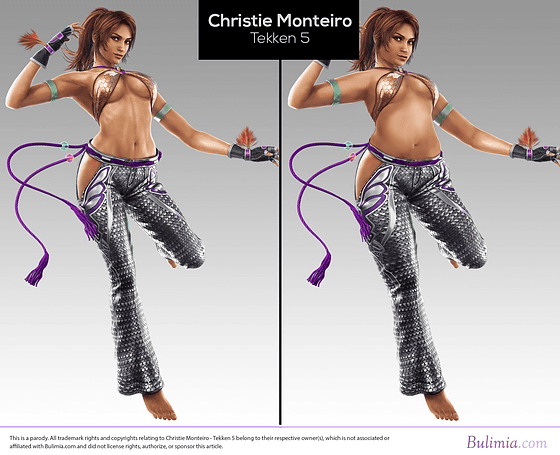 ◆
Halo
's female artificial intelligence Cortana
The female-type artificial intelligence Cortana that appears in the FPS game Halo is depicted in the appearance of a slender-shaped female. It is unclear whether it is necessary to apply the average measurement value of a general human woman to artificial intelligence, but after the correction, it is a sloppy impression.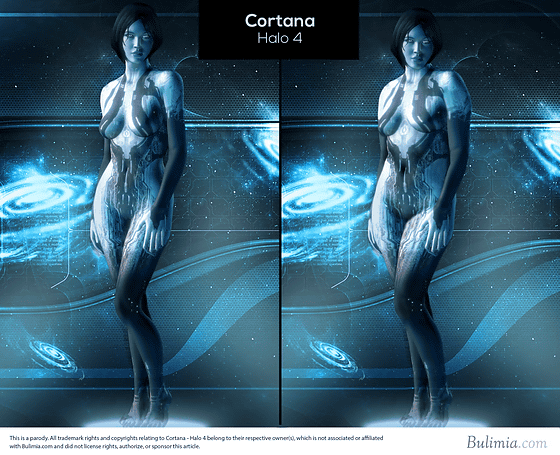 Elena Douglas
of DEAD OR ALIVE 5
Speaking of DEAD OR ALIVE, it is known as a game in which a beautiful and big-hearted female character is pushed to the front. Elena, who is a French woman and fights with a fist method called Kakekake, is also a super-slim and full-bodied bust, but when it is realistic it becomes a pant in a costume, and the lower body becomes an easy-on-type body with a double waist You are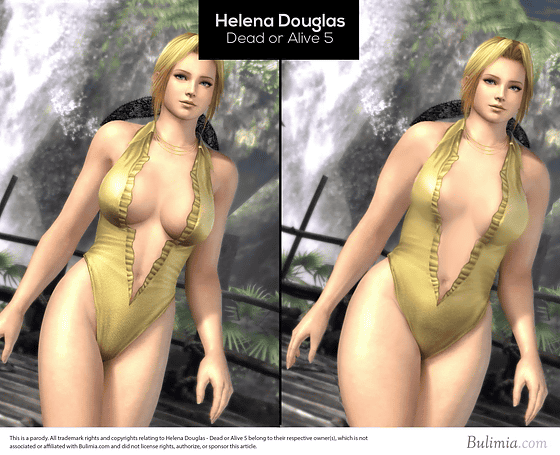 ◆ Luc of Final Fantasy X-2
A backpack of energetic girl characters who formed the Sphere Hunter Gull Group. There is a quick image, but it is unlikely to be able to expect agile movements in a truly realistic and realistic figure.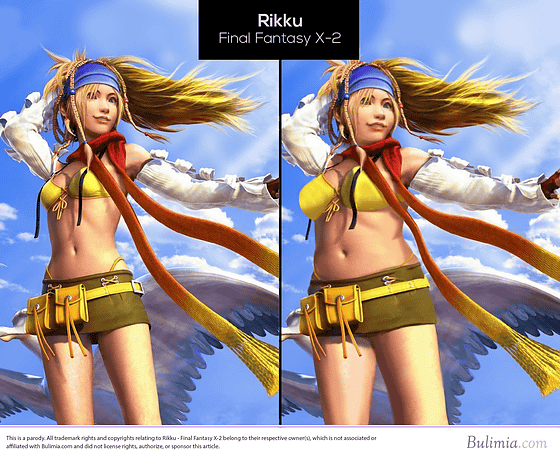 ◆
Tomb Raider:
Lara Croft
of Angel of Darkness
Lala Croft, a female adventurer familiar with Tomb Raider. The waist is so narrow that it seems to be broken in the game, but after correction, it has a shape that you can often see well.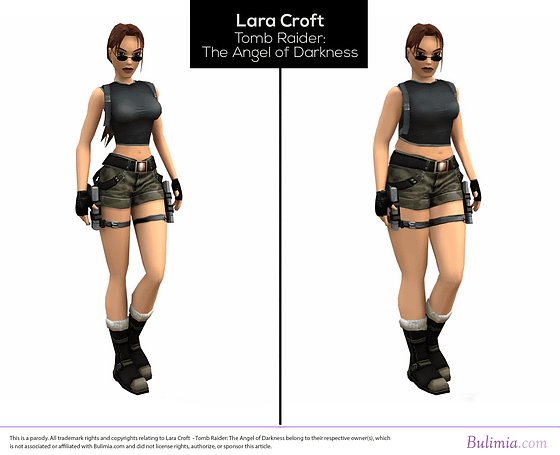 ◆
Naval of Ocarina
of the
Legend of Zelda
It is a woman of the desert people Gerud who makes a living of a thief, and a nice buddy setting among the Gerds. It is finished without much discomfort even if it applies general average measurement value.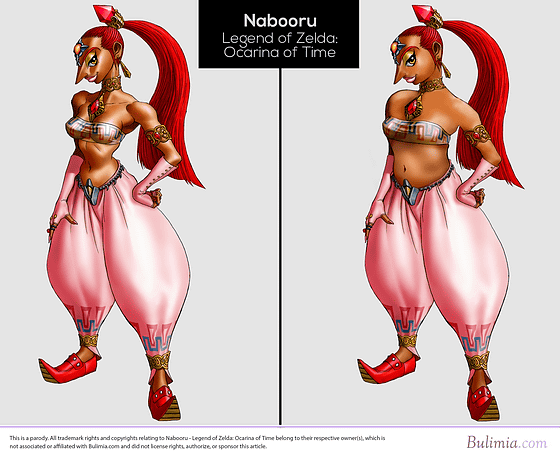 ◆ Sonia Blade of
Mortal Combat vs. DC Universe
A female character acting as a lieutenant to US special forces. As a soldier, I feel that it would be better if I had been so crazy.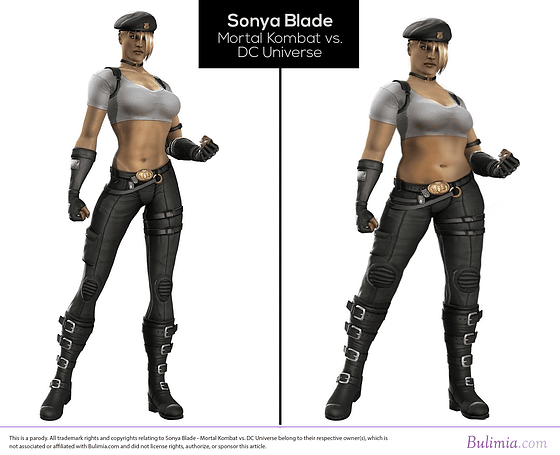 ◆ Jade of
Mortal Kombat 2
It was an assassin who manipulates stick art, and the high leg condition was a sexy costume, but after correction it is rather like a pro wrestler.


◆ Tifa Lockhart of
Dissidia 012 FINAL FANTASY
The last is Tifa who is one of the heroines. Although it is a female fighter who beats a monster violently in contradiction to a profound character and a slender figure, if it is a general figure, it seems to be able to leave the battle in peace.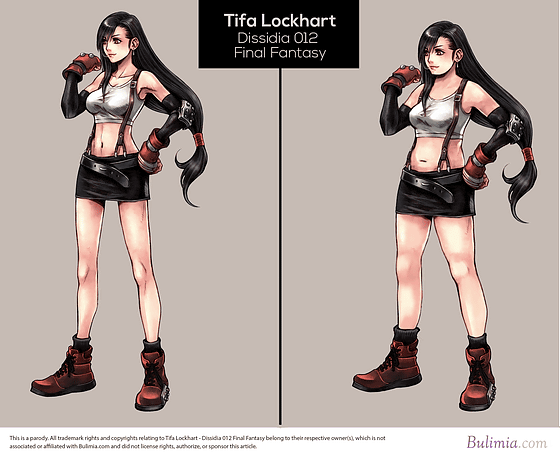 in Game, Posted by darkhorse_log