Items that jumped out of the science fiction world called "Strengthened Exoskeleton Powered Suit" finally released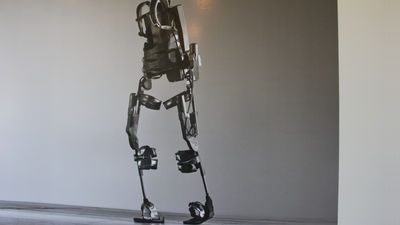 By wearing by humans, it is possible to strengthen the power and mobility that the person inherently has "Powered suit(Reinforcing suit and robot suit,Strong ExoskeletonIn addition, the device called 'SF novel' published in 1959Space Warrior"It is an imaginary equipment that appeared in the idea that greatly influenced SF work after that. Such strengthened exoskeleton is being developed in the real world "Ekso Bionics"News MediaArs TechnicaWe are exploring the latest strengthening exoskeleton circumstances etc. by interviewing.

This magic exoskeleton for industrial workers is the future-we know, we wore one | Ars Technica
http://arstechnica.com/business/2015/07/why-you-might-be-seeing-mechanical-exoskeletons-on-construction-sites-soon/

Ars Tries an Ekso Exoskeleton


This is the reinforced exoskeleton "Ekso Works" which Ekso Bionics is currently developing. It is a reinforced exoskeleton which is assumed to be used at construction sites and construction sites.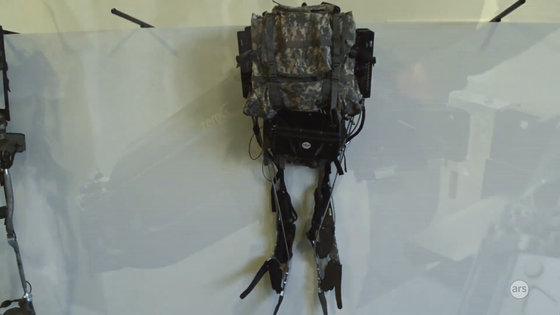 The appearance looks like this, making it easier than imagining just to extend the metal frame from the feet to the waist.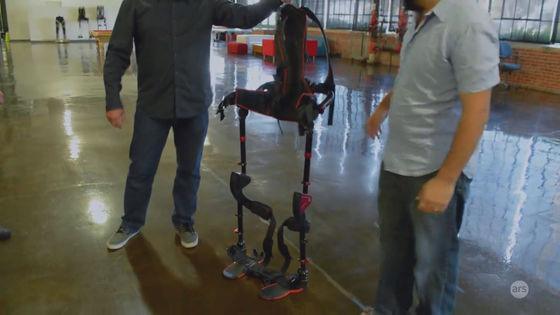 Supporters and metal frames that fit the waist part.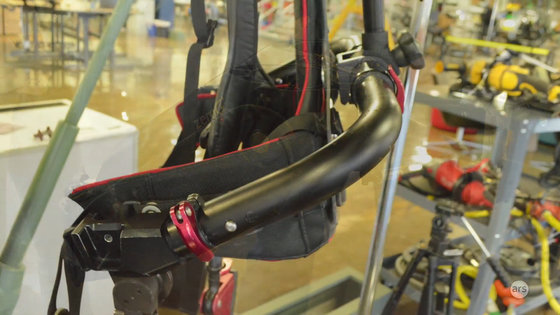 When wearing it is OK to ride on as it is OK.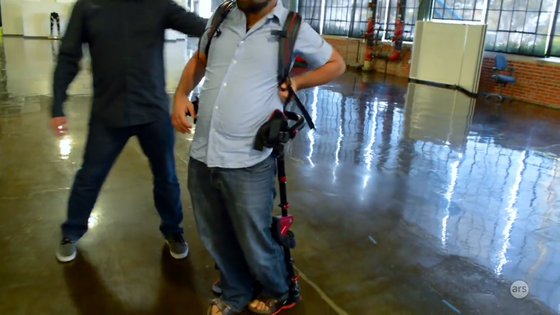 Installation is completed only by this.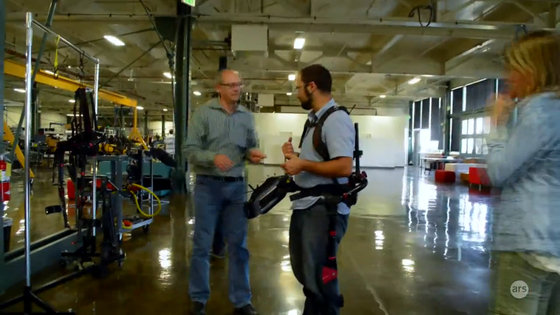 In order to ascertain how much power the "Ekso Works" demonstrates, we have about 18 kg of polishing machine (yellow object) and a weight (silver object) to prevent it from falling forward even if we have a polishing machine Attached to the part.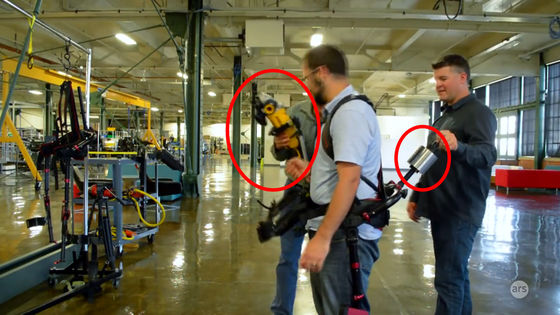 I have a polishing machine in my hand.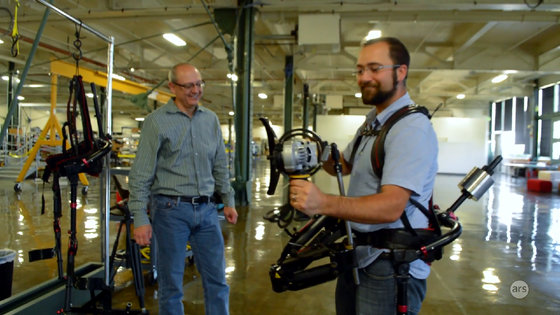 We have lifted the polishing machine about 18 kg lightly, thanks to the support of the auxiliary arm extending from the waist part. About this auxiliary arm "Ars Technica's writer says" It worked incredibly smoothly, I tried to move it in every direction, but I did not feel any hooks and the like, "he says.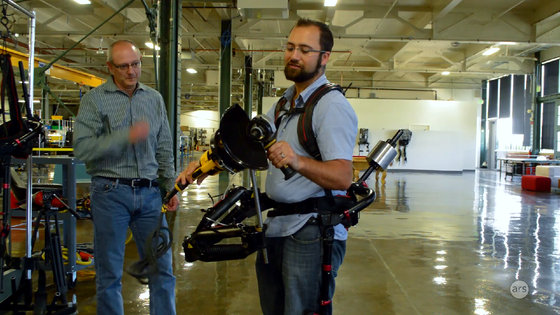 So I start walking with "Ekso Works" wearing. "Ekso Works" seems to support knee raising and lowering and movement around the waist, it is also possible to jump normally while wearing. However, it seems that walking was a little difficult, and some practice seems necessary.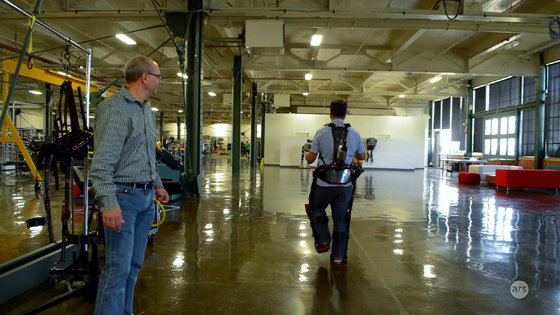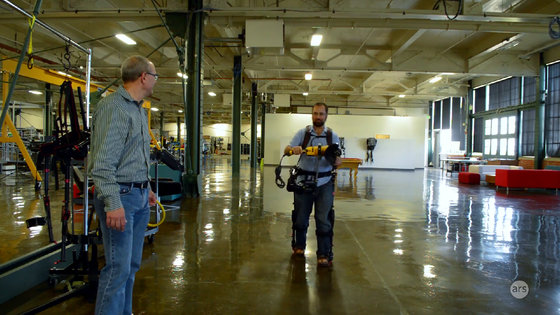 Ars Technica's writer wearing a reinforced exoskeleton and walking with a polishing machine of about 18 kg said, "If it is a magical armor, if you have a polishing machine of about 18 kg if you wear it as if you are weightless I felt little weight. " You can also see the surprising color well from its expression. Even more surprisingly, it seems that "Ekso Works" does not have any batteries and so on.



Ekso Bionics ten years ago at the University of California BerkeleyBerkeley Robotics & Human Engineering LaboratoryIt was a company that was born as a derivative of the research which was done in. We developed the reinforced exoskeleton "Human Universal Load Carrier (HULC)" designed by the US Department of Defense for soldiers, and in 2009 we have entered into a license agreement with Lockheed Martin on HULC technology. Furthermore, in 2010, we will announce a reinforced exoskeleton "eLEGS" that will allow people with legs who are usually wheelchair users to walk on standing, and in 2012 they will become the prototype of "Ekso Works" Ekso "announced.

Arcadis, a construction consultant in 2013, has released a report that "the world's construction industry output will rise by 70% by 2025, reaching 15 trillion dollars (about 1800 trillion yen)" I will. According to this report, the urban population of the world is expected to increase by 2 billion people by the year 2050, and changes in urban structure will be required due to population concentration in cities. At such a timing, it is the reinforced exoskeleton that it becomes possible to support the construction workers with skilled skills to continue working in the field even if they get older. In anticipation of such a future, Ekso Bionics is developing a reinforced exoskeleton that can be used at construction sites and construction sites.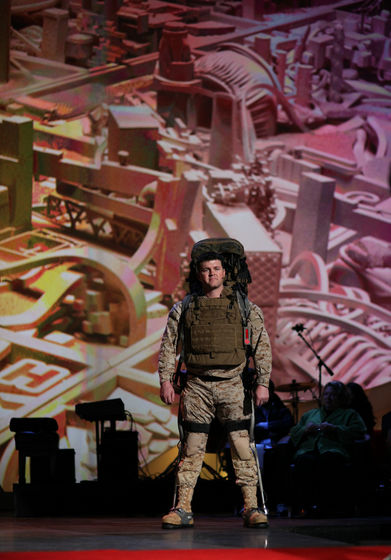 BySteve Jurvetson

Ars Technica's writer was not able to tell whether it was something like a reinforced exoskeleton really needed at actual construction sites,The Association of Union ConstructorsMr. Wayne Creasap of Mr. Wayne explains about the strengthened exoskeleton and asks whether such things are being sought at actual construction sites and so on.

Mr. Wayne says, "It is very nice, I think that it has useful advantages even if it is used on the actual site.I am very interested in how this technology develops as an industry." However, "Construction workers are not wearing reinforced exoskeleton, they took injuries due to contact with reinforced exoskeleton" and "Cost required for maintenance" are actually strengthened for construction work We are worried about the problems that might arise when skeletons are introduced. However, ultimately, for the civil engineering and construction industry, it says that the strengthening exoskeleton which improves work efficiency can be very useful.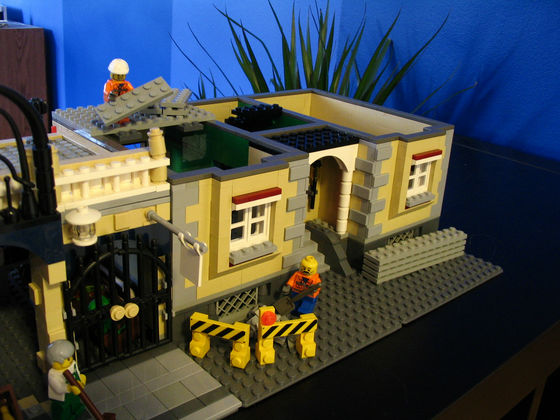 ByLoozrboy

Ekso Bionics is planning to release "Ekso Works" in 2016, but the enhanced exoskeleton called "FORTIS" under development based on the technology Lockheed Martin licensed from Ekso Bionics is the same 2016 It is scheduled to be released in the year. Lockheed Martin's FORTIS is a reinforced exoskeleton that is better suited for working in a bad environment compared to "Ekso Works" for workers who use heavy work tools such as riveters, grinders, sandblasters, drills It is made, and it is assumed that it is intended to be used at construction sites and construction sites like "Ekso Works".

In addition, Ekso Bionics' revenue for the first quarter of 2015 was $ 1.7 million (about 200 million yen), and the revenue has increased by 600 thousand dollars (about 74 million yen) compared with the same period last year. However, at the present time Ekso Bionics has generated losses beyond revenue,Ladenburg Thalmann Financial ServicesAccording to analysts, "Ekso Bionics will benefit by the end of 2018". Although it is Ekso Bionics continuing the deficit at the moment, the analyst evaluates the high potential and is described as "jewel".

"Ekso Works", an enhanced exoskeleton made by Ekso Bionics, is scheduled to be sold for tens of thousands of dollars (millions of yen) in 2016, and Jeffrey Cohen, securities analyst, sells the selling price 1 We estimate it is about 2 million dollars (about 1.47 million yen).