"C CHANNEL" that various girls convey a report on food and travel destination in a one-minute movie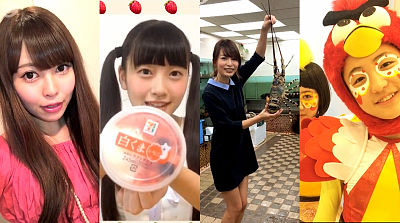 He is former CEO of LINERyo MorikawaA service that girls deliver a variety of information such as food, travel, fashion, culture, etc. at a tempo well with a movie of about 1 minute, which he launched "C CHANNEL"is.

C CHANNEL | Movie fashion magazine for girls
http://www.cchan.tv/

The top page looks something like this. Card type contents using portrait GIF animation are lined up in a row.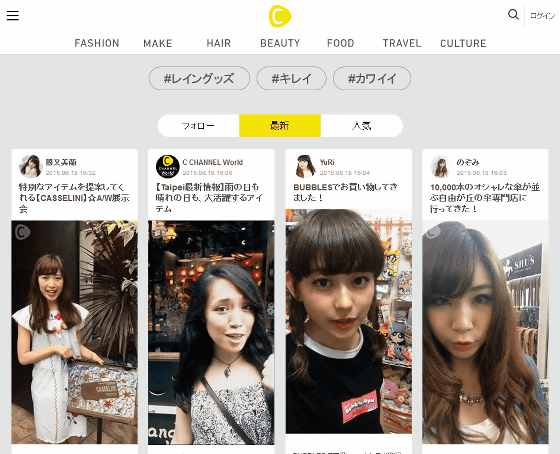 For example, if you look at the content of "Nami Yamada's KAWAii Antenna" Soft Parlor of Senponomatsu Ranch "", I went to the Senbonmatsu Ranch in Nasushiobara with my family "under the GIF animation! There are lots of different animals such as goats, It was very cute ♪ There is a very tasty soft cream shop in it, so I will introduce it! "And a heart showing that 10 favorites have been done are displayed. I will click on it.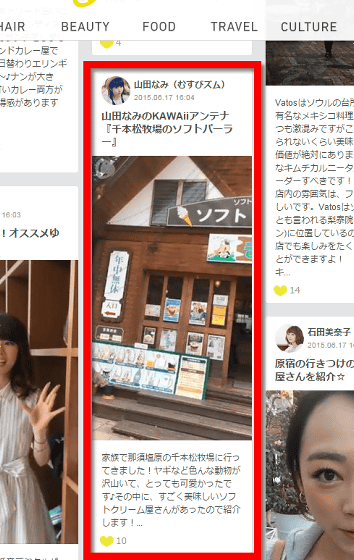 The introduction page looks something like this. Vertical movies on the left side of the screen, tags and introductions on the right are written. The movie will be played automatically when you open the page.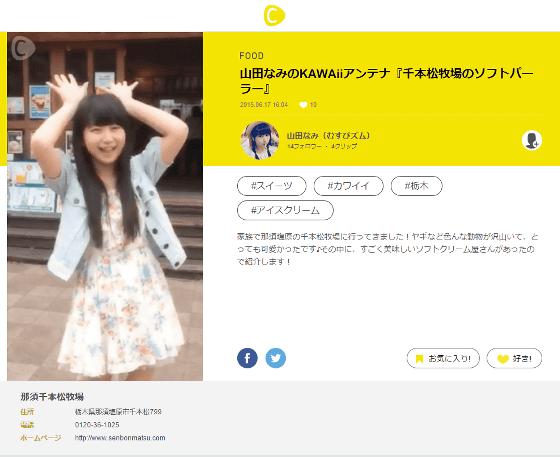 Below is the address, telephone number, homepage of the original Nasu Senbonmatsu ranch was stated. You can also add comments if you log in, and comments such as "cute" and "how many antennas are increasing?" Were already written.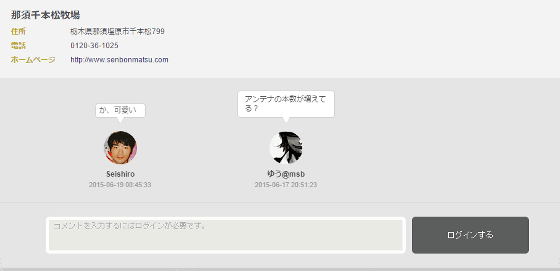 The movie is one minute in all. In the case of Nasu Senbonmatsu Ranch, the appearance of the ice cream department, the appearance and comments on eating ice cream, etc. are photographed / edited by professional hands and summarized.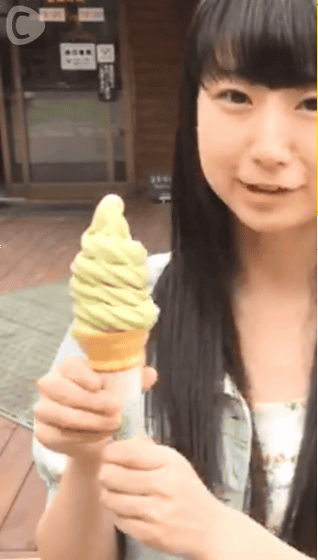 Since there are play menu, volume adjustment, screen enlargement button etc. at the bottom of the movie, it is possible to skip a part and reproduce anxious points many times.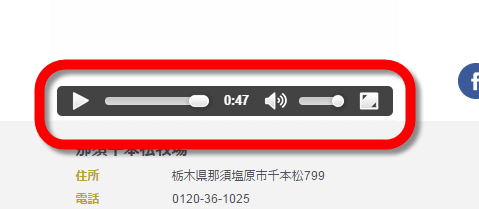 Talent · models called clippers are reporting at C CHANNEL. When I click on the icon of Yamada Nami sitting under the title ......




I was able to see the list of contents Yamada Nami reported. If you follow the favorite clipper, you can filter only the posts of the clipper following from the top page and view it.



Also, when you click on "My favorites!", I was prompted to log in and click "OK".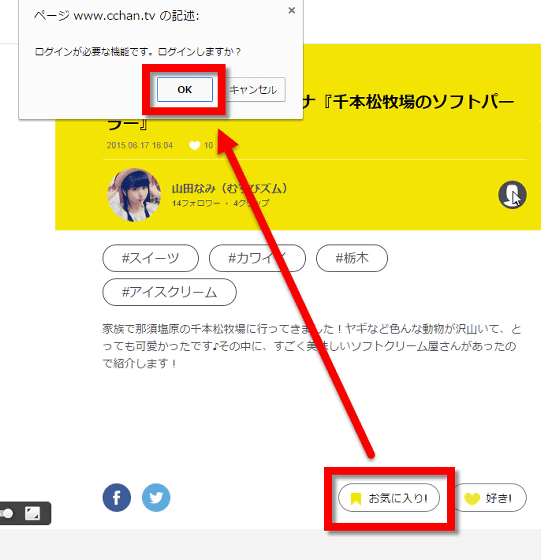 In addition to registering as a new member, you can log in on Facebook · Twitter. I will try logging in using Facebook this time.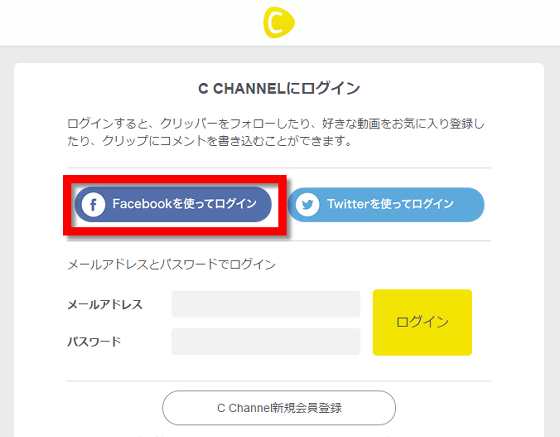 "Cchanweb will receive the following information, your public profile" will be displayed and click "OK". Login is complete.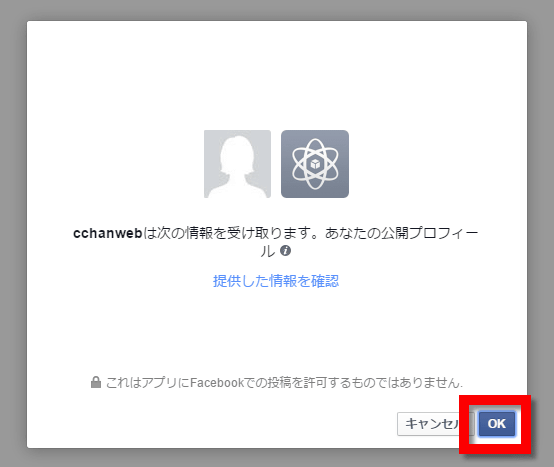 The page which was opened up to the last is automatically displayed, but since the menu icon is added at the upper right of the screen, click on "My Page" in the opened arrow icon.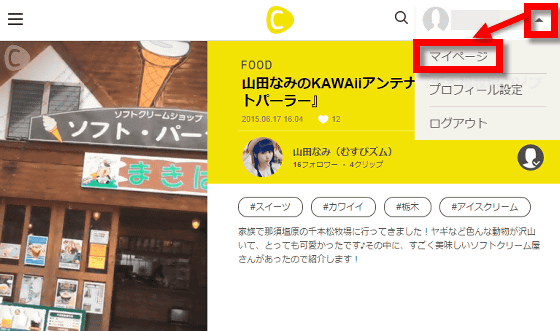 You can save your favorite content here.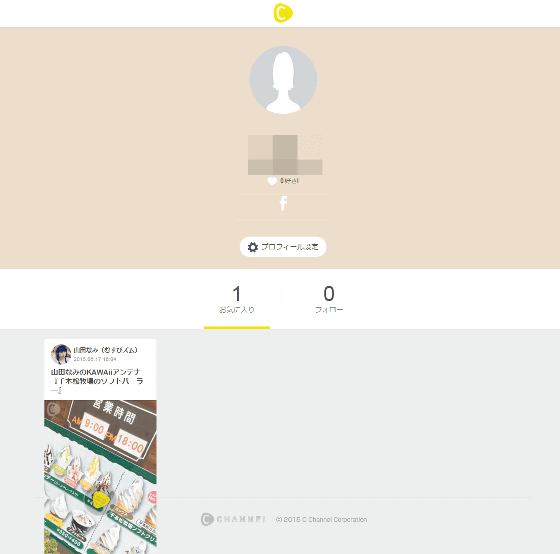 Furthermore, tags such as "FASHION", "MAKE", "HAIR", "BEAUTY", "FOOD", "TRAVEL", "CULTURE", and "# Rain goods" "# Kirei" "# Kawaii" are displayed at the top of the top page It has been made available so that you can access it cakually in the category of your interest. Below the tag, in addition to "follow" to filter only the posts of the clipper that I follow, there were also filters like "latest" and "popular".




For example, in the case of "TRAVEL", you can see a movie reporting a restaurant in the harbor city of Hong Kong as follows. From a girl holding a big shrimp in the kitchen ......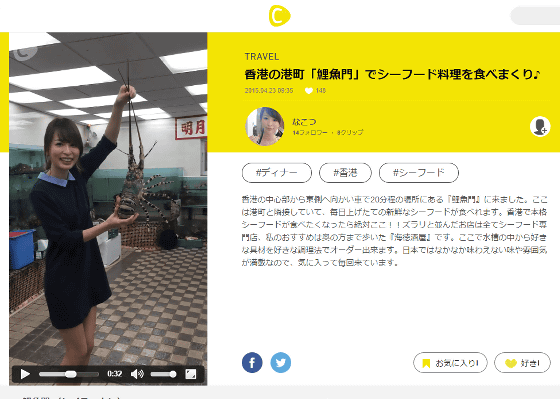 It looks tasty.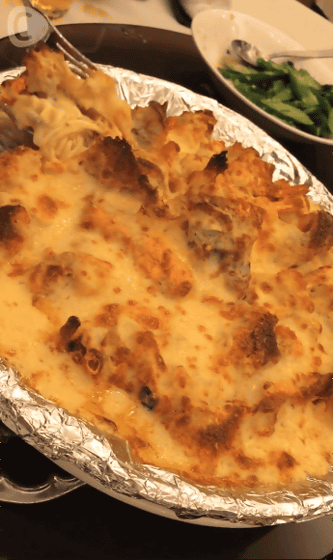 It is only 1 minute to the state after meals, but IT and video professionals are editing, so you can see that the tempo often develops the video and contains a considerable amount of information.



Even content that has a limit to tell you that it is a photograph, such as how to make makeup and how to make a hairstyle, will be developed in an easy-to-understand manner. Also, although there are many unedited movies and others uploaded on YouTube, there is a moment when you think that it is redundant and think that "I want to see the main as soon as it does not matter", but C CHANNEL In case of being cut out only the main points for clarity, easy to see is also outstanding.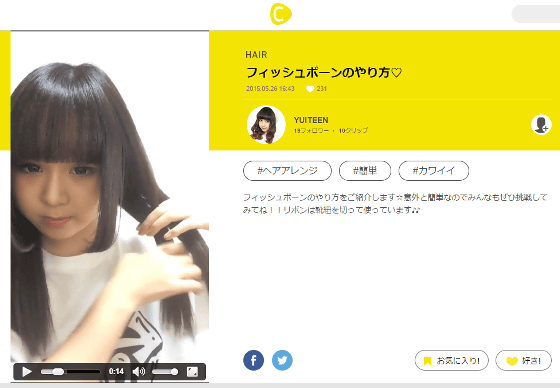 C CHANNEL is supported by staff such as clipper, photographer, video editor, engineer, etc., and many experienced video production such as television and movies, so it is different from YouTube which only streams movies taken, close to TV contents Edited images can be provided.

Mr. Morikawa who started C CHANNEL said, "I'd like to make a global media because I have not changed the mass media yet, so I'd like to challenge making a big flow in that change. There are no cases of successful Japanese media overseas Because I want to make a company like Time Warner over 10 years, "TechCrunchCurrently it is a web service only, but in the future it is planned to develop smartphone applications and create content targeting men as well as women. From June 18, we started distributing videos from five overseas locations (New York, Seoul, Taipei, Bangkok, Singapore), targeting a wider market by strengthening not only Japanese but also English distribution It seems to go.

C CHANNEL World | C CHANNEL
http://www.cchan.tv/clipper/world/