A part of the function of "iOS 9" planned to be installed on the large screen 12 inch iPad Pro is revealed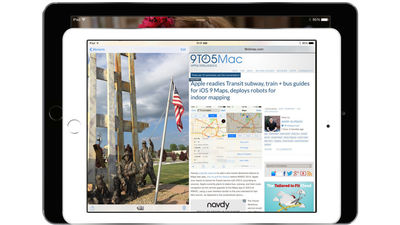 Although the iPad has evolved little by little in five years since its first appearance in 2010, Apple is reportedly planning to make a major update of iPad in both software and hardware within 2015, and 12 inches Known as "large display"IPad ProNext-generation OS optimized for "IOS 9"Is expected to have a function to display multiple applications simultaneously and a multi-user login function.

Future of iPad: Dual-app viewing mode, then J98 / J99 'iPad Pros,' multi-user support | 9to5Mac
http://9to5mac.com/2015/05/21/future-of-ipad-dual-app-viewing-mode-then-j99-ipad-pro-multi-user-support/

You can see the demonstration movie in screen shrink mode to display two applications at the same time from the following.

UISimulatedApplicationResizeGestureEnabled - YouTube


Safari is displayed on the demo screen, and two gray circles showing two finger touch are lining up.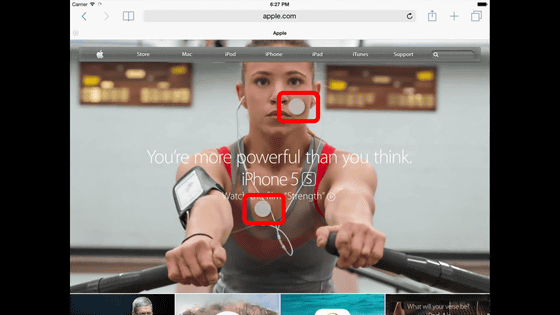 Swipe left with touching 2 fingers ......



The screen of Safari was brought to the left. It seems that the application screen can be reduced to about a third of the display size. In "screen division mode" it is also possible to display different applications or display the same applications side by side. For example, it is suggested to use two tabs of Safari and arrange two document files.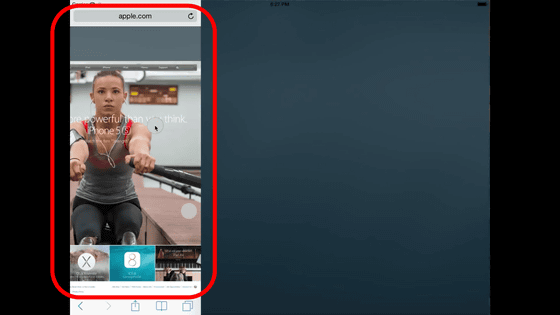 When you press the share button, it is displayed as follows.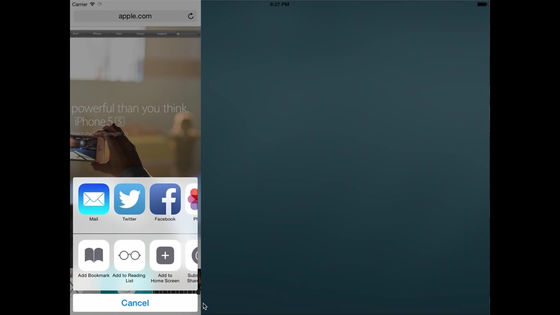 Then swipe to the right with two fingers.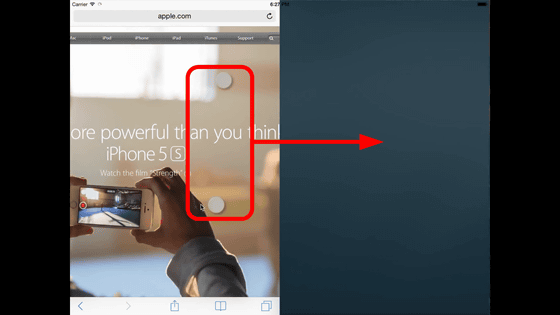 Then, I returned to the display on the full screen.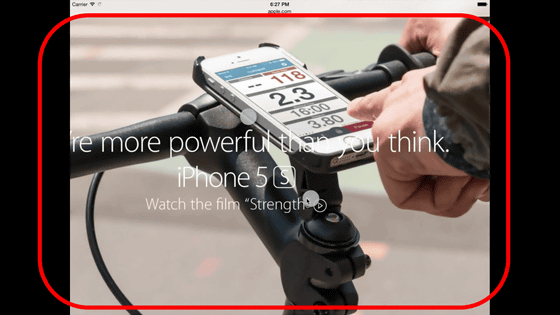 The share button at full screen display looks something like this. "Screen split mode" using this screen reduction function was planned to be installed on the iPad Air as a function of iOS 8 in 2014, but implementation has not been put into practical use and implementation has been withdrawn as soon as possible June 2015WWDCIt will be officially announced as a function of iOS 9 at.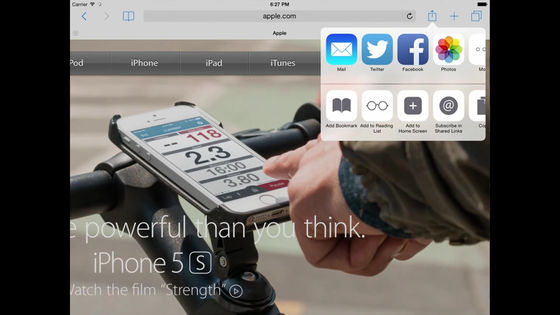 In addition, iOS 9 is reported to be equipped with "multi-user function" that can share iPad with multiple user IDs. Although it seems that there is a possibility that it may not be in time for the iOS 9.0 release this autumn, Apple thinks that it is an indispensable update for companies and educational sites, Apple intends to release multiuser functions as soon as possible, and iOS 9.1 or 9.2 in late 2015 It is seen as being added at the time of release.

On the hardware side, Apple is testing the 12-inch version of the iPad Air 2, which is also known as "iPad Pro". It is clear that the code name at the time of development is "J98" "J99" (two kinds of Wi-Fi model and Wi-Fi + Cellular model). Although the release date is still unknown, the hardware part has been completed, currently it is being adjusted according to the large screen, considering redesigning the pre-installed application including Siri and the notification center to the huge display specification It is said that it is.

Summary of previous information on the strongest tablet "iPad Pro" with a large screen exceeding 12 inches - GIGAZINE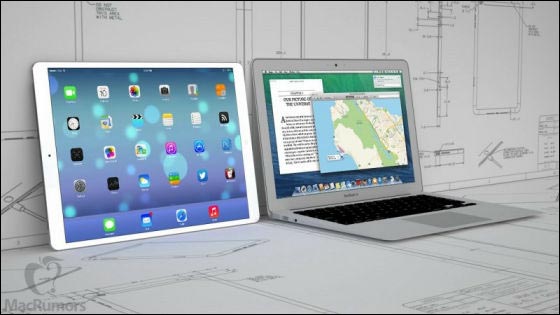 WWDC in 2015 will be scheduled to take place in Moscone West, San Francisco from 8th to 12th local time.

WWDC - Apple Developer
https://developer.apple.com/wwdc/