It turned out that that Goldman Sachs invested in Bitcoin related startup companies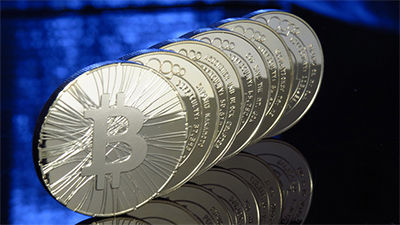 ByAntana

It is one of the world's largest investment banksGoldman SachsAnd the investment group, including the virtual currency "Bitcoin (bit coin)Related start-up company "Circle Internet Financial(Circle) "that it was investing a total of 50 million dollars (about 6 billion yen). This is thought to be a manifestation of the movement that recognizes certain reliability to Bitcoin while pros and cons for Bitcoin are still swirling.

Goldman Sachs invests in bitcoin start-up Circle Internet Financial - LA Times
http://www.latimes.com/business/la-fi-goldman-sachs-bitcoin-20150430-story.html

This investment was made by Goldman Sachs and China's investment firmIDG Capital PartnersInvestment group by Lee. Jeremy Allaire, Circle's founder, said that this investment was doneblog"I am delighted to tie the force with the new strategic investor.With this unique investment unrivaled, with a very strong possibility and capital, we are building a new type of consumer finance company that we aim for It will go forward. " Circle also succeeded in financing $ 2.6 million (about 2.5 billion yen) from investors in 2013 and 2014.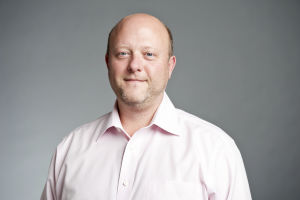 Circle has Bitcoin's wallet function, settlement function, etc. It is a service that makes it possible to make settlement with Bitcoin and US dollar using mobile terminals etc. Users can manage their funds with either their Bitcoin or US dollars in their own account. In the case of managing funds at Bitcoin, exchange will be automatically made from US dollar to Bitcoin, and US dollar funds will beFederal Deposit Insurance Corporation(FDIC:Federal Deposit Insurance Corporation) Deposit protection is to be carried out.

Allaire CEOs about the merits of the service offered by the company "Our customers with US dollar accounts can enjoy all the benefits of digital currency: instantly to any place in the world , It will be possible to make a highly safe remittance free of charge. "

Circle 's services are also covered on the company' s Japanese website.

Circle Internet Financial | Bitcoin Wallet, Bitcoin Settlement, Bitcoin Insurance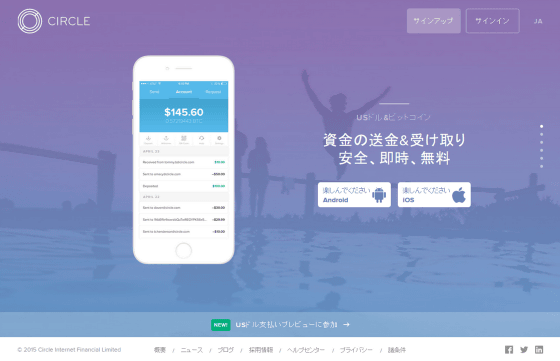 For investment by Goldman Sachs, it is a non-profit research instituteCoin CenterJerry Brito, who is headed by Jerry Brito, said, "This shows that Silicon Valley engineers have a big influence and the ability to change many industries," and furthermore, like "Goldman Sachs" Wall Street finally began to recognize the reality ".

The point here is that although Goldman Sachs is not directly investing in Bitcoin, it is said to be investing in related companies. Investing large funds is considered a big event in Bitcoin's world, as it shows that it allows companies related to Bitcoin to afford certain credibility commensurate with it.

Regarding Bitcoin, in 2014A series of fuss by MtGoxThere is a problem including, but in the United StatesA government-approved Bitcoin exchange is bornIt is a stage where it can be said that the situation is changing dynamically, such as to do. In the future it will be interesting to see how the situation surrounding Bitcoin will change.