"JoJo's Bizarre Adventure" Fierce Battle Waits for the 8th Premier Screening Report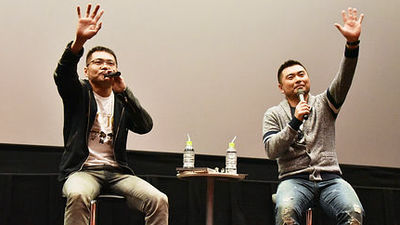 Broadcast from April 2015 "JoJo's Bizarre Adventure Stardust Crusaders Egypt Edition"The 8 th Premiere Screening which the talk show by cast and cast can be enjoyed was held at" Potato Pickle Theater "in New Chitose Airport.

TV anime "JoJo's Bizarre Adventure Stardust Crusaders" Official Site
http://jojo-animation.com/

Domestic terminal building at New Chitose Airport.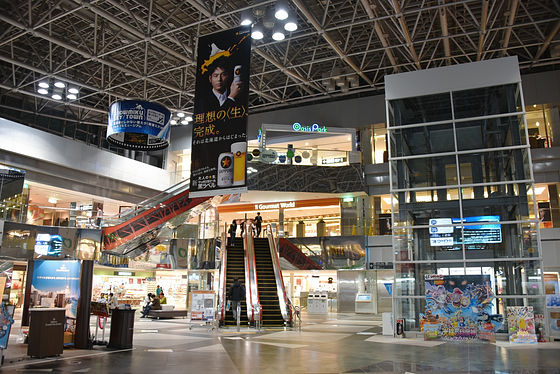 The fourth floor is named "Oasis Park", which includes movie theater "Potato Theater" and New Chitose Airport Hot Springs.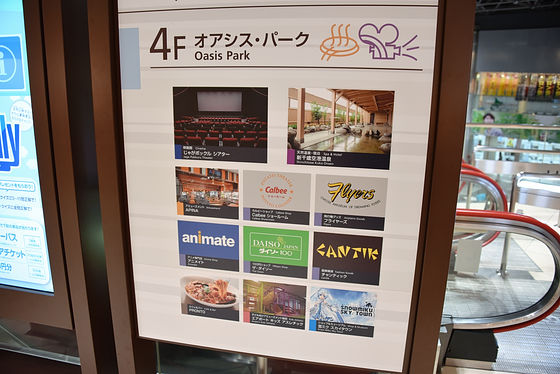 As you go up the escalatorSnow Miku Sky TownI was waiting for you.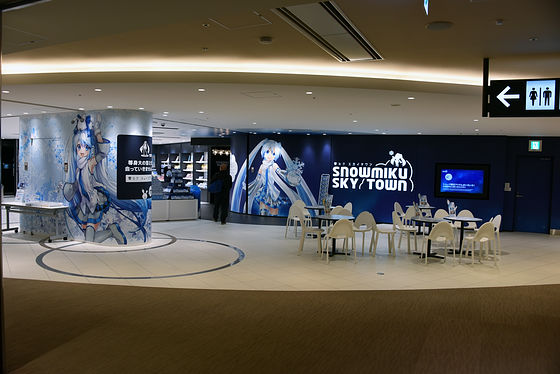 Pokuro Theater is behind it.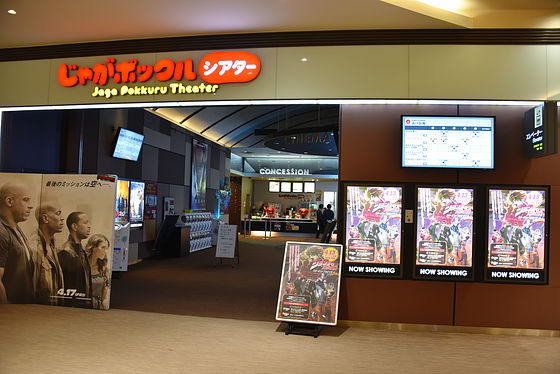 April 13 (Monday) was JoJo one color.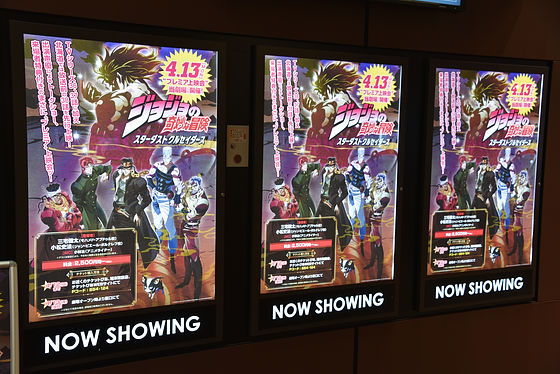 Event MC is an animated writer'sAizu KobayashiMr. Muhammad · Avdol's role as a guestKenta Miyake, Jean Pierre Pornalev roleKomatsu ShisoMr. By the way, the edge between the two of the guests and Hokkaido comes from Sapporo, Mr. Miyake is as much as Jojo "Variety program from Hokkaido with the name of the day of the week includedI love it.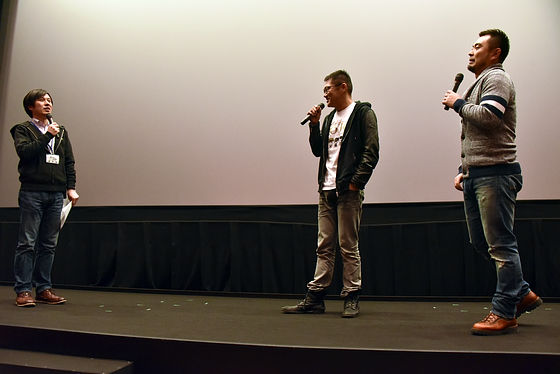 For those who came to the venue, such postcards of Avdol & Pornaref were distributed.

April 13 (Monday) "JoJo's Bizarre Adventure 8th Premiere Screening @ Hokkaido" Ticket On Sale! Guest: Kenta Miyake, Komatsu Shiho! Visitor benefits are limited postcard of Av & amp; Pol!http://t.co/qxwvEfCOeu#jojo_animePic.twitter.com/1HF2buqR2M

- TV anime "JoJo's Bizarre Adventure" Official (@ anime_ jojo)2015, April 6
Mr. Miyake is an appearance at JoJo shirt, Mr. Kobayashi was wearing Jojo Parker, so Ms. Komatsu feeling that he left alone.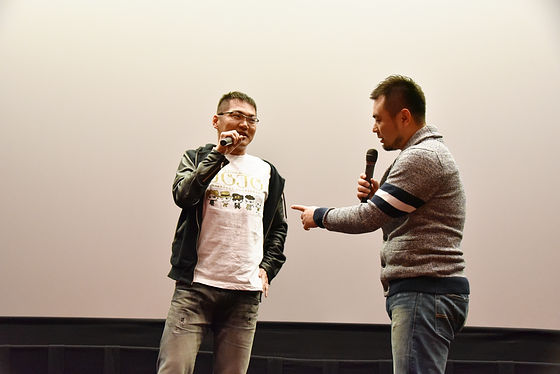 After the opening talk, the 36th episode and the 37th episode, "Hol · Horse and Boingo" before and after edition were screened first. At the beginning of this first part, there is a scene where Horse Horse and DIO talk at the hall, but Miyake of Norinori when it is possible to speak about 2 hours only by DIO here.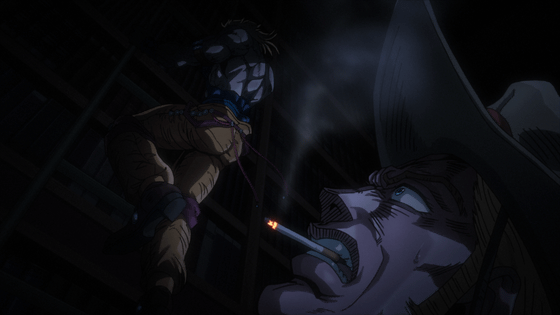 Horse Horse once again decided to fight under DIO chooses Boingo as a new buddy. However, the prophecies of Seto deny "why such a thing?" ...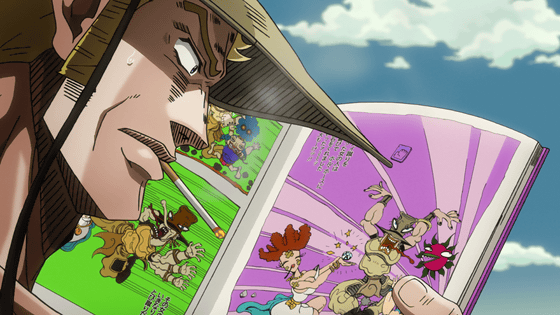 Although the combination seems a lot hard to come, Hol Horse who experienced that the power of Seto genuine is fighting to fight Joe star line according to its prophecy.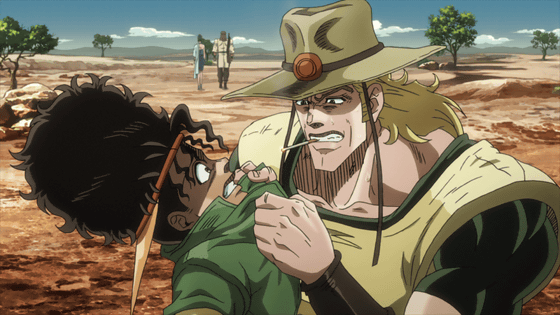 But when I executed that prophecy, I was in the state where there was no escape place behind Pornaref.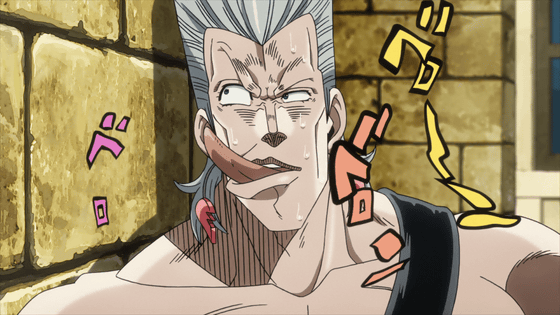 Desperate situation, will it really be as predicted ...? I will be in doubt.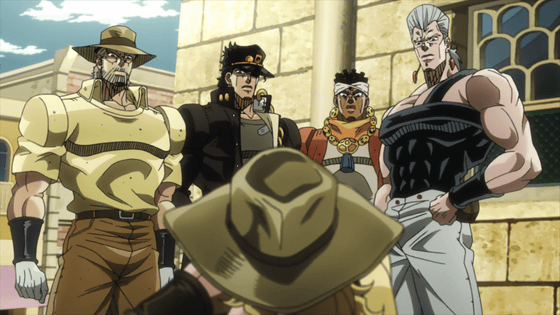 Mr. Komatsu said that he was asked to perform such a performance that the heart rate is higher than the battle scene here. In this episode, Pornaref who plays Mr. Komatsu encounters situations that will not occur when fighting normally, that finger is thrust into the nose in Hol Horse. Actually Mr. Komatsu thrusts his nose into his finger, putting his finger in front from the front just like Horse and Horse would obstruct the microphone, so she revealed that he played like a nose hook It was.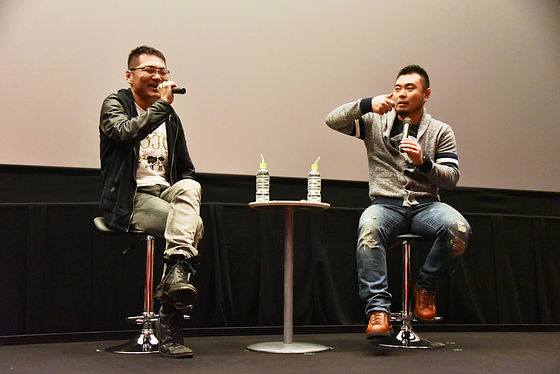 That Hol · Horse fought against Joe star line with J · Gail, caught up in the Enya battle game, this is the third appearance. Because it is only an impressive character, Miyake says that it seems somewhat lonesome to get out of here. I feel I can understand that feeling.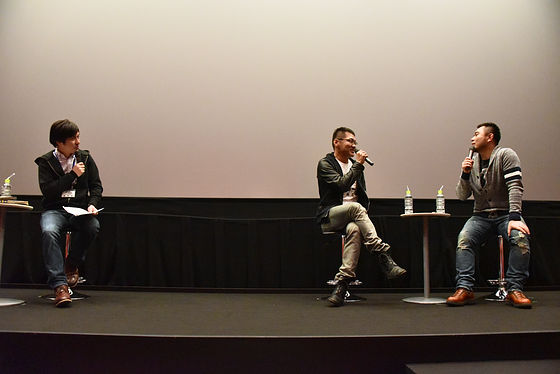 As a character other than Horse and Horse, Miyake called Mariaa played by Takagaki Ayayo. This is because Jojo's scene is full of men with cast and staff, finally Misato Fukuneni of Iggie from the Egyptian edition is added only for the role of barking with the dog, because most of the female characters do not come out Thing. However, such Mariah says "I'm talking about this stuff like that ~~~" ... ....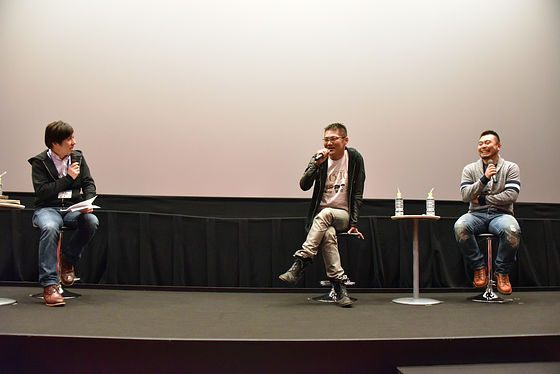 Mr. Komatsu cited the Anubis god. It seems that the possession has destroyed the character named Pornaref once Komatsu created within himself.

Mr. Kobayashi was not an enemy, and he said that he was concerned about who is going down the voice of the small Pornaref. Although that character was initially divided as "Tibinaref" on the script, but the second half was notation of "Pornaref", Mr. Komatsu seems to have been preparing for a moment. At the venue she showed off her voice.

When the talk went up, I went to Hokkaido Preceding Screening 38th episode "Gatekeeper's Pet · Shop No. 1". At this point it is the number of stories that have not yet been broadcasted in MBS and CBC. Because Komatsu was unable to see the broadcast in Tokyo, it was the first viewing at this theater.

Joe star one line which is approaching the mansion of DIO which finally was in the picture. Hayabusa, a pet shop with a gatekeeper in the house.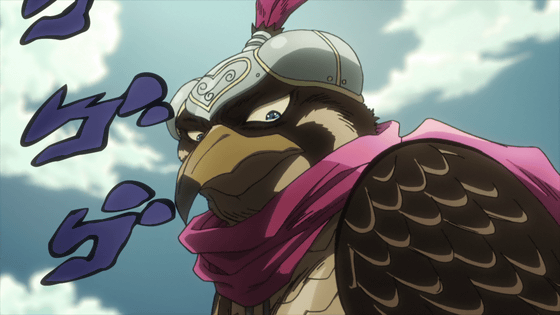 Iggy who approached the coincidence chance irrespective of Joe star. I found it at a pet shop, I pretend to be a stupid dog and escape.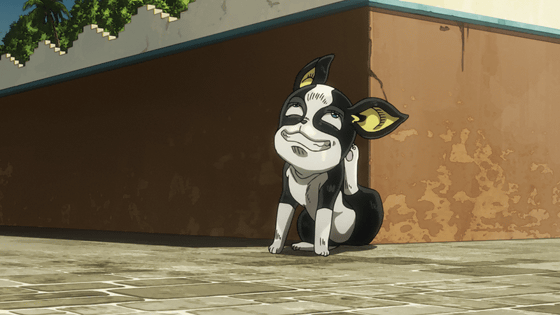 However, in translation, we will actively fight "I can not kill a dog-loving child ... I can not do it!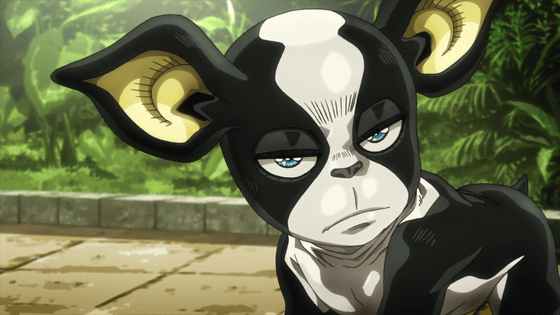 Joseph role · Ishizuka Unsho seems to be very favorite Iggi's line in this episode, and he says that he is dismayed at the scene "Is not she coming out today?"

On the other hand, Saitaro has no lines, it is a time of rest. Even though there were times of rest in the same way in Avdol and Pornaref, Daisuke Ono serving as Seitaro came to the studio despite having no dialogue, sitting on the lobby sofa during the production He seems to have been watching Nikoniko and the site. It seems that Mr. Miyake thinks unintentionally in its appearance, but if the soul appears to be in the form of Seitaro even if there is no speech, it is the power of animator and the studio It is Mr. Ono's power which I came to.

Mr. Ono's personality "JoJo's Bizarre Adventure Stardust Crusaders Ora Rioio"Sound fountain·Hibiki - HiBiKi Radio StationDelivered at the first volume of the radio CD is also on sale. This volume "JoJo's Bizarre Adventure Stardust Crusaders Egypt Edition" BD · DVD Volume 1 is released on April 27. It is packaged with power this time as well.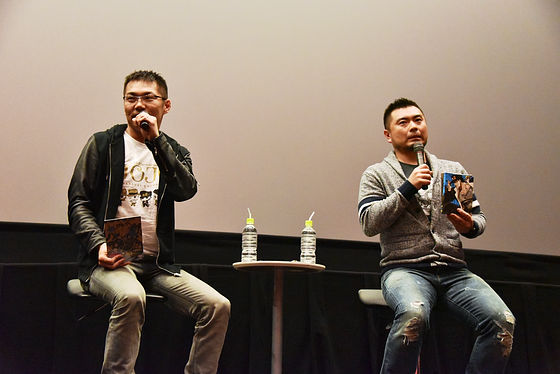 In addition, the event held at Pacifico Yokohama in October 2014 has also been visualized and on sale.



On April 24th (Friday) a new Iggy strap is also released. Mr. Miyake and Mr. Komatsu have it, but it seems that it was small, so it did not seem to the people of the venue.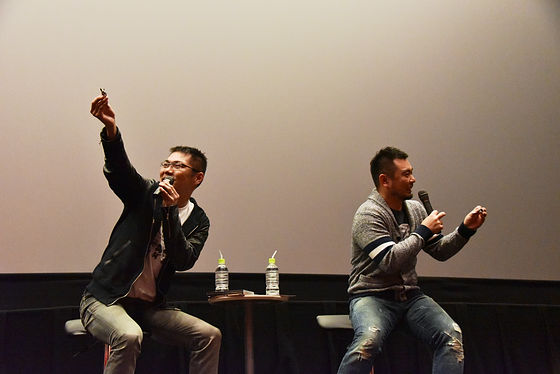 The talk part of the event was delivered by Ustream, but because the radio was unstable,Redelivery from 22 o'clock on Tuesday, April 14It is said to be done.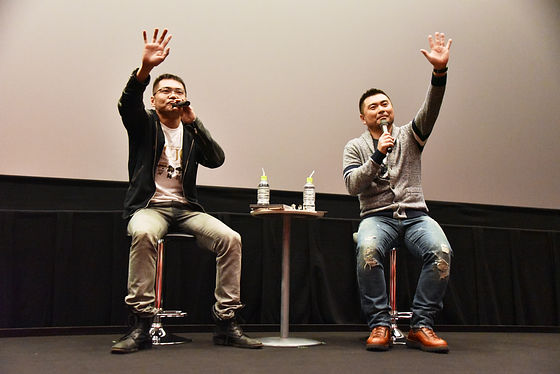 Finally, from the two of us, it seems that it seems a little after defeating six out of the 9 gods, but a comment that I want you to look forward to it is still being received, as a fierce battle is still waiting.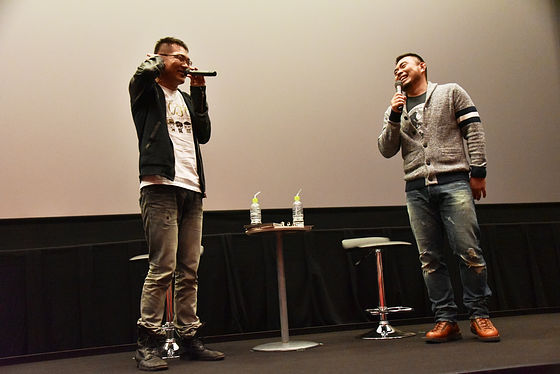 Indeed, although the battle in Egypt finally approached the DIO 's house, we have not entered one step further in the museum, and Joe Star' s line does not see the DIO 's appearance. First of all, what about Iggy in pet shop fight, please look forward to next week.

© Hirohiko Araki & LUCKY LAND COMMUNICATIONS / Shueisha · JoJo's Bizarre Adventure SC Production Committee