Mr. Anno Hideaki of Eva is in charge of general manager / screenwriter of "Godzilla" new series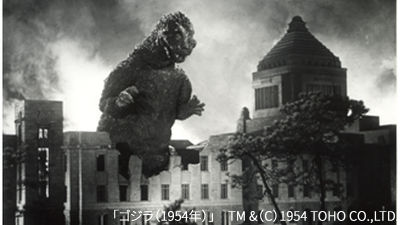 On 8th December 2014TohoAnnounced"Godzilla" New series, It became clear that Mr. Anno Hideaki who worked on "Neon Genesis Evangelion" and "Nadia of the Seas of the Sea" will serve as general director / screenwriter. Director and special director is an ally of Mr. Anno and published in August 2015Attack on TitanMr. Shigeru Higuchi, who will be director at the same time, will also serve concurrently. The top image is the first "Godzilla" of 1954.

Special effects Love! Godzilla's new work is Mr. Anno overall director & screenwriter - Movie: Nikkan Sports
http://www.nikkansports.com/entertainment/news/1454965.html

Hideaki Amano to the Japanese director "Godzilla" general director! "Advance giants" Higuchi Shinji and Tag! - Cinema Today
http://www.cinematoday.jp/page/N0072052

It seems that the information was announced on March 31, but since it was reported on the first day of the sports newspaper on April 1, it is not clear whether April Fools' big big story is true or not on the net. For confirmation, I decided to buy a sports newspaper.

Nikkan Sports April 1, 2015 issue, one side was decorated with "Nishioka a long-awaited shot for the opening contest stop."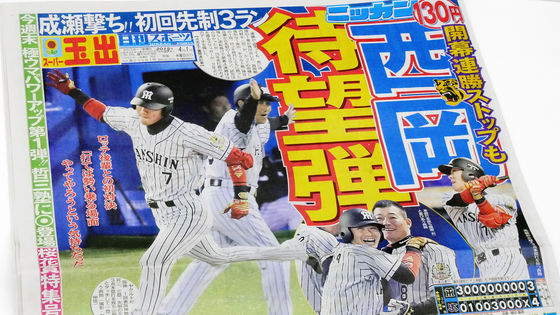 Looking at the 23 cultural and entertainment fields, it is certainly the letters "Eva × Godzilla × Advance Giant", "Mr. Anno General Director, New Screenplay".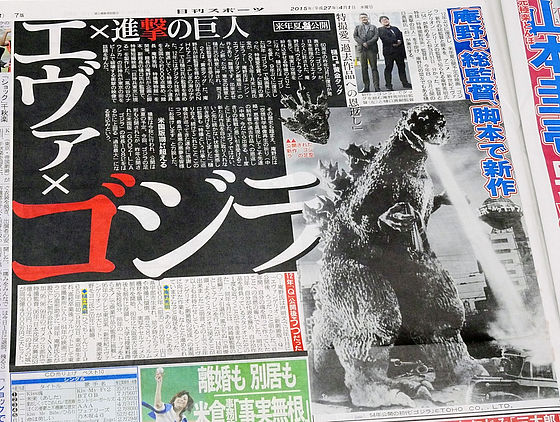 Since there is a note that "April Fools' neta is" familiar with "au's CM and familiar with" au no CM "movie making decision in Hollywood" ※ This content is only an imagination " You can see that Godzilla 's news is not a lie.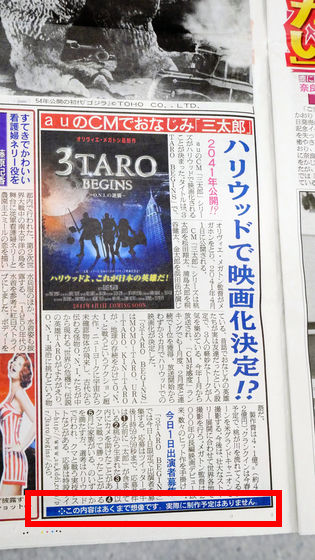 On the official site of Color Co., Ltd., the following comments by Mr. Anno are announced. The contents are the same as those thrown by each company on March 31.

Comment of "Shin Evangelion Theater Version" and Anno Hideaki on Godzilla's New Film | Color Corporation

What are we trying to make again?
And why did you decide to make fantasy special effects movies?


December 2012. Eva: I broke down after Q was released.
It became a so-called depression state.
It was a natural reward for having cut down my soul and making Eva again for 6 years.

It is the year 2013 that it ended. That year was a year when the mental negative wave repeatedly shook. I was a representative, and I could not get close to a studio where I was carrying the work.
Relationships with other people and the world became funny, helping exhausted exhaustion not to recover, was also taken into Zubusub's spiritual instability.

Meanwhile, I bothered various people.
However, thanks to my wife and friends, I was able to stay in this world, my voice work asked by Mr. Hayao Miyazaki acted as a clinging act to animation production, and my friends became my source of animation fans With the work that was making the new work of the work that was being made at that time, I did not leave my heart from animation. The squadron series that a friend continues was also a support for the heart as a special effects fans.

November the same year. Taking the PV production of Sagisumi poetry as a hint, I came up with an animation 's short editing plan, I managed to feel the fun of animation once again, confirmed what I liked anime, and return to the anime scene Because I once wanted to crave. Also, I felt new stuffs other than Eva were necessary for the staff and the studio who were exhausted by the production of Eva. This attempt continues today as a Japanese anime (fair) trade fair, and I feel that I was doing well.

Early in 2014. Finally I was able to return to the studio. After that, I am gradually returning to animation work due to rehabilitation of my mind spent more than a year. I was also fortunate to look back on my work from high school era in a special feature project of the Tokyo International Film Festival held in October of the same year.

And in 2015. Now 20 years after the broadcast of the former Eva, work is already under way to realize the completion of Shin Evangelion theater version, which has already been waiting for over two years.
Because the people around me and the animation fans are supporting the motivation to go back to completion again. I really appreciate it.
And it would be greatly appreciated if you could have time for a while until Shin Eva's release.

At the same time, we are now working on shaping fancy special effects movies.
Beginning was the end of January 2013.

Directly from Toho, "I would like to ask Godzilla's new movie director", I received a request.
He was also mentally unstable and said, "It is impossible, there is Eva, I can not, I can not do it," I fixed it.
However, the heart was moved by the sincerity of Toho and the enthusiasm of Director Shingo Higuchi,
In March of that same year, I decided to take over the director.

It is said that it is a gratitude to the producers of past and past works, not only the continuation etc. of the past, but also embodied science video reproduction prayer, wish incorporated in the Sci-Fi museum, embodying the thought is the repayment of the intention and responsibility I decided to take on my feelings.
I can only do it now, I decided to take on a new, one time challenge that I can do because I am now.
I decided to undertake, not realizing the situation that I will not continue unless I introduce a new work for me that is not Eva.

In the same year I decided the theme to draw, wanting to draw as a work.
In the same year, I submitted a proposal called G memo memo to Toho, and started to create plots etc.

The world of fantasy science where Godzilla exists is not only dreams and aspirations but also real caricatures, satire and mirror images. It is also a reckless attempt to draw it in Japan today.
To be honest, we do not know how far we can draw in constraints on various content aspects in the Japanese field where production cost and production time are extremely small compared with world capital.

However, having a pride as a movie, making this work as well as Shin Eva full effort so that it will be a little funny video work, I think that I can do it now, There are twists and turns due to the direction and the contents of the script, and it has reached the present.

To the extent that it is only an excuse to write what the producer writes, it is important to know things that are exposed before good intentions and malice, on the back of this era of such a country, making a fantasy special effects film representing Japan and making it I am sending my texts from my wish that you can understand even a little.

Finally, thanks again to the people around me who support me and the fans and audiences who support the work, I can again create images.

Thank you very much.

Director / Producer Hideaki Amano
From this comment, while making Shin Eva, it seems like Mr. Anno's unrivaled determination to challenge Godzilla as "a new once-only challenge".
in Movie, Posted by logc_nt