A blind man decides to look at his wife 's first "first time" in marriage 10 years


With the development of science and technology,Argus IIYaBio-RetinaThere is an amazing technology embedding medical equipment in the human retina like the one shown. Taking advantage of these latest medical technologies, I will have the opportunity to see my own wife 's first "first time" marriage to a blind man in MinnesotaMayo ClinicI gave it.

Blind man sees wife for first time in 10 years - video | US news | The Guardian
http://www.theguardian.com/us-news/video/2015/feb/24/blind-man-sees-wife-10-years-allen-zderad-video

Only when I was married in the 10th year I was able to see my own wife 's face, Mr. Allen Zederath, a blind man living in Minnesota. I am 68 years old and married Angela 10 years ago. Allen lost his sight about 20 years ago, he seems to have been blinded by diagnosis of degenerative eye disease. Allen was able to see his wife's face when the Mayo Clinic in Minnesota ProvinceSecond SightI gave a prototype of artificial retina device made by.

The situation when Allen is watching herself's wife Angela for the first time can be seen in the following movie.


Men who wore a blue shirt standing in front of a white big plate are Allen. It is not a sunglasses on the head but a device to support vision.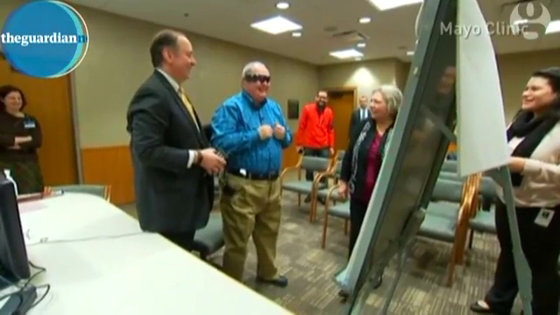 My wife Angela wearing black clothes. When she reveals herself in front of a big white plate ......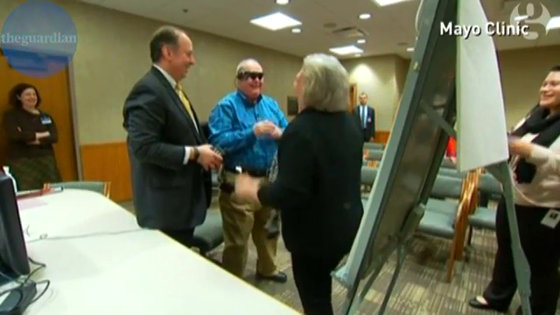 Allen and Angela started laughing together.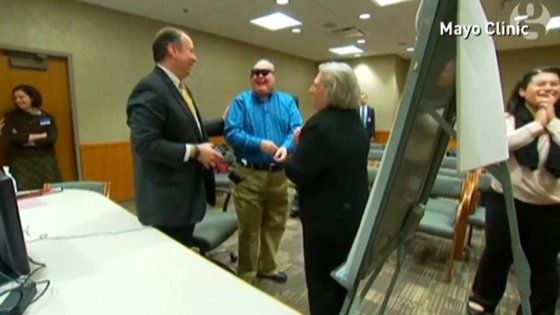 And a handshake with a Mayo clinic doctor.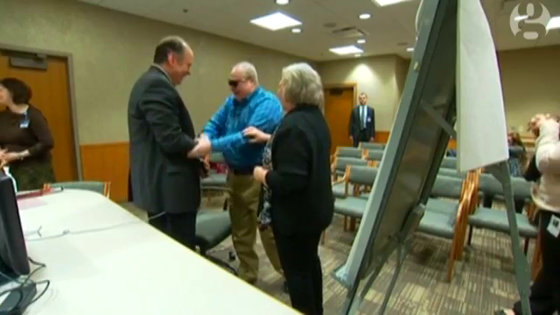 Next time I will exchange a hot embrace with my own wife who saw her face for the first time in 10 years.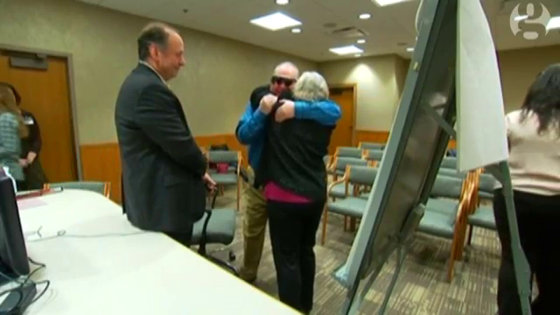 Gutsy hugs in another place.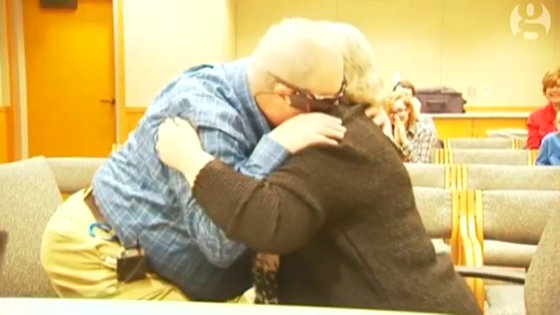 The pleasure that I saw my face for the first time seems not to be a word anyway, and I keep on tearing my head all by myself.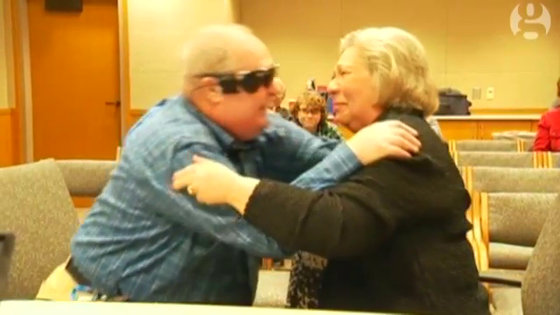 People like relatives who are behind the two people are pleased anyway and it is clear how big it was for the surrounding people.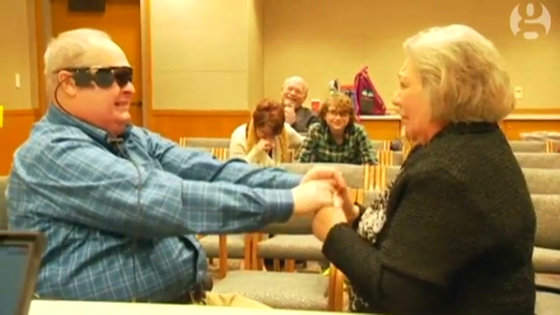 Allen who expresses how Angela is visible in his eyes with gesture hand gestures.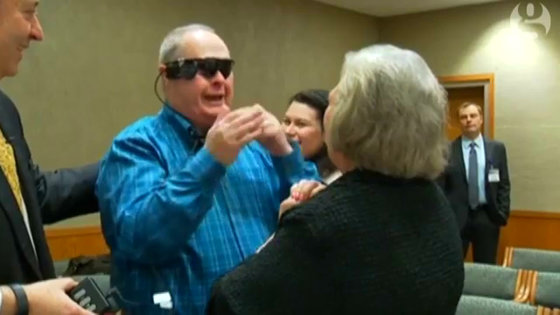 It seems that the outline of a person seems to be firm, especially when it stands in front of a white board it seems that the figure looks beautifully.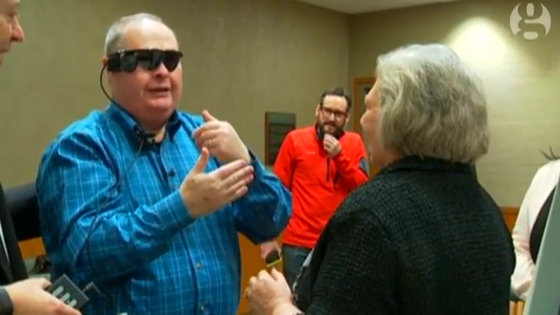 Although it is said that vision returns, it does not seem to be able to see the clear world before blindness, and the scene that Allen is actually seeing is like this.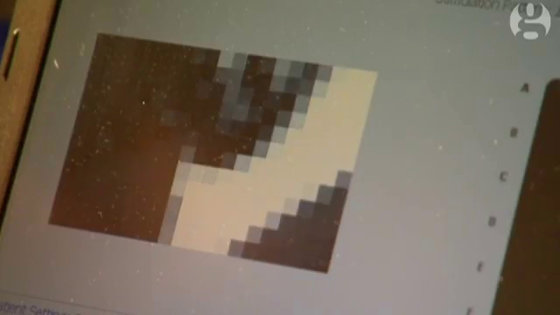 Angela's face where allen is watching something like a human figure reflected in the image. Surely I do not know clearly "what kind of looks I am doing", but I clearly understand that you are in the shape of a person. To be able to return some vision to those who could not see anything seems to be an immeasurable hope for blind people.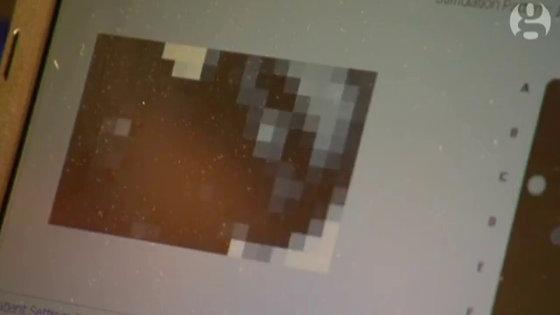 Anyway, Mr. Allen who was excited from the beginning all the time, there were many scenes that could be packed with words, without knowing what miraculous situation vision returned.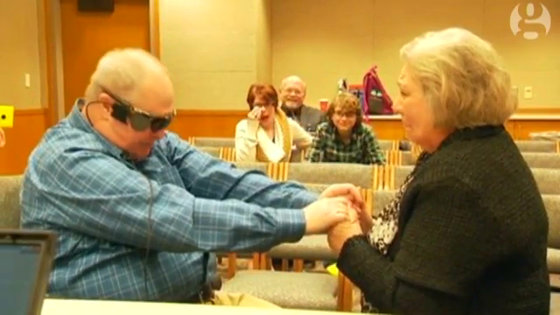 Allen wears an artificial retina device made by Second Sight. It is unknown whether this is the artificial retina device "Argus II" currently available in Europe and America, or other new prototype device, but it is unknown whether "Argus II" works in what kind of way and the vision of the blind person You can understand whether to support it by reading the following article.

US Food and Drug Administration approves artificial retina device "Argus II" to support vision of persons with blindness and low vision extremes - GIGAZINE