"Fly 12" in which LED headlights and HD cameras are integrated into one body appeared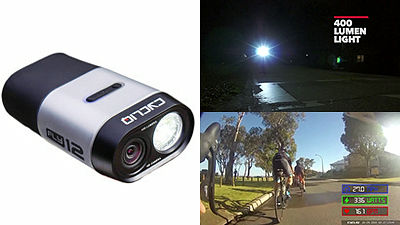 Previously in GIGAZINE, the rear camera for a bicycle + lightFly 6We have reviewed that, but developed the productCycliq, A new model that combines headlights and HD cameras using white LEDs into a compact body "Fly 12It is recommended to develop.

Home | Cycliq
http://cycliq.com/

What kind of product Fly 12 is, it is understood by seeing the following movie and so on.


When I ran at various places on a bicycle, I wanted to record the landscape I met here and there. "Fly 12" is useful in such a case.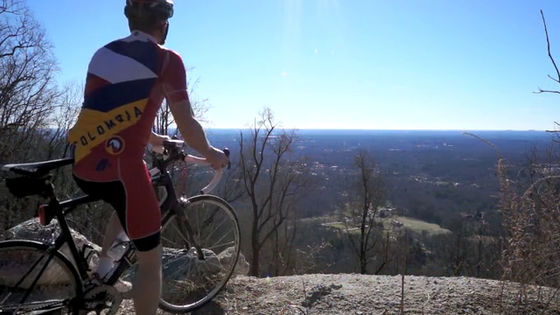 Fly 12 is a device that compacts the bicycle LED light and HD camera into a compact body. It is also a size that seems to be installed almost without disturbing on the handlebars of the bicycle.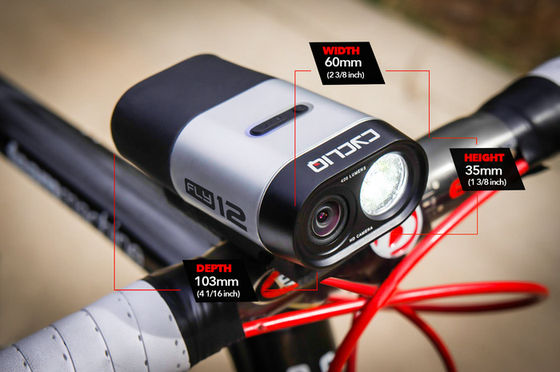 With the installed HD camera, movie recording is possible with HD quality of 1080p. 16GB microSD card is included in the product, so you can start using it as soon as you get it.



MicroSD card supports up to 64GB capacity.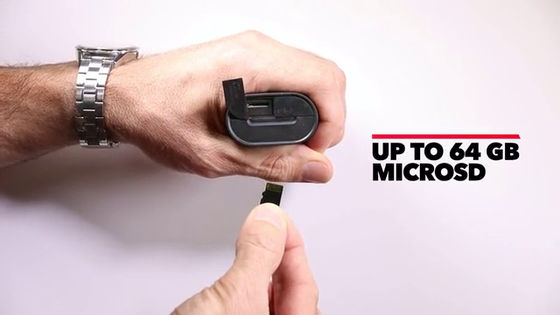 The LED light that illuminates the front type is 400 lumens. It is a difficult part to judge the actual brightness with just a numerical value, but it seems that as long as you see a movie it seems that light intensity that seems safe at night can be secured.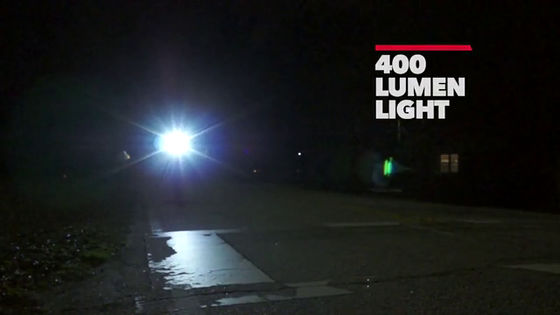 Even in the daytime ride, it is possible to notify the oncoming vehicle and others by blinking the LED light.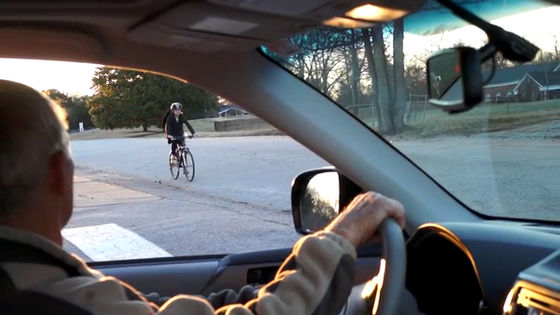 The light emission pattern can be switched on and blinking, and it is possible to change the brightness to 3 levels respectively. It is also OK to turn off the light completely and start only the camera.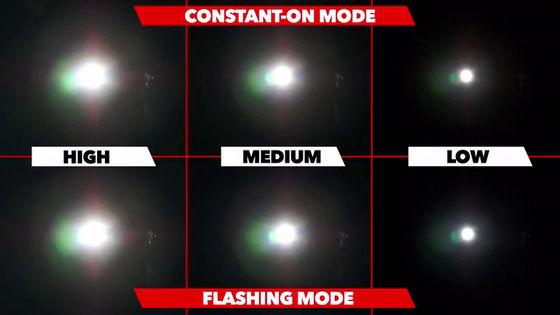 The battery is a built-in lithium-ion battery and charges by connecting a Micro-USB cable.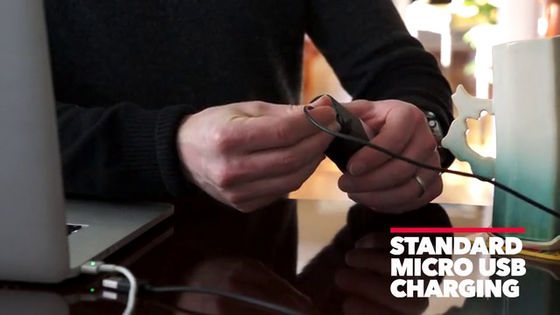 Although the battery capacity seems not to be clarified at the present stage, the longest continuous use time is 10 hours if it is only for the camera, 6 hours if the light is shot with the illuminance 100% flashing, and the continuous lighting mode shooting If it does, it is two hours.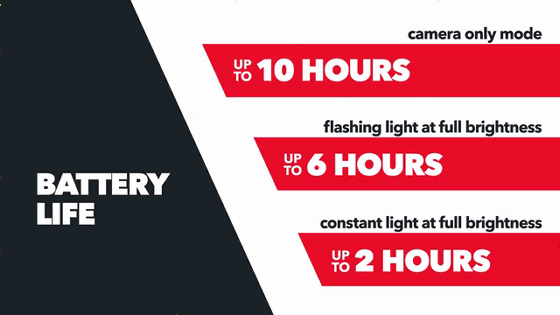 It is useful not only to enjoy the bicycle ride picture later but also to record the usual ride.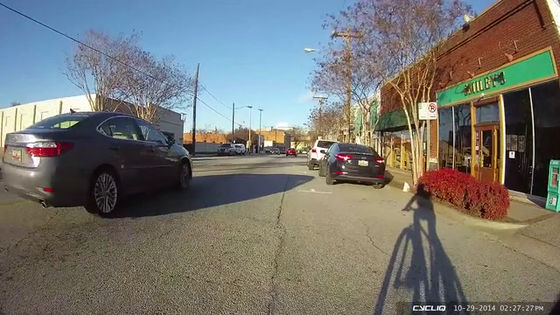 Even if the car unexpectedly jumped out of the side road, if you leave the picture, you can be relieved somewhat.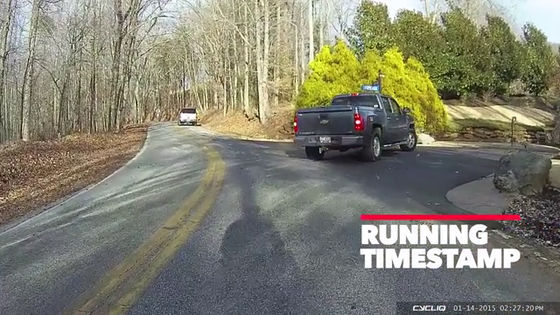 Since Fly 12 is equipped with a mount compatible with GoPro, it is possible to use many commercially available holders. In addition, the included mount is compatible with the mount for Garmin, as well as a screw hole for a tripod.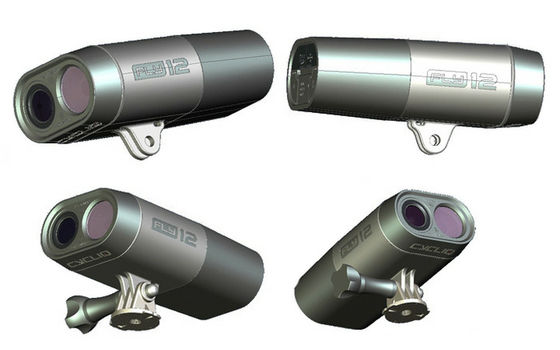 Also, Wi-Fi and Bluetooth are supported for communication with smartphones. Even when a ride breaks, you can quickly check the shot image with your smartphone.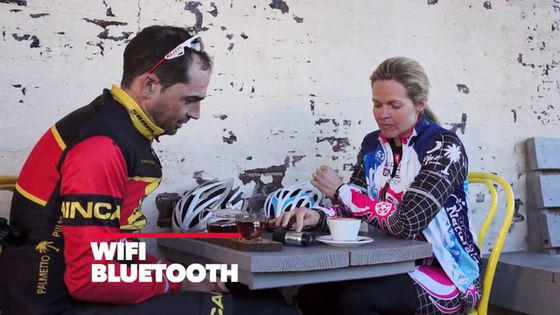 You can link with iPhone which does not have microSD card slot etc as well as the convenience that you do not need to connect by cable.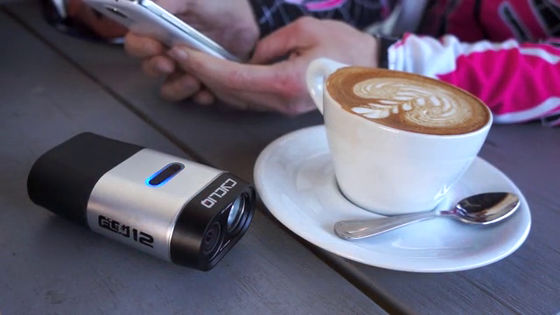 Cycliq is developing a dedicated application. By using the application it is possible to check the picture taken and the track you ran with the smartphone.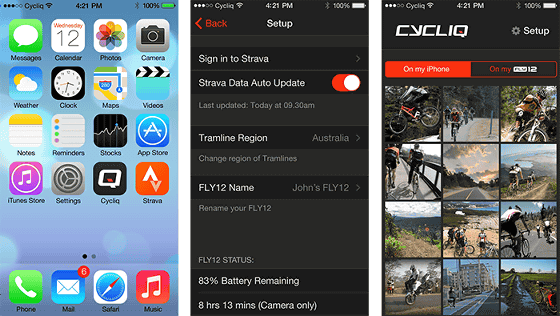 Moreover, it will be able to share easily with SNS etc.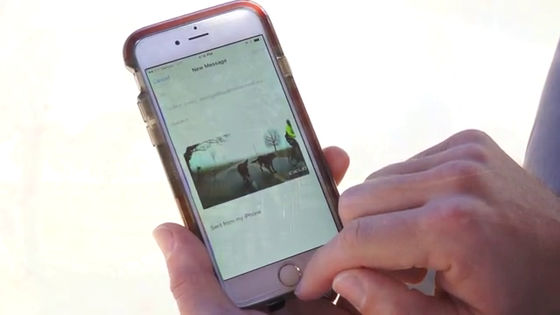 In addition, the application can track cycling and record speed etc.Strava"The linkage function with. It becomes possible to add speed and output wattage, heart rate etc. to the taken picture and display it.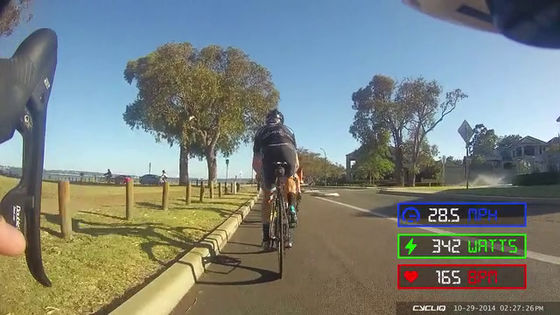 Fly 12 is a product combining HD camera and 400 lumen LED light. The weight is 209 grams, which is lighter than the use of two single products, which is pleasant to the cyclist, it also has the merit of being able to refresh around the steering wheel.



The main body is equipped with dustproof / waterproof property (IP 55) using nanotechnology, so there seems to be no problem in use unless it is so severe situation.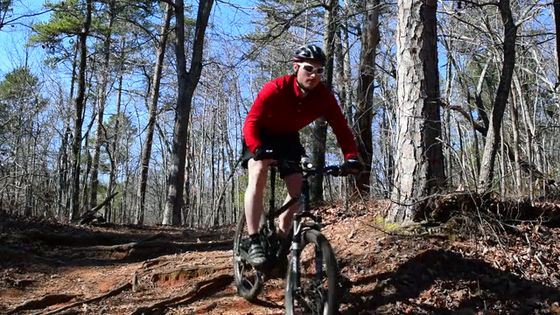 Here is a summary of Fly 12 specifications. The movie can be taken at 1080p / 30 / 45fps or 720p / 30 / 60fps. The file format is MP4, the codec is H.264, and the file is created so that new files are created consecutively every 5 minutes or about 750 MB.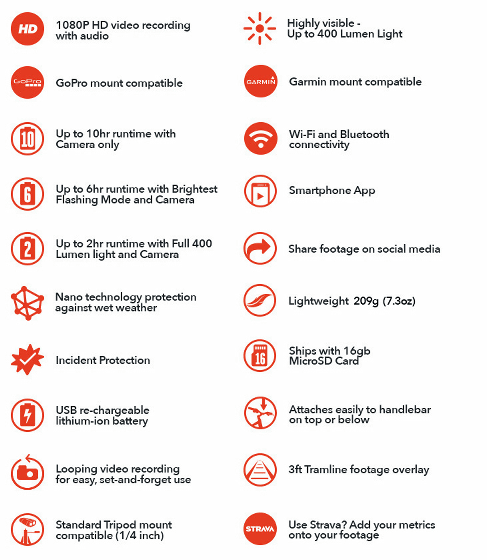 When comparing the performance with the typical action cam, it looks like this. In spite of anything, the point that loads the light has become a specification that does not inconsider any model.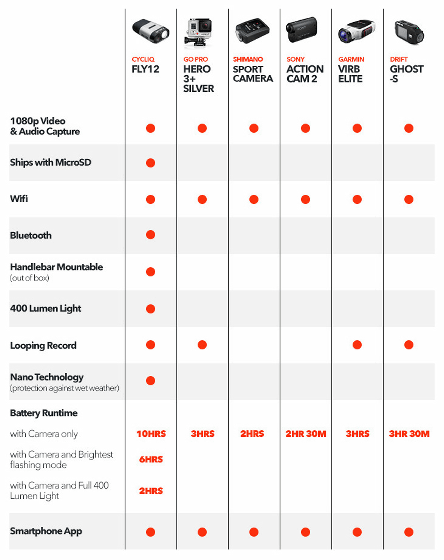 This Fly 12 is a cloud funding siteKickstarterWe are looking for investment in. About $ 245,000 Australian dollar (about 23 million yen) as the target amount, about 450,000 AUD (about 42 million yen) is gathered from more than 1,200 investors around the world at the time of article creation.

Most of the Early Bird plan, which is an early discount, has reached its capacity, but at the time of writing the article, you can get 1 Fly 12 with a contribution of A $ 299 (about 27 thousand yen). "Early Bird DUO" plan with two sets of Fly 12 is A $ 558 (about 51,500 yen), and five more sets "Super Early Bird ACTION PACK" is A $ 1245 (about 115,000 yen ) Has become. For shipping to Japan, a postage of AU $ 59 to AUD 59 (approximately 2700 yen to 5400 yen) is required separately.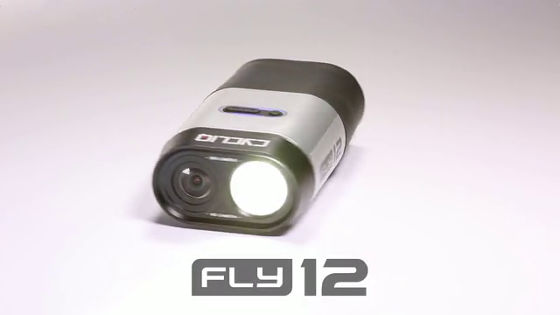 The deadline for investment is Japan time on March 12, Thursday, Thursday, Thursday, 18 o'clock, and the shipping time is scheduled around November 2015.

Fly 12 Cycling Accessory | 1080p Camera & amp; Front Light Combo by Andrew Hagen & Kingsley Fiegert - Kickstarter
https://www.kickstarter.com/projects/fly6/fly12-cycling-accessory-1080p-camera-and-front-lig