92% of college students turned out to prefer books of paper rather than e-books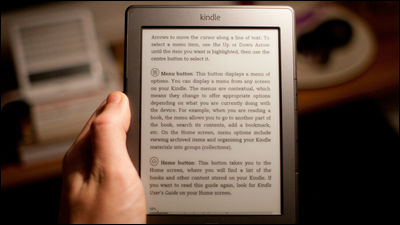 ByTim Lucas

Controversy between electronic books and paper books has endlessly ended, such as "books of hundred books fit in the palm of e-books" and "book-specific reading experience is supreme" However, it turned out that 92% of college students like paper books rather than electronic books.

Naomi Baron's Words Onscreen: The Fate of Reading in a Digital World | The New Republic
http://www.newrepublic.com/article/120765/naomi-barons-words-onscreen-fate-reading-digital-world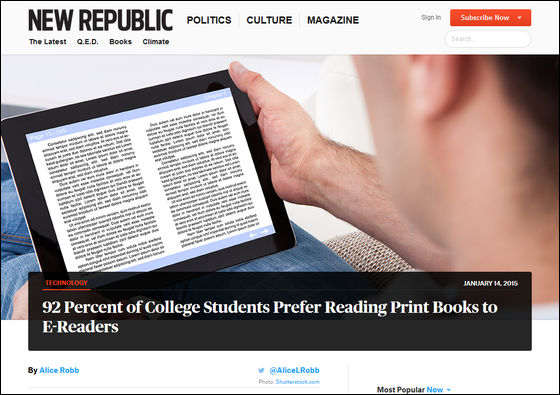 In 1991,New York TimesAnticipated "the appearance of personal e-book reader", raised a big topic of pros and cons. It is said that more than half of adults in the United States currently have e-book readers like Kindle since 24 years have passed. Also, in the United States President Obama announced that it would convert textbooks to electronic books by 2017, or a bill to digitize public school textbooks was passed at Florida State Parliament, steadily e-books It is understood that society is penetrating.

Although it is growing everyday market day by day, it is still a lot of controversy still. This is because reading e-books necessarily involves worrying about batteries of smart phones and dedicated terminals and can not easily immerse themselves in reading,Blue light emitted from the displayIt may be related to such things as my eyes getting worse.

It took place to children aged 6 to 17 in 2014InvestigationAccording to 65% of the surveyed children, he said that he would like to read books with paper books at all times, which is 5 points higher than the number of similar surveys conducted in 2012 It is becoming.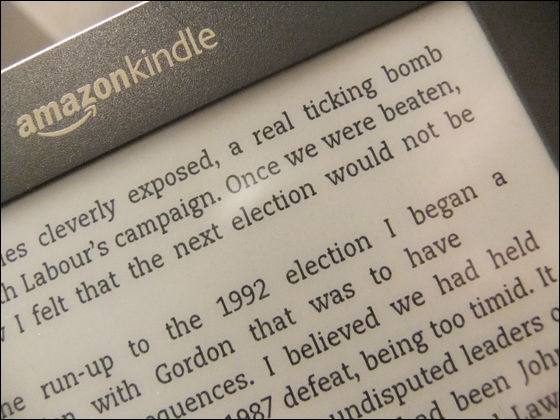 ByJames Cridland

Electronicize masterpieces whose copyright has expired and make it public on the InternetProject · GutenbergIt's been fifteen years since Amazon's e-book reader Kindle came out and seven years since e-books appeared in the world for fifteen years, but how e-books work for readers' reading experience There are very few things that have been clarified by detailed data as to whether they have caused changes.

Those who support paper books are relying on anecdotes about paper books and their own intuitions, and they are carrying out the paper theory of supporting paper slightly exaggeratedly, which means that they can not agree with either claim In fact. Meanwhile, Naomi Baron, a professor of linguistics at American University, published itWords Onscreen. This book reveals that paper books are superior to e-books using various data. Mr. Baron's research team has been conducting surveys on over 300 university students all over the world including the United States, Japan, Germany, Slovakia, etc. As a result, almost all books are commonly loved by many people in reading books with paper books It turned out to be.

Professor Naomi Baron's Words Onscreen is sold for $ 18.6 (about 2200 yen) on Amazon.com.

Words Onscreen: The Fate of Reading in a Digital World: Naomi S. Baron: 9780199315765: Amazon.com: Books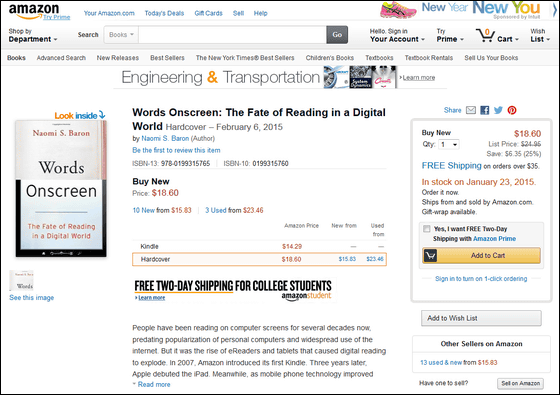 In the survey of Professor Baron, various reading methods such as smartphone, tablet, e-book reader, PC, etc. were prepared besides paper books, but 92% college students can concentrate mostly on books in paper books, He said that he answered. Also, it became clear that the students thought that they wanted to read books with paper books especially when they wanted to concentrate and read books.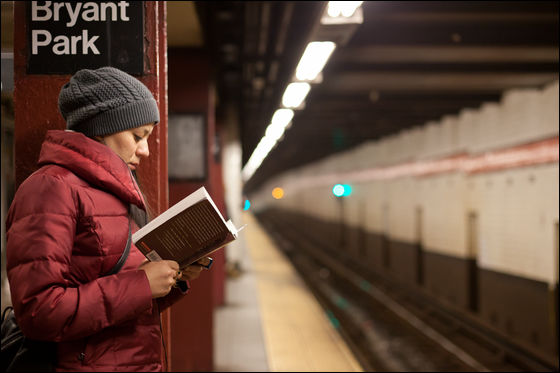 ByJens Schott Knudsen

Even the young generation familiar with watching the display from a small time like TV, PC, mobile phone etc. said that I prefer paper books rather than electronic books. For this reason Professor Baron said, "If you are an electronic terminal you are distracted by other things, and there are also elements that become physical obstacles such as asthenopia and headaches," paper books are preferred I am thinking about the reason.

When asked "What do you like about paper books?" In the survey, "When you read the books you've finished on the bookshelf, you can get the feeling of accomplishment by looking at them when you suddenly" "smell the book" " There was a variety of things such as turning feeling. According to a survey in Slovakia, one out of ten of people who answered paper books liked "I like the smell of books", so I can not understand "feeling" that I can not get even by reading e-books "Physical presence" seems to be part of reason why paper books are loved.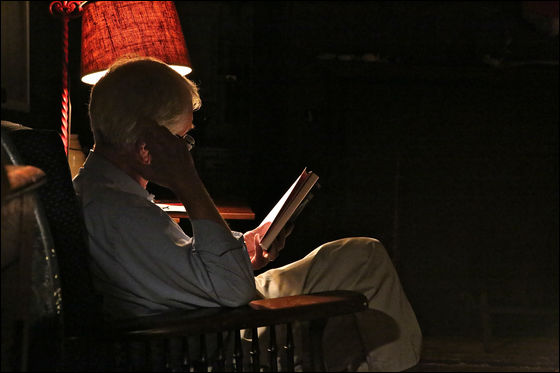 BySmilla 4

It is also surprising that the paper book is better liked than the e-book clearly, but still steadilyExpansion of e-book market sizeI am also amazed.
in Note, Posted by logu_ii