In 2015 the App Store established new record with sales, and in some cases raised price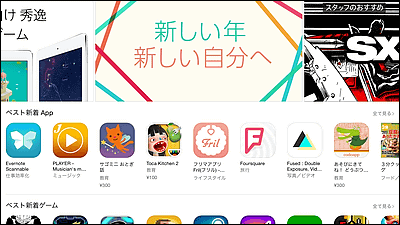 In the beginning of the year there are many people saying "I enjoyed paid apps rather than usual free apps", but Apple said that the first month of January 2015 sales of App Store applications and in-app charges reached record highs Announced that it has reached nearly 500 million dollars (about 59.4 billion yen), and that annual sales in 2014 increased by 50% over the previous year.

Apple - Press Info - App Store Rings in 2015 with New Records
http://www.apple.com/pr/library/2015/01/08App-Store-Rings-in-2015-with-New-Records.html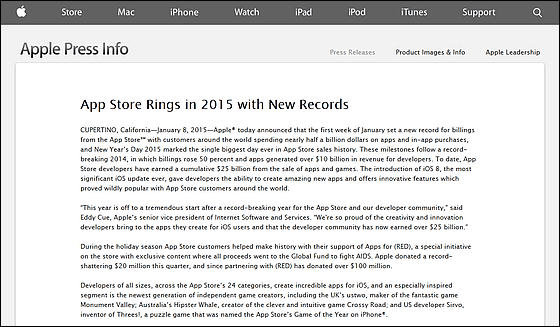 Apple announced on January 8, 2015 that annual turnover in 2014 increased by 50% compared to the previous year, generating revenues of $ 10 billion (about 1.18 trillion yen) to application developers Announced. The cumulative revenue earned by developers at the App Store has reached $ 25 billion (about 3 trillion yen). Even in the following 2015, we sold a new record of 500 million dollars (about 59.4 billion yen) in the first week of January, and on January 1, we achieved the highest ever in the App Store for the sales of the day and a smooth start It has become.

Also, on December 1st "World AIDS Day" appeared in the App Store "Apps for(RED)However, it has achieved great success, and in the current quarter we will have 20 million dollars (about 2.37 billion yen)World Fund for AIDS, Tuberculosis and MalariaDonation to the cumulative fund raised since Apple and (RED) became partners amounted to 100 million dollars (about 11.9 billion yen).

Apple is contributing to the creation of jobs by developers called "The App Economy" through innovation of these applications. In the six years since the App Store opened in 2008, the iOS ecosystem has generated more than 627,000 jobs, and only US application developers can distribute 8 billion dollars (about 950 billion yen) revenue It is said that there is. Apple estimates that The App Economy will generate revenue of more than $ 150 billion (about 17.8 trillion yen) over the next three years and is also motivated to create further employment opportunities.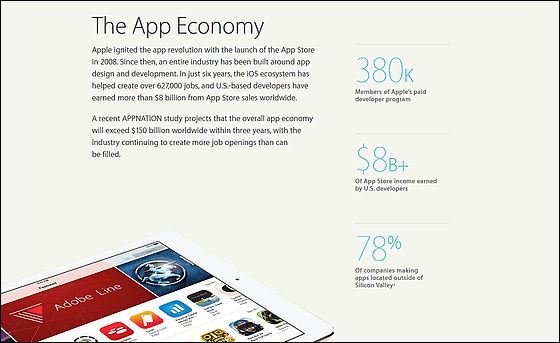 According to the survey company Kantar Worldpanel, Apple 's device market is holding down Android and it is increasing also in European countries and China. Everything looks good, but in some countries the app store price raise has been notified. According to the e-mail sent to the iTunes Connect user, the prices of all products in the App Store will be raised in EU countries, Canada and Norway in order to adjust the VAT rate etc. In Russia too, price changes It is said that there is. By contrast, in Iceland it will be a price cut, but not on the Japanese App Store, it is unknown at this time whether the price will fluctuate in the future.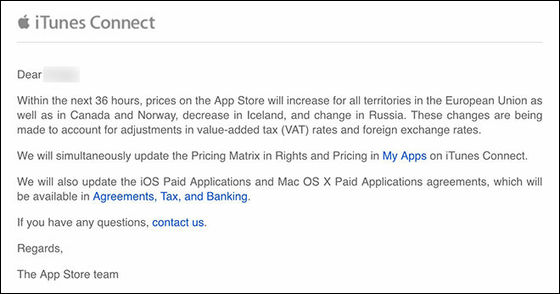 Apple to raise App Store prices in EU and Canada, 'change' Russian fees
http://appleinsider.com/articles/15/01/07/apple-to-raise-app-store-prices-in-eu-and-canada-change-russian-fees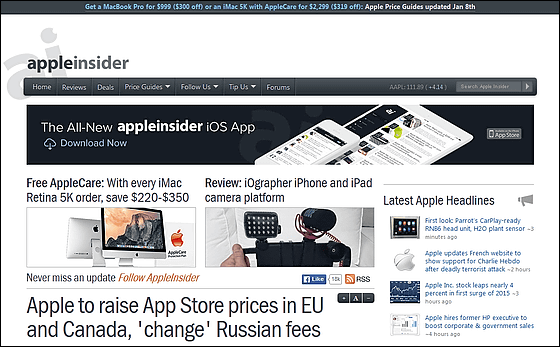 in Note, Posted by darkhorse_log