"Santa tracker" which follows Santa's place because it is near Christmas this year is open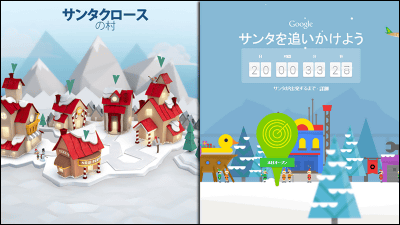 Christmas is coming closer as we enter December. And Christmas is said to be "Santa Claus", but it will always track where Santa Claus is at Christmas timeNORAD(North America Aerospace Defense Command)WhenGoogleHowever, this year also the special site is released. You can play with special content such as games.

◆ "Santa Tracker" that NORAD is showing is like this
NORAD usually monitors satellites and missiles and observes the sky and the universe in the North America region, but in December every year, "It is safe whether Santa's journey through the world is safe or not I will be in charge of another important mission "to confirm".

Official NORAD Santa Tracker
http://www.noradsanta.org/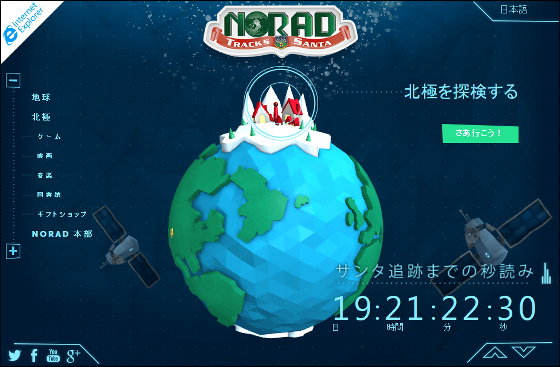 When visiting the site, first select "Japanese" from the language setting in the upper right. Then the entire page is displayed in Japanese, so everyone can enjoy Santa content.



If you click around 'Arrive at the Arctic!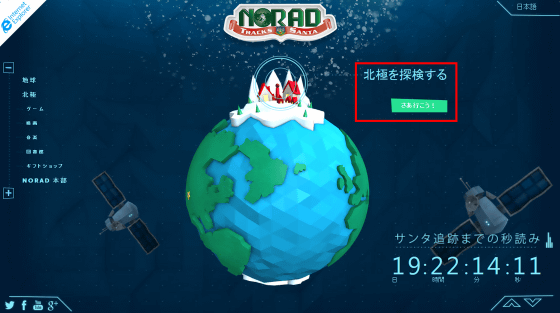 I reached "Santa Claus Village". Here you can visit various buildings.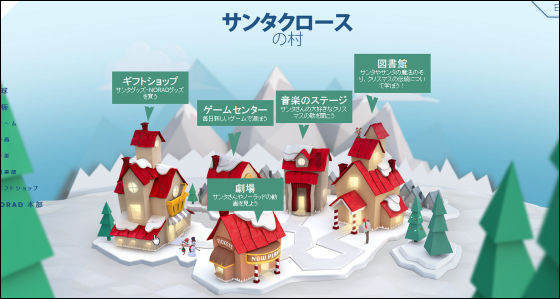 At "Game Center", you can enjoy newly added games everyday ... ...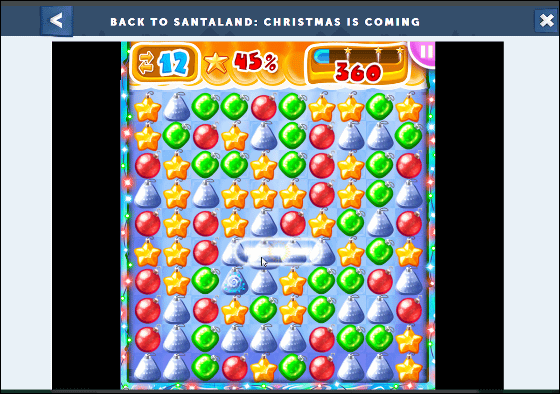 In "Theater", you can watch Santa's movie.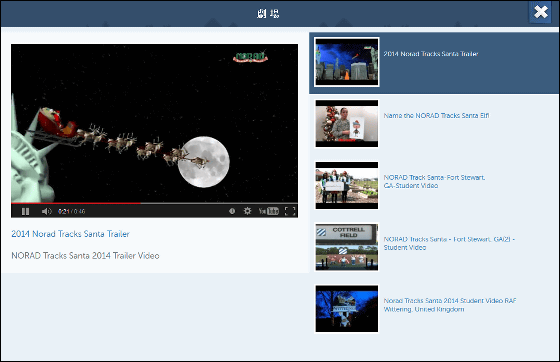 In "library", I could also read detailed articles on Santa.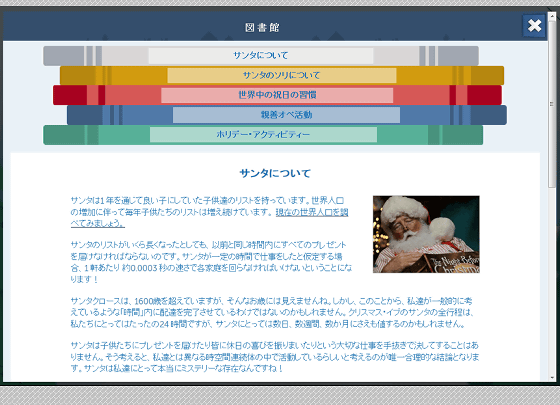 In "Gift Shop" NORAD's Santa goods are on sale.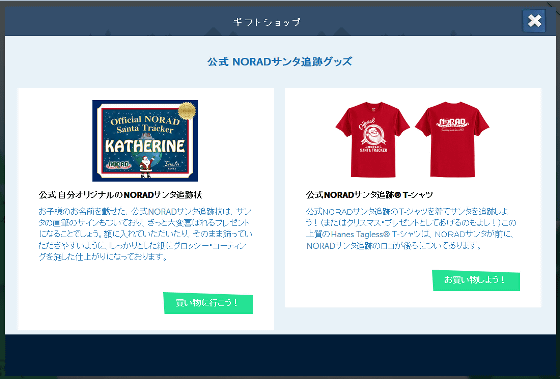 Also, it seems that a special movie has been released to YouTube for Christmas in 2014. If this is possibleYouTube Movie of 2013It might have been a big deal.

2014 Norad Tracks Santa Trailer - YouTube


NORAD said that he had tracked Santa's flight for more than 50 years since the time of the predecessor of the Central Defense Air Force Base (CONAD), and the beginning also explains the beginning of the flight.
This annual event began as an advertisement of an incorrect phone number when advertising Sears Roebuck, Inc. based in Colorado Springs in 1955, for "direct calls to Santa" for children It was. That number, which should be connected to Santa, was the number of the hotline of the commander of the CONAD. Colonel Harry Shaup, commander of the time who received a phone call from children, let the subordinate confirm with the radar whether there was evidence that Santa was heading south from the North Pole. And this tradition was born as the latest information on Santa's present location was transmitted sequentially to the children who called.
To actually track Santa's flightI have to wait for Christmas Eve on 24th DecemberHowever, until then, it is good to enjoy various contents in the site.

◆ Google's "Santa Tracker" looks something like this
Losing to NORAD and Google also releases special contents of "Santa Tracker" every year. It is a long sideways screen, and until the Christmas the new content is to be opened every day.

Google Santa Tracker
https://santatracker.google.com/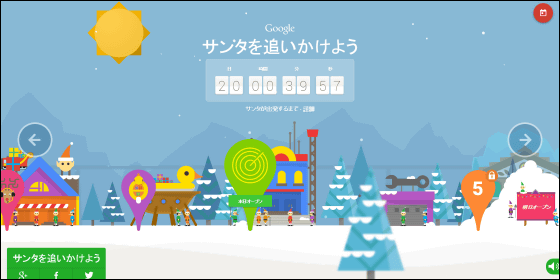 Santa's briefing room, which will hold a meeting for delivery of gifts, was released on 4th December when the article was created. Since there are Santas who doze off from time to time, you should wake them up with a mouse etc.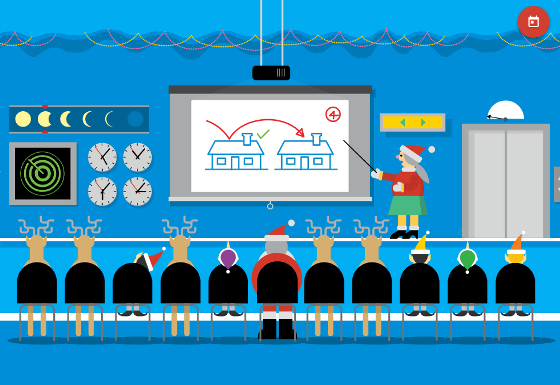 With content on another day, you can also play mini games that skip gifts for boats going through the river and let them catch you well.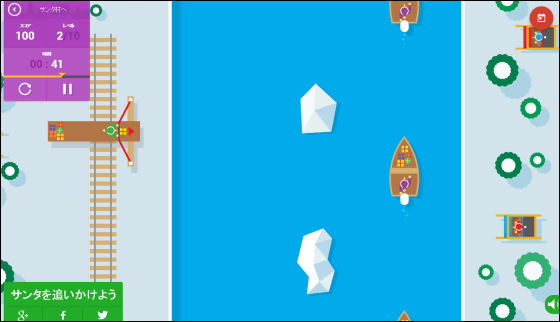 Santa hurriedly could see a cute movie preparing for Christmas.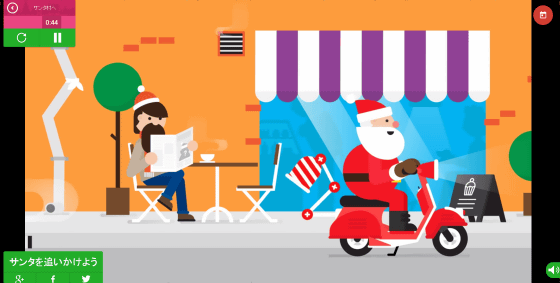 Just like NORAD, you can also follow the way Santa delivers on Google Maps on Christmas Eve, so it would be nice to enjoy the newly released content everyday.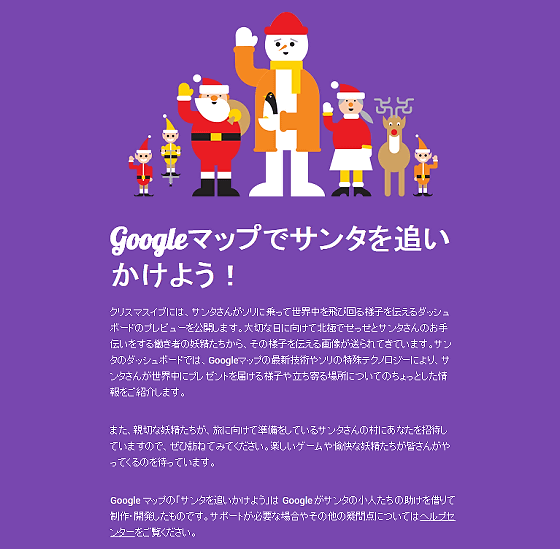 By the way Santa alone will try to distribute gifts to children all over the world,22 million people per hour, 365 thousand people if you fix it per minute, 6,100 people in a secondIt is necessary to deliver gifts to people, and it seems that the staying time per person will be about 0.0002 seconds. Christmas where such a big success Santa will come soon.