"Places" free application that you can prepare for your journey right away while exploring beautiful places around the world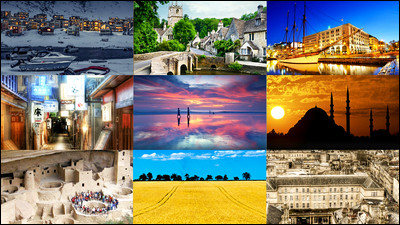 While looking through the categories such as 'Asia', 'Mountain' and 'Wonder of the World' by looking through beautiful pictures of countries around the world that were taken by the hands of travelers, we will keep track of the historical situation of the place and the current temperature and aviation ticket fee If the application that can be checked is "Places"is. It seemed to be helpful not only to enjoy watching and enjoying but also to decide where to travel, so I actually tried virtual experiences traveling using apps.

Places: Discover beautiful destinations on the App Store on iTunes
https://itunes.apple.com/us/app/places-discover-beautiful/id926161879

First, visit the Places web page on the App Store and tap "Install".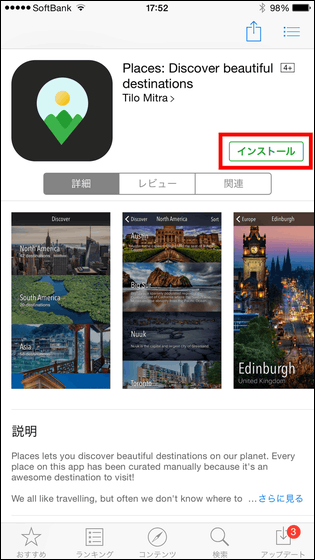 When I launch the application, "I will send you a notice" Places "is asked," Are you sure? ", But this time I tapped" Do not approve ".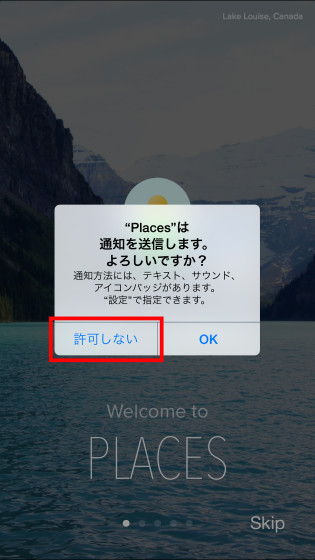 Slide the screen that appeared.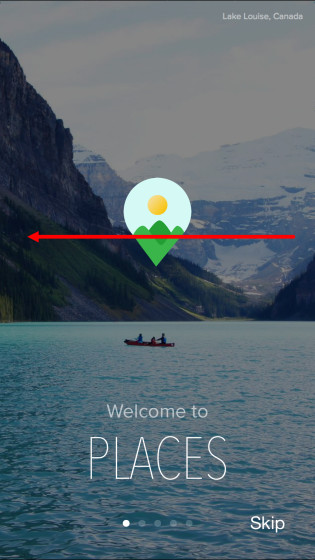 The application to discover the beautiful places on the planet is "Places", so the explanation progresses as you slide it.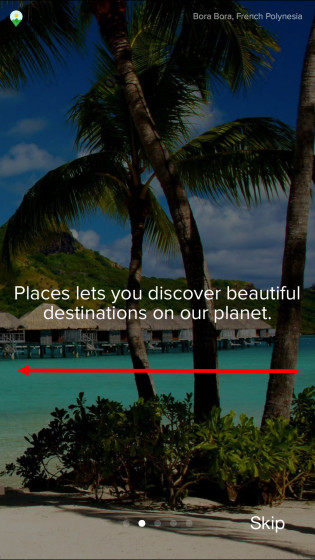 This is the home screen. "Discover" is listed at the top of the screen, below it the regions of the world such as "North America" ​​"South America" ​​"South America" ​​"Asia (Asia)" line up.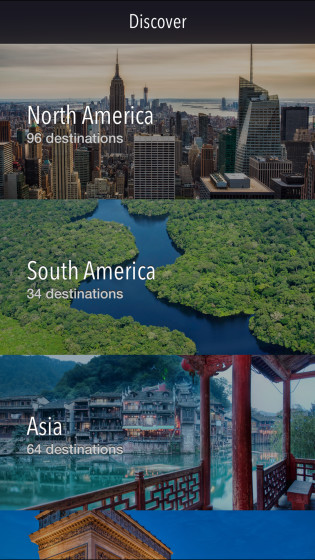 As we scroll further and farther we also found categories "Water Bodies" and "Mountains".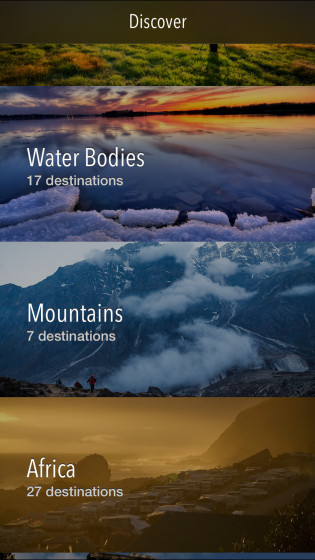 In addition, it is possible to see various parts of the world in accordance with the purpose of interest and travel, such as "Wonders of the World" and "Romantic Getaways (romantic trip)".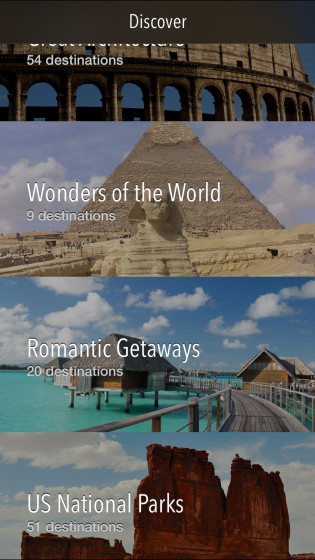 Looking at "Wonders of the World (world wonder)",Seven New World WondersWas chosenTaj MahalYaChristianity of Corcovado,The Great Pyramid of GizaAnd so on are displayed.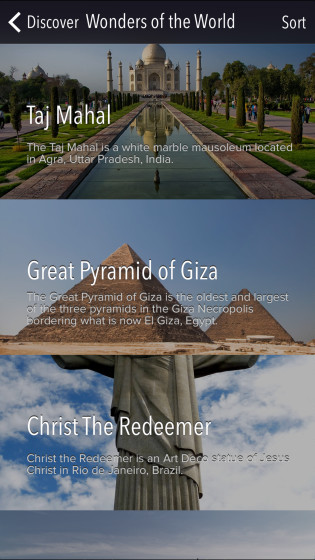 For exampleHagia SophiaHagia Sophia, also called, is a magical building where Islam and Christian culture were mixed.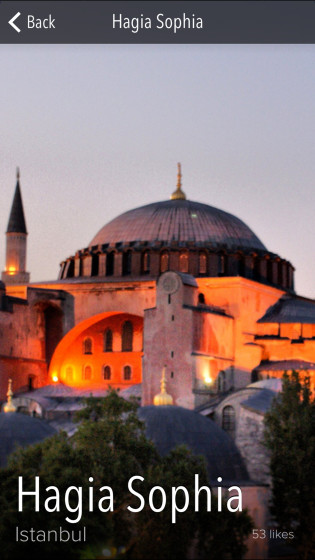 As you scroll, the history and location of Hagia Sophia will be shown. Hagia Sophia is located in Istanbul, Turkey, originally built as a Christian cathedral in 537, but also influenced greatly by Islamic art, and it was once used as a mosque of Islam , Currently it functions as a museum.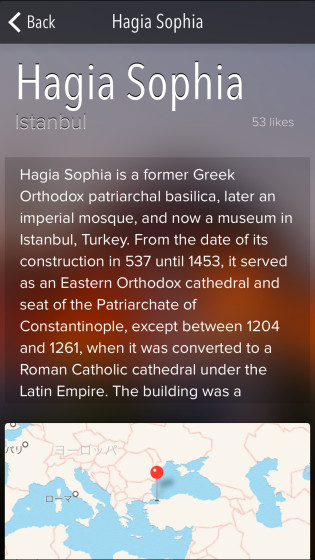 On the application there were 7 photos in all.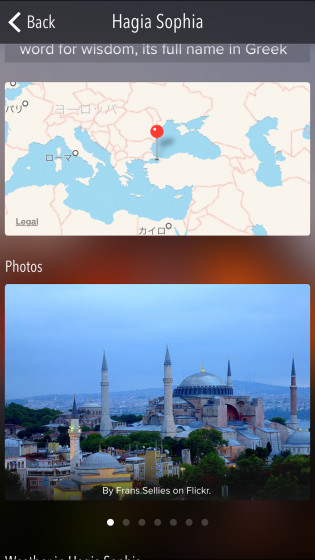 Hagia Sophia at dusk.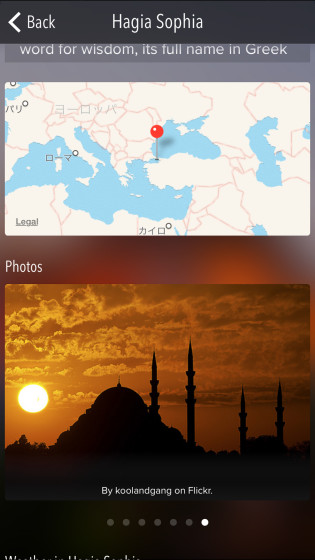 The surrounding area of ​​Hagia Sophia is cloudy and the temperature is now 6 degrees. When looking at the picture and thinking "I want to go on a journey now", I can check the local coldness and warmth.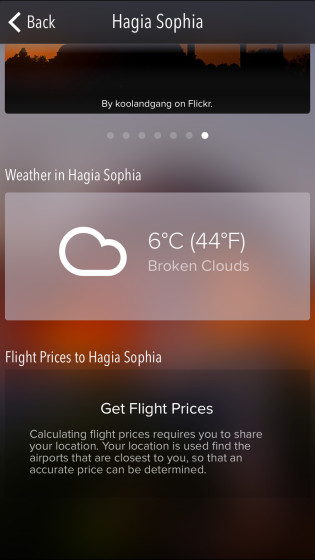 When you tap "Get Flight Prices" (Do you know the air ticket fee), tap "permission" because you are asked "Can you use location information while using" Places "?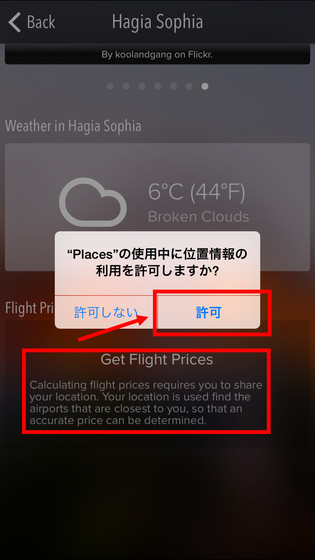 Since it is designed to be able to designate an airport, if you designate from Kansai International Airport to Sabiha and Gokcen International Airport in Istanbul, it is indicated that the estimated travel cost is $ 691 round trip (about 80,000 yen). Furthermore, if you read the sentence under the button, the price of the airline ticket considered the cheapest in the next 6 months is written as 621 - 691 dollars (about 73,000 yen - 80,000 yen), and a ticket not to lose It was made possible to purchase.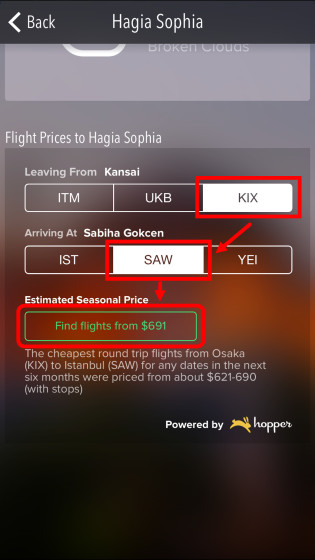 Next I explored North America. A total of 96 locations are registered in the category of North America, from the city such as Houston and Las Vegas ... ....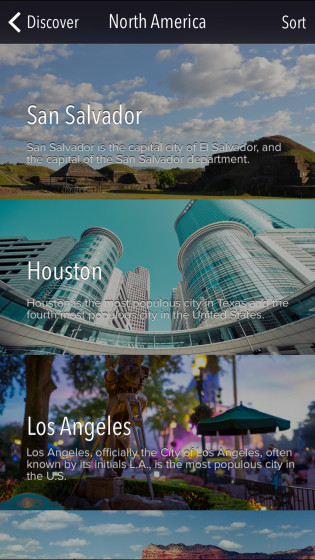 There are quite a variety of features depending on the land, such as places that are good for vacation.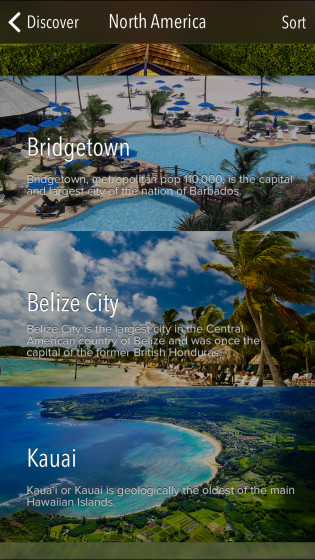 There was a place where nature was pushed.



"Where is this place ...?" What I have kept eyeing is the group of ruins that cleared the cliffs left by the IndiansMesa Verde National Park.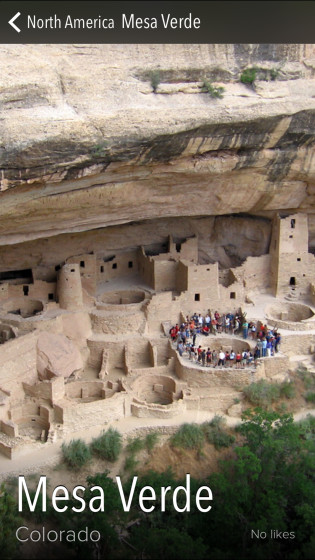 Mesa Verde National Park is one of the World Heritage Sites registered by UNESCO. The top photo is called cliff / palace settlement, and there are places that have about 200 rooms and 4 stories high.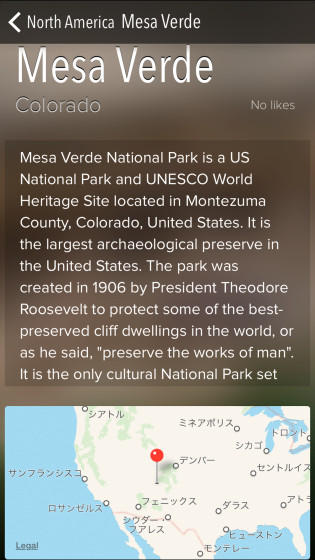 Looking from afar, it is like this. A strange shaped rock is built on the hill.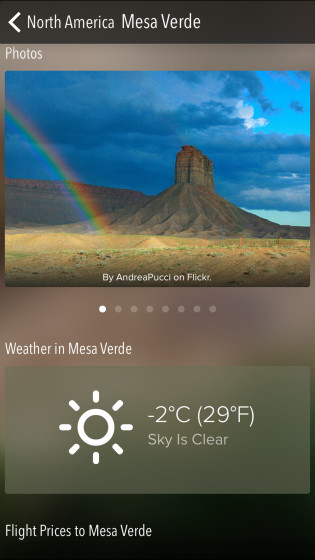 Article writing The current temperature is minus 2 degrees and the weather is sunny. Unfortunately, direct flights to Cortez airport, the nearest airport, did not come out of Kansai.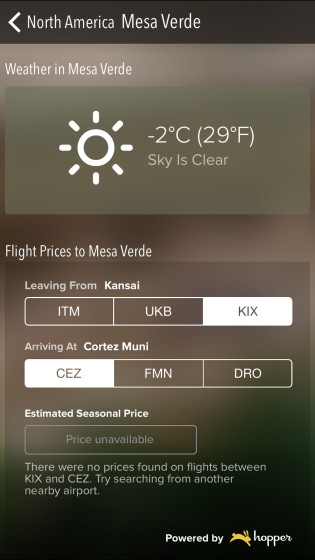 If I think that vast nature is spreading, I discovered the sight as if I came from a picture book this time.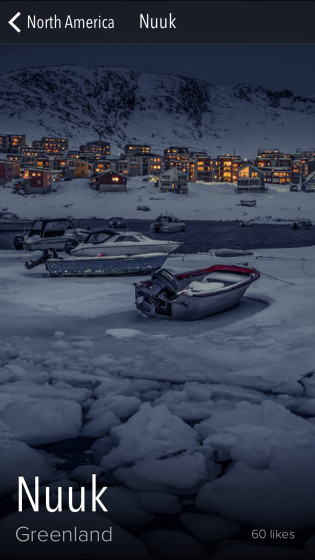 This place is the largest city in Denmark Green LandNook, The population as of January 2014 is 19,843 people. While being in North America most of the Greenlanders are Inuit's words, not EnglishColor litHe seems to be speaking a word.



It is a cold picture anyhow, but as it is right, the current temperature is minus 13 degrees.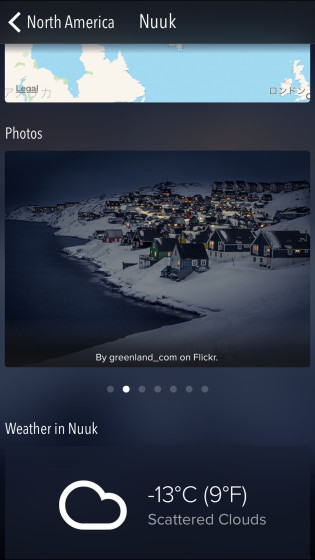 A picture of the period when snow is not piled up is like this.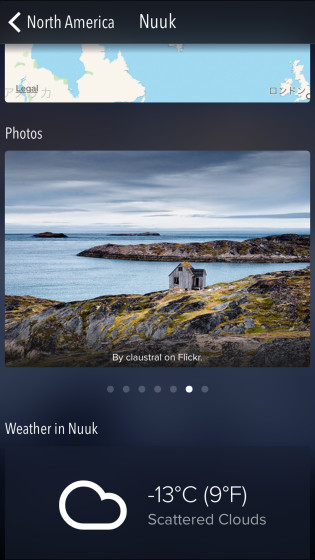 I will escape North America and now I will look at Europe.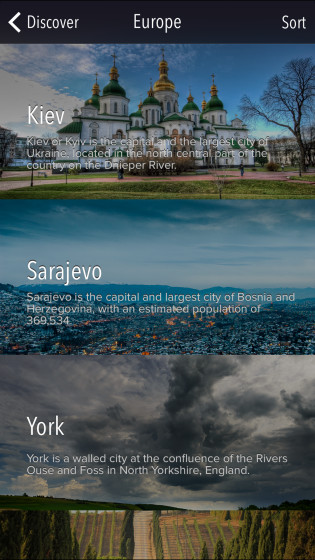 It is beautiful that I kept an eye on the Czech RepublicPrague.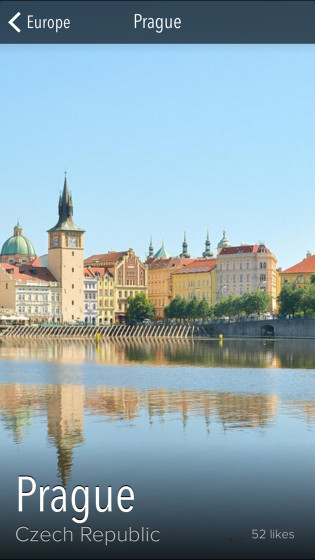 Travelers traveling around the world picked itPrague that has been nominally ninth in popular tourist city 2013Is a city with an atmosphere where many old buildings exist.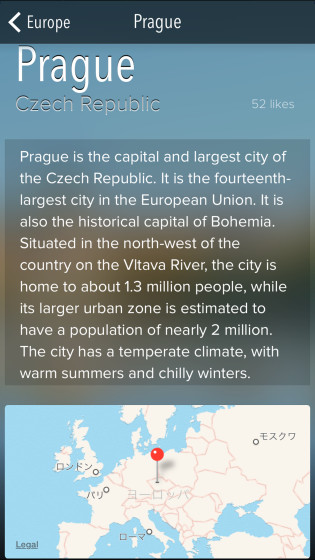 There are a series of orange roofs.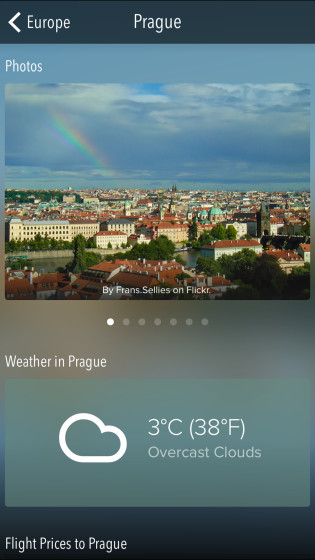 It looks like this at night.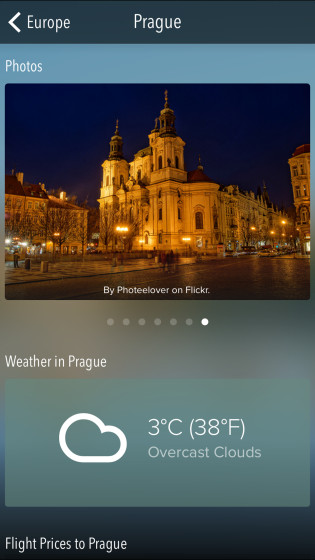 Vast fields are also beautiful. The current temperature seems to be slightly cold at 3 degrees.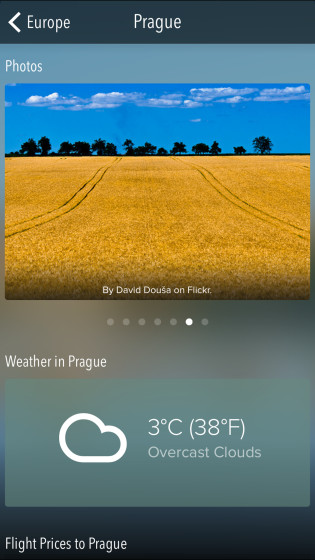 Next, in Somerset West, EnglandBath.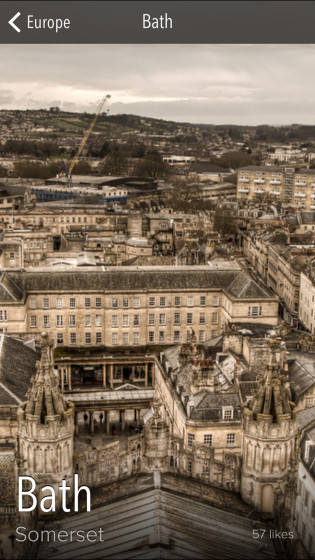 It is a place developed as a city of hot spring under the rule of the Romans, and it is also registered as a World Heritage site since many Georgian style buildings are left.



If there is a peaceful place ......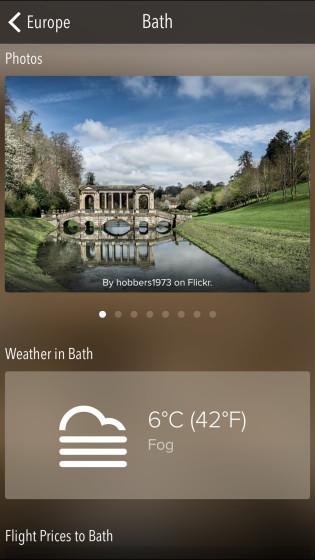 There seems to be a city-like place, too.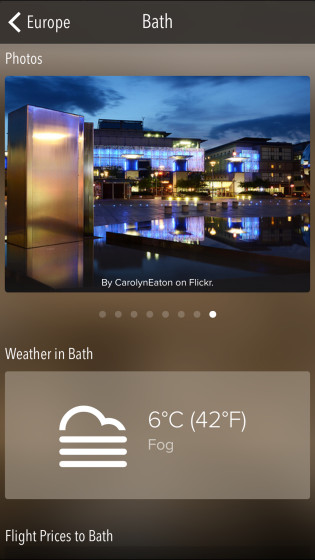 People who love the scenery of history have left the townscape of the medieval as it is and can not help thinking "I want to walk once".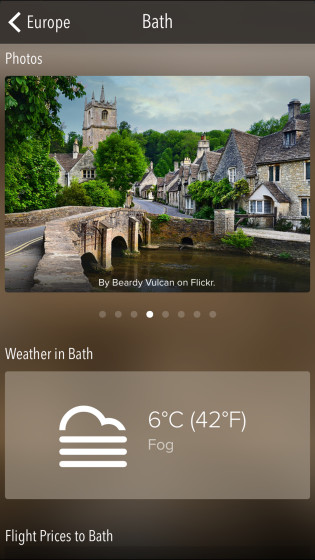 It looked like this at night.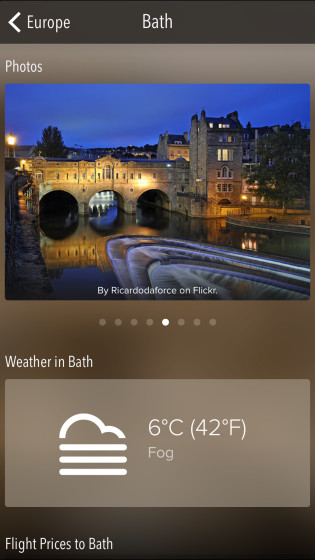 Furthermore, the capital city of FinlandHelsinkiArrival in. It is a small town with a population of about 600,000 and a major tourist attraction is gathered in a narrow range.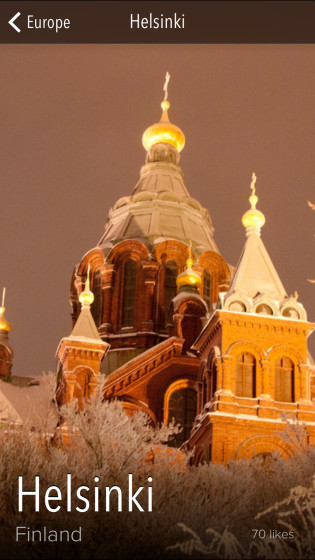 The current temperature is also 3 degrees here.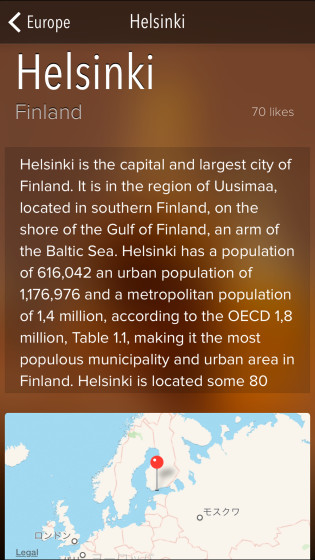 From the photograph, you can see that snow accumulates during cold weather.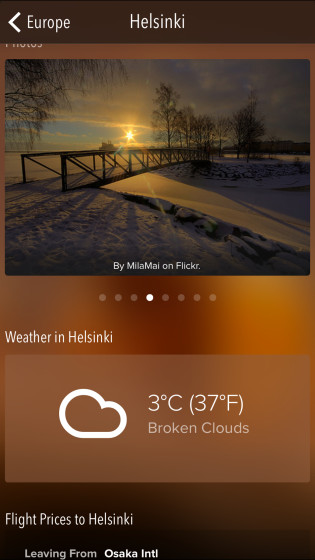 Another name for Helsinki, which is formed of 315 islands and about 70% of the area is a seawater area is "Maid of the Baltic Sea"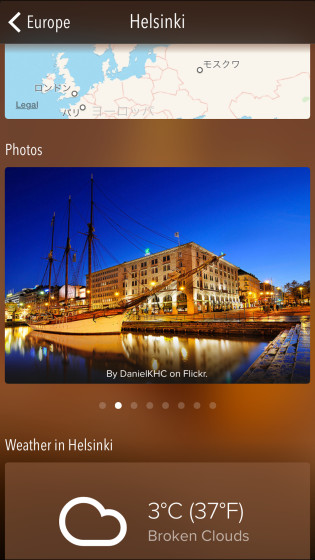 It was 863 dollars (about 100,000 yen) from Kansai International Airport to Helsinki Vanta Airport.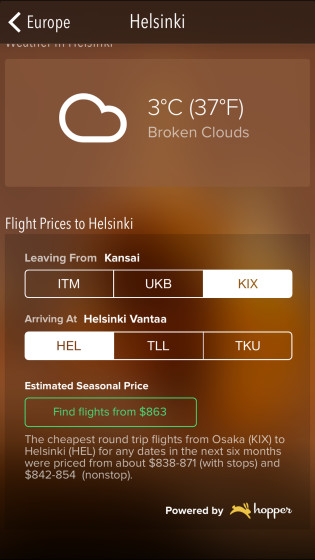 And in the category "Popular Getaways" ......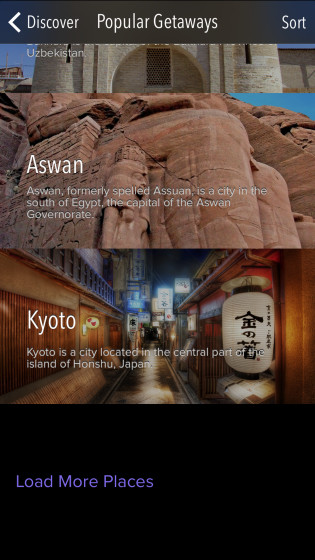 Kyoto has become a spectacular top in the "World's Urban Tourism Ranking" in 2014Discovered.



Kiyomizu-dera triple-tower and ... ...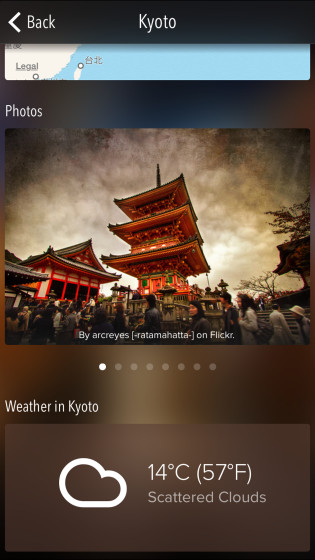 Kyoto Tower.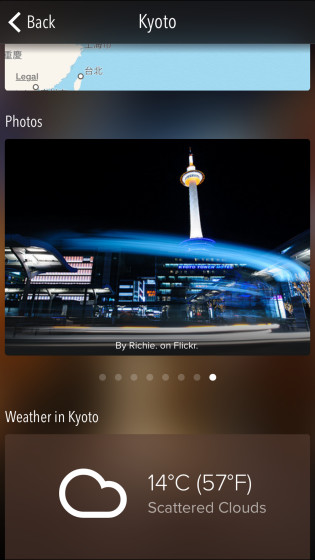 There was a picture of the place which seems to be Arashiyama. The present temperature is 14 degrees, it is warmer than the Western countries that I saw earlier.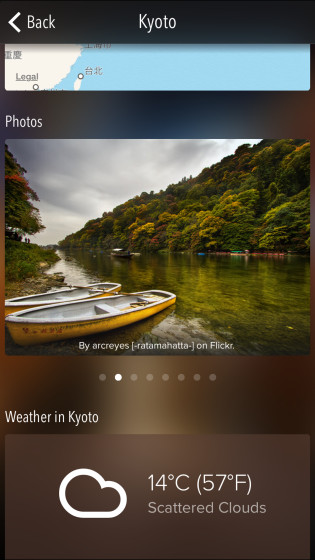 Travel expenses are not displayed, of course, but as you scroll further and farther, you can see where Kyoto's recommended spot, such as Shimogamo Shrine and Toji, can be seen.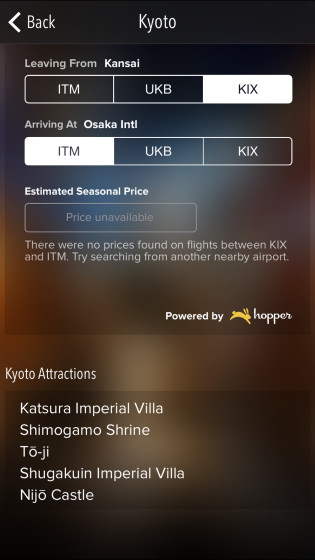 The display method of each category can be changed. Tap "Sort" in the upper right corner of the category.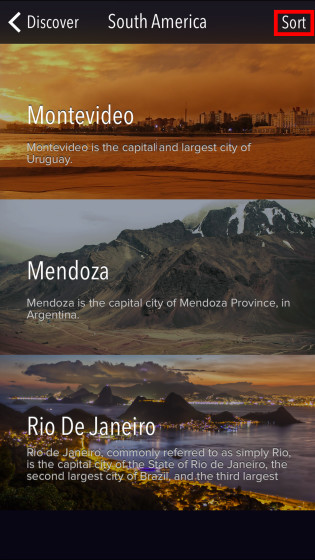 Since it was possible to display four types of "A to Z order", "Z to A order", "favorite is most popular", and "recently uploaded city order", it is possible to display in " I will.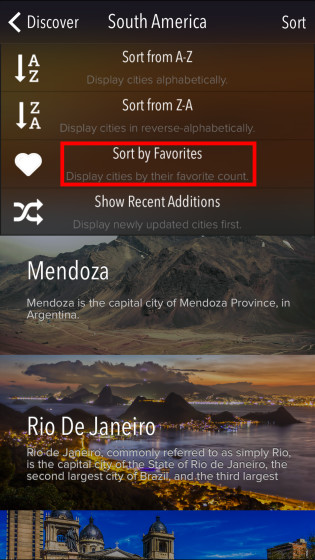 "Montevideo→Mendoza→Rio de Janeiro"Was displayed in the order of"Bogota→ Rio de Janeiro →ArequipaIt was rearranged in the order of. There are places that are not familiar so much in Japan, so it seems that you can also look for spot spots that you never knew before.