Copyrights protect companies that demand content usage fees for illegal downloaders fall into a pinch of bankruptcy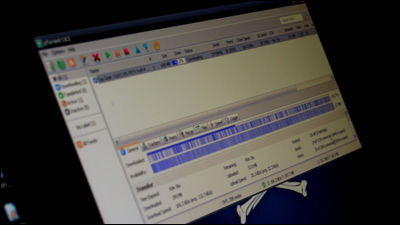 ByK3anan

To detect illegal downloads and ask violators to pay content usage fees via ISP is "RightscorpThat's the job. Up to two months ago, Rightscorp seemed to have charged 30,000 illegal downloads per month and requested a content usage fee, but now it seems that the number of detected cases has increased to 130 thousand monthly. As the number of offenders increases, Rightscorp's revenue should increase, but according to the latest revenue report, Rightscorp's revenue is declining than before.

Rightscorp nails 30,000 users for piracy in one month, still loses money | Ars Technica
http://arstechnica.com/tech-policy/2014/11/rightscorp-nails-30000-users-for-piracy-in-one-month-still-loses-money/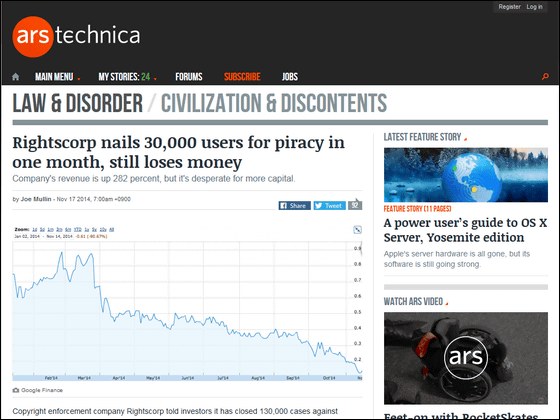 Rightscorp is a company that develops a service that makes content fee payable to people who illegally downloaded using patent technology that can detect individual copyright infringement acts. Whether Rightscorp is not subject to copyright infringement is monitored by 1.5 million pieces of copyrighted work by a client company, and it is checked whether these works are downloaded on a P2P shared site or the like It is.

Notify the user who is illegally downloading that fact, and choose to pay compensation for damages or solve things cheaply and peacefully. If you chose "cheaply and peacefully", you are requesting a usage fee in the form of $ .00 for each piece of illegal downloaded data. There seems to be a time when we requested a royalties fee of 20 dollars (about 2300 yen) for each music piece illegally downloaded at a certain point in time.

The following movies are explained carefully about Rightscorp's service. You can understand the influence of copyright infringement acts via the Internet and what Rightscorp's services are like.

Rightscorp-video on Vimeo


Meanwhile, Rightscorp, which announced results for the third quarter of 2014, said revenues have increased by $ 183,000 (about 21 million yen) to 248,000 dollars (about 29 million yen) when compared with the same period last year . Revenue is increasing, but expenses has doubled from 526,000 dollars (about 61 million yen) in the same period last year to 105 million dollars (120 million yen) in the same period last year, From the start, Rightscorp has issued a total loss of 6.5 million dollars (about 760 million yen) so far.

"It is clear that we are a true leader in this industry," said Christopher Sabec, Rightscorp's CEO, but Rightscorp is currently under pressure to find new investors before bankruptcy , "If we can not obtain sufficient capital, Rightscorp may be obliged to stop the operation currently deployed," he admits in the latest securities report.

Rightscorp currently works with 150 ISPs, but most of them are very small businesses, which is about as large as covering about 15% of Internet users throughout the United States. Sabec of CEO commented that, of course, we plan to continue to increase our partners, but before that we need to find investors who will invest in Rightscorp.

As of the writing of the article, RightsCorp's stock price has dropped to about 12 cents (about 14 yen).