"Dollar a Day" to donate to all non-profit organizations on a daily basis with full dollar donation per day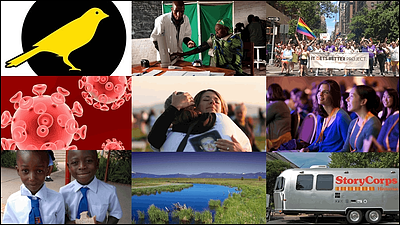 Such as "Project to interview ordinary people", "Association that supports young people of gay / lesbian" "Organizations distribute everyday meals to children in poor area", every day to various nonprofit organizations (NPO) 1 dollar (About 110 yen) can be donated automatically by the service "Dollar a Day"is. Even people who have difficulty finding outstanding NPOs and having no time to donate can make donation easily, and even just watching it, it has become a service that can enjoy "This nonprofit organization existed in the world!"

Dollar a Day
https://dollaraday.co/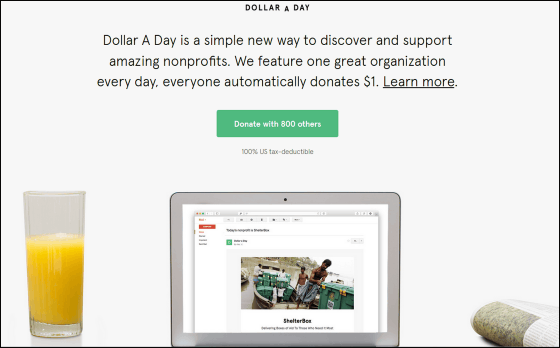 Even if you do not take any special action, a service that will fully donate 1 dollar dollars to various NPO organizations on a daily basis will be "Dollar a Day"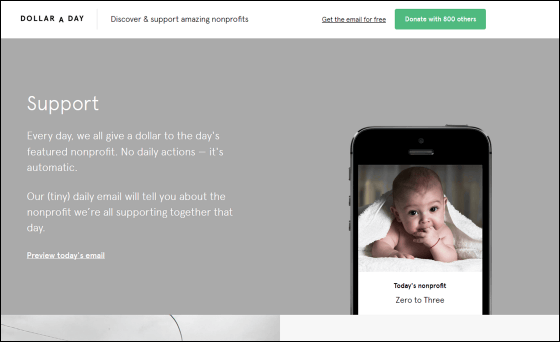 What kind of organizations do you donate every day? That means that you can receive it by e-mail with the following feelings without visiting the website one by one. You can receive this email for free without actually making a donation.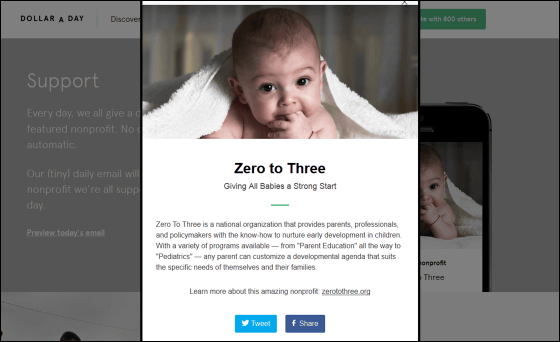 To receive mail for free, please click on "Anyone can get get our daily emails for free!" Displayed on the top page.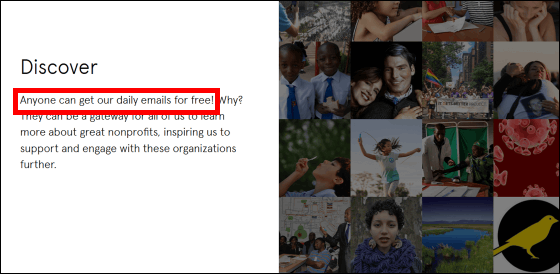 Since a text box will appear like this, after entering the mail address to be the destination, click "Sign up".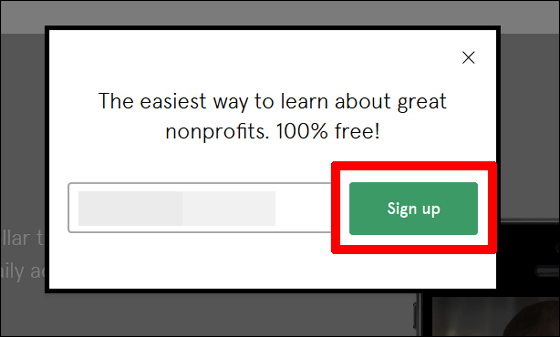 Since the introduction mail of the NPO that is the donation destination of the day is sent to the registered mail address with a photo, you can know the existence of various NPOs in the world simply by checking the mail.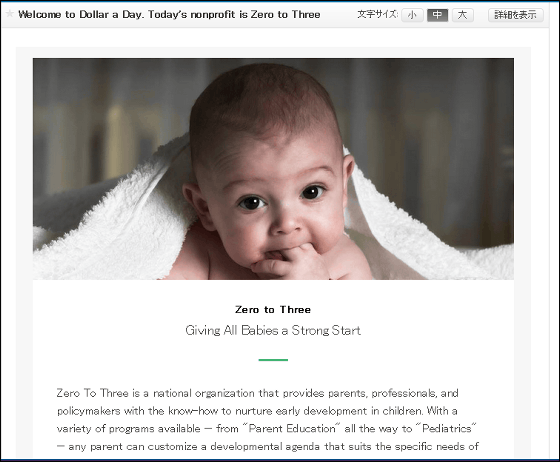 A list of various NPO organizations with great global impact can be confirmed from the following page. The donation schedule from the time of access to 60 days later is displayed.

Dollar a Day - Calendar
https://dollaraday.co/calendar



For example, the NPO on October 17, 2014 (Friday 2014) is "The Conservation Fund" which protects various parts of the United States including parks, historic battlefields and places where nature is left behind

The Conservation Fund | The Conservation Fund
http://www.conservationfund.org/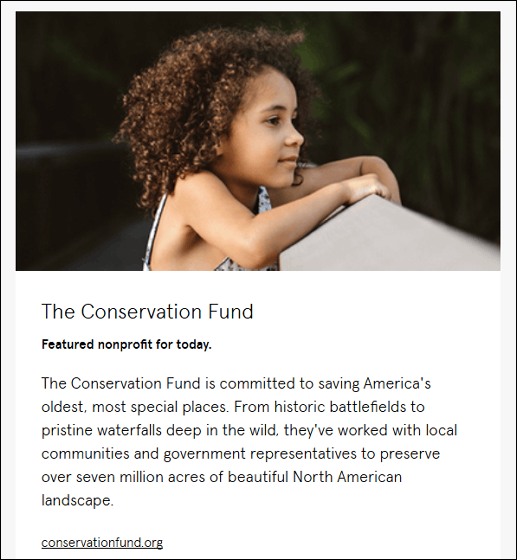 Saturday 18th October is an NPO that supports Latin American companies trying to solve current global problems through business. There are a wide range of subjects such as building houses in affected areas and companies conducting vocational programs of young people in the countryside of the Republic of Nicaragua.

Agora Partnerships
http://agorapartnerships.org/



Monday, October 20 (NPO) organizations deliver meals to children in poor areas every day. By eating on a daily basis, the results at school for children will surprisingly improve.

Lunchbox Fund | Humanitarian Nutrition and Education Non-Profit
http://thelunchboxfund.org/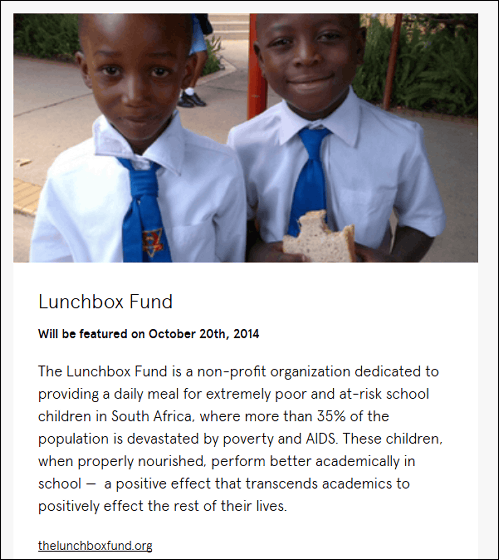 Tuesday, October 22nd, "It Gets Better Project" NPO organization promoting love of yourself by giving young people who are concerned about their sex with role models about gay and lesbians. Just three years ago, a celebrity including President Obama has released various messages on the Internet.

It Gets Better Project | Give hope to LGBT youth
http://www.itgetsbetter.org/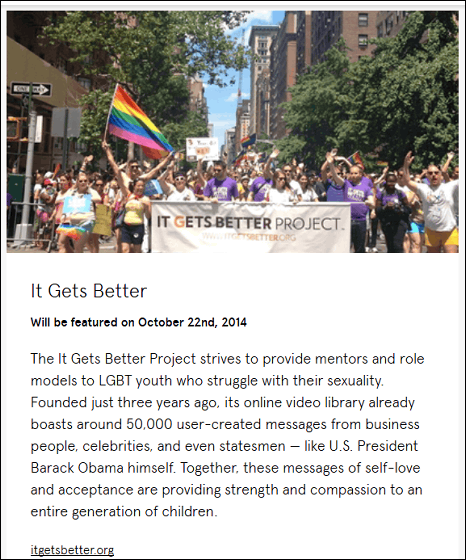 On Wednesday, October 23, "American Foundation for Suicide Prevention" to create a community for understanding and prevention of suicide

American Foundation for Suicide Prevention
http://www.afsp.org/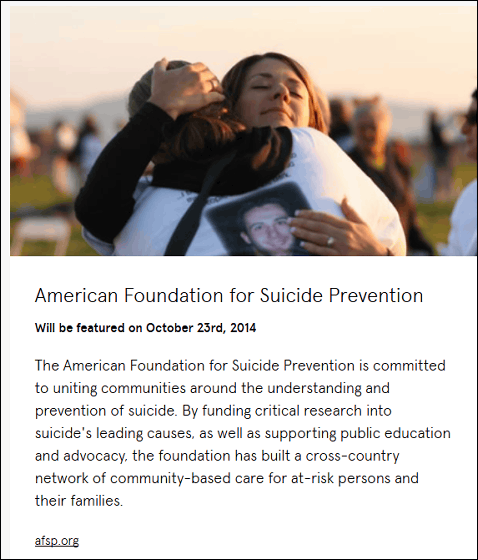 November 2 (Sun) is a project to interview "ordinary people" and record voices and stories "StoryCorps"

StoryCorps
http://storycorps.org/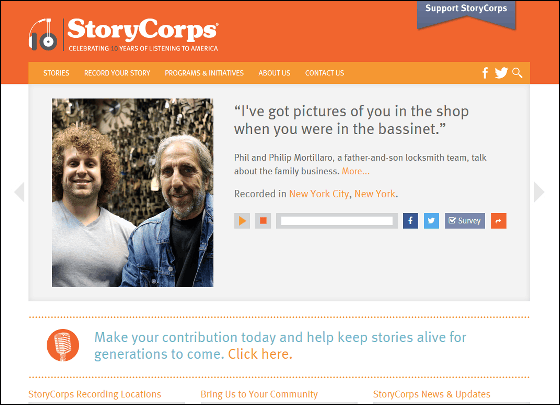 Monday, November 3 (Monday) is an organization "Echoing Green" to support entrepreneurs trying to solve the world's big problems

Echoing Green | Unleashing next generation talent to solve the world's biggest problems.
http://www.echoinggreen.org/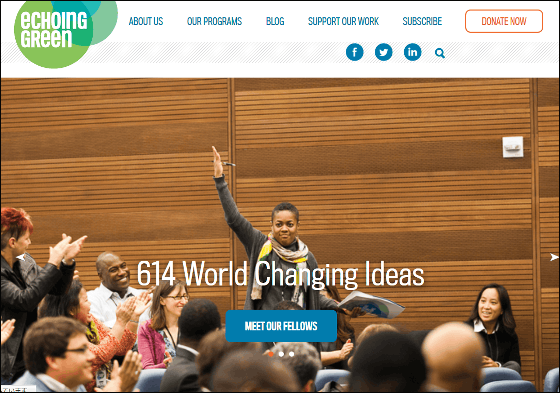 On Wednesday, November 12, we will donate to "Polaris Project" which is active for removal of human trafficking network.

Polaris | Combating Human Trafficking and Modern-day Slavery
http://www.polarisproject.org/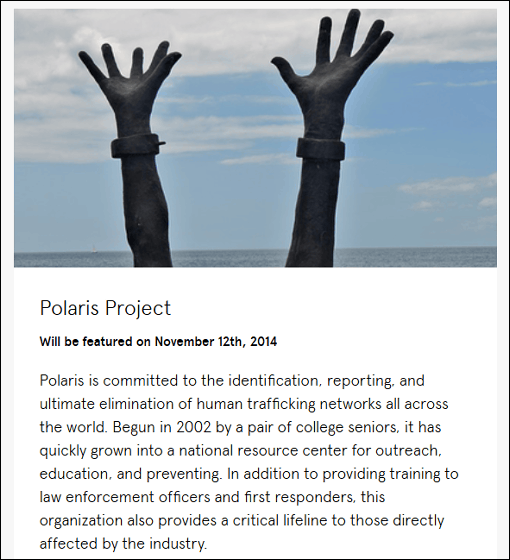 November 13 (Thursday) is a volunteer organization "Alzheimer's Disease and Dementia" specializing in Alzheimer's research and treatment

Alzheimer's Disease and Dementia | Alzheimer's Association
http://alz.org/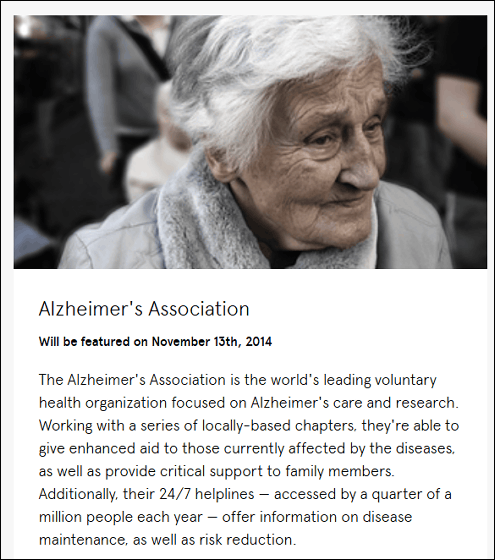 In 2006Muhammad YunusButGrameen Bank, And started low-interest unsecured loans targeting the poor mainly in rural areas. The Grameen Foundation, which carries out activities to expand such microfinance around the world, is a donation destination on Saturday, November 15.

Grameen Foundation | Connecting the World's Poor to Their Potential
http://www.grameenfoundation.org/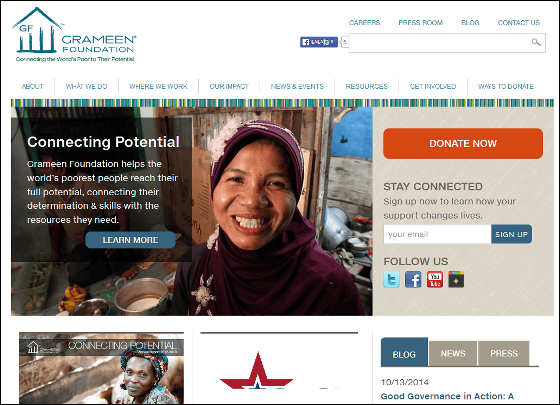 When you really want to donate, click "Donate with 800 others". The character "800" is the number of people donating, so it will be updated from time to time.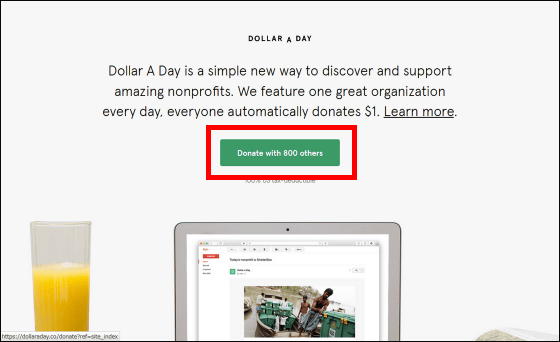 Mail address · name · credit card information · address, "Give an extra $ 1.20 per month to cover credit card fees." (Please pay the credit card fee of 1.2 dollar / about 130 yen monthly) "and check" Donate! " Please click and OK.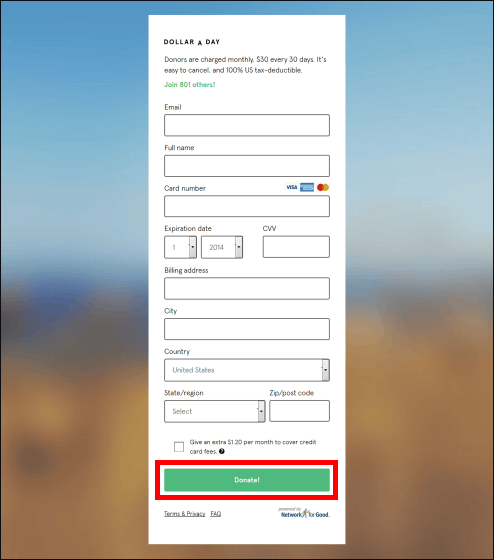 In addition, payment is not done for 1 dollar a day (about 110 yen), it is done at a pace of 30 dollars (about 3,200 yen), and when you want to stop donation from the link stated in the sent mail Easy processing can be done.