Bluetooth compatible mobile phones · Easy-to-phone · Kids' mobile · Wi-Fi router etc. Devices that appeared at docomo presentation meeting Summary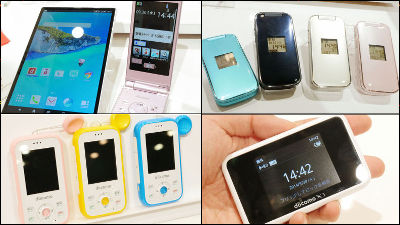 DoCoMo conducted on September 30, 2014 "2014-2015 Winter Spring Model New Product / New Service Presentation"In addition to seven smartphone models, two tablets and one watch product, two feature phones, two data communication devices, one Raku Raku phone, and one kids mobile one model were announced. We gathered all the remaining six models including feature phones that can receive tablet notifications.

◆ P-01G
Docomo P-01G | Products | NTT DoCoMo
https://www.nttdocomo.co.jp/product/feature_phone/p01g/index.html

P - 01G is developed in four colors of pink, white, gold and black. With waterproof / dustproof processing, we have Osaifu-Keitai function, and it also supports 1 seg and infrared communication.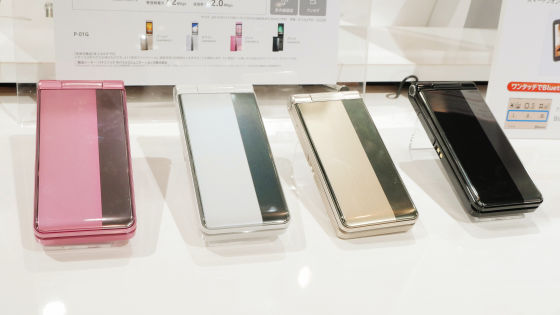 On the back is a 5.1 megapixel camera. Battery capacity is 1000 mAh, continuous standby time is about 750 hours, continuous talk time is about 260 minutes It can be used slowly.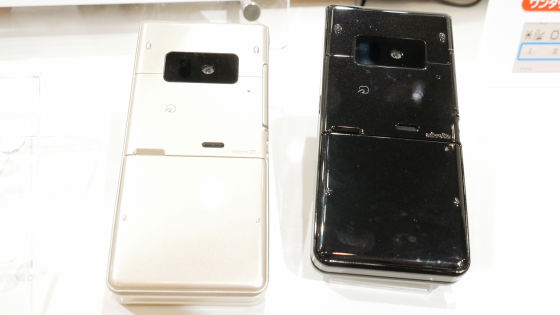 I brought it in my hand. If you push the button you can open the mobile with one push. In addition to the large-screen LCD of about 3.4 inches which is easy to see letters and pictures, the "outdoor mode" which makes it easy to see the picture and the menu screen clearly, such as when it is difficult to see the screen under bright sunlight etc. is carried. If you use the Bluetooth function, hands-free calling is possible with car navigation system and wireless earphone. It also has image transfer function with Android smartphone and Android tablet.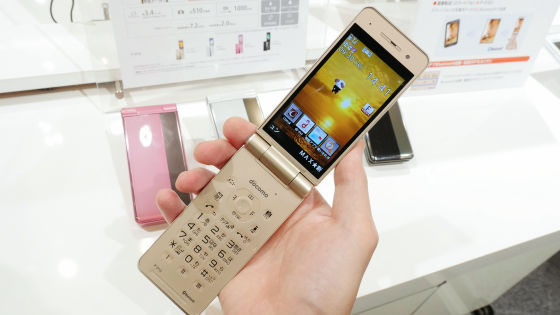 At the bottom of the button array is the "multi-one touch button" that allows you to set your favorite functions on the three buttons, and by registering information on people who communicate often, operations such as telephone and e-mail are easy .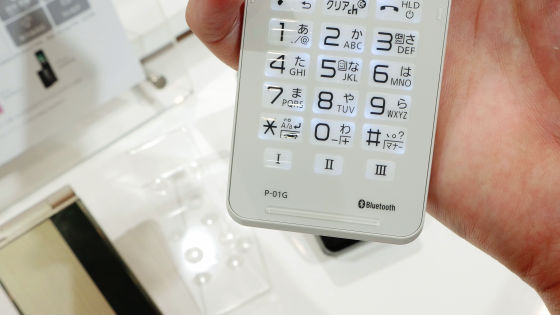 ◆ N-01G

Docomo N-01G | Products | NTT DoCoMo
https://www.nttdocomo.co.jp/product/feature_phone/n01g/index.html

N-01G color is white, pink, black, three colors. It has become a design that is familiar to the hand and easy to open by the dome shape.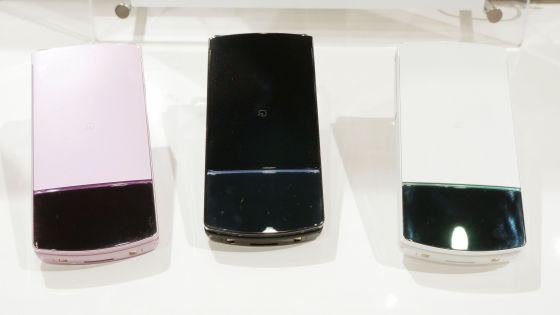 It has a camera with 8.1 megapixel on the reverse side, has a battery capacity of 1010 mAh, a continuous capacity of 780 hours and has a large capacity, and it can be used more relaxed than P-01G. Because it carries waterproof function, it is safe even if it suddenly rains.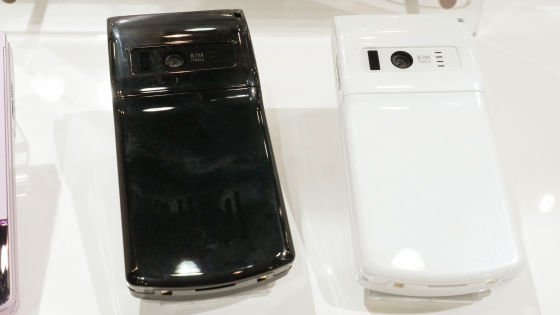 Taking it in your hand is like this. It is said that the character size of the back display is doubled as compared with the conventional size on the easy-to-see 4.4-inch large screen display.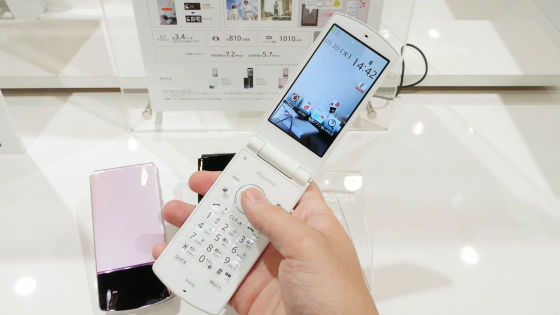 In addition, it has a convenient "smart device link" function with two tablets with the tablet, it is possible to check the notification of the tablet with the mobile phone.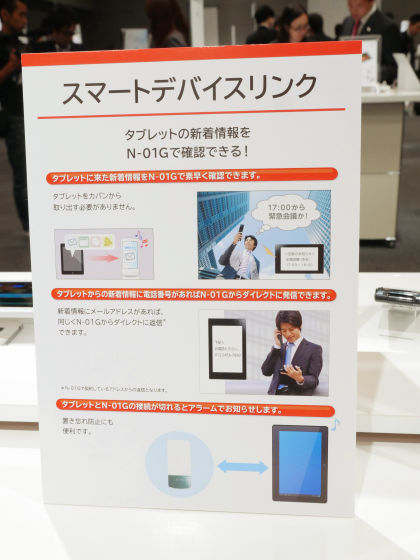 When a clerk sends a mail to the tablet ......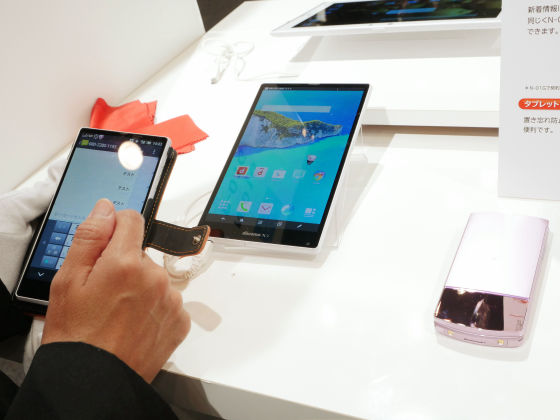 By "Bluetooth connection," "1 new smart device notification is displayed" on the N - 01G display. You can check email and phone without taking out the tablet from the bag.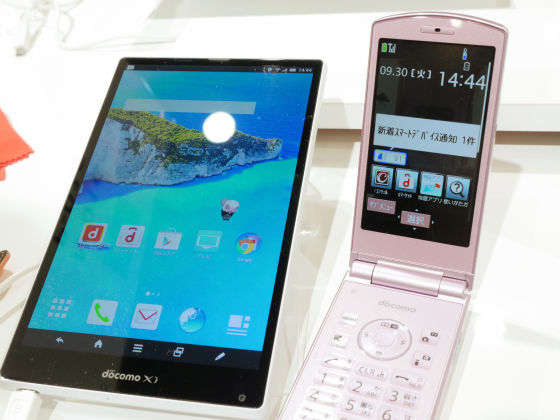 The notification that N-01G can receive depends on the tablet. By checking the detailed settings you can see what notifications can be transferred to the N - 01G.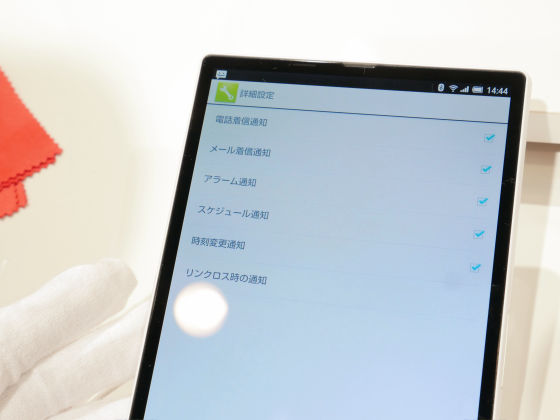 Raku-Raku Phone Basic 4
Docomo EasyPhon Basic 4 | Products | NTT DoCoMo
https://www.nttdocomo.co.jp/product/easy_phone/f01g/index.html

Easy to use for everyone Easy to use The new model of "Raku Raku Hong Basic 4" is developed in four colors: Blue, Black, Gold and Pink.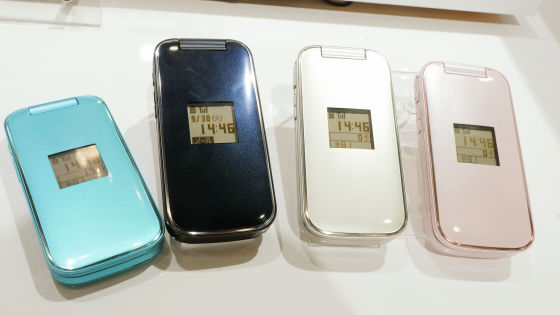 The camera has a simple design with 5.1 million pixels.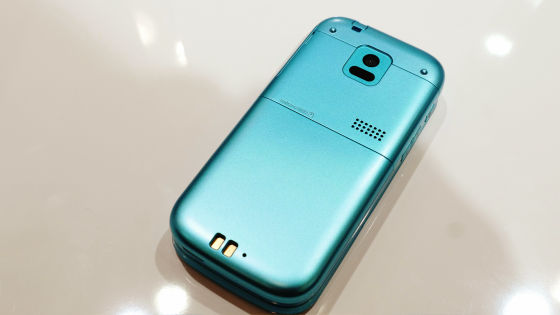 It was opened. The display is 2.8 inches, and every button is made larger to make it easy to see visually. You can register a contact that can be accessed with one push on the button under the display.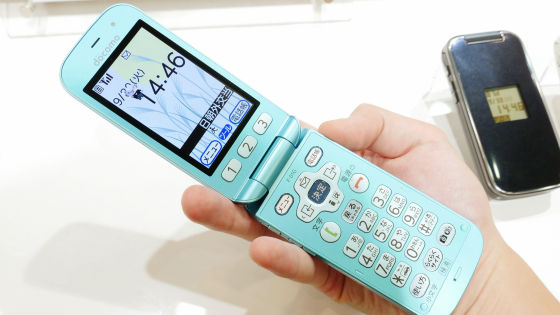 You can quickly find out the weather and news from the Easy Site button. It is a waterproof / dustproof process so it can be used from children to elderly mobile phones.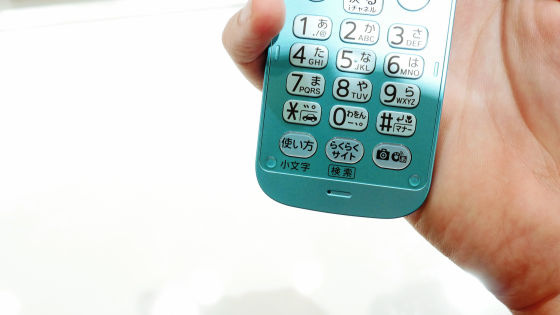 The size of e-mail and other sentences can be seen at a glance this way.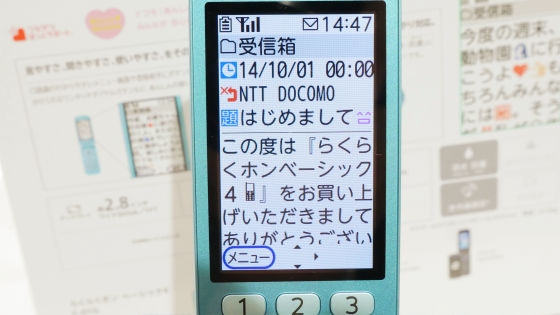 The time of the sub display is also displayed large, and the pedometer function is also carried.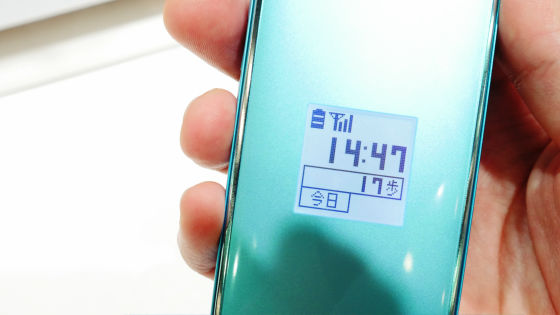 ◆ HW-01G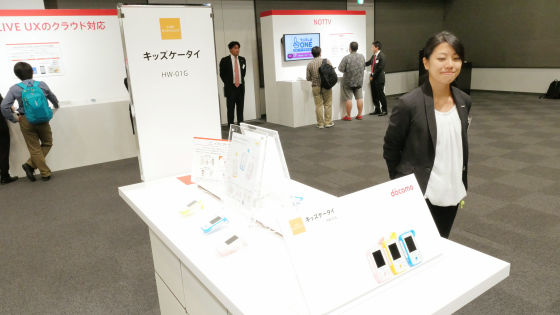 Docomo Kids Mobile Phone HW-01G | Products | NTT DoCoMo
https://www.nttdocomo.co.jp/product/kids_junior/hw01g/index.html

Kids' cellular phone "HW - 01G" with only phone calls, security buzzer and GPS function, even if the child can have it. The color has yellow, blue and pink, it has become a waterproof / dustproof and shock resistant kids cellular phone.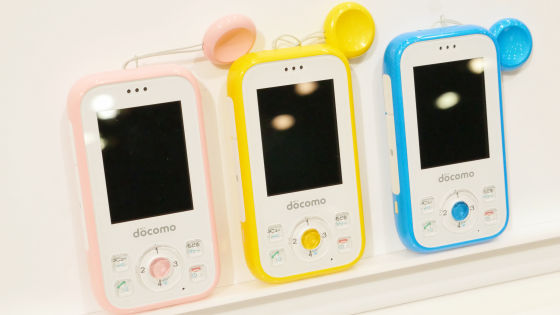 The back side is simple speaker only.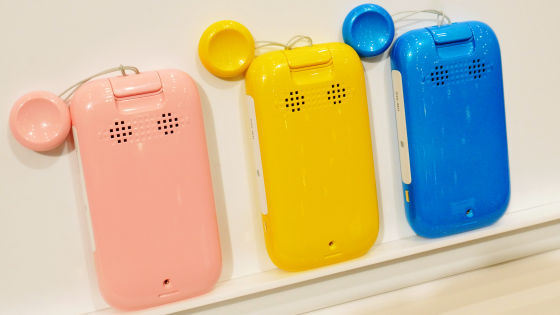 It is made smaller to fit the hands of the child.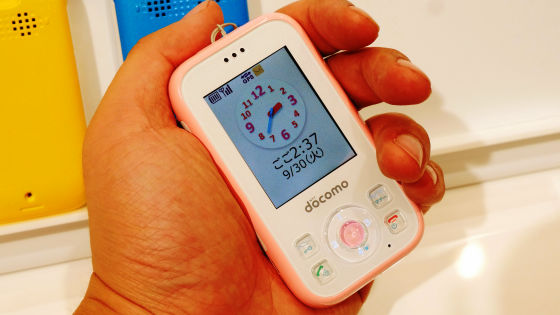 If you pull the strap on the top of the terminal ...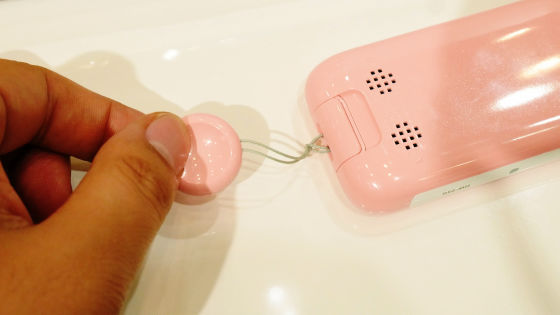 "Smart watch for children"Doccci"GPS function service also available"Imadoco search"The security buzzer sounds like a crime, and you can send a notice to a registered place such as a guardian.



◆ HW-02G
Wi-Fi STATION HW-02G | Products | NTT DoCoMo
https://www.nttdocomo.co.jp/product/data/hw02g/index.html

Arrived at Wi - Fi STATION booth.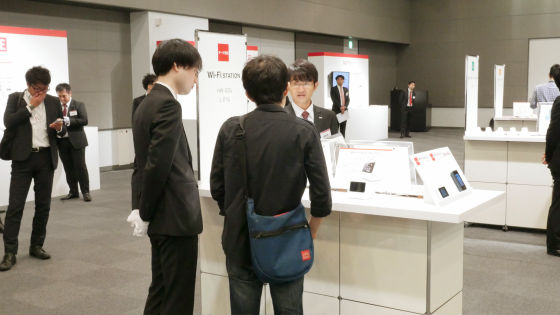 Boasting a speed of 225 Mbps, HW - 02G only has one color of white color. It corresponds to IEEE 802.11a, and it is said that high-speed speed communication is possible even at home or on the go.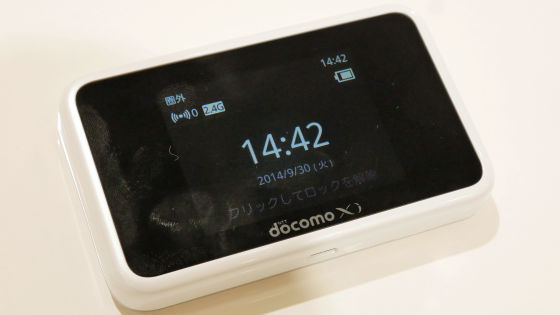 Compact size convenient to carry.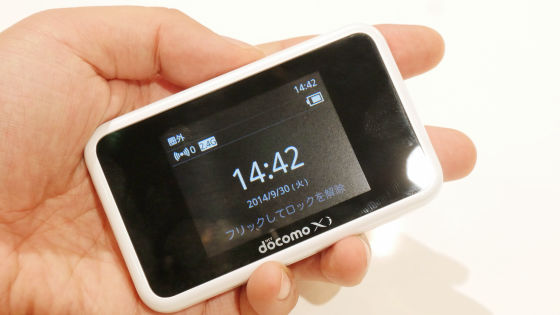 Operate the equipment with the touch panel.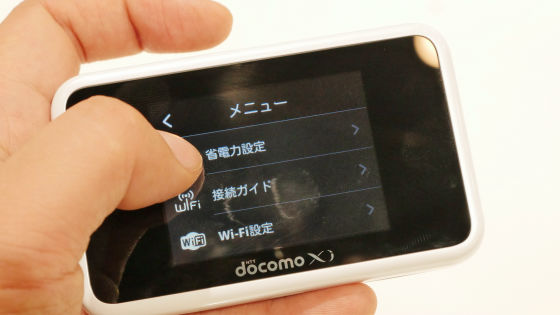 Up to 10 units can be connected simultaneously, but by inserting it in a special cradle it will be expanded to 20 units.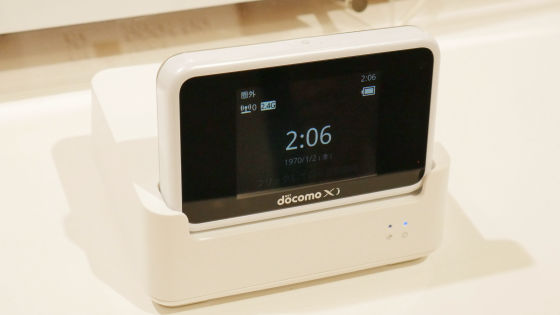 ◆ L-01G
Wi-Fi STATION L-01G | Products | NTT DoCoMo
https://www.nttdocomo.co.jp/product/data/l01g/index.html

L-01G color features a large capacity battery only black. It is compatible with quad-band LTE including 800 MHz platinum band, and it can be used in wide area.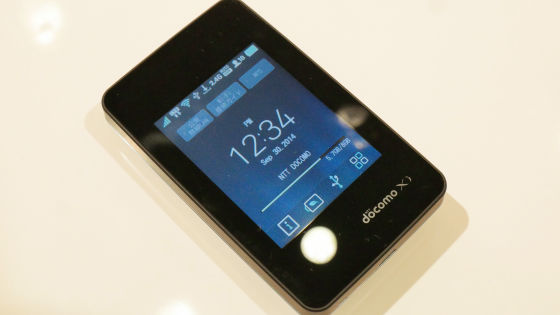 It is slightly larger than HW - 02G, but it has a mobile charger function that makes use of a large capacity battery and it is convenient to be able to charge smart phones and tablets from L - 01G. Also, it is possible to automatically control power automatically according to the communication situation with the Wi-Fi device, and to make the battery last longer.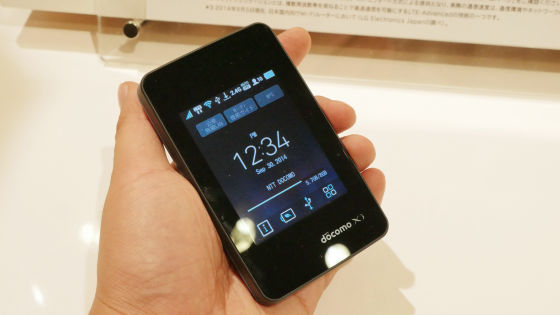 It can be operated with the touch panel, it can go from the home screen to the connection along the guide, making it a Wi - Fi router that can be set easily.