I tried a strange lunch with Gaudi × Inoue Takehiko's blue chips and bubbly rock laver at Roppongi Hills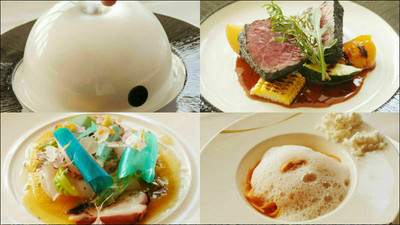 Currently at the Mori Arts Gallery in Roppongi Hills Observatory Tokyo City View, "Special Exhibition Gaudi x Inoue Takehiko - Source of Creation to Synchro -" is being held and Takehiko Inoue draws materials such as Gaudi's autograph sketches and furniture I will explain it using the story I took down. Enter the same building in collaboration with the exhibitionMado LoungeThenBubbles, powder, smoke ... Lunch course to enjoy the chemical change of ingredients"Is provided. Gaudi's work "Casa BatllóIt was a menu that was also fun to the eyes, such as a menu reminiscent of the menu, smoke rising menu, Gaudi's hometown · Catalunya traditional sweets, so I actually went there.

A restaurant with a beautiful night view in Tokyo "Mado Lounge - MADO LOUNGE-" | From dating to party, party at Roppongi Hills. »" Special Exhibition Gaudi × Takehiko Inoue - Source of Creation to Synchronize "Information on the Special Collaboration Menu
http://ma-do.jp/wp/news/gaudi_collaboration_menu/

Special exhibition Architect · Gaudi × manga artist · Takehiko Inoue - source of creation to be synchronized
http://www.gaudinoue.com/

Arrived at Roppongi Hills Observatory Tokyo City View.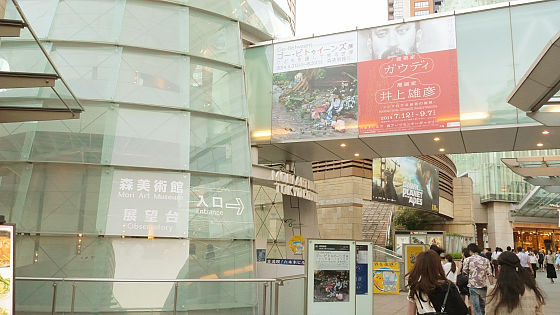 An announcement of a special exhibition is also done.



To enter Mado Lounge, you need a ticket for the observation deck. Tickets are 1,500 yen for general, 1000 yen for students, 500 yen for children from 4 years old to junior high school students.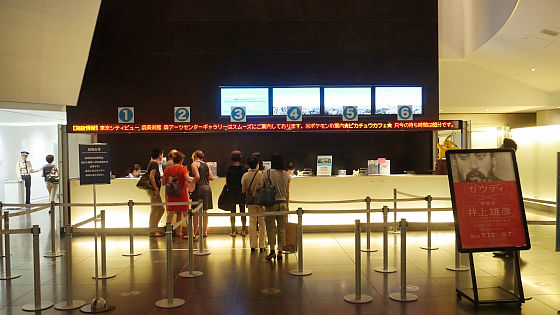 Since the observation deck and Mado lounge are located 250 meters above sea level, elevator to the upper floor.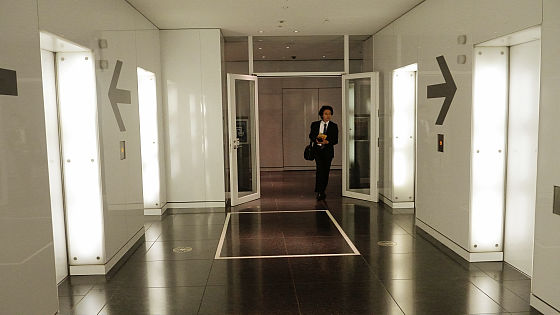 There is the Mado Lounge in a place just off the elevator.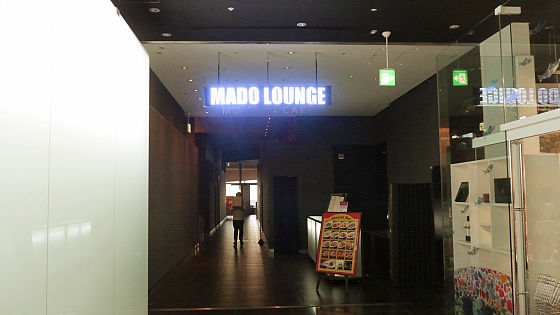 The atmosphere of the shop feels chic.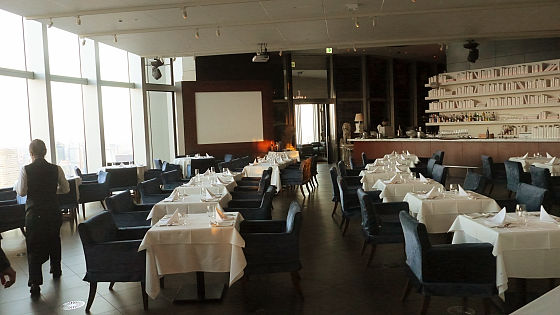 There is no charge for lunch, but the seat on the window side will charge a table charge of 1000 yen.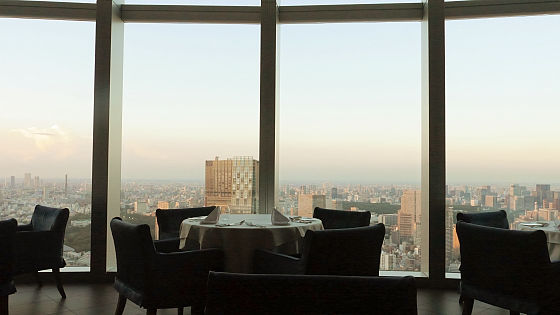 Of course the window is better than the window, but also from the usual seats the Tokyo Sky Tree ... ....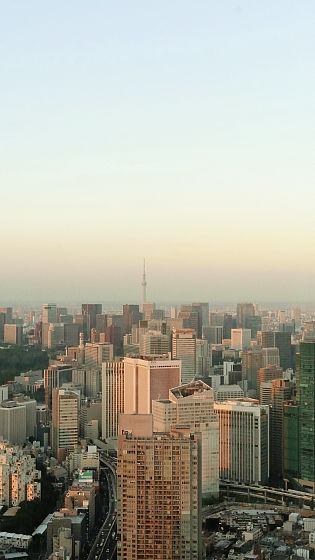 You can see the row of buildings.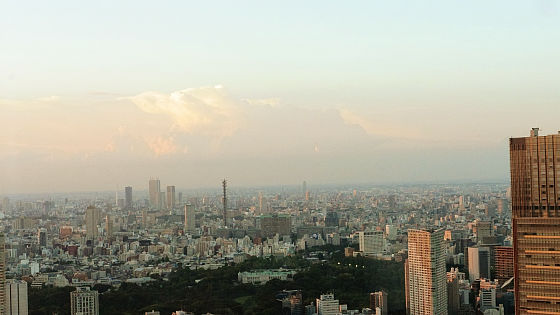 Three kinds of lunch menu are currently available, but of course we ordered "lunch course (3500 yen including tax)" which enjoys chemical change of foam, powder, smoke · food ingredients.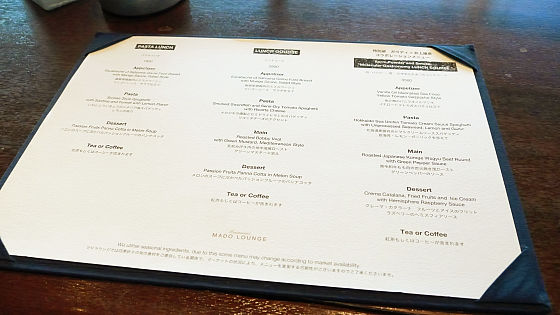 Knives and forks were prepared on the table.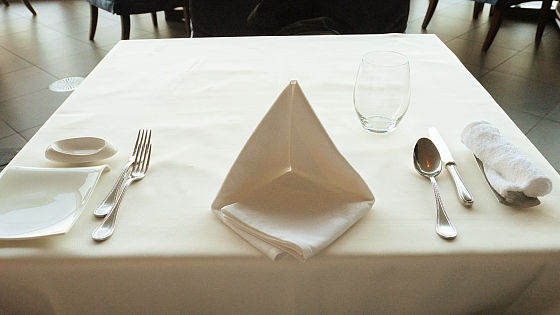 After a while the menu arrived. The first item is a dish inspired by Gaudi's "Casa Batlló" at the "Taste of seafood vanilla oil marinade yellow tomato gaspacho" where the blue chips of the Mediterranean sea catch up.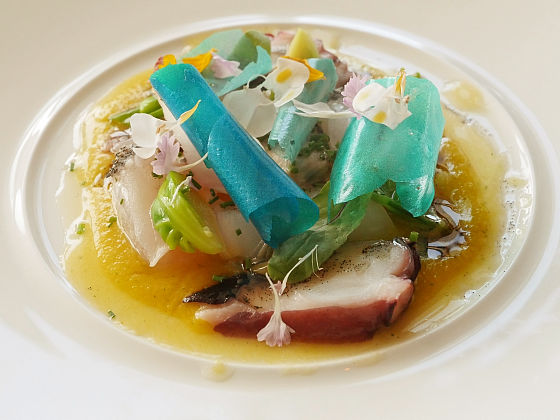 Mediterranean blue chips crushed the potatoes and was colored with seaweed derived ingredients.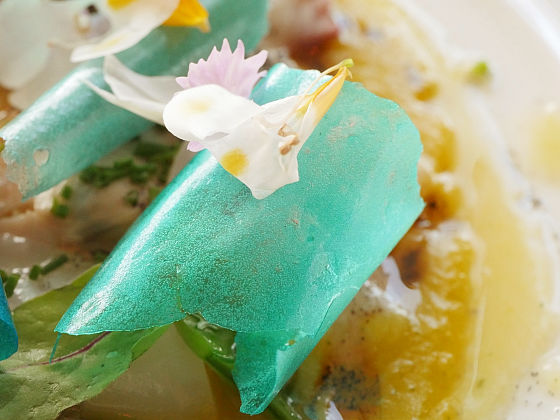 You can also check fish such as squid and Suzuki. Yellow tomato's gaspacho, green bean sprouts and petals are also brilliant.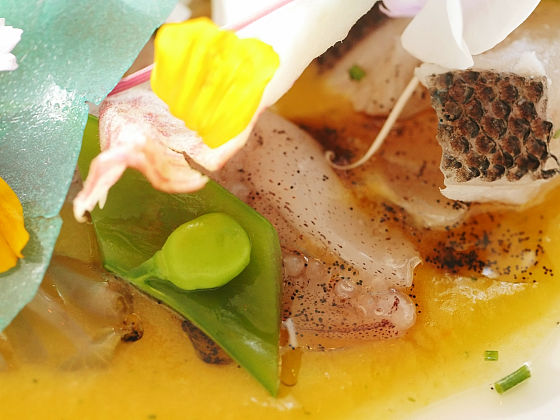 First of all when eating from Mediterranean blue chips, there is no poisoned thing like it looks, the taste of a normal potato chip. Although I was hesitated before eating, such worries are unnecessary.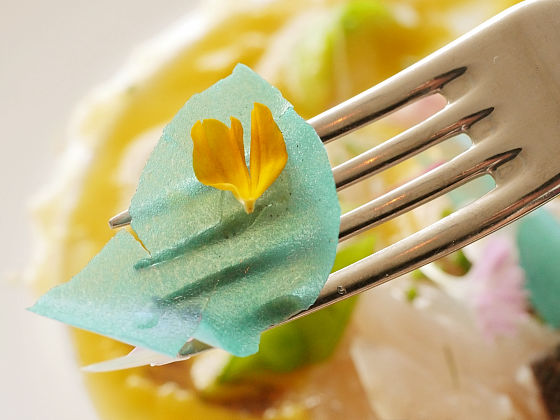 Suzuki is pretty smooth, but it matches the umami of tomato and the fragrance of vanilla can be felt faintly.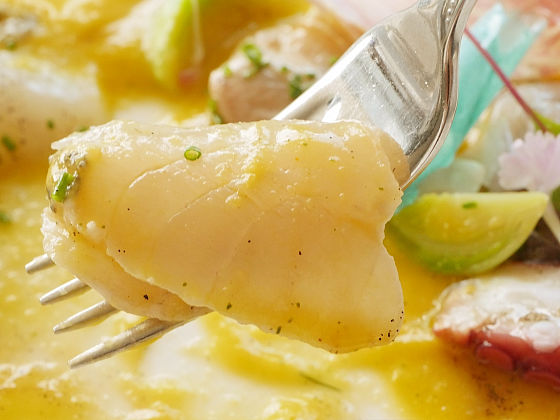 Feeling that the chemistry of the cuttlefish and the tomatoes are also good.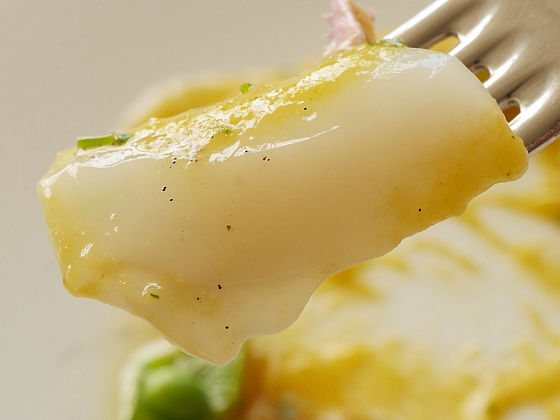 Excellent compatibility between clam and tomato. Not only is it delicious to the eyes, but also the taste is pretty solid.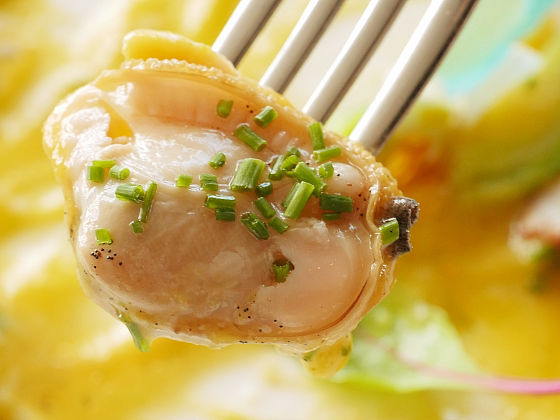 Subsequently, the second item is "Tomato cream sauce spaghetti rock seaweed with lemon and garlic with Hokkaido-made unglazed". It features bubbly rock laver covering pasta, powdered lemon olive oil and garlic oil powder.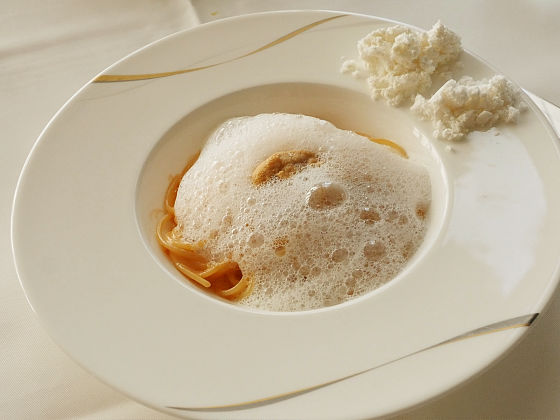 Rocks Nori's bubbles are white, pasta is tomato color.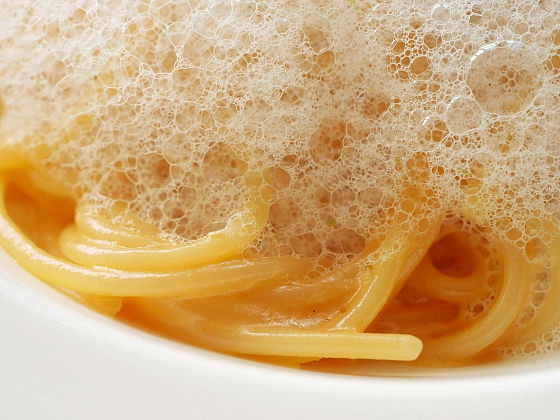 Sea urchin was also placed in the center. First of all I try to eat bubbles in pasta.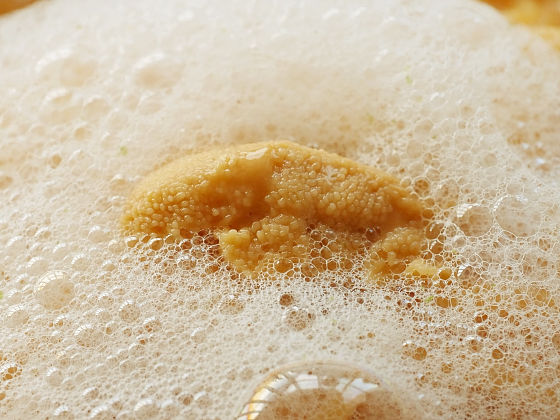 Pasta is seasoned with tomato sauce and you can also feel the taste of rocky seaweed, but it does not have intense odor, so it is an elegant finish. Cream does not overrun too, it feels nice.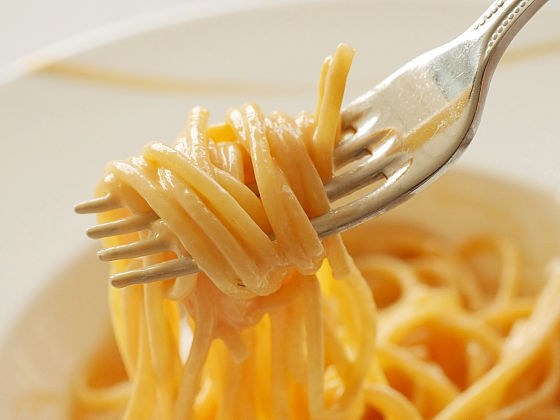 If you eat for a while, try mixing the lemon olive oil and garlic oil that are added sideways.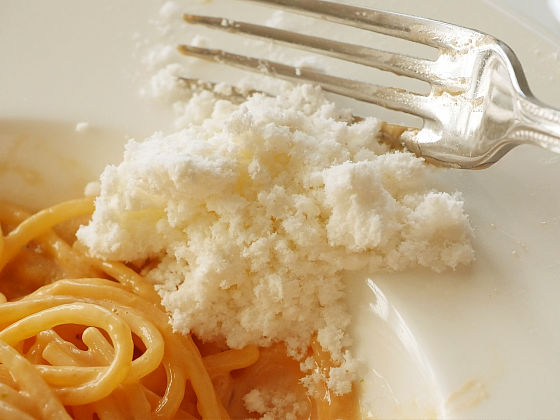 Mixing will slightly increase the viscosity of the sauce, but it does not change aesthetically.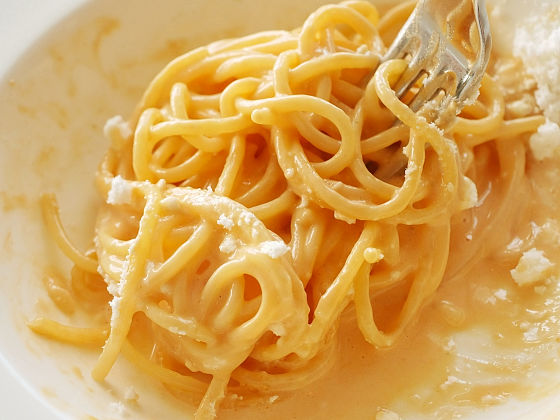 By entering lemon · olive · garlic, it is more refreshing and has a punchy taste. Since it is in the form of a powder, the fragrance is not stronger than those squeezed or crushed raw, but those taste will be added firmly. Sea urchin is a rich flavor, and when you eat it with pasta it becomes another bit different taste.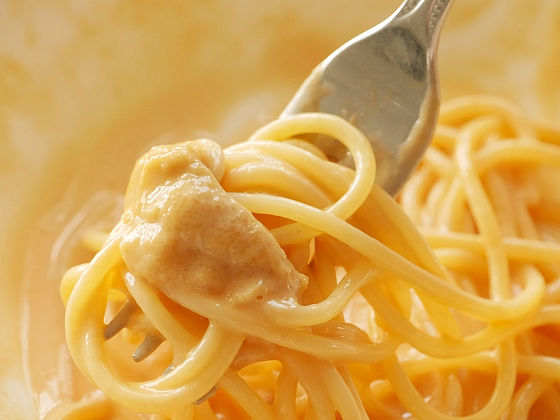 It was delivered to the table in a lidded state "Kuroge Wagyu Beef Thyme Charcoal Grilled Wind Roasted Green Pepper Source." Smoke is on its inside.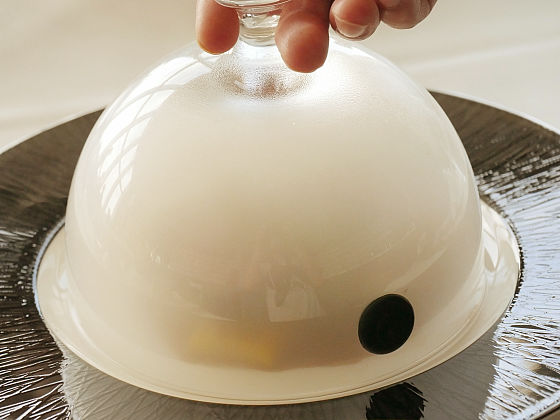 When opening the lid, the smell of scented charcoal spreads out. You can feel the scent of barbecue while in the restaurant.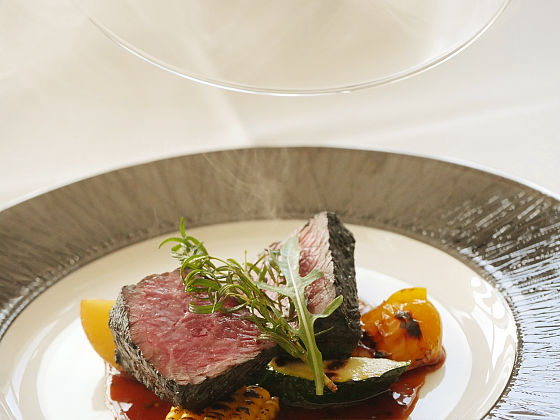 The beef whose surface became black also gets an eye but colors are vivid like red and yellow.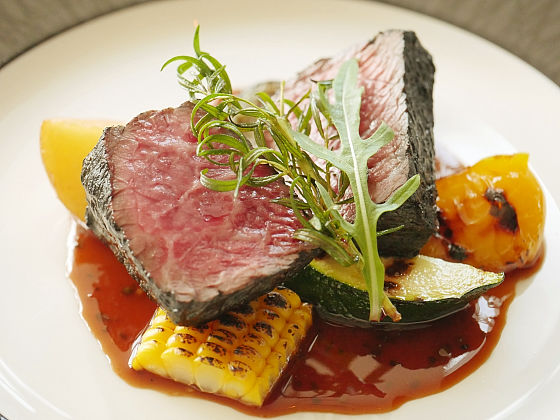 Medium is completely rare in beef.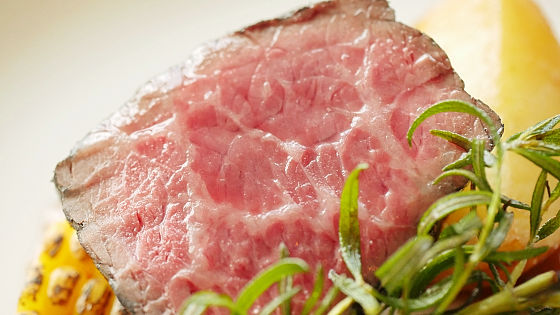 Because it is marinated with bamboo charcoal, the surface is black. It seems to be Tosa making of bonito.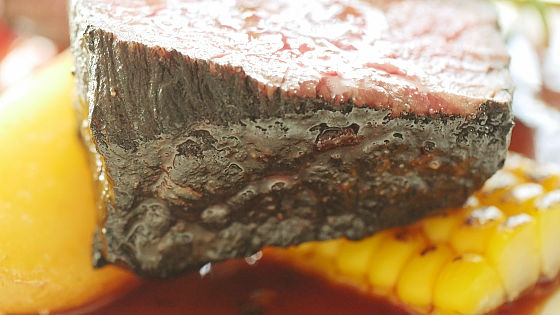 Corn placed under the meat also has grilled eyes.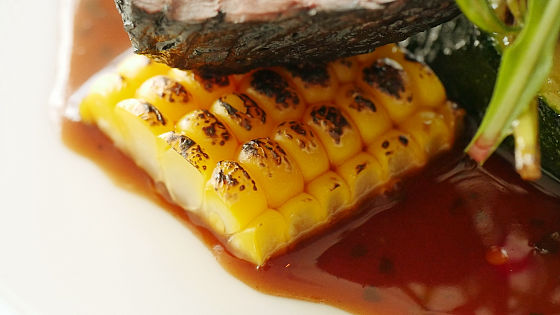 Zucchini and green peppers also had grilled eyes.



Beef is quite sucking the scent of charcoal, just making Tosa with a texture like sashimi. You can fully enjoy the purity of red meat. The pepper of the sauce of the green pepper is not strong, but the taste of beef is being paid off.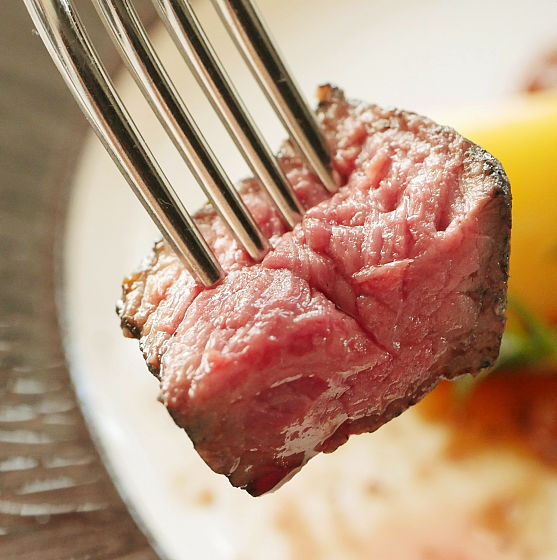 The fragrant charcoal smells from the blackened part. I do not often eat beef like this, so I felt fresh.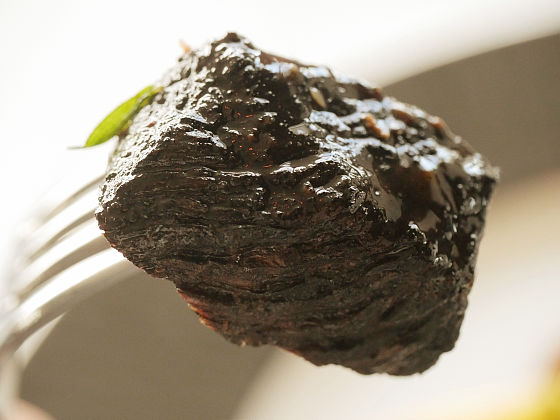 Potatoes are also hiding, smell of charcoal is good and good.



The smell of charcoal has been transferred to corn, and it is finished in a taste like grilled fish.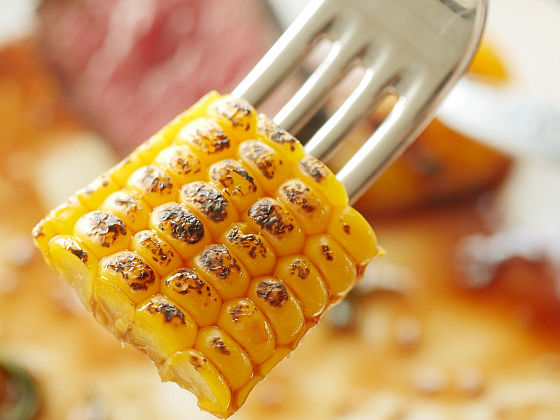 Zucchini had a soft texture and a strong summer vegetable taste was felt.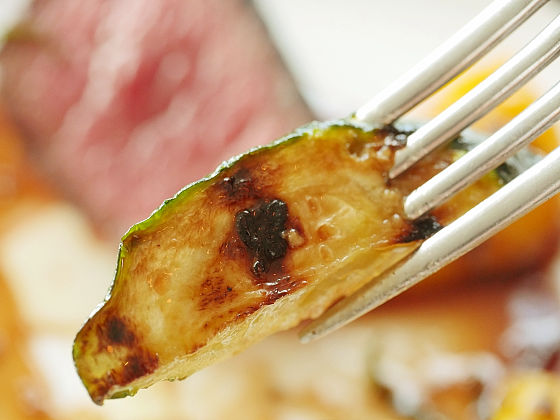 "Krema · Katarana fruit and Ice fritted raspberry hemisphere source" is a dessert packed beautifully in black dishes.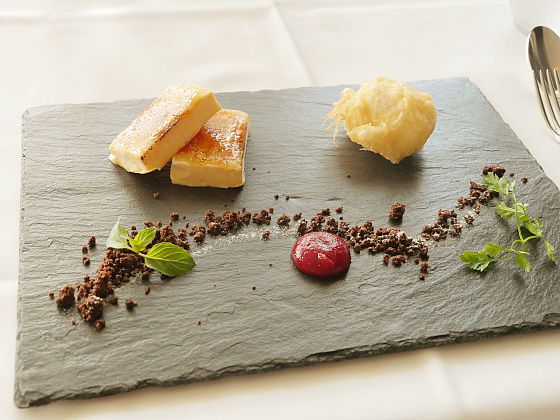 Catalana has a fresh caramel and egg taste, it feels like a frozen pudding.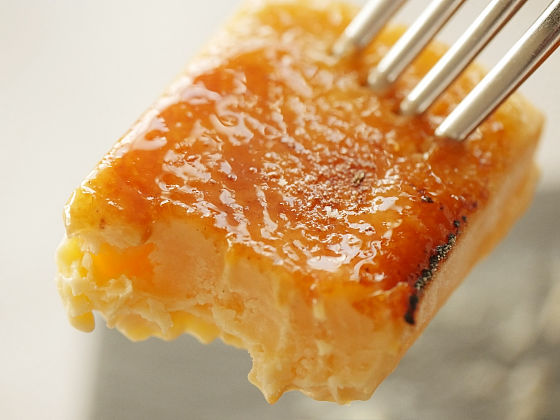 The frit of ice and fruits is a dish fried with clothes on ice.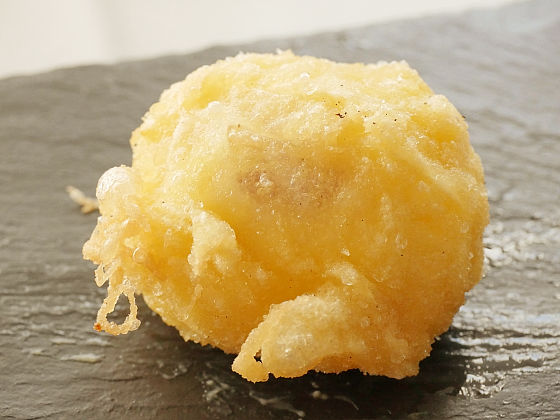 Because it took too much time, it melted considerably. It seems better to eat vanilla ice cream early.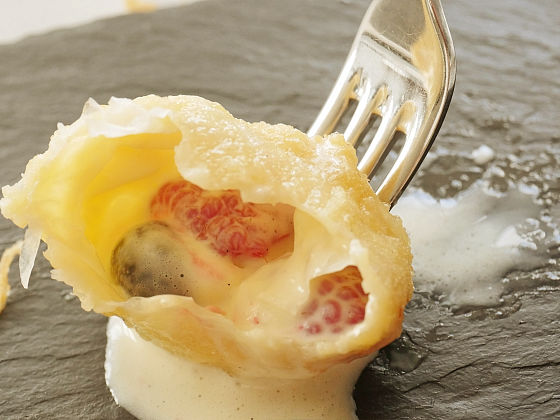 "Lunch course enjoys chemical change of foam, powder, smoke ... food ingredients" until September 7 (Sun). The location is also very good, so it's perfect for when you want a little luxury.