While the real fish is playing Pokemon, get the first Pokemon 'Hit Lizard' in 135 hours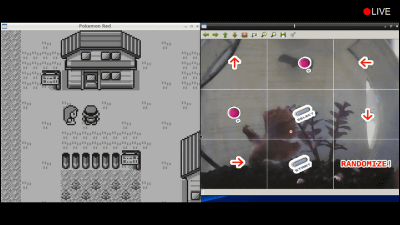 World's largest game specialty live distribution site "Twitch"In addition to the general live play live broadcast,"Thousands of people play Pokemon at the same timeThere are also popular projects such as flying. This time, a ridiculous project that "Real fish plays Pokemon" appeared, and about 20 thousand users were watching, the fish got Pokemon to get first by playing for 135 hours.

FishPlaysPokemon - Twitch
http://fi.twitch.tv/fishplayspokemon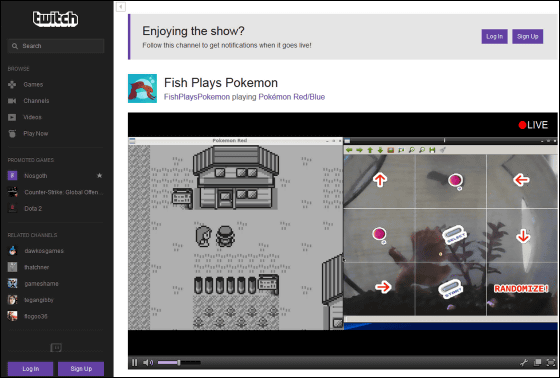 It is Fish Grayson Hopper who plays the first Pokemon. In self-introduction, "I am a fish, I play Pokemon, I am named Grayson Hopper".




The real play screen looks like this, with the Pokemon play screen on the left and the Mr. Hopper playing on the right. The screen on the right side is divided into 9, and the button of the game boy is arranged for each, and when Mr. Hopper moves in the tank, the button corresponding to the place is pushed. When Mr. Hopper moves to the lower right section "RANDOMIZE!", The button arrangement is shuffled.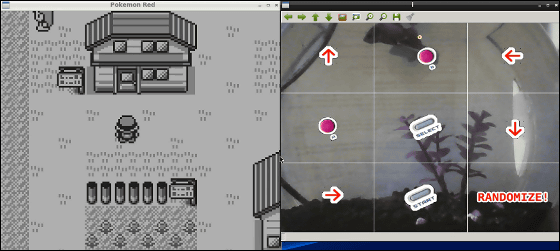 Although it is a chaotic operation method, Mr. Hopper got to the laboratory safely from Masala Town in 135 hours from the beginning of playing, and got the first Pokemon "Heritage Lizard". In addition, he won the battle with the rival "Zenigame" superbly.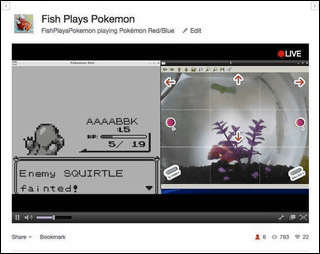 "FishPlaysPokemon" was made by two students living in NY called Mr. Catherine Moresco and Patrick Facheris, who holds a hacking marathon event in New York "HackNYProject created for. Furthermore, when writing the article it was struggling to escape from the bookshelf and the TV inside the hero's house. Sometimes Mr. Hopper sometimes stops working, but he only sleeps.