LED smart display "LaMetric" capable of real-time notification of Twitter · Facebook · RSS · clock, weather · Gmail etc. IFTTT cooperation is also possible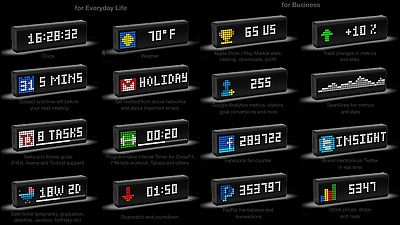 On smartphones, there are applications such as watch, mail, schedule management, task management, stock price, health management, news browsing, SNS, weather, etc. Notification of various applications, results of analysis of Google Analytics, etc. are displayed on the display in real time You can display it, other smart devicesIFTTTSmart display that can also collaborate "LaMetricKickstarter is seeking investment.

LaMetric - the customizable smart ticker that shows what's important to you in real-time
http://lametric.com/

You can see what kind of smart display LaMetric can display various notifications in real time from the following movie.


LaMetric is like this LED display.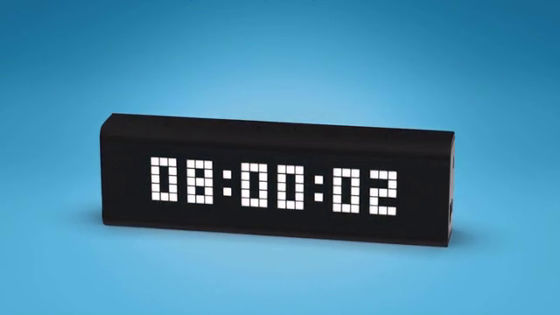 When you are slow at home before leaving, LaMetric shows the weather and temperature of the day.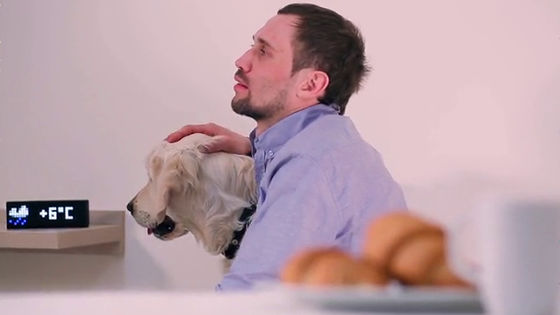 Thanks to letting me know that it was raining automatically, I was able to go out without forgetting my umbrella.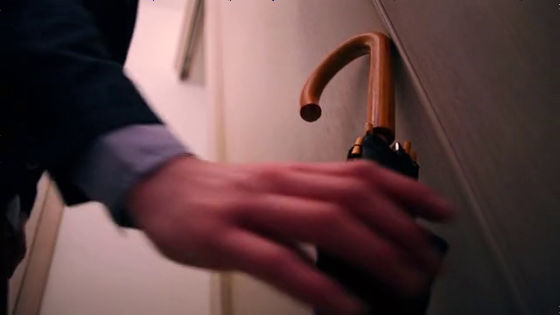 When I press LaMetric's button while working in the office ......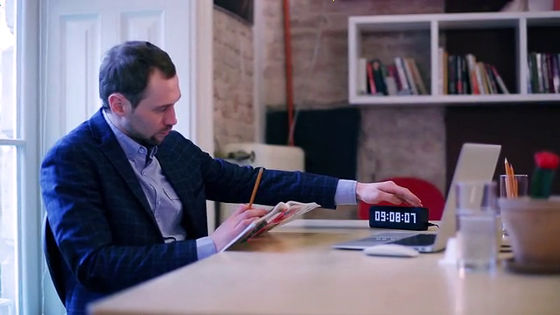 I found three new messages in Gmail.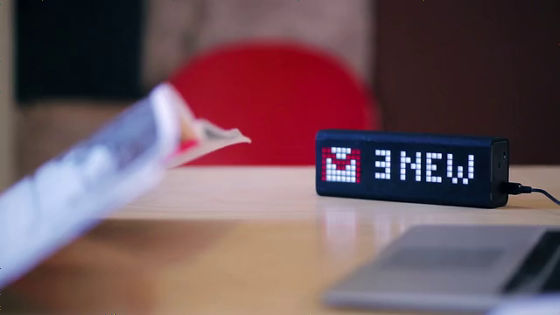 Also, while working on a PC, the Dow average stock price is displayed in real time.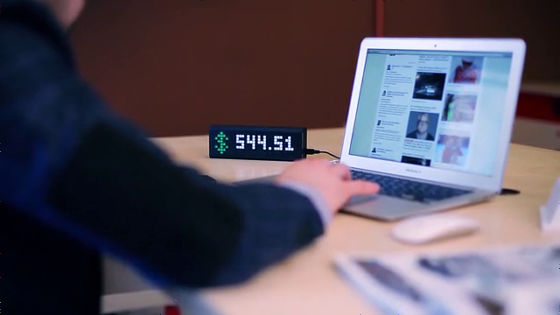 In addition to Twitter information ......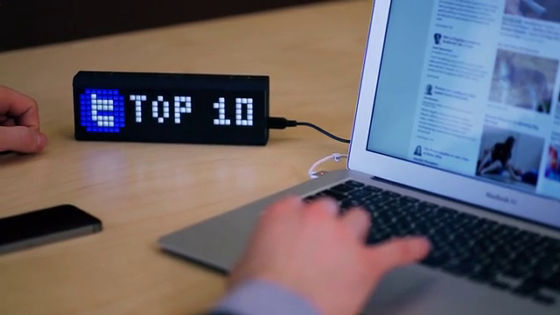 The schedule you set is displayed with the sound "Pylorin".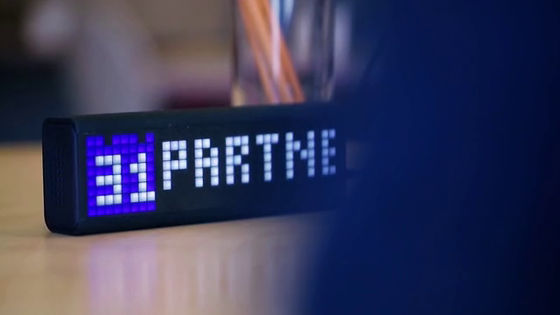 This makes it possible to attend the meeting without delay.



To operate LaMetric, use the left, home and right buttons on the top.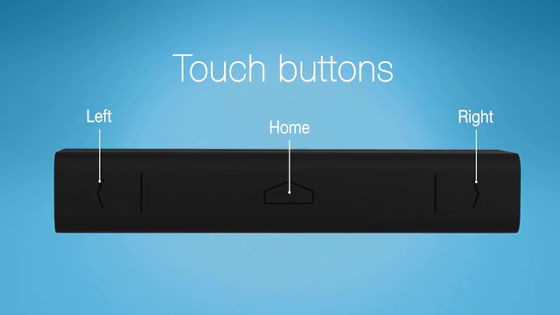 Various settings can be done from a dedicated application, and the following is where I slide RSS icon.



When you set the RSS feed that you want to display, such as Fast Company · Techcrunch · Yahoo! ... ...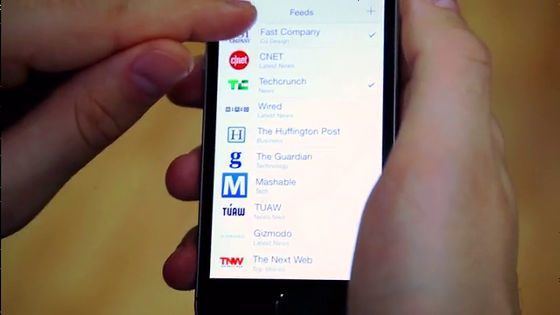 During the meetingYahoo! Acquires SummlyYou can get information as soon as you can see the news you did.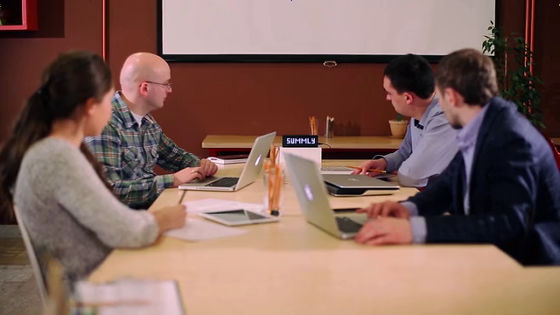 Also, as well as business, playing with pet dogs at home ... ...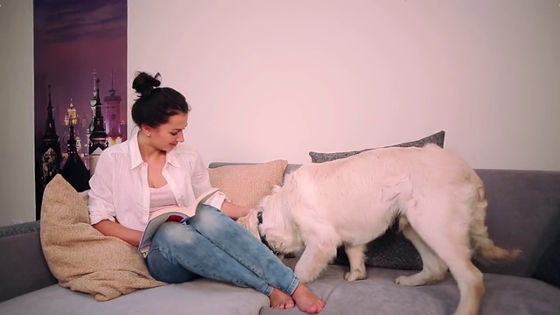 "PARCEL"Was displayed.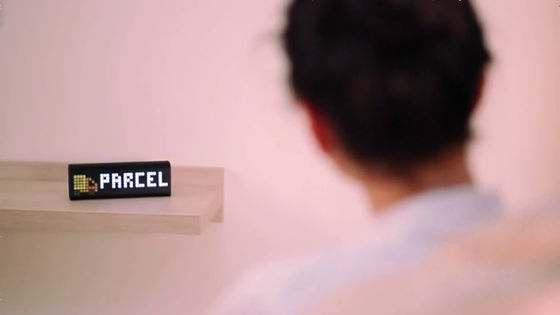 This is a notification from an application that can receive without delivering delivered items, which means that even if I forget the delivery schedule, I will inform you of the schedule that the parcel will arrive visually and audibly, so I can receive it properly.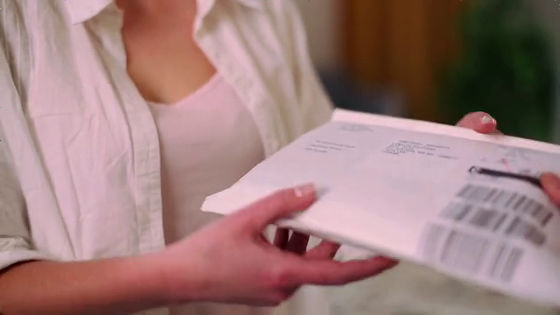 Comprehensive manipulation and management of corresponding home appliances "SmartThings"And various sensors, applications, and services can be triggered to automate various"WigWagIt also corresponds to cooperation with.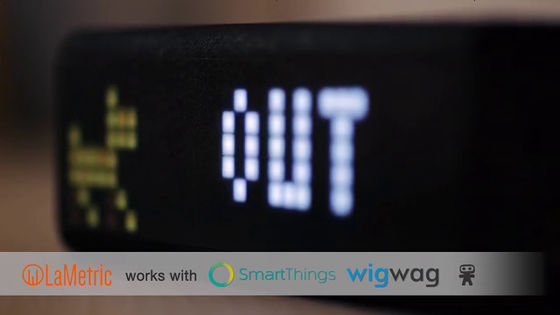 We can also link with IFTTT so that you can display unexpected information depending on the recipe.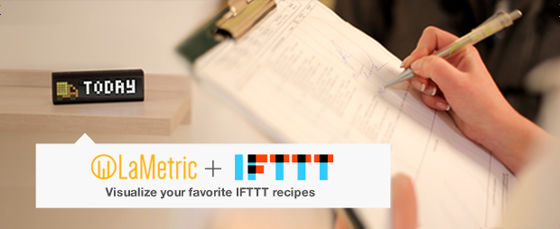 If you input animation or message from the application ... ...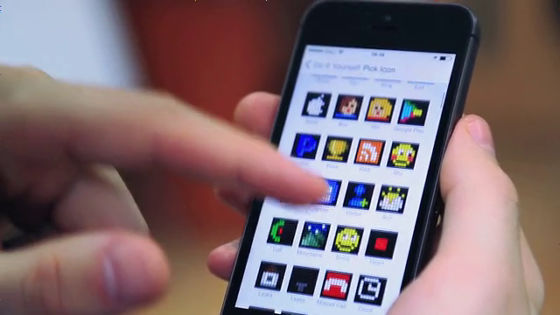 People at home can be displayed with LaMetric.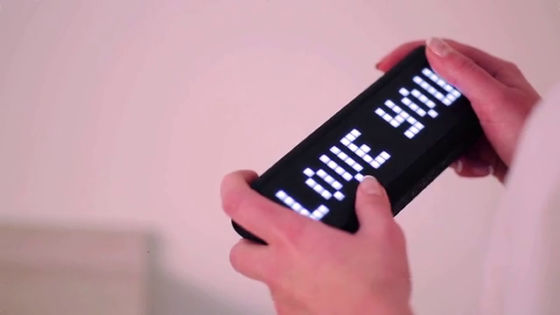 You can display Facebook's "Like" number in real time in the store window ......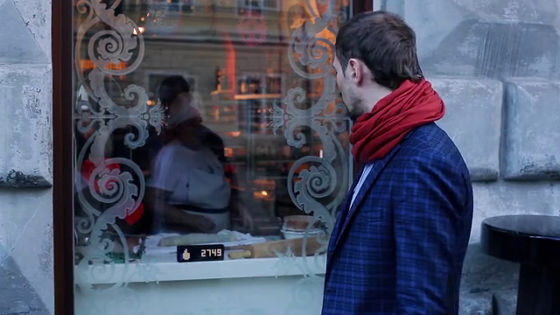 It is possible to display the number of PV of the website and the graph of Google Analytics in real time.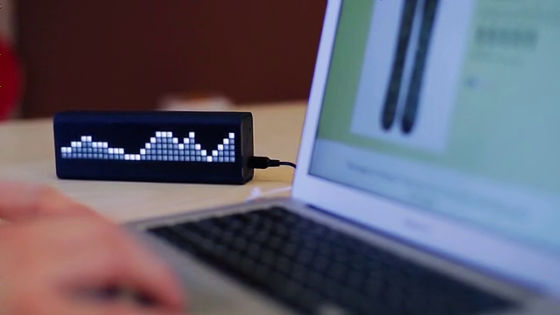 Applications vary widely depending on the idea, such as forgetting to remember by setting an anniversary day.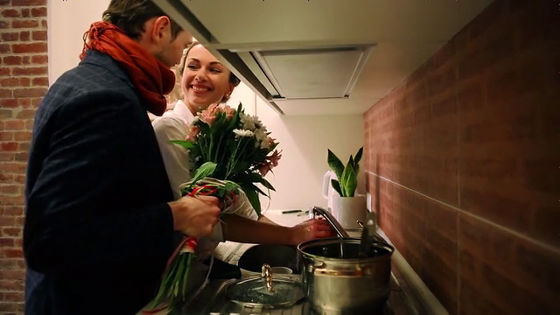 Looking at the functions that can be used with LaMetric in a casual way, alerts of the clock · schedule · countdown to the deadline · weather · notification of SNS and mail account · interval time · stopwatch of fitness ... ....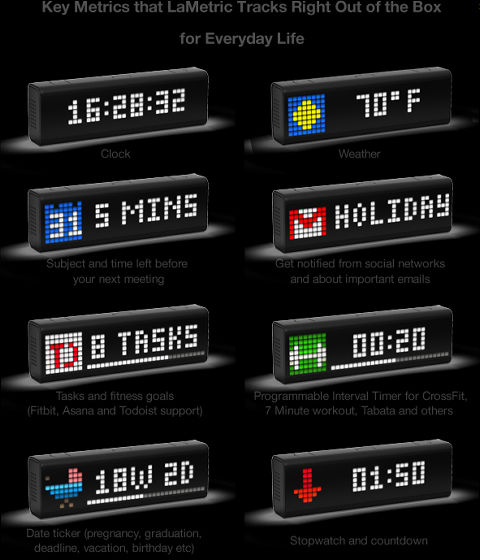 In business you can use it in the App Store / Google Play ranking · Google Analytics metrics · Facebook fan page counter · PayPal balance · numerical metrics · graph trends of specific brands · real time tweets of specific brands · stock price etc.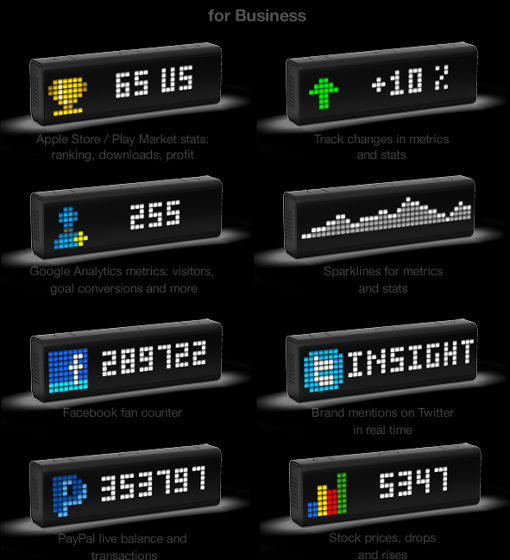 Health management application · Hardware that can be used like SiriUbi, It is also possible to open and close the shutter of the garage by remote control with LaMetric.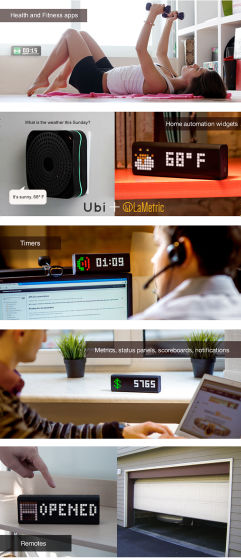 The application UI looks something like this.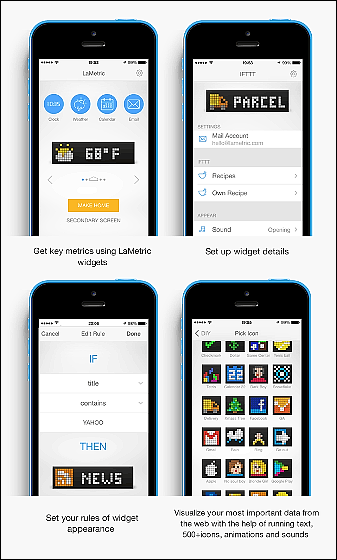 Furthermore, you can see the movie using the function which can also display the corresponding page on the browser such as the PC by the operation by the home button from the notice reached to LaMetric from the following.

LaMetric - take actions with the click of a button - YouTube


I received a Twitter notification from LaMetric on my desk. Pressing the home button once ... ...



"VIEW" was displayed. Press the home button again ......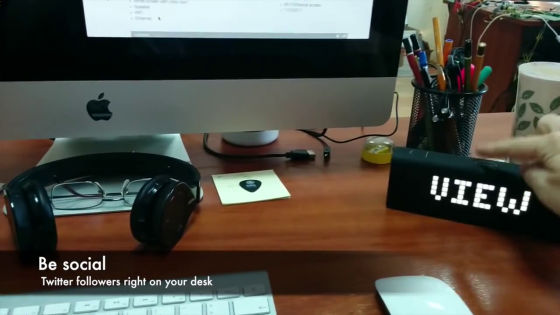 Without operating with the mouse or keyboard, the PC browser is activated and the Twitter page is displayed.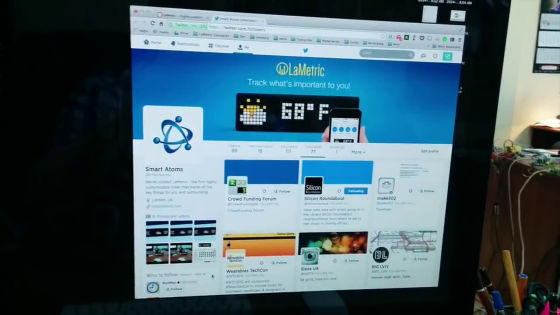 The way to use LaMetric is to connect the power supply via USB, start the application, and set Wi-Fi only.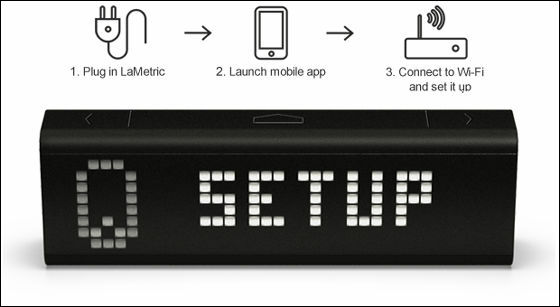 Dimensions are 7 cm in length × 22.5 cm in width × 4 cm in width, it is possible to display LED light with 8 × 8 pixels on the left side of the display and 29 × 8 pixels on the right side.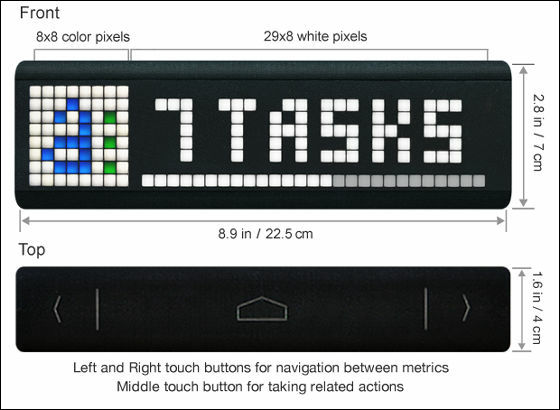 The products that can be obtained for each investment fund is as follows. "Plug-in type" is a type that takes the power supply from the outlet, "Battery type" is a type that can be used with cordless because it can supply power from the built-in battery.
· $ 119 (about 12,000 yen):LaMetric plug-in type × 1 (First-come, first-served basis only)
· $ 129 (approx. 13,000 yen):LaMetric plug-in type × 1
· $ 139 (approx. 14,000 yen):LaMetric battery type × 1 (First-come, first-served basis: 650 people)
· $ 149 (approx. 15,000 yen):LaMetric battery type × 1
· $ 249 (approx. 25,000 yen):LaMetric plug-in type × 1 + battery type × 1 (limited to the first 300 people)
· $ 269 (approx. 26,000 yen):LaMetric plug-in type × 1 + battery type × 1
· $ 339 (about 34,000 yen):LaMetric plug-in type × 3
· $ 399 (approx. 40,000 yen):LaMetric battery type × 3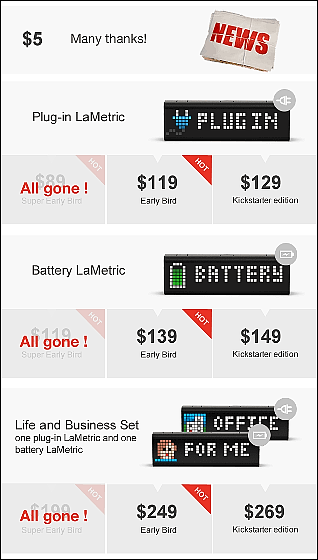 LaMetric's project already achieves the target amount of $ 69,000 (about 7 million yen), but there are more stretching goals. Besides reaching 120,000 dollars (about 12 million yen), it became possible to select the color from black or white, and it began to listen to music with 170 thousand dollars (about 17 million yen), which is about 250 thousand dollars The synchronous display function of multiple LaMetric will be added with 25 million yen).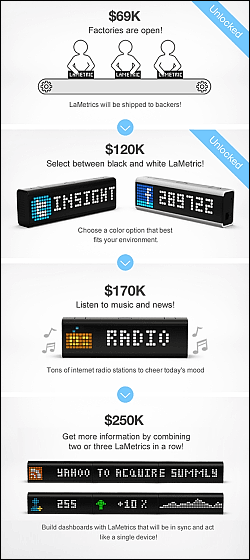 The shipment of products is scheduled around January 2015 and shipment to the outside of the United States is 25 dollars (about 2500 yen) for one, $ 45 (about 4500 yen) for 2 units, 60 dollars for 3 units 6000 yen) is required separately. The deadline of investment is scheduled for Japan time at 22:58 on Friday, August 1, 2014.

LaMetric - Customizable Smart Ticker for Life and Business by Smart Atoms - Kickstarter
https://www.kickstarter.com/projects/smartatoms/lametric-customizable-smart-ticker-for-life-and-bu