French representative 's training scene in the World Cup is stealed in the drones


Quad copter "Phantom 2" which realized amazing stability and intuitive operabilityAlthough drone which can be easily obtained even by individuals has increased, such as using such functions fully, starting from 13th JuneFIFA World CupThere was a case that a voyeur of the training scenes of the French national team who was flying in.

FIFA probe 'spy-drone' at French training session after complaint by coach Didier Deschamps | Mail Online
http://www.dailymail.co.uk/sport/worldcup2014/article-2658064/FIFA-probe-spy-drone-French-training-session-complaint-coach-Didier-Deschamps.html

BBC Sport - World Cup 2014: Fifa investigating France training ground 'drone'
http://www.bbc.com/sport/0/football/27853374

Fifa investigating France's claims that a drone spied on training | Football | theguardian.com
http://www.theguardian.com/football/2014/jun/14/france-drone-fifa-spying-investigation-world-cup

France cries foul at World Cup "spy drone" | Ars Technica
http://arstechnica.com/information-technology/2014/06/france-cries-foul-at-world-cup-spy-drone/

Didier DeShan, French coach, said the training landscape was mounted on the drone during the training of the French national at Estadio Santa Cruz, home stadium of Botafogo FC, Brazilian football club It was revealed at a press conference held on Saturday that the camera was stealing pictures without permission. It seems that the French delegation, who was conducting basic training, was obliged to suspend temporary training due to this camouflage act.

Deshan was concerned that the tactics of France may have leaked to Honduras, who is the first game against the World Cup, as a result of being snatched. But at the press conference before the game, the Honduran reporter said, "The opportunity for drone is increasing and FIFA needs to investigate this problem quickly.We do not want to violate privacy, but in modern times it It is a very difficult thing ", and furthermore, he defends the national team of Honduras," We did not use drones! "

The dolone who came to the voyeur is Kore. French national team belongs to group E in qualifying, and it is the same group with Switzerland, Ecuador, Honduras. Information such as whether these countries have sent a drone or whether the media has been sent in order to photograph the French national practice scenery remains unknown at all, but with the Honduras representative in the first round of the World Cup French fighting who fought has won 3-0.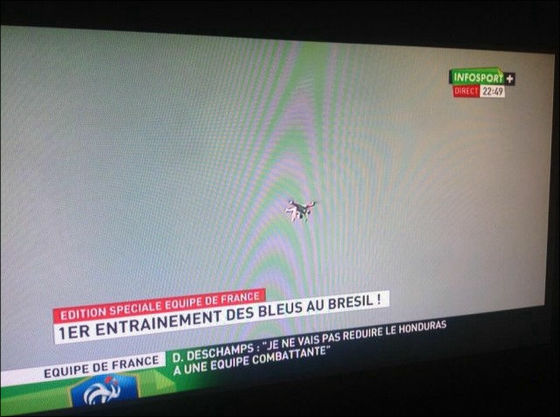 It was said that FIFA is currently investigating this,Daily TelegraphAccording to Ben Rumsby, FIFA commented that "We have not received any reports about such cases."

Fifa on alleged France drone: "We have not received any such report that such an incident has happened."

- Ben Rumsby (@ ben_rumsby)2014, June 15
In the friendly game before the opening of the World Cup, the Korean delegation feared the team's information leakageFishery match with a fake numb number, A rare incident like that was happening.
in Note, Posted by logu_ii