In order to create an elaborate face recognition system, it seems that a large amount of images are collected on the net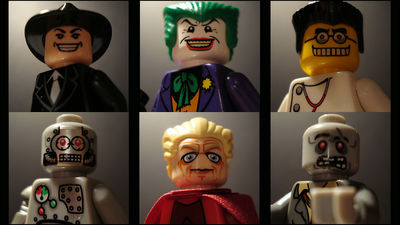 ByPedro Vezini

The National Security Agency (NSA)Secret monitoring systemWe are collecting a large amount of face photographs from the Internet using the Internet, and it is clear from the secret document of the NSA that leaked out that it is creating an elaborate face recognition system using it.

N.S.A. Collecting Millions of Faces From Web Images - NYTimes.com
http://www.nytimes.com/2014/06/01/us/nsa-collecting-millions-of-faces-from-web-images.html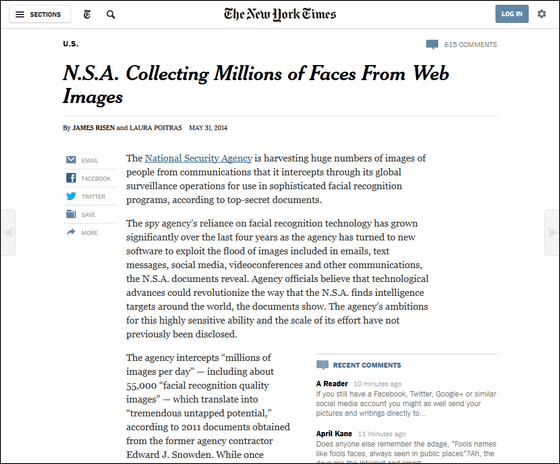 NSA 's face recognition technology has grown remarkably over the past four years, and the new software used for this is a massive amount of information obtained by intercepting e - mail, social media, communication through other networks He seems to be using a photo of his face.

In the presentation data of NSA created in 2011, 24 or more photographs of men of unknown men are lined up, and among the pictures there are various appearances ranging from beard grown to beautifully scaled photographs There was a photograph of the same person of the thing. It seems that the photograph included information such as whether it was a person on the Bank refusal list of the American Transportation Security Bureau, information on passports and visas, whether it is related to terrorists, At this point you can see that there was already a tool to collect advanced face authentication technology and information about the target.

Also, it is unknown how many people are involved in this face recognition technology, but considering that the information intercepted by NSA is not limited to those in the United States, It is also predictable that you will be collecting various facial photos and videos from.

One of the face recognition technologies held by such NSA is called "Wellspring (water source)". This is to extract only images from e-mails and other communication done on the net. Furthermore, NSA has also succeeded in developing a method to integrate face recognition program with various databases.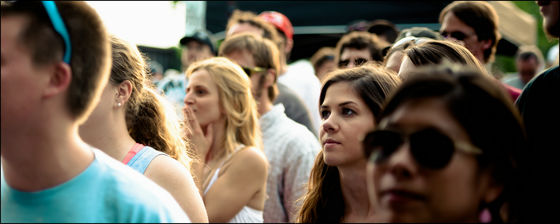 ByBill Dickinson

Human rights defenders and some critics are worried that the privacy of the citizens will be violated by the government and industries exercising the power of developing technology, "Face recognition is extremely invasive "Alessandro Acquisti of Carnegie Mellon University, researcher of face recognition technology, commented. According to him, "Face recognition technology still has technical limitations, but that ability, database and algorithm are all growing."

Government and local law enforcement agencies depend on the driver's license database and Facebook to identify the suspect's identity. On the other hand, a project called "next generation identification" is under way at FBI, and it is said that an automatic fingerprint authentication system combining facial photographs and biometric authentication data is being developed. And the US Department of State holds the largest database of facial recognition within the federal government, where hundreds of millions of facial photos of passport holders and overseas visa applicants are stored It seems to be. In addition, the Department of Homeland Security is providing funds to the examination plan for police in the country to discover the face of the suspect from the crowd.

NSA's "technology to recognize face from massive face data obtained by intercepting private communication" seems to be very unique, Vanee M. Vines, NSA's spokesperson said, "NSA is a government driver's license We have not accessed the database of evidence and the database of the State Department. " But at the same time avoid mentioning whether NSA is collecting facial photos from Facebook and other SNS.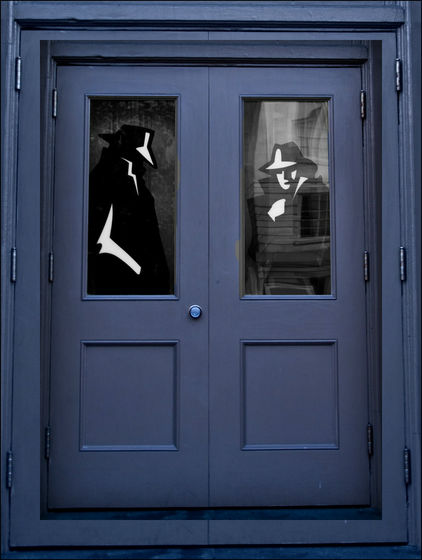 ByTony Fischer

Jennifer Lynch, an expert in face recognition technology and a lawyer commented, "Government and private companies invest billions of dollars (hundreds of billions of yen) on facial recognition technology, It is clear that attention to facial recognition technology is increasing. Furthermore, with regard to this face recognition by Mr. Lynch, the relevant law is not yet clear and there is almost no limitation, "Privacy Protection Law is insufficient to protect citizen from facial recognition information" It seems to be.
in Note, Posted by logu_ii