I tried to eat "Freshly Strawberry Cheese Tart" on which the fruit still appears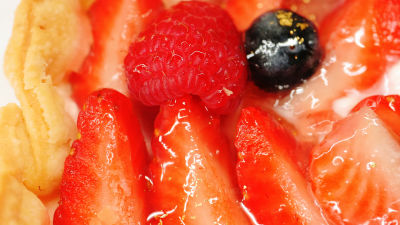 Speaking cheese tarts is a classic pastry that you can eat with tea or coffee, but cheese tart specialty shop that also has a store in Shibuya, originated from OsakaPABLO"From Saturday, March 1,"Strawberry Cheese Tart"We sell. In Shinsaibashi's shop there was sometimes a matrix can be done from the usual, so I wanted to eat the tart which used Amouru plenty so I bought it immediately.

Seasonal tart - freshly baked cheese tart specialty store PABLO (Pablo)
http://www.pablo3.com/tarte.html

Arrived at PABLO. The clerk is calling in front of the shop.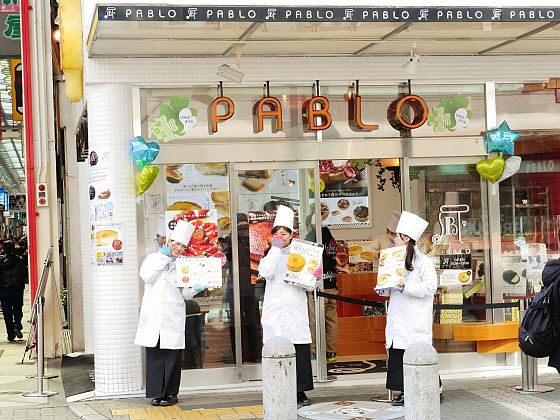 I made cheese tart at the store, a fragrant and sweet scent was drifting around the store.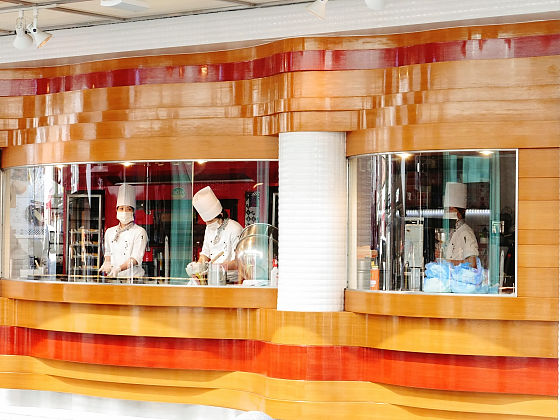 Since it is a daytime on weekdays it does not go far to a large queue, but a short row has been made.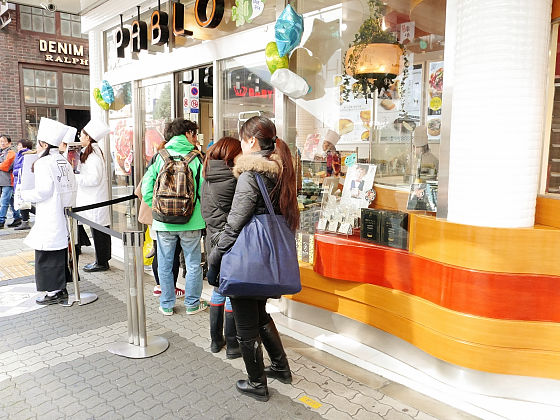 I reached the cash register in about 3 minutes.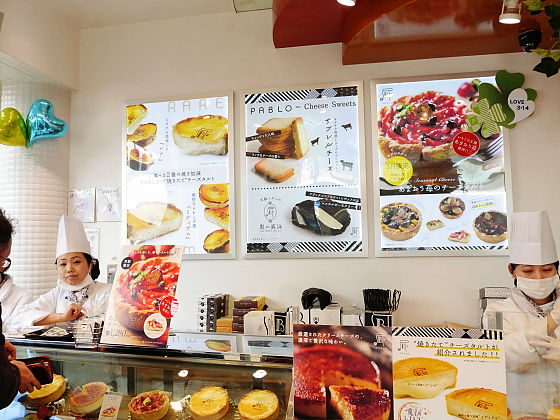 I found the target "Strawberry Cheese Tart". Order immediately.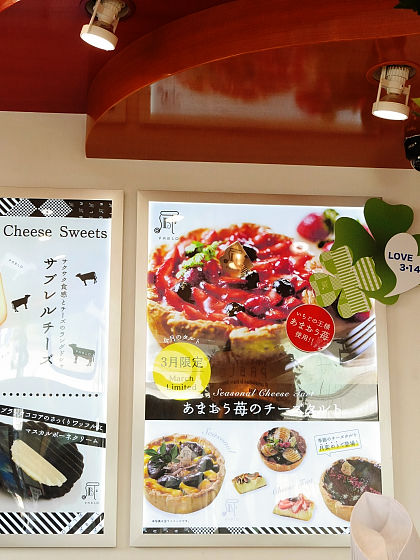 The back of takeaway is based on white and black, with Pablo's mark.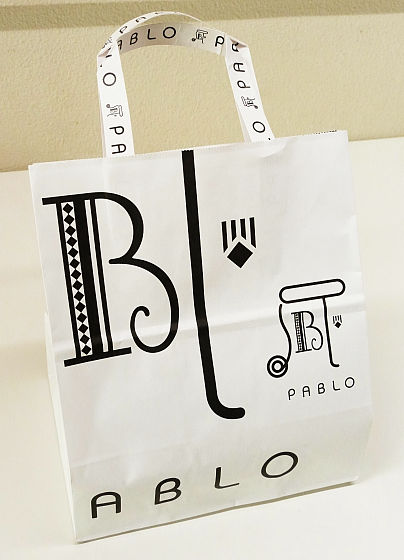 When taking it out of the bag, a box containing the tart that also printed Pablo's mark appeared.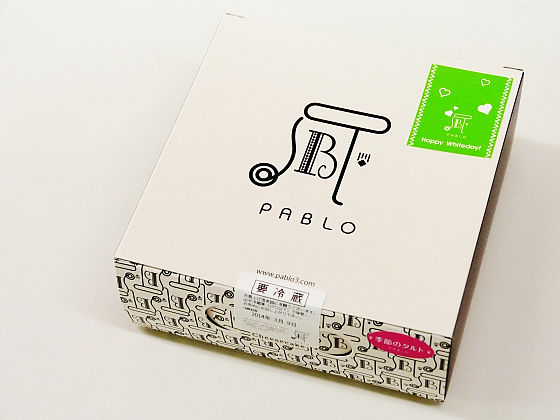 Raw materials such as strawberry, milk, wheat flour, margarine, fresh cream, sugar, eggs.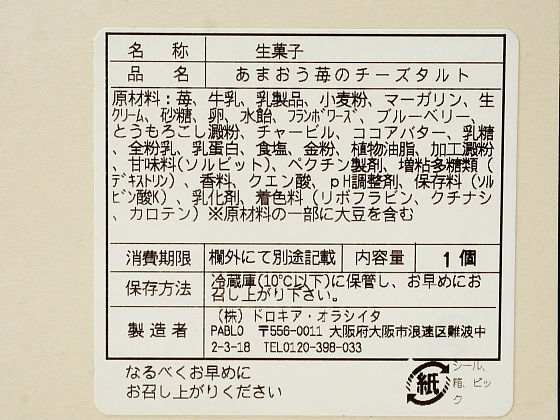 I will remove the tart from the box.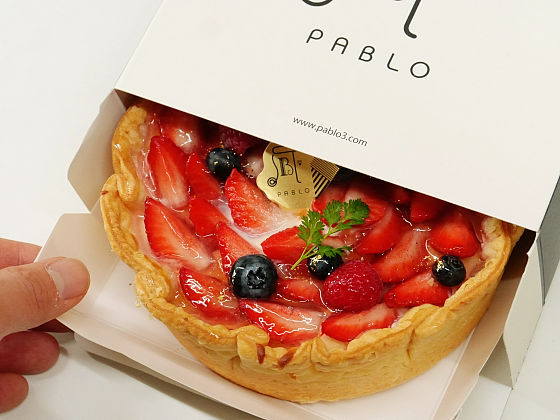 Strawberry cheese tarts were decorated "Okay so?" The diameter is 14 ~ 15 cm.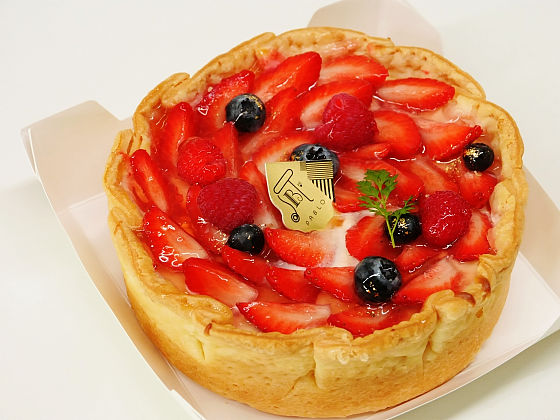 PABLO logo in the center.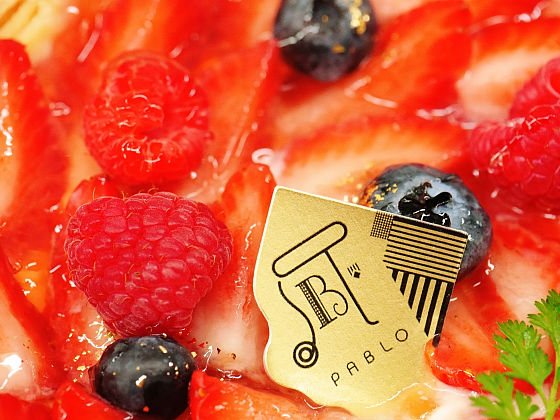 Plenty of strawberries, blueberries, strawberries.



Gold powder is sprinkled and it looks gorgeous.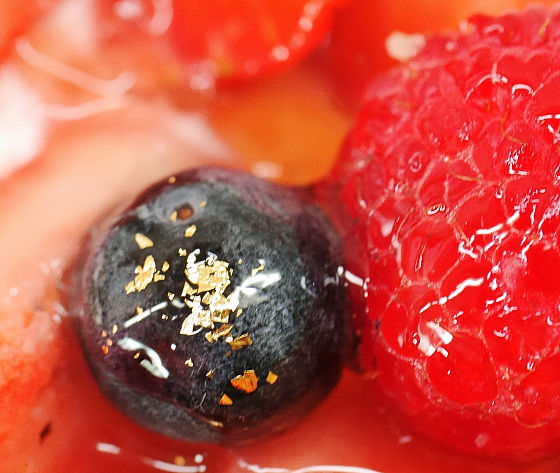 Something like jelly is painted on the fruit and it is shiny.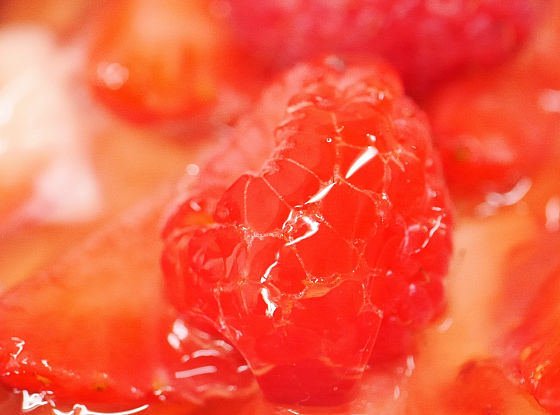 The pie fabric was thick, and the height was about 4.5 cm. For tarts it seems that you can say that there is a height.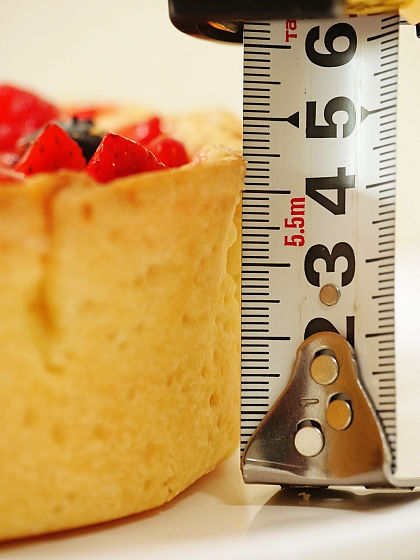 Prepare warm hot water, warm the kitchen knife and cut the tart. Soak a kitchen knife in hot water ......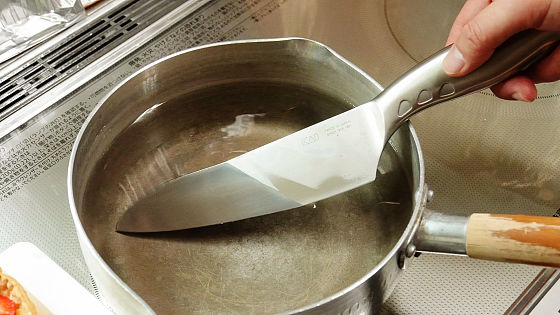 Wiping the kitchen knife ready.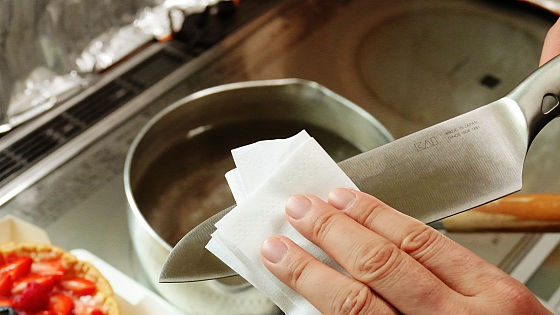 I put a kitchen knife in the tart.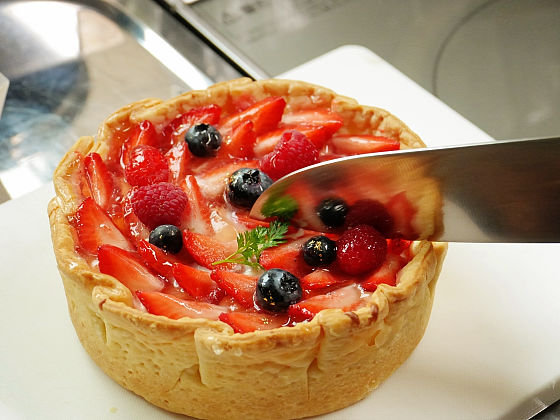 Transfer the cut tart to the dish.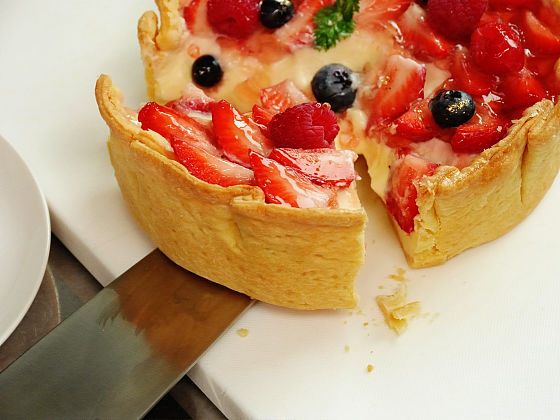 There was a height, custard & cream cheese tart contained in the tart was so soft that it became unstable when cutting it. Because the tart seems to collapse when it is equally divided, it is recommended to divide it equally into four or six equal parts.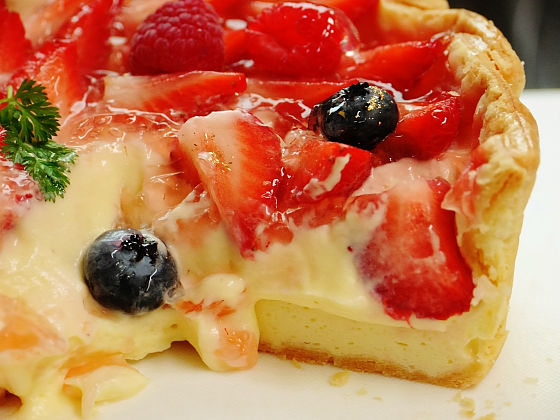 The section of the tart looks something like this. I understand that plenty of fruits are used. Because it is a little unstable, try eating fruits and cream without breaking the tart texture.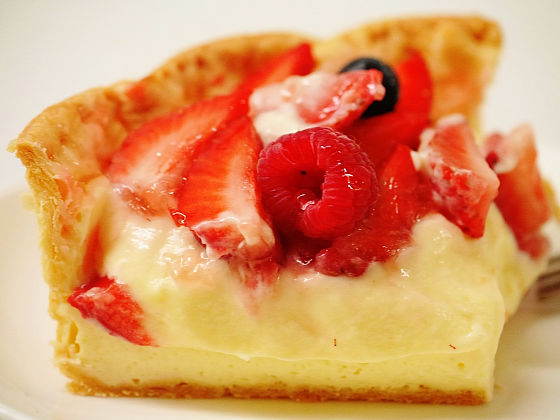 The taste of rich cheese, custard, fresh cream, sour fruit matches. Although the fruits themselves have little sweetness, the taste of slightly cooked taste is made into a light finish with fruits. Blueberries and Franboise had a moderately sour taste.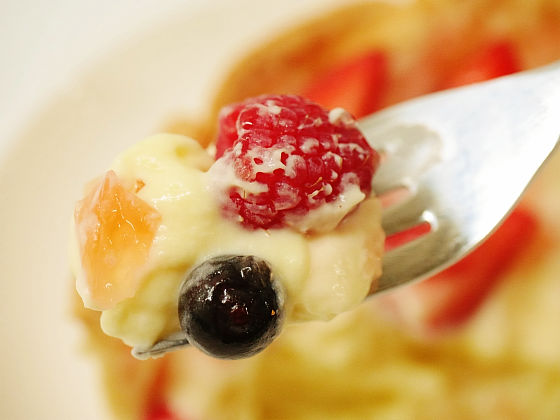 I will eat mainly tart fabric this time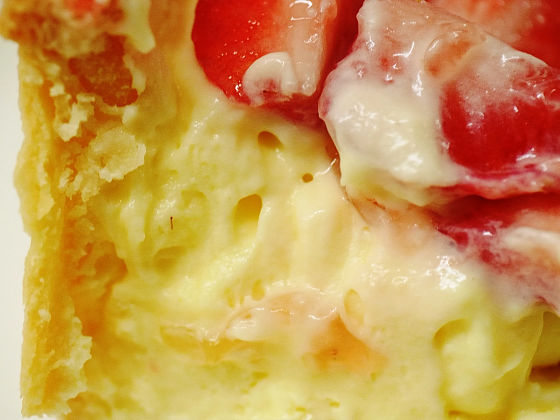 Rather than a crispy texture, a slightly moist tart fabric. As it is like the fabric of apple pie, butter is not taply contained, so we take the taste of cream and fruit well.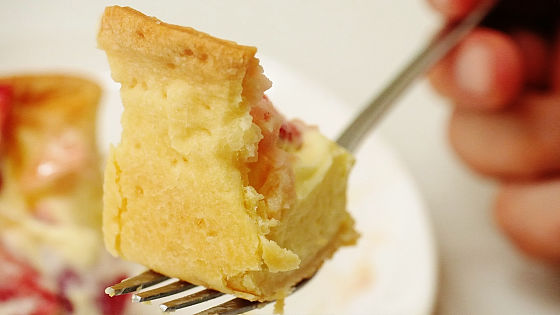 If it is about a quarter of the size, there is nothing that makes your mouth persistent or feeling too sweet, so you can keep on eating more and more. Ichigo has less sweetness than cream, but sweet and sour taste widens to full mouth due to its high volume.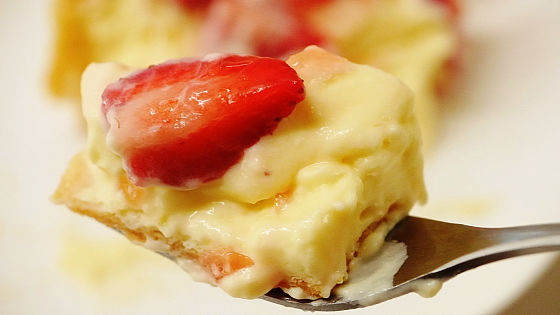 Ameoue strawberry cheese tart price is 1280 yen including tax. If you divide it into four equal parts and it is about 320 yen per piece, there are quite a lot and fruits are plentiful, so it seems to be good for multiple people to eat.