Facebook acquires free chat application "WhatsApp" for 1.64 trillion yen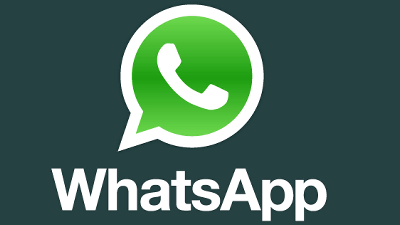 Free chat application that can be used with multiple OS smartphones such as iPhone · Android · BlackBerry · Windows Phone · Message exchange application "WhatsAppIt was revealed that Facebook bought for $ 16 billion (about 1.64 trillion yen). Of this, 4 billion dollars will be cash, the remaining 12 billion dollars will be paid by Facebook stock.

Facebook to Acquire WhatsApp - Facebook Newsroom
http://newsroom.fb.com/News/805/Facebook-to-Acquire-WhatsApp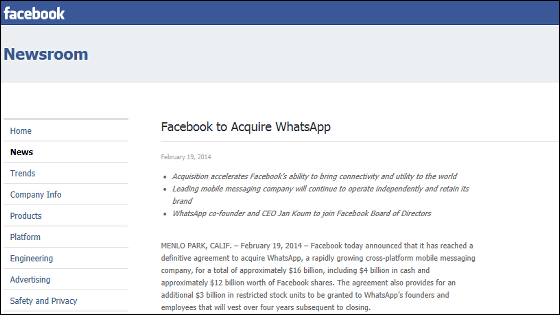 Facebook - WhatsApp Blog
http://blog.whatsapp.com/index.php/2014/02/facebook/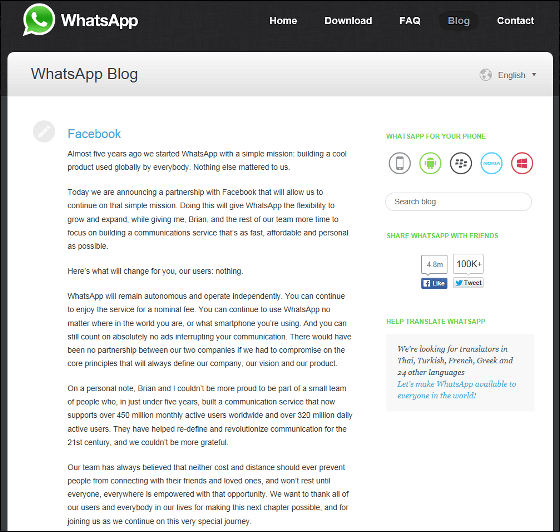 Facebook Buying WhatsApp For $ 19B, Will Keep The Messaging Service Independent | TechCrunch
http://techcrunch.com/2014/02/19/facebook-buying-whatsapp-for-16b-in-cash-and-stock-plus-3b-in-rsus/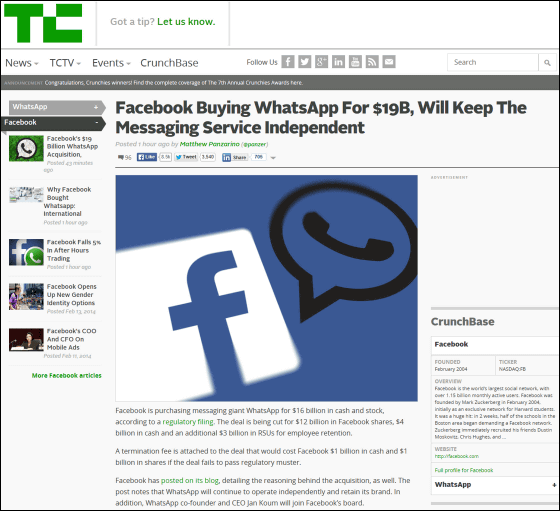 In Japan, LINE is a powerful chat application, but WhatsApp is strong overseas, the number of active users per month is 450 million people, 70% of them use it everyday, and users are using 1 million people every day It is increasing. Twitter is also a competitor, but as of November 2013 the number of active users was 218 million, so WhatsApp has more users.

In a statement, Marks Zuckerburg, CEO, in a statement, "WhatsApp is currently aiming for 1 billion users, WhatsApp trying to reach such breakthrough numbers is unbelievable It is worthwhile, "acknowledging WhatsApp.

Facebook is a messaging application, one of WhatsApp's competitors in 2013Snapchat"It is refused to buy it for 3 billion dollars (about 310 billion yen), but by this acquisition, I have acquired a larger service.

On the other hand, Facebook's share price has fallen by 5%, because concerns about the dilution of shares due to this acquisition on the market.

Facebook Stock Falls 5% In After Hours Trading Following WhatsApp Purchase Announcement | TechCrunch
http://techcrunch.com/2014/02/19/facebook-falls-5-in-after-hours-trading-after-announcing-16b-cash-and-stock-to-buy-chat-app-whatsapp/

By the way, Brian Acton, founder of WhatsApp, started the service in May 2009 and has discussions with Facebook around August, but reports it on Twitter as "refused". If we had acquired at this time, the situation in the area of ​​the chat application may have changed a lot ... ....


Facebook turned me down. It is a great opportunity to connect with some fantastic people. Looking forward to life's next adventure.

- Brian Acton (@ brianacton)2009, August 3