"Selector infected WIXOSS" April broadcast start of girls girls hope, desire, desire to fight card games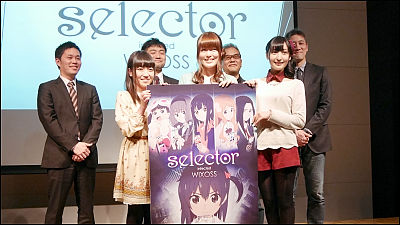 "Warner · Home · Video New Anime & Takara Tomy New TCG Joint Presentation" was held on January 27, and from April the original animation "Selector infected WIXOSS (selector infected wizards)It was announced that it will be broadcast.

Original TV animation "selector (selector) infected WIXOSS" Official site
http://selector-wixoss.com/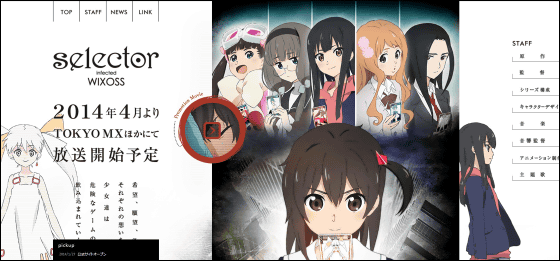 Warner Home Video is the "Row Cubu!"God's notepad"Entered the TV animation business. In 2012, "Accel World"Campione! ~ The Matsurorai Gods and the Devil of God Killing ~"Little Busters!"JoJo's Bizarre Adventure"In 2013,"Miracle of theatrical version A Certain Magical Index's Enduomion"Strike the BloodWe are sending out.

"Selector infected WIXOSS" announced this time is the original original animation of Warner Home video. The theme is TCG (trading card game).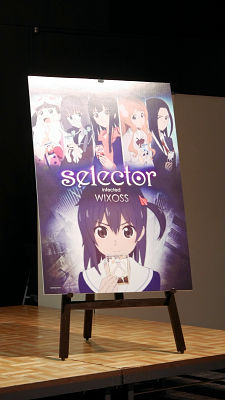 Director Takuya Sato of "Steins Gate", Okada Yuuri of series composition "We do not know the name of the flower we saw that day", Character design is "Steins Gate" "Straw Masashiro" Sakai Hisa, the music is Maiko Inouchi, "To Aru Majutsu no Index", sound director Miwa Iwami of "JoJo's Bizarre Adventure", Animation Production is "Toaru Magical Index Book" "Toaru Kagaku no Railgun "JCSTAFF. Also, the opening theme song is supposed to appreciate the island flower sound.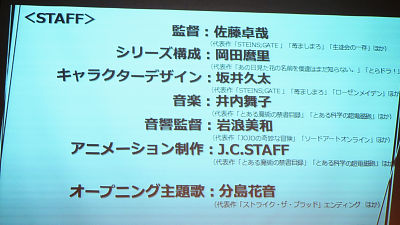 The cast is a hero's Kominato karu kayakuya, Akurayu Yuki role is Akane Sakura. In addition, Chinano Atsuko, Akasaki Chinatsu, Seto Masami, Kobayashi Yusuke, Kuno Misaki, Kawasumi Ayako, Kugimiya Rie and others will appear.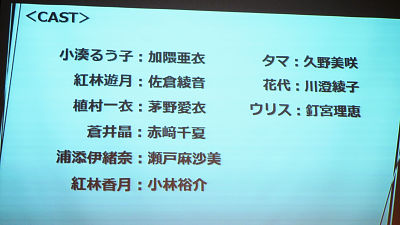 Broadcast from TOKYO MX and others from April 2014.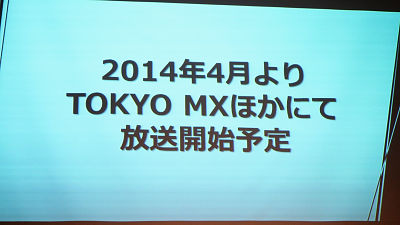 Producer Kohei Kawase, this work is not a merchandising animation mainly based on the promotion of TCG, but as an animation for adults, it cooperates with Takara Tomy to make animation with cards as the theme, so far TCG animation will be a different approach will be.

TAKARATOMY has worked on card games for kids so far, but he seems to have decided to create a card game for a high target as a new challenge. Mr. Sato of the Takara tomy card group tells me that he decides to make a new challenge in the form of a card game used among them, as there is an interesting animation of high quality as it is not fun just by doing normally.

Tomo Tamaki's Tomo from Yamaguchi from the left, Yuji Matsukura from J.C.STAFF, Kohei Kawase from Warner Home Video.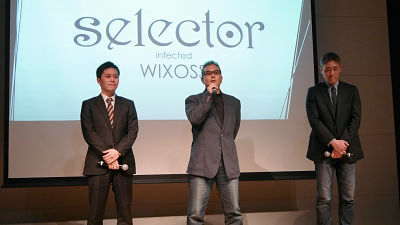 The story is that female junior high school girl Junior Koinato who had been spending days daily,WIXOSSAfter having been bought, it is to fight the girls of the selector (card owner) together with the girl / Tama who was in the card.

According to Ms. Kawase, girls of selectors can fight with hope, wish, desire and be able to become "infinite girl" wish will come true if you keep winning. While there are children fighting straight from the front, there are children who are trying to pull a person's legs and human drama is developed, and what kind of choice the child will make will be the subject. The stage of the work is in Shinjuku, and although it is more anime than fiction, fantasy and real are mixed and it seems that girls' dramas will be drawn.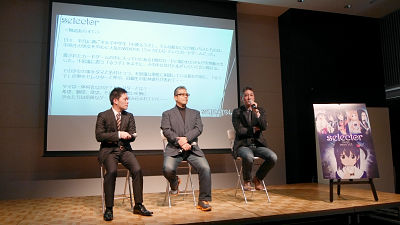 From the cast is KoinatoKaomi YamaMr. KohlinAyane SakuraMr. TamaMisaki KunoAppeared. Three people both watched the PV and said they had a slightly scary impression. Even if I asked Mr. Kawase about the work at the time of PV dubbing, I heard that they were told that they were looking forward to others, and they were not taught me, and I am looking forward to further development as a cast I talked.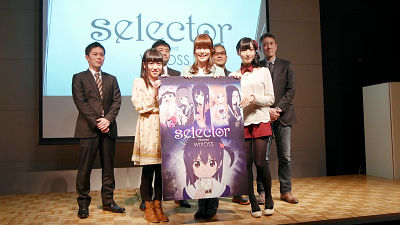 PV that flowed at the recital has been released on YouTube. While playing card games, cards have not come out so much, but what kind of story they are going to tell you that information will come out in the future.

Original TV anime "selector infected WIXOSS" PV - YouTube