Taxi drivers in Paris intensify attacks on new taxi operators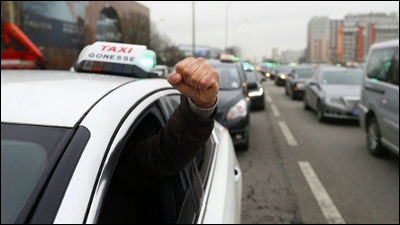 The collision of taxi drivers and emerging taxi service "Uber" is intensifying in Paris, France, which holds "Freedom, Equality, and Lovingness", and Uber's cars are developed into a situation of being attacked.

Les chauffeurs de taxi manifestent lundi contre la «concurrence déloyale»
http://www.lemonde.fr/economie/article/2014/01/13/manifestation-des-chauffeurs-de-taxis-lundi_4346735_3234.html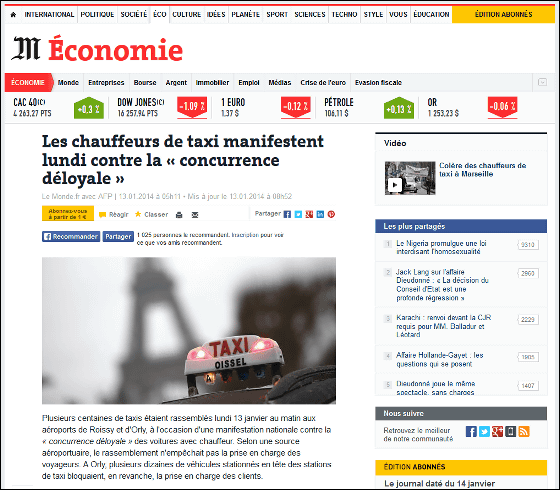 Taxi protest in Paris turns to guerrilla warfare as Uber car attacked on freeway
http://www.rudebaguette.com/2014/01/13/taxi-protest-paris-turns-guerrilla-warfare-uber-car-attacked-freeway/

Early in the morning of January 13, 2014, in the outskirts of Paris FranceCharles de Gaulle International AirportWhenOrly AirportTaxi drivers gathered in two places, "Driver's tourism car(Tourism vehicles with drivers /VTC) "CalledUberYaChauffeur-priveWe conducted protests against the new forces such as. A normal taxi is a protest action against being deprived of work by Uber, which can be booked by smartphone or PC, whereas it is only possible to pick up customers by shedding in the city.

The protest action increased in intensity and eventually Uber 's car was attacked.EventbriteAn incident occurred that Uber's car heading from the city of Paris to the airport carrying the executives of the company received an attack such as breaking the windowpane from several people on the expressway, torn the tire. The driver was able to escape from the spot by making the best use of it, and fortunately the injured person did not come out.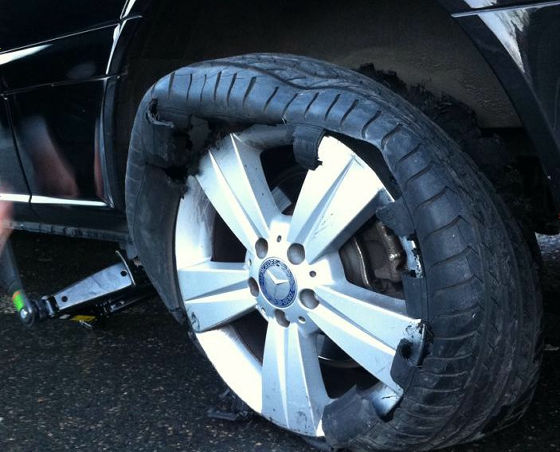 Kat Borlongan, an executive of Eventbrite who was riding when receiving an attack, said to Twitter, "I was attacked in the middle of the airport, the window glass was broken, the tire was punctured, the car was destroyed and my arm broke I was bleeding from it. "

Attackers tried to get in the car but our brave@ UberDriver maneuvered us to safety, changed the tire on the freeway and got us home.

- Kat Borlongan (@ KatBorlongan)2014, January 13
As a January 14, 2014 Uber, who can book a taxi (hire) from a smartphone or a web browser and pick it up, Uber offers services in 26 cities around the world. Services are being conducted in two major cities such as Paris and Lyon even in the tourism power of France, and as a result of the taxi industry having a feeling of crisis encouraging the government, from January 1, 2014 VTC service "from reservation "15 minutes rule" has been enforced that "we have to set a time of 15 minutes between picking up people." This degrades the convenience of VTC service.

Taxi drivers' protest to disrupt Paris airport traffic Monday - France - RFI
http://www.english.rfi.fr/visiting-france/20140112-taxi-drivers-protest-disrupt-paris-airport-traffic-monday

In response to this situation, Uber's local top Pierre-Dimitry Gore-Coty said: "We condemn the serious violent acts against our service users and drivers that occurred this time, and the taxi drivers selected this kind of action That means that you have chosen the way to self-destruction, which will have a significant influence on Parisians moving around the city, "he commented.
in Note, Posted by darkhorse_log