"Facebook Wi-Fi" that can use Wi-Fi free of charge is fully introduced in Japan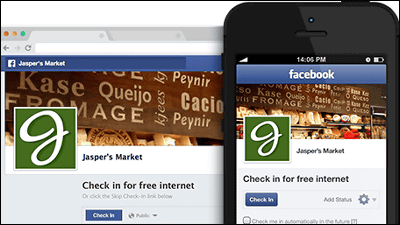 You can use the wireless LAN free of charge simply by "checking in" on Facebook at shops in townFacebook Wi-FiEfforts are progressing in Japan toward full-scale introduction.

Introducing Facebook Wi-Fi in stores | Facebook
https://www.facebook.com/business/facebook-wifi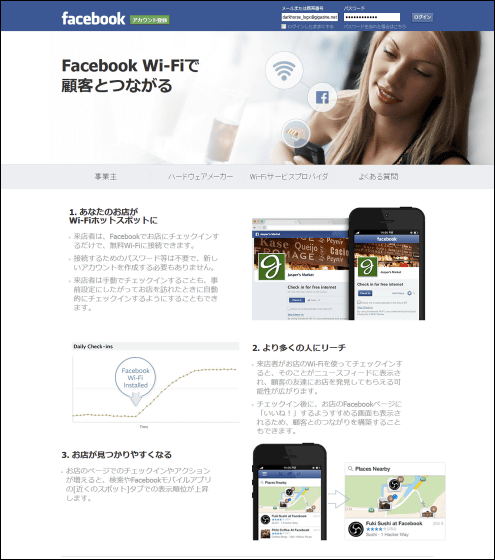 Facebook Wi-Fi, which was being introduced experimentally around the United States mainly around the United States, can check-in to a shop or the like using a smartphone or a PC so that the Wi-Fi installed in the store is free It will be available at the service. Users will be able to use Wi-Fi for free, and for shops the opportunity for exposure will be increased by having them check-in, increasing their awareness by reaching further user groups (reach) It will be possible to up.

Facebook'sHelp centerThen, the service use procedure is described as follows.

1. Connect to the wireless network of the store.
2. Launch the web browser (eg Firefox).
3. The browser automatically opens the store 's Facebook Wi - Fi page. From here you can check in to the store and access Facebook Wi-Fi.
You can also use Wi-Fi by entering the password provided by the store without checking in on Facebook.

◆ What is "check in"
With the check-in function, you can tell your friends where you are. When you visit a spot registered on Facebook, when you tap "Check in" on an application such as a smartphone, that fact will be displayed on the friend's Facebook screen. As an example I tried to display spots around Osaka station here.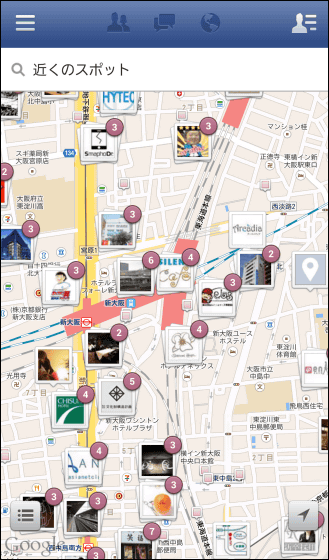 When you select "Shin-Osaka Station", the icon "Check in" is displayed on the screen. Tap the icon ......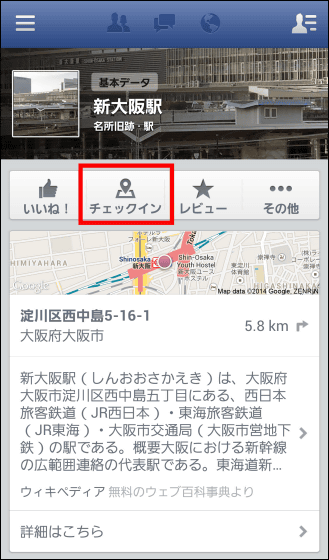 On Facebook's screen, "(user name) isShin Osaka StationI am in. "This is a function that you can tell a friend about your whereabouts.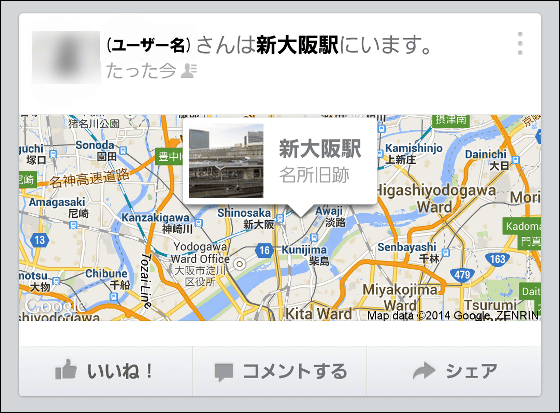 Check-in is basically done manually, but you can also set it to check in automatically when you visit a shop.

It is a Facebook Wi - Fi service that is beneficial for both stores and users, but on the other hand checking in is to provide your location information to Facebook,Collection of personal informationAs it will be used as a tool for privacy, it is expected that voices worrying about privacy will emerge. It can be said that it is necessary to take account of that when using it.