What are the advantages and disadvantages of the American air travel industry talked about by American business trips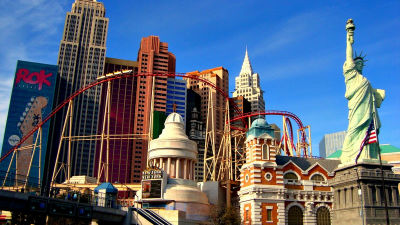 ByFerry Vermeer

UK based air service research firm "SKYTRAXAccording to the world airline rankings announced, the highest rank of 2013 "5 Star"Was chosen asSingapore AirlinesYaCathay Pacific,All Nippon Airways(ANA),Qatar AirwaysIt was an Asian / Middle Eastern airline company such as. On the other hand, American and European airlines that airplanes are indispensable for people's move are ranked below 4 stars, but the difference is where they originated from, so to become such a hint Investigation is being carried out.

Why do business travelers prefer foreign airlines?
http://www.usatoday.com/story/travel/2013/12/01/road-warriors-foreign-us-airlines/3798847/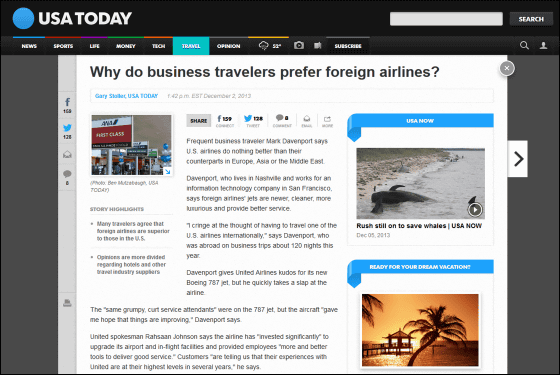 ◆ Satisfaction with airline
Mark · Davenport living in Nashville, USA is an IT engineer who jumps to business trips for more than 120 days in a year. In my business trip, I often go to overseas by airplane, but it seems that it is rare to choose an American airline company unexpectedly. "The carrier of the overseas (airline company) is providing a service that aircraft is fresh and clean, a comfortable and comfortable," the reason is "American career is a career in Europe, Asia, Middle East There is no place to overcome, if you are going abroad on an international flight with American career, I will frighten you just thinking about it. "

Mr. Davenport said, but United Airlines is new to Boeing787 type machineWe sincerely welcomed the introduction of. However, I will say that the feeling has cooled down soon. That's why it was "unchanged as usual, because it was an unfriendly and disgusting service". However, it still seems that I could catch a glimpse of the signs of improvement, but what is it like?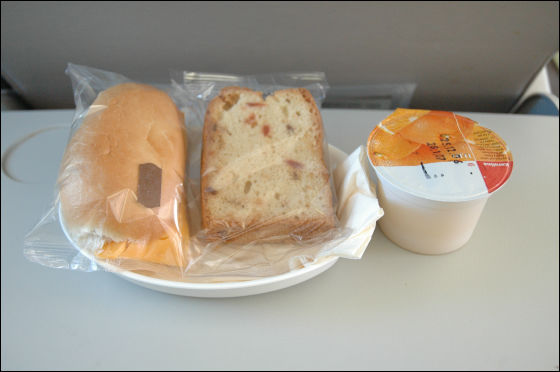 ByCraigfinlay

A survey of over 100 heavy users asked "Where is the company that is superior to overseas or which company is inferior in the travel industry in the United States?" As in Dr. Davenport, the answer is that contents of American companies are totally qualified as a whole, but it seems that there was a tendency for pros and cons to be divided only for the aviation industry .

The airlines that many businessmen users mentioned as "excellent" in the questionnaire are Singapore Airlines, Cathay Pacific Airways, ANA, Emirates Airlines, and New Zealand Airlines, and the airlines in the industry in terms of aircraft and services The voice to be a benchmark was overwhelming.

Like Mr. Davenport, Mr. Harkey Gee, who fly around the world on a business trip, cites Japan's ANA as his favorite airline. The reason was that "the meal is delicious, from the first class to the economy, we are doing an indivisible service". "I never thought that even 1 dollar of money paid to the ticket was regrettable," says Mr. Gee who spends more than 120 days for overseas business trips alone this year alone.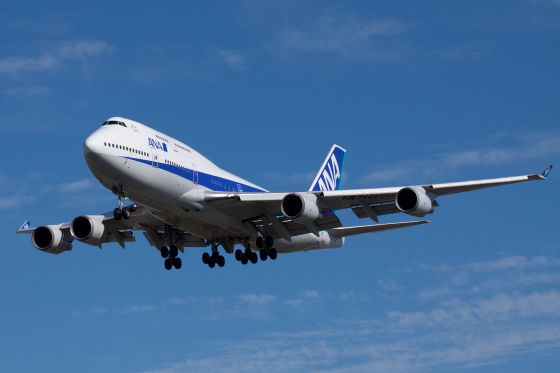 ByPatrick Cardinal

On the other hand, Mr. Gee and other heavy users gathered and said, "Compared to overseas carriers, American carriers have a lot of frequent flyer programs, and they receive a seat-class upgrade benefit a lot of times." I point out excellent points. Steven Tao, executive director at a television station in Los Angeles, says that "the efficiency of mileage accumulation is good and the number of flights itself is much greater than others".

The reason for that is the American airline industry organization "Airlines for America"A4A" spokesperson Katie Connell said, "Over the past nine months we have spent more than $ 1 billion (about 100 billion yen) each month to introduce new airports, lounges, new aircraft, in-flight It is the result of improving food, improving website and mobile site, and trying to improve user service. "



ByJoe Joyce

Similar trends can be seen with airport facilities. Linda Peterson, who lives in Arizona while many of the heavy users feel that the airport outside the United States is better, says, "There are many duty-free shops in Europe's airports, and restaurants that can eat restaurants etc. It is said that the airport in the USA is functionally superior, saying that "the airport is limited and the entrance and departure gate is not functioning well and is kept waiting." Mr. Greg Jones, also a member of a business trip party, thought that the overseas airport was excellent, but now he says, "I think that airports in the USA have more choices for restaurants and shopping than it was ten years ago. I think that overseas airports need to upgrade more contemporary. "

◆ Satisfaction with hotel
Surveys on hotel satisfaction are also conducted in the questionnaire. Mr. Tao said, "There are traditions in European hotels, there are experiences only available there, Asian hotel is comfortable and there is a relaxing environment," Mr. Tao said "There are many hotels like the Intercontinental and the Shangri-La hotel that will surpass the US," while also pointed out that "There are hotels that are not so good" as well, "European hotels are old townscapes and history As it is located near the area, guest rooms tend to be narrow, but there are few such problems in hotels in Asia, and 5-star hotels are worth visiting everywhere. "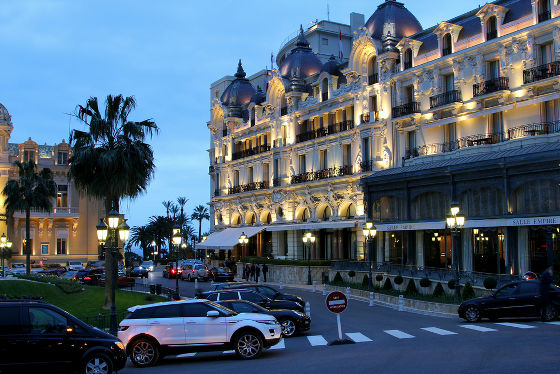 ByStephen Wilcox - Jetwashphotos.com

Many of the responses to the questionnaire are many that praise Americans hotels. Mr. Tao also said that "hotels in Europe and Asia tend to be too sticking to the style, America is flexible about that point and will try to respond to customer's request," he points out the merits of an American hotel. Mr. Peterson pointed out that "European and Asian hotels tend not to pay attention to the status of prestige members who use it frequently, compared to American hotel companies."

Mr. Tao said, "There are lots of excellent aspects for companies other than the US," while "American-style hotels are easy to understand with the necessary information prepared at any time, convenience for business customers It provides a high seamless trip of "and shows the advantage. Mr. Jones also talks about the merits of American services, "whether you are hotel or airline, you can get the necessary information up-to-date if you go to the website."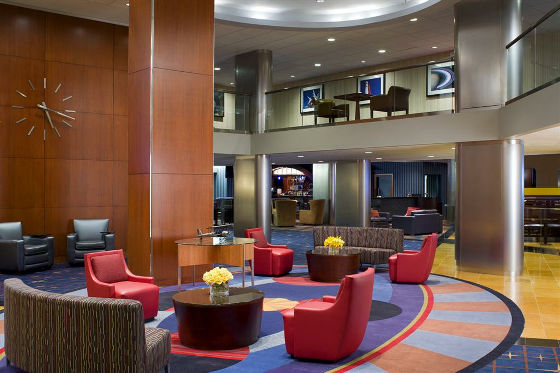 BySheraton Hotels and Resorts
in Note, Posted by darkhorse_log