A Korean intelligence agency discovered that it had diffused 1.2 million tweets to move elections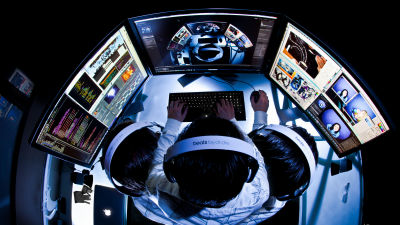 ByLouish Pixel

On the legitimacy of the Korean 18th presidential election held in December 2012Numerous demonstration activities both in Japan and abroadIt is done, but in thatKorea National Intelligence Service (NIS)ButPark-Kune(Park Geun-hye) Details on the fact that I had tweeted 1.2 million times to put up contending candidates for the current president is reported in the online edition of the New York Times.

Prosecutors Detail Attempt to Sway South Korean Election - NYTimes.com
http://www.nytimes.com/2013/11/22/world/asia/prosecutors-detail-bid-to-sway-south-korean-election.html?_r=0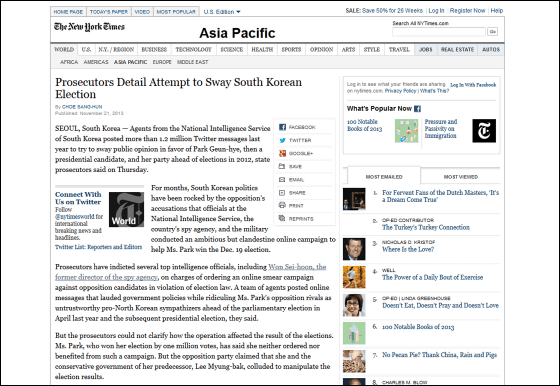 NISThe contents of the tweet that it pushed is a conflict candidate of the Park campMoon Jaing(Saito Tiger) candidate as "a person who is not trusted towards North Korea", while president Park belongs to the ruling party of the governmentSeenuri partyContent that praises the measures of. Prosecutors insist that this campaign was launched prior to parliamentary elections last April and influenced the results of the winning candidate Park won the Mun camp on close battle in the ensuing presidential election. This candidate Moon Jae is the father of President ParkPark Jung Hee(Park Jeong-hee) had a history of being arrested and imprisoned as involved in the democratization campaign in the age of the president, and it is possible to feel things that are related.

Twenty thousand times of tweets were based on 26,500 messages that were copied using a special program. Lee Jin-han, a senior prosecutor, says, "Even if copied, there is no difference that it affected national affairs and elections," but the prosecution said that the impact the campaign had on the election results It is not made clear. While President Park has said that he never instructed the campaign nor profited from it, the prosecution had President Park belonged to the same Senori party as himselfLee Myung-bak(Lee Akihiro) has collaborated with the former president and influenced the election results.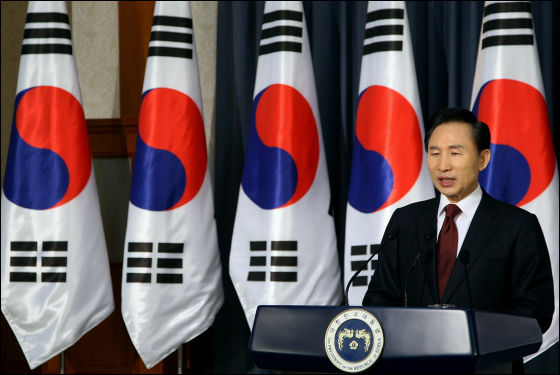 ByRepublic of Korea

Conflicting Democratic Party leader Kim Han-gil said, "At the moment it is clear that organizational and huge interventions centered on NIS have been done," he said, not loosing the attack. Regarding this confusion President Park expressed his regrets, noting that NIS will not interfere with domestic politics, while encouraging citizens to trust prosecutors and court investigations.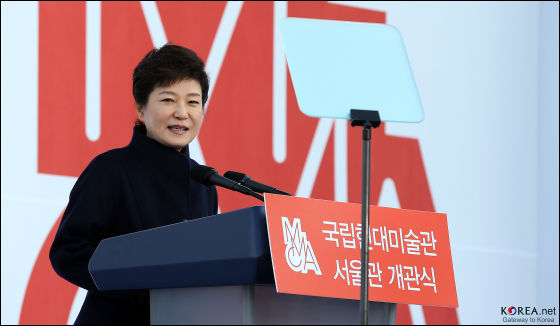 ByRepublic of Korea

Apart from the above, four investigators of the cyber headquarters of the Korean military have also made tweets accusing President Park 's confrontation camp, and investigations are taking place. At the end of October this year the military investigation agency conducted an investigation into the headquarters but it has not been clarified whether it was an organizational action including NIS.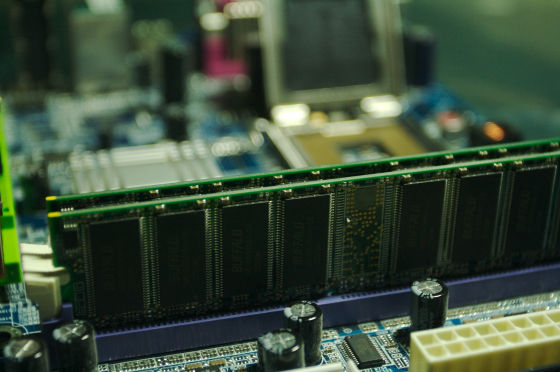 ByIsaac Lee

There are opposition campaigns and protest protests on this topic both in Korea and abroad, and there are many citizens saying that NIS should not intervene in politics. In Korea, since the time of KCIA which is the predecessor of NIS, information agencies are used by the military regime to suppress oppression by torture and domestic politics etc.clearlyIt is getting. According to NIS, "Tweet is part of the normal work on North Korea's behavior to criticize Korean policy using the Internet."

It is a situation where Twitter is going to influence the president and the president of a country, but the investigation and the way of Korean public opinion are attracting attention.