Kentucky's "Gratin Pot Pai" & "Chicken Cream Pot Pie" is a winterful rich menus -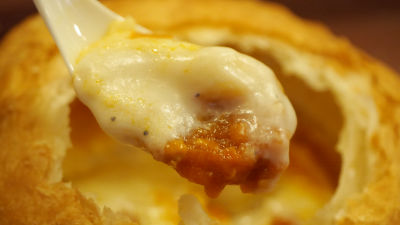 Speaking of Kentucky Fried Chicken, it is a fast food shop that makes fried chicken crispy, but it also has power in the side menu,BiscuitsYaBaked rice balls of fragrant soy sauceWe deal with products that are not offered much in other fast food chains. Such Kentucky from November 21 (Thurs) "Gratin Pot Pie"When"Chicken Cream Pot Pie"Because it sells for a limited time only, as cold became more and more challenging, I tried it at once.

Kentucky Fried Chicken | Product Information | Campaign Information | Pot Pie
http://www.kfc.co.jp/menu/detail/index.cgi?pid=OR_campaign_110

Welcome to KFC Group Web Site
http://japan.kfc.co.jp/news/news131023kfc03.html

Arrived in Kentucky.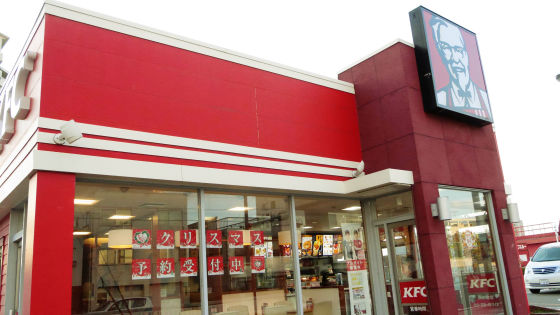 When I go to the cash register ......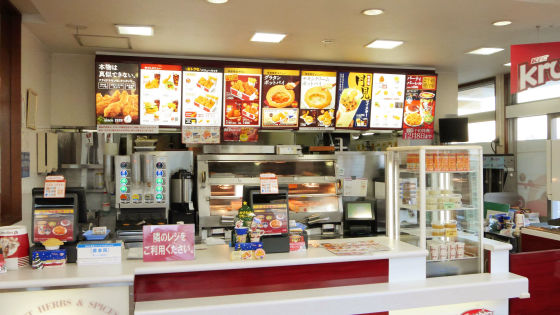 I found a gratin pot pot and a chicken cream pot pie. I will order it.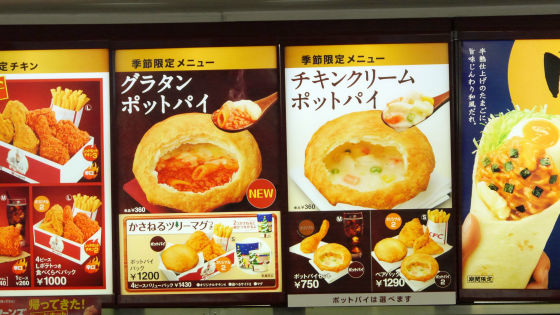 Things already made and prepared are prepared and handed over without waiting. It is better to have a small, red label on the top left corner of the gratin pot pot.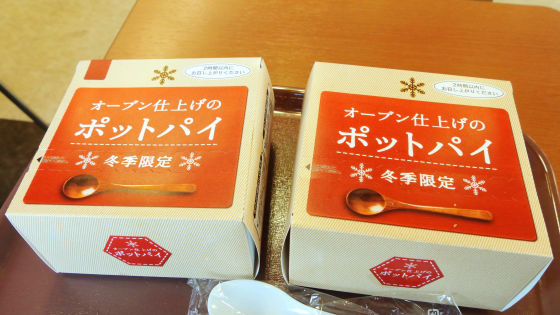 When opening it a dome shaped pie came out.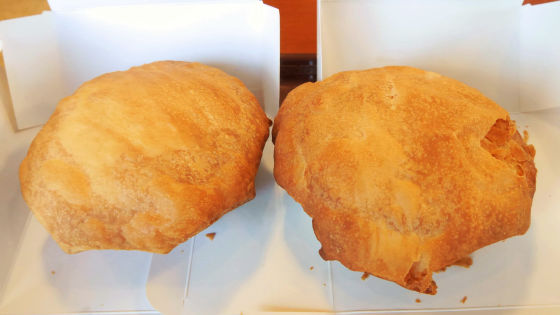 Incidentally, when you remove the pie, you can check cheese and chicken cream for the gratin pot pot and cream stew for the pot pie.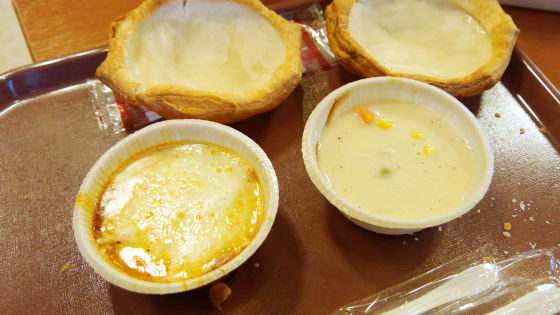 Pooking with a spoon when eating ......



It seems to be the right way to eat it by opening a hole.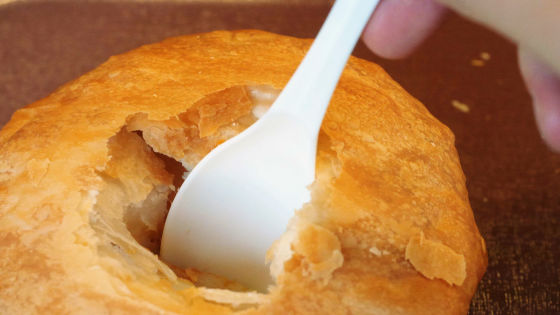 When opening a hole in the center respectively, it is like this. I will eat it from the gratin pot pot.



A combination of white sauce, gouda cheese, meat sauce containing chicken and pork is good. It is finished in thick, mild taste and you want to eat on a cold day.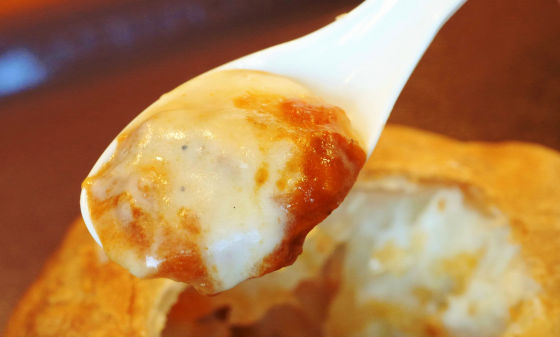 Penne gratin is also included and the volume feeling is enough. The calorie is 345 kcal, and if you eat this together with the original chicken (237 kcal), it seems to be good for lunch etc.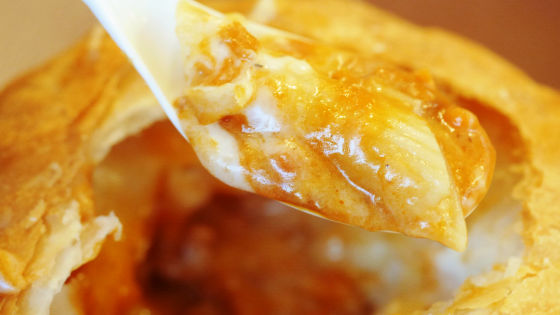 Even if you eat gratin and pie together, it is an umbrella. It is also a nice place to taste the crispy texture.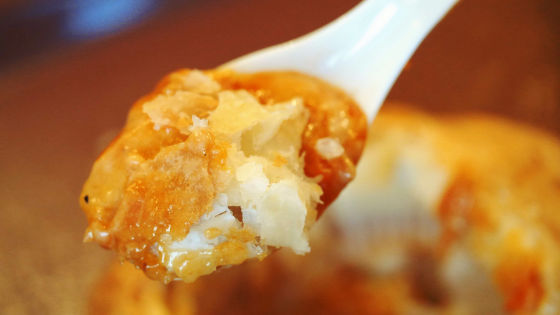 It is also recommended to cut off the pie part and eat it with gratin.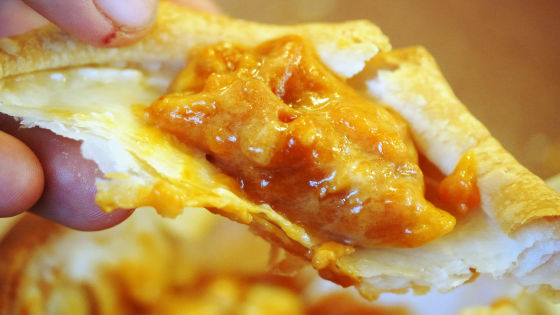 Then chicken cream pot pie. There is a bite size chicken and you can enjoy the taste of chicken cooked with cream stew. The stew has moderately thick and rich taste. Black pepper is working well, it is a good accent.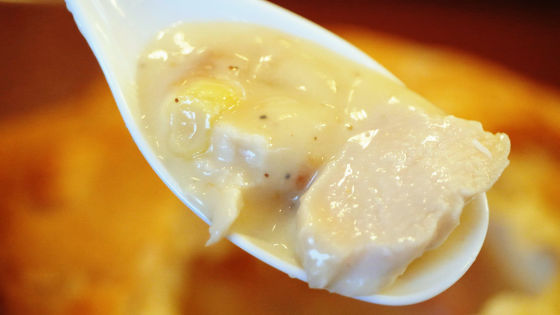 Potatoes and carrots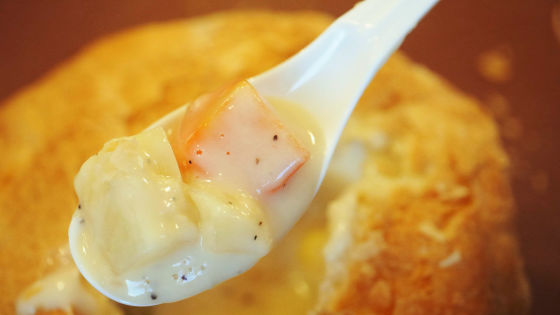 Plenty of vegetables such as green peas and corn. Every vegetable goes well with cream stew, and the sweet corn is particularly good feeling.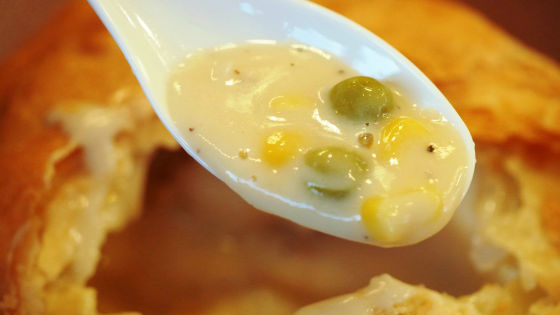 The crispy texture is similar to the gratin pot pot. It is a pleasant place to eat these menus at the shop because it is a menu that seems to take a bit of effort to make at home.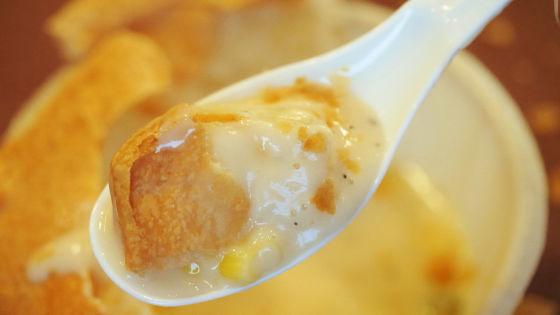 "Gratin Pot Pai" and "Chicken Cream Pot Pie" are limited-time sales and 360 yen including tax. If you like crispy texture of pie, you can order without mistake.