What is the history of animation hidden in the big eyes of Disney Princess?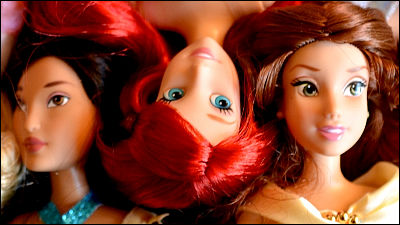 ByJoe Shlabotnik

A woman, an anime heroine, has beautifully depicted big eyes and rich hair, and these features are remarkable in Disney animation. "If Ariel's eyes are not big and normal sizes would allow people to love Ariel as now?", The history of Disney's anime secretly hidden in Disney Princess' s biggest eyesThe AtlanticIt is summarized.

The Psychology of Giant Princess Eyes - Olga Khazan - The Atlantic
http://www.theatlantic.com/health/archive/2013/11/the-psychology-of-giant-princess-eyes/281209/

How does Disney Princess who actually have normal size eyes feel? By saying that,BuzzFeedI am experimenting. First of all, Ariel of "Little Mermaid".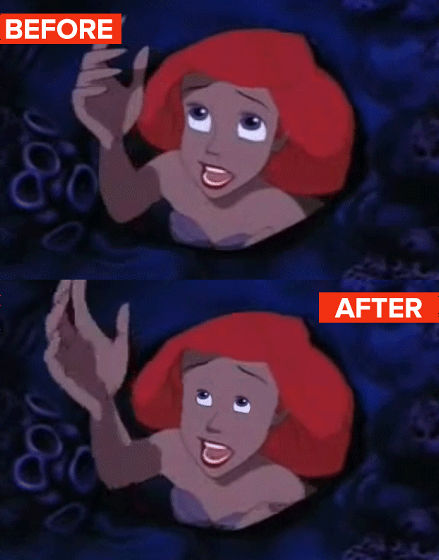 Jasmine of "Aladdin".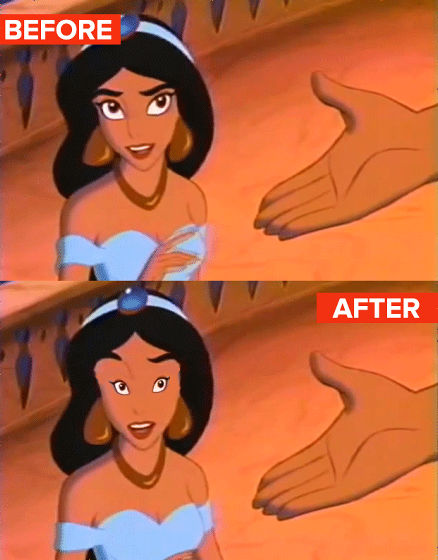 Bell of "Beauty and the Beast".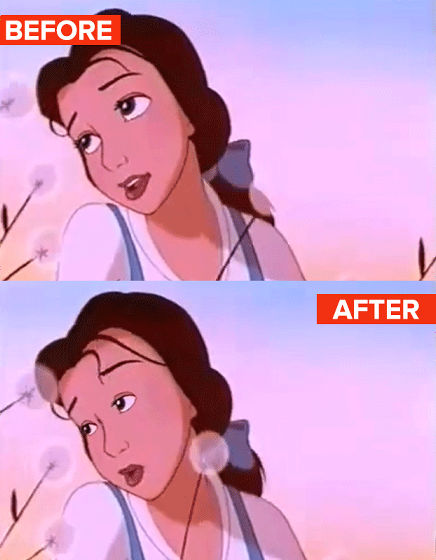 Also,Merida and the Morning ForestThe main character Melinda once changed the design, may have a thinner waist and rich hair. The one on the left is Melinda of the movie and the one on the right is redesigned by Disney.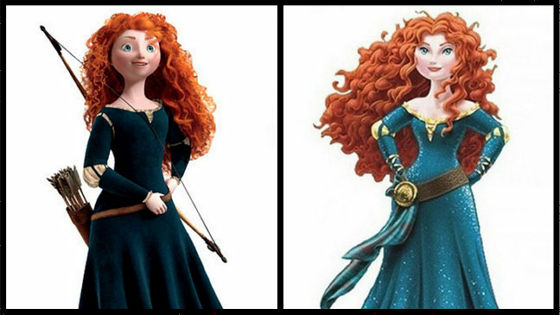 Although the pros and cons of the Princess appearing in the Disney movie has become a controversy for a long time, it is a fact that it is hard to deny that the girl who is the hero of the animation movie is many "cute girls". In this regard, one answer from several studies "Why is the princess of animated movies doing big eyes, small chin, short nose?" Is called "It's like a vulnerable innocent baby" about. As a proof that person with the characteristics of baby face can not be seen intelligently, it seems easy to stick, and the probability of being guilty in court is low.

Although Disney Princesses in recent years have become more courageous and bold, their appearance is exactly alike, emphasizing the above features. BelowWork using Disney Princess's face created with tumblrBut, you can see how princess' s face modeling is the same.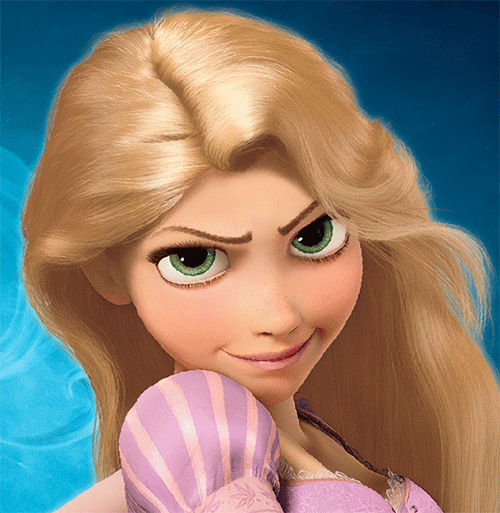 Brenda Chapman is one of the directors of Merida and the Morning Forest, but she said that she was criticized for making the character's appearance more realistic. Director ChapmanTIME.com"I thought that I made too much of her mama because everyone wanted me to be a middle-aged woman who had her mama in reality, so it was frustrating." It was.

So why does Disney emphasize the beauty, such as the size of the eyes of the women and the thinness of the waist?

about thisTinker Belles and Evil Queens: The Walt Disney Company from the Inside OutAccording to Sean Griffin, author of "Disney's becoming a directional producer from a doctor of a doctorate play, is the reason why he followed the hit work."

The early heroine in Disney was not like a blonde woman who dreams of going to the prince with a pumpkin carriage. In 1920 Disney cartoons is a 5 year old girl named Alice who is energetic and lively. Alice is an actressVirginia DavisThe main character of the short film "Alice Comedy" series played by Mr. Davis, the movie was filmed by Mr. Davis and made with a technique of combining it with images of the animated world overflowing with characters. And the main character Alice in the work was constantly involved in police campaign and was challenging authority.

AC1 Alice Comedy Alice's Wonderland (1923) Disney - YouTube


For example, in the work "Alice Gets in Dutch" in 1924, Alice confronted an awkward teacher in the animation world, and in 1925 "Jail Bird" he stealed a pie and went to prison and participated in a prison riot.

Alice Comedies - Alice Gets in Dutch (1924) - YouTube


The story begins with the scenery of the classroom ......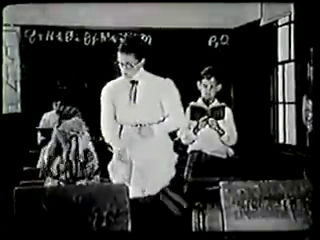 Alice entering the world of animation confronted with a teacher who turned into an animated character. Take out the cannon.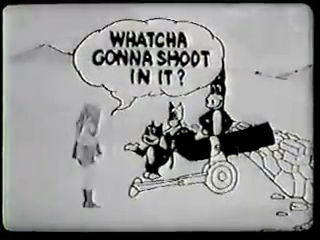 Cat's character presented to Alice asking "What do you use?"cayenne pepperPeppers say.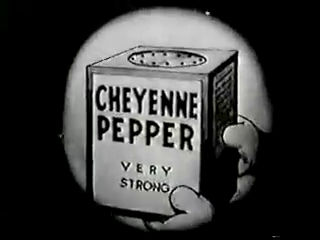 When breathing in vigorously with a cannon ......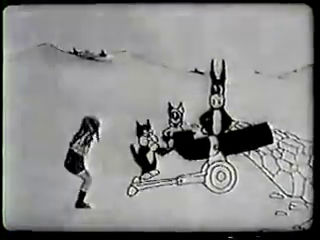 The teachers who were in the enemy 's position are covered with peppers.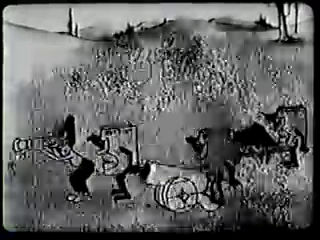 Sneezing does not stop.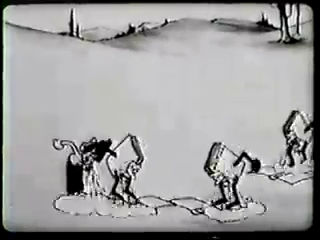 However, when the US government issued a new production code (movie production ethics regulation) in the 1930's, Disney drops the tone of a playful drama and begins to appeal the integrity of integrity and conscience. An article called "Family Movie Guide" was published in the magazine, advising parents not to show "harmful" movies to children, Disney movies willingly enter this market. Journalists began to encourage Disney as a reliable source of family entertainment.

Walt Disney at that time was thought to be a creator of myths in American families. The aesthetics of soundness also penetrated Disney's office, Disney as a company tried to brand himself as pure than Hollywood. The company has a dress code, men wear coats and ties. The woman was banned from wearing trousers and was unable to get creative work other than ink finishing and painting of the illustration already drawn. Women are physically separated from men and the department with women was called with the nickname "women's monastery". In the promotion video for Disney animation studios made in 1937, "It is described that" hundreds of pretty girls are working in a cozy building "and the woman actually uses a sheet of celluloid The trace and the coloring are done are reflected.

How Walt Disney Cartoons are made - YouTube


The figure of a woman working for Disney.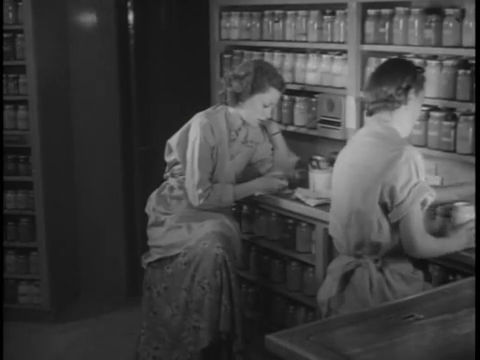 Leonard Mosley, who has worked in Disney, wrote a biography and said, "I do not make a drinking noise, I raise my voice from the set, I look at other members of the opposite sex with my favorite eyes, I do not do any casual acts It describes the state of the office.

And at the same time as her own branding, Disney sells "Magic that breathes life" as a more realistic style of animation, and Moral code and new realism are snowy princess and Disney movie including seven dwarfs and Pinocchio · Bambi I will make "golden age". Walt Disney attempted to consolidate traditional American values ​​throughout his work and the woman he depicted eventually became more traditional in terms of action and appearance.

In the 1940s and 1950s, Disney also began producing educational animations, and the girls just before puberty saw the animation "The Story Of Menstruation" at school.

Walt Disney The Story Of Menstruation - YouTube


The girl is a picture that you can see at a glance with Disney.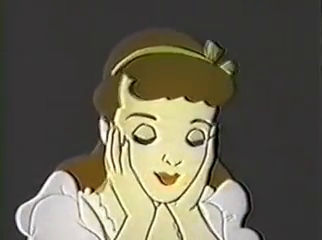 Anime is a color, but the part where the uterus is drawn is monochrome, the blood is expressed in white.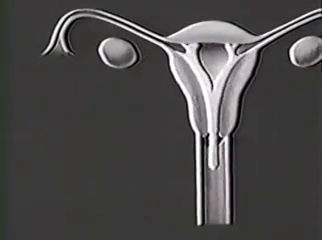 This is a cross section of the body of a woman.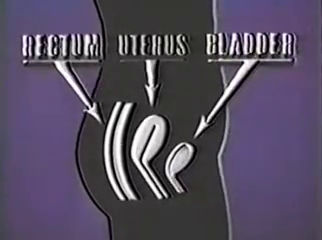 The Curse: A Cultural History of MenstruationThe author, Janice Delaney, wrote this animation as "menstrual blood is not red but white like snow in the Disney world, vaginal drawing seems to be a cross-sectional view of a kitchen sink, not a woman's body," as sterile culture Disney culture is defeating the dirty side of reality.

Experimental works incorporating strong violence of sex and comedy elements were also made in the early 1940s and early 1950s, but the commercial success was as represented by "Cinderella" and "Sleeping Beauty" It was a family movie with heterosexual normality. And when Walt Disney died in 1966, his reputation as "a great educator of everyone" became firm.

In a study targeting 21 Disney animated works, "Attractive characters seem to have high intelligence, aggression is low, emphasis is on morals and good deeds, and physically attractive characters are positive in the movie last It is revealed that it will have a definite ending. " Disney still focuses on a moral fairy story that emphasized the beauty of women, while "Do animated women have to be beautiful?"The question is being cast. However, in a study aimed at the stories of Grimm brothers who studied a passage such as "everyone in the world is as beautiful as a miracle" in every part of the story,A story emphasizing the beauty of a woman can continue to talk over a story that is not so (PDF file)It is also a fact that we know that it is.
in Note, Posted by logq_fa