Approximately 8000 yen worth of free downloadable August 2013 version Envato material series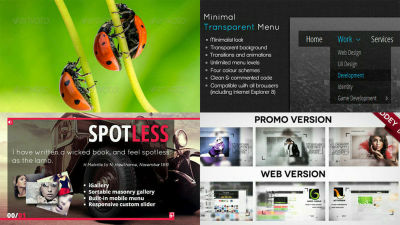 License free photo material, Template for building art gallery site, Slide puzzle running on the Web, 3D modeling data of sheep, code of menu display on page, sound material for game battle scene, project file for After Effects etc. Has operated a high quality material sales site in Australia "Envato"Free of charge on a monthly basis.

◆ Create account
Since it is common to all sites,https://account.envato.com/sign_upGo ahead and enter your user name, password, e-mail address and full name, put a letter in ReCAPTCHA and click "Create Account".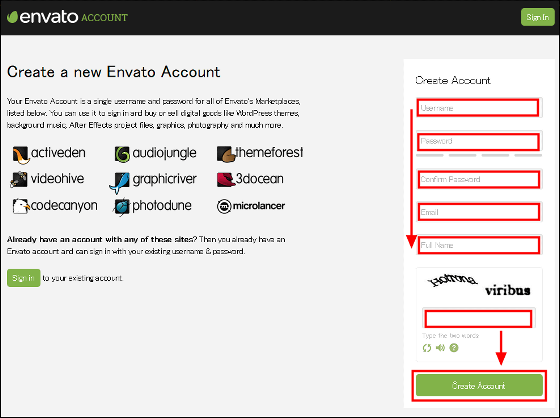 As the confirmation e-mail will arrive at the e-mail address entered above, click on the approval link.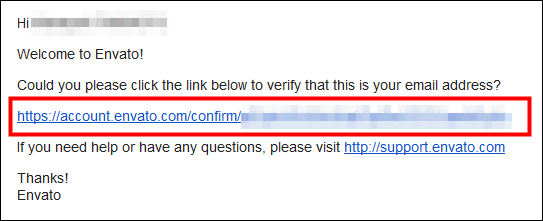 This completes the account creation, but since you are asked to approve the terms of use only for the first time login, please click on "Start Using ThemeForest (or each site name)" in the lower right after checking it.



If the account name is displayed in the upper right of the screen, login is completed.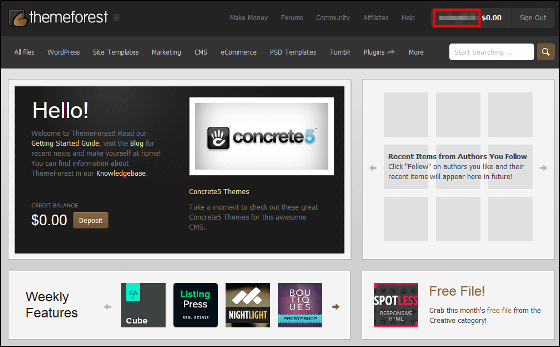 ◆ Download method
Log in at each site and click "Download it for free!" Displayed at the upper right of the page.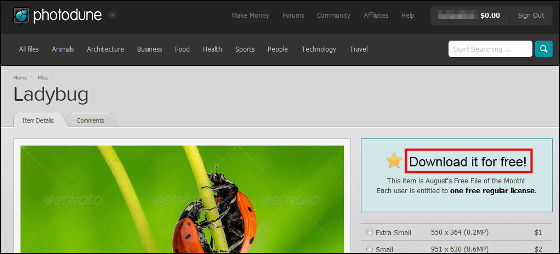 Sell ​​site templates and theme for CMS such as WordPressThemeForestTemplate for building multi-device compatible gallery site such as PC, smartphone, tablet etc. which is sold at a regular price of 15 dollars (about 1500 yen)SpotlessYou can download it for free.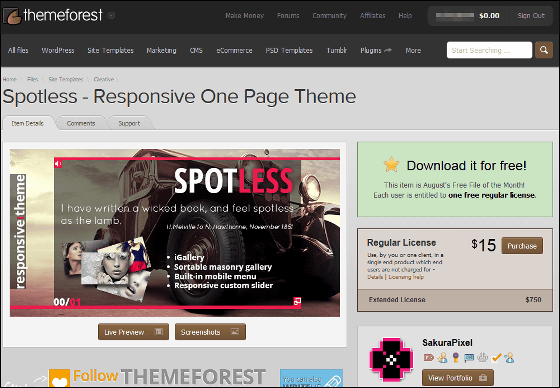 Sell ​​Flash materials and web materialsActiveDenFrom puzzle game material customizable with XML and Flash AS3 "Sliding Puzzle"Is a regular price of 8 dollars (about 800 yen) free of charge.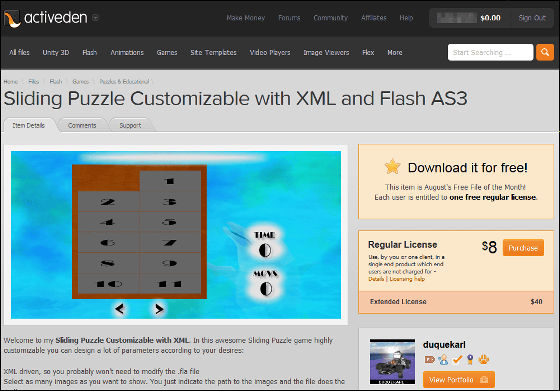 We sell royalty-free photo materialsPhotoDuneFrom ladybug photo material being sold at a regular price of 5 dollars (about 500 yen) "Lady BugIt's free.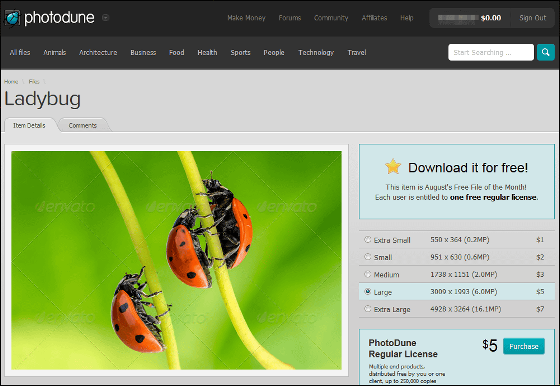 We sell 3D modeling materials and CG textures etc3DOceanThen,Sheep's 3D modeling data"Is provided free of charge. The usual price is 5 dollars (about 500 yen).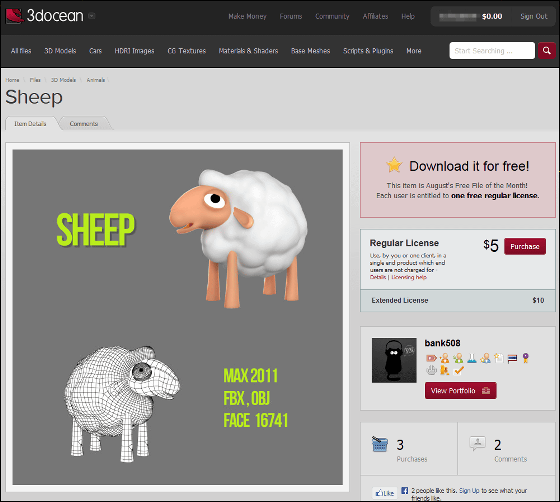 Various scripts such as PHP and WordPress plugins are providedCodeCanyonFrom the menu source code source "Minimal Transparent Menu"Is free for a regular price of 2 dollars (about 200 yen).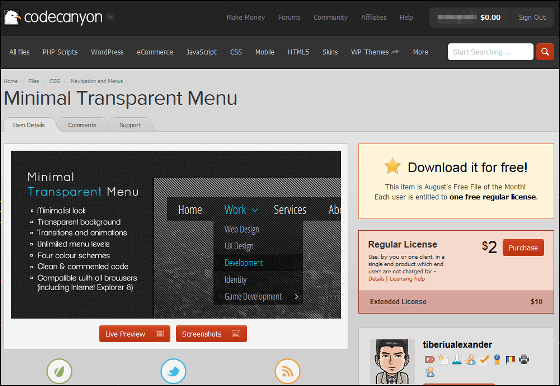 Sell ​​photoshop PSD files, vector format files, icons, add-ons etc.GraphicRiverSo, a cute landscape illustration material with a regular price of $ 4 (about 400 yen)Green Landscape with Tree"Is free.



We provide notes such as copyright-free music and sound effectsAudioJungleFrom something like a song that seems to appear in the battle scene of RPG game "Epic Battle Sequence 1There is a regular price of $ 13 (about 1300 yen) free of charge.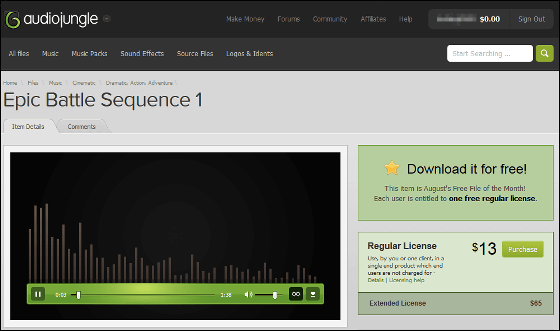 Handle After Effects project files, loops, movie materials, etc.VideoHiveThen, the project file for After Effects "Dual ImpactIt's free for what it usually costs $ 25 (about 2500 yen).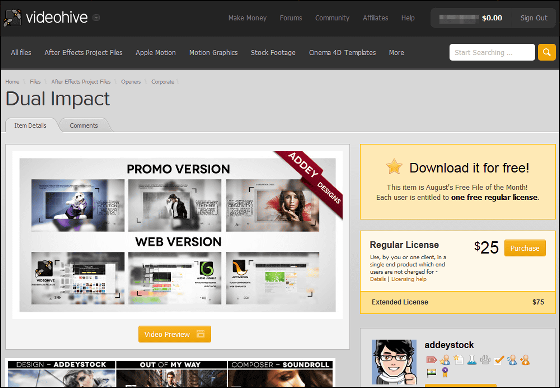 Both are available for download until August 31 in local time.
in Design, Posted by darkhorse_log