I went to eat shaved ice of a natural ice shop in Japan "Nikko Natural Ice Fourth Tokujiro"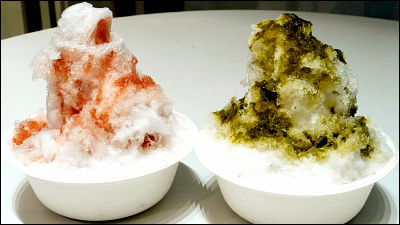 In the era without a freezer, there were shops selling ice specialty shops and natural ice crooked from swamps throughout Japan, but shops that specialize in ice as popularization of household refrigerators are decreasing rapidly, especially with ice There are currently 5 companies in Japan all over the world.

One of them is "Nikko natural ice Fourth TokujiroIs characterized by making natural ice in a natural environment using a swamp during winter. While ice made with ordinary freezers quickly freezes water at a temperature of minus 20 degrees, natural ice slowly freezes at high temperatures, so it does not become tickier than the ice made in the freezer, soft It will be a good texture.

Because it is possible to eat shaved ice with such natural ice at JR Osaka Mitsukoshi Isetan for a limited time from July 31 to August 20, I went to eat at once.

Food pier Sunlight - "Nikko Natural ice Fourth Tokujiro"
http://foodpia.co.jp/tennenice.html

~ "Rare Sugar" (Rare Sugar Sweet) and Natural Ice Mariage ~ "Nikko Natural Ice Fourth Tokujiro" 's "Shaved ice" Limited Sales throughout Japan | Press Release Distribution Service 【@ Press: At Press】
http://www.atpress.ne.jp/view/35474

Arrived at JR Osaka Mitsukoshi Isetan.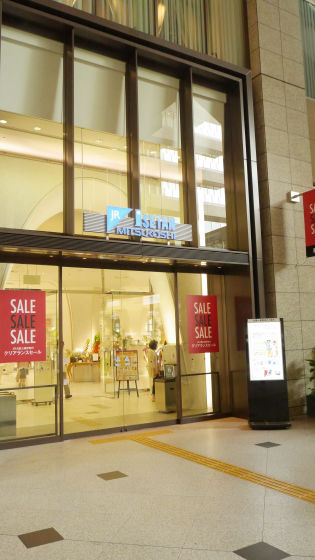 I will head to the second basement with shops.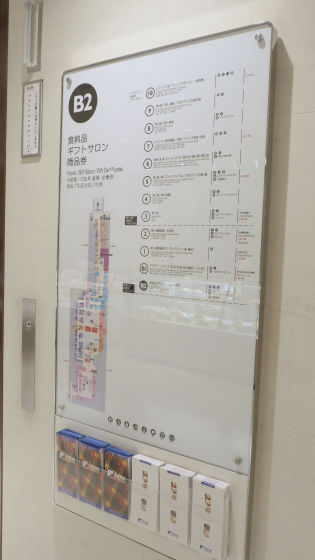 Nikko discovered the announcement of Tokujiro 4th generation ice of Nikko at once.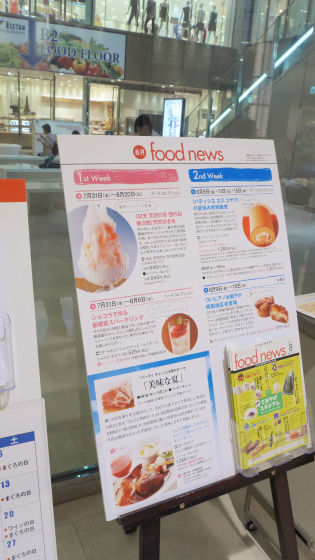 The store is like this at a corner of the grocery store.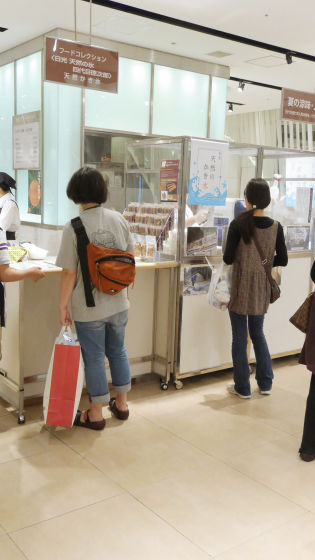 A cool poster has been stuck out.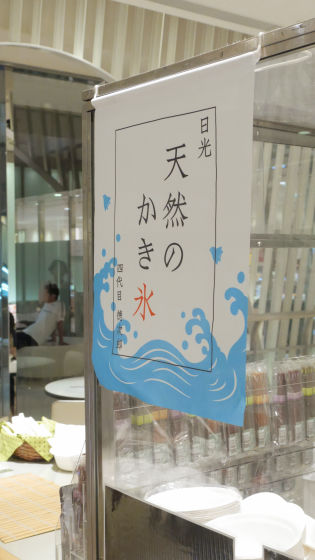 At the shop, the state of making natural ice was sticked out with photographs.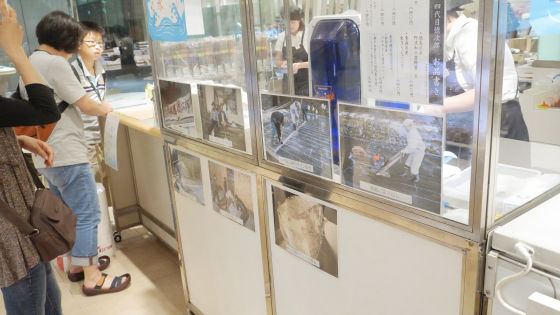 There are 8 kinds of menus, Nikko Natural ice Fourth Tokujiro's local, use of Tochigi-made materials is a lot larger.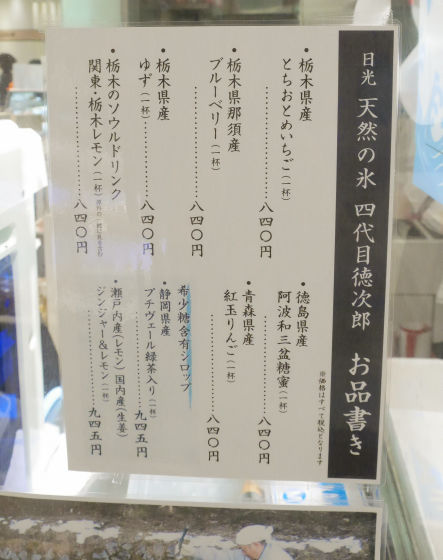 When ordering, a clerk cuts ice with a shaving ice machine and offers it.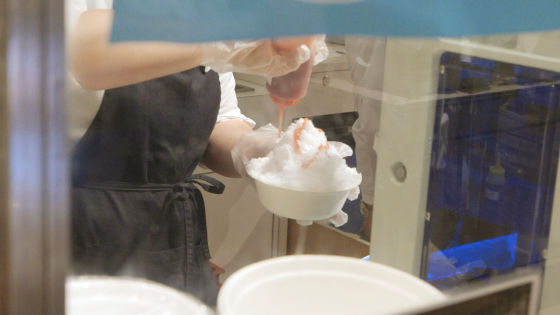 First of allTochigome strawberry from Tochigi Prefecture Ichigo (840 yen including tax)It takes about 2 minutes, after 2 to 3 minutesShizuoka prefecture produced petite vegetable green tea (945 yen including tax)Arrived.Petit veilIs a cruciferous vegetable developed by crossing Kale and Mekobetsu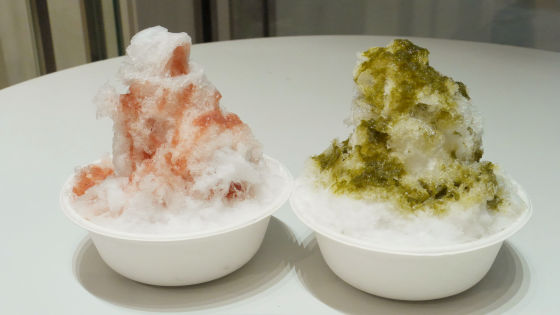 The color of the syrup of red strawberries is shining on white ice on Tochigi born and virgin.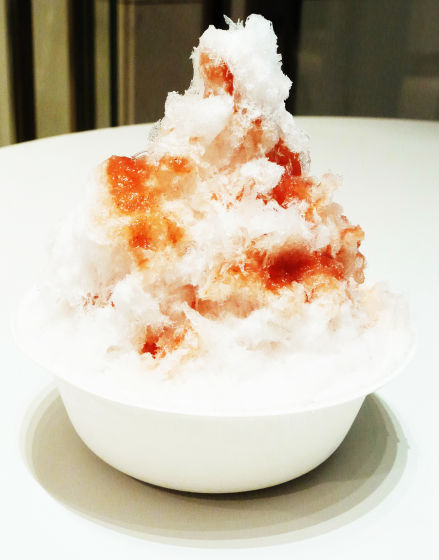 Ice is thin and precise.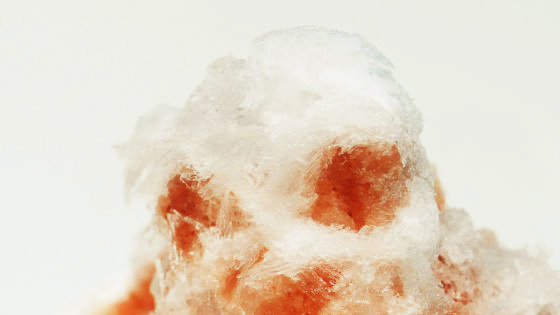 You can check the red seeds of strawberries. I decided to eat it at once.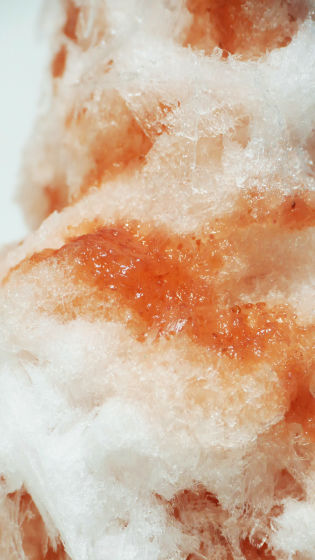 Unlike commercially available artificial flavored strawberry syrup, it firmly tastes of strawberries. It seems that a lot of sugar is not contained, and a refreshing taste that the strawberry sourness remained. Ice is softer than ordinary shaved ice, melts in the mouth with a texture like snow, the temperature of the ice itself is higher than ordinary ice, so my stomach does not get cold.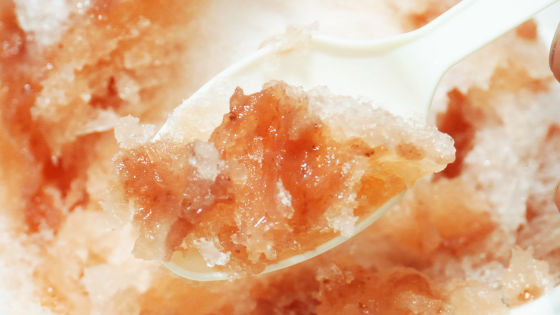 Some of the shaved ice lovers are going to eat without syrup, but there is no taste, but if you eat with only ice you can enjoy more texture.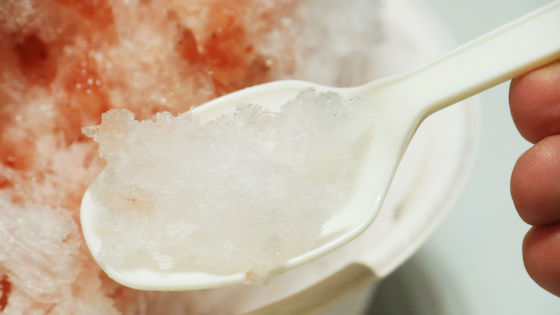 Even if the air conditioning is working in the summer, the shaved ice starts to melt soon because of the high humidity.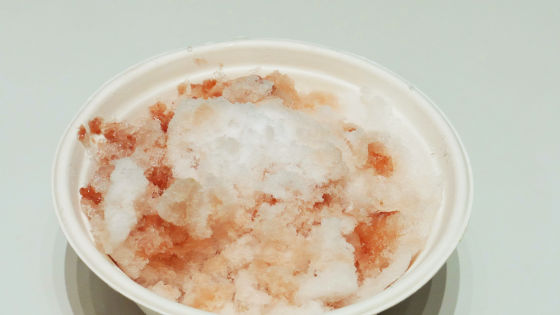 Ice can not be enjoyed if ice begins to melt like this. For enjoying the texture of natural ice, it is best to eat in winter where both humidity and temperature are low, and there are also enthusiasts who say "the person who eats shaved ice in summer is Niwa".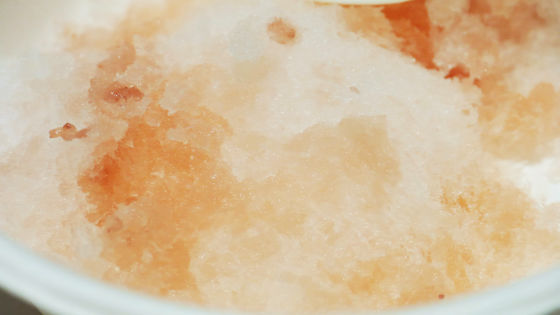 Petit Vale from Shizuoka Prefecture Entering green tea is a green syrup like Matcha. The rare sugar called rare sugar sweet is used.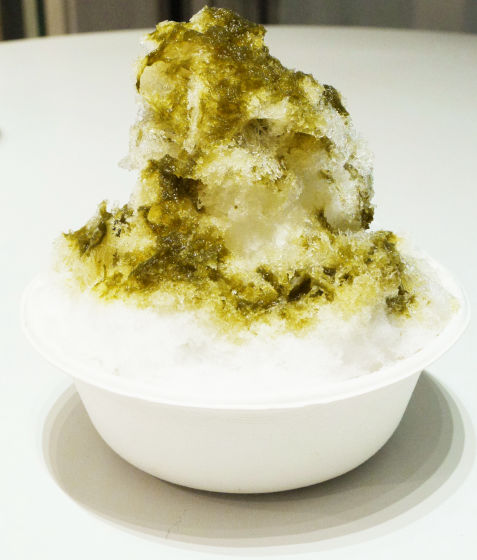 Dark green syrup does not smell the matcha.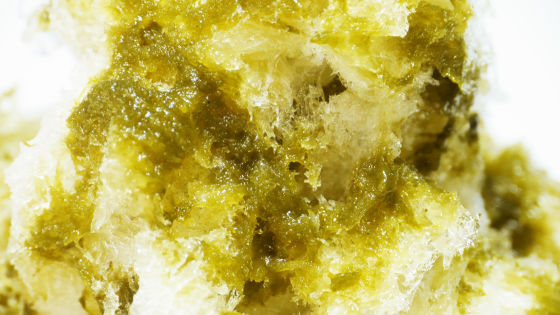 Beautiful appearance of thinly ground ice is also beautiful. I will eat it at once.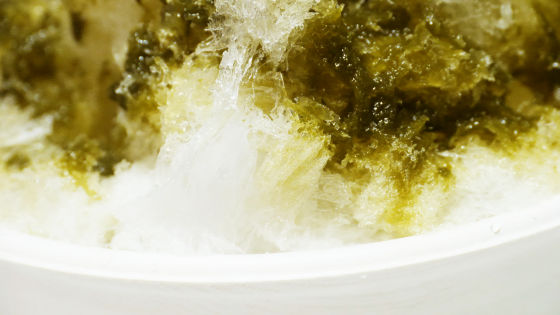 Syrup containing petite vegetable green tea is hard to describe in any way, there is no bitterness like Matcha, like taste like vegetables and honey. Just because there is not much habit and sweetness, I can easily eat it.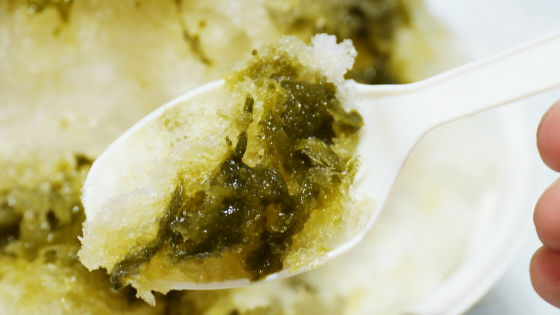 Of course the same ice is used, so the soft texture is the same.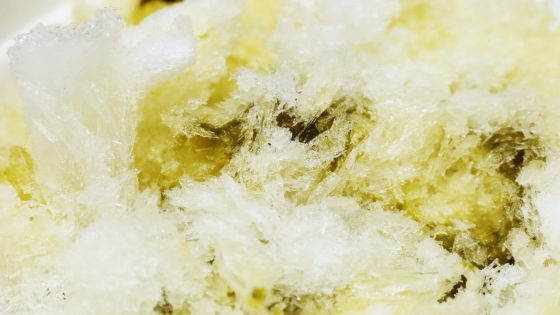 As melting also here will result in poor texture, we recommend eating at an early stage.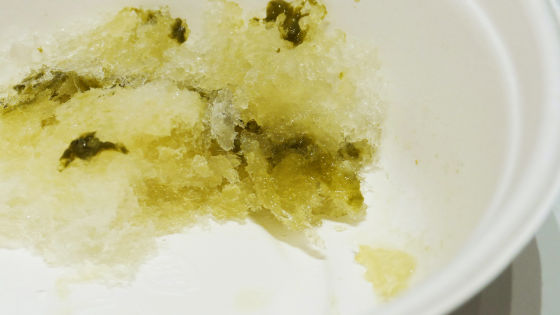 Nikko Natural ice Fourth Tokujiro is not limited to only Osaka, but because it is open for only limited time in department stores in cities such as Tokyo, Aichi, Hiroshima and Fukuoka during the summer, if you like shaved ice, once shaved ice with natural ice The value to eat is ants.