Matsuya's new "Spicy Curry" is an exotic flavor of Asian taste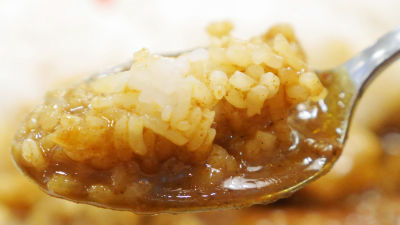 Matsuya said about a month agoTomato curryAlthough it launched, this time it is about a month span and a new curry "Spicy curryWe will release it from Thursday, July 11. It was rare to sell curry for two consecutive months at a chain store, and we wanted to eat hard curry because hot weather continued, so I went to eat it with the original curry.

Spicy Curry New Release! | Matsuya Foods
http://www.matsuyafoods.co.jp/2013/07/05/2287/

Arrived in Matsuya. There is not a spicy curry sign at the shop front ... ....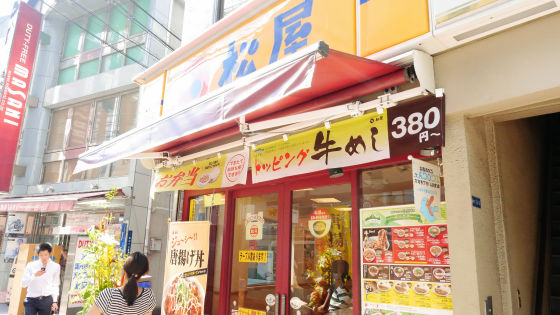 In the store is big and big, "New suggestion!" Spicy curry on the left side and Matsuya's classic original curry on the right side.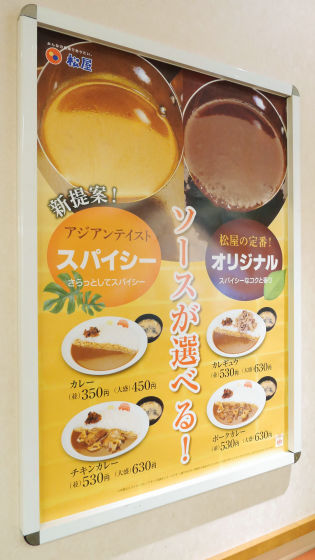 On the left is a curry sauce (530 yen including tax) with beef meat on the original curry, right on the same time as chicken curry with chicken on spicy curry for a limited time (530 yen including tax), neither arrives at almost the same time in less than 3 minutes . It is truly quick.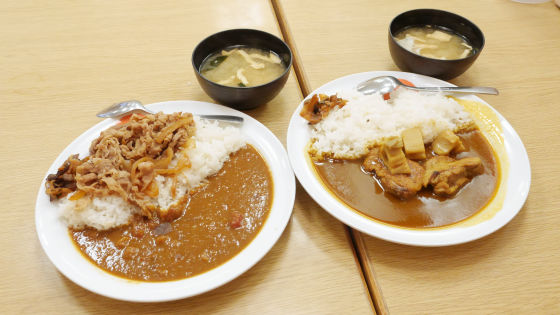 First I tried to eat from the original curry Karegu with beef fish on it. Rou looks like vegetables such as onion are melting in.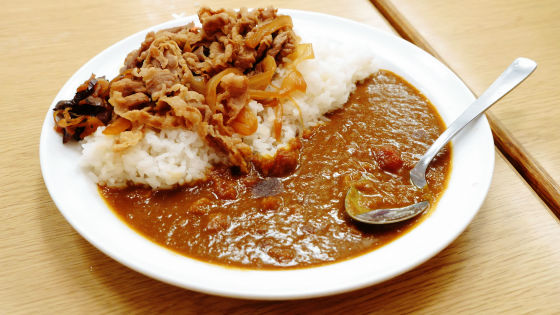 Spicy is somewhat spicy in the middle of hot curry and hot curry of the market, but onion and the like are blended in, it also feels the sweetness of the vegetables. Also contained finely carved tomatoes, when you eat together, acidity also mixes into a complex taste. Curry with a high viscosity is often entangled with rice and it is good compatibility.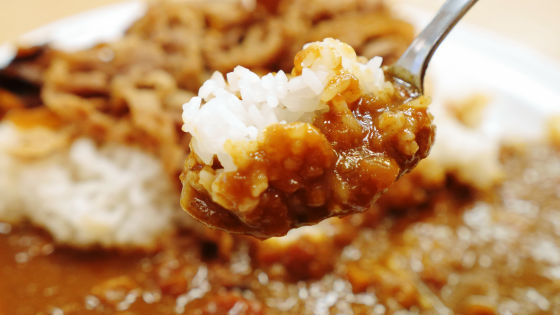 When we eat apples of beef cattle together with curry, beef rich is good and curry is good. However, if the proportion of this ingredient is higher than that of curry, the compatibility of ingredients with sweetness and curry is not good, so it is necessary to adjust the balance.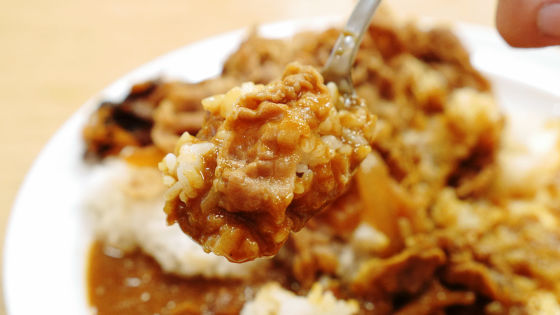 Next time limited spicy curry. It has an intermediate color between yellow and brown, and atmosphere like Thai curry. Feeling more like soup curry than a curry curry.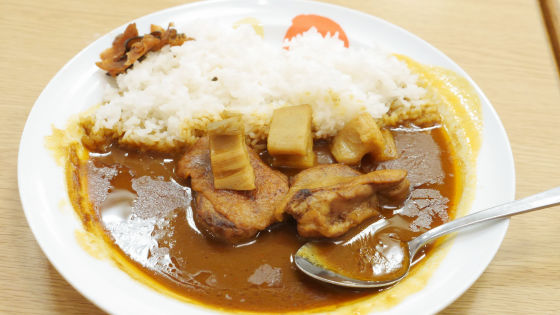 When choosing chicken with spicy curry or original curry, there is a big cut chicken and lotus root.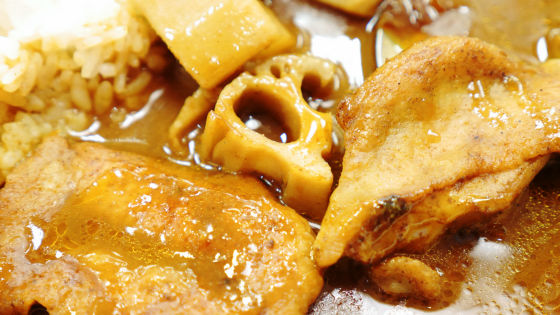 Like the original curry vegetables do not seem to melt in, the viscosity is low and it is supposed to be smooth.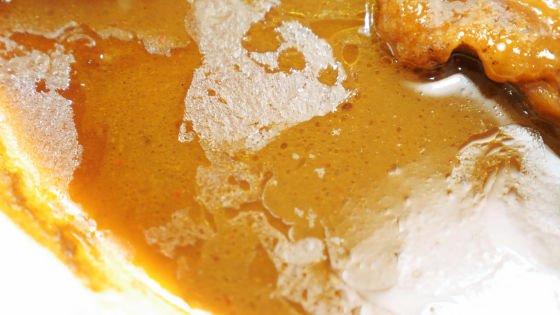 I scooped up with a spoon and it was pretty smooth and it was liquid without limit. Especially smell of intense spice or coconut milk in Thai curry or scent of Nampula is not done.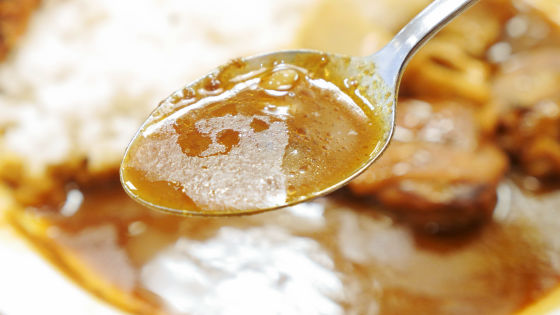 As with the original curry, Fukumi pickles are also topped.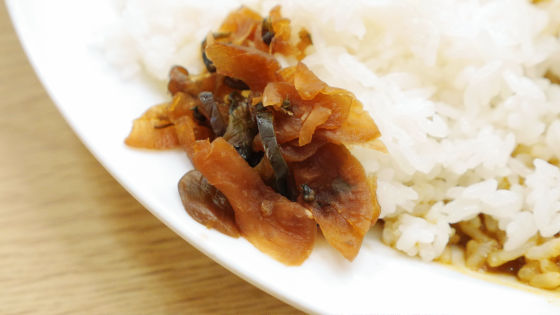 Spicy curry does not mean that it is not too hot, it feels as somewhat weak as the original. Although I do not taste strong coconut milk or Nampura as exiting at ethnic food store or Thai curry specialty store, I feel the mellowness of coconut milk and the unique umami of Nampura. It seems to be unsatisfactory for those who like the taste of such a habit, but since it becomes a chain store nationwide deployment it seems that many people keep making habits as easy to eat. Because the curry is smooth, it seems better to have a little moisture of rice, but it seems to be difficult for a chain store to make rice together.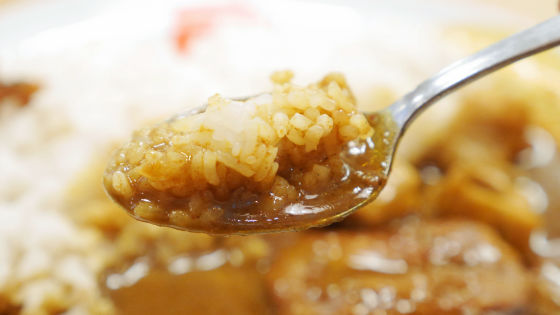 Surprisingly the lotus root has good compatibility with this curry, the combination of smooth texture of lotus root which made it smooth and curry fruit is good.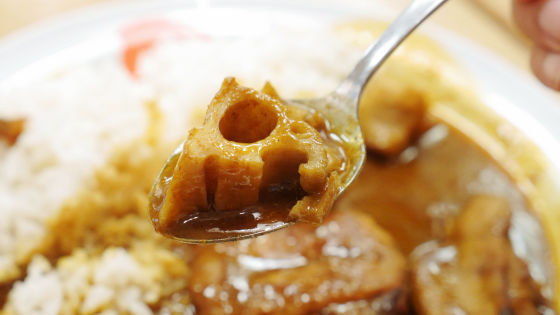 Chicken is not stewed after it is cooked, so taste and texture remain firmly in the chicken. Curry can be chosen as curry, chicken curry, pork curry on which plain and beef tendons are placed, but chicken looks good if you can put ingredients on spicy curry.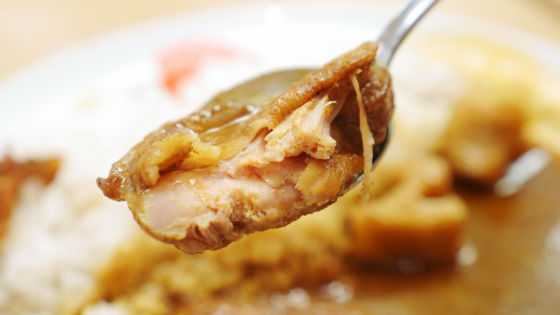 Because it seems that sweet Fukushima pickles do not fit very much with Thai style curry, we want you to think about different attachment.



This item is limited for a limited time, it seems that the sales period is not decided now. Tomato curry has finished selling in a month, so a new curry may come out next month so if you like ethnic curry, eat it once and have no loss.