Twenty year crisis caused by teenagers posting to Facebook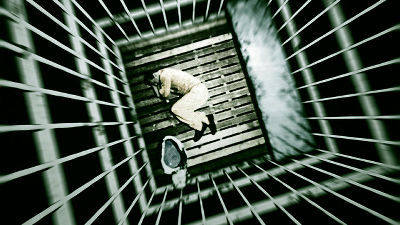 ByCasey Konstantín

In AprilA bomb is set near the goal point of the Boston marathon and 3 people diedThe incident occurred. One real culprit was shot dead and one was arrested but in connection with this, an 18-year-old man who posted lap lyrics including phrases such as "kill all" was arrested.

Methuen High School Student Arrested !!!
http://methuenpoliceblotter.blogspot.jp/2013/05/methuen-high-school-student-arrested.html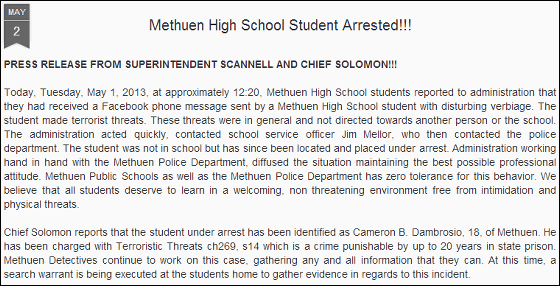 Methuen Police Arrest High School Student on Terrorism Charges | The Valley Patriot
http://valleypatriot.com/methuen-police-arrest-high-school-student-on-terrorism-charges/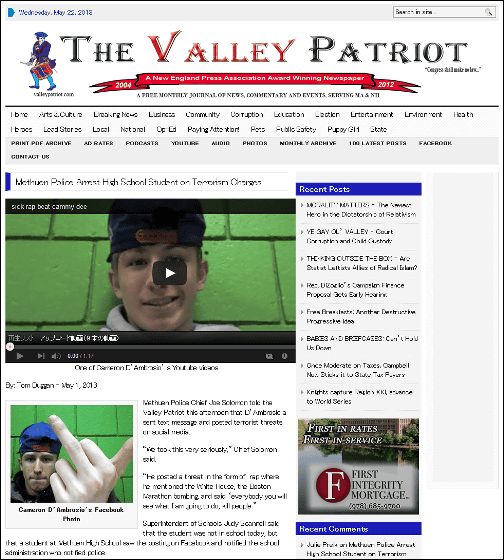 Mr. Cameron Danbrojio, a high school student living in Meshuen, Massachusetts, was arrested.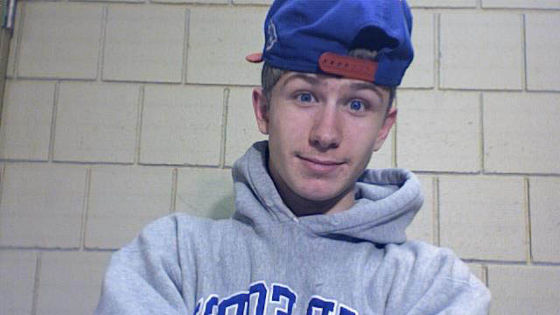 He is on FacebookBoston · marathon explosion incidentAfter referring to the White House and posting lyrics of the rap "everybody you will see see what I am going to do, kill people."

Currently, I can not see his Facebook page.

https://www.facebook.com/camerond4

Massachusetts state law chapter 269 chapter 14It is a crime that makes people feel uneasy about terrorism by using the net etc etc, which makes it possible for Dumbrogio suspects to be imprisoned for 20 years.

However, volunteers are beginning signing activities to save him because it is not so much that only 20 years of imprisonment is posted by posting rap to Facebook.

20 Years in Prison for a Facebook Post?
http://cms.fightforthefuture.org/teenager/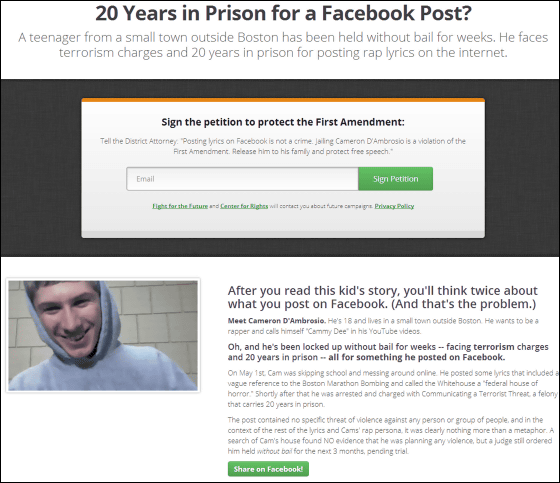 Danbrojio lives in Meshuen is a small town on the outskirts of Boston. The suspect was aiming for a rapper, himself named himself "Cammy Dee" and posted a movie to YouTube. This is the movie.

CammyDee Raps - YouTube


On May 1, Danbrojio allegedly surfed the school and was surfing the net and posted on Facebook as above. Danbrojio was arrested in the afternoon afternoon in the trend that a student at the Meshuen High School who saw this was informing the school authorities and a report was made from the school to the police.

According to McCain police chief Joe Solomon, the report was around 1 pm. Immediately I headed to the suspect's house on Glenn Street, and he seems to have secured suspects at Pleasant Street around 1:30. The chief wanted to clarify that Danbrojio did not intimidate schools and specific individuals, but he threatened to kill a lot of people, he also mentioned the Boston marathon and the White House I believe that this intimidation makes people feel insecure enough for us to move and the police officers did the right thing. "

The police said the suspects were "Fuck politics, Fuck Obama and Fuck the government !! (Politics as well Obama and the government are also misbehaving!) "Posting photos of devils, making a profile picture as" wanted, regardless of life or death ", gang, violence, crime "I was interested in Danbrojio suspects," he said. As such, volunteers are reporting bad impression, so volunteers are supposed to seek help from the net.

There are people who tweet the secrets that we learned about on business in Twitter and the crimes that they raised, and each time it is said that "Baka Discovery Instruments" "Bakatta" etc. In this case,Black historyLike a thing ... ....