Discovered in the long journey the points where laundry is progressing and the multi-purpose washbowl talent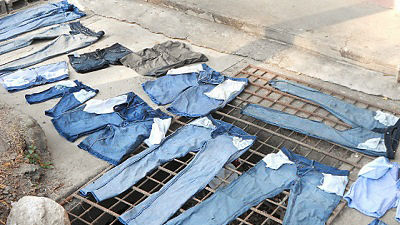 Just because I took a trip will not wait for washing. Clothes that are dirty because they are alive. If it is a hot area, I would like to wash every day. About the inn, entering the river, the journey was a continuation of washing. If you do, regardless of whether you wash it or let it dry, you get a certain commitment. I can carry a washing machine with me on a trip, so I carry a washbowl. When I get on a journey without any discreet wash basin it turns into a multi tool. I can not think of a journey without washbasin. Local people also work in the washing. After washing, clothespout is the mainstream in Japan, but the scenery abroad was also different.

Hello,Takuya Sudo @ circle around the world bicycle @ Charridermanis. I am traveling for a long time, but I do not see a traveler with a basin hardly.

◆ Bicycle travel and laundry
We carry wash basins around the world around the beginning. Some people recommend a folding bucket, but usability does not apply to the basin. It is convenient to carry, but it is difficult to use because it deforms during use. It's tough to carry, but the convenience of the basin is superior.

The No. 1 wash basin with uniform warts of 100 yen used in Australia and Southeast Asia. With this Iboibo there is no difference in fouling.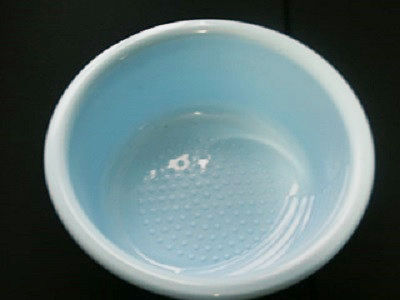 Discarded in Hong Kong which was temporarily returned home. The part broken for 2 years and 3 months was repaired with cotter tape and bond and it used it importantly. The washbowl is everywhere, but the same thing with the warts which the washing will progress is not found.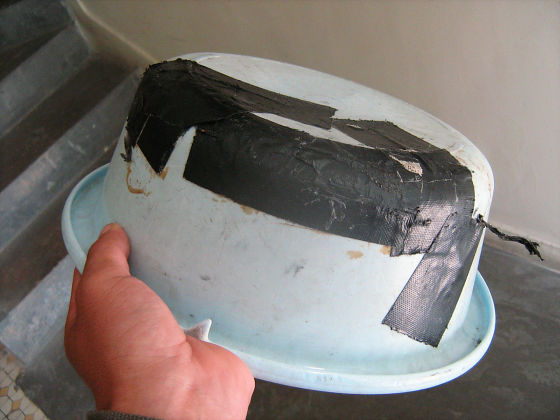 Lightweight aluminum washbowl at the home center used in No. 2, cross Asia, Europe and Africa. While I was temporarily returning home, I attempted to renew the washbowl with the warts, but I could not find it as a dish of dish. I decided to take the washing board. I broke up on my previous journey, so I chose a strong basin.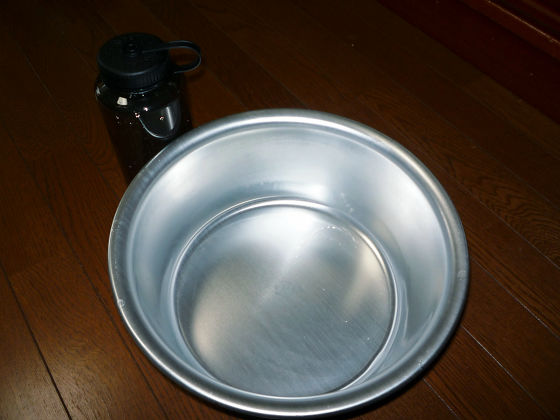 Discarded in South Africa temporarily returned home. While supporting my three-year trip, I was supporting the trip.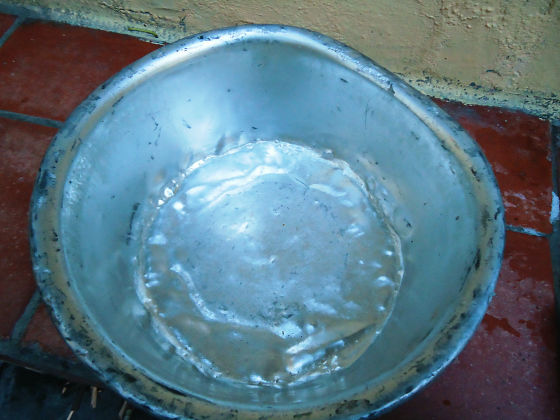 The washbowl was loaded using a 100 yen uniform basket net.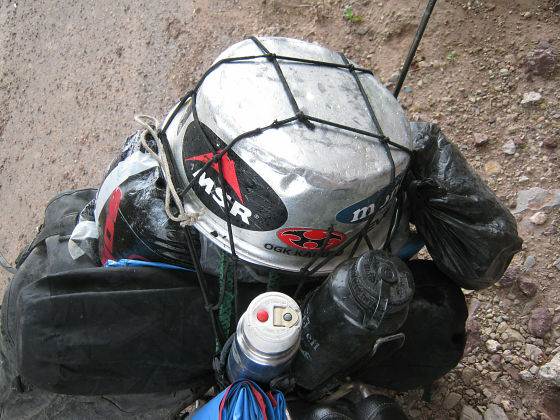 Three, wash basin still in use still in the Americas. In this temporary homecoming, I will not prepare it in Japan and leave departing from local purchase. In Canada and the United States, coin laundries were popular, so I finally got it in the Mexican market. Green according to the color of the bicycle.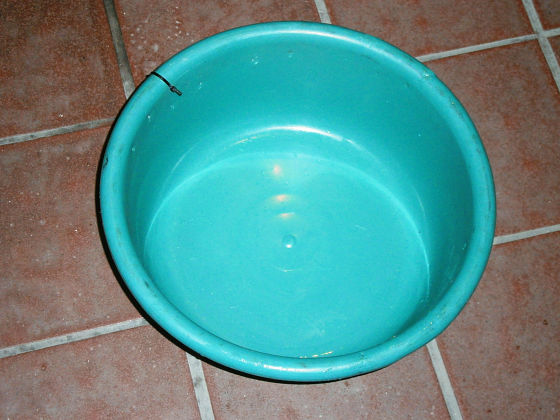 Currently we are using 100 yen uniform cage net.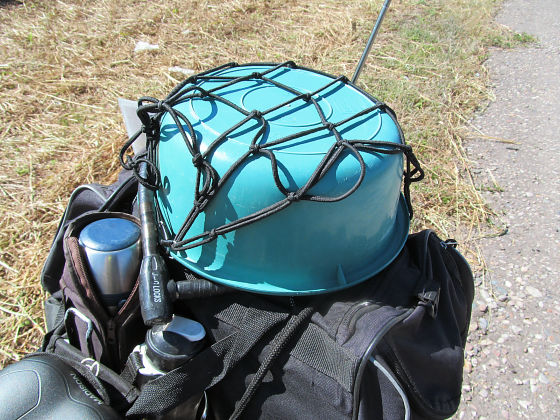 It is convenient to put food and coat in the space of the inverted basin.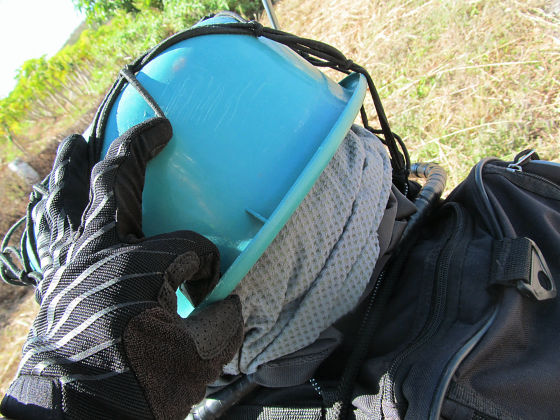 If there is a washing board, the falling of dirt is different. I have not used it now because I lost it.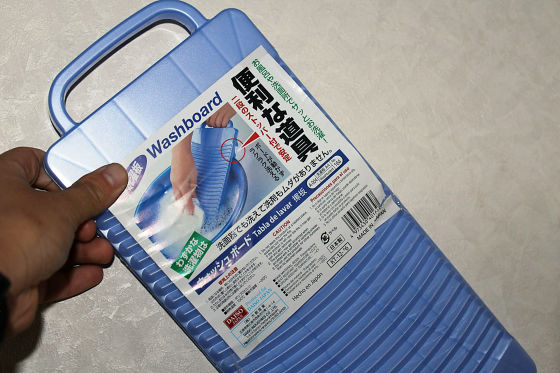 Storage of washing powder uses a cheap water bottle. Using this bottle is not annoying when washing. I do not want to pollute the bag or smell, so I put it in the bottle gauge.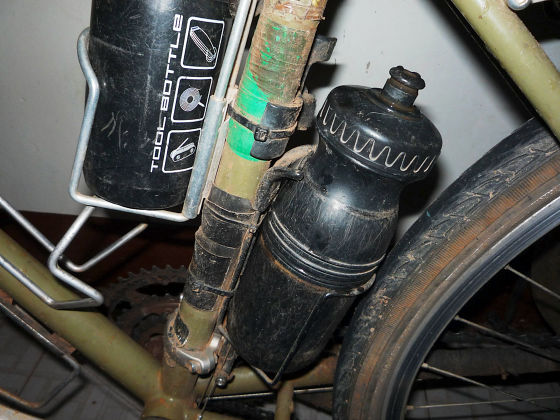 When I finish running, the things I want to do are washing. If it is a hot area, it will dry up before night comes.

Washing in Chinese youth hostel.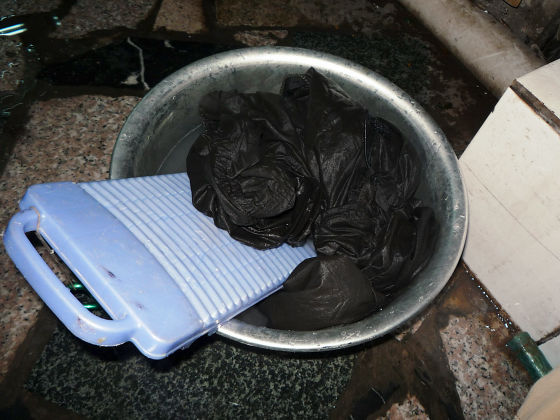 Nouakchott of Mauritania who has finished traversing the Sahara desert. Since there was no city and no water for 5 days from Nuadibu, power also entered into washing.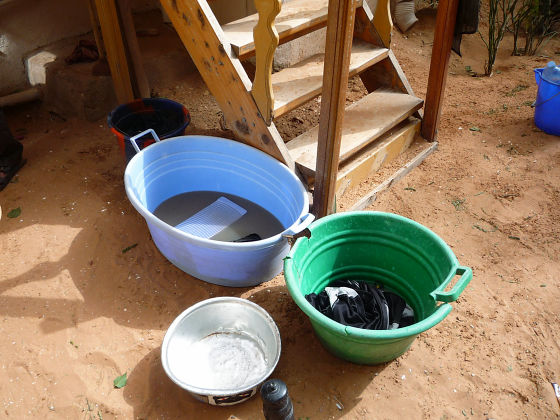 In southern Mexico and Guatemala, these sinks are popular and easy to wash.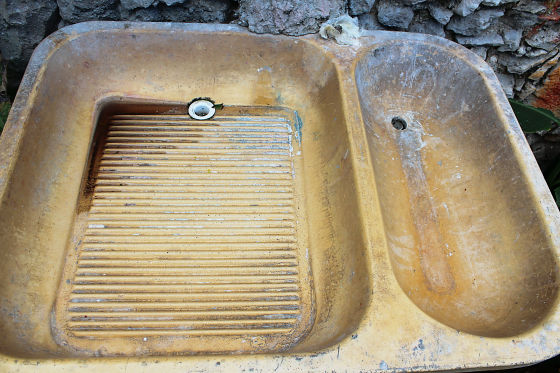 A structure that can store water in the middle sink.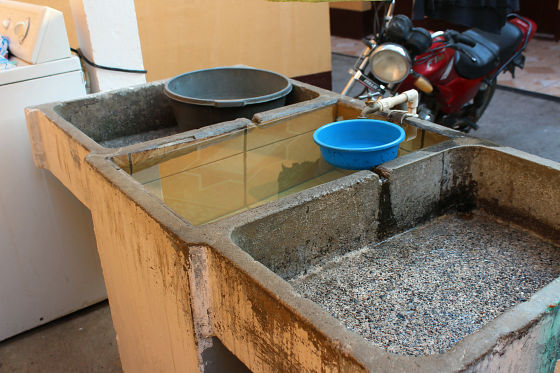 Let's hang out after washing,

In Mexico inn, there were plenty to do at the rooftop. I am glad that I can get the sunshine all over.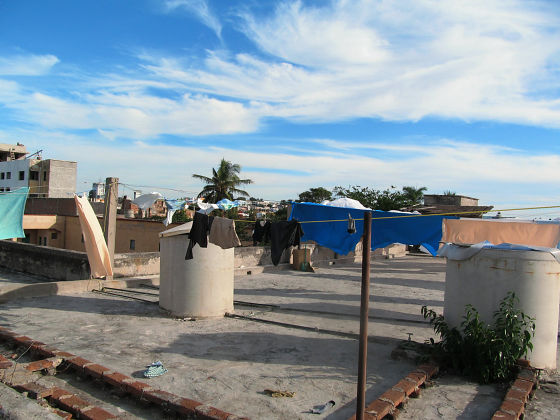 Borrow the space in the courtyard of the inn in Guatemala.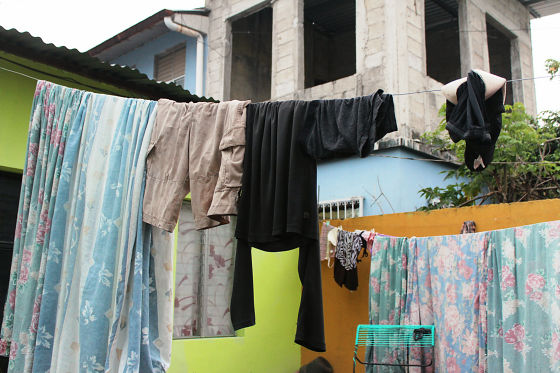 In the Senegalese inn in the western part of Africa, the laundry was hung on the pole of the flag standing on the loading platform.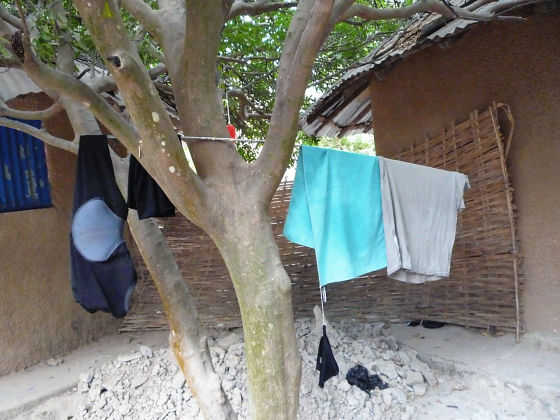 It also dries indoors. In the inn in Thailand.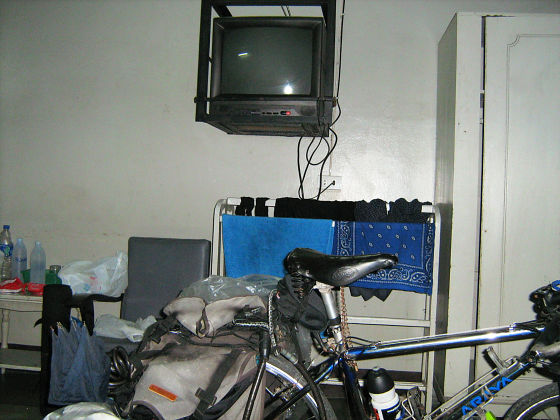 In Uganda's cheap hotel, try stretching like this.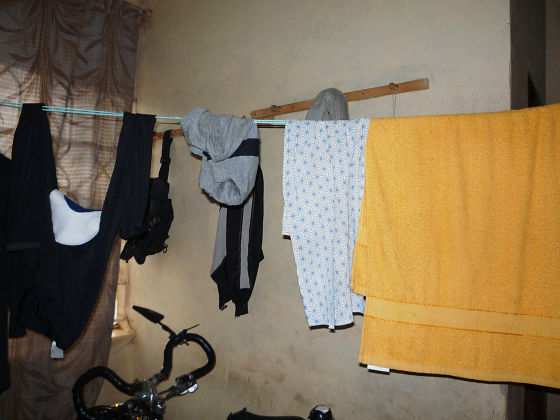 If it is a charrider, you can dry it while running.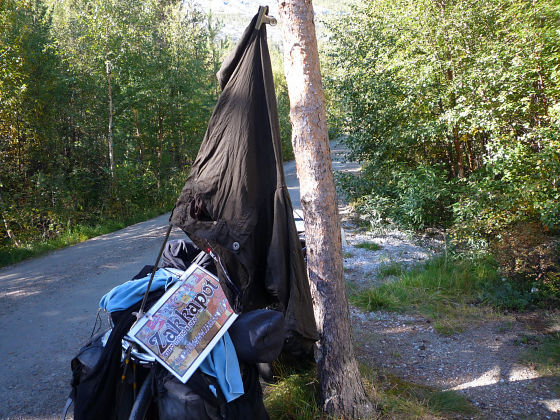 Put the socks in the bottle dry well. If you want to dry immediately by all means, there is also a way to put socks on a heat-resistant bottle filled with hot water.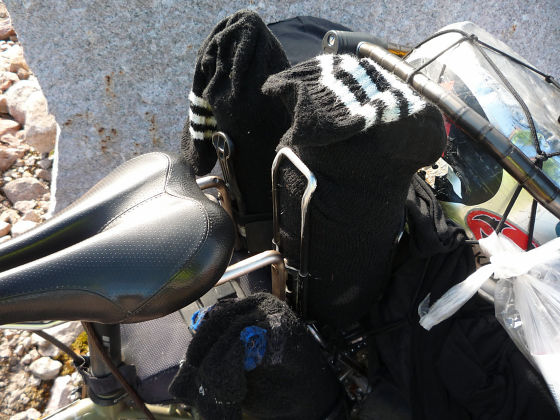 When crossing Asia I was carrying a hanger one. Cut bottom side for weight reduction. However, since the use of the hanger is limited, it will be disposed of along the way ... .... While traveling, hangers are "convenient if you have one", but it is okay without them.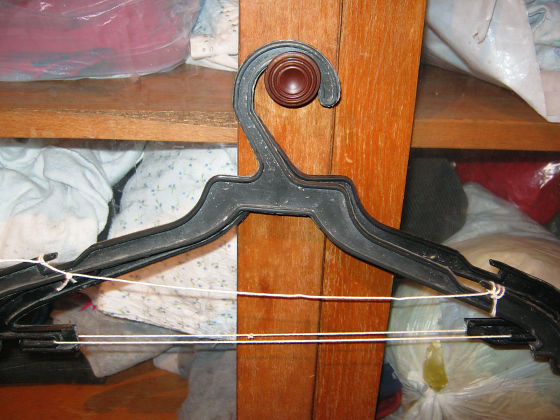 It was frustrating with such a feeling, but a revolution broke out in a hanger of traveling in Mexico. I found a shocking fact that if I drilled a hole in the edge of a basin and I made a ring with a tie wrap and attached a carabiner, I would substitute for a hanger.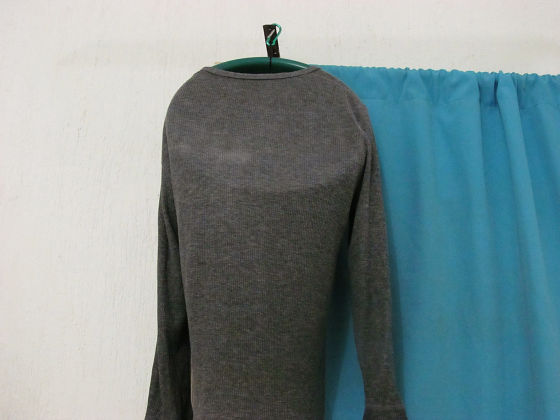 When using this, the wet place does not overlap and overlap, so the laundry dries well.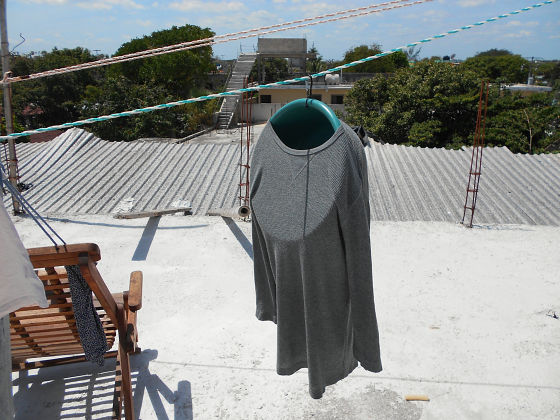 In addition PET bottles also on sleeves.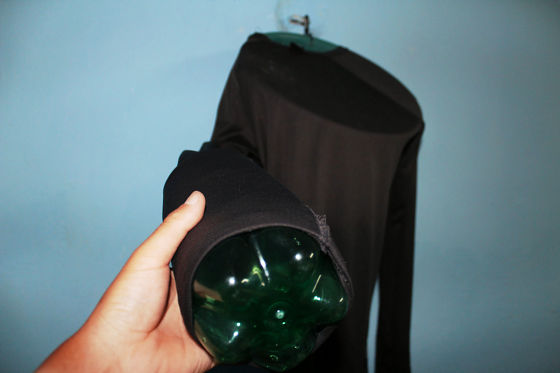 When the surface dries to a certain extent, the take-in time will be different if turned inside out. Let's turn the ceiling fans and the fan in the room. Even if direct wind does not hit, laundry will dry quickly if moist air changes. Also the ultimate way to put laundry in a cold area in a sleeping bag and sleep together.

How to use the basin is not limited to washing.

As a wind stopper for cooking stoves.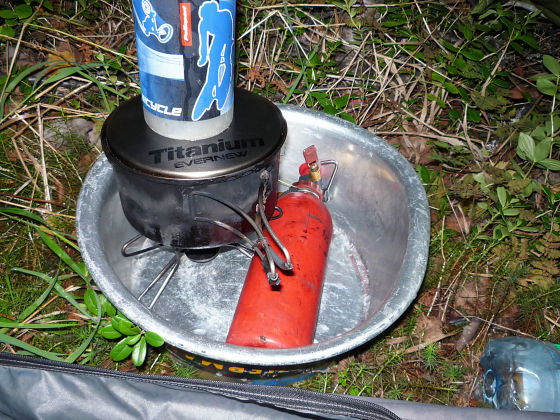 I also have the washbasin preventing the wind.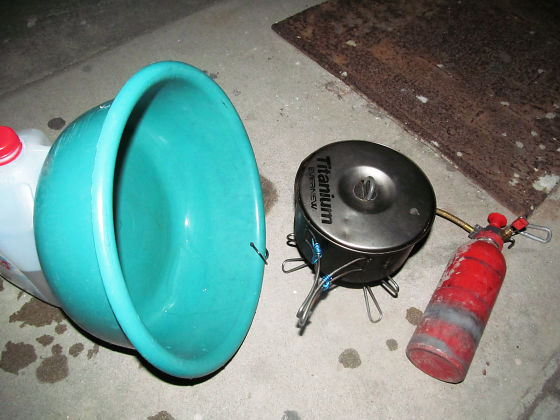 I saved the rain that fell during the camp and washed my face.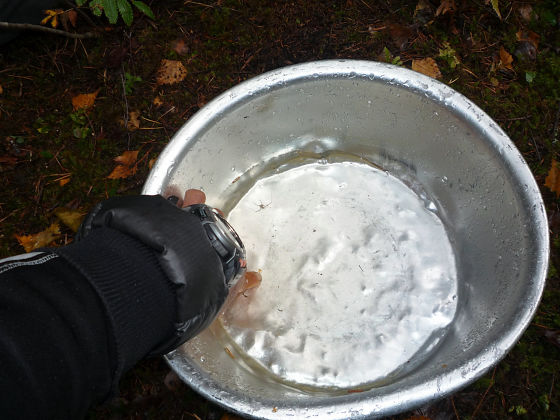 You can make hot water with an electric heating coil if you have a washbasin even in an inn that only has a water shower.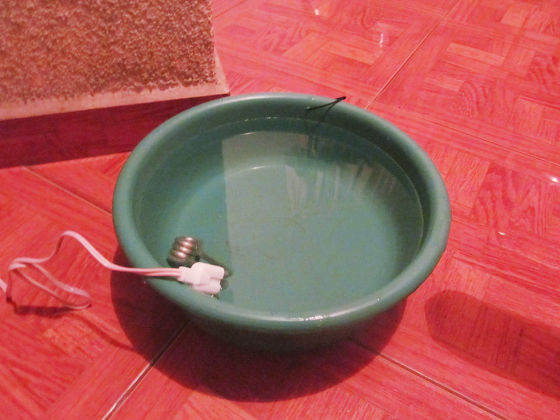 If you have a washbasin, you will not mind the ashes of mosquito coils.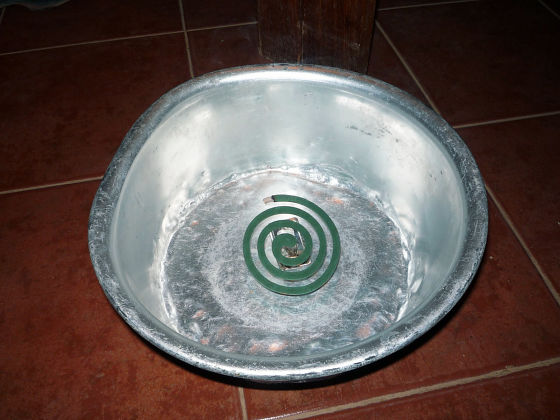 Even if I buy pineapple that is not cut, using washbasin will not poll around ... ...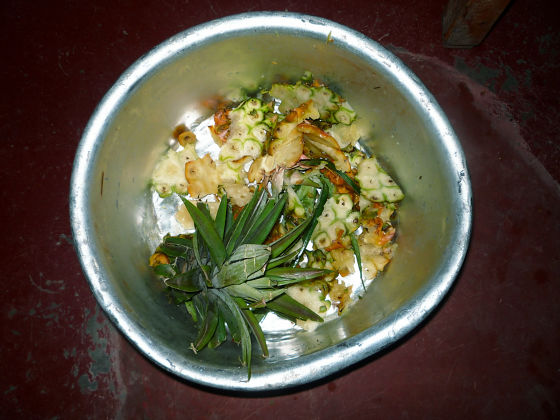 I also use washbowls when cleaning my bicycle. Instead of a bucket, it is also indispensable for wiping out rooms and tents in the hotel.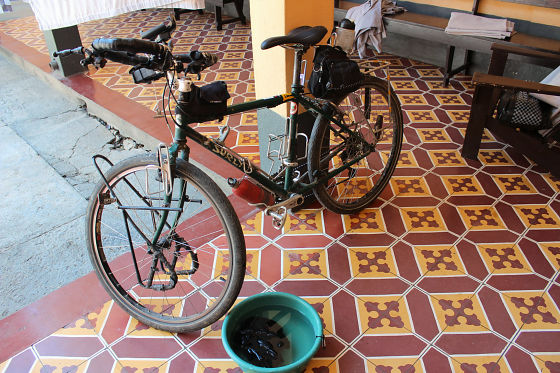 Another thing is to flush the toilet. As water in the developing country's toilet does not flow vigorously like in Japan.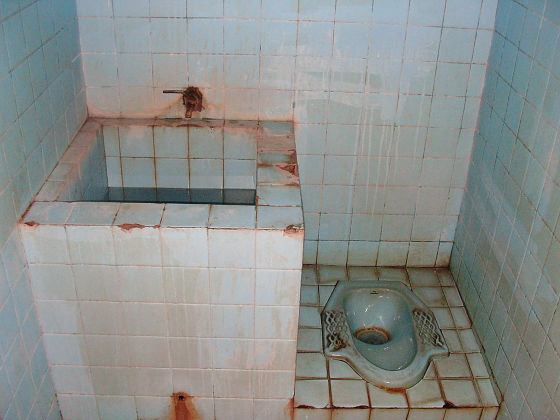 Besides this,
When bathing in the river.
· For Japan, it is free open-air bath.
· A toilet · shower is a shared accommodation, when you want to wash your hands indoors suddenly.
· To prevent leakage at the cheap hotel.
· When the bicycle puncture repair hole is absolutely not found.
· Instead of chair when sitting on the ground.
There are also uses such as.

In Africa, I was often asked "Do you eat meal with this?" Certainly, people in Africa are cooking a lot of dishes with a pot like washbasin ... .... Because it is stacked in a conspicuous position, it also helps to interact with locals, saying, "What is this used for?"

◆ World laundry scenery
People from the world were doing laundry as well as washing themselves. In Indonesia, Guinea-Bissau, Republic of Congo you can also enter the river mixed with locals. The view of the necessary laundry, because it is alive, is nice to watch.

People who wash in the river of Mari in the west of Africa.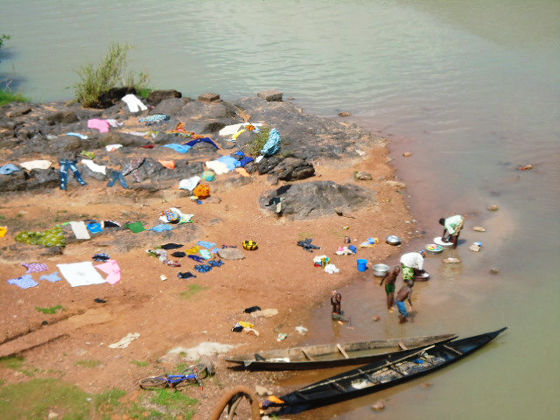 A squall came when I was staying homestay in Cameroon. The rainwater that is full is enough for washing.



Coin laundry was popular in America.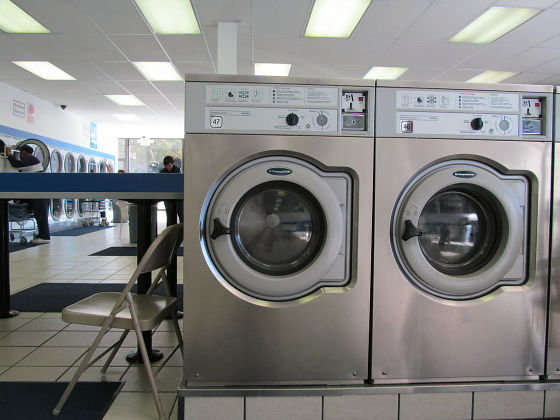 Guatemalan mothers washing in the river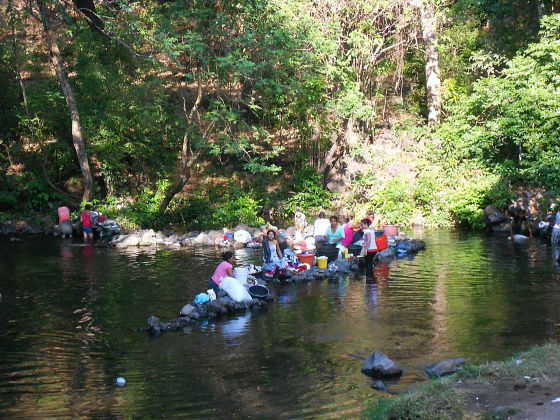 The irrigation canal is also a local laundry place. This is also Guatemala.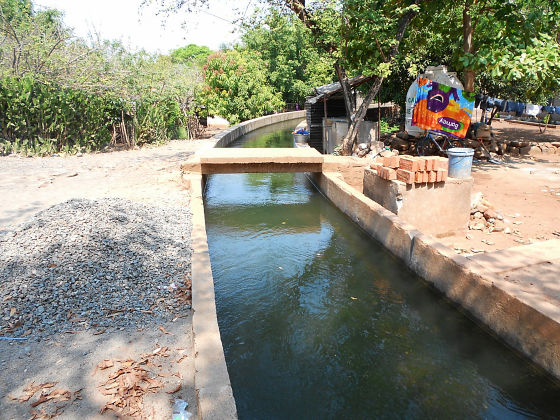 In the vast Australia, how to dry the laundry is amazing. Dual, triple and iron wires are wound around the skeleton of such a parasol.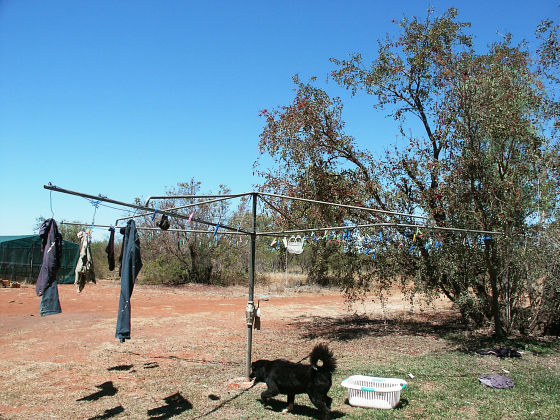 Indonesia full of life views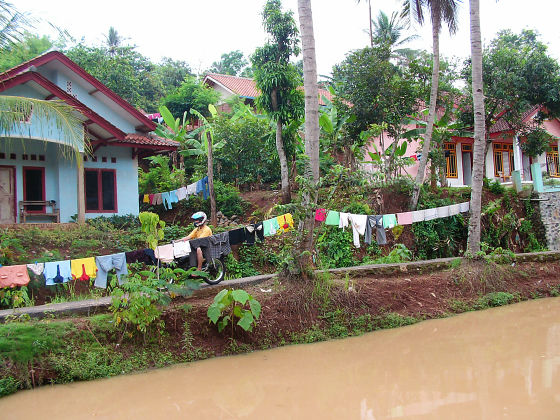 It is Singapore that is extending the clothespin from the window of the apartment complex. Because it is a country with a high population density, is it a feeling that it effectively utilizes the limited space?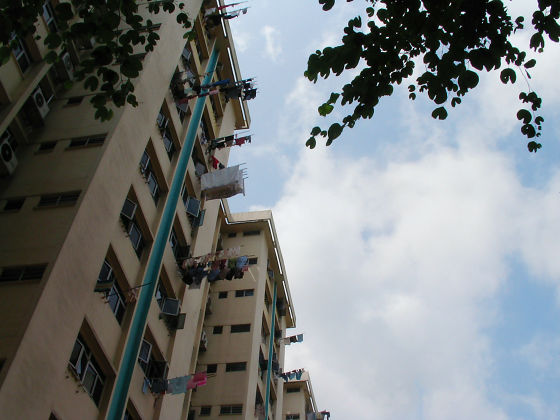 At the roof of Thai backpacker.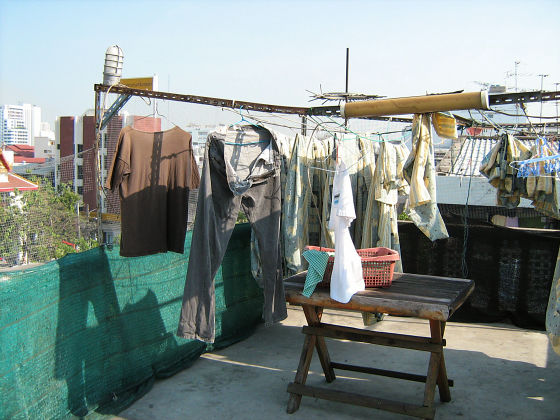 The former Soviet Armenia was washing clothes in a valley in a skyscraper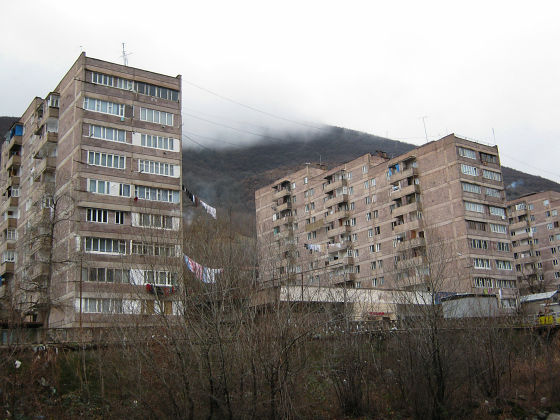 I found this species of Armenian style in Canada. By using a pulley, you can hang the laundry even on a far-reaching head that you can not reach.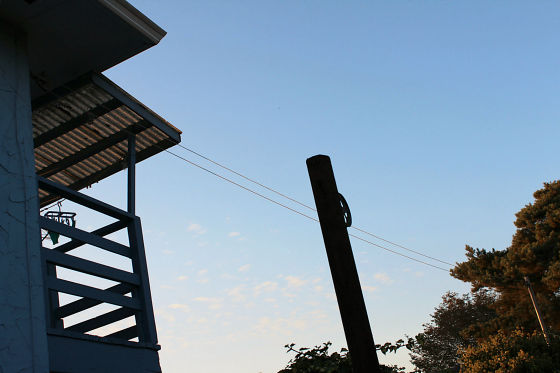 European countryside is refreshing



I often found in Mexico, how to dry without requiring clothespins. I caught the end of the laundry with a double crossed string.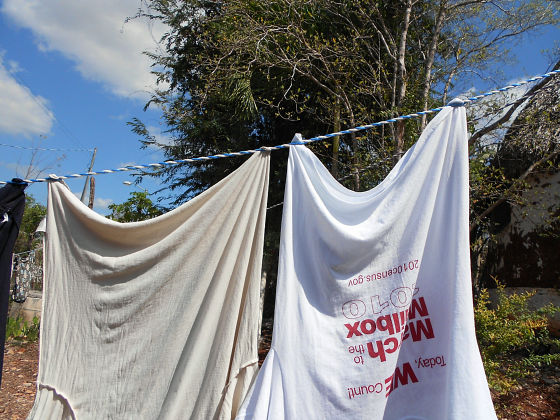 Guatemala lodging which had huge number of sheets dry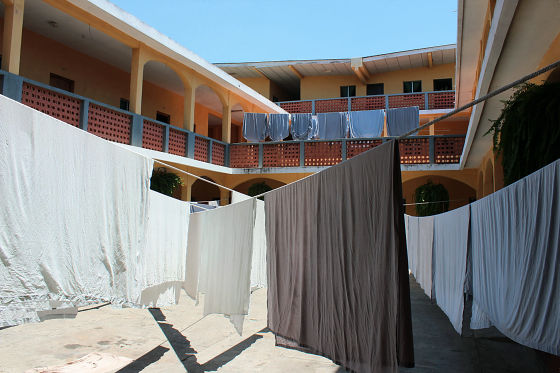 El Salvador where the jeans were dry on the ground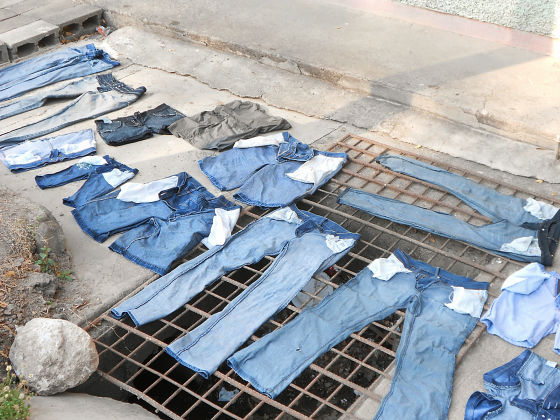 Courtyard of the inn that stayed in Nicaragua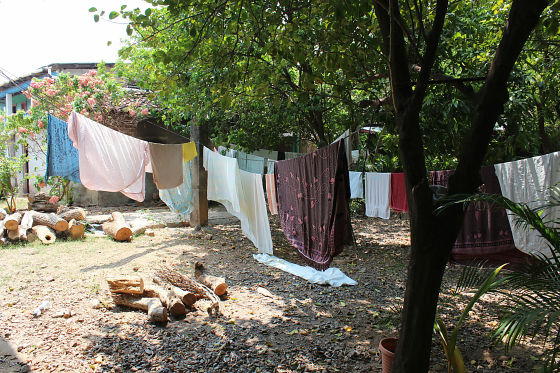 Even in poor travel without money, I would like to keep in mind that washing is clean and clean. If you remain dirty, concentration tends to slow down and the chances of getting into trouble will also rise. I have finished writing articles as well, so I'm going to wash it.

(Sentence / photo: Takuya S. Narou Charriderman
Cycling around the world for a bicyclehttp://shuutak.com)