Au launches "area quality information transmission function" for automatically collecting call / communication quality and radio wave condition for smartphone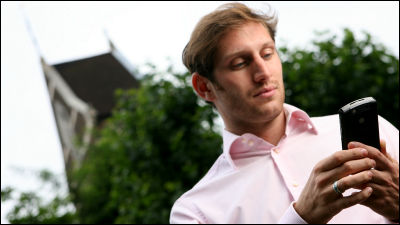 ByGailjadehamilton

Announced that au will also provide a "area quality information transmission function" that detects, collects and automatically transmits the quality of voice calls and data communication and the radio wave condition and its GPS position information, also for smartphones. It is already installed in au mobile phones, and the information is supposed to be used to improve the place where the radio condition is not good.

About launching "area quality information transmission function" for smartphones │ smartphone · mobile phone │au
http://www.au.kddi.com/information/topic/mobile/20130328-01.html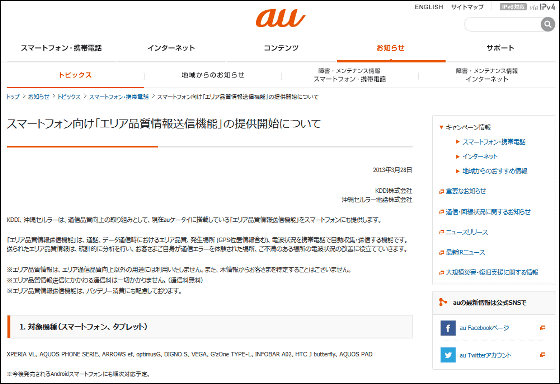 Area quality information transmission function │ au service area expansion · quality improvement information │au
http://www.au.kddi.com/mobile/area/extend/research/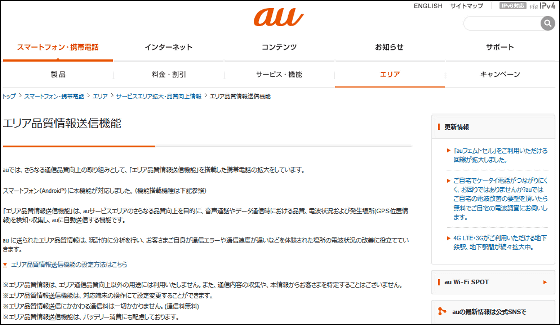 Smartphones provided with this function are available on Android smartphones that will be available in the future, XPERIA VL, AQUOS PHONE SERIE, ARROWS ef, optimus G, DIGNO S, VEGA, G'zOne TYPE-L, INFOBAR A 02, HTC J butterfly, AQUOS PAD Also planned to be installed.

Target communication includes sending and receiving voice calls, sending and receiving e-mail, Web communication · YouTube. It is supposed to be provided as a part of the au Wi-Fi connection tool, and you can use the function by updating the application on au Market after March 28th.

For setting method, tap "various settings" of au Wi-Fi connection tool ... ...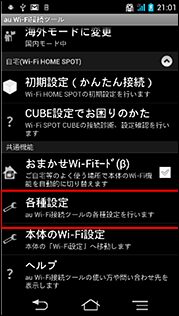 Tap "Area quality information transmission setting"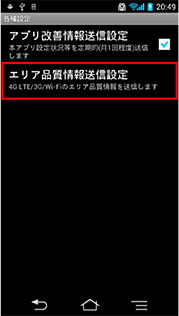 Please check "Enable area quality information transmission function". If a person who says "I do not want to send information" is unchecked, information will not be transmitted arbitrarily.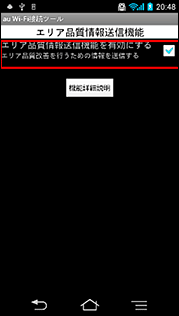 Being a one - seg, Osaifu - Keitai, before I incorporate it as a whole, it seems that such a function should be installed on every smart phone ... ....